Stream On
Presented By

The Absolute Best Movies on Hulu Right Now
Expand your streaming options.
Presented By

Netflix may have been first to the streaming game, but it's far from the only player. Hulu, for example, has steadily improved the quality and diversity of its on-demand streaming offerings, to the point where now you can find titles that are just as good (if not better) than what's on Netflix. Here, to make our case, are the best movies currently on Hulu: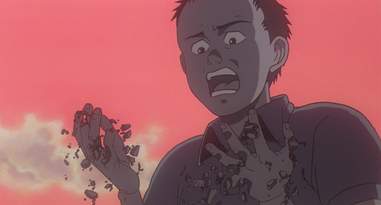 Toho
Akira (1988)
Akira, inadequately described as a sci-fi gang movie, is largely responsible for the boom of anime aimed towards adult, Western audiences (and also happened to eerily predict Tokyo's 2020 Olympics). Set in a post-apocalyptic, crime-addled Neo-Tokyo in 2019, Shōtarō Kaneda and his biker gang become entangled in a deep-state conspiracy and an outside resistance movement when one of the gang's members develops uncontrollable psychic powers after a horrible bike crash. What follows—R-rated violence, trippy hallucinations, and interdimensional passage, with humor peppered in—is a heady whirlwind that drops you off miles from where you started. Bonus points for the soundtrack, rich in percussion and chanted vocal rhythms, which is among the most distinctive in science-fiction film.
American Psycho (2000)
Bret Easton Ellis's frenzied finance bro Patrick Bateman became all-too-real in the hands of Christian Bale and director Mary Harron, who pushed the surreal nightmare of American Psycho to its highest highs. From pop-infused acts of murder to hyper-designed business cards that send chills down the spine, this is a horror movie that reminds us to fear the 1%.
Austin Powers: International Man of Mystery (1997)
Yeah, baby, yeah! There's no franchise that's quite as groovy as Austin Powers, the Mike Myers comedy about a sex-crazed, mod spy cryogenically frozen and reanimated in the '90s. It's an absolutely absurd James Bond sendup, but that's half the fun in watching him take on the villain Dr. Evil (also Mike Myers). If you find the London swinger with those teeth and Victorian lace ensembles as irresistible as apparently every woman on the planet, you can catch both the second and third installment on Hulu, too. Yes, please!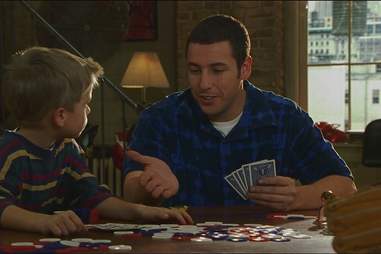 Sony Pictures
Big Daddy (1999)
While even early Adam Sandler hits had sentimental parts, there was usually a healthy dose of irony to go with the romantic-comedy beats and faux-inspirational moments. But with Big Daddy things got downright mawkish. While the movie has hilarious lines—"We wasted the good surprise on you" still kills—this oaf-meets-cute-kid tale is also notable for a lengthy Sheryl Crowe-scored montage, a big Mrs. Doubtfire-style courtroom finale, and the whelps of "Scuba Steve!" This was the first time Adam Sandler figured out he could make bros cry.
Blade Runner (1982)
Director Ridley Scott went out of his way to imagine 2019 Los Angeles as a pretty terrible place to be, and yet the look, sound, and feel of the world are so seductive that we want to visit regardless. Same goes for the story: Blade Runner's plot is a barely warmed-over detective yarn with Harrison Ford in the role of the hard-boiled investigator, but we can feel glimmers of the pain and confusion of artificial humans who realize they are powerless against their pre-determined fate. The movie is a triumph of world-building that still makes a mark on viewers and filmmakers years later.
Boogie Nights (1997)
This ensemble drama about the porn business, from director Paul Thomas Anderson, is one of the most rewatchable movies ever made. Any stray moment can draw you in: Mark Wahlberg's Dirk Diggler picking his name in a hot tub, John C. Reilly singing that Transformers song, Julianne Moore snorting an afternoon away, Burt Reynolds framing up a shot, or Heather Graham strolling across the screen in nothing but her roller blades. Splitting the difference between the laid-back melancholia of Robert Altman and the coked-out frenzy of Martin Scorsese, Boogie Nights remains PTA's most purely pleasurable film, a loving tribute to an era of big stars, big egos, and big… well… you've seen the ending.
United Artists Releasing
Booksmart (2019)
Ever since Superbad came out in 2007, there were calls for a female version of the Apatovian classic. A lot of comedies in the interim have come close—see, for instance, 2018's Blockers—but none has felt like a true heir. And then Booksmart came along. Olivia Wilde's directorial debut is the raucously hilarious story of two high achieving high school seniors, Molly (Beanie Feldstein) and Amy (Kaitlyn Dever), who have spent the past four years of their lives studying to maximize their chances of getting into their preferred prestigious Ivy League colleges only to find out a bunch of the popular kids are also going to really good schools. This coming-of-age story is incredibly well acted: Feldstein and Dever land every punchline even as they convey the strains of a meaningful female friendship, and it's almost unfair to single out a supporting performance because they are all perfect gems, but if you're twisting our arm, we'll pick one: Billie Lourd as a druggie, almost magical rich kid, is brilliant.
Dead Poets Society (1989)
Stand up on your couch, scream "carpe diem!" and finally watch this heartwarming drama about a group of boys studying to become cogs in the machine, and a teacher, played by Robin Williams, who teaches them to be individuals. Williams gets most of the notoriety for his inspirational poetry readings, but it's a young Robert Sean-Leonard (House) who chews on the most complicated material. What appear to be inspirational notes turn darkly serious, giving added depth to a coming-of-age film that stands the test of time.
The Dead Zone (1983)
This quietly harrowing Stephen King thriller is an underrated entry in both The Fly and Videodrome director David Cronenberg's and actor Christopher Walken's filmographies, yet remains among the warmest of their respective careers. The Dead Zone follows a man's effort to do good with his newfound psychic abilities and delivers some suspenseful and visually exciting scenes—his visions of the gazebo killer and of a crazed politician's future are both standouts—but the movie's power comes from the tragic love story running through it that while barely spoken is repeatedly evident in Walken's pained expressions.
Advertisement
There's a new streaming service in town. Discovery+ just launched with hundreds of titles from Discovery, Food Network, TLC, and more. Browse, binge, and enjoy your favorite shows (whether you're more Diners, Drive-Ins, and Dives or Wives With Knives), plus exclusive originals. Plans start at just $4.99 a month — get started now with your 7-day free trial.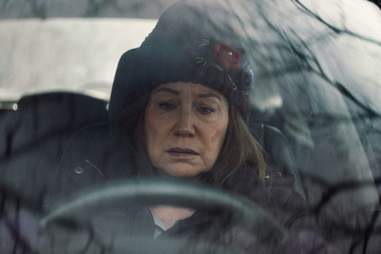 IFC Films
Diane (2019)
Though it addresses big ideas about guilt, death, addiction, and religion, Diane, which follows Mary Kay Place's widowed title character as she cares for her ailing loved ones, does so in a consistently surprising, human-scaled manner. Ever-diligent, Diane travels back and forth through Upstate New York, making food deliveries and checking in on the people she cares about—even when it causes her terrible pain and heartache. Film-critic-turned-filmmaker Kent Jones puts the viewer in the driver's seat, returning to the same image of the horizon fast approaching. As you'd imagine with a movie constructed from such small details, the destination isn't always the point.
District 9 (2009)
Based on South Africa's policy of apartheid, District 9 imagines a future in which aliens are discovered on Earth and the South African government responds by placing them in an internment camp. But after years of confinement and neglect, the foreign population rises up to reclaim their autonomy to attempt to return to their home planet. It's a dystopian extraterrestrial film that's more about xenophobia than it is about a war between worlds. Hailing from sci-fi filmmaker Neill Blomkamp and producer Peter Jackson, it's also a low-budget film that surprisingly ended up garnering four Oscar nominations, including Best Picture.
Warner Bros.
Eyes Wide Shut (1999)
Eyes Wide Shut is the best psycho-sexual odysessy is also a movie that'll resuscitate your Christmas spirit. Through Tom Cruise and Nicole Kidman's erotic tension, you'll see Christmas trees placed in the background of multiple scenes by notoriously meticulous director Stanley Kubrick, cementing this deeply Freudian meditation on desire a true "holiday" film. At the same time, the last scene of marital reconciliation does play out during a light-strewn shopping trip. It's the most mind-bending, brooding, orgy-filled Christmas movie ever made.
Face/Off (1997)
Capturing Nic Cage and John Travolta at the peak of their late-'90s absurdity, Face/Off has become a modern classic, holding steady over two decades of filmmaking and increasingly implausible Michael Bay explosions. John Woo's action-thriller takes a ridiculous concept—what if two sworn enemies, a cop and a criminal, literally switched faces and tried to outgun/outsmart each other for 140 minutes?—to helicopter vs. plane vs. Humvee heights, complete with the requisite pigeon scenes. If you can't let yourself indulge in Cage and Travolta's joyously maniacal performances, in which they play themselves, and each other, in a twisted revenge game, then you need to reevaluate your capacity for pleasure.
The Firm (1993)
The '90s were a golden era of sleek, movie-star-packed legal thrillers, and they don't get much better than director Sydney Pollack's The Firm. This John Grisham adaptation has a little bit of everything—tax paperwork, sneering mobsters, and Gary Busey, for starters—but there's one reason to watch this movie: the weirdness of Tom Cruise. He does a backflip in this movie. What else do you need to know?
Magnolia Pictures
Force Majeure (2014)
We learn the truth about ourselves in times of crisis. In Swedish director Ruben Östlund's hysterical, biting character study, a husband and wife, on vacation at a skiing lodge with their two young daughters, begin to breakdown after a controlled avalanche comes dangerously close to wiping out their lodge. The woman grabs the kids. The man runs for his life. The aftermath is brutal.
Girls Just Want to Have Fun (1985)
Long before we knew her as Carrie Bradshaw, a young Sarah Jessica Parker played a sheepish high school gymnast named Janey in this film that pretty much set the tone for many popular dance flicks that have followed it. The film centers on sheltered teenagers Janey and Lynne (Helen Hunt), who make it their mission to audition for a chance to appear on the fictional DanceTV against Janey's conservative father's wishes.
20th Century Fox
Gone Girl (2014)
Gillian Flynn and David Fincher's Rashomon-style thriller about a missing wife (Rosamund Pike) and the husband charged with her disappearance (Ben Affleck) will make you question everything you know about the person you share your bed with. If you somehow missed the film and the many fevered think-pieces it generated (e.g., misandrist mess or feminist triumph?), it's not too late to see what all the fuss is about it, while those already acquainted with the film's dark twists and turns will certainly find something new to unpack on a second viewing.
Heathers (1988)
If it weren't for Heathers, the darkest of pitch-black teen comedies, there'd be no Mean Girls. A young Winona Ryder stars as Veronica, the precocious high-schooler tasked with taking down a clique comprised of Heathers Duke, McNamara, and Chandler from the inside. Veronica gets help, though—from a smoldering Christian Slater as ultimate bad boy J.D. What follows is acerbic and absurd, and left an undeniable mark on the teen pop culture that followed.
Hell or High Water (2016)
The rootin', tootin', consideratin' modern Western follows bank-robbing brothers (Chris Pine and Ben Foster) looking to save their family farm from foreclosure while sticking it to The Man. Hot on their tails is a soon-to-retire sheriff (Jeff Bridges) and his partner, who engage in their own morality dialectic as they drive deeper into the Texas heartland. Hell or High Water has shoot-outs and car chases, but it's in diner conversations and pickup-truck small talk where director David Mackenzie finds a beating heart, economic depression as the greatest equalizer. The material turns villains into heroes, heroes into villains, and simple characters into some of the actors' best performances to date.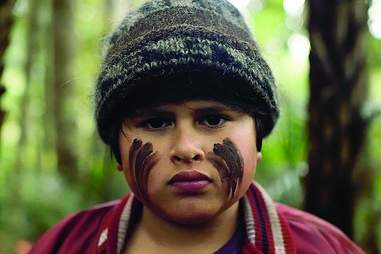 The Orchard
Hunt for the Wilderpeople (2016)
This New Zealand backwoods adventure roughs up every single coming-of-age cliché. Julian Dennison's Ricky is an absent-minded, hip-hop-obsessed, rebellious orphan. His grizzled foster father would like nothing more than to ship the kid back to government care. When the two find themselves stranded in the woods, mistaken for on-the-lam criminals, they... decide to own it. Wilderpeople is a generous genre blend, with Taika Waititi, director of the wacky, vampiric mockumentary What We Do in the Shadows, finding cheeky jokes in the duo's perilous journey.
The Hurt Locker (2009)
Kathryn Bigelow became the first woman to nab Best Director at the Oscars for her Best Picture-winning drama, that today seems all but forgotten. If you didn't catch The Hurt Locker over a decade ago (and few did—the movie only made about $17 million at the box office), stream this heart-pounding examination of a explosive disposal specialist (Jeremy Renner) who brushes against death during the Iraq War time and time again, but finds himself drawn to the ecstasy of bomb diffusion, even after being reunited with his family.
Neon
I, Tonya (2017)
This surprising gem is a darkly comedic retelling of disgraced figure skater Tonya Harding's life in the rink, as well as her connection to the 1994 attack on fellow skater Nancy Kerrigan. You may not know whether to laugh or to cry while getting through the film, which stars Margot Robbie as its leading lady and the scene-stealing, Oscar-winning Allison Janney as her hawkish stage mom, but that's all the more reason to add it to your queue.
If Beale Street Could Talk (2018)
The close-ups of faces in If Beale Street Could Talk, director Barry Jenkins' adaptation of the James Baldwin novel of the same name, feel like they have the power to stop time. The eyes stare back at you, the music swells, and the world drops away. That makes sense since the couple in the film's story, Tish (KiKi Layne) and Fonny (Stephan James), are so in love, so connected on a deep level, that their relationship serves as a bulwark against institutional racism and familial forces that attempt to keep them apart. But the empathy of the movie's gaze doesn't just extend to the two stars at its center: In thrilling, tantalizing detours we spend time with Tish's watchful mother (Regan King, who won Best Supporting Actress at the Oscars for her role) and Fonny's old friend (Atlanta's Brian Tyree Henry). These wounded, wise characters build out the larger world of early 1970s Harlem, one filled with wonder and cruelty, that Jenkins is evoking.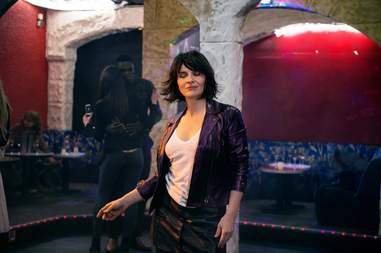 Curiosa Films
Let the Sunshine In (2018)
Opening with a deeply unpleasant sex scene for the ages, Claire Denis's Let the Sunshine In announces itself quickly as a movie that's most passionate about portraying the moments of courtship that fall outside the bounds of the conventional romantic comedy. And yet, the story of Isabelle, a middle-aged French artist (Juliette Binoche) struggling through a series of frustrating and alienating romantic encounters, is unapologetically, swooningly romantic. Many of the scenes between the endlessly charming Binoche and her often odious suitors, like a petty lout who demands "gluten-free olives" at a bar, are poignantly, wickedly funny. Denis's simultaneously sensual and heady film, which is loosely based on a philosophical work by the writer Roland Barthes, takes its time but eventually puts you under its spell.
The Lincoln Lawyer (2011)
Matthew McConaughey is Mickey Haller, the Lincoln Lawyer: the lawyer who works out of his Lincoln Town Car. Heller represents criminals, and as you might expect, talks business while his chauffeur shuffles them around LA as opposed to making deals in an office. While the character adapted from Michael Connelly's popular crime series is used to defending your typical sleazy career criminals, when he's hired to defend a privileged young man accused of murder, he finds his client may not be telling the truth and the case isn't what it seems to be. McConaughey is as McConaughey-y as he comes here, and he's supported by a fully rounded cast featuring Marisa Tomei, William H. Macy, Bryan Cranston, and Ryan Phillippe who make it hard to look away in each and every scene. Don't let the silly title make you take an exit too soon: This is exactly what you want out of a legal thriller.
Logan Lucky (2017)
Steven Soderbergh, the mastermind behind the Ocean's franchise, possesses Danny Ocean's keen sense of operation and attention to detail (no one shoots mundane insert shots quite like him). With Logan Lucky, the filmmaker gifts those of us without bespoke tuxedo collections the heist movie we deserve: a bluesy, Southern-fried, NASCAR-set bank job where pick-ups do the heavy-lifting, gummy bears and cleaning solution make the vaults go boom, and blue collars are worn with pride. No one believes Jimmy and Clyde Logan (Channing Tatum and Adam Driver), known around West Virginia for their bad luck "curse," could rob the Coca-Cola 600 race. How they stick it to the naysayers is one of the most pure-fun times you can have watching a movie.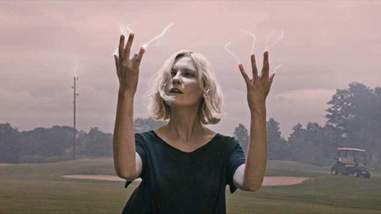 Zentropa Entertainments
Melancholia (2011)
At once a family melodrama, an apocalypse movie, a fantasy epic, and a symbolic meditation on mental illness, Lars von Trier's Melancholia features a first act that focuses on Justine (played by Kirsten Dunst), a severely depressed bride-to-be struggling to make it through her nuptials, while part two shifts the focus to her sister Claire (Charlotte Gainsbourg), as both she and Justine react very differently to the discovery that a rogue planet is on a direct collision course with Earth. Overflowing with stunningly evocative imagery and devastating performances, Melancholia is one of the all-time best cinematic representations of depression, one that will haunt you long after the closing credits.
The Nice Guys (2016)
Birthed from '70s funk, covered in porn sleaze, and decorated with the English-language equivalent of shaggy neon carpet, this rollicking, Los Angeles-set noir is a comedy of groovy errors. Writer and director Shane Black combines the spitfire soul of Kiss Kiss Bang Bang with his Iron Man 3 action-directing skills to intoxicating effect. There's a mystery in play—a missing girl, a celluloid MacGuffin, an auto-industry conspiracy—but it's all bedrock for Ryan Gosling, the Inspector Clouseau answer to L.A. Confidential, and Russell Crowe, a bruiser straight man who scores just as many laughs, to parade across. Around the time Gosling falls off his third ledge and a 12-year-old starts expounding on penis size, it's clear Black's shooting for lunacy. With only a few bumps along the way, The Nice Guys gets there.
IFC Films
The Nightingale (2019)
On the surface, The Nightingale, director Jennifer Kent's unceasingly brutal follow-up to her breakout horror hit The Babadook, is another familiar tale of vengeance and bloodshed. Claire, a 21-year-old Irish convict played by newcomer Aisling Franciosi, faces incredible hardships at the hands of cruel, merciless British officers in 1825 Tasmania. After being raped multiple times and seeing her family killed in front of her eyes, she's left for dead. But she survives, tailing her attackers across the harsh Australian landscape with the help of Aboriginal tracker Billy (Ganambarr), who she initially treats with contempt and condescension. Shooting in a box-like aspect ratio, Kent zeroes in on the hypocrisies of colonialism with a startling sense of purpose. Her camera often locks in on the faces of the characters, refusing to look away and encouraging the viewer to confront truths that most films would prefer to keep hidden.
Nomadland (2021)
Director Chloé Zhao's film is both a travelogue of the West, displaying some of the most stunning vistas ever put to screen, and a document of the innate hardness of American life under corporate structures. Zhao, known for her docudramas, adapts a piece of nonfiction by Jessica Bruder, using some of Bruder's subjects, but anchoring the piece with a performance by Frances McDormand as her protagonist Fern, who lived with her husband in a small mining town known as Empire before the corporation keeping it afloat shut down and the zip code was rendered nonexistent. Patiently, Zhao and McDormand reveal how Fern's insistence on traveling is a means of coping with grief over the loss of her spouse. Nomadland is gorgeous, but never glamorizing. Instead, it's a generous work of art.
The Omen (1976)
Shot by genre-defying director Richard Donner (Superman, The Goonies), this horror classic preys on a parent's worst fears. What if your kid was the Antichrist? As little Damien's victims lose their heads, his American diplomat father (played in earnest by Gregory Peck) tries to keep his on to solve the mystery. Jerry Goldsmith's iconic soundtrack triples The Omen's terror.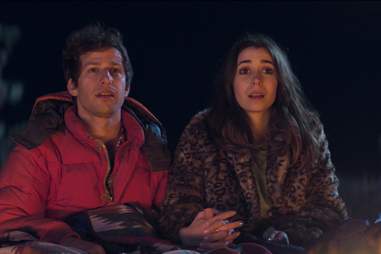 NEON
Palm Springs (2020)
Arriving on streaming in the middle of a pandemic, a time when many lives have fallen into unceasing loops of quarantine-related repetition and tedium, the Lonely Island produced comedy Palm Springs perhaps resonated differently than when it premiered at Sundance earlier this year. Jokes about doing the same shit over and over just hit harder now. Tracking a romance between a goofball wedding guest (Andy Samberg) and the bride's self-destructive sister (Cristin Milioti), writer Andy Siara's clever script combines Groundhog Day existentialism with quantum physics, doling out inspirational life lessons and math cram sessions at a clipped pace. In the same way Tom Cruise had to battle aliens in Edge of Tomorrow, the two must relive a wedding over and over, struggling to escape from an Instagram-ready, celebratory hell.
Parasite (2019)
Another collision of whiz-bang genre pyrotechnics and nudge-nudge class critiques, Parasite finds South Korean director Bong Joon-Ho working in a similar mode as his previous two features, the dystopian train thriller Snowpiercer and environmental love story Okja. There's an allegorical threading of ideas going on in this Oscar-winning nail-biter, which follows a poor family that infiltrates the blemish-free modernist home of a wealthy family, but Bong still ratchets up the suspense with each scene. Somehow, his movies keep getting even more precise in their execution.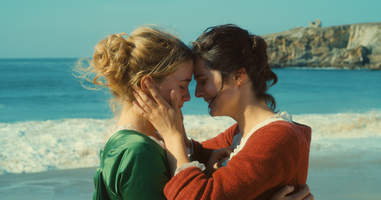 Neon
Portrait of a Lady on Fire (2019)
Portrait of a Lady on Fire opens with the simple image of a hand drawing charcoal lines across a blank piece of paper. That's how an artist begins her work: sketching out the outline and making preliminary judgements about what goes where. We soon learn the hand belongs to Marianne (Noémie Merlant), a French painter in the 18th century who falls in love with the young woman (Adèle Haenel) assigned to her as a subject. (In the early stages of the relationship, Marianne must keep her profession hidden on long walks with her object of obsession, giving the narrative an almost spy-movie like touch.) The fastidiousness of the early scenes helps establish the precise, exacting style of director Céline Sciamma, who tends to favor uncluttered compositions filled with lots of blank space, deliberate movements, and dramatic splashes of color. The flame-kissed title is very literal. As the story builds to its inevitably tragic and bittersweet finale, the movie strikes a powerful emotional chord.
Possessor (2020)
Opening with a piece of metal piercing the top of a woman's head, the second feature from filmmaker Brandon Cronenberg announces the type of movie it is right away. The son of body horror legend David Cronenberg, the director splices together elements of Inception, The Matrix, and his father's own cyberpunk reality-bender eXistenZ to create an art-damaged thriller about an assassin (Andrea Riseborough) who uses advanced technology to take control of other people and carry out her assigned hits using their bodies. For her latest mission, she invades the mind of Colin (Christopher Abbott), the boyfriend of the daughter of a powerful tech CEO. Simple job, right? Not so fast. From the plot description, Possessor sounds relatively straightforward, but Cronenberg piles on enough gruesome gore effects, Walter Benjamin quotes, lengthy sex scenes, and hallucinatory montages to make this a sufficiently out there experience.
The Shape of Water (2017)
This Cold-War-era fairy tale rattles a G-rated romance between a human woman and an amphibian fish-man with splashes of R-rated reality. Elisa, a mute janitor at a hush-hush government research lab, doesn't just pine for the model man, she's sexually stifled, her pleasure scheduled each morning to the ring of an egg timer. Her soon-to-be-lover, the ripped, otherworldly "asset" fought over by American scientists and Russian spies, is a viable lover, but sheds blood like any other tortured creature. Director Guillermo del Toro doesn't flinch in any of the graphic details, but a classic Hollywood touch, lush color palette, and air of innocence make this horror-adjacent story of outsiders as sweet as any Disney flick.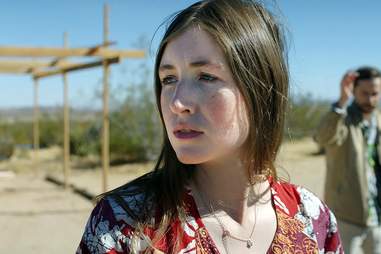 NEON
She Dies Tomorrow (2020)
Read anything about She Dies Tomorrow and you'll find some mention of how it's eerily perfect for the current moment. It's a movie ostensibly about mortality, but more accurately about fear and how it's its own sort of virus. The plot is relatively simple: Amy (Kate Lyn Sheil), for reasons she never fully explains, is convinced she's going to die. She calls her friend Jane (Jane Adams) and describes her premonition. Jane attributes Amy's paranoia to an alcoholic relapse, and writes it off, but then, alone in her basement, huddled over a microscope, Jane starts to experience the same fear. It's contagious. The world director Amy Seimetz creates is one that turns progressively more surreal. It's an echo of our own that slowly grows more foreign. It's also often absurdly funny, like a Tim & Eric sketch with an operatic bent.
Shirley (2020)
Josephine Decker is the preeminent director of women who utilize their canny madness in ways that are utterly thrilling. Her last outing was Madeline's Madeline in which a teenager's acting class veers into surreality when a drama teacher starts to leech off her student's experience. Now, she brings another tale of art and women on the verge with Shirley, a fictionalized tale of the horror author Shirley Jackson, played with impish vigor by Elisabeth Moss. Aping the general structure of Who's Afraid of Virginia Woolf?, Shirley finds a young couple Fred and Rosie (Logan Lerman and Odessa Young) arriving at the home of Shirley and her husband Stanley Hyman (Michael Stuhlbarg) on the Bennington campus. Decker's camera never stops moving, delving you into their states of mania and revelation. The house itself feels like one of Jackson's haunted creations, moaning with the anxiety of these characters.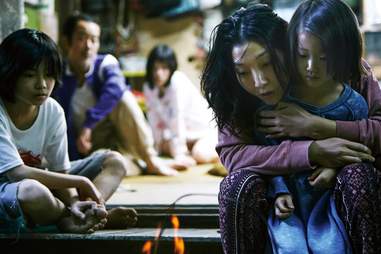 GAGA Pictures
Shoplifters (2018)
The bonds that tie together makeshift families are the subject of Shoplifters, a moving and lyrical tale of economic struggle on the margins in Tokyo. We meet the rouge-like patriarch Osamu Shibata (Lily Franky) in an opening scene where a young child, wide-eyed and curious, serves as the accomplice in a small-scale act of thievery at a grocery store. The two communicate through subtle nonverbal cues, almost like dancers performing a choreographed routine. From there, director Hirokazu Kore-eda expands the scope of the story, introducing the viewer to other family members and sketching out the broader social order of the community, one where money, safety, and dignity are secured through constantly shifting legal and illegal means. Eventually, the obscured dynamics and tangled histories between the characters begin to unfurl and the movie becomes a mystery of sorts, one where the clues are buried in the small details of domestic life.
Shrek (2001)
This hilarious (both ironically and non-ironically) DreamWorks film has exactly what a children's film needs to be just as palatable to adults: inappropriate humor, pop culture references, and Eddie Murphy voicing a wisecracking donkey. Set in a fantastical enchanted forest, the story features spoofs of all the fairy tale characters everyone knows and loves, along with an ornery ogre named Shrek (Mike Myers) whose lawn they're encroaching on at the order of the evil Lord Farquaad (John Lithgow), a ruler with an inferiority complex and an impeccable bob. To get the Three Little Pigs and others off his dang property, Shrek sets out on a quest to rescue the princess Fiona (Cameron Diaz) from a particularly lustful lady dragon in order to get his solitude back. Instead of delivering the princess to Farquaad as promised, Shrek breaks a curse caging Fiona, and they all live happily ever after.
The Sisters Brothers (2018)
Joaquin Phoenix and John C. Reilly as a pair of hitman brothers in the wild west is a good way to sell a movie. Two men known for wacky performances traipsing across the violent and dusty landscape? Sign us up. The Sisters Brothers delivers on that logline while also being a genuinely thoughtful take on the genre. The saga of these siblings grappling with past trauma is paired with the related tale of two unlikely comrades (Riz Ahmed and Jake Gyllenhaal) who dream up a Utopian paradise. Ultimately, hubris takes hold—as it tends to when gold is involved—but this is more a character study than anything else, and these actors are the ones to tackle it.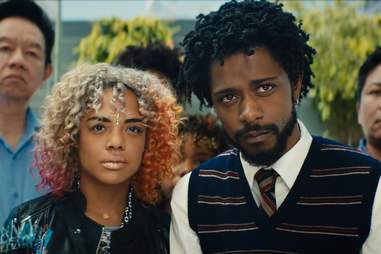 Annapurna Pictures
Sorry to Bother You (2018)
In the music he made as a member of the Oakland hip-hop group The Coup, Boots Riley displayed a gift for tackling big, provocative ideas about politics, labor, inequality, and race with wit and nerve. It's unsurprising that Sorry to Bother You, the bracing comedy he wrote and directed about telemarketer Cassius Green (Lakeith Stanfield) using his "white voice" to climb the corporate ladder, would pack a similar punch. While the surreal visual sensibility of the film recalls a string of indie hits of the '00s, particularly the freewheeling work of Michel Gondry and Spike Jonze, those movies were often content to wallow in emotional solipsism. Eternal Sunshine was about climbing in your own brain; Sorry to Bother You is about reaching out into the world around you and shaking it up. Riley's wickedly funny, tonally adventurous story is prescriptive. It's a brilliant satire, but it's also a blueprint.
Star Trek II: The Wrath of Khan (1982)
Great action and great science fiction are hard to come by. The first Star Trek sequel is a time-tested balancing act, dabbling in terraformation theory with its "Genesis Device" MacGuffin, and puffing out its chest with the Captain Kirk-Khan Noonien Singh rivalry. The face-off is distant but electrifying, a naval battle set in the stars. Wrath of Khan even conjures a scare or two—you won't want to sleep after watching a mind-controlling Ceti eel wiggle into Chekov's ear.
Sony Pictures
Superbad (2007)
The comedy that kicked off Seth Rogen and Evan Goldberg's writing partnership crams more crude sex jokes than anyone ever thought possible into a heartwarming story of inseparable best friends (Michael Cera and Jonah Hill) on the verge of shipping off to different colleges. Factor in some wild party scenes, a then-unknown Emma Stone, high-school horndogs riffing to their hearts' content, and McLovin, and you've got yourself a classic high school movie that rivals the likes of Dazed and Confused.
Support the Girls (2018)
The tacky world of the "breastaurant" might sound like an odd fit for former "mumblecore" auteur Andrew Bujalski, one of the premiere chroniclers of mid '00s social alienation, but the movie's family-friendly establishment Double Whammies ends up being the perfect staging ground for a funny, whip-smart comedy about labor and friendship. Put-upon manger Lisa (Regina Hall) has a watchful, caring eye as she looks after the younger women who work for her, serving as the negotiator between them and a large roster of rowdy customers, crappy boyfriends, and boorish authority figures. Hall embodies that kindness and generosity—you'll wish she was your boss—but in this complex, nuanced workplace comedy she also shows you the emotional toll that work can take.
The Truman Show (1998)
With each passing year, The Truman Show seems more and more prescient. In the late-'90s, the idea of millions of people tuning in to watch a man live remained firmly rooted in science-fiction; two years later, Survivor debuted in the the United States, igniting a reality-television wildfire. The current climate of constant surveillance adds an even more sinister layer to the Andrew Niccol-penned script, which made Jim Carrey (as Truman) the star of a constant, ongoing hit reality show he had no idea existed. When you finish, you might find yourself questioning the nature of your own reality, especially when you get online.
Annapurna Pictures
Where'd You Go Bernadette (2019)
Where'd You Go Bernadette arrived in theaters after months of speculation about its ever-shifting release date in the press and was mostly met with puzzlement by those who saw it. What exactly is this peculiar movie up to? Richard Linklater's adaptation of Maria Semple's comic novel, which centers on a neurotic architect named Bernadette (a full-tilt Cate Blanchett), is perhaps best viewed on a streaming service as an intriguing experiment, one of those movies that juggles ideas, tones, and locations, including tech-obsessed Seattle and ice-covered Antarctic, with a rewarding gusto.
Wonder Boys (2000)
Cast against type as a creative writing professor at a Pittsburgh college, Michael Douglas gives one of his funniest performances in this adaptation of writer Michael Chabon's poignant campus novel. Though he's not playing an oily rich guy, Douglas still has that sleazy charm, which he uses to manipulate the people around him. Director Curtis Hanson, fresh off the success of L.A. Confidential, makes the academic world of department meetings and cocktail parties come alive with spark and wit.
Young Adult (2011)
Mavis Gary, the protagonist of Jason Reitman's acerbic dark comedy Young Adult, is a jerk. She's got a drinking problem, a failed marriage, an unfulfilling career as a ghostwriter, and a tendency to greet every person she meets on a trip back to her hometown with barely concealed contempt. And, yet, Charlize Theron's clever performance and Diablo Cody's sharp script make you understand Mavis' plight without sacrificing the bitterness that makes her such a captivating character. It's a high-wire act that the movie nails in its brisk runtime. By the end, you might not want to hang out with Mavis, but you at least know where she's coming from.
Follow the Thrillist Entertainment editors on Twitter @ThrillistEnt.