The Absolute Best Movies on Hulu Right Now
Expand your streaming options.
Netflix may have been first to the streaming game, but it's far from the only player in 2022. One of the most reliable alternatives is Hulu, which is known mostly for its huge archive of TV shows and next-day episodes of currently airing series, but subscribers know that its secret weapon is its solid collection of quality movies. From director Bong Joon Ho's top-tier features to rewatchable rom-coms, Hulu can hold its own. Here, to make our case, are the best movies currently on Hulu.
ALSO RECOMMENDED: Our curated guides to the Best Movies on Amazon Prime, the Best Movies on Netflix, and the Best Movies on HBO Max.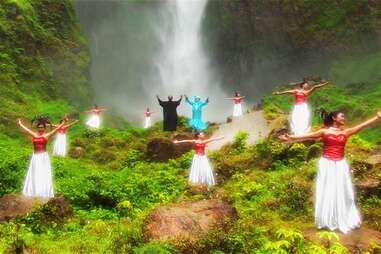 The Act of Killing (2012)
Before releasing The Look of Silence, which earned a place on our best movies of 2015 list, documentarian Joshua Oppenheimer investigated the 1965 Indonesian genocide through the eyes of its perpetrators. Anwar Congo, a gangster sanctioned by the government to eliminate "communists," begins by bragging to Oppenheimer about murdering over 1,000 people. His glory transmutes into a meta-atonement when Act of Killing casts Congo in the "movie adaptation" of his own life. It all makes sense when you submit yourself to Oppenheimer's bizarre, tragic, and eye-opening experiment.
Akira (1988)
Akira, inadequately described as a sci-fi gang movie, is largely responsible for the boom of anime aimed towards adult, Western audiences (and also happened to eerily predict Tokyo's 2020 Olympics). Set in a post-apocalyptic, crime-addled Neo-Tokyo in 2019, Shōtarō Kaneda and his biker gang become entangled in a deep-state conspiracy and an outside resistance movement when one of the gang's members develops uncontrollable psychic powers after a horrible bike crash. What follows—R-rated violence, trippy hallucinations, and interdimensional passage, with humor peppered in—is a heady whirlwind that drops you off miles from where you started. Bonus points for the soundtrack, rich in percussion and chanted vocal rhythms, which is among the most distinctive in science-fiction film.
Aniara (2018)
If you love existentialist outer space movies that make interstellar travel look like no fun at all, no thank you, then this one is for you. In the same vein as High Life, another masterful bleak space movie directed by Claire Denis, Aniara takes place on board a spacefaring vessel whose inhabitants are doomed to live their lives in the void: A spaceship on a routine trip to Mars is suddenly knocked off course, and, unable to correct themselves, its passengers must resign themselves to living within its decks. The movie follows MR (short for Mimaroben), a young woman who mans the Mima, a large room powered by an AI whose task is to mimic the sensation of being back in the green forests of Earth.
Another Round (2020)
Thomas Vinterberg's Oscar-winning drama stars Mads Mikkelsen as Martin, a history teacher who is reserved and sober, quite literally. When out for a birthday celebration with his fellow instructors, he initially refuses to drink, but eventually gives in and an experiment starts. He and his buddies start to test a theory of psychiatrist Finn Skårderud that humans' blood alcohol content is, on average, too low. The idea is research, but as with anything involving alcohol, lines become blurred. Martin, at first, sees only the positive effects: He's a more exuberant presence in his classroom, and is reconnecting with his wife. Eventually, as it always does, the buzz wears off. Vinterberg crafts a tale of male ennui in a country where drinking is rampant, and captures an incredible performance from Mikkelsen.
Nothing much happens in The Assistant. A young woman (played by Ozark's Julia Garner)—whose name is apparently Jane, although it's never said in the movie—goes to work at the office of a high-powered Hollywood executive before the crack of dawn and heads home long after the sun has set. But director Kitty Green has made a silent scream of a film, which is so quietly unsettling it becomes hard to shake. Jane's unseen boss is quite evidently a stand-in for Harvey Weinstein, and over the course of her otherwise monotonous day, Jane starts to realize something is amiss. There's an earring on the carpet. A new, very pretty woman arrives from Idaho with no experience and is put up in a fancy hotel. A meeting with an actress extends late into the night. But this is not a story about triumph over the evil that men like Weinstein perpetrate. Instead, it is about the systems in place that have allowed his behavior to go on for so long. When Jane reaches out to a smarmy HR person, played by Succession's Matthew Macfadyen, she quickly realizes that speaking out is futile.
Barb & Star Go to Vista del Mar (2021)
Barb & Star Go to Vista Del Mar took us by surprise like a benevolent water spirit, a reference you'll get if you watch this truly zany comedy from the minds of Kristen Wiig and Annie Mumolo, who also star as the titular Barb and Star, best friends who decide to leave their little Nebraska town for a vacation in the fictional Floridian paradise of Vista Del Mar. What they don't know is that a pale villain with a severe bob (also played by Wiig) is targeting that very spot because of a personal grievance. Barb & Star has multiple musical numbers, some wild cameos, and an infectiously goofy spirit largely thanks to the brilliant work of the pair of women at its center. It's hard to describe the specific lunacy of this film, so just go watch and be swept away by the good vibes.
Bergman Island (2021)
The legendary Swedish auteur Ingmar Bergman hangs like a shadow over the latest from Mia Hansen-Løve's film which asks questions about inspiration in the story of a married filmmaker couple on a retreat. Vicky Krieps and Tim Roth play Chris and Tony, both directors and screenwriters themselves, who take a trip to Fårö, the spot where Bergman lived and made some of his most famous films. They are sleeping in the bed where parts ofScenes from a Marriage was filmed, if there weren't enough dread hanging over their coupling. But Bergman Island is not exactly about a marriage falling apart. Rather, it's about what we ask from art and artists and how we choose to utilize that in our own work.
Billy Madison (1995)
A movie where Adam Sandler plays a lazy, grown man who has to go back to school to graduate from elementary school, middle school, and high school in order to inherit his father's empire? Yes, it's ridiculous and everything you would expect it to be, but it's also peak Sandler hilarity. If you accept Billy Madison as what it is, and even embrace the giant penguin hallucination, the '90s comedy is a ton of stupid fun.
Black Swan (2010)
First and foremost, Darren Aronofsky's Black Swan is a terrifying psychological thriller. Itself mirroring the plot of Swan Lake, the film chronicles a New York City Ballet ballerina's (Natalie Portman) trying pursuit of the principle role of the White Swan in an upcoming production, which increasingly makes her go mad when she finds herself up against a new dancer (Mila Kunis), who at first seems like a better fit for the Black Swan. As dark as the film is, pseudo-sexual themes run throughout each movement and the tension between the two leads (which culminates into quite the steamy scene). At large, it's about the intersection of perfectionism and sanity—it'll make your skin crawl, but you'll feel your blood boil a bit, too.
Booksmart (2019)
Ever since Superbad came out in 2007, there were calls for a female version of the Apatovian classic. A lot of comedies in the interim have come close—see, for instance, 2018's Blockers—but none has felt like a true heir. And then Booksmart came along. Olivia Wilde's directorial debut is the raucously hilarious story of two high achieving high school seniors, Molly (Beanie Feldstein) and Amy (Kaitlyn Dever), who have spent the past four years of their lives studying to maximize their chances of getting into their preferred prestigious Ivy League colleges only to find out a bunch of the popular kids are also going to really good schools. This coming-of-age story is incredibly well acted: Feldstein and Dever land every punchline even as they convey the strains of a meaningful female friendship, and it's almost unfair to single out a supporting performance because they are all perfect gems, but if you're twisting our arm, we'll pick one: Billie Lourd as a druggie, almost magical rich kid, is brilliant.
Demolition Man (1993)
With a prophetic script co-written by Heathers screenwriter Daniel Waters and sleek direction from artist-turned filmmaker Marco Brambilla, Demolition Man remains one of the more underrated '90s action movies. The poster teases a futuristic sci-fi showdown between Sylvester Stallone and Wesley Snipes, which the film more or less delivers on, but the pleasures are in the margins, particularly in the utopian absurdity of the 2032 "San Angeles" setting and the clever world-building that pops up throughout the story.
Diane (2019)
Though it addresses big ideas about guilt, death, addiction, and religion, Diane, which follows Mary Kay Place's widowed title character as she cares for her ailing loved ones, does so in a consistently surprising, human-scaled manner. Ever-diligent, Diane travels back and forth through Upstate New York, making food deliveries and checking in on the people she cares about—even when it causes her terrible pain and heartache. Film-critic-turned-filmmaker Kent Jones puts the viewer in the driver's seat, returning to the same image of the horizon fast approaching. As you'd imagine with a movie constructed from such small details, the destination isn't always the point.
Drag Me to Hell (2009)
Reeling from the disappointment of Spider-Man 3, director Sam Raimi went back to his horror roots with this delightful romp of a scarefest he co-wrote with his brother Ivan. Alison Lohman plays Christine Brown, who gets cursed by an old Roma woman (Lorna Raver) when, trying to get a promotion, she refuses to give the client a house loan to avoid eviction. Christine tries to return to life as normal with her boyfriend (Justin Long), but now she's being pursued by a Lamia demon who offers up hallucinations and various other terrors. Drag Me to Hell brings Raimi back in the Evil Dead 2 orbit, where the audience has fun because the demons seem to be having a great time terrorizing not-so-poor Christine, whose self-interest ends up being her downfall. It's a whirlwind movie that keeps pulling you into its pit with glee.
Drinking Buddies (2013)
This understated romantic comedy from mumblecore master Joe Swanberg centers on the intimate relationship between hard-drinking brewery colleagues Jake Johnson and Olivia Wilde, who both also happen to be dating other people (Anna Kendrick and Ron Livingston, respectively). The two relationships get progressively entangled over the course of the film. Although Drinking Buddies starts out looking like a traditional rom-com, Swanberg quickly subverts viewer expectations, resulting in a film that is romantic but surprisingly devoid of sap, funny without falling back on cheap gags. This is a movie that moves along in small moments: a lingering glance, an awkward silence, a stolen kiss. A crisp, refreshing little film.
A Glitch in the Matrix (2021)
Rodney Ascher is well-practiced when it comes to making documentaries about the rabbit holes pop culture can send people down, and A Glitch in the Matrix is another haunting trip from the director of Room 237. Ascher's latest film centers on those living among us who believe that our own world is just a simulation. Using the work of Philip K. Dick, scientific studies, and, of course, The Matrix as guideposts, Ascher doesn't seek to prove or debunk simulation theory, but to investigate why people gravitate towards it and what those implications could mean. What results is a haunting trip.
Her Smell (2019)
Becky Something, the lead singer of fictional alt-rock mainstays Something She, is a whirlwind of emotional chaos. As played by Elizabeth Moss, the captivating star of Mad Men, The Handmaid's Tale, and director Alex Ross Perry's previous psychological thriller riff Queen of Earth, she's constantly fighting a war on all fronts: against her exasperated bandmates, her watchful manager, her hopeful proteges, her wounded ex-boyfriend, and anyone else who gets in her way. Conflicts fold in on each other; enemies become allies. Divided into distinct sections that each unfold in a single location, Her Smell is a music business recovery story conceptualized and shot by cinematographer Sean Price Williams as a combat film that keeps you locked in for every beat.
Hustlers (2019)
Both flashy in its presentation and meticulous in its construction, Hustlers, a true-crime docudrama about a group of strippers ripping off their oblivious Wall Street customers, understands the intricacies of its setting. Constance Wu's Destiny, new to the occupation, takes in every detail along the way. Yes, there's the light-strewn stage with the pole where Jennifer Lopez's ringleader Ramona makes her on-screen debut to a Fiona Apple song while money piles up around her, but there's also the chilly rooftop where employees go for smoke breaks and the foreboding office where tips get distributed. In the simultaneously seedy and glamorous world of Hustlers, all these places matter. With empathy and humor, writer and director Lorene Scafaria maps out the terrain. Cash rules everything, but the women of Hustlers find ways to make money work for them.
Ingrid Goes West (2017)
Your Swimfan references are officially outdated -- Ingrid Goes West is the new standard for tech-enabled stalking. After the death of her mother, an unhinged Ingrid (Aubrey Plaza) cashes out her $60,000 inheritance, moves to Los Angeles, and pursues Taylor (Elizabeth Olsen), an Instagram star with a knack for pairing avocado toast food porn with Ralph Waldo Emerson quotes. Taylor's feed provides Ingrid with everything she needs to infiltrate the influencer's life, a con which spins faster and faster out of control with every double-tap "like." Director Matt Spicer snaps some truly frightening images in this descent into digital hell -- a zombified Ingrid scrolling through her feed as ants crawl over empty Corona bottles is downright apocalyptic -- but Plaza's manic take on social media addiction brings the real fire.
The Insider (1999)
Ripped-from-the-headlines thrillers don't come much more propulsive than director Michael Mann's whistleblower drama about the tobacco industry. With Al Pacino doing some of his more restrained late-career hoo-ah-ing as 60 Minutes producer Lowell Bergman and Russell Crowe expertly underplaying the role of executive-turned-truth-teller Jeffrey Wigand, The Insider is not the flashiest movie, and the lack of a Nixon-like public villain perhaps prevented it from becoming as ubiquitous as All the President's Men. But Mann's mastery of complex material should make this essential viewing for Deep Throat fans and anyone with a healthy skepticism of corporate America. (Also, though the public largely avoided it, it did rack up seven Oscar nominations, including Best Picture, Best Director, and Best Actor for Crowe.)
I, Tonya (2017)
This surprising gem is a darkly comedic retelling of disgraced figure skater Tonya Harding's life in the rink, as well as her connection to the 1994 attack on fellow skater Nancy Kerrigan. You may not know whether to laugh or to cry while getting through the film, which stars Margot Robbie as its leading lady and the scene-stealing, Oscar-winning Allison Janney as her hawkish stage mom, but that's all the more reason to add it to your queue.
L.A. Confidential (1997)
A lurid tale of cynicism and optimism crashing into one another in the swingin' '50s of Hollywood, director Curtis Hanson's adaptation of writer James Ellroy's crime novel attacked the town's corrupt underbelly with gusto. Introducing us to Guy Pearce and Russell Crowe, who play cops tasked with walking a tricky ethical line, the movie has a leisurely pace, which allows the viewer to dig into the damaged psyches of the characters. The byzantine plotting might be tough to follow -- or fully understand as the credits roll -- but the people linger.
La La Land (2016)
Lifting from 20th century musicals of every Technicolor hue, La La Land puts a hop in the steps of two artists as they navigate Hollywood and romance. Ryan Gosling, as a jazz purist who yearns to open his own club, and Emma Stone, a barista-cum-actress who spends equal time auditioning and daydreaming, pull off an acting two-step by imbuing Broadway-style fantasy—complete with showstoppers, solos, and dance routines—with a realistic struggle creative types will recognize. The drama isn't as potent as director Damien Chazelle's pragmatic spectacle, but rarely do we get crowd-pleasers with a head and a heart. Just try to quit humming the keystone single "City of Stars"—and if you do, tell me how, because I can't.
Let the Right One In (2008)
The One Major Vampire Rule you must remember is this: Vampires cannot enter your home unless you invite them inside. And Oskar, the 12-year-old protagonist of this grimly brilliant Swedish adaptation of John Lindqvist's celebrated novel, does exactly that with Eli, his new neighbor and vampire stuck in an 11-year-old girl's body. There's no home invasion here, but it does bring the monster inside. Instead of Eli terrorizing the bullied Oskar, she takes out his enemies with disturbingly creative methods. As Eli and Oskar build trust between each other, one moment your heart will soften to their relationship and the next it'll be ripped out of your chest and doused in hydrochloric acid.
Little Joe (2019)
We've all seen Invasion of the Body Snatchers, but not like this. Young, single mother Alice is a bio-engineer at a futuristic greenhouse whose purpose is to research and genetically engineer the perfect plant. She and her team create "Little Joe," a beautiful red flower that, if kept at the right temperature and spoken to and watered regularly, will, in exchange, make its owner happy. She secretly brings one of the flowers home for her son, but soon starts to notice an odd change. Her son still looks and talks and feels like her son, but he's somehow different, like something about him has shifted. Her fellow employees at the lab also start to exhibit strange changes, and Alice grows more and more paranoid, convinced that the plants are altering the people around her in terrifying, insidious ways.
Little Miss Sunshine (2006)
When you throw a dysfunctional family made up of equally troubled and neurotic members into a VW van for a cross-country road trip, drama and hilarity ensues. In this dark comedy directed by Jonathan Dayton and Valerie Faris, the Hoover family follows their daughter's dream of entering a pageant in California, hauling everyone from the heroin-addicted grandfather (Alan Arkin) and suicidal, estranged brother (Steve Carell) into the bus for the trip. While the ensemble indie may come off as extremely depressing, there's a handful of heart and more than enough quirky jokes to keep you in a sunny disposition as you join the ride with the Hoovers.
Logan Lucky (2017)
Steven Soderbergh, the mastermind behind the Ocean's franchise, possesses Danny Ocean's keen sense of operation and attention to detail (no one shoots mundane insert shots quite like him). With Logan Lucky, the filmmaker gifts those of us without bespoke tuxedo collections the heist movie we deserve: a bluesy, Southern-fried, NASCAR-set bank job where pick-ups do the heavy-lifting, gummy bears and cleaning solution make the vaults go boom, and blue collars are worn with pride. No one believes Jimmy and Clyde Logan (Channing Tatum and Adam Driver), known around West Virginia for their bad luck "curse," could rob the Coca-Cola 600 race. How they stick it to the naysayers is one of the most pure-fun times you can have watching a movie.
Marie Antoinette (2006)
Shot on location at the Palace of Versailles, and tricked out with a post-punk soundtrack, Sofia Coppola's biopic of France's rebel princess is glamorous confection. The Lost in Translation writer-director chooses effervescent drama over deconstructive info-dumping, going all in on the irresistible glow of her Virgin Suicides starlet Kirsten Dunst. She runs mad around the palace, spends oodles of money on cakes and dresses, and occasionally bares it all, leaving her eyes to do the talking. Marie learns lessons, but those of us watching are just there for an 18th-century hipster ride.
Memories of Murder (2003)
Before he wowed American audiences with the dystopian train thriller Snowpiercer, the animal-rights fable Okja, and the Oscar-winning Parasite, Bong Joon Ho directed his most grounded movie to date with Memories of Murder, his ripped-from-the-headlines crime drama about the hunt for one of the first serial killers in Korean history. The film follows two detectives (played by Song Kang Ho and Kim Sang Kyung) with very different temperaments and methods as they attempt to make sense of murders across months and years. Like David Fincher's Zodiac, this is a procedural that focuses on the granular aspects of police work while still examining profound questions about truth, memory, and the search for meaning.
Moneyball (2011)
Moneyball is a baseball movie bearing the mark of its writer, Aaron Sorkin. That, among the lead performances by Brad Pitt and Jonah Hill, propelled the movie to wrangle in a handful of Oscar nominations in its portrayal of how real life failed baseball star-turned-general manager of the Oakland Athletics Billy Beane transformed the game with his analytics-based approach to scouting. Your eyes might glaze over when the jargon-heavy dialogue gets deep in the weeds of Beane's tactics, but Pitt humanizes the role to carry this story of a man who was ignored, when really he was in a league of his own. Ultimately, you don't have to understand the sport or its spreadsheets to be a fan of this drama, and recognize it's one of the best baseball movies ever made.
This saga of a group of teen soldiers in an unidentified Latin American country (though filmed in Colombia) is one of the most intense watches on this list. The young men and women that the film centers on are given the adult responsibility of watching over a captive American doctor, but director Alejandro Landes never lets you forget that these are kids way in over their heads. Monos has drawn comparisons to Apocalypse Now, but the interpersonal drama sometimes plays out like it's on The CW: Hormones are raging as the environments get more and more intense, all captured by Jasper Wolf's stunning cinematography. Mica Levi's ethereal score only adds to the disorienting experience.
Dr. Wallace, or Wally "as the ladies call me," Fiennes (Jeff Goldblum) is a charming but vile man in the twilight of his messy career performing transorbital lobotomies on his patients, treating it as a cure-all to sadness, lust, or hearing voices. He recruits Andy (a stoic Tye Sheridan), whose father (Udo Kier) recently died and whose mother is institutionalized, to join him as his photographer on a road trip, essentially freelancing his services out to different hospitals, asylums, and sanatoriums for difficult patients. Director Rick Alverson fictionalizes the last years of lobotomy fever, and one man's last-ditch attempt to convince the world that the procedure isn't one of the most horrifying things you can do to a human body.
The Nightingale (2019)
On the surface, The Nightingale, director Jennifer Kent's unceasingly brutal follow-up to her breakout horror hit The Babadook, is another familiar tale of vengeance and bloodshed. Claire, a 21-year-old Irish convict played by newcomer Aisling Franciosi, faces incredible hardships at the hands of cruel, merciless British officers in 1825 Tasmania. After being raped multiple times and seeing her family killed in front of her eyes, she's left for dead. But she survives, tailing her attackers across the harsh Australian landscape with the help of Aboriginal tracker Billy (Ganambarr), who she initially treats with contempt and condescension. Shooting in a box-like aspect ratio, Kent zeroes in on the hypocrisies of colonialism with a startling sense of purpose. Her camera often locks in on the faces of the characters, refusing to look away and encouraging the viewer to confront truths that most films would prefer to keep hidden.
Nomadland (2021)
Director Chloé Zhao's film is both a travelogue of the West, displaying some of the most stunning vistas ever put to screen, and a document of the innate hardness of American life under corporate structures. Zhao, known for her docudramas, adapts a piece of nonfiction by Jessica Bruder, using some of Bruder's subjects, but anchoring the piece with a performance by Frances McDormand as her protagonist Fern, who lived with her husband in a small mining town known as Empire before the corporation keeping it afloat shut down and the zip code was rendered nonexistent. Patiently, Zhao and McDormand reveal how Fern's insistence on traveling is a means of coping with grief over the loss of her spouse. Nomadland is gorgeous, but never glamorizing. Instead, it's a generous work of art.
Palm Springs (2020)
Arriving on streaming in the middle of a pandemic, a time when many lives have fallen into unceasing loops of quarantine-related repetition and tedium, the Lonely Island produced comedy Palm Springs perhaps resonated differently than when it premiered at Sundance earlier this year. Jokes about doing the same shit over and over just hit harder now. Tracking a romance between a goofball wedding guest (Andy Samberg) and the bride's self-destructive sister (Cristin Milioti), writer Andy Siara's clever script combines Groundhog Day existentialism with quantum physics, doling out inspirational life lessons and math cram sessions at a clipped pace. In the same way Tom Cruise had to battle aliens in Edge of Tomorrow, the two must relive a wedding over and over, struggling to escape from an Instagram-ready, celebratory hell.
Parasite (2019)
Another collision of whiz-bang genre pyrotechnics and nudge-nudge class critiques, Parasite finds South Korean director Bong Joon-Ho working in a similar mode as his previous two features, the dystopian train thriller Snowpiercer and environmental love story Okja. There's an allegorical threading of ideas going on in this Oscar-winning nail-biter, which follows a poor family that infiltrates the blemish-free modernist home of a wealthy family, but Bong still ratchets up the suspense with each scene. Somehow, his movies keep getting even more precise in their execution.
Pig (2021)
In a small cabin, somewhere in the austere wilderness of the Pacific Northwest, lives a shaggy-haired monosyllabic man (Nicolas Cage) and his smush-faced, red-furred truffle hunter pig (Brandy, understudy Cora). He talks to his pig, he cooks meals for his pig, and he forages with his pig for truffles, the rare, delicious subterranean mushrooms he sells to a prickly upstart truffle distributor (Alex Wolff) who pulls up onto his property in his yellow Camaro once a week. One evening, the man's pig is stolen by a violent gang, and he vows to do everything he can to bring her back. So begins director Michael Sarnoski's film Pig, which spins a meditative, emotional tale of companionship and acceptance of loss around a subdued performance from Cage the likes of which haven't been seen in a very long time. The movie is as moody and deliberate as its protagonist, owing less to a straightforward thriller like Taken and more to the myth of Orpheus and Eurydice, a journey into the underworld on faith alone, in which love is tested, harsh truths are revealed, and heartbreak is inevitable
Portrait of a Lady on Fire (2019)
Portrait of a Lady on Fire opens with the simple image of a hand drawing charcoal lines across a blank piece of paper. That's how an artist begins her work: sketching out the outline and making preliminary judgements about what goes where. We soon learn the hand belongs to Marianne (Noémie Merlant), a French painter in the 18th century who falls in love with the young woman (Adèle Haenel) assigned to her as a subject. (In the early stages of the relationship, Marianne must keep her profession hidden on long walks with her object of obsession, giving the narrative an almost spy-movie like touch.) The fastidiousness of the early scenes helps establish the precise, exacting style of director Céline Sciamma, who tends to favor uncluttered compositions filled with lots of blank space, deliberate movements, and dramatic splashes of color. The flame-kissed title is very literal. As the story builds to its inevitably tragic and bittersweet finale, the movie strikes a powerful emotional chord.
Possessor (2020)
Opening with a piece of metal piercing the top of a woman's head, the second feature from filmmaker Brandon Cronenberg announces the type of movie it is right away. The son of body horror legend David Cronenberg, the director splices together elements of Inception, The Matrix, and his father's own cyberpunk reality-bender eXistenZ to create an art-damaged thriller about an assassin (Andrea Riseborough) who uses advanced technology to take control of other people and carry out her assigned hits using their bodies. For her latest mission, she invades the mind of Colin (Christopher Abbott), the boyfriend of the daughter of a powerful tech CEO. Simple job, right? Not so fast. From the plot description, Possessor sounds relatively straightforward, but Cronenberg piles on enough gruesome gore effects, Walter Benjamin quotes, lengthy sex scenes, and hallucinatory montages to make this a sufficiently out there experience.
Riders of Justice (2021)
The idea of Mads Mikkelsen, the menacing and captivating star of NBC's Hannibal and the Oscar-winning Another Round, getting his own Taken-like revenge vehicle is appealing enough. But Riders of Justice, a philosophically knotty Danish action thriller, is more than your average Neeson-esque revenge movie knock-off. Yes, Mikkelsen, sporting a gnarly beard and a shaved head, plays a stoic, violent man seeking to find the men responsible for killing his wife. There's plenty of suspense and twists and shoot-outs and even a deadly motorcycle gang, but director Anders Thomas Jensen, who also penned the script, finds room in this sprawling tale for bits of sharp comedy and welcome detours into more metaphysical concerns surrounding ethics and randomness and chaos. As the plot digressions (and the bodies) pile up, Mikkelsen keeps the narrative humming with his unceasing intensity.
Sea Fever (2019)
When a biology student studying animal behavioral patterns reluctantly boards a fishing trawler to get some hands-on experience in the field, she and the crew of the Niamh Cinn Óir find themselves at the mercy of a mysterious deep-sea parasite, which latches onto their boat and infects their water supply with its spawn. Everyone onboard must reckon with the threat of infection and the cause of sacrificing themselves for the greater good. Come for the creepily timely plot and creature-feature scares, stay for the infectious blue goop and enviably cozy fisherman's sweaters.
She Dies Tomorrow (2020)
Read anything about She Dies Tomorrow and you'll find some mention of how it's eerily perfect for the current moment. It's a movie ostensibly about mortality, but more accurately about fear and how it's its own sort of virus. The plot is relatively simple: Amy (Kate Lyn Sheil), for reasons she never fully explains, is convinced she's going to die. She calls her friend Jane (Jane Adams) and describes her premonition. Jane attributes Amy's paranoia to an alcoholic relapse, and writes it off, but then, alone in her basement, huddled over a microscope, Jane starts to experience the same fear. It's contagious. The world director Amy Seimetz creates is one that turns progressively more surreal. It's an echo of our own that slowly grows more foreign. It's also often absurdly funny, like a Tim & Eric sketch with an operatic bent.
Shirley (2020)
Josephine Decker is the preeminent director of women who utilize their canny madness in ways that are utterly thrilling. Her last outing was Madeline's Madeline in which a teenager's acting class veers into surreality when a drama teacher starts to leech off her student's experience. Now, she brings another tale of art and women on the verge with Shirley, a fictionalized tale of the horror author Shirley Jackson, played with impish vigor by Elisabeth Moss. Aping the general structure of Who's Afraid of Virginia Woolf?, Shirley finds a young couple Fred and Rosie (Logan Lerman and Odessa Young) arriving at the home of Shirley and her husband Stanley Hyman (Michael Stuhlbarg) on the Bennington campus. Decker's camera never stops moving, delving you into their states of mania and revelation. The house itself feels like one of Jackson's haunted creations, moaning with the anxiety of these characters.
Some Kind of Heaven (2021)
It's easy to fall for the men and women of a certain age who populate Lance Oppenheim's debut feature Some Kind of Heaven, a gorgeously shot glance inside the world of The Villages, a vast retirement community in Florida. Oppenheim, a wunderkind still in his 20s, focuses on a few of the residents, some happy and others disillusioned, and the occasional hanger-on to unveil the different facets of this supposed Disneyland for the old and investigate what the pursuit of happiness means for people as they near the ends of their lives. Both funny and deeply tragic, Some Kind of Heaven, produced by Darren Aronofsky, is the announcement of a wonderful new talent and an astute portrait of the perils of paradise.
Spencer (2021)
More than anything, Pablo Larraín's portrait of Princess Diana, described as a "fable" in an opening title card, is a ghost story. Set entirely in the three-day period between Christmas Eve and Boxing Day on the royals' Sandringham estate, the film is an impressionistic, melancholy, campy, and occasionally wry examination of Diana in spiral, played with precision but also deep sensitivity by Kristen Stewart. But unlike previous interpretations of this period—including The Crown—Spencer is less concerned with what actually happened than the toll it was taking on Diana's spirit. It's a haunted and haunting piece of work as Stewart wrestles with ghosts both figurative and literal, ones that are connected to her personal past and her nation's. Yes, it's gorgeous. Yes, the costumes are sumptuous. But Spencer is also a knowing, special, sometimes even quirky examination of iconography we think we know well.
Starship Troopers (1997)
Paul Verhoeven is undoubtedly the master of the sly sci-fi satire. With RoboCop, he laid waste to the police state with wicked, trigger-happy glee. He took on evil corporations with Total Recall. And with Starship Troopers, a bouncy, bloody war picture, he skewered the chest-thumping theatrics of pro-military propaganda, offering up a pitch-perfect parody of the post-9/11 Bush presidency years before troops set foot in Iraq or Afghanistan. Come for the exploding alien guts, but stay for the winking comedy—or stay for both! Bug guts have their charms, too.
Summer of Soul (2021)
The footage alone would be worth recommending The Roots' drummer Ahmir "Questlove" Thompson's directorial debut, which sold at the 2021 Sundance Film Festival for a record-breaking sum. These recordings of the 1969 Harlem Cultural Festival, a weeks-long musical event that happened the same year as Woodstock, have been unavailable to the public until now, an example of a Black historical artifact being buried. The archival material is incredible, capturing unparalleled performances from Stevie Wonder, Nina Simone, The Staples Singers, Mahalia Jackson, Sly and the Family Stone, and so many more acts. Thompson frequently lets the music speak for itself, but also uses it as a guide through the place and the period, showing how Black artists were responding and evolving during the era.
Titane (2021)
Let's just say this: Julia Ducournau's Palme d'Or winning film starts with a female serial killer having sex with a car that impregnates her. It gets even wilder from there, and also strangely sweet. Ducournau's debut feature was the gruesome cannibal tale Raw, and she once again does not hold back in this fable about Alexia (Rousselle), a woman with a metal plate in her head from a automotive accident as a child who has a taste for murder and an attraction to cars. With the police on her tail, she disguises herself as a long missing boy and is quasi-adopted by the boy's father (Lindon), who will do anything to fill the hole in his heart, even believing that this silent, pregnant woman excreting oil is his son. Titane is visceral and often disgusting, but ultimately a story about familial devotion and the kind of love parents and children seek from one another.
Unstoppable (2010)
Maybe there's no more perfect idea for a movie than: two guys spend 90 minutes trying to stop a runaway train before it sets off a bunch of explosive chemicals. Even better when those two guys are played by two of the most effortless actors working today, Chris Pine and Denzel Washington, whose strained camaraderie provides the track that Tony Scott's final film careens around on. Frank Barnes (Washington), an old hand railroad engineer with decades of experience behind him and facing early retirement, is in the midst of showing the ropes to youngblood conductor Will Colson (Pine) when the two concoct a last-minute plan to chase after a speeding locomotive against the wishes of their incompetent superiors. It's a perfect white-knuckle thriller, anchored by the dynamic relationship between its two leads, perhaps the only two men in Hollywood we'd trust to catch a runaway train.
Walk Hard: The Dewey Cox Story (2007)
Oscar-baiting, musician biopics became so cookie-cutter by the mid-'00s that it was easy for John C. Reilly, Judd Apatow, and writer-director Jake Kasdan (Jumanji: Welcome to the Jungle) to knot them all together for the ultimate spoof. Dewey Cox is part Johnny Cash, part Bob Dylan, part Ray Charles, part John Lennon, part anyone-you-can-think-of, rising with hit singles, rubbing shoulders with greats of many eras, stumbling with eight-too-many drug addictions, then rising once again. When it comes to relentless wisecracking, Walk Hard is like a Greatest Hits compilation—every second is gold.
Where'd You Go Bernadette (2019)
Where'd You Go Bernadette arrived in theaters after months of speculation about its ever-shifting release date in the press and was mostly met with puzzlement by those who saw it. What exactly is this peculiar movie up to? Richard Linklater's adaptation of Maria Semple's comic novel, which centers on a neurotic architect named Bernadette (a full-tilt Cate Blanchett), is perhaps best viewed on a streaming service as an intriguing experiment, one of those movies that juggles ideas, tones, and locations, including tech-obsessed Seattle and ice-covered Antarctic, with a rewarding gusto.
Follow the Thrillist Entertainment editors on Twitter @ThrillistEnt.