Netflix may have been first to the streaming game, but it's far from the only player. Hulu, for example, has steadily improved the quality and diversity of its on-demand streaming offerings, to the point where now you can find titles that are just as good (if not better) than what's on Netflix.
Case in point: these movies you can stream on Hulu right now.
10 Cloverfield Lane (2016)
Ignore the fact that J.J. Abrams' latest Cloverfield movie isn't a straight sequel to the 2008 original, and you'll stumble into one of the eeriest thrillers in ages -- and one of the best movies of 2016. The story of three fated companions averting (theoretical) apocalypse in a subterranean bunker runs like clockwork. Every 10 minutes offers a new reveal, a new exacerbation of paranoia. Unnerving performances -- especially Mary Elizabeth Winstead's troubled captive -- and a delight in madness prevent 10 Cloverfield Lane from settling on just one answer. It's a have-your-cake-and-eat-it-too horror movie, where the sights and sounds crescendo to the very last beat.
Blue Is the Warmest Color (2013)
Released into a media storm overly concerned with its lengthy, graphic sex scene, Abdellatif Kechiche's three-hour opus drowns tabloid-buzz with sensual and sensitive drama. Look, if you can binge 39 episodes of House of Cards, you can make time for the tender, inquisitive exploits of Adèle (Adèle Exarchopoulos), who falls hard for the cerulean lure of Emma (Spectre's Léa Seydoux). The length of the film gives Kechiche the chance to explore every glance, every touch, every kiss, and every misstep in their relationship. It's a love epic, where minor notes play like power chords.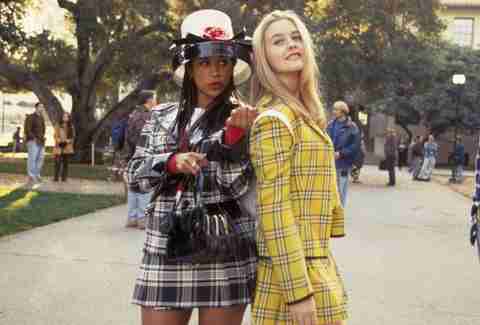 Clueless (1995)
The seminal teen flick of the mid-'90s, Clueless gave us countless gifts that we've carried into adulthood, courtesy of iconic Beverly Hills heroine Cher Horowitz, with her giant phone, unparalleled bubblegum-pulling skills, Valley Girl slang, and matching plaid. If you've never seen it before, you'll be surprised at how many one-liners still work two decades later, from "It does not say RSVP on the Statue of Liberty" to "You're a virgin who can't drive." Do we recommend that you skip watching (or rewatching) Clueless? Ugh, as if!
Creed (2015)
Names carry weight. Ryan Coogler's simultaneously tender and ferocious boxing story owned carrying a legacy as its primary theme. Watching Michael B. Jordan's Adonis Creed struggle to accept his own father's name becomes a complex metaphor for the movie's own tricky relationship with Sylvester Stallone's iconic 1976 original. How loyal to the past should we be? Coogler doesn't have the answers, but, like in Fruitvale Station, he raises tough questions with tenacity and grace.
The Weinstein Company/YouTube
The Hateful Eight (2015)
Quentin Tarantino has something to say about race, violence, and American life and it's going to ruffle feathers. Like Django Unchained, the writer-director reflects modern times on the Old West, but with more scalpel-sliced dialogue, profane poetry, and gore. Stewed from bits of Agatha Christie, David Mamet, and Sam Peckinpah, The Hateful Eight traps a cast of blowhards (including Samuel L. Jackson as a Civil War veteran, Kurt Russell as a bounty hunter known as "The Hangman," and Jennifer Jason Leigh as a psychopathic gang member) in a blizzard-enveloped supply station. Tarantino ups the tension by shooting his suffocating space in "glorious 70mm." Treachery and moral compromise never looked so good.
Hunt for the Wilderpeople (2016)
This New Zealand backwoods adventure roughs up every single coming-of-age cliché. Julian Dennison's Ricky is an absent-minded, hip-hop-obsessed, rebellious orphan. His grizzled foster father would like nothing more than to ship the little [expletive] back to government care. When the two find themselves stranded in the woods, mistaken for on-the-lam criminals, they... decide to own it. Wilderpeople is a generous genre blend, with Taika Waititi, director of the wacky, vampiric mockumentary What We Do in the Shadows, finding cheeky jokes in the duo's perilous journey. Backed by a synthy, horror movie-like score and lush backdrops, Wilderpeople is one of 2016's most transportive comedies.
The Life Aquatic with Steve Zissou (2004)
Wes Anderson's Jacques Cousteau send-up features the director doing Wes Anderson-y things, Bill Murray doing Bill Murray-y things, a killer supporting cast, and a soundtrack of David Bowie covers sung in Portuguese. What more do you need?
Point Break (1991)
Point Break is sublime. With its beautiful ocean photography, pulse-pounding robbery sequences, and delicate male-friendship between Keanu Reeves and Patrick Swayze, the undercover-cop drama rides tone like a veteran surfer ripping up uneven waves. Yes, some parts -- like anything with Gary Busey -- are ridiculous, but director Kathryn Bigelow brings a wryness to the material that keeps the movie from descending into bro'd-out camp. It's no surprise that the Fast and Furious series lifted the film's most essential quality to kickstart a billion-dollar franchise -- everyone wants to spend time with a close-knit family.
Raiders of the Lost Ark (1981)
With a bullwhip, a leather jacket, and an "only Harrison Ford can pull this off" fedora, director Steven Spielberg invented the modern Hollywood action film by doing what he does best: looking backwards. As obsessed as his movie-brat pal and collaborator George Lucas with the action movie serials of their youth, the director mined James Bond, Humphrey Bogart, Westerns, and his hatred of Nazis to create an adventure classic. To watch Raiders of the Lost Ark now is to marvel at the ingenuity of specific sequences (the boulder! The truck scene! The face-melting!) and simply groove to the self-deprecating comic tone (snakes! Karen Allen! That swordsman Indy shoots!). The past has never felt so alive.
Revolutionary Road (2008)
Sometimes, you just want to watch a great actor explode. With Mad Men soaring, maybe we didn't need Sam Mendes' adaptation of the acclaimed Richard Yates novel, but the descent into suburban malaise offered Leonardo DiCaprio and Kate Winslet the reunion of a lifetime. Their bitter feuds lay waste to ceramic kitchenware. Their looks, bubbling in living portrait after living portrait, scorch harder. Revolutionary Road is stage acting worthy of Broadway. On screen, it's a salvo of in-your-face confrontations, DiCaprio and Winslet pushing themselves to extremes.
Selma (2014)
Ava DuVernay's thoughtful civil rights drama is more complex than it appears to be. While Martin Luther King, Jr.'s historic voting rights march from Selma, Alabama is a history-class staple, the movie takes you into the diners, churches, and bedrooms where every detail of the plan was argued over. It reveals the strategy behind progress. Like Steven Spielberg's Lincoln, it's a movie that seeks to demythologize a beloved political figure, providing a richer portrait than anything we've ever seen before in the process.
Snatch (2000)
Guy Ritchie's 2000 crime-comedy employs a stacked ensemble cast: Benicio del Toro, Dennis Farina, Alan Ford, Jason Statham, Lennie James, a dog, and Brad Pitt -- the last of who gets to play a lighter version of his Fight Club persona. Among a swirl of juggled narrative threads that includes bookies, boxers, gangsters, and jewelers, lies a priceless stone, the object of everybody's affection. It's one of the more fun movies on this list. Just beware: Thick accents abound.
The Talented Mr. Ripley (1999)
Can you really trust Matt Damon? That's the question driving this tasty soufflé of a psychological thriller adapted from a novel by Patricia Highsmith. The eternally boyish actor was especially innocent and naive here, fresh off the success of Good Will Hunting and Saving Private Ryan, but his Tom Ripley is a monster capable of manipulating Jude Law and Gwyneth Paltrow with sociopathic ease. Like super-spy Jason Bourne, Ripley is the perfect role for Damon: You never quite know what's lurking under the surface.
There Will Be Blood (2007)
Paul Thomas Anderson found modern American greed in the pages of Upton Sinclair's depression-era novel, Oil!. Daniel Day-Lewis found the role of a lifetime behind the bushy mustache of Daniel Plainview, thunderous entrepreneur. Paul Dano found his milkshake drunk up. Their discoveries are our reward -- There Will Be Blood is a stark vision of tycoon terror.
The Thin Blue Line (1988)
Errol Morris' true-crime tale combines reenactment and voice-over to unravel the story of Randall Dale Adams, a man convicted and sentenced to death for a murder he did not commit. The Thin Blue Line is the gold standard that successors like Making a Murderer, Serial, and The Jinx could only hope to match. Morris' interviews, arid and frank, and the noir-tailored visuals, make the film more than a document of events. The Thin Blue Line is engrossing drama that transcends its revelations with story.
Sign up here for our daily Thrillist email, and get your fix of the best in food/drink/fun.