The Absolute Best Movies on Hulu Right Now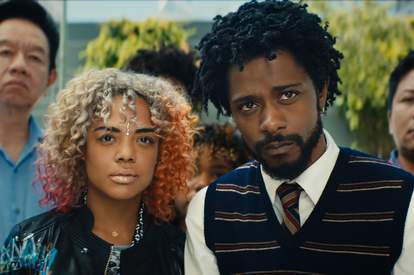 Netflix may have been first to the streaming game, but it's far from the only player. Hulu, for example, has steadily improved the quality and diversity of its on-demand streaming offerings, to the point where now you can find titles that are just as good (if not better) than what's on Netflix. Here, to make our case, are the best movies currently on Hulu:
Paramount Pictures
A Quiet Place (2018)
The world has been overrun by creatures who are completely blind, but have uncanny hearing and will kill anything they sense nearby. So how does a family with small children survive in a forcibly silent world? Find out in this unexpectedly excellent chiller from John Krasinski in his directorial debut that doesn't need a whole lot of dialogue to deliver tons of suspense, tension, and plain old scariness. See this one with a bunch of friends, and make sure they all stay completely quiet. It's part of the fun.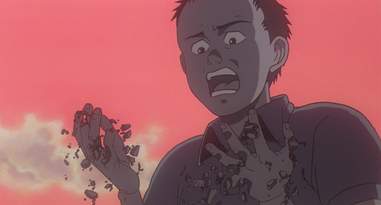 Toho
Akira (1988)
Akira, inadequately described as a sci-fi gang movie, is largely responsible for the boom of anime aimed towards adult, Western audiences (and also happened to eerily predict Tokyo's 2020 Olympics). Set in a post-apocalyptic, crime-addled Neo-Tokyo in 2019, Shōtarō Kaneda and his biker gang become entangled in a deep-state conspiracy and an outside resistance movement when one of the gang's members develops uncontrollable psychic powers after a horrible bike crash. What follows -- R-rated violence, trippy hallucinations, and interdimensional passage, with humor peppered in -- is a heady whirlwind that drops you off miles from where you started. Bonus points for the soundtrack, rich in percussion and chanted vocal rhythms, which is among the most distinctive in science-fiction film.
United Artists Releasing
Booksmart (2019)
Ever since Superbad came out in 2007, there were calls for a female version of the Apatovian classic. A lot of comedies in the interim have come close -- see, for instance, 2018's Blockers -- but none has felt like a true heir. And then Booksmart came along. Olivia Wilde's directorial debut is the raucously hilarious story of two high achieving high school seniors, Molly (Beanie Feldstein) and Amy (Kaitlyn Dever), who have spent the past four years of their lives studying to maximize their chances of getting into their preferred prestigious Ivy League colleges only to find out a bunch of the popular kids are also going to really good schools. This coming-of-age story is incredibly well acted: Feldstein and Dever land every punchline even as they convey the strains of a meaningful female friendship, and it's almost unfair to single out a supporting performance because they are all perfect gems, but if you're twisting our arm, we'll pick one: Billie Lourd as a druggie, almost magical rich kid, is brilliant.
Sundance Institute
Columbus (2017)
Set against the real-life architectural wonders of Columbus, Indiana, this blissful drama pairs Casey (Haley Lu Richardson), a fresh-out-of-high-school librarian who studies town history by day and cares for her ex-meth-addict mother by night, and Jin (John Cho), a Korean book translator who returns to the Midwest when his father, a prominent designer, takes ill. Together they wander the modernist menagerie of Columbus, tour guide trivia making way for intimate conversation, and eventually, arguments that challenge their worst habits. Director Kogonada, a video essayist with Reddit cred, frames everything from towering glass office buildings to the long hallways of Casey's house with Zen-like composition, giving Columbus a beauty that strengthens the foundation of its two transcendent lead performances.
Lionsgate
The Commuter (2018)
The previous thriller from the team of Liam Neeson and Jaume Collet-Serra was Non-Stop, a bracing and clever whodunit on an airplane. The pair are back in high-octane Agatha Christie mode with The Commuter, a mystery that begins with Vera Farmiga's chatty passenger Joanna presenting Neeson's haggard ex-cop (and loyal transit-enthusiast of the title) Michael MacCauley with a bizarre hypothetical: If you could perform a seemingly insignificant task that would have disastrous consequences for another commuter in exchange for a generous financial reward, would you do it? What follows is action filmmaking as controlled demolition -- and the best train potboiler since Steven Seagal's Under Siege 2: Dark Territory.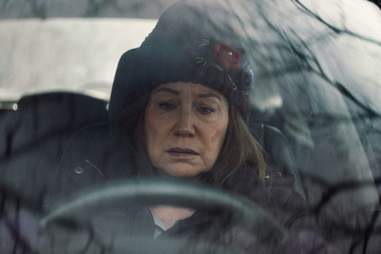 IFC Films
Diane (2019)
Though it addresses big ideas about guilt, death, addiction, and religion, Diane, which follows Mary Kay Place's widowed title character as she cares for her ailing loved ones, does so in a consistently surprising, human-scaled manner. Ever-diligent, Diane travels back and forth through Upstate New York, making food deliveries and checking in on the people she cares about -- even when it causes her terrible pain and heartache. Film-critic-turned-filmmaker Kent Jones puts the viewer in the driver's seat, returning to the same image of the horizon fast approaching. As you'd imagine with a movie constructed from such small details, the destination isn't always the point. 
Magnolia Pictures
Force Majeure (2014)
We learn the truth about ourselves in times of crisis. In Swedish director Ruben Östlund's hysterical, biting character study, a husband and wife, on vacation at a skiing lodge with their two young daughters, begin to breakdown after a controlled avalanche comes dangerously close to wiping out their lodge. The woman grabs the kids. The man runs for his life. The aftermath is brutal. 
New World Pictures
Girls Just Want to Have Fun (1985)
Long before we knew her as Carrie Bradshaw, a young Sarah Jessica Parker played a sheepish high school gymnast named Janey in this film that pretty much set the tone for many popular dance flicks that have followed it. The film centers on sheltered teenagers Janey and Lynne (Helen Hunt), who make it their mission to audition for a chance to appear on the fictional DanceTV against Janey's conservative father's wishes.
Miramax
Good Will Hunting (1997)
It might be hard to believe now, but once upon a time, Jason Bourne and Batfleck wrote an Academy Award-winning script. As the titular Will Hunting, a directionless MIT janitor with a jaw-dropping gift for mathematics, Matt Damon sparred with the late Robin Williams' beautifully portrayed psychologist to create a moving picture that weighs embracing ambition with remembering one's roots. Minnie Driver, South Boston accents, and quality dive bar scenes are also in the mix -- the movie's still a must-see, or must-re-see.
New World Pictures
Heathers (1988)
If it weren't for Heathers, the darkest of pitch-black teen comedies, there'd be no Mean Girls. A young Winona Ryder stars as Veronica, the precocious high-schooler tasked with taking down a clique comprised of Heathers Duke, McNamara, and Chandler from the inside. Veronica gets help, though -- from a smoldering Christian Slater as ultimate bad boy J.D. What follows is acerbic and absurd, and left an undeniable mark on the teen pop culture that followed.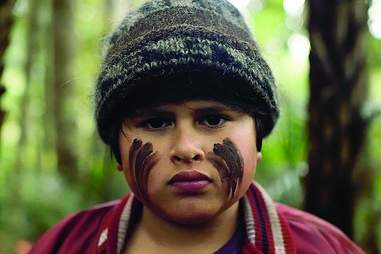 The Orchard
Hunt for the Wilderpeople (2016)
This New Zealand backwoods adventure roughs up every single coming-of-age cliché. Julian Dennison's Ricky is an absent-minded, hip-hop-obsessed, rebellious orphan. His grizzled foster father would like nothing more than to ship the little [expletive] back to government care. When the two find themselves stranded in the woods, mistaken for on-the-lam criminals, they... decide to own it. Wilderpeople is a generous genre blend, with Taika Waititi, director of the wacky, vampiric mockumentary What We Do in the Shadows, finding cheeky jokes in the duo's perilous journey. Backed by a synthy, horror movie-like score and lush backdrops, Wilderpeople is one of 2016's most transportive comedies.
Neon
I, Tonya (2017)
This Oscar-nominated gem is a darkly comedic retelling of disgraced figure skater Tonya Harding's life in the rink, as well as her connection to the 1994 attack on fellow skater Nancy Kerrigan. You may not know whether to laugh or to cry while getting through the film, which stars Margot Robbie as its leading lady and the scene-stealing, Oscar-winning Allison Janney as her hawkish stage mom, but that's all the more reason to add it to your queue.
Annapurna Pictures
If Beale Street Could Talk (2018)
The close-ups of faces in If Beale Street Could Talk, director Barry Jenkins' adaptation of the James Baldwin novel of the same name, feel like they have the power to stop time. The eyes stare back at you, the music swells, and the world drops away. That makes sense since the couple in the film's story, Tish (KiKi Layne) and Fonny (Stephan James), are so in love, so connected on a deep level, that their relationship serves as a bulwark against institutional racism and familial forces that attempt to keep them apart. But the empathy of the movie's gaze doesn't just extend to the two stars at its center: In thrilling, tantalizing detours we spend time with Tish's watchful mother (Regan King, who won Best Supporting Actress at the Oscars for her role) and Fonny's old friend (Atlanta's Brian Tyree Henry). These wounded, wise characters build out the larger world of early 1970s Harlem, one filled with wonder and cruelty, that Jenkins is evoking. 
Neon
Ingrid Goes West (2017)
Your Swimfan references are officially outdated -- Ingrid Goes West is the new standard for tech-enabled stalking. After the death of her mother, an unhinged Ingrid (Aubrey Plaza) cashes out her $60,000 inheritance, moves to Los Angeles, and pursues Taylor (Elizabeth Olsen), an Instagram star with a knack for pairing avocado toast food porn with Ralph Waldo Emerson quotes. Taylor's feed provides Ingrid with everything she needs to infiltrate the influencer's life, a con which spins faster and faster out of control with every double-tap "like." Spicer snaps some truly frightening images in this descent into digital hell -- a zombified Ingrid scrolling through her feed as ants crawl over empty Corona bottles is downright apocalyptic -- but Plaza's manic take on social media addiction brings the real fire. You'll never look at your iPhone the same way again.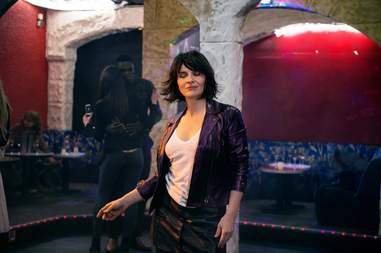 Curiosa Films
Let the Sunshine In (2018)
Opening with a deeply unpleasant sex scene for the ages, Claire Denis's Let the Sunshine In announces itself quickly as a movie that's most passionate about portraying the moments of courtship that fall outside the bounds of the conventional romantic comedy. And yet, the story of Isabelle, a middle-aged French artist (Juliette Binoche) struggling through a series of frustrating and alienating romantic encounters, is unapologetically, swooningly romantic. Many of the scenes between the endlessly charming Binoche and her often odious suitors, like a petty lout who demands "gluten-free olives" at a bar, are poignantly, wickedly funny. Denis's simultaneously sensual and heady film, which is loosely based on a philosophical work by the writer Roland Barthes, takes its time but eventually puts you under its spell.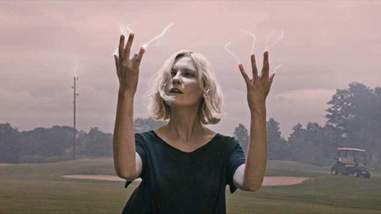 Zentropa Entertainments
Melancholia (2011)
 At once a family melodrama, an apocalypse movie, a fantasy epic, and a symbolic meditation on mental illness, Lars von Trier's Melancholia features a first act that focuses on Justine (played by Kirsten Dunst), a severely depressed bride-to-be struggling to make it through her nuptials, while part two shifts the focus to her sister Claire (Charlotte Gainsbourg), as both she and Justine react very differently to the discovery that a rogue planet is on a direct collision course with Earth. Overflowing with stunningly evocative imagery and devastating performances, Melancholia is one of the all-time best cinematic representations of depression, one that will haunt you long after the closing credits.
Paramount Pictures
Mission: Impossible – Fallout (2018)
While Mission: Impossible -- Fallout isn't the best entry in the super-spy series, it has a keen sense of history, a wry sense of humor, and a handful of breathtaking set pieces. (The bathroom fight and the helicopter chase share top honors.) Christopher McQuarrie, the first director to return for a second M:I adventure after handling 2015's Rogue Nation, is a skilled action craftsman, and, despite a 147-minute runtime, Fallout never loses momentum. It sends you hurtling out of the theater in search of similar highs. Too bad so few modern blockbusters can even breathe at the same altitude.
IFC Films
The Nightingale (2019)
On the surface, The Nightingale, director Jennifer Kent's unceasingly brutal follow-up to her breakout horror hit The Babadook, is another familiar tale of vengeance and bloodshed. Claire, a 21-year-old Irish convict played by newcomer Aisling Franciosi, faces incredible hardships at the hands of cruel, merciless British officers in 1825 Tasmania. After being raped multiple times and seeing her family killed in front of her eyes, she's left for dead. But she survives, tailing her attackers across the harsh Australian landscape with the help of Aboriginal tracker Billy (Ganambarr), who she initially treats with contempt and condescension. Shooting in a box-like aspect ratio, Kent zeroes in on the hypocrisies of colonialism with a startling sense of purpose. Her camera often locks in on the faces of the characters, refusing to look away and encouraging the viewer to confront truths that most films would prefer to keep hidden.
Neon
Parasite (2019)
Another collision of whiz-bang genre pyrotechnics and nudge-nudge class critiques, Parasite finds South Korean director Bong Joon Ho working in a similar mode as his previous two features, the dystopian train thriller Snowpiercer and environmental love story Okja. There's an allegorical threading of ideas going on in this Oscar-winning nail-biter, which follows a poor family that infiltrates the blemish-free modernist home of a wealthy family, but Bong still ratchets up the suspense with each scene. Somehow, his movies keep getting even more precise in their execution.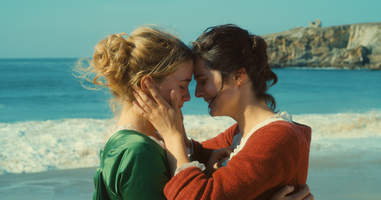 Neon
Portrait of a Lady on Fire (2019)
Portrait of a Lady on Fire opens with the simple image of a hand drawing charcoal lines across a blank piece of paper. That's how an artist begins her work: sketching out the outline and making preliminary judgements about what goes where. We soon learn the hand belongs to Marianne (Noémie Merlant), a French painter in the 18th century who falls in love with the young woman (Adèle Haenel) assigned to her as a subject. (In the early stages of the relationship, Marianne must keep her profession hidden on long walks with her object of obsession, giving the narrative an almost spy-movie like touch.) The fastidiousness of the early scenes helps establish the precise, exacting style of director Céline Sciamma, who tends to favor uncluttered compositions filled with lots of blank space, deliberate movements, and dramatic splashes of color. The flame-kissed title is very literal. As the story builds to its inevitably tragic and bittersweet finale, the movie strikes a powerful emotional chord.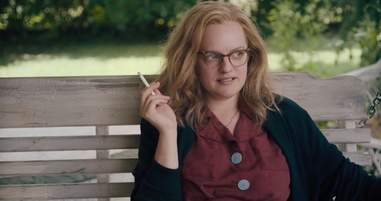 Neon
Shirley (2020) 
Josephine Decker is the preeminent director of women who utilize their canny madness in ways that are utterly thrilling. Her last outing was Madeline's Madeline in which a teenager's acting class veers into surreality when a drama teacher starts to leech off her student's experience. Now, she brings another tale of art and women on the verge with Shirley, a fictionalized tale of the horror author Shirley Jackson, played with impish vigor by Elisabeth Moss. Aping the general structure of Who's Afraid of Virginia Woolf?, Shirley finds a young couple Fred and Rosie (Logan Lerman and Odessa Young) arriving at the home of Shirley and her husband Stanley Hyman (Michael Stuhlbarg) on the Bennington campus. Fred is working for Stanley, and while Rosie is supposed to be auditing classes, Stanley quickly enlists her to serve as housekeeper and caretaker for the coarse and agoraphobic Shirley. Shirley sees right through Rosie, but their antagonistic relationship soon develops into something symbiotic (or possibly parasitic). As Shirley becomes obsessed with the disappearance of a young student -- which served as the inspiration for her novel Hangsaman -- Rosie starts to act as muse. Meanwhile, Shirley's ambivalence to social mores gets into Rosie's head as well. Decker's camera never stops moving, delving you into their states of mania and revelation. The house itself feels like one of Jackson's haunted creations, moaning with the anxiety of these characters.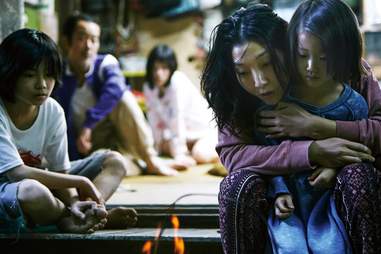 GAGA Pictures
Shoplifters (2018)
The bonds that tie together makeshift families are the subject of Shoplifters, a moving and lyrical tale of economic struggle on the margins in Tokyo. We meet the rouge-like patriarch Osamu Shibata (Lily Franky) in an opening scene where a young child, wide-eyed and curious, serves as the accomplice in a small-scale act of thievery at a grocery store. The two communicate through subtle nonverbal cues, almost like dancers performing a choreographed routine. From there, director Hirokazu Kore-eda expands the scope of the story, introducing the viewer to other family members and sketching out the broader social order of the community, one where money, safety, and dignity are secured through constantly shifting legal and illegal means. Eventually, the obscured dynamics and tangled histories between the characters begin to unfurl and the movie becomes a mystery of sorts, one where the clues are buried in the small details of domestic life.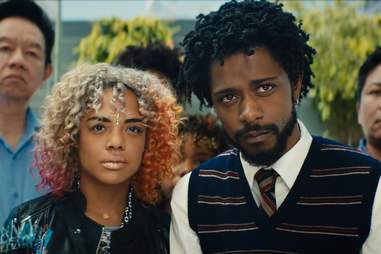 Annapurna Pictures
Sorry to Bother You (2018)
In the music he made as a member of the Oakland hip-hop group The Coup, Boots Riley displayed a gift for tackling big, provocative ideas about politics, labor, inequality, and race with wit and nerve. It's unsurprising that Sorry to Bother You, the bracing comedy he wrote and directed about telemarketer Cassius Green (Lakeith Stanfield) using his "white voice" to climb the corporate ladder, would pack a similar punch. While the surreal visual sensibility of the film recalls a string of indie hits of the '00s, particularly the freewheeling work of Michel Gondry and Spike Jonze, those movies were often content to wallow in emotional solipsism. Eternal Sunshine was about climbing in your own brain; Sorry to Bother You is about reaching out into the world around you and shaking it up. Riley's wickedly funny, tonally adventurous story is prescriptive. It's a brilliant satire, but it's also a blueprint.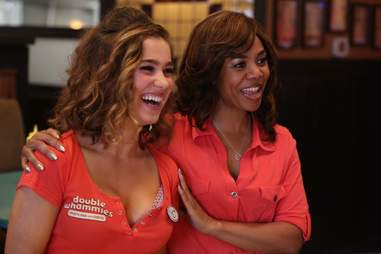 Magnolia Pictures
Support the Girls (2018)
The tacky world of the "breastaurant" might sound like an odd fit for former "mumblecore" auteur Andrew Bujalski, one of the premiere chroniclers of mid '00s social alienation, but the movie's family-friendly establishment Double Whammies ends up being the perfect staging ground for a funny, whip-smart comedy about labor and friendship. Put-upon manger Lisa (Regina Hall) has a watchful, caring eye as she looks after the younger women who work for her, serving as the negotiator between them and a large roster of rowdy customers, crappy boyfriends, and boorish authority figures. Hall embodies that kindness and generosity -- you'll wish she was your boss -- but in this complex, nuanced workplace comedy she also shows you the emotional toll that work can take.
Magnolia Pictures
Tangerine (2015)
Sean Baker shot this award-winning dramedy entirely on an iPhone 5s. Sound like a gimmick? Crazed camerawork proves your do-it-all phone is also the greatest conduit for electric, kaleidoscopic adventure. Set on the streets Los Angeles, the movie follows trans sex worker Sin-Dee Rella, fresh from a 28-day prison stint, as she hunts down her cheating boyfriend. While urgent and modern, Tangerine is still a throwback to road movies and old-school farce. It's wild from surface to core. 
Annapurna Pictures
Where'd You Go Bernadette (2019)
Where'd You Go Bernadette arrived in theaters after months of speculation about its ever-shifting release date in the press and was mostly met with puzzlement by those who saw it. What exactly is this peculiar movie up to? Richard Linklater's adaptation of Maria Semple's comic novel, which centers on a neurotic architect named Bernadette (a full-tilt Cate Blanchett), is perhaps best viewed on a streaming service as an intriguing experiment, one of those movies that juggles ideas, tones, and locations, including tech-obsessed Seattle and ice-covered Antarctic, with a rewarding gusto. 
Follow the Thrillist Entertainment editors on Twitter @ThrillistEnt.