The Best Hulu Original TV Shows
The Wrong Mans

| Hulu
The Wrong Mans

| Hulu
In the streaming age, every day is a battleground. And with thousands of options across multiple platforms, it's hard to know where to begin, especially now that these services are producing original content.
For a while, it seemed like Hulu was the ugly duckling of original streaming series, with most of its content buried by flashier non-original network gets, like their library of NBC programming. But 2017 changed everything for Hulu, thanks in large part to the massive critical success of The Handmaid's Tale. Other recent hits, like Harlots and The Runaways, have solidified the service as a platform for truly great and above-the-bar television. With that in mind, we decided to go back and rank all of Hulu's original content, from worst to best.
A few caveats for this list: We're leaving off animated programming, miniseries (like 11/22/63), and anything that started elsewhere but made the jump to the service (sorry, The Mindy Project). We are including foreign series so long as they aired on Hulu first or (more or less) concurrently with their debuts in their own markets.
18. Battleground (2012)
This political mockumentary series was recently turned into a podcast, and that's probably for the best. As a show, it's boring and derivative to the point of feeling unnecessary. Not that it's terrible. It's not. But the plot -- about a group of political campaign staffers trying to elect a dark horse senate candidate in the battleground state of Wisconsin -- feels stale. It'll make you think of The Office, and then immediately wish that you were watching that instead.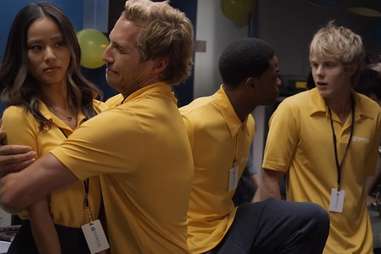 17. Resident Advisors (2015)
Resident Advisors isn't actively bad, but it's also instantly forgettable, which is almost worse in the end. The show follows dorm building RAs as they handle college exploits, fight with their fellow students, and dream of what comes next. The cast -- including Ryan Hansen, Jamie Chung, and Daryl Sabara -- is uniformly good, and the storylines are charming enough. But there's not much to say about it other than, "it's fine." Still, at only seven episodes, it's a quick, easy watch.
16. Freakish (2016-present)
The premise of Freakish is cool as hell: A group of students are gathered for detention when a nearby chemical plant explodes and kicks off a zombie apocalypse. Sadly, reality had to settle in and spoil it. The show came along at just the wrong time: By its 2016 premiere, culture was going through zombie fatigue, with The Walking Dead starting to overstay its welcome, and its spinoff series, Fear the Walking Dead, pretty much dead on arrival. Freakish tries to subvert the genre by populating its cast with Instagram and Vine stars, and goes for some sort of John Hughes-John Carpenter hybrid vibe, but it never comes together, and instead feels like a boring, low-budget SyFy series you'd flip past if it aired on conventional TV.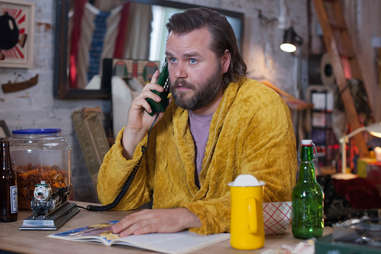 15. Deadbeat (2014-2016)
Tyler Labine plays Pac, a medium tasked with solving unresolved issues for ghosts so they can finally cross over. The show lasted four seasons, and it's almost impossible to see why. It's charming and serviceable enough that it's hard to think of anything particularly bad to say, but with its bad special effects and cast full of nobodies, it also comes off as second-rate, like a show Fox would pass over for something with more intrigue. And maybe that's what actually happened! Dutiful, but not exactly begging to be watched when the TV landscape is so saturated.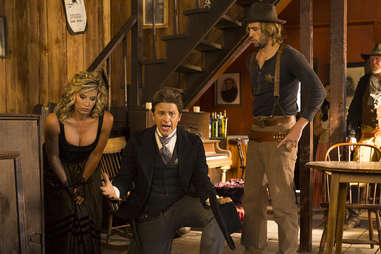 14. Quick Draw (2013-2014)
It's impossible to watch this Old West comedy series and not think of Westworld. Even though it predates that HBO series by a few years, the imagery -- saloons, corsets, cowboy hats -- invites lazy comparisons. Luckily, the shows couldn't be more different, plot and tone wise. Quick Draw is about a sheriff and deputy team who use forensics to solve crimes. But it's a comedy. But it's also sort of a procedural. Truthfully, it's kind of a mess, but it's also a comforting little detour of a show, one that'll tickle you just enough to keep going.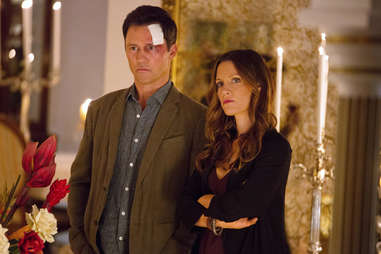 13. Shut Eye (2016-present)
Jeffrey Donovan stars as Charlie Haverford, a failed magician who becomes a psychic to make ends meet. Things get complicated when he starts having real visions, and isn't sure what to do with them. It's a cool enough hook, but the show struggles to stay interesting. The cast is bland, and it suffers from a serious case of "trying to be Breaking Bad." That show's influence is evident in the Dutch camera angles, the color palettes, the hooligan characters that come in and out of plot lines. Even Charlie's dining room looks like the Whites' famous breakfast spot. It's not the first show to borrow heavily from Breaking Bad, but in this case, it's so obvious that it's ultimately distracting.
12. Dimension 404 (2017)
This comedy/horror anthology series has heavy Black Mirror vibes, but, as The Atlanticpointed out, comparing Dimension 404 to Black Mirror is like "comparing The Twilight Zone to Are You Afraid of the Dark?" For starters, the budget is noticeably lower, and the creative budget even less so. It tries to have a lighter spin on technological horror stories, but it comes off bland and, ultimately, forgettable. Still, it has fun now and then, and it's kind of cool to see which celebs they managed to snag for each episode. (Joel McHale, Sarah Hyland, Patton Oswalt, Megan Mullally, Constance Wu, and Lea Michele all pop in.) It isn't bad so much as it's lazy, but it's entertaining enough to burn through in an afternoon.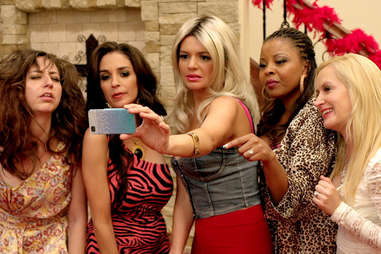 11. The Hotwives (2014-2015)
This parody of the Bravo Housewives series is occasionally brilliant, but overstays its welcome; you're left with the impression that it'd be better off as an SNL skit. Still, it boasts an impressive cast of female comedians, all of whom deserve better but are a lot of fun to watch. The Office's Angela Kinsey and Happy Endings' Casey Wilson are standouts, and it's hard not to snort at the irony of the first season's Orlando setting -- of all the godforsaken American cities -- as the hub of glamour and wealth the show satirizes. (The show moves to Las Vegas in season two.) It's dumb, mindless fun that, at 14 episodes total, is easy to burn through.
10. Future Man (2017-present)
With Seth Rogen and Evan Goldberg as executive producers, Future Man comes with a set of expectations. And it mostly lives up to them -- the show is fun, clever, and slightly addictive. The Hunger Games' Josh Hutcherson stars as Josh, a janitor who beats a difficult video game only to discover it's actually a recruitment tool sent from the future to find humanity's savior. He's then sent on a series of time-traveling adventures to kill bad guys and try to prevent future catastrophe. The show parodies James Cameron movies like The Terminator, and takes literal potshots at Cameron's filmography along the way. It's a fun, funny show with a likable lead that isn't exactly groundbreaking, but is a nice little detour from reality.
9. East Los High (2013-2017)
Believe it or not, East Los High is Hulu's oldest original series. Ever heard of it? Probably not -- and that's a shame. The show isn't exactly great, but it has a pathos that gets under your skin, and characters that feel fresh and real. It's also the only Hulu show (and one of the only shows, period) that features an all-Latino cast. Set in a fictional Los Angeles high school, East Los High tells the story of a group of teens navigating their last years at the school, and things get heavy in a way that recalls Degrassi. Teens get pregnant, cheat on their significant others, do drugs. The series was canceled in 2016, but Hulu released a finale episode in December to properly tie things up. With four seasons and a finale, it's the longest-running series in the platform's history.
8. The Wrong Mans (2013)
This British import introduced American audiences to James Corden before he was host of The Late Late Show. The comedy series was legitimately delightful, pairing Corden with Matthew Baynton as an impeccably timed duo. After answering a phone at the site of a car crash, the two are thrust into a world of crime that they are completely incapable of handling. The in-over-their-head situational comedy that ensues is hilarious, and Corden and Baynton have excellent chemistry. The series only lasted eight episodes, so it's a quick watch, perfect if you need a British humor pick-me-up.
7. Chance (2016-2017)
Chance is the best example of a Hulu series that feels way more bloated than it needs to be. It's a shame, because at its core is a very fine series indeed, one full of top-notch performances and direction. (Oscar-nominated director Lenny Abrahamson helmed the first two episodes.) Hugh Laurie stars as forensic neuropsychiatrist, Dr. Eldon Chance, who falls in love with a patient and gets drawn into her corrupt lifestyle. Laurie is great in the role, but it's Ethan Suplee (perhaps best known as the one of the high school bullies from Boy Meets World) as the furniture restorer Chance hires to help him through his criminal activity that's the real standout. Their chemistry is divine, and on the strength of that alone, Chance is worth watching.
6. The Path (2015-present)
The Path is a little goofy and self-righteously serious, and some of it is downright laughably bad, but it has a certain charming chutzpah that makes it watchable, and at times elevates the bad stuff to something borderline transcendent. The plot follows a family led by patriarch Eddie Lane (Aaron Paul) who are followers of a spiritualist movement called Meyerism. While on vacation, Eddie has a come-to-Jesus moment when he uncovers a dirty truth about the movement, a secret he must hide from his devout wife (Michelle Monaghan), her parents, and Meyerism's newest leader Cal (Hugh Dancy). Eddie comes to see Meyerism for what it really is: a dangerous cult. The series is a slow burn, and isn't exactly original; Meyerism is a thinly veiled play on Scientology, borrowing whole chapters of that cult's troubling history and practices. That reliance makes certain storylines too heavily telegraphed to be surprising. Luckily, the lead performances -- especially Dancy's Cal -- are pretty harrowing, and do a lot of the legwork when the script gets wonky. The show likes to toss in flashy camera work and hallucinatory imagery, which is where it gets into "laughably bad" territory. But there's a lot of good working going into The Path, and for that it's deserving of a weekend binge.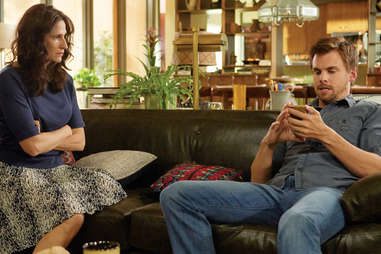 5. Casual (2015-2018)
For some people, getting fired from Saturday Night Live is the best thing that ever happened to them (think: Jenny Slate, Robert Downey, Jr.). Unfortunately, Michaela Watkins, who was fired from the sketch series in 2009, has had a harder time finding her post-SNL footing, which is really a shame. Lucky for us, the underrated Watkins finally gets to show off in Casual, the Jason Reitman-produced series about an idiosyncratic family in the vein of Transparent and Parenthood. The series is funny, but also heavy, tackling subject matter like cancer and death. Watkins is excellent as a single mother raising her daughter after a family scandal, and Tommy Dewey, as the charming but romantically inept brother she moves in with, is a scene-stealer, too. Casual may not be flashy, but it tells very human stories with a unique tenderness that'll leave you hungry for more.
4. Runaways (2017-present)
The newest show on the list might also, in time, come to be its best. Set in the Marvel Cinematic Universe, Runaways follows six teenagers who unite to take down their criminal parents, who collectively go by the supervillain name the Pride. It's based on a comic series created by writer Brian K. Vaughn and artist Adrian Alphona, Runaways was originally meant to be a film, but was shelved after the success of The Avengers. That wound up being a good thing, as the material is perfectly suited to television. The characters pop off the screen, and the show is a perfect addition to the teen show catalog, thanks to showrunners Josh Schwartz and Stephanie Savage, who also brought us The O.C. and Gossip Girl. Schwartz and Savage understand these characters; the teens speak like teens, cynically and with gusto, and the creators mine high school cliché archetypes to great effect. Buffy fans will enjoy seeing Spike (James Marsters) as a villainous dad in Gordon Gecko attire. Overall, Runaways is a lot of fun, better than most of Netflix's Marvel shows.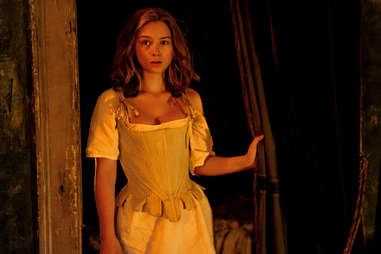 3. Harlots (2017-present)
The next two entries are more consistently great, but Harlots might be Hulu's most alluring show based on premise and visuals alone. It's also written, directed, and executive-produced solely by women, which is a bonus. The story is centered on a woman named Margaret Wells (Samantha Morton) who runs a brothel in 1763 London, at a time when sex work was highly taboo and prone to violent condemnation by police. To protect her business, Margaret sells her youngest daughter's virginity and uses the funds to move her brothel to a new neighborhood, which puts her in conflict with another brothel run by a Margaret's former employer, Lydia Quigley (Lesley Manville). It may sound like a scandalous series, and it partially is, but sex is not purely titillating here like it is in other period shows, like Outlander and Game of Thrones. Instead, it's a weapon, and one women wield to establish power over men. It may be 1763, but it feels refreshingly relevant. The second season airs later this year.
2. Difficult People (2015-2017)
This underrated comedy gem deserves way more recognition than it gets. Billy Eichner and Julie Klausner are perfect as two cynical New Yorkers trying to make it as comedians. The plot isn't exactly original -- it recalls other "just trying to get by in the Big Apple" shows like Girls, Louis, Seinfeld, countless others -- but the perspective is. Though Billy and Julie are cruel and sardonic to everyone who comes in contact with them, they're also oddly refreshing. The narcissism levels are high, the characters are full-blown monsters, but it's self-aware enough to be one of the funniest shows out there, bar none. The show was tragically canceled in November, but the three seasons are perfectly preserved in Hulu's archives, ready and waiting for you to dig in at any time.

1. The Handmaid's Tale (2017-present)
Hulu's golden egg, and the first-ever streaming series to win Best Drama Series at the Emmys. Adapted from Margaret Atwood's classic speculative fiction novel of the same name, The Handmaid's Tale was a risky endeavor. The book is short, and purposely nonspecific about location, physical appearances, and timelines. On page, that vagueness is a boon: the story feels timeless and insidious, like it could happen at any moment. But a show has to be more physically literal, and The Handmaid's Tale ran the risk of being too seen.
Luckily, the series was in excellent hands. Elisabeth Moss -- as both producer and lead actress – was perfectly suited to the material. As the "handmaid" Offred -- a fertile woman tasked with providing a child to a commander in a dystopian world where environmental issues have made reproduction difficult, and the government is ruled by a totalitarian Evangelical regime -- Moss is pure feminine rage in a porcelain box. The storytelling is brutal and unflinching, depicting the physical and emotional suppression of female autonomy at every turn. But it's also hopeful, aspirational, and the perfect series for Trump-era America.
Sign up here for our daily Thrillist email and subscribe here for our YouTube channel to get your fix of the best in food/drink/fun.
Lindsey Romain is a writer and editor living in Chicago. She covers politics for
Teen Vogue
and has also appeared in
Vulture
, Birth.Movies.Death, and more. Follow her on Twitter @lindseyromain.