10 Hulu Original Series You Should Watch Right Now
You're going to want to add these to your watch list.
Hulu's original programming is nothing to scoff at. Not only does the streaming service have everything from witty comedies to riveting dramas in its roster, it's brought in star-studded projects just as much as it has provided a platform for many emerging talents to give their show's a life. While it can be a comfort to revisit all of the licensed series available on Hulu, it's also worth checking out one of the service's originals for a binge. Here are the ones you won't want to miss.
ALSO READ: The best TV shows streaming on Hulu and the best movies available on Hulu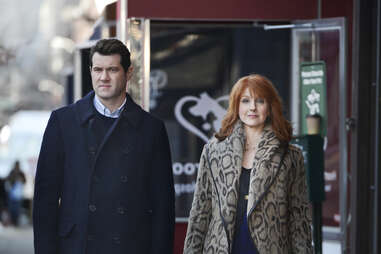 Difficult People (2015–2017)
In this Hulu original, Billy Eichner and Julie Klausner are mean-spirited and petty New Yorkers who live by the "no hugging, no learning" code, which makes them our favorite kind of platonic power couple. But with every exploitative adventure anchored by their best friendship, the jokes they make at the expense of others (interns, New Jerseyans, Method Man) seem downright sympathetic.
The Great (2020– )
Russian empress Catherine the Great is one of the most fascinating, and tantalizing, characters in history. Meaning, she's perfect for The Favourite screenwriter Tony McNamara to make the subject of a salacious, satirical, period piece comedy. Elle Fanning takes on the role of the Austrian royal who was married off to Peter III (played by a hilarious Nicholas Hoult), and organized a coup to take hold of power of Russia as she ended up falling in love with her new nation more than her husband. Forget the stuffy biopics and series on the ruler that came before this, The Great is witty, playful, and impeccably designed, and it all goes down like it's been spiked with a little bit of Vodka.
Letterkenny (2016– )
"There are 5,000 people in Letterkenny. These are their problems," so begins every episode of this comedy. Co-created by Jared Keeso, who stars as the small town's resident tough guy Wayne, this web series-turned-Canadian comedy/Hulu original focuses on best friends shooting the shit about whatever's going on in their hometown. While both a lot and nothing at all happens in this sitcom, the series has developed its own language over the course of its eight seasons and is known for its speedy exchanges and relentlessly recurring in-jokes. The attention to detail and expertly crafted dialogue makes Letterkenny a must-watch sitcom, which isn't something you might expect from a show set deep within the grassy farmlands of Ontario.
If you're staying in, you're gonna need some serious streaming options. With Hulu having thousands of shows and movies, you have access to a multitude of shows for every possible mood. Find new titles or revisit the classics. Plus, with the wide variety of Hulu Originals, you might even find your next fave series to binge watch with your friends. All you have to decide is what you're watching tonight.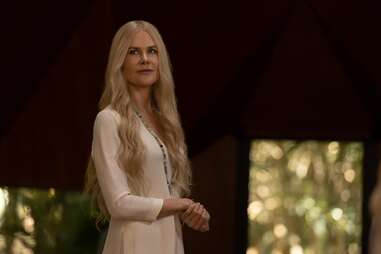 Nine Perfect Strangers (2021)
What does relaxation really mean? Who can afford wellness? These are the questions blended up (along with flaxseed and turmeric root) in Nine Perfect Strangers. Adapted from a novel by Big Little Lies author Liane Moriarty, the miniseries (helmed by BLL showrunner David E. Kelley) is set at a remote, luxe wellness resort where nine troubled individuals seeking relief check in for a retreat. But behind the bamboo doors of the Tranquillum House is a strange Russian woman named Masha (played by Nicole Kidman in a wild accent) who clearly is orchestrating their paths to serenity in a mysterious way that seems far from what anybody signed up for. Paradise comes at a price here, but you'll be compelled to carry out the remainder of your stay based on the star-studded cast (Melissa McCarthy, Regina Hall, Bobby Cannavale, Michael Shannon, and more) and whatever Masha's up to.
Only Murders in the Building (2021– )
Steve Martin, Martin Short, and Selena Gomez play an intentionally odd throuple in this comedy-mystery, and the show is delightful for it. At its start, the three have nothing in common, aside from the fact that they all live in the same Upper West Side apartment building and are true crime podcast obsessives. It's that shared interest that brings them together when another one of their neighbors is killed under strange circumstances, and they're determined to put their sleuthing skills to work. With a handful of guest stars coming through the complex's revolving door, a picturesque backdrop just off the westside of Central Park, and caper twists galore, the series couldn't be more charming. Who knew a satire of contemporary media could be so damn adorable?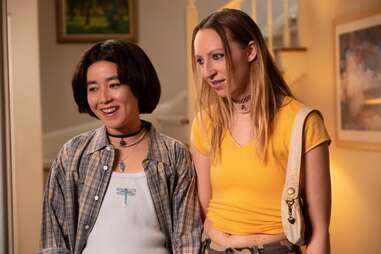 PEN15 (2019– )
Middle school sucks. But in retrospect, it's so cringeworthy and melodramatic that it makes for one giant playground of great comedic material. From comedians Maya Erskine and Anna Konkle comes this Hulu original series in which the adult women go back to the junior high halls that haunts every one of us, playing 13-year-old versions of themselves in the early aughts, surrounded by actual preteens. The show, which counts The Lonely Island among its executive producers, hits on many of the topics you'd expect of a coming-of-age comedy: masturbation, young love, AIM, and cigarettes, to name a few. But it's the awkward delivery, the attention paid to the feelings and hormones coursing through the veins of the characters, that inspire some of the funniest moments. It's uncomfortable and funny and painful and wistful, probably like your memories of middle school.
Ramy (2019– )
Created by and starring rising comic Ramy Youssef, Ramy is a glimpse into life as a millennial Muslim. The series is a snapshot of young adult life through Youssef's perspective as a practicing Muslim. The show focuses on his effort to commit to his faith, and what that means for him as a young man in New Jersey who doesn't drink or do drugs, but definitely has premarital sex and isn't looking to settle down any time soon. Ramy also works to depict the varied experience of everyone in his family, and each episode provides glimpses into the kinds of microaggressions, fetishization, and stereotyping each of them endure. At the end of the day, it is a comedy about the laughable tests God gives us daily, and it's a refreshing take on the age-old struggle of finding meaning in a world controlled by forces you don't always understand.
Shrill (2019–2021)
Based on Lindy West's 2016 memoir of the same name, Hulu's Shrill stars SNL's Aidy Bryant as "Annie Easton" (get it???), a writer who's facing a world full of fat-shaming, sexism, and generally shitty people—especially exemplary in her sort-of boyfriend, who is truly the pits. While the writing often feels forced, and plot gets shoehorned into social commentary, Shrill nevertheless finds the humor in all the ways people can be horrible to each other, and gives Bryant the chance to shine in her own right.
Taste the Nation with Padma Lakshmi (2020– )
When people talk about American food, they often reference hotdogs and hamburgers, but that's a very narrow lens about all that American cuisine is and has to offer. Considering the nation has the world's largest immigrant population, in actuality, there's a number of different dishes brought to the country by immigrants that make up its cuisine. Those are the kinds of foods highlighted in this series hosted by Top Chef's Padma Lakshmi as she travels from Hawaii to Las Vegas to South Carolina, tasting the food that has never been considered to be American by the masses, but has made its way stateside and nourishes Americans all the same. It makes a compelling case for the inherent politics of food, as much as it warms your belly with shots of cheesy burritos and bowls of khao soi.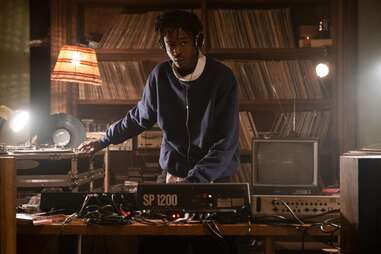 Wu-Tang: An American Saga (2019– )
Not every musical legend gets their own biopic—and even if they do, they're not necessarily done well. Films and series focusing on rap icons are especially few and far between, but this Hulu original aims to tell a detailed and honest story about the rise of the legendary hip-hop group Wu-Tang Clan. Co-created by the group's own founder RZA, the series tracks their formation from coming up in Staten Island in the '90s as it was overwhelmed by the crack cocaine epidemic to their first record deal. The cast is stacked with talented up-and-comers like Moonlight's Ashton Sanders as RZA and Shameik Moore as Raekwon, and fans will find themselves fascinated in Season 2 with accounts of how the group put together classic hits. Once the show hits its stride, it ain't nothing ta fuck wit.