Paid Content For
The Best Shows to Veg Out to on Hulu
Sometimes there's nothing better than tuning into some good ole comfort TV.
Paid Content For
After a long day, sometimes the only thing you want to do to unwind is to tune into TV. When you've had a hard day at work or are feeling stressed out by the news cycle, it's not just any kind of television that you're looking to stream, though. It's comfort series like comedies, reality TV, or shows you've watched episodes of 100 times that you want to press play on. With its vast streaming library, Hulu has more than a few options of series that you can absolutely veg out to. Here are a handful of picks that you can guarantee you'll enjoy bingeing for hours on end.
After almost two decades, Bachelor Nation still can't get enough of the champagne-and-rose-petals romance, drama, and over-the-top personalities of The Bachelor and Bachelorette franchise. No matter how similar each season may be—there's always someone there for the wrong reasons, a tense rivalry, and treacly dates on either a private island or in an isolated chalet—it's the pinnacle of combining fantasy with "reality" TV. A handful of seasons of each series streams on Hulu, including new episodes of seasons as they air live on TV, so accept the rose and dive into your next binge.
Baskets stars series co-creator Zach Galifianakis as a clown struggling in the California suburbs. His character Chip Baskets is a dunce, and if it weren't for the harsh reality and morose filmmaking style employed in the series, he'd have us in stitches. But the FX show refuses to be that digestible. Pratfalls roll-jump into—ta-da!—existential dread. Wordplay gags loop from comical to manic to funny again. As Chip's mother, Louie Anderson parades around in a muumuu but plays the role entirely straight. Baskets is a breakthrough work of parody, heartbreaking, hilarious, and odd—everything a portrait of a sad clown should be.
Zoning out to The Choe Show is an exercise for the existentialist mind. Do you like listening to artists in unfiltered (like, really unfiltered) conversation about Their Process, traumas, mistakes, deepest insecurities, and theories about life? If that sort of thing sparks your own self-reflections, then this weirdo talk show hosted by the crass artist David Choe—most famous for making a hefty chunk of money on Facebook stock—is right for you. Spending time with it is like an acid trip, finger painting class, and a good therapy session all in one.
If you're staying in, you're gonna need some serious streaming options. With Hulu having thousands of shows and movies, you have access to a multitude of shows for every possible mood. Find new titles or revisit the classics. Plus, with the wide variety of Hulu Originals, you might even find your next fave series to binge watch with your friends. All you have to decide is what you're watching tonight.
Fun fact: Mitchell Hurwitz—you know, the dude who created Arrested Development?—did a lot of his early work on here. Other fun fact: This sitcom, about four previously married women (including Betty White!) living together in Miami, is legitimately one of the best and funniest in TV history. Embrace this opportunity to watch every single episode, and, whatever you do, do not write these gals off.
Sometimes families wince at the thought of talking about money with each other, but it's an unavoidable subject for the grown siblings Tom (Topher Grace), Connor (Jimmy Tatro), and Sarah (Caitlin McGee) in Home Economics. Sarah can barely get by as a child therapist, Tom's a middle class yet struggling author, and Connor is rolling in cash, running his own private equity firm. It makes for a contemporary comedy about families and class, and while the premise might seem simple, the cast has undeniable chemistry and resist making their characters fall flat. If you're looking for a recent sitcom, it's one that's worth checking out, as their lovable siblings antics will make you feel right at home.
When Mindy Kaling's rom-sitcom hits, it hits hard. Her Indian-American Dr. Bridget Jones will have you in stitches, which makes sticking around for the misses—see: Mindy's dubious pregnancy—worth your time. The titular character is continuously navigating kooky fertility clinic coworkers and new romances, no matter how much chemistry she has with her curmudgeony co-worker Danny Castellano (Chris Messina), and learning to grow up, even as she becomes a mother herself. Hulu saved The Mindy Project from cancellation doom at Fox, exclusively producing and airing the final three seasons. Thanks, Hulu!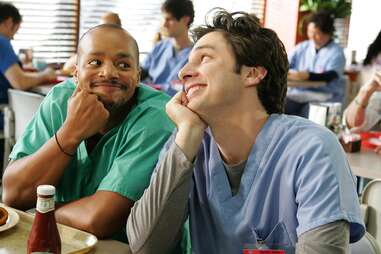 If you ever have to check into Sacred Heart Hospital, at least you know you'll get a laugh out of the experience. Whether in the form of its slapstick humor, one of J.D.'s goofy daydreams, or his ridiculous antics with Turk, the comedy about a class of medical interns led by Zach Braff and Donald Faison refuses to let up on the zaniness. Don't be fooled: It's way more outrageous and watchable than a comedic E.R.