The 'Zelda' Clones You Can Play on Your Phone
Nintendo
Nintendo
The long-awaited The Legend of Zelda: Breath of the Wild, out now on both the Wii U and the new Nintendo Switch -- a convertible tablet-like device that also docks to your TV as a home console -- reimagines the beloved gaming franchise with a wide-open world and fewer limits on how you can approach each new challenge. It's a game that fans are gleefully pouring hours into and that critics have praised as one of the greatest of all time. Unfortunately, you won't find it on your smartphone or tablet.
We may eventually get an official Legend of Zelda game for mobile, but why wait? Other developers have taken Zelda's tried-and-true template and turned out entertaining iOS and Android games that offer up solid and more affordable fun on the go. So if you're not ready to drop the cash on a Switch and/or Breath of the Wild, dig into these games.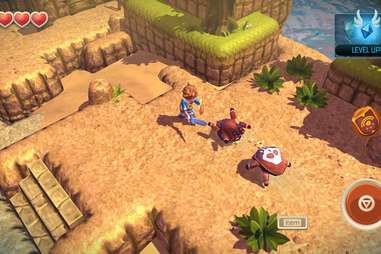 Oceanhorn: Monster of Uncharted Seas
$6 (iOS), free (Android)
Released a few years back on iOS, Oceanhorn remains the gold standard for Zelda-like adventuring on touch devices -- and it's still one of the prettiest games around, thanks to regular enhancements. Following in the footsteps of The Legend of Zelda: The Wind Waker, this slick quest finds you battling beasts, solving puzzles in dungeons, and even sailing the seas in familiar fashion.
It's a premium game well worth shelling out for, although you might have noticed the lack of an Android price tag. The game only recently hit the Play Store, and offers up a free taste before ultimately forcing you to pay up. If you crave a meaty mobile adventure, then don't hesitate.
Ittle Dew
$2, iOS or Android
Even more so than Oceanhorn, indie fave Ittle Dew hews closely to the source material's aesthetics -- check the green tunic, albeit on a heroine this time around. Luckily, the cartoonish, hand-drawn look packs in some personality, and you'll get even more of it from the dialogue, with smart-ass quips and surprisingly funny jokes coming at a constant clip.
Otherwise, Ittle Dew plays much like the real thing, as you fight through dungeons filled with switch puzzles and various creatures, hunt down loot, and discover secrets along the way. The controls are a little fidgety, which can be frustrating in the heat of battle, but at least Ittle Dew has plenty of spunk to help make up for the irritations.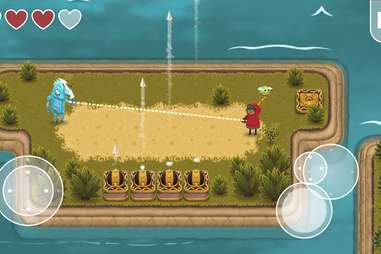 Legend of the Skyfish
$4, iOS or Android
Here's a game that thankfully does something different with the classic Zelda design, despite keeping some common elements. Legend of the Skyfish is still a game with a top-down view, treasure chests to snag, and light puzzles to solve, but instead of swinging a sword and tossing bombs, you'll… wield a fishing pole?
It's true! And this particular fishing pole can not only be used to smack enemies around, but also act as a grappling hook as you zip over watery gaps or yank foes from afar (à la Scorpion in Mortal Kombat). Skyfish doesn't have a big world, choosing instead to split its action across 45 relatively compact stages, but it's a really smart spin on the old-school template.
Adventures of Mana
$14, iOS or Android
Unlike the other games on this list, Square Enix's Adventures of Mana is a true contemporary of the early Legend of Zelda classics. That's because it's a remake of Final Fantasy Adventure, which hit Game Boy back in 1991. This fresh start gets not only a new name, but also totally redone graphics, with bright 3D models, fresh music, and an overhauled battle system.
For the most part, it still plays like the decades-old release: In old-school Zelda-like fashion, you'll explore compact areas that span a larger map, fighting off monsters and working through dungeons. Adventures of Mana is a lot more expensive than the other games on this list, and it can feel clunky and dated, but it's a hearty role-playing quest that you can really sink into.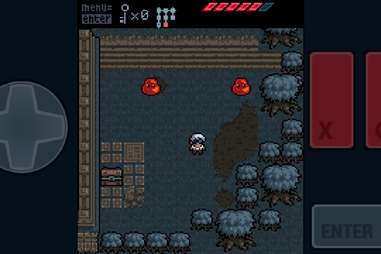 Anodyne
$5, iOS or Android
What began as a student project ultimately became a respected indie twist on the classic Zelda gameplay design, with the fantasy world of Hyrule traded for surreal, unnerving levels peppered with bits of very personal, philosophical dialogue. It's an odd little game.
And yet Anodyne is the most traditional of the bunch when it comes to mimicking the look of a particular entry, pretty well nailing the Game Boy Color aesthetic of The Legend of Zelda: Link's Awakening from way back when. It's billed as a Zelda-lite, which means it's a little simpler than Nintendo's franchise, but given the heavy atmosphere and focus on exploration, Anodyne carves out its own little niche in the action-RPG genre.
Don't Starve: Pocket Edition
$5, iOS or Android
Don't Starve isn't really a Zelda-like game... so why is it on this list? Because Breath of the Wild actually feels a bit like Don't Starve in approach, as it puts a larger focus on survival in an open world, as well as locating and stockpiling resources to help in that quest.
It's surely the best-known game on this list, having moved millions of copies across PC, consoles, and mobile, and amassing a big fanbase for its ultra-tough, DIY approach and Tim Burton-esque aesthetic. Again, it doesn't play quite like the classic Zelda, but Nintendo's new entry deviates a bit and incorporates elements from top survival games, so this seems like a great reference point if you're biding your time 'til you can play Breath of the Wild.
Sign up here for our daily Thrillist email, and get your fix of the best in food/drink/fun.
Andrew Hayward is splitting his Switch time between
Zelda
and
Shovel Knight
so far. Follow him on Twitter @ahaywa.