Not all heroes wear capes. Some prefer to don a crisp tuxedo… or lounge around on the couch. For all the streaming subscribers searching for a marathon subject this holiday weekend, Hulu has you just about covered: the jolly green platform is serving up nearly every James Bond movie for your bingeing pleasure. (You'll have to rent Quantum of Solace and Skyfall on iTunes or Amazon.)
Just in case you don't have room for Thanksgiving leftovers AND all 25 Bond flicks, we're helping you prioritize by ranking every single 007 adventure, from snooze-worthy to essential. Feel free to jump from title to title like Bond leaping across tall buildings -- hell, simply reading through this ranking qualifies you for 00 status in our book.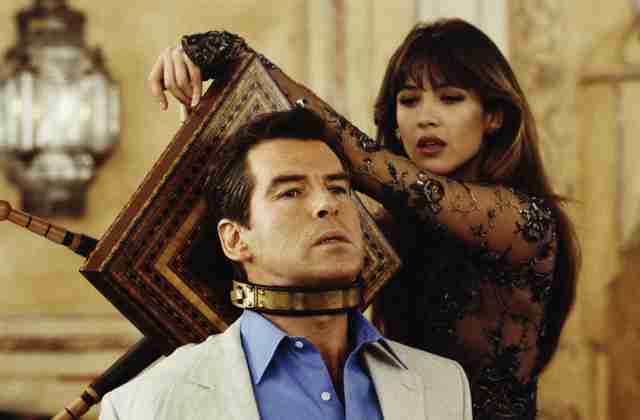 25. The World Is Not Enough (1999)
Any Bond fan will tell you that there are no "bad" Bond films; it's just that some titles cause you to drift in and out of consciousness on the couch. Almost nothing in Pierce Brosnan's third at-bat is remarkable. Despite some great ideas on paper -- a slowly dying adversary who can't feel pain! The gorgeous, damsel-in-distress Bond girl is secretly the villain! -- its execution is not enough either, delivered like a boring tray of beige leftovers by a drowsy lunch lady. Points for a rousing pre-title sequence on the Thames, and a decent title song by Garbage.
24. Tomorrow Never Dies (1997)
It's telling that Pierce Brosnan admits to being unable to differentiate his last three Bond gigs. His second 007 adventure, against a media tycoon who wants to start World War III for… reasons, is an absolute miasma of blandness. When the titles are viewed in close proximity, Brosnan's run is marred by a Zoolander-esque delivery of warmed-over Roger Moore-era puns, a legitimately gross dynamic between Bond and Moneypenny, and a plastic '90s aesthetic that leaves one cold. Silver lining: buried in here is a wonderful turn by the late Vincent Schiavelli as a persnickety assassin.
23. A View to a Kill (1985)
It's a long-standing Bond tradition to end your run on a stinker. Connery did, Brosnan did, Craig maybe just did, and Roger Moore certainly did in this, his seventh Bond film. Moore affably ambles through a movie clearly designed for a younger 007 -- Bond invents snowboarding, gets a quality Duran Duran theme song, and faces off against a young Christopher Walken's genetically engineered Aryan Übermensch. But the then-57-year-old actor (and the rest of MI6, looking like they're out on a day pass from an assisted-living facility) had by now outstayed his welcome for two films, and it shows.
22. Die Another Day (2002)
Popularly decried as the worst Bond film ever, Pierce Brosnan's swan song has actually ripened into an enjoyably silly outing. Boasting an invisible car, a henchman with diamonds in his face, and a plot that quietly lifts from Ian Fleming's Moonraker (one of the best of the original novels), Eon Productions' 20th installment at least goes for it -- unlike Brozzer's tepid middle two entries. It's a mess, but time has given it a campy watchability. (Madonna's theme song? Still an aural crime.)
21. Diamonds Are Forever (1971)
Speaking of camp watchability, that's pretty much all Connery's sixth 007 outing has going for it (give or take a Lana Wood). Some fans will tell you that's enough, but we dare you to press play on this tired, grimy-looking entry and keep your eyes open all the way through. After skipping On Her Majesty's Secret Service, Connery returned to the role for a record paycheck (which he donated to charity) and sleepily strolls through a warmed-over plot in full DGAF mode.
20. Octopussy (1983)
Known today as "a movie that managed to get a theatrical release while being called Octopussy," Roger Moore's penultimate go-round is a fairly generic affair, with notable moments that include a legitimately thrilling, Mission: Impossible - Rogue Nation-esque plane stunt, using Indian street beggars as obstacles during a chase, and having 007 defuse a bomb in full clown makeup.
19. Spectre (2015)
Bond films are often judged not on quality but on a ratio of expectation vs. delivery. It's not that Spectre is so terrible, it's just that the return of Blofeld needed to be great, and boy, was it not. Spectre half-asses the iconic villain and his eponymous Evildoers Club in an ill-advised bid for trendy (and narratively stifling) continuity, and many Bond fans were (rightly) left aghast. When those wounds heal over, Spectre will take its place where it belongs: comfortably in the bottom half of a list that's got no shortage of snoozers on it. 007's train fight opposite Mr. Hinx (Dave Bautista) is still a legitimately great Bond Moment.
18. Never Say Never Again (1983)
I know, I know, this one isn't canon, you're screaming, spittle foaming in the corners of your mouth as you pull tufts of hair from your head. But we've worked our way down to a sort of Island of Misfit Bonds tier, where the movies offer familiar nods and winks while veering slightly into weirder, unfamiliar territory. Plus, when Sean Connery plays James Bond, it counts. This remake of Thunderball has a zippy energy the original doesn't (courtesy of Empire Strikes Back director Irvin Kershner), a decent Blofeld in Max von Sydow, and Bernie Casey as Felix Leiter. To top it off, Connery is more engaged here than he was in at least two of his "official" entries.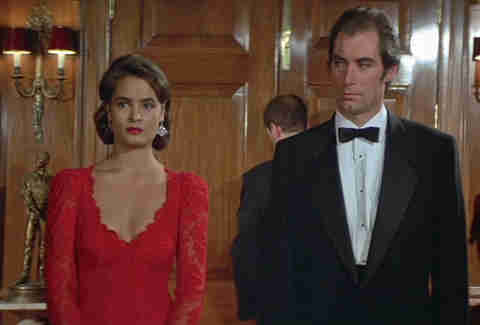 17. Licence to Kill (1989)
Another popular punching bag, Timothy Dalton's second and last appearance as Bond suffered from a clipped budget and a grim tone (the latter a result of the franchise's attempt to "get serious" and compete with the R-rated '80s antics of Arnold Schwarzenegger and Bruce Willis). Bond going rogue on a personal mission of revenge has become de rigueur today, and in retrospect, it makes Licence to Kill feel a bit ahead of its time. But released against Batman in the summer of 1989, the film was roundly rejected, and took such a beating at the box office that no Bond film has ever been released in the summer since.
16. The Man with the Golden Gun (1974)
Roger Moore's sophomore outing leaves a lot to be desired. But it's got an ugly tone that, while not suited to Moore at all, makes the movie its own strange beast. Christopher Lee gives a creepily cheerful performance as Francisco Scaramanga, and Mary Goodnight (Britt Ekland) is one of the most beautiful Bond Girls in the series. But everyone is so absolutely hateful to one another -- Bond to Mary, M to Bond, M to Q, Bond to a hillbilly sheriff, Bond to a small Thai boy -- you can sort of see why reviews at the time claimed this film was the end of the line for the series.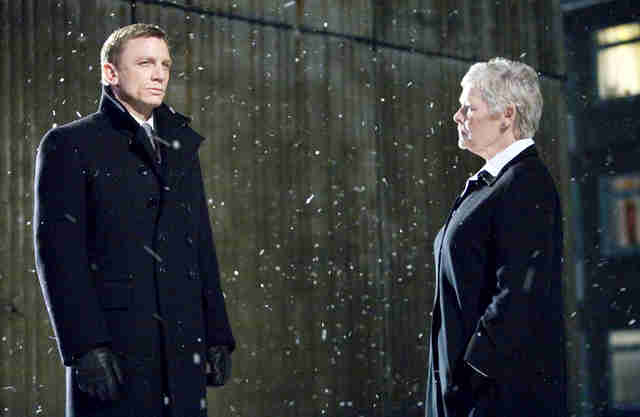 15. Quantum of Solace (2008)
The victim of both a writers' strike and an ill-advised attempt to mimic Paul Greengrass' shooting style on the Bourne films, this entry's rejection of the formula is today a welcome oasis in any marathon viewing. Doubt it if you must, but after watching Bond save the world in a string of overlong epics, a 106-minute adventure in which 007 rescues Bolivia from getting a water-bill increase might be just what the doctor ordered.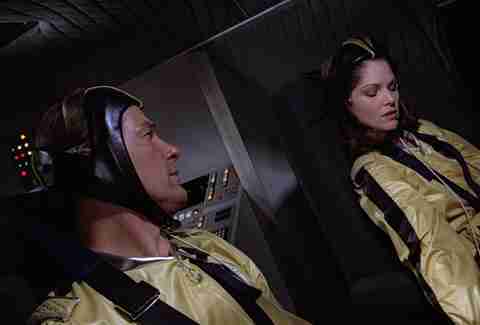 14. Moonraker (1979)
Making 25 movies in 54 years means you're going to get a fair amount that are just, well, fine. The dirty little secret of Moonraker is that it's in many ways the same movie as its predecessor, The Spy Who Loved Me, but the marketing team leaned so hard on that final half hour in space, people forget it contains 90 minutes of what might be the most generic Bond film ever made. Globetrotting, henchmen-fighting, lady-seducing: rinse and repeat.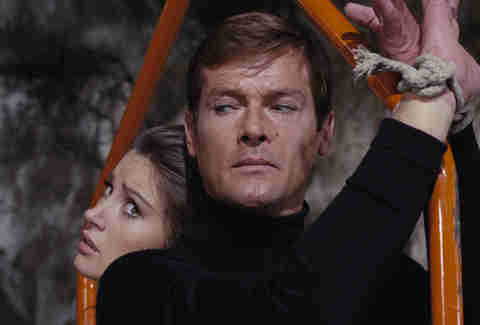 13. Live and Let Die (1973)
One glance at this entry's source novel, and you realize that the Bond franchise's first black villain (Yaphet Kotto) could have been way more problematic. Reshaped and softened by screenwriter Tom Mankiewicz, Roger Moore's first film as 007 is still a bit questionable, but a whole lot weirder, with voodoo, a virgin clairvoyant, blaxploitation, and Paul McCartney colliding in a colorful one-off that's maybe the last time the series went after the kinky travelogue vibe of the Fleming novels.
12. You Only Live Twice (1967)
These are the Bond films that keep the franchise chugging along -- neither shaking things up nor breaking our hearts, but simply marking time until the next one. Fittingly, there's lots of classic Bond iconography in Twice: a volcano lair, a bald-and-scarred Blofeld (Donald Pleasence), a siege involving color-coordinated henchmen. And the plot involving hijacked space rockets and pitting world powers against each other is everything you expect from a 007 adventure. But there's also a moment in this film where you can actually see an exhausted Sean Connery deciding to quit. (He's buried in yellowface, looking seasick on a boat.) Highlight: 007 beats up the Rock's grandfather (Peter Maivia) with a sofa.
11. Thunderball (1965)
There's an unofficial rule about a Bond actor's fourth film: it's epic, overstuffed, and kind of a mess. That rule was established here in Thunderball, and depending on your fondness for the Connery era, you might be more or less forgiving in your ranking of this one. But give yourself over to the interminable underwater sequences and in-no-hurry pacing, and Sean Connery's victory lap after Goldfinger offers plenty to sit back and luxuriate in. Bond in the Bahamas just feels correct, a proper SPECTRE blackmail plot is always more satisfying than the world-domination stuff that followed, and the most beautiful array of co-stars any Bond has ever shared the screen with is nothing to sneeze at.
10. The Living Daylights (1987)
On to the classics: like a karaoke fiend, these 007 adventures hit every note and leave the crowd cheering. Timothy Dalton is the best Bond who never got a great Bond movie. During the Dalton years, Eon was trying to find its footing after more than a decade of complacency, and audiences were caught somewhat off guard by Dalton's "back to Fleming" approach. Look at this film today, though -- somber, physical, beautifully shot -- and you'll see the seeds of what would eventually blossom during the Daniel Craig years.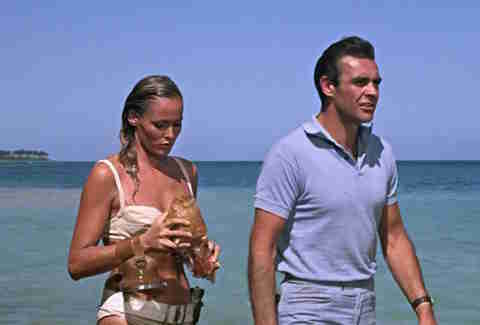 9. Dr. No (1962)
It's slow, it's low-budget, and it often feels like a Hammer film set in Jamaica, but "the first James Bond movie!" (as it was billed in 1962) contains the crucial kernel of the entire franchise: Sean Connery's debut performance as James Bond. Tanned, sexy, more than a little cruel: movie audiences had never seen a Brit like this onscreen, and they wanted more. In 2016, it needs trigger warnings for days (racism, misogyny, multiple counts of yellowface) but without Connery's presence here, you simply don't have a franchise. It's simply one of the most iconic performances of the 20th century.
8. GoldenEye (1995)
After a six-year hiatus, the series returned for a new generation -- one whose '90s nostalgia frequently conflates this film with the immensely popular N64 video game of the same name. A shame, because Pierce Brosnan and director Martin Campbell delivered a largely outstanding Bond adventure, with a classic villain in former agent 006 (Sean Bean) and an iconic henchwoman in Xenia Onatopp (Famke Janssen). Judi Dench's no-nonsense, postmodern take on M was so indelible that a franchise reboot 11 years later couldn't resist carrying her over.
7. For Your Eyes Only (1981)
Opening at Tracy Bond's grave (sorry, "James Bond is a code name" gang), this back-to-basics entry was meant to do two things: reground the series after Moonraker; and usher in a new actor in the role of 007. Instead, Moore returned for his most grounded, mature adventure, the perfect note on which to exit the role. Then he did two more.
6. Skyfall (2012)
At the end of Daniel Craig's third film as 007, Bond fans sighed, "Finally, we can have a proper Bond adventure next time!" The brilliance of Skyfall is that it had secretly just given them one. Though nearly every staple of the franchise has a postmodern bent to it here -- Moneypenny is a field agent, Bond & Q's young/old dynamic is reversed, M (Judi Dench) is the "Bond Girl," the climax takes place at Bond's lair instead of a villain's -- Skyfall is in fact a stealthy celebration of the formula, with a classic Fleming grotesque as its villain and a killer title song (the first one in the franchise to win an Oscar) courtesy of Adele. It's also perhaps the only Bond film with a thematic through line, using its opening sequence, plot, and every one of its characters to examine the effects and consequences of sending individuals to kill and die for their country.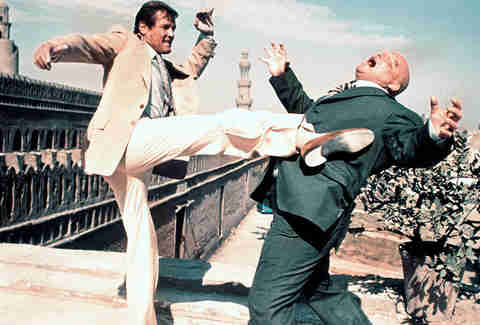 5. The Spy Who Loved Me (1977)
Now we're down to the essentials, the Bond flicks fans pray they get once or twice in their lifetime; the ones that make us judge all the others more harshly. Bouncing back from an ill-fitting cruel streak that ran through his first two outings as 007, Roger Moore found his groove in his third shot at the role -- and by all accounts saved the franchise. If Moore is your Bond -- kinder, gentler, arch, and smirking -- here he's at his most iconic. Add a megalomaniac villain (Curt Jurgens) with webbed hands, Richard Kiel's metal-mouthed Jaws, Carly Simon's smooth grooves on the opening credits, and that amazing ski-jump in the film's open, and you've got an all-timer.
4. Goldfinger (1964)
The third 007 adventure sat at the top of best-of lists for years, and there's much to warrant its claim to the crown: Connery's most relaxed, unflappable take on the role before boredom began to creep in; a fun, outlandish plan by the titular villain (Gert Frobe) to break into Fort Knox; the first appearance of the iconic Aston Martin DB5; delicious set design by Ken Adam; and the unquestionably all-time best Bond theme, belted out by Dame Shirley Bassey. It's also the film that contains a high-stakes golf game as a set piece, and a full hour stretch in which the only thing the world's greatest secret agent does to stop the villain's plot is… force himself onto Goldfinger's lesbian henchwoman Pussy Galore (Honor Blackman) to get her to change sides. All this, and a terrycloth romper. It's a fine third outing for 007 -- just maybe not the gold standard its reputation suggests.
3. On Her Majesty's Secret Service (1969)
Boy, has this one come a long way. For years it was widely accepted as the unmitigated disaster of the series: it's a goofy story about hypnotism, food allergies, and biological warfare, featuring a subplot in which James Bond falls in love, gets married, and is widowed. At its center was a male model (George Lazenby) with the misfortune of being the first "new Bond," taking the bullet for all new Bonds to follow. Today On Her Majesty's Secret Service is rightfully recognized as one of the best, most faithful adaptations of Fleming's bonkers source material (and the last one until 2006). It's got an incredible score from John Barry that stops just short of giving this new 007 his own theme. And editor Peter Hunt takes over directing duties, turning the film into a kaleidoscopic swan song for 007's first decade. It's also got the best incarnation of Ernst Stavro Blofeld in Telly Savalas. And Lazenby? He's really not so bad -- and try as you might, you can't successfully picture Connery in the role as it exists in this film.
2. From Russia with Love (1963)
If you came of age in the stepped-on schwag of the Brosnan era, the pharmaceutical-grade Ian Fleming found in Eon's second Bond film might be a shock. But From Russia with Love is the real deal: SPECTRE assembles a group of bloodthirsty weirdos to trap 007 into thinking he must seduce a beautiful Russian defector for the good of England. The franchise's trademark silliness had yet to supplant Fleming's signature kink, and the end result is arch, colorful, problematic as hell, and maybe the truest vision of the author's creation. Editor Peter Hunt's groundbreaking work here births a climactic train fight between Bond (Sean Connery) and Donald "Red" Grant (Robert Shaw) that the series has been trying to top for 53 years.
1. Casino Royale (2006)
Damn it, why can't they all be this great? Ten years after its release, and in the context of reviewing the entire franchise, it becomes crystal clear that Casino Royale is the best film in the franchise. Viewed alongside two dozen other installments, this one had to count, and Eon's extended creative family, led by GoldenEye helmer Martin Campbell, made sure it did. Nearly every trace of the franchise's formula is removed, not the least of which is the series' winking superhuman in a dinner jacket. Daniel Craig gives us the 007 from Fleming's early novels, a blunt instrument filled with morose purpose and self-doubt. When the death of a Bond girl (Eva Green) makes the audience weep, it's clear that something special is happening, and we know from experience that it'll be a good long while before it happens again.
Sign up here for our daily Thrillist email, and get your fix of the best in food/drink/fun.