Every Jim Carrey Movie, Ranked
In the last year, Jim Carrey has once again asked us to take him seriously as an artist. Instead of chasing an Oscar, directing an indie movie, or writing a forgettable novel like other celebrities seeking new avenues of creative expression, the rubber-faced comedian has used his Twitter feed to post outlandish, brightly colored paintings that attempt to grapple with the current political moment and ask "deep" metaphysical questions. One recent work features President Donald Trump eating ice cream and rubbing his nipples. More than 20 years after Ace Ventura: Pet Detective, Jim Carrey is still talking out of his butt for our amusement.
Along with the recent Netflix documentary Jim & Andy, which contrasts present-day interviews of the bearded comedian with footage from the shoot of his Andy Kaufman biopic Man on the Moon, these paintings have shifted the public perception of the star. He's faced personal and professional challenges in recent years -- the death of his ex-girlfriend and a wrongful death lawsuit made headlines -- and he's emerged rawer, stranger. The Canadian-born comic, who first broke out as the go-for-broke goofy white guy on the '90s sketch comedy hit In Living Color, appears to be taking stock of his legacy and creative output. With each bizarre interview and new art project, he seems to be asking the same question: What does it mean to be Jim Carrey right now?
And, more specifically, what does it mean to be a Jim Carrey fan? That's what we're here to take a look at. For a long period, he was perhaps the most bankable actor on the planet, the type of draw who could woo a mass audience with a movie as bizarre as The Cable Guy or as silly as Dumb and Dumber, but his creative decisions in the last decade have been less inspiring. (The exception: Kidding, his weird, watchable Showtime series reuniting him with his Eternal Sunshine director Michel Gondry.) Each individual Jim Carrey film might not be smoookin', but together they form a self-portrait that's more compelling than any of his paintings.
29. Copper Mountain (1983)
When you first learn that Jim Carrey and Alan Thicke once starred in a movie called Copper Mountain: A Club Med Experience, a kind of giddily ironic alarm bell goes off. A young Jim Carrey performing in what's essentially an hourlong commercial for Club Med? Yes, please! Watching Copper Mountain, though, is about as enjoyable as going on a forced "vacation" to a Club Med with a bunch of strangers. There's seemingly no script to this feature-length ad besides the lines Club Med employees haltingly read off cue cards, and most scenes stage such implausible interactions between human beings that you wonder whether Carrey and Thicke are in a hostage situation. On the other hand, the movie gave us an insane rendition of "Mr. Bojangles," so… thank your lucky stars. Apparently the movie had a lasting effect on Carrey, because the ski scenes in Dumb and Dumber were also filmed at Copper Mountain. Advertising really works! -- Anthony Schneck
28. The Number 23 (2007)
Movies like Eternal Sunshine and The Truman Show proved Carrey had dramatic chops worth revisiting. So, making him the lead of a psychological horror flick was not the craziest idea -- given the right vehicle, the comedian would be able to turn in something appropriately manic. Unfortunately, some knuckleheads thought the way to go was Joel Schumacher's The Number 23, the story of an animal control officer who becomes obsessed with -- drumroll, please -- all things 23. That's right. He asks people simple math questions. He reads books. He stares at numbers until everything comes up... 23! All while crossing his arms and furrowing his brow. Truthfully, Carrey's not bad at all, but his earnest performance didn't translate. Moments where he walks down the sidewalk while signs with 2s and 3s haunt him with the intensity of jump scares or where he furiously scribbles equations on his walls in front of stupefied onlookers? They play like beats ripped from an SNL parody. The trailer alone is an amazing accidental sketch. -- Sean Fitz-Gerald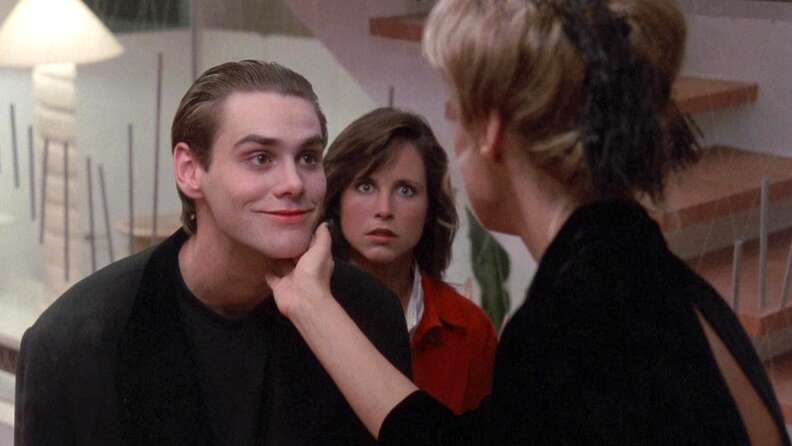 27. Once Bitten (1985)
"Did we get up on the wrong side of the coffin this evening?" In this 94-minute sketch, Laura Hutton is a vampire countess living in the 20th century and desperately looking for virgin's blood. Enter: the No. 1-ranked virgin in the land, 23-year-old Jim Carrey playing a teenage ice cream truck-driving horny horndog living in a "sexual wasteland." It's all unabashedly sophomoric and, we will admit, very stylish. As for Carrey, he gets off to a slow start, but once he turns into a bloodsucker, he's fun to watch -- you'll see glimmers of unrefined brilliance, the same kind you might see watching early Kobe Bryant highlight tapes. -- SFG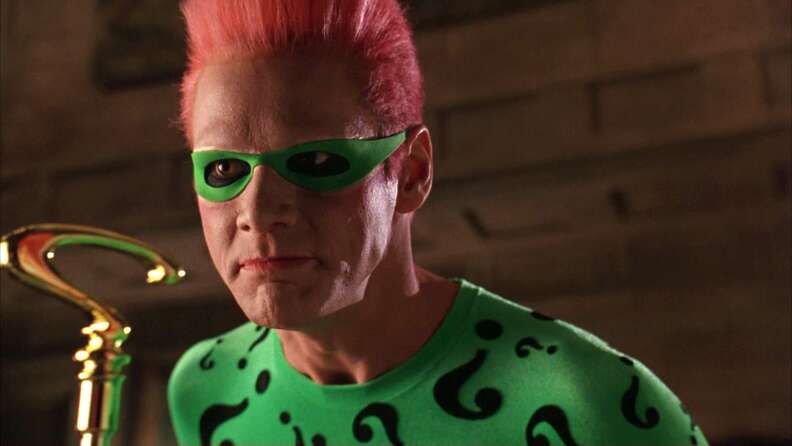 26. Batman Forever (1995)
If you're not counting the recent Justice League fiasco, this might actually be the worst live-action Batman movie ever made. As a superhero film, Batman Forever can't touch the Tim Burton or Christopher Nolan entries; as high camp, it's not even in the same league as director Joel Schumacher's ice-pun filled follow-up Batman & Robin. Instead, the movie, which features Val Kilmer as the Caped Crusader, Tommy Lee Jones as the zebra-suit-sporting Two-Face, and Carrey as the green spandex-wearing Riddler, pings between garish action set-pieces and forced comedy. Fittingly, Carrey's version of Riddler is both too intense and too goofy, tossing bombs and eye roll-inducing lines like "Joygasm!" For an actor often accused of resembling a cartoon character, he feels out of place in this comic book world. (One thing to note: Tommy Lee Jones reportedly hated working with Carrey and once told him "I cannot sanction your buffoonery," which also works as an accurate take-down of this movie.) -- Dan Jackson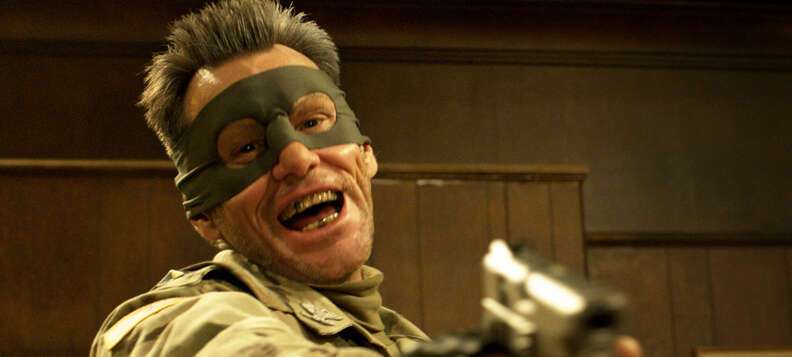 25. Kick-Ass 2 (2013)
Carrey surprised fans when he signed on to this mangy superhero sequel as Colonel Stars and Stripes, a mob croney who finds God and, after watching the DIY superhero "Kick-Ass" in action, devotes his life to vigilante justice. The Colonel was the antithesis of every Carrey character: gruff, shredded, and prone to extreme, bat-enabled violence. As a broadcasting pacifist, the part was the opposite of everything the actor stood for (he later denounced the movie for excessive bloodshed). As an unhinged portrayal of hero envy, the Colonel is a radical use of Carrey's impersonation talents -- America's id as John Wayne as a dejected veteran. If only he didn't die early on... and if only this stilted action-comedy carried any other weight. -- Matt Patches
24. The Bad Batch (2016)
This movie may make you viscerally gag several times, but Jim Carrey will have nothing to do with it. In a 25-minute completely silent role dropped into the middle of The Bad Batch, Jim Carrey is the hinge on which this sci-fi-ish movie spins. He plays the Hermit, an apostolic mute roaming the desert where people who have done detestable things are expelled to. Unlike the one camp of people who are cannibals and the other where Keanu Reeves leads a polyamorous cult, Carrey is the neutral force in this society, pushing a shopping cart across the barren and stopping to help people who need it. His emotive physicality does not save this movie, which is not at all funny or profound or very good at all. -- Leanne Butkovic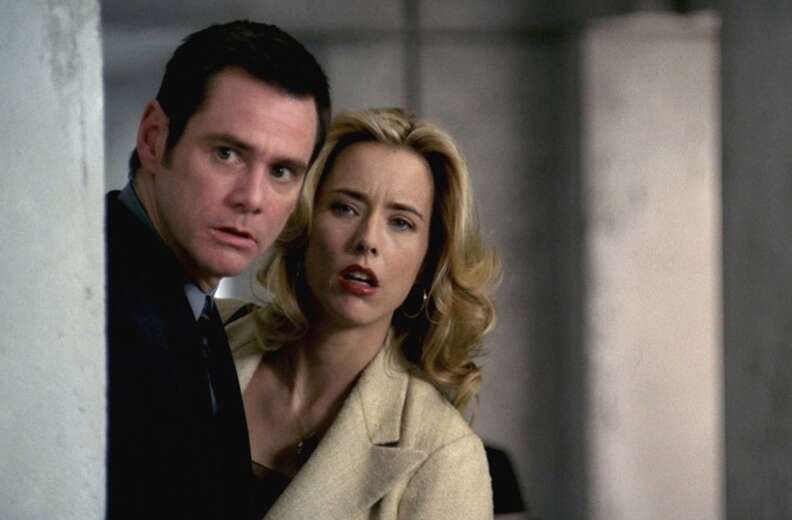 23. Fun With Dick and Jane (2005)
This remake of the 1977 George Segal-Jane Fonda comedy, directed by Dean Parisot (Galaxy Quest) and written by Judd Apatow and Nicholas Stoller, is often quite true to its name. Carrey and Téa Leoni co-star as a well-off suburban couple who become criminals after losing all their money, and in doing so get plenty of opportunities to play slapstick for laughs. Mostly, they're just really bad at pulling off heists. There's the scene where Carrey can't quite seem to get the gun out of his pocket, the moment where the non-fat muffins become more important than the loot, and, of course, the fantastic robot bit. Then, there's also all the bark-collar stuff and the fact that Carrey gets to play a little grounded as a somewhat loving husband. Like I said, it's all very fun, but it's also a lot. Carrey has so much to play -- grounded, cartoonish, heartfelt, everything in between -- the movie becomes dizzying and identity crisis-y in a way that might make you just want to watch an older Carrey joint instead. -- SFG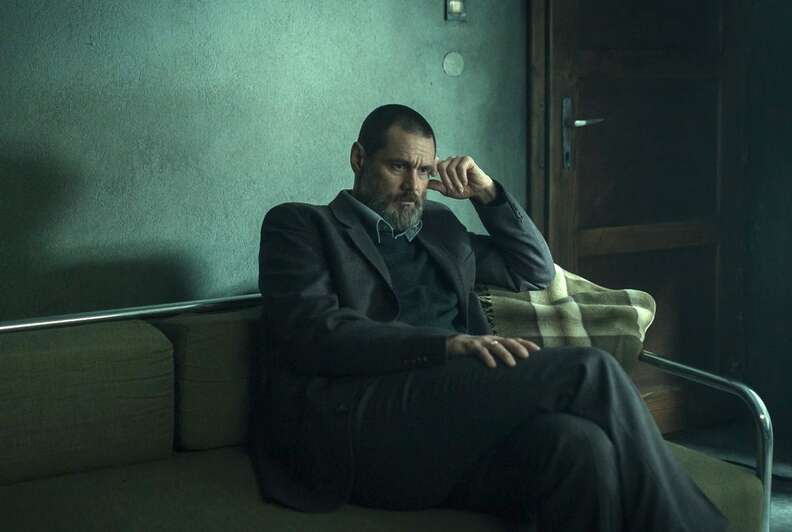 22. Dark Crimes (2018)
Based on a New Yorker article by The Lost City of Z author David Grann (!), this dreary thriller -- which is currently screening exclusively on DirecTV, before hitting theaters and On Demand beginning May 18 -- stars Carrey as a Polish police officer (!) who investigates the connections between a murder, a celebrated crime novelist, a sex-club worker played by Charlotte Gainsbourg (!) and a corrupt system bent on keeping the truth under wraps. Positioned as Carrey's Girl With the Dragon Tattoo but more like a stifled season of The Killing stuffed into an hour-and-40, Carrey's obsessive cop Tadek hides behind an overgrown beard, mumbles through a Polish accent, and stares wide-eyed at the constant horrors of the world. For Carrey, diving head-first into the diametric opposite of everything he's ever done is a risk worth taking -- it just doesn't pay off. A scene where Tadek stands hidden in the shadows, listening as his suspects engage in the kind of brutal sex that only characters in Central European crime films seem to have, is the movie in full view: vacant, gratuitous, and mistaking miserablism for heavy drama. -- Matt Patches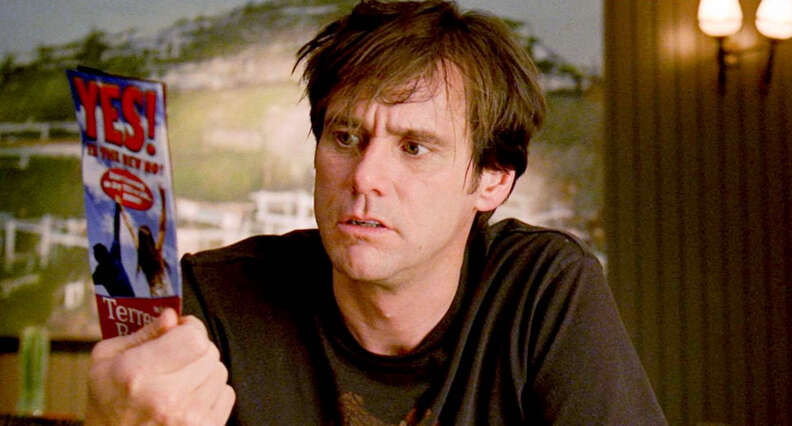 21. Yes Man (2008)
This inspirational comedy, based on Danny Wallace's book of the same name, finds Carrey playing Carl Allen, a crotchety naysayer whose life changes when he takes a pledge to say yes to everything. The premise sounds good on paper, but when I think of all the comedian's roles, this is the one feels more "Sure" then "YES." Not because the writing isn't good, and not because Carrey isn't good; he just feels stuck, kind of restrained. Like this bit, in which Carl attempts to outmaneuver his friend at the video store, moments that should be vintage Carrey never quite get there. Instead, you frequently get something like a muted wackiness that wants to break free, the whole movie chugging along in similar, ultimately unfulfilling fashion, which, for Carrey, just makes it seem like he's wearing a shirt that doesn't quite fit right. -- SFG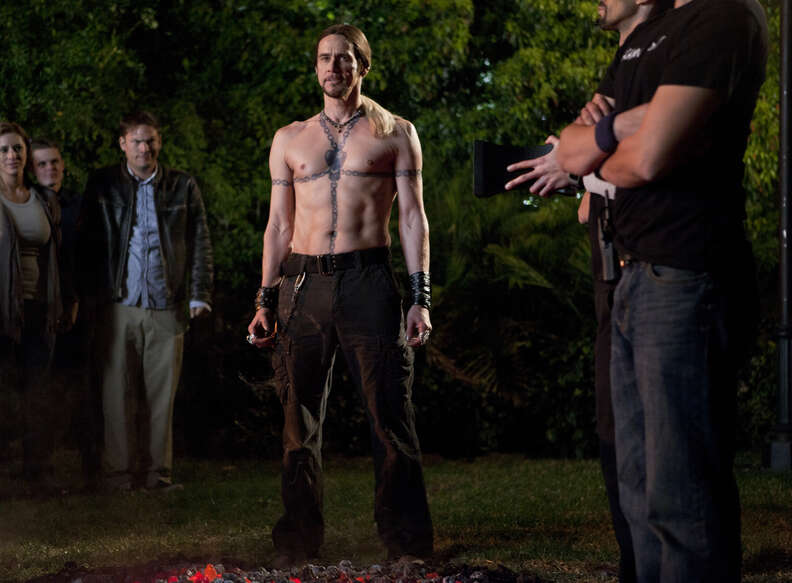 20. The Incredible Burt Wonderstone (2013)
Carrey awoke from slapstick dormancy to play Steve Carell's rival in this mostly forgettable magician comedy. Criss Angel is to Mindfreak as Carrey's Steve Grey is to Brain Rapist, an x-treeeeeme, twiiiiisted, [flailing tongue sounds] street magic show with tricks that include yanking a participants' chosen card out from swelling fist-fight wounds. Driven by a messiah complex, Steve seizes control of magician Mecca, Las Vegas, and Carrey seizes control of every laugh in the movie, an all-fluff, no-work sketch character that works because of the actor's commitment to always going for it -- size of the role be damned. -- MP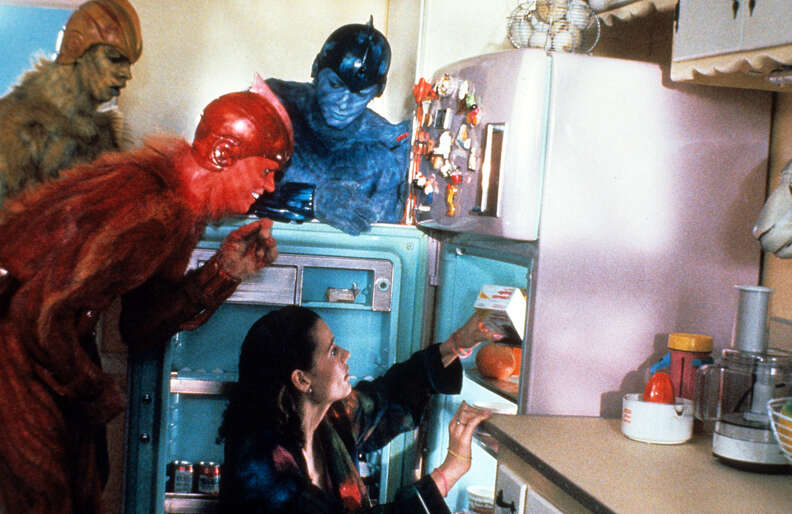 19. Earth Girls Are Easy (1989)
This quirky little romantic comedy, headlined by then-married "It" couple Geena Davis and Jeff Goldblum, falls in that underpopulated category of movies I'll call "Actually Watchable '80s Sci-Fi Rom-Coms Neither Written for nor By Sci-Fi Fans That Also Co-Star Two Future Cast Members of In Living Color." Carrey, as a furry, red alien named Wiploc, crash-lands on Earth with two multicolored colleagues (Goldblum and Damon Wayans) after seeing Davis' nail-salon owner sunbathing topless, setting up a premise not entirely unlike The Shape of Water, only without the heinous cat-murdering that takes place in that baffling Oscar-winner. While the rubbery actor doesn't get a sequence as insane as Wayans's dance battle against a Morris Day-esque tool, he does make this really subtle bobblehead move throughout the film and is endowed with an insanely long tongue. Other than that, this is a movie not unlike the novelty song by co-writer, co-star, and bubbly MTV VJ Julie Brown that it's based on, which means that it's fun, disposable, and quickly forgotten. -- John Sellers
18. Dr. Seuss' How the Grinch Stole Christmas (2000)
Jim Carrey, on the cusp of quitting because the Grinch costume was that unbearable, trained with a Navy SEAL to learn how to withstand torture so he could continue production. That's an apt metaphor for this Ron Howard-directed movie, which realizes Dr. Seuss' curlicued Whoville with a coma-inducing layer of confection. OK, it's not that grueling -- Carrey delivered as the Grinch, turning him into a kind of furry Oscar Madison, but it's nowhere near his most memorable effort as a green man. -- LB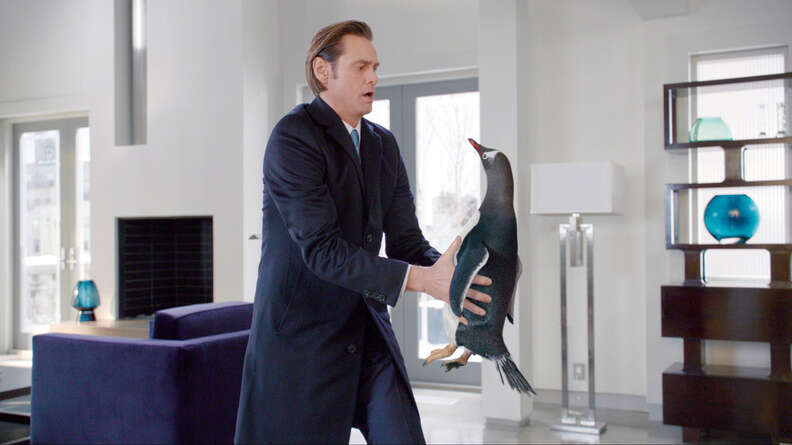 17. Mr. Popper's Penguins (2011)
Seventy-three years after Richard and Florence Atwater published their Newbery-winning children's book Mr. Popper's Penguins, Carrey stepped into the Mr. role, leading the famous raft of polar birds in the lightest-weight movie of his career. Carrey is an underestimated in roles that require him to play things straight (see also: The Majestic); square-jawed and dapper-able, he possesses a Capra-esque everyman quality that's known more for its elasticity. But fitting with a tuxedo, high-rise apartment, and a crisp, New York City winter backdrop, Mr. Popper cashes in on the quality, carving out a plutocrat-to-humanist arc that's as slick as an ice luge. There's plenty of comedy -- those pesky CG penguins are a real handful! -- but instead of typical, whackadoo Carrey, Mr. Popper leans on the actor's fatherly warmth, out-of-his-depth fear, and romantic side, as he rekindles a relationship with his ex-wife (Carla Gugino). It's a fond farewell to his tenure as a Hollywood star. -- MP
16. Dumb and Dumber To (2014)
Making a sequel to a beloved comedy is a dicey proposition: Even in the rare case when the movie works, like a certain second chapter in a pet detective series you'll find further down this list, it's going to be compared to the original. Any follow-up to Dumb and Dumber must compete with the memory of hearing the most annoying sound in the world for the first time -- and then hearing it again and again on a worn-out VHS tape in a friend's basement. Directors Bobby and Peter Farrelly didn't make the task any easier by waiting 20 years to pull the trigger on this sequel, allowing Carrey's Lloyd and Jeff Daniels' Harry to take on almost mythic qualities in the minds of fans. Even grading it on a curve, the movie is often tedious, packed with physical gags that drag on too long and call-backs to the original that just remind you how cruel time can be. But there are moments, like when Carrey attempts to bite a hot dog and ends up swallowing it whole, that make climbing back in the Mutt Cutts van worth the journey. -- DJ
15. Lemony Snicket's A Series of Unfortunate Events (2004)
For the movie adaptation of the popular children's book series, the main message of which is that life is an endless trash fire, the three Baudelaire siblings, resilient and resourceful as they are, get way upstaged by Jim Carrey soft-shoeing his way through it all as the beguiling Count Olaf. With an air of Shakespearean villainy and a bottomless bag of disguises, Carrey shows off his thespian side to the point of great excess, which would be fine if his stack of monologues were word salad. If this were a Broadway show, you'd expect the audience to cheer whenever another of his unhinged characters enters a scene until midway through when they've seen enough of the song and dance. -- LB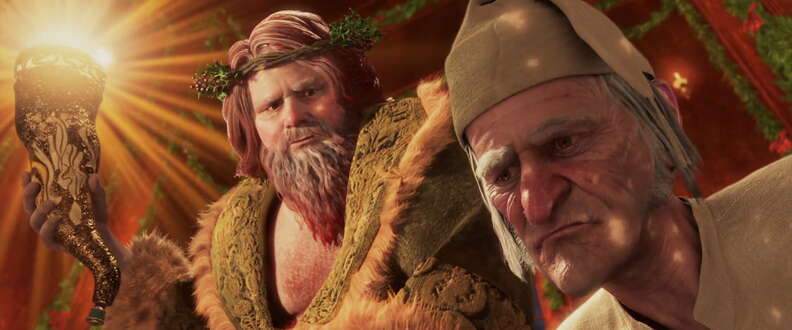 14. A Christmas Carol (2009)
Robert Zemeckis breathed new life into this Charles Dickens classic by using motion-capture animation to break the laws of live-action camera physics and crank the creepy factor up to 11. The approach allowed Carrey to play both Scrooge and the Ghosts of Christmas, turning the specters into refractions of the cantankerous Christmas-haters personality, and taking full advantage of the actor's range. Well, mostly. Despite the mo-cap, you're not fully getting the lunatic physicality you truly know and love. The result is still a staggeringly impressive spectacle that can't help but get a little too cartoonish for its own good. -- SFG
13. The Majestic (2001)
Given his propensity for talking out of his butt, it might be surprising that Jim Carrey would be called upon to play a 1950s everyman in the Jimmy Stewart mold, but that's exactly what he does in this retro-pastiche that pays tribute to the films of Frank Capra and Elia Kazan. Fresh off the critical success of both The Shawshank Redemption and The Green Mile, director Frank Darabont convinced Warner Bros. to spend over $70 million on a lengthy, unapologetically gooey period piece about the Hollywood blacklist, amnesia, and the renovation of an old movie palace. While The Majestic lacks the frayed edges and political urgency that made the classic films it emulates so powerful, Carrey does an effective job of reigning in his inner-Pet Detective and selling the movie's sentimental view of the past. -- DJ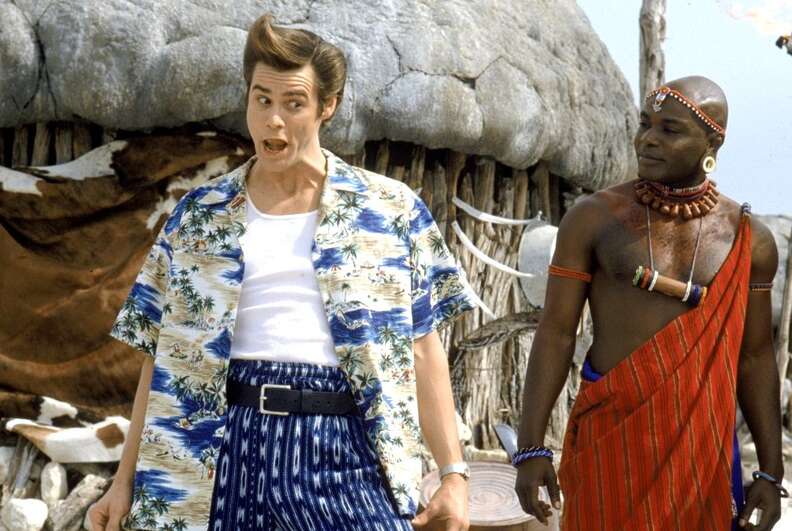 12. Ace Ventura: When Nature Calls (1995)
This sequel, his only stab at immediate franchising (Dumber To took 20 years to come together), whisks Ace Ventura off to the fictitious African nation of Nibia to deliver a scathing slap of the wrists to white colonialism... while also being completely ignorant to aboriginal people. Alrighty then! Admittedly, Nature Calls is a tougher watch than it was 23 years earlier (God bless Sophie Okonedo for keeping a straight face as Ace yaks a traditional guano dish), but under the direction of Carrey's longtime collaborator Steve Oedekerk, it's also one of the greatest live-action cartoons ever slapped on to screen. Possessed by the ghost of Fire Marshall Bill, Ace's shtick includes wearing an old man as a scarf, hocking a volcanic loogie, sprinting through the jungle like Daffy Duck with an aflame rear, and fulfilling every 9-year-olds dream of driving a monster truck over some old geezer's car. Then there's the pièce de résistance of this problematic hit, an extended sequence in which Ace emerges, naked and in sight of tourists, from the butthole of a robotic rhino. It's one of the funniest sequences in movie history, tucked away in a comedy we wish stood the test of time. -- MP
11. Bruce Almighty (2003)
After The Majestic flopped in 2001, the sneakily prolific actor didn't star in a movie for an entire year, something he hadn't done since breaking out with Ace Ventura: Pet Detective in 1994. He returned to the big screen with Bruce Almighty, a high-concept comedy about a regular guy given the chance by God (Morgan Freeman) to run the universe for a week. The movie, which mixed special effects-driven slapstick with treacly life lessons, re-teamed Carrey with Tom Shadyac, who directed Ace Ventura and Liar Liar, and it was a massive crowd pleaser, eventually grossing over $400 million. He hasn't made a bigger movie since and subsequent attempts to play in the same broad comedic sandbox didn't connect with audiences on the same scale. (Carrey had the heavenly foresight to stay away from the sequel, Evan Almighty, which was an absurdly expensive bomb starring Steve Carell.) Besides making a ton of money, the movie is mostly memorable for Carrey's swagger in the role: playing God wasn't a stretch for him. -- DJ
10. Man on the Moon (1999)
One day (possibly soon!), we'll look back on the Method-acting hero-worship era and say, "Wow, we idolized some strange, abusive behavior." Carrey was so obsessed with "becoming" the late comedian Andy Kaufman for this Miloš Forman-directed biopic that he lost sight of the person he was portraying, and became an asshole instead. The Netflix documentary about Man on the Moon's production reveals a dedicated actor who drank on set, crashed cars, pissed off a lot of people, and turned the entire filming process into a Kaufman-esque performance-art nightmare. Most of the cultural impact Man on the Moon made, in the end, had little to do with the movie itself, exposing a truth about the Method: It's possible (maybe even probable) to make an unremarkable movie no matter how thoroughly an actor "becomes" a character. Carrey's performance is certainly the highlight of a film that never deviates far from narrative convention in telling the story of a man who didn't know what convention meant -- or, at least, pretended he didn't know what convention meant. In that regard, Carrey and Forman achieve the kind of sleight of hand that Kaufman catches in the man performing psychic surgery on him while he's dying of cancer; your sense of reality bends enough that as you watch a cast peppered with actors (Paul Giamatti, Danny Devito) and figures in Kaufman's life playing themselves (Jerry Lawler, David Letterman) melt art and life together, you're let in on a joke that's just as sad as it is funny. In the end, Man on the Moon succeeds because it turns a legend into a mortal human being. -- AS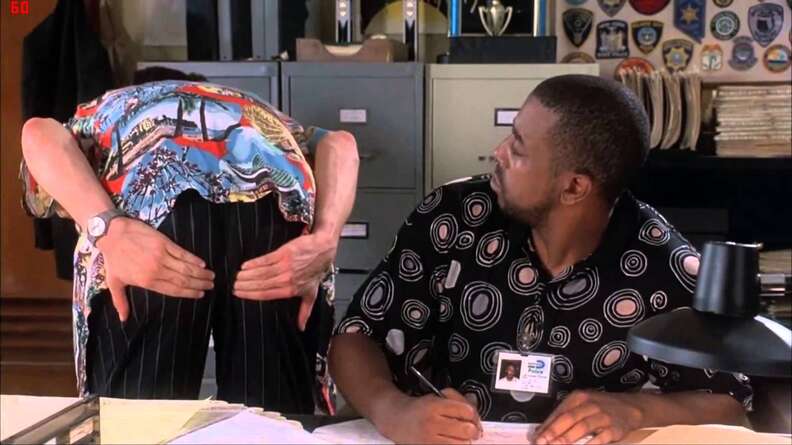 9. Ace Ventura: Pet Detective (1994)
Pet Detective is what internet content producers call "problematic," putting it kindly, given that the plot hinges on an NFL kicker who goes so crazy that he transitions to a woman to exact revenge on Miami Dolphins quarterback Dan Marino for supposedly screwing up a game-winning kick in the Super Bowl (Marino's return to the Super Bowl might actually be the most timeless joke in the whole movie). The "Einhorn is Finkle, Finkle is Einhorn" scene decidedly does not hold up, managing to achieve cringeworthy homophobic and transphobic notes all at once. And yet! This is the first feature film to announce from its opening scene, "Jim Carrey is a star," entering catchphrases like "Allllllrighty then" and "Loser... luh-hoo-zuh-her" into the cultural lexicon, for better and for worse. It was the remarkable controlled wackiness Carrey put on display during his In Living Color days that made a movie about a pet detective work at all, and its subsequent box-office success ensured Carrey a permanent place among Hollywood's leading moneymakers. Perhaps it's a cruel compliment (again, kindness here) that comedy directors apparently believed Carrey's abilities reach their peak when he portrays someone with mental illness; one of Pet Detective's more memorable scenes comes when he and Miami Dolphins publicist Melissa Robinson (Courteney Cox) attempt to infiltrate a psychiatric treatment home to glean information about Ray Finkle's time there. The '90s: a problematic decade, but at least Tone Lōc is also in this movie. -- AS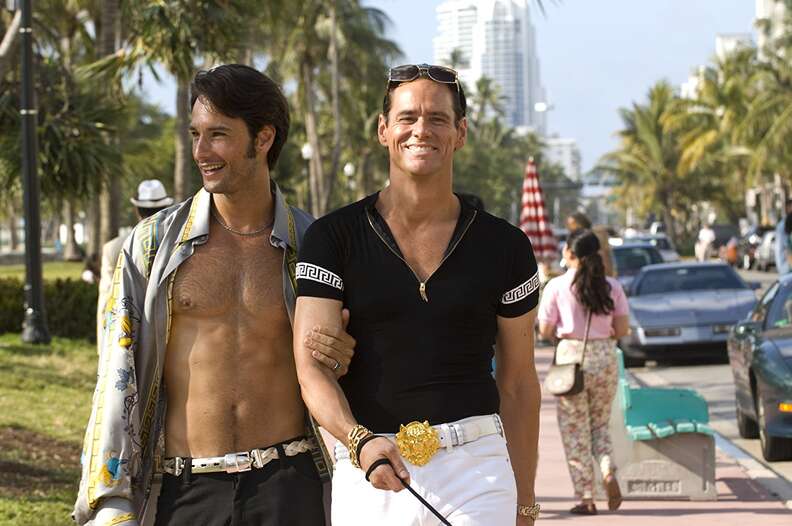 8. I Love You, Phillip Morris (2009)
I Love You, Phillip Morris is the most consistently underrated movie in Carrey's whole filmography. Bad Santa co-writers Glenn Ficarra and John Requa made their directorial debut with the screwball true crime story of Steven Jay Russell (Carrey), a gay con artist who escaped from prison multiple times to be with the love of his life Phillip Morris (Ewan McGregor). McGregor gives the film a sly sweetness and helps keep the material emotionally grounded, but this is a showcase for Carrey. He plays Russell with a wild glint in his eye, like he's finally found a role that let's him use all his manic comedic gifts within the context of a psychologically rich, gleefully vulgar, and deeply melancholy drama. It's a movie about devotion that's likely to inspire a similar level of commitment from curious viewers tuned to its madcap wavelength. -- DJ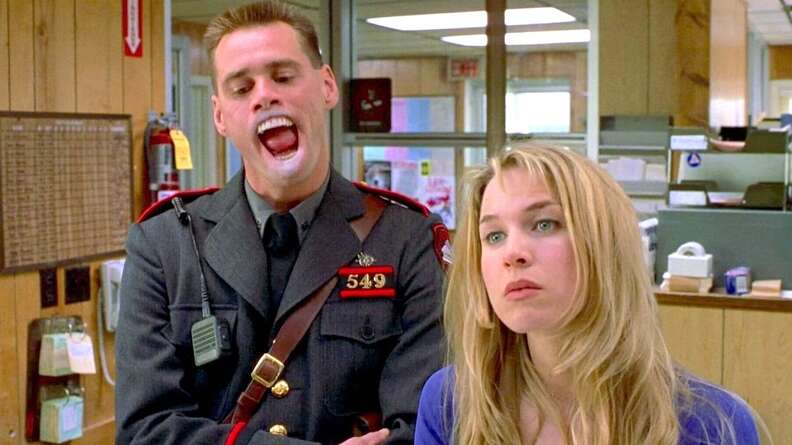 7. Me, Myself & Irene (2000)
Ah, the year 2000, when mental illness could credibly form the basis of a summer blockbuster comedy. Jim Carrey is literally the only person alive capable of pulling off Charlie Baileygates, a Rhode Island State Trooper with a personality disorder that causes Charlie to develop a second personality, named Hank, to express suppressed rage. Who else on Earth can do this? While Ace Ventura made him a star, Dumb and Dumber gets all the quotable-classic attention, and The Truman Show and Eternal Sunshine turned him into a veritable artiste, no movie better captures the full range of Carrey's talents than Me, Myself & Irene. The Farrelly brothers' conceit sounds like it was dashed off at a late-night brainstorm -- "What if a white cop were so nice that he developed a second, aggressive personality as an outlet?" "Yeah, and what if his kids were black!" -- but dammit, it's still funny. -- AS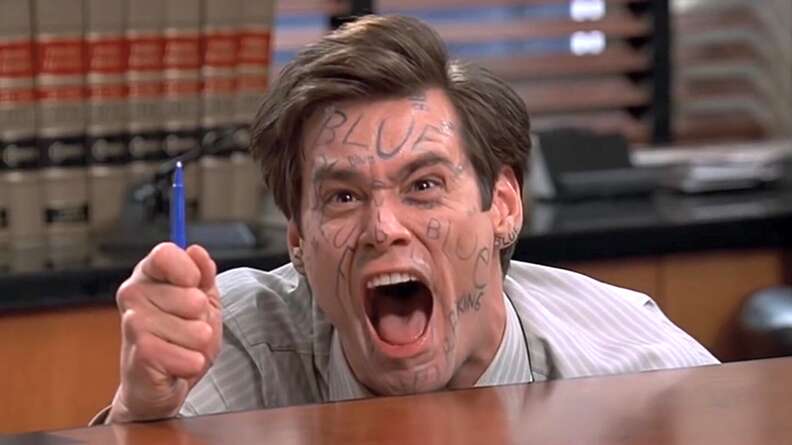 6. Liar Liar (1997)
Liar Liar, was the kind of magical realist vehicle that only Carrey could steer to success. Under the direction of Tom Shadyac, a key to the Carrey formula, the actor plays Fletcher Reede, a lawyer whose life implodes after his son makes a birthday wish for 24 hours of the truth. As a habitual liar, Fletcher's worst enemy is himself, and Carrey does his best to make this internal struggle very external. That means you get to marvel at this guy as he does his best Jekyll-and-Hyde impression, flexing his most spastic, untethered qualities in an otherwise grounded world. The juxtaposition is endless fun, it allows for overacting in the best way, and the movie, with all its goofiness, still has a sense of heart underpinning the father-son redemption plot. Carrey was nominated for a Golden Globe in this, and he deserved more. This is his Mrs. Doubtfire. -- SFG
5. The Mask (1994)
The Mask was psychotic in 1994, and it remains psychotic in 2018. Iconic one-liners for the 15-and-under crowd to recite ad infinitum, insane CGI that turned its star into a living Bugs Bunny, outrageous Tommy gun violence, the cute Jack Russell terrier sidekick: it's all balled up in a well-preserved early '90s artifact, including the of-its-time sexism of dangling Cameron Diaz like a piece of meat as a "throwback." But it's hard to think of another actor who could have danced between the mild-mannered Stanley Ipkiss and his bawdy, toothy, yellow suit wearing alter ego in the way that he did that cemented his post-Ace Ventura absurdist legacy. The main reason The Mask isn't higher on this list is only because it bred a generation with a deranged sense of humor. -- LB
4. The Cable Guy (1996)
There's always been a sinister edge to the Jim Carrey persona. In The Cable Guy, a stalker comedy about a repairman (Carrey) developing an unhealthy attachment to one of his clients (Matthew Broderick), that dark quality bubbles to the surface, transforming an unlikely friendship into a Hand that Rocks the Cradle-like situation. At the time of its release, audiences weren't quite sure what to make of Carrey's intentionally alienating performance -- reports that he pocketed an unprecedented $20 million paycheck likely created some weird expectations -- but the movie has gone on to become a cult favorite. Re-watching The Cable Guy now, it's easy to see why: Director Ben Stiller commits fully to the uncomfortable tone, Broderick is perfectly cast as the put-upon comic foil, and Carrey gets plenty of room to do his schtick. There's a scene where he puts chicken skin on his face at Medieval Times and quotes Silence of the Lambs. What more could you possibly you want? -- DJ
3. The Truman Show (1998)
Few movies create such a cultural impact that they're instantly comprehensible as a simile: "It's like The Truman Show..." has for two decades been a perfectly acceptable thing to say anytime reality seems manufactured. (Which is always.) Plenty of pixels have floated into the ether dissecting the film's themes, and the fact that it premiered two years before Survivor officially turned America into a reality-TV-addicted nation make The Truman Show look like the Oracle at Delphi. Today, when much of our interaction occurs on virtual platforms, the story of Truman Burbank's reality-show life, meticulously cultivated by unseen forces personified in the cynical producer Christof (Ed Harris), sounds ripped from the headlines. But the movie was also a watershed moment for Carrey, who until that point hadn't shown his more restrained, dramatic chops. The sheer physical talent of Jim Carrey requires you to take the good with the bad any time you attempt to rein it in. -- AS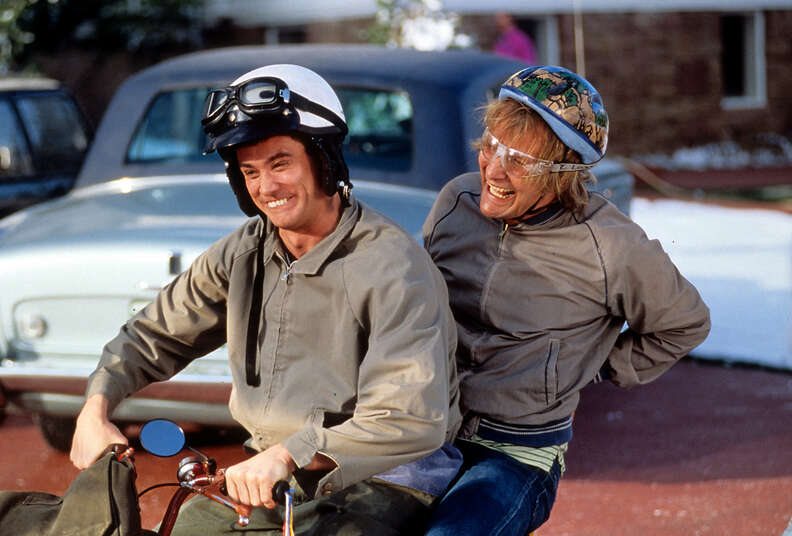 2. Dumb and Dumber (1994)
The Farrelly brothers' debut feature plays like a greatest hits album. Carrey's buck-toothed, bowl-cut sporting Lloyd and Jeff Daniels' long-suffering, mop-headed Harry hit the road and find hilarity at every stop. Like the Brothers' 1998 hit There's Something About Mary, Dumb and Dumber rides waves of laughter from one show-stopping sequence to the next -- the gross-out laxative scene, which finds Daniels attempting to repair a toilet he just decimated, might be the funniest -- but it also find oddball humor in quieter interactions and throwaway moments. (Lines like "Skis huh?" have a way of sticking in your brain for weeks.) Any attempt to debate over whether Daniels or Carrey gives the "funnier" or "better" performance in the movie is irrelevant and misses the larger philosophy driving the entire Dumb and Dumber project. These two can't be considered in opposition to each other or apart from one another. It's not that one is "dumb" and the other is "dumber." Together, they are transcendentally dumb. -- DJ
1. Eternal Sunshine of the Spotless Mind (2004)
Is it possible to imagine an equally effective version of Eternal Sunshine of the Spotless Mind with another actor in Jim Carrey's role? Sure, it is. (According to the trivia section on IMDb, Nicolas Cage was at one point considered for the part.) Here's the best argument against putting Eternal Sunshine at the top of a list of the best Jim Carrey movies: Though it's a great film, a wonderful sci-fi meditation on memory and romance, it doesn't completely capture the unique set of skills that made him a star. The same idea can be applied to the careers of Adam Sandler, Robin Williams, Eddie Murphy, or Kristen Wiig. As the introspective, buttoned-up Joel Barish, Carrey's performance mostly takes a backseat to Michel Gondry's fanciful direction, Charlie Kaufman's inventive screenplay, and Kate Winslet's Oscar-nominated turn as the free-spirited Clementine. But in a way, that selfless quality is what makes this such a peculiar Jim Carrey movie, allowing the actor to shed the sketch comedy tics and the sweaty desperation that made movies like Ace Ventura or Liar Liar so riotously funny. He allows himself to be fully human and completely present here. Clever and witty in some scenes, tender and wounded in others. In a movie about the difficulty of displaying vulnerability, Carrey finally removes the mask. He's never been better. -- DJ
Sign up here for our daily Thrillist email and subscribe here for our YouTube channel to get your fix of the best in food/drink/fun.