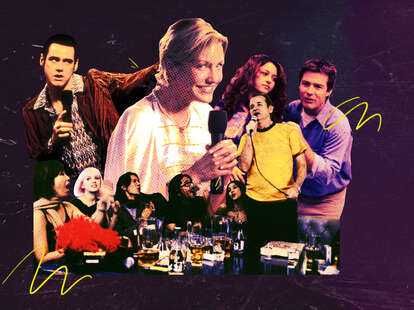 Maitane Romagosa/Thrillist
Maitane Romagosa/Thrillist
The Greatest Karaoke Moments in Movies & TV History
From gorgeous to groan-worthy, these 15 on-screen performances upstage all the rest.
Welcome to Karaoke Week, Thrillist's celebration of our favorite global phenomenon, with singing advice, celebrity recommendations, drink recipes, tips for hosting at home, and much more.
In even the most casual or dire circumstances, singing karaoke is an act of self-portrait. Every aspect of a performance -- song selection, vocal modulation, hand gestures, mic control -- reveals a part of how you see yourself and how you want to be perceived by others. So, it makes sense that writers and directors in Hollywood, eager for new ways to underscore essential psychological and emotional details about characters, would occasionally lean on karaoke as a storytelling device in TV shows and movies. Plus, some of your favorite actors have serious pipes; others, well, they should probably stick to acting.
Unlike when a character bursts into song in a conventional musical, unearthing a previously unspoken truth or a shocking revelation, karaoke scenes are often inherently more ephemeral, playing on the possibility of embarrassment inherent to the situation and relationship between the in-room audience and the singer. Let's be honest: they're typically goofy. They're more likely to involve a fringe-vest and awful dance moves than a breathtaking, heartbreaking aria.
In selecting our favorite movie and TV karaoke moments as part of our weeklong celebration to the beloved pastime, we scoured the depths of YouTube and our own cloudy memories, and came to a perhaps surprising conclusion: There should be more of these! What ponderous Oscar-seeking movie wouldn't be improved with a little karaoke interlude? Wouldn't it be great if, say, all your favorite Succession characters had to battle it out in a dingy karaoke bar? (No, Kendall's rapping doesn't count.) For now, we'll stick with the 15 scenes from movies and TV shows we selected below, which we've gone ahead and assessed in terms of pop-culture notoriety and performance, with an emphasis on showmanship and commitment. We judge because we care.
Arrested Development
Song: "Afternoon Delight" by Starland Vocal Band
Performers: Jason Bateman and Alia Shawkat
Why it's famous: Arrested Development loved a running bit (see: the stair car, the family's bizarre interpretations of the Chicken Dance, the oft-repeated banana-stand quote, etc.), etc. -- even smaller-scale ones like the recurring gag in a second-season episode where several Bluths learn the hard way that the lyrics of "Afternoon Delight" are far less innocent than they'd thought. After a whole day of bonding with Maeby (Shawkat), uncle Michael (Bateman) discovers in real-time that he absolutely selected the wrong song to duet on with his underage niece at the well-lit Bluth Company Christmas Party. It's cringe comedy gold and offers up a helpful lesson: That's why you never pick the first karaoke song in the book.
Is it good or bad karaoke? God, no -- Michael is tone-deaf with a put-on countrified accent, and Maeby, bless her heart, is not a natural singer. Plus, though it makes for very funny TV and an A+ running bit in the episode, this would be one of the most skin-crawling performances you'd ever have the misfortune of being present for. -- Leanne Butkovic
The Bold Type
Song: "Mamma Mia" by ABBA
Performers: Katie Stevens, Aisha Dee, and Meghann Fahy
Why it's famous: I certainly would not describe this karaoke moment in The Bold Type as "famous" on any mainstream level, but for a very specific strata of B-level TV enjoyers, the Scarlet magazine gals Jane, Kat, and Sutton's rendition of "Mamma Mia" is downright legendary. Already, the Freeform series relied on a level of fantastical optimism -- where print magazines are still objects to be cherished, a fashion assistant could charge $500 of cocaine to her company AmEx for "networking purposes" and NOT get fired, and the most profoundly mediocre personal essays could earn you star-writer status -- but the karaoke scene from Season 2 is one of the most bafflingly unrealistic moments of the entire series, which is really saying something. Sutton brings her new boy toy Dillon on their second date to meet Jane and Kat at a karaoke bar the trio allegedly frequent. (First I've heard of it!) They take tequila shots, waltz up to a series of mics that are way too nice to be on stage at a tiny Brooklyn bar, and proceed to tear through the ABBA hit, complete with neatly assigned lines and rehearsed choreography. Sorry, but, what the fuck? Why are these women working various levels of crappy, underpaid media jobs and not trying to sweep America's Got Talent?
Is it good or bad karaoke? It is astounding karaoke. Do you hear those three-part harmonies?? -- LB
Booksmart
Song: "You Oughta Know" by Alanis Morissette
Performers: Noah Galvin and Kaitlyn Dever
Why it's famous: Booksmart is all about high school seniors Amy (Dever) and Molly (Beanie Feldstein) undertaking a mission before graduation to go to the ultimate party to make up for their lackluster four years spent studying. When they finally arrive and spot their crushes across the room, it's everything they hoped for, but also really anxiety inducing (for Amy at least). Eventually, the girl Amy's been pining for drags her into the karaoke room where drama club star George (Galvin) is performing Alanis Morissette's "You Oughta Know" with the kind of moody flare only a theater kid can offer. When the drama gets the better of him -- so much so he name drops an ex -- the mic gets passed to Amy, forcing her up on the stage to finish the song. Maybe it's all the pent up emotion of spending high school in the shadow of her best friend, but she ends up owning the performance. It's a scene that starts out hilariously and ends as a new classic coming-of-age movie moment.
Is it good or bad karaoke? As George says, "No breath control, but it's good! It's on pitch!" -- it is good. So good! Both of them! With a song choice that allows for theatrics and highlighting their pipes, and the fact that it's just fun, this is exactly the kind of karaoke performance you'd want to stumble upon at a house party. -- Sadie Bell
Breaking Bad
Song: "Major Tom (Coming Home)" by Peter Schilling
Performer: David Costabile
Why it's famous: Poor Gale Boetticher. (Spoiler warning: If you're somehow still saving your Breaking Bad binge for a later date, stop reading now.) The Walt Whitman-quoting, meth-cooking chemist never stood a chance in the cutthroat world of Breaking Bad, which adds a tragic dimension to this poignant yet odd scene, where Dean Norris's DEA agent Hank shows off Gale's private karaoke video to Bryan Cranston's Walter White, the man who plotted his murder. While the show's spin-off Better Call Saul also recently showcased a karaoke scene, making writer Vince Gilligan the most karaoke-boosting prestige TV creator franchise of the modern era, the Breaking Bad moment wins out for the way it nails the show's signature mix of queasy laughs and uneasy tension.
Is it good or bad karaoke? It's best not to speak ill of the dead, but Gale's performance won't be winning any karaoke awards. (The full performance is available here.) You have to assume Costabile's other beloved character, the smirking hedge-fund power-player Wags from Billions, would give a more commanding performance. -- Dan Jackson
The Cable Guy
Song: "Somebody to Love" by Jefferson Airplane
Performer: Jim Carrey
Why it's famous: In this winkingly absurd 1996 dark comedy, which divided critics on release but has gone on to achieve cult status, Jim Carrey's unhinged TV repairman Chip Douglas is the epitome of the annoying friend. He's needy, manipulative, and obnoxious, particularly at his favorite restaurant, Medieval Times. Charting Chip's path from clingy oddball to violent sociopath, director Ben Stiller and producer Judd Apatow knew karaoke would be an effective way to highlight Chip's combination of charisma and madness. Before belting out Jefferson Airplane in a fringe jacket, Chip compares his impending performance to the brutality of the Hell's Angels at Altamont, saying, "Tonight, it's my turn." Tasteful? No. A window into Chip's tortured soul? Yes.
Is it good or bad karaoke? As an actor and comedian, Carrey is such an over-the-top performer that his commitment here -- the rubber-y Mask-like faces, the Ace Ventura-y toothy grins, and the exaggerated vibrato -- almost sells out the "reality" of the situation. Would Chip really be so "good" at karaoke? Still, the senior citizens at the party love it, and winning over an audience is half the battle. -- DJ
Community
Song: "Kiss From a Rose" by Seal
Performer: Joel McHale and Jim Rash
Why it's famous: The best karaoke scenes appear on the extreme ends of the karaoke spectrum: They must either be really good, or really, really terrible. For the terrible ones, visible discomfort is key, along with some real, physical, neck-tendon-clenching effort put in to hit those hard-to-reach high notes. When the Dean (Jim Rash) blackmails Jeff (Joel McHale) into doing Seal karaoke with him after Jeff skips out on helping his friends move in together, Jeff clearly hates it at first, but by the end he's sorta into it. "Kiss From a Rose" will do that to you. In true Community fashion, it's not just a karaoke scene, either -- Jeff and the Dean are accompanied, from afar, by Pierce tickling the ivories alongside some hula dancers, and a rousing rendition of "Jesus Loves Marijuana" from a creepy hitchhiker Shirley and Britta pick up in their car.
Is it good or bad karaoke? Jeff and the Dean are no songbirds, but we have to give major points for creativity here -- the green-screen scenery is a game changer. And take it from someone who's tried: This song is IMPOSSIBLE to sing for anyone who is not Seal, so as far as we're concerned, they nailed it. -- Emma Stefansky
Friends
Song: "Delta Dawn" by Tanya Tucker
Performer: Courteney Cox
Why it's famous: As the cliché high-strung, neat-freak roommate that she is, Monica rarely lets down her hair on Friends. But in the ninth-season episode "The One Where Monica Sings," she sure does! Invited by Phoebe to karaoke night, she hesitantly heads up to the stage to sing Tanya Tucker's '70s country hit "Delta Dawn." The crowd starts to cheer her on, though, which makes her loosen up and reveal a more confident side of herself... and unbeknownst to her, a whole lot more since everybody in the crowd can see through her blouse. Ignorance really is bliss because it got Monica her five minutes of fame, and got Friends fans to see a side of her they seldom get to see.
Is it good or bad karaoke? Had Monica not leaned into giving the crowd what they wanted, this would have been just mediocre, letting-your-nerves-get-the-best-of-you karaoke. It's good, though, once she starts to get into the groove and lets herself revel in the spotlight (in more ways than one). -- SB
The Fresh Prince of Bel-Air
Songs: Multiple
Performers: Will Smith, Alfonso Ribeiro, and Jenifer Lewis
Why it's famous: Given Will Smith's talent and fame as a rapper, The Fresh Prince of Bel-Air could've leaned on his musical skills even more than it did during its successful run on NBC in the 1990s. This sequence from a Season 6 two-parter, which mostly relegates the karaoke hamming to the background as Uncle Phil (James Avery) and Aunt Vivian (Daphne Maxwell Reid) resolve an argument about their relationship, is a showcase for the actor's relentless charm and his willingness to look silly for a gag. Along with Ribeiro's nerdy Carlton, who often sang in the role (and rips the mic away from a fellow patron to belt out "The Girl from Ipanema" by Stan Getz and João Gilberto), and Lewis' infrequently appearing Aunt Helen, the trio serves as a karaoke Greek Chorus via a medley of songs ("Stop! In the Name of Love" by the Supremes, "Reunited" by Peaches & Herb, "I'll Be There" by the Jackson 5, and "Day-O" by Harry Belafonte), commenting on the action and inching the two feuding lovebirds towards a reconciliation.
Is it good or bad karaoke? Overall, this is great karaoke. Smith really goes there, disrupting the diners in the restaurant with his wild vocal flourishes. Carlton commits a karaoke faux pas by grabbing the mic from a less talented singer, but there's no arguing about Will's obnoxious cousin's boast about his performance: "That's how it's supposed to be done." -- DJ
Lost in Translation
Song: "More Than This" by Roxy Music
Performer: Bill Murray
Why it's famous: Seventeen years after the fact, Sofia Coppola's Oscar-nominated Lost In Translation is maybe most remembered for three things: Scarlett Johansson's pink bob wig, the fancy hotel bar with the sprawling, twinkly view of Tokyo, and the karaoke scene in that corner room overlooking Shibuya. The spontaneous, rollicking, and alcohol-fueled night across Tokyo shared by Bob (Bill Murray), a jaded actor in Tokyo film to a Suntory Whiskey commercial, and Charlotte (Johansson), an aimless recent philosophy grad who tagged along to Japan with her big-shot photographer husband, culminates in the two singing to each other at a karaoke bar -- Charlotte with The Pretenders' bouncy "Brass in Pocket" and Bob with Roxy Music's melancholy rock ballad "More Than This." (Reportedly, Murray and Coppola chose the song the same night they shot the scene.) The palpable chemistry in their locked gaze, drenched in neon-blue light, as Bob slurs over the chorus transmits all of their boozed-up sexual tension, ending in a post-song cigarette in the zebra print hallway of the venue. Even if the end of the film didn't give much away, at least they had this, like a dream in the night.
Is it good or bad karaoke? Divorced from its contextual emotional affect, it is bad karaoke. Exceptionally lazy. No charisma. Sad drunk. -- LB
The Leftovers
Song: "Homeward Bound" by Simon & Garfunkel
Performer: Justin Theroux
Why it's famous: Arguably the best scene of the entire show up to that point, the bit in The Leftovers' finale where Kevin Garvey (Justin Theroux) is forced to sing karaoke in order to get back to the world of the living again, would have simply been played for laughs on a lesser show. The whole concept of the HBO series' version of the afterlife, or some mid-world between the world of the living and the dead, with its hotel full of weirdos telling Kevin he's an assassin, or the President, is the perfect encapsulation of creator Damon Lindelof's aggressive, Dadaist sense of humor. But the karaoke moment, where Kevin reluctantly sings Simon & Garfunkel's "Homeward Bound" while he is, quite literally, trying to get back home, is the perfect snap of hilarity and deep feeling. It's so clearly such a terrible experience for Kevin -- it was not a pleasant experience for Theroux, either -- that you really feel how much effort this takes, and how much returning to his family matters to him.
Is it good or bad karaoke? Brutal. Off-key. Awkward. Let's be honest, it's terrible karaoke. -- ES
Lovesick
Song: Multiple
Performer: Whole cast
Why it's famous: Truly, this is not actually all that famous. Lovesick, formerly known as Scrotal Recall, is a critically acclaimed British Netflix series with a small but vocal fanbase. And yet it has one of the most accurate karaoke scenes I've ever seen. The vocal stylings take place during an outing that was supposed to be a hen party for Evie (Antonia Thomas) orchestrated by her best friend/on-and-off romantic interest Dylan (Johnny Flynn). Only, Evie has broken up with her fiancée, and Dylan forgot to cancel their plans. So the celebrations go forward even though the bride-to-be is no longer engaged. She's understandably not really in the mood for merriment, but as soon as her pals start belting, she can't help but join in and the drinks start flowing. They cycle through a bunch of karaoke classics including "Return of the Mack," "99 Luftballons," and "Total Eclipse of the Heart," and Dylan makes eyes at Evie as she performs with abandon.
Is it good or bad karaoke? It's exactly how we imagine karaoke to be: Sloppy, drunk, fun as hell. -- EZ
My Best Friend's Wedding
Song: "I Just Don't Know What to Do With Myself" by Burt Bacharach and Hal David
Performer: Cameron Diaz
Why is it famous: Arguably the most savage karaoke scene on this list, this is karaoke as torture that unexpectedly backfires. It's a moment that endeared audiences to Cameron Diaz permanently, and one that also establishes My Best Friend's Wedding as one of the most wonderfully prickly rom-coms of all time. As part of her downright nasty plot to stop the upcoming nuptials of her pal Michael (Dermot Mulroney) to the naive Kimberly (Diaz), Julia Roberts' wily Julianne signs Kimberly up to sing with the assumption that she'll humiliate herself. All goes according to plan at first as Kimberly tentatively butcher's Burt Bacharach and Hal David's "I Don't Know What to Do With Myself," but her persistence and even her inability to hold a tune slowly becomes endearing. Michael is totally smitten as she serenades him, while Julianne's smug look morphs into bemused frustration as the crowd starts to clap along. It's really a tour de force scene. Diaz is adorable leaning into the ear-scratching notes, but attention must be paid to Roberts, watching her idea fall apart.
Is it good or bad karaoke? Obviously, Kimberly is a terrible singer, but that doesn't mean she's bad at karaoke. It's her complete commitment to the song, no matter how bad she is at singing it that wins over the room. Thus, we must rule that this is good karaoke. -- EZ
The Night Before
Song: "Christmas in Hollis" by Run-DMC
Performers: Seth Rogen, Anthony Mackie, and Joseph Gordon-Levitt
Why it's famous: While The 40-Year-Old Virgin had a funny karaoke scene that was ultimately removed from the movie, this Seth Rogen stoner-comedy, which follows a trio of childhood friends bringing a Christmas Eve party tradition to an end, managed to keep its karaoke sequence from hitting the cutting room floor. In addition to playing Kanye West's "Runaway" on a toy store piano, Rogen, Anthony Mackie, and Joseph Gordon-Levitt deliver a rousing rendition of Run-DMC's hip-hop holiday classic, whipping a crowded Manhattan karaoke bar into a frenzy right before the mushrooms they took fully kick in. Where many comedic performances on this list are about embarrassment or humiliation, this scene shows karaoke as a way to deepen the bonds of friendship. And, sure, as an excuse to do goofy dance moves, too.
Is it good or bad karaoke? It's solid. In addition to the highly coordinated outfits and lightly coordinated dancing, the boys also support each other vocally, like good friends should. -- DJ
Only God Forgives
Song: "You Are My Dream" by Proud
Performer: Vithaya Pansringarm
Why it's famous: Only God Forgives is one of director Nicolas Winding Refn's strangest movies -- dark and twisted, even by his standards, it pulls no punches when it comes to blood, gore, and weird sex stuff. Even the movie's sense of morality is violent, personified as it is in Police Lieutenant Chang (Vithaya Pansringarm), a man with a strict code who believes himself to be akin to a god, doling out punishment for wrongdoing as he sees fit. But Chang, like many of Refn's villains, has many sides, and when he's not walking the streets of his city catching criminals and cutting off limbs, he's at a karaoke bar with his fellow officers, crooning Thai pop hits as his men look on, frozen in their seats. His last karaoke scene, which plays over the credits, is preceded by Chang seemingly slicing off the hands of Julian (Ryan Gosling) a young man driven to violence by his sinful and manipulative family, who offers himself up for retribution. Chang's blade comes down, and we're immediately transported back into his karaoke bar, where Chang launches into another ballad, written by the Thai indie band Proud (with orchestration by Cliff Martinez). What's better than some good music and beers with your boys after a hard day's work?
Is it good or bad karaoke? Pansringarm's voice is not necessarily Broadway caliber, but he has a soulful lilt that makes his rendition of this song particularly affecting. In the context of the movie, it's even a little chilling: How could such a tender voice come out of such a ruthless, violent individual? -- ES
When Harry Met Sally...
Song: "The Surrey With The Fringe on Top" by Rodgers and Hammerstein
Performers: Billy Crystal and Meg Ryan
Why it's famous: Before karaoke gained popularity in the U.S., Billy Crystal's Harry Burns humiliated himself in front of his ex-wife's new boyfriend Ira (Kevin Rooney) by crooning Oklahoma! into a newfangled "singing machine" at a Sharper Image. In a movie that's basically one iconic scene after another, this ranks among the best in When Harry Met Sally… It marks the end of an idyllic period for our central couple, where their friendship is blossoming. Their initial duet is goofy and sweet, with Harry acting as showman and Sally (Meg Ryan) as eager participant, but then in walk Helen and Ira, ruining the fun. The encounter scars Harry, who later bellows the immortal line about how marriage is all nice and pleasant until, "six years later you find yourself singing 'Surrey with the Fringe on Top' in front of Ira." And while, sure, it's a pivotal moment, it's also a reminder that, at a certain point in time, karaoke still needed to be defined for audiences.
Is it good or bad karaoke? It's proto-karaoke. It's barely even karaoke. But if we're evaluating the performances? Look, of course Billy Crystal, a man who turned years of Oscar nights into his personal karaoke stage, is good at karaoke. As for Meg Ryan? Well, Sally's tone deaf warblings cluelessly land Harry in an awkward situation with his ex. Read the room, Sally. Therefore: bad karaoke. -- EZ
Need help finding something to watch? Sign up here for our weekly Streamail newsletter to get streaming recommendations delivered straight to your inbox.