Kate McKinnon's 25 Best 'SNL' Sketches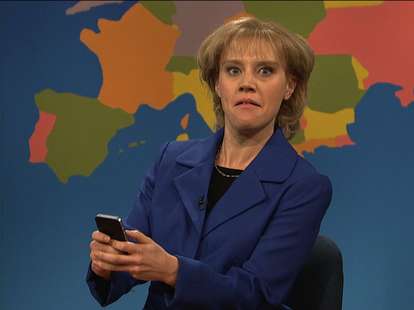 For the past four years, Kate McKinnon has been the reigning MVP of Saturday Night Live. She's got legendary impressions, a semi-permanent seat in the "Weekend Update" guest chair, and the ability to crack up the entire cast in one random sketch. It's clear why Paul Feig chose her to play one of the four female Ghostbusters in his reboot.
In case you need convincing, we've picked McKinnon's 25 best sketches since her 2012 SNL debut. Note that a "Kate McKinnon sketch" must either star her or feature her in a significant role, so, sadly, quiet masterpieces like this Wes Anderson horror movie trailer don't apply. Also, recurring characters or impressions only got one slot each, because she's done a lot of repeats. Still, these 25 sketches showcase McKinnon at her mischievous, manic best. Obviously, you can expect great things from Dr. Jillian Holtzmann.
"Calvin Klein Ads"
McKinnon once revealed the secret to her killer Justin Bieber impression on Conan: "It's looking like a puppy who just piddled and is sort of sorry about it." She does that all while sipping juice, pranking models, and riding a Razor scooter in this spot-on series of Calvin Klein commercial parodies.
"Casablanca"
In this alternate ending to Casablanca, Ilsa drops all her romantic impulses for cold, hard pragmatism the second Rick suggests she could wind up in a concentration camp. This might seem like a niche sketch aimed at TCM diehards, but everyone can appreciate McKinnon's hilariously exaggerated Ingrid Bergman accent.
The 2012 election cycle could've used more of McKinnon's Ann Romney. She only appeared in this bit, a cold open, and Stefon's big send-off, but you have to admire a lady who can't pronounce Beyoncé yet still drops a fully committed "Countdown" performance on the "Weekend Update" desk.
"Hillary Clinton Bar Talk"
Picking the sketch that actually features Hillary Clinton might seem easy, even borderline lazy. But this was one of the smarter stagings of the classic "real person meets their impersonator" sketch that SNL loves to do. Often, the real people just drop in as themselves, stop to give the clone a once-over, read a few lines, and it's done. But this time, Clinton didn't play herself. Instead, she's a bartender named Val, and it leads to a funny but self-critical conversation. In one incredible moment, McKinnon's Hillary laments that she could've been quicker to support LGBTQ2 rights. Real Hillary reassures her that she was pretty quick, but McKinnon pushes back, saying she could've been better. Considering that McKinnon is the first openly lesbian SNL cast member, it's a charged exchange, and a rare instance of SNL having real discourse with a politician in a cameo appearance.
"Say What You Wanna Say"
This music video works so well because it's so low-stakes. Aidy Bryant is just saying no to coffee with a random acquaintance and McKinnon is just bailing on a co-worker's party, but these moments are treated as Sara Bareilles-scored triumphs because so many women feel bad about really dumb things. Ladies: never be afraid to say no to post-parade brunch.
Few sketches pay off as well as this one in its final 15 seconds. Hopefully, someone's using the summer hiatus to workshop that Dyke & Fats movie.
You'd think McKinnon's beleaguered Russian woman -- who mostly cries and talks about her village's wolf problem -- would get stale after six appearances. But the writers find some fresh new misery to mine for laughs every time. In this standout skit, it's Olya's sad chuckle and tales of her dog lawyer ex.
This 2013 holiday jam starred McKinnon and a bunch of her female co-stars, who detail the awkward sex they're about to have with their boyfriends in their childhood bedrooms. Some of the rooms have christening gowns, others have an uncle in the trundle bed. But all of them have hilarious preteen photos, which each of the SNL ladies actually provided.
It's a safe bet that many people tuning in to SNL are only vaguely aware of who Angela Merkel is and what she looks like. But this works to McKinnon's advantage. She paints her impression of the German chancellor broad, frequently dropping references to obvious German cultural touchstones (bratwurst, Krampus) while suggesting a massive crush on Barack Obama. Her first "Weekend Update" appearance might still be the best, mostly for the shameful revelation that she once Googled "Jason Segel no shirt."
"Are ghosts real? Turns out, no. Here to talk about it is actor Topher Grace." Mornin' Miami may be a fictional talk show, but someone should really schedule that interview.
The internet transformed tiny 83-year-old Supreme Court Justice Ruth Bader Ginsburg into a tough-as-nails meme long before McKinnon donned her black robes. Still, it's fun to watch McKinnon mug after dropping a "Ginsburn" on her latest opponent. She's especially brutal on Colonel Sanders in this "Weekend Update" visit concerning the landmark Obergefell v.Hodges ruling.
This ode to living large while visiting your parents for Thanksgiving has lots of great moments, and an impressive number of fur coats. But McKinnon kicks off one of the best bits by rattling off her mom's obnoxiously long Wi-Fi password, which starts with 17 O's.
Deenie is billed as "somebody's mom," and you can tell that description is accurate before she even starts her nonsensical soap-opera recaps. There's the Christmas sweater she got at a garage sale (she washed it) and the Tupperware full of baked salmon, which she never stops shoveling into her mouth -- much to Colin Jost's delight.
Everyone has their own reasons for joining Match.com, but this SNL parody suggests that Martha Stewart didn't do it to meet nice guys like Stan and Larry -- she did it for "the simple elegance of a good bang."
McKinnon has done the "Last Call" sketch with five unsavory suitors. And while the later editions featured more creative props, they're missing the surprise of the first sketch, when McKinnon engaged in a disgusting make-out for the ages with Louis C.K.
In this supposedly remote report, Colin Jost and Michael Che send Vanessa Bayer out to Spokane to interview 110-year-old Flossie Dickey (McKinnon). Only Flossie doesn't want to talk, she wants to sleep. Flossie's impenetrability pushes Bayer to increasingly hilarious desperation, but to be fair, I'd also want to spend my 110th birthday taking a nap alone.
"Mermaids"
Poor Shud. Isn't any sailor out there looking for a gelatinous mermaid that's 35% woman, 65% blobfish?
McKinnon has improbably portrayed Cecilia Giménez, the Spanish painter who "restored" the Ecce Homo fresco of Jesus Christ in 2012, twice. And while her review of that terrifying Lucille Ball statue was fun, her defense of Giménez's work was better. Apparently, that's just how Jesus' "monkey face" looks -- he came to the artist in a dream, hair scarf and all.
"Close Encounter"
If it weren't for the bloody surprise in the SNL season finale, "Close Encounter" easily would've been crowned best sketch of the year. McKinnon's chain-smoking Ms. Rafferty made a second appearance in "Near-Death Experience," but nothing could match her debut in this alien-abduction debriefing. May you never know the indignity of being left pantsless atop a Long John Silver's.
"This Is Not a Feminist Song"
Feminism is complicated. So, rather than get it wrong, McKinnon and her friends faked a feminist anthem with some lens flares and shots of an old woman's hands. Not that they're reducing a woman to her hands, or calling her old. Man, it's hard to navigate this stuff.
"First Got Horny 2 U"
The SNL fake girl group Infinity + 5 dedicates this masturbation anthem to a few special men who "ignited our flames," but McKinnon subverts it almost immediately by explaining how her childhood crush on Taylor Hanson made her realize she was "gay as hell."
Vanessa Bayer does a fantastic Diane Keaton, and Fred Armisen's Penny Marshall looks stunning in gold, but McKinnon handily won this impression-off with her famous Ellen DeGeneres and ultra-intense Jodie Foster.
This is very much an ensemble sketch, but that shot of McKinnon with the gutted pumpkin gets the biggest, most uncomfortable laugh -- and for good reason.
"High School Theatre Show with Elizabeth Banks"
There must be some former drama kids on SNL, because this recurring sketch is always hysterically accurate. Right out of the gate, the self-important teens in this theater showcase perform a skit where "the Earth" dies amid careless bystanders. It's followed swiftly by bits about who really runs the world ("whites") and cherishing your dead parents (even if your very alive mom is in the audience).
McKinnon's characters often feature an excitable, even unhinged streak, and her Billie Jean King was no exception. The tennis great stopped by "Weekend Update" in 2013 to eagerly discuss her Olympics trip to Sochi as "President Obama's big gay middle finger." She hasn't been back since, so here's hoping she returns for some 2016 US Open commentary.
Sign up here for our daily Thrillist email, and get your fix of the best in food/drink/fun.
Kristin Hunt is a freelance writer for Thrillist, and really does want to hear Topher Grace's thoughts on ghosts. Follow her: @kristin_hunt.