The Best LGBTQ+ Movies and TV Shows to Stream on Netflix
Check out these movies and series during Pride Month and beyond.
'Orange Is the New Black'

| Netflix
'Orange Is the New Black'

| Netflix
Across the past several years, LGBTQIA representation in Hollywood has moved forward by leaps and bounds. From queer stories making it into mainstream film releases to transgender actors finally being cast in trans roles, queer entertainment is steadily becoming more and more readily available, and Netflix's LGBTQIA section is doing its part. From queer classics to modern favorites, we've compiled the must-see LGBTQIA TV shows and films that you can watch right now on Netflix.
Want even more? Check out the all-time-best Netflix original movies.
Robia Rashid's ambitious family dramedy centers on an 18-year-old on the autism spectrum named Sam (It Follows' Keir Gilchrist) who's seeking a girlfriend and independence. The writers carefully employ therapy sessions and asides to shed light on autism, moves that are always more enjoyable than didactic. The humor sprinkled throughout rarely comes at the expense of its protagonist (ie. great fun facts about penguins and Antarctica). And he's not the only character trying to find himself: His younger sister Casey, played by Brigette Lundy-Paine, is a track star who feels as if she has to hold the family together and keep the questioning of her sexuality in secret. The show touts a message of inclusion and compassion, no matter the circumstances, to which all viewers can relate. It's an emotional ride, but one that's ultimately worth the investment, especially considering the bite-sized runtimes and the heft that sucker-punches you at the end.
Bonding (2018–2021)
Newly out Pete (Brendan Scannell) dreams of taking New York City's comedy scene by storm. Dreams and reality are very different, though; Pete's never actually performed in front of an audience and his job as a waiter can't foot the bills alone. When he reconnects with his old BFF Tiff (Zoe Levin), a grad student by day and dominatrix by night, he's offered a solution to his money problems—working as her assistant/bodyguard during her evening rendezvous. At first Pete's squeamish at the thought of BDSM, but over time he's able to find his own sexual liberation and confidence by exploring the kink community. Tiff and Pete—otherwise known as Mistress May and Master Carter—are the dead-faced antiheroes and model archetypes of the struggling millennial New Yorker.
The Boys in the Band (2020)
Mart Crowley's seminal 1968 play The Boys in the Band got the feature film treatment by Netflix in 2020, revealing just how much and how little has changed for the community. Similar to how the first time the play was presented on screen in 1970 brought back the original Off-Broadway cast, this rendition finds Joe Mantello, who directed the 2018 Broadway revival, as director and reunites the same cast from the stage (Jim Parsons, Zachary Quinto, Matt Bomer, and others). Produced by Ryan Murphy, the recent adaptation has a bit of glitz to it that makes it its own, but that never manages to distract from how poignant this story of an unexpected guest's arrival at a birthday party remains.
Circus of Books (2020)
Lo and behold, one of the most legendary gay-porn stores in America was run by... a straight couple who kept their professional lives a secret? Don't let that dissuade you from watching this documentary, a sweet and humanistic portrayal of a happy business accident that resulted in a haven for queer men in Los Angeles. Circus of Books is directed by the couple's daughter, performance artist Rachel Mason, who examines the now-defunct shop as it withstood the Reagan administration's ideas about obscenity, the devastation of the AIDS crisis, and the rise in digital technology.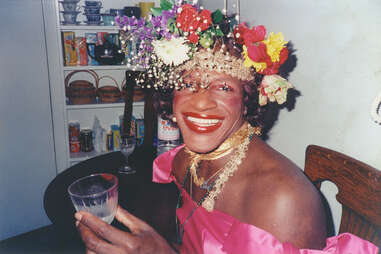 The Death and Life of Marsha P. Johnson (2017)
When Marsha P. Johnson, the transgender activist hailed as the "Rosa Parks of the LGBT movement," was found dead in the Hudson River in 1992, authorities ruled it a suicide despite a number of suspicious details. Twenty-five years later, many people still believe she was murdered, and inThe Death and Life of Marsha P. Johnson, trans activist Victoria Cruz sets out to get some answers. Through her interviews with Johnson's friends and family, plus archival footage of Johnson and fellow leaders like Sylvia Rivera, viewers are able to piece together the monumental life she lived—and make judgments about her untimely death. In an age when trans people of color still live in fear of being targeted, the documentary feels all too apt and important.
Disclosure: Trans Lives on Screen (2020)
Orange Is the New Black made Laverne Cox arguably the most recognizable transgender celebrity, and she used her power to produce a film that explores the history—what little of it there is—of trans representation in Hollywood. Disclosure, directed by Sam Feder (Boy I Am), combines archival clips to show the ridicule that gender-nonconforming folks have faced in movies dating back to the 1910s and on shows as varied as Jerry Springer and The L Word. Cox, Chaz Bono, Lilly Wachowski, and Michaela Jaé Rodriguez are among the talking heads who weigh in on what messages these questionable depictions have sent and how the industry can build a more progressive path forward.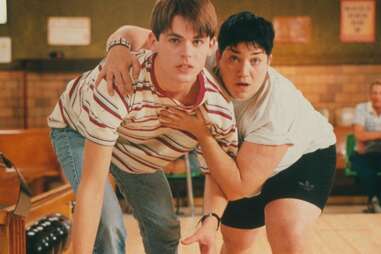 Edge of Seventeen (1998)
A suburban '80s nostalgia trip, Edge of Seventeen is like a John Hughes movie if a John Hughes movie had ever focused on one of the gay kids hidden in the background of those teen classics. The coming-of-age story set in 1984 Ohio focuses on the teenaged Eric Hunter, who's obsessed with androgynous stars like Annie Lennox and Boy George and still figuring out his identity. A bit racier than your average teen dramedy as it delves into how easy it is to confuse sex with true feelings, it's an essential film about coming out and the dizzying feeling of sexual firsts.
Élite (2018–present)
This teen drama centered on a wealthy private high school from Spain was a surprise hit when it first dropped on Netflix in 2018, and, standing at three seasons, it's easy to see why: a juicy murder mystery that runs through the entire season, obscene displays of wealth, and lots and lots of sex. On top of being a soapy whodunnit, Élite's issues-based side plots, dealing with topics like class inequality, xenophobia, and the stigma of HIV, are the running undercurrents that truly keep this show afloat. Even with subtitles, you'll have binged through this quick series before you know it.
Everything Sucks! (2018)
Set in the '90s, this underrated Netflix original tells the coming-of-age stories of one Oregon high school's A/V and drama club members, embellishing the proceedings with plenty of pop-culture references and slang from the era. The show is like if Freaks and Geeks was actually set in the '90s and a lot cheesier, although it has just as much heart as the cult classic it's been compared to. There's ample nerds-versus-theater-kid rivalries as the series follows one student's attempt to make his first film starring a bunch of misfits, a group of angsty, multifaceted adolescents dealing with trying to fit in, stand out, and come to terms with their sexuality. It's a short, binge-worthy single season in which you should expect in-your-face nostalgia and a whole lot of youthful positivity even in a show whose namesake suggests it revels in a cynical teenage attitude.
Fear Street trilogy (2021)
Netflix's ambitious series of three interconnected movies based on the classic R.L. Stine books are a gory good time. All are directed by Leigh Janiak and Part One: 1994, introduces audiences to the cursed town of Shadyside and the teens who have been afflicted. The second jumps back in time to 1978 where a killer is stalking a camp, and the third, set in 1666, explains how this all started. Drawing from horror classics like Scream, the Fear Street movies mix gruesome kills with tongue-in-cheek laughs, and feature a refreshingly queer point of view.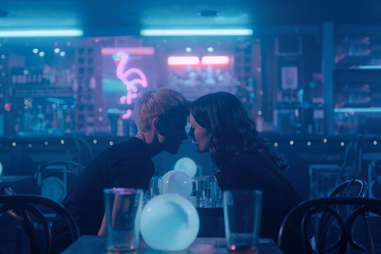 Feel Good (2020–2021)
From Canadian comedian Mae Martin's own experiences, Feel Good is a very bingeable dramedy that catches you in all of its feelings. The quick Netflix original traces the semi-fictitious Mae's struggle with addiction, something she struggles to accept about herself, as she falls head over heals into a relationship with a woman named George (Charlotte Ritchie) who has never been with another woman before. What follows the perfect meet-cute when George approaches Mae after her stand-up set is a whirlwind romance full of spontaneity and wit. The two are forced to confront their own respective issues, but you'll find their relationship unfold easy to get swept up in.
The Half of It (2020)
"This is not a love story," the heroine of The Half of It says at the outset of the movie. It's one of those things teens tend to say, but it's hard to believe, especially given that the movie is streaming on Netflix, which has become known in recent years as a teen rom-com factory where saccharine romance reigns. But Alice Wu's The Half of It is truly not a love story, which makes it all the better. By the end of the film, no one has "gotten the girl" and there's no coupling up. Each of the three main characters goes their separate ways. It's not an upsetting conclusion, but it doesn't spoon-feed its audience a classic happy ending, opting for something more honest along the way.
Heartstopper (2022– )
The show on everyone's lips right now is Heartstopper, not because it has a revolutionary plot or incredible production value, but because it's as wholesome and heartwarming as a teen rom-com can get. Inspired by a young adult webcomic and graphic novel series bearing the same name, Heartstopper follows Charlie (Joe Locke), a recently outed British teen who develops feelings for Nick (Kit Connor), a jock at his grammar school. Against his friends' advice—Nick is straight, as far as they know—Charlie leans into the crush, unlocking something inside of Nick that he didn't know existed. The saccharine tale is a modern one, incorporating characters of every gender and sexuality, and featuring emotional appearances by Olivia Colman, who plays Nick's mom. The show's immediate popularity pushed Netflix to quickly order a second and third season, so expect these characters to stick around a while.
I Am Jonas (2018)
When a traumatic experience yanks his first gay lover away, quiet teen Jonas gives up on happiness. Eighteen years later, he's still reeling from the loss, looking for comfort in nightclubs and casual encounters, until a chance meeting forces him to confront the past and find closure. I Am Jonas straddles two timelines, showcasing the charm of Nicolas Bauwens and Félix Maritaud as young and grown Jonas. Originally released in France, it's a coming-of-age picture that tackles grief and self-forgiveness in a way that few films manage to accomplish.
I Am Not Okay With This (2020)
Don't be mistaken: This series may feature kids (Sophia Lillis, Wyatt Oleff) from the It movies and come from showrunners of both Stranger Things and The End of the F***ing World, but I Am Not Okay With This is actually none of those things. The dramedy is another adaptation of one of TEOTFW author Charles Forsman's graphic novels, though, about a teenaged girl named Syd who, on top of dealing with the recent loss of her father and struggling with her sexuality, somehow starts to experience superpowers. It borrows the nostalgic music cues and moodiness that made TEOTFW work, but on its own is a queer, tender story about how grief and anger can manifest in teenage girls. Telekinetically giving bullies bloody noses and destroying super markets aside, it's the kind of relatable angst that you could be very okay with.
La Casa de las Flores (2018–2020)
Does drama follow the de la Moras, or do the de la Moras breed drama? Either way, their lives are dramatic. The upper-class family owns a flower shop and a cabaret, both named La Casa de las Flores (The House of Flowers), and when they're not busy fighting over how to run the businesses, they're busy covering up scandals to keep the de la Mora name untarnished. La Casa de las Flores helped popularize the millennial telenovela genre by incorporating LGBTQ+ characters and progressive values into the typical soap opera style. The dark dramedy challenges traditional Mexican morality and shuts down queerphobic viewpoints in a satirical and digestible way, and soapy as it may be, it's hard to stop watching.
One Day at a Time (2017–2020)
One Day at a Time is a throwback family sitcom in a world that can be unkind to audience laughter, big comedic performances, and that stage-bound multi-camera look. This clever remake of Norman Lear's '70s hit about a single mother raising two teenage daughters is more charming and funny than many of its seemingly "edgier" peers. Anchored by a lived-in performance from Justina Machado (Six Feet Under), the show finds familiar laughs in the way generations clash and families wage war, but it's also culturally specific, socially engaged, and leisurely paced in a way that makes it stand out from your average CBS family show. Netflix may have clumsily announced its cancelation on the platform, but the fan outcry didn't just point to the show's popularity; it got One Day at a Time a second (third?) life on Pop TV, until finally brought to an untimely end.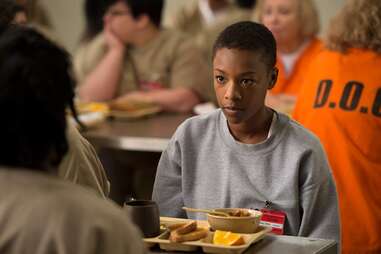 Orange Is the New Black (2013-2019)
As Netflix's third original series, Orange Is the New Black deserves plenty of credit for signaling the streaming service's ambition: It put the spotlight on voices traditionally underrepresented in media, tackling America's infatuation with mass incarceration along the way. Creator and showrunner Jenji Kohan adapted Piper Kerman's memoir of the same name into a show that treats deadly serious topics with a humorous touch, while not shying away from format changes and cliffhangers to keep the audience coming back for more. It's all over now, but OITNB's run signaled a sea change in the way people watch television. That, as much as the content of the show itself, remains its lasting legacy.
Other People (2016)
Other People was a deeply personal film for screenwriter/director Chris Kelly (SNL, The Other Two) to make. Resembling his own experience dealing with the death of a parent, the dramedy examines the relationship between a struggling comedy writer named David (Jesse Plemons) and his mother Joane (Molly Shannon) as he moves back home to be closer to his family while she's dying of cancer. With David's down-on-his-luck situation and having to face strained relations with his homophobic father on top of Joane's terminal fate, the film is meant to tear your heart out—and that's exactly what Shannon does in her sublime, moving performance. Its piercingly funny moments and the intimacy of the leads' relationship, as well as the personal experience its derived from, make this film all the more authentic and a lovely piece about loving the family we've got.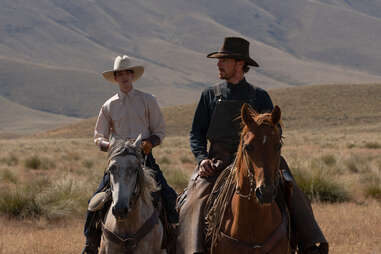 The Power of the Dog (2021)
The Piano director Jane Campion's return to feature filmmaking after more than a decade away is an absolute triumph, a chilling exploration of a man driven to cruelty by the pursuit of a masculine ideal in the American West. Benedict Cumberbatch plays Phil Burbank, a rancher who prides himself on the dirt under his fingernails and his ability to live with as few amenities as possible. He worships a rider named Bronco Henry and calls his softer brother George (Jesse Plemons) "fatso." When George marries a widowed innkeeper (Kirsten Dunst), Phil makes it his mission to mentally torture her. He is similarly inclined to do that to her son, Peter (Kodi Smit-McPhee), who arrives at the ranch on summer holiday from college studies, but instead decides to take him under his wing, figuring he can mold him into the kind of man he thinks is worth being. Campion's direction is dangerously erotic, while Benedict Cumberbatch gives one of his all-time great performances as a man so uncomfortable in his own skin he inflicts his pain upon others.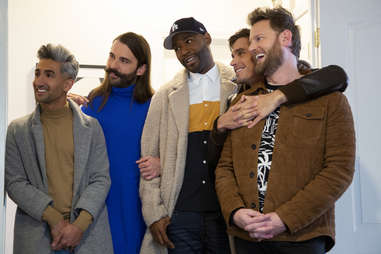 Queer Eye (2018–present)
Netflix's most successful reality television series just keeps on going. A reboot of the early 2000s series Queer Eye for the Straight Guy, Queer Eye features experts Jonathan Van Ness, Tan France, Antoni Porowski, Bobby Berk, and Karamo Brown traveling around and helping people get their lives together. No longer limited to just fixing up clueless straight men, the Fab Five provide help with personal grooming, home renovation, style, food, and life in general while also navigating issues of politics and identity. It's not always smooth sailing, but at its core Queer Eye is well-intentioned, heartwarming, and a joy to watch.
Rocko's Modern Life: Static Cling (2019)
Beloved '90s favorite Rocko's Modern Life returned with the Netflix special Static Cling, which picks up 20 years after the show went off the air. After flying around in space for a few decades, Rocko and his friends Heffer and Filburt manage to make it back to O-Town. Nothing is how they remember it, however: In addition to new tech like smartphones, Rocko's favorite show The Fatheads has gone off the air and its creator has disappeared off the face of the earth. Rocko and his friends set out to find Rachel Bighead, the creator of The Fatheads, whom they previously knew as "Ralph" and has transitioned in their absence. Nick Adams, GLAAD's Director of Transgender Media, served as a consultant on the special.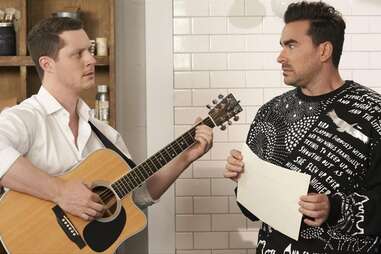 Schitt's Creek (2015–2020)
Any time you have the chance to watch a comedic genius flexing the full range of her abilities, you should take it, and Catherine O'Hara flexes hard as Moira Rose in Schitt's Creek. The story of the formerly wealthy Rose family's struggle to adjust to life running a motel in a small Canadian town they bought for their son back in the early '90s gives her and co-star/series co-creator Eugene Levy ample material to work with. Also living with their grown children David (Daniel Levy, the show's co-creator and Eugene's real-life son) and Alexis (Annie Murphy), who still share a room in the motel—it's the perfect vehicle for the cast's whip-smart comedic instincts, while doubling as a roast of the extremely wealthy.
Sense8 (2015–2018)
Can you imagine waking up one day with your consciousness suddenly interwoven with those of strangers from around the world? That's the fate of eight individuals in Sense8, and only the beginning of the otherworldly oddities these "sensates" experience as they discover what their connection means as they're being hunted down. This global adventure of a series comes from the Wachowski sisters of The Matrix fame; it eventually won a GLAAD Media Award for Outstanding Drama Series for its representation of LGBTQ characters and storylines.
Sex Education (2019–present)
Sex Education is basically exactly what it says on the tin. Otis (Asa Butterfield), the repressed son of a sex therapist (Gillian Anderson), teams up with Maeve (Emma Mackey) to run an under-the-table sex therapy business at their high school despite the fact that Otis himself is a virgin. There's plenty going on outside of the business, however: Otis' best friend Eric (Ncuti Gatwa) must balance the expectations of his family with his sexuality and gender expression; bully Adam (Connor Swindells) grapples with his sexuality, taking it out on Eric and chafing under his father's strict expectations. Irreverent, funny, and yeah, sometimes painfully awkward, Sex Education is one of the better LGBTQ-inclusive teen comedies out there.
She-Ra and the Princesses of Power (2018–2020)
Reimagining the '80s series She-Ra: Princess of Power with fewer gender stereotypes and more diverse characters, this adventure cartoon brings queer representation to a level that's not often explored in family-friendly television. When teenage warrior Adora stumbles upon a magical sword, she gains the power to embody She-Ra, a princess tasked with defeating a malicious army intent on taking over the planet. Not only does the heroine herself rank on the Kinsey Scale, but several supporting characters help amplify the narrative that sexuality and gender are fluid, and there's no right way to express yourself. Whether platonic, romantic, or familial, the relationships in She-Ra pack a ton of nuance, carefulness, and empathy.
She's Gotta Have It (2017–2019)
Nola Darling is an artist, an activist, a Brooklynite, and a sex-positive polyamorous pansexual with three emotionally volatile boyfriends. But who is she? Spike Lee made his directorial debut with 1986's She's Gotta Have It, and 30 years later, expands the character study into his first TV series, a rhythmic exploration of sex, Brooklyn, and Black life. Lee's signature, syncopated style—bright colors, up-close-and-personal confessionals, jolts of pop music and album art, Bruce Hornsby's melancholy piano filling the gaps—is intact, tracking Nola through the gentrifying brownstone labyrinth of Fort Greene. The joy of the series is in the updated casting, DeWanda Wise's Nola beams with wisdom, fear, artistic knowledge, and carnal desire, while the men and women in her life are fleshed out and… fleshed out, allowing the many sex scenes to play to the senses while reaching for something deeper. It's unfortunate that Netflix canceled this underrated show after just two seasons.
Special (2019–2021)
A mostly autobiographical series from Ryan O'Connell, Special is a comedy that explores the intersections of disability and queerness by drawing on O'Connell's personal experiences. The series kicks off with Ryan (played by O'Connell himself) getting hit by a car just before starting a new job, leading to his coworkers assuming that the physical embodiment of his cerebral palsy is due to injuries from the accident. He rolls with it, seeing the assumption as a chance to get a fresh start and not be known as "the guy with cerebral palsy." Presented in brief 15-minute episodes, Special is funny, witty, and genuine.
Tangerine's natural hook: Sean Baker (The Florida Project, Red Rocket) shot the 2015 film on an iPhone, before anyone was shooting movies on Apple products. But it's the portraits Baker captured through that lens that are what make his film meaningful. Baker began picturing the story of two trans sex workers on a Christmas Eve odyssey across America when he met star Mya Taylor at an LGBTQ center in West Hollywood, where he said "her aura" made him realize he needed to speak to her. In pairing Taylor and Kitana Kiki Rodriguez, Baker found a story of friendship shaped by extreme circumstances brought on by marginalization, doing so without leaning into exploitation, even as the plot veers into raucous directions every bit as thrilling as big-budget action set-pieces. Merry Christmas, bitch, indeed.