Across the past several decades, LGBTQ representation in entertainment media has moved forward leaps and bounds. From queer stories making it into mainstream film releases to transgender actors being cast in trans roles, queer entertainment is steadily becoming more and more readily available, thanks in part to the offerings in Netflix's LGBTQ section. From queer classics like the 2000s The L Word to modern reality favorites like Queer Eye, we've compiled the must-see LGBTQ TV shows and films that you can watch right now on Netflix. 
Want even more movies? Check out the best movies on Netflix right now. 
Recommended Video
This Restaurant Reinvented the McGriddle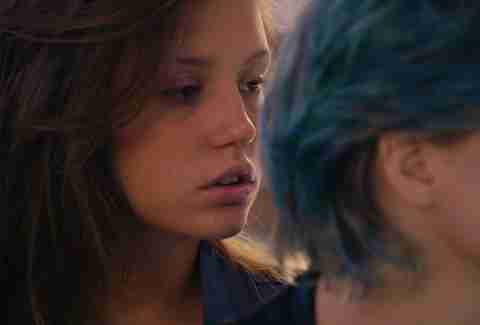 Blue Is the Warmest Color (2013)
Released into a media storm overly concerned with its lengthy, graphic sex scene, Abdellatif Kechiche's three-hour opus drowns tabloid-buzz with sensual and sensitive drama. Look, if you can binge 39 episodes of House of Cards, you can make time for the tender, inquisitive exploits of Adèle (Adèle Exarchopoulos), who falls hard for the cerulean lure of Emma (Spectre's Léa Seydoux). The length of the film gives Kechiche the chance to explore every glance, every touch, every kiss, and every misstep in their relationship. It's a love epic, where minor notes play like power chords.
The Fosters (2013-2018)
A Freeform series that aired from 2013 to 2018, The Fosters follows a blended family comprised of police officer Stef Adams Foster; her wife, vice principal Lena Adams Foster; Stef's biological son Brandon; adopted twins Jesus and Mariana; and foster children Callie and Jude. The series was widely praised for its focus on LGBTQ characters and themes, picking up a GLAAD Media Award for Outstanding Drama Series in 2014 with nominations in following years. All five seasons of the series are available on Netflix.
God's Own Country (2017)
God's Own Country is a British drama that tells the story of Johnny and Gheorghe, two young men who fall for each other while working on Johnny's family farm. Johnny, who shirks his responsibilities at home in pursuit of fleeting sexual encounters of men, is forced to work with Gheorghe, a Romanian hired to help out with lambing season. After the two are forced to camp out together, they connect both on a personal and sexual level. The film has been praised as a kind of British Brokeback Mountain for its frank treatment of concepts like national identity, queerness, and familial obligation. 
The L Word (2004-2009)
One of the most well-known and impactful LGBTQ-focused TV series, The L Word did necessary work quenching a drought in lesbian representation on television. The series, which lasted for six seasons during its original run, followed the lives of a group of predominantly lesbian friends who live in West Hollywood. Its full cast of queer characters was notable back in 2004 when it began airing, and is frankly still notable today. Although certain elements of the show haven't aged well, it's still a crucial part of the history of LGBTQ representation on screen, so it's no surprise the show will be rebooted on Showtime.
Milk (2008)
Milk is a biographical film about activist and politician Harvey Milk, who was the first openly gay person to be elected into office in California. Starring Sean Penn as Milk himself, the film tracks his life from his move to San Francisco to his eventual assassination. The release of the film was timed to California's 2008 Proposition 8 referendum, which attempted to eliminate the right of same-sex couples to marry. Part history lesson and all human story, Milk debuted to critical praise and was a standout LGBTQ film of the 2000s.
Moonlight (2016)
Chronicling the boyhood years, teenage stretch, and muted adult life of Chiron, a black gay man making it in Miami, this triptych altarpiece is at once hyper-specific and cosmically universal. Director Barry Jenkins roots each moment in the last; Chiron's desire for a lost lover can't burn in a diner booth over a bottle of wine without his beachside identity crisis years prior, blurred and violent, or encounters from deeper in his past, when glimpses of his mother's drug addiction, or the mentoring acts of her crack supplier, felt like secrets delivered in code. Panging colors, sounds, and the delicate movements of its perfect cast like the notes of a symphony, Moonlight is the real deal, a movie that will only grow and complicate as you wrestle with it.
One Day at a Time (2017-)
One Day at a Time ran the cancellation gamut earlier this year after Netflix declined to pick the series up for a fourth season, citing low viewership numbers. Fans rallied behind the #SaveODAAT hashtag in the hopes of convincing another platform to pick up the sitcom, which follows the lives of the Alvarez family. The series takes on heavy topics like mental health, racism, citizenship, and queerness, exploring difficult realities through a family lens. Four months after its cancellation at Netflix, PopTV announced that it was picking the series up for a fourth season, but to tide you over, the first three remain available to stream on Netflix for now.
Paris Is Burning (1991)
Like Spike Lee's Do The Right Thing or Martin Scorsese's Mean Streets, this carefully observed examination of ballroom culture in the 1980s is an essential New York City text. Chronicling the often complicated lives of predominantly black and Latin gay men and trans women who compete in joyful, exuberant, voguing-filled balls, director Jennie Livingston turns her watchful eye to both the pleasure and pain of the people she interviews. Style, humor, and tragedy: It's all here. More relevant than ever and, unsurprisingly, just as controversial, the film remains required viewing for anyone looking to understand the identity-obsessed times we live in.
The Politician (2019-)
Ryan Murphy's first Netflix series is all about the highs and lows, the losses and triumphs of… high school elections. Ben Platt (Dear Evan Hansen) plays Payton Hobart, a student convinced that his road the United States presidency begins with winning his high school student body election. Of course, things aren't that simple -- Payton has to grapple with the twists and turns that get thrown his way while he keeps up a secret relationship with his opponent, River. It's all a bit excessive, but entertaining nonetheless.
Pose (2018-)
Pose, created by Ryan Murphy, made waves from its start for having the largest cast of trans actors as series regulars on a scripted show, which includes Janet Mock and Our Lady J. Beyond the numbers, the series has been renowned for its genuine warmth and the due diligence it gives the 1980s New York City ball scene. Starring MJ Rodriguez, Indya Moore, Dominique Jackson, Angelica Ross, Hailie Sahar, and Billy Porter, the series is a standout.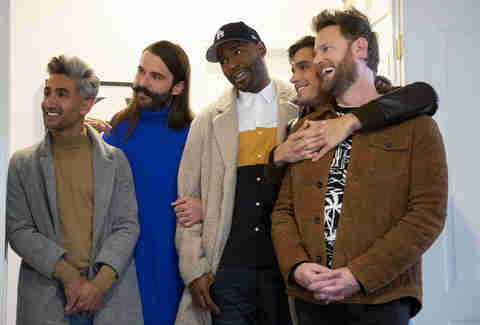 Queer Eye (2018-)
Netflix's most successful reality television series just keeps on going. A reboot of the early 2000s series Queer Eye for the Straight Guy, Queer Eye features experts Jonathan Van Ness, Tan France, Antoni Porowski, Bobby Berk, and Karamo Brown traveling around and helping people get their lives together. No longer limited to just fixing up clueless straight men, the Fab Five provide help with personal grooming, home renovation, style, food, and life in general while also navigating issues of politics and identity. It's not always smooth sailing, but at its core Queer Eye is well-intentioned, heartwarming, and a joy to watch.
Rocko's Modern Life: Static Cling (2019)
Beloved '90s favorite Rocko's Modern Life returned with the Netflix special Static Cling, which picks up 20 years after the show went off the air. After flying around in space for a few decades, Rocko and his friends Heffer and Filburt manage to make it back to O-Town. Nothing is how they remember it, however: In addition to new tech like smartphones, Rocko's favorite show The Fatheads has gone off the air and its creator has disappeared off the face of the earth. Rocko and his friends set out to find Rachel Bighead, the creator of The Fatheads, whom they previously knew as "Ralph" and has transitioned in their absence. Nick Adams, GLAAD's Director of Transgender Media, served as a consultant on the special.
Sense8 (2015-2018)
Can you imagine waking up one day with your consciousness suddenly interwoven with those of strangers from around the world? That's the fate of eight individuals in Sense8, and only the beginning of the otherworldly oddities these "sensates" experience as they discover what their connection means as they're being hunted down. This global adventure of a series comes from the Wachowski sisters of The Matrix fame; it eventually won a GLAAD Media Award for Outstanding Drama Series for its representation of LGBTQ characters and storylines.
Sex Education (2019-)
One of Netflix's best teen dramas of 2019, Sex Education is basically exactly what it says on the tin. Otis (Asa Butterfield), the repressed son of a sex therapist (Gillian Anderson), teams up with Maeve (Emma Mackey) to run an under-the-table sex therapy business at their high school despite the fact that Otis himself is a virgin. There's plenty going on outside of the business, however: Otis' best friend Eric (Ncuti Gatwa) must balance the expectations of his family with his sexuality and gender expression; bully Adam (Connor Swindells) grapples with his sexuality, taking it out on Eric and chafing under his father's strict expectations. Irreverent, funny, and yeah, sometimes painfully awkward, Sex Education is one of the better LGBTQ-inclusive teen dramas out there.
Special (2019)
A mostly autobiographical series from Ryan O'Connell, Special is a comedy that explores the intersections of disability and queerness by drawing on O'Connell's personal experiences. The series kicks off with Ryan (played by O'Connell himself) getting hit by a car just before starting a new job, leading to his coworkers assuming that the physical embodiment of his cerebral palsy is due to injuries from the accident. He rolls with it, seeing the assumption as a chance to get a fresh start and not be known as "the guy with cerebral palsy." Presented in eight 15-minute episodes, Special is funny, witty, and genuine.