Freeze and Watch These 15 Celebrity Mannequin Challenge Videos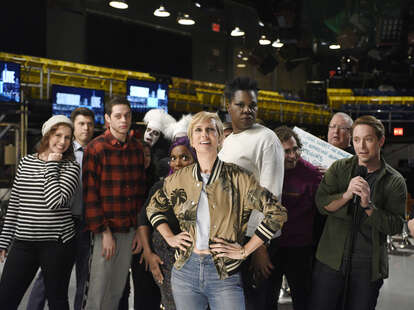 Thanks to the Mannequin Challenge -- the latest viral teen trend in which participants stand statue-still while a camera whizzes around them -- Rae Sremmurd's "Black Beatles" is a No. 1 hit. What do you expect when even Beyoncé jumps in on a trend? New day, new money to be made.
To pay tribute to the "Black Beatles" accomplishment, let's rewatch celebrities' best attempts at the challenge. From hospital delivery rooms to movie sets, every viewing shows something spectacular.
The Rock's Sexiest Man-nequin Challenge
What better way to boost People's great honor than a little viral challenge?
Desiigner's Adidas Takeover
Proof you can still play the game, even if you can't stand still.
Hillary Clinton's Election Day Effort
Seriously, this was the only time her team stood still in two straight years.
Guy Fieri's Grocery Games
Flavortown has never looked so peaceful.
Leslie Jones, Kristen Wiig, and the SNL Crew
Pretty slick way to drop your movie's release date.
Blac Chyna's Mid-Baby Push
Don't worry, they actually staged this after Chyna gave birth.
Britney Spears' Vegas Team
Brit snuck her own song in, but it still works.
Kevin Hart's Workout
The only time holding a weighted squat has ever looked easy.
Destiny's Child Reunion
We wish they'd have performed, but we'll take it.
Steph Curry With the Shots
Talk about a slow night at this restaurant.
Adele Goes West
It's in black and white because she's classy.
James Corden's Late Late Challenge
Bonus points for the Emmys used casually as props.
Rae Sremmurd's Endorsement
These are the best fans ever -- topped only by...
Paul McCartney
Inevitably, "Black Beatles" makes its way to the original Beatle.

Sign up here for our daily Thrillist email, and get your fix of the best in food/drink/fun.

Wes Rendar is a contributor to Thrillist Entertainment.