The 20 Best Needle Drops in Martin Scorsese Movies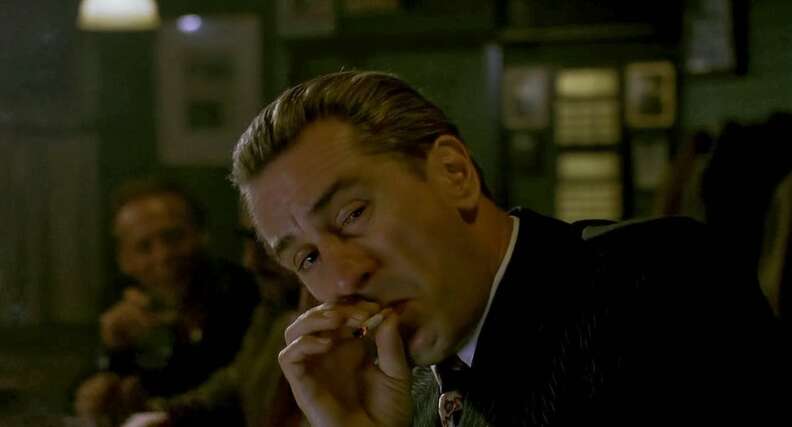 'Goodfellas'

| Warner Bros.
'Goodfellas'

| Warner Bros.
Martin Scorsese remains, at nearly 77 years of age, among the most vibrant, propulsive and gripping filmmakers working. He doesn't just tell you a story with his movies; he grabs you by the neck and throws you in, and as his latest film The Irishman shows, he's still got it. I don't know anything about his private life or what kind of weird mysticism he practices to stay so creative and energetic -- it could still be 1970s-style sex and drugs, or it could just be recharging in a donut pool floatie -- but one thing is clear: Marty's cinematic virility is thanks, at least in part, to the restorative power of rock and roll!
Over the course of Scorsese's long career, plenty of the songs that define his best-loved films' most memorable scenes have become what we today call classic rock. The backbeat drummin' and wailin' guitars the likes of which you'll hear on New York's Q104.3 (which we have no doubt is Marty's go-to in the shower) are the the soundtrack to Scorsese's cinematic oeuvre.
Well, that's not entirely true. There's actually precious little rock in The Irishman. Raging Bull is mostly opera, TaxiDriver has an amazing jazz-orchestral score by Bernard Herrmann (the great composer's final work) and Kundun ("I liked it!") features a symphonic swirl from modern composer Philip Glass. Mr. Scorsese contains multitudes.
But, hey, when you think of a Scorsese needle drop, you think of The Stones! To that end, here are the 20 best uses of classic rock in Scorsese's non-documentary movies, and that's classic rock as defined by me, so take it outside if you don't like Chicago blues or Motown girl groups; they are classic rock sometimes! Also, I'm sorry Donovan's "Atlantis" didn't make the cut. Don't like it, go get your shine box!!
20. "Pretty Thing" by Bo Diddley in The Wolf of Wall Street (2013)
The Wolf of Wall Street is a filthy, almost evil movie, so it's appropriate that it's chockablock with the Devil's Music!! There's no shortage of early rock n' roll and Chicago blues, but this tiny moment in the three-hour epic sneaks onto the list mostly because it inspired Leonardo DiCaprio and company's coked-out wedding dance.
19. "(I Can't Get No) Satisfaction" by Devo in Casino (1995)
This almost works as an audio in-joke within the movie Casino. There are seven Rolling Stones needle drops in the film, including the original "(I Can't Get No) Satisfaction." (You're going to see other examples on this very list.) So it makes sense that, during a high-energy montage of Ace Rothstein's house-of-cards collapsing, the very soundscape of the world should transform into something unwieldy. The jittery style of Devo, whose name refers to "de-evolution," reinterpreting this classic rock gem adds to the nervous energy.
18. "Sleep Walk" by Santo & Johnny in The Irishman (2019)
OK, so I love Scorsese's latest, The Irishman, but the truth is there isn't too much classic rock. There aren't many needle drops at all, to be frank. There's a little Perez Prado mambo used to comic effect in one scene, and the whole three-and-a-half hour picture is bookended by "In The Still of the Night" by The Five Satins. But a sequence that includes two of the most mythical mafia hits of the 20th century is set to the tune "Sleep Walk," the famous slide-guitar one-hit-wonder by Santo & Johnny. It first pops up during a slo-mo recreation of the attack on Joseph Colombo during the "Italian Unity Day" rally at Columbus Circle in 1971, and then again during the killing of "Crazy" Joe Gallo at Umberto's Clam Bar in 1972. The dreamy, last-dance spell of this agreeable melody makes for an eerie contrast.
17. "Last Train To Clarksville" by The Monkees in After Hours (1985)
Scorsese's Odyssey through New Wave art hustler Manhattan, After Hours -- made on the quick when the studio pumped the breaks on The Last Temptation of Christ -- is one of cinema's true joys. How many movies have Cheech and Chong and an extended sequence pinched from Franz Kafka? A highlight is when the nervous, at-wits-end everyman Griffin Dunne ends up at the apartment of a lonely waitress stuck in the '60s, played by Teri Garr. "You like the Monkees?" she asks, and it always cracks me up.
16. "Do Right Woman, Do Right Man" by Aretha Franklin in Cape Fear (1991)
Uh... when was the last time you watched this movie? Holy crap it's creepy. Robert De Niro, muscles bursting out of his tattooed skin, takes vengeance on the public defender who failed to keep him out of prison by, among other things, seducing his daughter. Juliette Lewis was 17 years old at the time, but playing 15. More importantly, looked 15. Eeek! We all remember the thumb-sucking moment, but equally sketchy is a long, seductive phone call where De Niro gets into Lewis' head. In the background we hear Aretha Franklin's version of this absolutely gorgeous gospel-blues song, which has lyrics like "she's not just a plaything."
15. "Jumpin' Jack Flash" by The Rolling Stones in Mean Streets (1973)
"You talk about penance and you send this through the door. Well, we play by your rules, don't we? Well, don't we?" With those words of Harvey Keitel's voiceover (or is it prayer?), so enters Robert De Niro in Mean Streets and into the filmography of Martin Scorsese. The greatest director-actor pairing since John Ford and John Wayne, De Niro's "Johnny Boy" is a Tasmanian devil of trouble, and his slo-mo walk through the red-soaked purgatorial saloon at the beginning of Scorsese's first full-on masterpiece, with the sinister, jangly chords of "Jumpin' Jack Flash" playing, is the stuff of legends.
14. "All The Way To Memphis" by Mott the Hoople in Alice Doesn't Live Here Anymore (1974)
Critics sometimes charge Scorsese with being "bad with women," and while I have no interest in litigating that here, it's worth pointing out that 45 years ago Alice Doesn't Live Here Anymore told the story of a single mother looking to start her life anew, which inspired the long-running sitcom Alice and won its lead actress Ellen Burstyn an Oscar. It opens with a Wizard of Oz-esque fantasy sequence, but quickly interrupts itself with 1970s realism to the tune of this hard rockin' bluesy number during the opening credits.
13. "Dust My Blues" by Elmore James in The Wolf of Wall Street (2013)
The gritty, earthy electric blues needle drops in The Wolf of Wall Street are a neat touch, because they aren't likely the songs that Jordan Belfort and his bros would be listening to. They'd probably just play Top 40 as they blaze by in their Ferraris, brains scrambled on narcotics as they head to the next debauched party. Anyway, Elmore James' "Dust My Blues" (not to be confused with Elmore James' "Dust My Broom," which is also in the movie, or his other take of this tune, "I Believe," which is not) is the one that really hits hard early on, letting you know what kind of ride we're in for.
12. "Werewolves of London" by Warren Zevon in The Color of Money (1986)
The Color of Money is one of Scorsese's lesser efforts, but it's still better than 98% of all other movies out there. In this sequel to Martin Ritt's 1961 film The Hustler, Paul Newman acts as a father figure of sorts to the next generation ace pool player, a baby-faced Tom Cruise. A highly choreographed sequence in which Cruise wipes the table clean while dancing and lip-synching to Warren Zevon did a lot to cement Cruise's reputation as the cool young star in Hollywood. (The Color of Money came out just a few months after Top Gun.) Scorsese's dazzling camerawork proved that even a tune that bordered on yacht rock could cut together and look badass.
11. "Sunshine Of Your Love" by Cream in GoodFellas (1990)
No shortage of scenes in bars on this list, huh? In GoodFellas, when things really start to get nasty, De Niro's Jimmy "The Gent" goes from father figure to bloodthirsty maniac. And it happens in as long as it takes Jack Bruce and Eric Clapton to get the riff to "Sunshine of Your Love" into your ears. While the Stones may be Scorsese's go-to group, there's been plenty of Cream too (see "Toad" in Casino and "Politician" in New York Stories, plus another down the list.) The force of this bone-shaking guitar-and-bass lick, though, is almost a joke now. Indeed, when Homer Simpson's mother was radicalized by Joe Namath's long hair at the 1969 Super Bowl, "Sunshine of Your Love" played as we looked at her in close-up, her mind speeding a mile a minute, just like Jimmy "The Gent."
10. "The End" by The Doors in Who's That Knocking At My Door? (1967)
Scorsese's first feature is very "underground independent cinema circa 1967," so it can take a bit of mental adjustment to get on its wavelength. All the signs of greatness are there, however; heck, it's practically a first draft of Mean Streets. When a distributor offered to buy and release the movie, he had one condition. He needed a sex scene added for the exploitation market, so Scorsese and Harvey Keitel went to Amsterdam and met up with a French actress named Anne Collette and added what is, let's face it, some very arty softcore porno. But it's cut to "The End" by the Doors (years before Apocalypse Now) and looks gorgeous. (The video is NSFW, by the way.)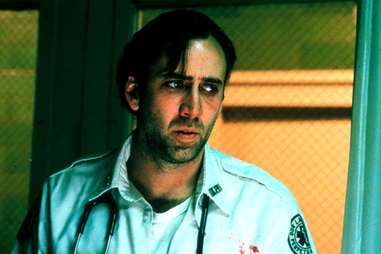 9. "T.B. Sheets" by Van Morrison in Bringing Out The Dead (1990)
One of Scorsese's most-overlooked films kicks off with one of Van Morrison's strangest tunes. This dirty, harmonica-fronted half-talking blues rages for over nine minutes, featuring unpleasant imagery of a woman dying of tuberculosis. This was Morrison's first single after leaving the poppier group Them -- quite a heck of a way to forge a new career! Anyway, Bringing Out The Dead opens with this crazed late night "numbs my braaaaain" number. It's a perfect match for this bleak and dark picture about an ambulance driver on the verge of a nervous breakdown.
8. "I'm Shipping Up To Boston" by The Dropkick Murphys in The Departed (2006)
The Departed opens at 100mph, and by the time we get to the opening credits (more than 18 minutes in!) we've long forgotten there haven't been any. With the Damon-DiCaprio parallel storylines set up, the camera trucks past DiCaprio behind bars and, intercut with the title card, Damon framed by the windows of his apartment. Symbolism! Also, the music hits full-blast and it's good ol' dirtbag Irish Boston rockers The Dropkick Murphys screaming at the top of their lungs. It's the perfect punctuation on a breathless opening act.
7. "Steppin' Out" by Cream in Mean Streets (1973)
The big finish of Mean Streets plays out with tires squealing, women screaming, carotid arteries spraying, fire hydrants gushing and Eric Clapton blazing away on a monster deep-cut jam. "Steppin' Out" was originally recorded by blues pianist Memphis Slim in 1959. John Mayall's Bluesbreakers, featuring Eric Clapton, sped it up and recorded it in 1966, but when Clapton formed Cream it became part of their live repertoire. There's an amazing version on their Live at the BBC collection (it is also on Eric Clapton's Crossroads box set) but the one at the close of Mean Streets can be found on Live Cream Vol. II. And, yes, that is Scorsese himself who kisses the gun before shooting it.
6. "Can't You Hear Me Knockin'" by The Rolling Stones in Casino (1995)
The only reason Casino isn't hailed as the greatest movie of all time is that it does bear a great many similarities to GoodFellas, which was only five years older and still reigning champion on cable at Casino's release. The seven-minute sequence set to the entirety of "Can't You Hear Me Knockin'" (the closest thing the Rolling Stones ever did to recording a jam band tune) almost feels like a dare from Scorsese: "I need to top myself." I don't think this mega-montage has quite the punch as the ones from GoodFellas ranked higher on this list, as the ending starts to feel just like wallpapering over some scenes. But when it does snap together, it's unstoppable.
5. "Layla" by Derek and the Dominos in GoodFellas (1990)
Derek and the Dominos' "Layla" is such a classic rock powerhouse that it's basically two songs. The first half is that foundational riff (written by Duane Allman but played by Eric Clapton) with Clapton singing about unrequited love. Three minutes in it shifts to the four-minute "piano exit," written by drummer Jim Gordon and his then-girlfriend Rita Coolidge (so the legend goes). Bobby Whitlock plays the keys, Duane Allman soars on slide guitar and Clapton, on backing guitars, holds it all together. It's a gorgeous melody, and it works in astonishing counterpoint to the brutal montage of corpses and destruction toward the end of GoodFellas. If you're gonna freeze Frank Sivero so deeply it'll take two days for the body to thaw out, you may as well do it to a beautiful song.
4. "Like a Rolling Stone" by Bob Dylan and the Band in "Life Lessons" from New York Stories (1989)
Though only 45 minutes, Martin Scorsese's short "Life Lessons" in the omnibus film New York Stories is one of the best things he's ever done. In "Life Lessons," Nick Nolte plays a brilliant painter who's also a sexist pig. He and his latest pupil/lover (Roseanna Arquette) are circling the drain of their relationship. He's got a big show lined up, and he takes his aggression out on his enormous, chaotic canvases (supplied by artist Chuck Connelly). He blasts classic rock on his boom box and the music of Procol Harum and Cream echo in his massive Soho loft. In one particularly athletic sequence, he violently attacks a work in progress as we hear "Like a Rolling Stone." Not just any version, but the live version from the 1974 collection Before the Flood that Bob Dylan recorded with the Band. Because that's how an artist would do it.
3. "Please Mr. Postman" by The Marvelettes in Mean Streets (1973)
It's important to remember that Martin Scorsese movies are hilarious! OK, maybe not Kundun or Silence, but the mob ones? Eyyyyy. The most memorable scene in Mean Streets, and one that cemented l'essence du Marty, is when our guys get into a pool hall fight. (Someone gets insulted when he's called a "mook," even though he doesn't know what it means.) "Please Mr. Postman" had already been playing (presumably on a jukebox), so the Motown hit gets louder as the scene turns to chaotic action. While it might seem a bit trite now, prior to Scorsese and Mean Streets there had been little-to-no precedence of this sort of ironic juxtaposition of upbeat popular music and violence. He kind of invented it. A pool hall fight would have fighting music, not love-swooning from girl groups. Today, this sort of "unexpected" needle drop is part of the language of cinema, with the current iteration being the sad, slowed-down version of a popular song in a trailer. All of that has its roots here, in this moment.
2. "Gimme Shelter" by The Rolling Stones in GoodFellas (1990), Casino (1995), and especially The Departed (2006)
In 2008, Martin Scorsese released a Rolling Stones concert film called Shine a Light. Maybe as a bit of a wink to himself, it does not include "Gimme Shelter." After all, he'd used it three times before. In GoodFellas, it's part of a montage of how Henry's criminal activity is getting really dangerous, mixing up with drugs outside of Paulie's approval. In Casino, it's part of another montage of bodies and brutality, albeit this time as a later live version. But the one that really nails it is the opening of The Departed. It weaves in and out of the opening, in which we meet Jack Nicholson's grotesque crime boss Frank Costello. The song is diabolical (have you listened to the lyrics?), so it makes sense Scorsese would return to it for his portraits of horrible men.
1. "Jump Into the Fire" by Harry Nilsson in GoodFellas (1990)
It's the 10-minute sequence I want with me on a desert island. The helicopter scene. The bust montage. Sunday, May 11, 1980, 6:55 am. Henry Hill's final coke-and-paranoia-fueled spiral is a master class in editing, plotting, and pinpoint camera moves thrown in a perfect classic rock blender. Its spine is what was, at the time, an esoteric deep cut, Nilsson's "Jump Into the Fire," a thumping, propulsive rager that, at one point, involves the bass intentionally going out of tune (you aren't imagining that part). As Henry races across Long Island, moving guns and family members, preparing coke and meatballs and gravy, his entire reality skitters up and down like someone frantically turning the knob on a radio dial.
"Jump Into the Fire" is the main tune, but it gets one hell of an assist. Weaving in and out of this barnburner (which features some killer cowbell, I must add) is the Mick Jagger solo tune (co-written with Keith Richards) "Memo From Turner" (from the film Performance), then the Live at Leeds version of The Who's "Magic Bus" (for about five seconds) then back to "Jump Into the Fire," then the Rolling Stones' "Monkey Man" from Let It Bleed, then about three seconds of Muddy Waters' "Mannish Boy," then George Harrison's "What Is Life?" then back to "Mannish Boy" and then finally the big bass and drum finish of "Jump Into the Fire" for the moment when Henry's life falls apart (all because of that stupid hat!!!).
One can only imagine the fun Scorsese and longtime editor Thelma Schoonmaker had in putting that sequence together. I hope they got up and danced, because they made some beautiful music.