Memes! Who doesn't love 'em? In 2016, memes had such a strong run that they became bigger than Jesus. This year? Already we have more than half a dozen heavy hitters, internet gems that seek to steal the thrones of yesteryear's web royalty.
Below, we're compiling, updating, and ranking 2017's best memes in terms of enduring dankness. (Sadly, the following list doesn't include contenders that were on the cusp of the new year -- our apologies, in particular, to YouTube Clickbait, a strong late-December highlight that deserves a shout-out.) Without further ado...
Turkish chef Nusret Gökçe isn't your average chef. He's the kind of guy who thinks knives are drumsticks, slabs of red meat are canvases upon which you make art, and evil omens about spilling salt are simply horse pucky. Thanks to one Instagram upload, his signature finishing pose has inspired soccer celebrations, street art, and parodies.
Do you like pigs? What about oats? (Sorry: öats.) If you're a fan of them separately, you might also fucking love this inexplicable 2016 tweet, which combined the two and became so popular earlier this year it led to a spamming practice called "oatposting." Watch out, Dat Boi, the new Prince of Random is here.
The Dr. Phil Show/YouTube
Late last year, The Dr. Phil Show unwittingly gave birth to a star, a 13-year-old girl who called an entire studio audience hoes and asked all of them to "catch her outside... how 'bout that?" The aggressive phrase is now everyone's favorite multipurpose comeback.
Early in January, BuzzFeed published a dossier alleging that Trump's attorney, Michael Cohen, once met with Kremlin officials in Prague. Cohen's response: a sick close-up of the front of his passport to prove... something? Inspired by the randomness of the rebuttal, internet users with camera phones quickly followed suit.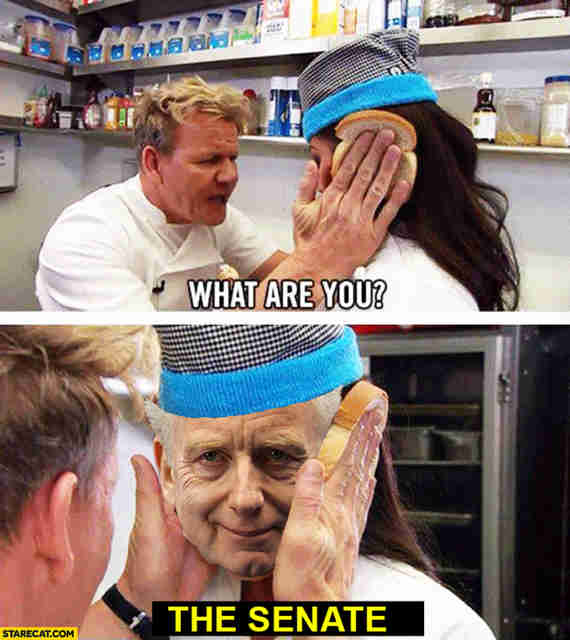 Why has this Star Wars character been having a breakout year, trying to tell everyone the tragedy of Darth Plagueis the Wise? Um, because he's the Senate.
Since taking office, President Trump has found a new favorite hobby: signing executive orders. The internet's way of dealing with this has been to turn all his fancy black folders into silly statements and rudimentary doodles. Say what you want, but this walking Ralph Steadman cartoon can draw.
Last summer, while playing the character R.S. (aka Roll Safe) in the BBC Three's #HoodDocumentary series, actor Kayode Ewumi made a coded oral sex quip. Now, a screengrab of that moment has become the internet's best-worst source of advice.
Sign up here for our daily Thrillist email, and get your fix of the best in food/drink/fun.