Stephen Hawking can give you a brief history of time, but how good is he at actually keeping it? In all fairness, probably pretty satisfactory. But because one cannot simply own a Stephen Hawking, we have to figure out other ways to keep track of the minutes. Enter: watches. And with so many styles, straps, and features out there, we isolated three key categories worth shopping for and chose a few of our favorites from each:
You've suited up, slicked the hair, and tightened the tie. Here's what you'll need to make your wrist really stand out. Continue Reading
The requisite casual choice with durability and affordability in mind, the weekender watch is an essential for any man's collection.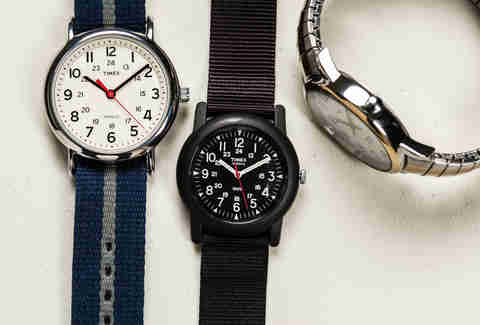 The bold, aviation-inspired design of Stührling's Tuskegee evokes the days when flying meant style, elegance, and not being on the receiving end of an awkward fondling from a TSA agent. It also comes equipped with brown leather band that features detailed white stitching, so don't be surprised if this watch becomes a regular in your rotation.


You work hard and you play hard. Don't make finding a dependable watch difficult. Equipped with mega-strong encasings and seemingly unbreakable bands, these impervious numbers are made to take a beating.