A Starter Kit for Getting Into the Indie-Rock Favorite Mitski
After a hiatus, one of the biggest names in alt music is back with a new album.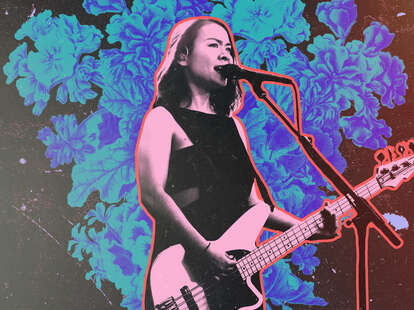 Image by Maitane Romagosa for Thrillist
Image by Maitane Romagosa for Thrillist
Mitski is the patron saint of introverts, a paragon for people who can experience existential loneliness at times but also feel nourished by a night spent inside, alone. She's an idol to hopeless romantics consumed by their pining and willing to do anything for love, no matter the cost. Although she may sound like an ethereal priestess that some lovelorn religion prays to, she's in fact one of the biggest names in indie rock. Thousands have crowned her their guardian angel of sorts because of how much her narrative-driven songwriting resonates.
Whether or not you're familiar with her, Mitski has in recent years become one of the most pop-star-like phenoms in the indie world. The 32-year-old (who was born in Japan to a Japanese mother and American father and spent her youth moving around internationally due to her father's work) has released music steadily since studying composition at SUNY Purchase College's conservatory program. She first cemented herself as an indie darling and favorite of the Bandcamp community, coming up in New York City's DIY scene and self-releasing two albums before landing an independent record deal. But with each release, her star has only grown, with her excellent 2018 album Be the Cowboy and its hit single "Nobody" catapulting her to another tier of success. Now, her extremely loving fan base, whom she used to interact with on Twitter, lines up for merch pop-ups, and instead of playing hundred-some-capacity venues, she's opening for Harry Styles on tour.
What makes fans stand in complete silence at her shows like she's giving a sermon? Her songwriting. For much of her career, Mitski has made an opera out of young adulthood, singing of star-crossed romance, unrequited love, happiness, loneliness, and the intersection of identity with a particularly raw truthfulness that almost hurts to hear. Whether she writes of her own experience or in the perspective of characters she knows inside and out, the lyrics-first approach to her music is where fans find sanctity. She tells stories they can relate to.
If you've never gotten into her music before, we're breaking down where to begin now that her sixth album, Laurel Hell, is out. The album arrives after she nearly vowed to quit music, having spoken about the struggle to balance her musical drive with her ever-growing "celebrity"—which has swelled to a level few indie acts ever reach. Below, find essential Mitski releases that, at the very least, will gear you up for Laurel Hell. They should also help you understand why her fans might say that she destroys them but they trust her with their lives just the same.
Bury Me at Makeout Creek (2014)
The route into Mitski that you should take actually isn't her first-ever release, but her first to be released via a label: her third album, Bury Me at Makeout Creek. You'd be remiss not to check out 2012's Lush and Retired from Sad, New Career in Business eventually, but falling into piano-heavy chamber pop, they're a bit removed from the Mitski music fans know today.
Bury Me at Makeout Creek is the first Mitski classic, though—full of wistful, earnest love songs and tales of adolescent debauchery over thrilling, '90s-alt-influenced guitars. With lyrics like "I want a love that falls as fast as a body from the balcony" over heavy reverb on the rebellious "Townie" and "Wild women don't get the blues / but I find that lately I've been crying like a tall child" on fan favorite "First Love / Late Spring," you're introduced to her impassioned songwriting. One listen and her words and guitars that erupt like an entire orchestra as they crescendo will make you feel as if you could die happy in whatever picturesque Makeout Creek inhabits your dreams.
"Your Best American Girl" (2016)
Mitski's "Your Best American Girl," the lead single off her 2016 record Puberty 2, begins with the lines "If I could, I'd be your little spoon / and kiss your fingers forevermore / but, big spoon, you have so much to do / and I have nothing ahead of me." It's gently devastating, and the song only gets more powerful from there. Singing about falling for someone whose ideals and family expectations she feels she'll never live up to, Mitski crafts a complicated romantic saga about the pains of being a woman of color in love with an "all-American boy"—forcing us to confront our own ideas about race by imagining what "all-American" might mean. It's not just a song of heartbreak, though: "Your Best American Girl" is also about Mitski learning to love all of the parts of herself that she may have once felt were ostracized. "Your mother wouldn't approve of how my mother raised me / But I do, I finally do" is as epic a love story as any.
The song's music video is a provocative interpretation of the lyrics, showing how creative Mitski is willing to get. Directed by Zia Anger, it finds Mitski being made up by others and trying to connect with a white man who ends up making out with a white woman in appropriative festival garb. Mitski is left to kiss only her hand. Then she turns to her guitar in a fit of glee. Many have felt seen by the video and song, embracing it like their unofficial anthem.
Puberty 2 (2016)
Fans (particularly ones with heavy water placements) hold Mitski's lyrics dear because of how expertly they make sense of the ways many of us oscillate between periods of happiness and sadness—greeting and sending off the feelings like old friends of sorts. On Puberty 2, she tries to make sense of that, from literally conjuring the personification of happiness on tracks like "Happy" to singing of being drawn to doomed relationships on "I Bet on Losing Dogs." It's entirely a master class in songwriting, and a force of an album, as Mitski pairs her poignant quarter-life coming-of-age with emo-punk tracks. Even if you may never be able to see your sadness "fossilize" and turn into nothing but a memory, Puberty 2 has become a record to return in moments of joy, pain, and everything in between because of the power Mitski holds in putting into words what you may be experiencing. While Bury Me at Makeout Creek made Mitski someone to watch, this was the album that proved she was an indie staple.
"Nobody" (2018)
"Nobody" is Mitski's biggest hit to date. The track was the second single off 2018's Be the Cowboy, and its pop-centric vibe instantly reached new audiences and heights. With disco-lite instrumentation and heart-wrenching lyrics about feeling deeply lonesome, it touched the hearts of anyone who's ever felt any semblance of loneliness and been desperate for "one good, honest kiss" on or off the dance floor. (It's only continued to grow in popularity since then, too, having resurfaced on TikTok in 2021.) It became Mitski's "crying in the club" hit, à la Robyn's "Dancing on My Own," and inadvertently made a pop star out of her, too.
Be the Cowboy (2018)
The cowboy conjures a specific image. It's the pinnacle of an idealized masculinity and a romanticized idea of freedom. and Despite there being many Black ranchers in the 1800s, popular culture has made it synonymous with whiteness. Although the contents of Be the Cowboy never touch on these themes, as Mitski said during the album's rollout, the title is about casting aside what society expects of her as an Asian woman and being the strong, charismatic cowboy that she believes she can be. As the album ended up being a magnum opus that thrust her into the spotlight, she certainly lassoed the idea of the cowboy that she attempts to reclaim with this release.
Sprawling from synth pop, folk, and country to the fierce punk and indie rock that she's known for, Cowboy illustrates her impressive sonic range. And even outside of her lo-fi sound, Mitski's acuity for feeling in her songwriting never falters: It touches each track, as she writes from different perspectives, like a lover feeling distant on "A Pearl" and someone drowning in their infatuation on "Pink in the Night." Having such scope in one record allowed more people to discover her music and want to follow wherever she goes, even if she finds herself setting off into the sunset on horseback, alone. On the outlaw track "Come into the Water" she sings, "Maybe I'm the same as all those men / writing songs of all they're dreaming"—but you know she's something different.
"Working the Knife" (2021)
After Be the Cowboy found Mitski playing larger venues and having even more fans to interact with on Twitter, she shared online that she was going on hiatus. Publicly, she said she would make more music eventually, but privately, she told herself that she was done. It turned out that label deals and her own drive to write would have it otherwise, so in fall 2021, she dropped "Working for the Knife," the lead single off her sixth record. Fittingly, the dark, synthy song details her relationship with making music—a career and source of income that has become exhausting. In the accompanying music video, she strip herself of the cowboy attire from her last era and traipses around a performance space until she arrives on an empty stage, where she dances and flails about, as if being there is a form of masochism. Although bleak, the track is essential to understanding Mitski's current headspace.
Laurel Hell (2022)
Given it's the record that comes after Mitski told herself she was going to quit music, Laurel Hell might be her most anticipated release thus far. Fans who have been with her since the beginning should embrace it, and new ones will appreciate its continuation of Be the Cowboy's synth-pop elements. In many ways, it feels like her most commercial release yet, largely thanks to the dance-friendly '80s pop that songs like "Love Me More" and "The Only Heartbreaker" draw from. But where past albums explored the polarity of happiness and sadness, Laurel Hell amplifies those emotions into ecstasy and despair—in terms of her career, love, and just generally existing, as she looks inward at who exactly she wants to be. "Let's step carefully into the dark / once we're in I'll remember my way around / who will I be tonight / who will I become tonight," she sings on the album's opening track "Valentine, Texas," like she's talking to herself.
If a laurel hell is a thicket where the brush becomes too much to escape, and Mitski is stuck inside, her songwriting suggests that she's going to survive by feeling it all. Her emotive words and the questions she asks herself on the record imply that her feelings are powerful enough to burst into a flame that could help light a path out of the thicket. As always, her music invites you to feel that way too.