Motivational 'Shark Tank' Quotes to Help You Survive Summer
What do people love more than getting advice from rich businesspeople? Getting advice from rich businesspeople with television shows.
For seven seasons, hundreds of would-be entrepreneurs -- or "wantrepreneurs" as Mark Cuban calls the flunkies -- have pitched their products and services to the wealthy overlords of ABC's Shark Tank. Now, the Sharks may not always be interested in investing their riches in, say, a bacon-cooking alarm clock or an energy drink specifically designed for "cougars," but they still can't help themselves from continually offering pearls of wisdom. Whether they inspire or motivate, they always provide the contestants with a swift kick in the ass.
Shark Tank is currently on hiatus until fall, but that doesn't mean the show can't provide you with the fire (and sore ass) to make the best of this crazy world. Summer has arrived, and with it, a slew of situations you might not know how to correctly navigate. Luckily, Cuban, Daymond John, Barbara Corcoran, Robert Herjavec, Lori Greiner, Chris Sacca, and Kevin "Mr. Wonderful" O'Leary are here to help, via some of the best quotes they've said on the show over the years.
Kevin O'Leary

| ABC
When you just booked a vacation you really can't afford:
"Don't cry about money, it never cries for you." -- Kevin O'Leary
When you forgot to apply suntan lotion and got burned
"The difference between successful people and others is how long they spend time feeling sorry for themselves." -- Barbara Corcoran
When you realize you should have started working out to get that bikini body a few months ago:
"A goal without a timeline is simply a dream." -- Robert Herjavec
When that dude/lady on Tinder seems too good to be true:
"Don't you dare undermine the power of your own instinct." -- Barbara Corcoran
When a friend proposes going to that "bottomless" Bloody Marys brunch spot:
"Ideas are cheap. Execution is everything." -- Chris Sacca
When you decide to reenact NBA Jam in your frontyard:
"Real magic comes from a brilliant idea combined with willpower, tenacity, and a willingness to make mistakes." -- Lori Greiner
Daymond John

| ABC
When your friend is elbowing you out of the way so he can talk to the girls at the club:
"Greed is good, but we need to be greedy together." -- Daymond John
When you're a Cubs fan and are certain this is the year they finally win it all:
"Zero from zero is still zero." -- Robert Herjavec
When you're thinking about entering the Coney Island hot dog-eating contest:
"It's not in the dreaming, it's in the doing." -- Mark Cuban
When you're at the hotel's swim-up bar and nature calls:
"You can always find a solution if you try hard enough." -- Lori Greiner
When you can't find anyone to go to the beach with you:
"If you want a friend, buy a dog." -- Kevin O'Leary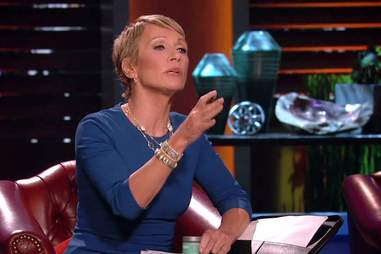 Barbara Corcoran

| ABC
When you decide to befriend that one neighbor with a swimming pool:
"Finding opportunity is a matter of believing it's there." -- Barbara Corcoran
When you can't decide whether to spend all Sunday day drinking:
"It comes down to finding something you love to do, and then just trying to be great at it!" -- Mark Cuban
When you're at a BBQ and starving, but are also a lifelong vegan:
"Failure, to me, is just an opportunity to begin again more wisely." -- Daymond John
When your friends are throwing a bangin' party but your kid has a soccer game:
"When it's yours, you don't mind doing whatever it takes." -- Lori Greiner
When you need a good excuse for skipping the company picnic because you hate all your co-workers:
"Truth is the easiest thing to sell." -- Daymond John
Mark Cuban

| ABC
When the dive's bartender seems a little off:
"It's not whether the glass is half empty or half full, it's who is pouring the water." -- Mark Cuban
When your company is between orders of your favorite office snack:
"Tough times never last, tough people always do." -- Robert Herjavec
When you let mom come up with the spot for the family vacation:
"Nobody has a monopoly on good ideas." -- Kevin O'Leary
When you're Lebron James and you spot the other team a 3-1 lead in the NBA Finals:
"You gotta crawl before you ball!" -- Mark Cuban
Sign up here for our daily Thrillist email, and get your fix of the best in food/drink/fun.
Aaron Goldfarb (@aarongoldfarb) is the author of
How to Fail: The Self-Hurt Guide, The Guide for a Single Man
, and
The Guide for a Single Woman
.