The Best Movie Musicals to Stream on Netflix
By nature, musicals are not subtle movies: They're set in a strange alternate universe where people get so caught up in their feelings, good or bad, that they can't help but sing them to the world. Though this can often make them very silly, the best of the genre use this device to explore music as a means of catharsis, or as a vehicle for the moments that tend to overwhelm us. The best recent example is La La Land, the Ryan Gosling and Emma Stone romance that's poised to sweep this season's awards circuit.
In light of La La Land's toe-tapping song-and-dance numbers, we scoured Netflix for more feel-good examples of musicals' cheery power. While the platform's catalog isn't super-dense, it has a solid selection of old classics and new additions that will keep you singing all through the winter.
The Weinstein Company
Begin Again (2013)
More of a movie about music than a movie musical, Begin Again teams up a struggling songwriter (Keira Knightley) and a washed-up record exec (Mark Ruffalo) to record an album on the streets of New York City. Knightley has a surprisingly pleasant singing voice, making you wonder why she hasn't taken on more musicals. Adam Levine plays Knightley's douchey musician ex-boyfriend who dumps her when he abandons his indie roots and makes it big. Pre-Carpool Karaoke James Corden and rising pop star Hailee Steinfeld round out this all-star cast, and you'll have the beautifully simple song "Lost Stars" in your head long after finishing this cinematic ode to New York City, young love, and not selling out.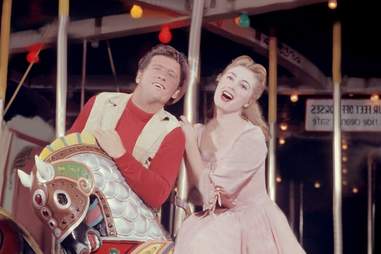 20th Century Fox
Carousel (1956)
This might not be the best-known musical on this list, but it contains some of Rodgers and Hammerstein's most moving songs. The movie focuses on the love story between Billy, a masculine, rough carousel barker, and Julie, a mill worker. After their romance gets both of them fired from their jobs, Billy and Julie's relationship struggles as they try to support each other emotionally and financially during tough times. With a dramatic ending involving a near-robbery, Carousel recalls the plot of West Side Story and the musical stylings of The King and I. Let your inner theater geek rejoice.
20th Century Fox
Gentlemen Prefer Blondes (1953)
C'mon, if you haven't watched Marilyn Monroe wiggle her way through "Diamonds Are a Girl's Best Friend" in that iconic pink dress, then what have you been doing with your life? In this breezy, laugh-out-loud funny musical, Monroe and Jane Russell play a pair of friends on the hunt for the right man, dancing their way through Paris and leaving diamond magnates and Olympic athletes in their wake. With a sly, winking tone and timeless set pieces, Gentlemen is a musical that will never go out of style.
Paramount Pictures
Grease (1978)
It might not have aged as well as some of the others -- there's some seriously retrograde ideas on gender, consent, and relationships in here -- but the enduring power of this classic can't be denied. John Travolta at the height of his Elvis-aping, hip-shaking powers, paired with Olivia Newton-John's high-energy sparkle, makes a couple you don't want to look away from, and the rest of the cast are no slouches either. Skip last year's NBC live version, the original is where it's at.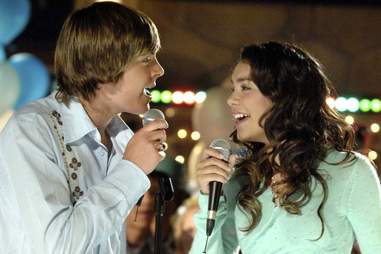 Disney
High School Musical (2006)
It's definitely the cheesiest of the lot, but this Disney Channel original is also heavy on the hooks, delivering a host of catchy teen tunes guaranteed to get stuck in your head. Then-unknowns Zac Efron and Vanessa Hudgens have plenty of awkward chemistry, and the over-the-top villains Sharpay and Ryan (Ashley Tisdale and Lucas Grabeel) are deliciously fun to hate. After years of fighting it, get ready to say: Go Wildcats!
Radius-TWC
The Last Five Years (2014)
This recent addition is really just a vehicle for Pitch Perfect star Anna Kendrick, but boy, does she make the most of it. The most high-concept musical on this list, Years weaves together the love story between Cathy (Kendrick) and Jamie (Supergirl's Jeremy Jordan) from opposite ends of the relationship. Kendrick's timeline begins after their breakup, and she sings her way back to the beginning, while Jordan's starts with their first meeting and moves forward from there. This construction means that the stars hardly ever sing together, but when they finally do, it's magic.  
The Weinstein Company
Sing Street (2016)
A sleeper hit from Ireland, John Carney's latest has all the rough charm of The Commitments brought to you by a cast of irrepressibly cute, optimistic lads falling in love with music for the first time. Set in working-class Dublin in 1985, the scrappy kids of Synge Street school start a band to impress girls, but soon find themselves writing music for the pure joy of it. There's young love, heartbreak, school dances, homemade music videos, thick accents, and a soundtrack destined for heavy rotation. Curse the Academy for not recognizing it in this year's Oscar nominations.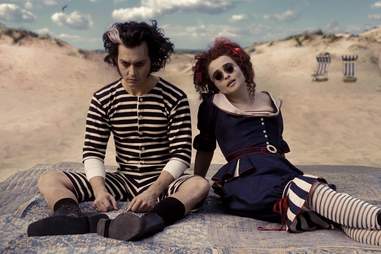 Warner Bros.
Sweeney Todd: The Demon Barber of Fleet Street (2007)
Quirky and odd in a way that only musicals can be, Tim Burton's Sweeney Todd is the most stomach-churning movie on this list. In Burton's take on Stephen Sondheim's musical, the titular barber (Johnny Depp) is a serial killer who slices his customers' necks with a straight razor and, with the help of Mrs. Lovett (Helena Bonham Carter), makes pies from their corpse meat. It's about as far from La La Land as you can get, but with tongue-in-cheek lyrics and an unexpectedly perfect Sacha Baron Cohen cameo, Sweeney Todd delivers a perfectly melancholy movie musical with a dramatic ending as outrageous as the film's premise.
Disney
Tarzan (1999)
One of the few Tarzan adaptations that will have you wishing you were raised by apes, Disney's '99 version featured plenty of warm-and-fuzzy talking animals and an Oscar-winning soundtrack courtesy of Phil Collins. The visuals are some of the Mouse House's 2D finest, and Tony Goldwyn and Minnie Driver's voicing of Tarzan and Jane lends the 'toons some much-needed chemistry.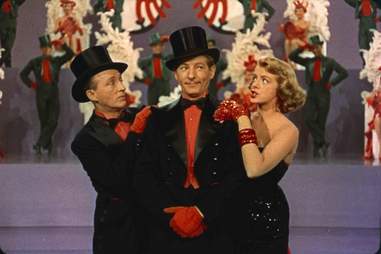 Paramount Pictures
White Christmas (1954)
You don't have to wait until December to enjoy this Irving Berlin classic starring the perfectly charming Bing Crosby. This is the movie that made the song "White Christmas" famous, even though it was first introduced in an earlier one. Full of romantic mishaps and grand musical numbers, White Christmas lights up the screen with beautiful set design and makes you swoon over the overall old-school crooner charm of Bing Crosby. Besides the famous Christmas song, make sure you watch out for the delightful number "The Best Things Happen When You're Dancing," which evokes a similar feel to the dreamy dance sequences in the finale of La La Land.
Universal Pictures
The Wiz (1978)
Diana Ross. Michael Jackson. Lena Horne. In a musical. Together. What else do you need to know? This all-black musical version of The Wizard of Oz may not have the best script, and not all the songs really work, but it's still one of the most fun train wrecks to watch for pure camp value. Theater fans will appreciate the imaginative sets and gorgeous costumes, and everyone can agree that "Ease on Down the Road" is a legitimate classic. If you've only ever caught it on VH1 or BET, it's definitely worth a rewatch.
Sign up here for our daily Thrillist email, and get your fix of the best in food/drink/fun.
Molly Lynch is an editorial production assistant at Thrillist who knows every word to the
Josie and the Pussycats
soundtrack. You can find her on Twitter and Instagram, if you want.
Ciera Velarde is an editorial production assistant at Thrillist who often belts Broadway tunes in the shower without any actual musical talent. Follow her on Instagram.