The Best Movie Trailers of 2016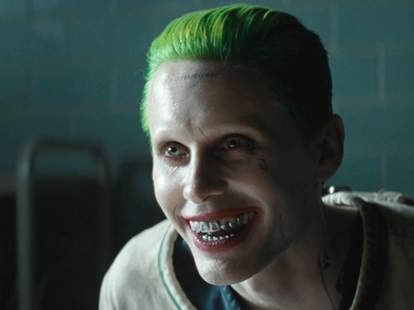 In 2016, movie trailers were entertainment themselves. Whether teasing great dramas, awful blockbusters, or star vehicles we've yet to see, the year's preview reels gifted us with two-minute glimpses at Hollywood output -- and some deserve a second look even after the movies they promoted have come and gone. These are the best of the best.
15. The Fate of the Furious
The ever-growing Fast and Furious franchise nitro-launches into utter nonsense with an eighth installment that positions Vin Diesel as the bad guy and dresses Charlize Theron (Mad Max: Fury Road) up with dreadlocks. What the literal hell is going on in this idiotic movie? Wacky Races made more sense than this. We can't wait.
14. Suicide Squad
The DC Comics sidequel was a complete surprise -- not even a psychopathic Margot Robbie and stuffed-to-the-brim soundtrack could save
the agony of this patchwork superhero movie
. We want to go back to a time when
Suicide Squad
was only this trailer: wicked, playful, explosive, and with plenty of
Jared Leto's Joker
. Lesson learned: A movie of moments works as a two-minute montage. Not so much a 90-minute theatrical experience.
13. Army of One
Nicolas Cage is on the hunt for Osama bin Laden. He meets Russell Brand. The guy who brought us Borat is in the director's chair. We've said enough.
12. Logan
The third Wolverine movie steals from video-game trailer trends by matching gun-toting chase sequences with a morose cover. In this case, it's Johnny Cash's "Hurt," speckled with whispers from Professor X. The
X-Men
movies are constantly escaping their own idiocy (
which we kinda like
, to be honest), so
Logan
stands out in a year of trailers by growling in a minor key.
11. La La Land
For musical lovers -- and
even some haters!
--
La La Land
was like
The Avengers
. In turn, the first trailer, with its throwback dance sequence and romantic chords, had the same glow of a long-anticipated adaptation.
10. Voyage of Time
There are nature documentaries, there are philosophical digressions from auteur directors, and then there are philosophical digressions from auteur directors staged as nature documentaries. Using footage and concepts from the celestial portions of The Tree of Life, Terrence Malick's is a vortex of CG-enabled wonder. The trailer will grab you, and shut Neil deGrasse Tyson up, for two minutes.
9. Free Fire
Ben Wheatley is one of the most underrated directors working today, with movies like Kill List, Sightseers, and High-Rise becoming immediate high points in their respective genres. The shaggy trailer for his latest lives up to the "Martin Scorsese Presents" card with rat-a-tat dialogue and plenty of gunplay. We're in.
8. The Little Prince
Netflix's bittersweet animated feature, based on the French storybook, blends computer and stop-motion animation to mesmerizing effect. The movie could use more of the latter, but the trailer -- oh la la! -- hits a certain intemporalité sweet spot.
7. Dunkirk
Christopher Nolan applies his temporal directorial tactics to the infamous French WWII battle. The effect looks chilly and controlled. No one understands grand moviemaking quite like the guy who delivered The Dark Knight.
6. Captain America: Civil War
The third Captain America movie
was the Mazda SUV of summer blockbusters: functional, sleek enough, transported us where we needed to go next. But the trailer that introduced Marvel's new take on Spider-Man did everything an early reveal should. We can't quit that friendly neighborhood web-slinger.
5. Valerian and the City of a Thousand Planets
Fifth Element director Luc Besson returns to science fiction for a movie that, at least in this trailer, looks like the Guardians of the Galaxy answer to Avatar. Shout-out to the Guardians 2 trailer, which is loads of fun (Baby Groot!) but can't contend with the unabashed weirdness of Besson's latest.
4. Jackie
Swap Jason Voorhees or Freddy Krueger into this introduction of
Natalie Portman's Jackie Kennedy
and you'd have an effective horror-movie trailer. But this is history made psychodramatic, and even in short form, you can't believe what you're seeing.
3. Rogue One: A Star Wars Story
Half of the footage in the
Star Wars
spinoff's first trailer didn't make it into the actual movie, including a coulda-been-classic line, "This is a rebellion; I rebel." That's fine. Movies change in the editing room, this trailer sets the foreboding tone of the actual film, and director Gareth Edwards' finished product still ranks among
our favorite movies of the year
.
2. Wonder Woman
This trailer premiered at the 2016 Comic-Con and immediately stole the show. A combination of period dressing, mythic action, and Gal Gadot's soft-spoken kick-assery gave us hope after
the dour Batman v Superman: Dawn of Justice
. Which is surprising, considering the movie blockbusters up World War I.
1. 10 Cloverfield Lane
Timing is everything in the fast-paced world of trailer gorging. As he did with the original
Cloverfield
,
puzzling producer J.J. Abrams
snuck the first look at his spiritual sequel into theaters without warning. The element of surprise exacerbates the taut mystery introduced in this spot, tied up with a
Lost
-like jukebox music cue.
Sign up here for our daily Thrillist email, and get your fix of the best in food/drink/fun.
Matt Patches is Thrillist's Entertainment editor. He previously wrote for Grantland, Esquire.com, and Vulture. Find him on Twitter @misterpatches.