The 21 Best Movies of 2015
Warner Bros. Pictures
Warner Bros. Pictures
Every "best movies of the year" list is defined as much by what made the cut as what didn't, especially in one as lousy with enjoyable, adeptly made films as 2015. With apologies to Steven Spielberg's classically tailored Bridge of Spies, the sprawling Straight Outta Compton, the moody creepshow It Follows, a pair of formally risky survival movies (The Martian and The Revenant), the bodacious blockbusters Furious 7 and Avengers: Age of Ultron, a movie you've never heard of called Star Wars: The Force Awakens, and other near-gems we left behind, our picks for the year's 21 very best movies are listed below, in descending order.
21. Jupiter Ascending
Magic Mike XXL may have featured Channing Tatum dancing to "Pony," but only one film this year boasted the Chan-Man as a half-dog creature who flies around in hover-boots. A joyfully perverse exercise in world-building for a franchise that will only live on in fan fiction, the Wachowskis' space opera was a vibrant throwback to gonzo epics like The Fifth Element, Brazil, and the siblings' own The Matrix. It's not surprising that audiences didn't go for a movie where Mila Kunis cleaned toilets, Sean Bean played a half-bee creature named Stinger, and Eddie Redmayne did... something -- but that doesn't make the movie's critical dismissal and financial flame-out any less dispiriting in our current IP-saturated blockbuster era. Fret not Ascendants: we'll always have the hover-boots.
20. The Gift
In less-daring hands, this psychological thriller might have telegraphed its legitimately disturbing ending and devolved into another direct-to-VOD movie you will never watch. But Australian writer-star-director Joel Edgerton goes all in with this tale about an alpha yuppie (Jason Bateman, exuding impish charm in a non-comedic role) struggling to deal with his forlorn wife (Rebecca Hall) and the relentless friendliness of a long-lost schoolmate (Edgerton).
19. Tangerine
Sean Baker shot this award-winning dramedy entirely on an iPhone 5s. Sound like a gimmick? Crazed camerawork proves your know-it-all phone is also the greatest conduit for electric, kaleidoscopic adventure. Set on the streets of Los Angeles, the movie follows trans sex worker Sin-Dee Rella, fresh from a 28-day prison stint, as she hunts down her cheating boyfriend. While delightfully contemporary, Tangerine throws back to road movies and buddy comedy. Wild from surface to core.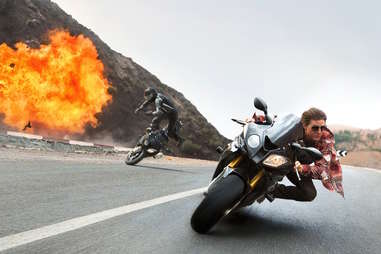 18. Mission: Impossible - Rogue Nation
If Tom Cruise is immortal, then every Mission: Impossible film is like getting the chance to sip from his tricked-out Holy Grail. With a fiendishly clever script from Jack Reacher writer-director Christopher McQuarrie, the finest action-sequences-as-adrenaline-soaked-therapy-sessions money can buy, and a captivating performance from newcomer Rebecca Ferguson, the fifth film in this endlessly inventive franchise hit yet another level of delicious absurdity in its exploitation of masculine vanity. In a year in which Daniel Craig couldn't stop hinting that his 007 days are numbered, Tom Cruise showed us why 53 is the new infinity.
17. Room
The big-screen adaptation of Emma Donoghue's best-selling novel, about a mother raising her son in captivity after being abducted as a teenager, has built-in challenges. Most of the film takes place in an 11x11 garden shed. And the drama plays out from the perspective of a 5-year-old. But Lenny Abrahamson's film version is as much a cinematic triumph as the book was a literary one. Anchored by stirring performances from 9-year-old Jacob Tremblay and Golden Globe nominee Brie Larson, who cements her status as one of the finest actresses working today, Room is a haunting tribute to survival in the most horrific of circumstances.
16. Son of Saul
Hungarian filmmaker László Nemes' debut received serious buzz when it hit the festival circuit this year, in part because of its fresh perspective on an era the international film world knows well. Shot from the perspective of an Auschwitz prisoner, Saul (fellow Hungarian newcomer Géza Röhrig), condemned to work in the gas chambers in the twilight of World War II, Nemes' masterpiece avoids trivializing or sentimentalizing the Holocaust by centering the genocide's horrors in the face and body of one individual. Son of Saul is harrowing, visceral, and deserving of your attention, even if the idea of its brutality makes you uneasy.
15. Ex Machina
Writer-director Alex Garland (28 Days Later, Never Let Me Go) made the movie we'll remember when Google's self-driving cars rise against their masters. Immaculately designed and researched, Ex Machina builds a trifecta out of the ultimate Silicon Valley bro (Oscar Isaac); Ava, the ideal robo-woman he believes is under his control (Alicia Vikander); and the audience's proxy, a regular Joe computer junkie enamored by Ava's potential (Domhnall Gleeson). Over a weekend, they talk through philosophy, drink themselves stupid, and discover the ramifications of reckless innovations. Elegant, rambunctious, and terrifyingly prescient.
14. Amy
A thematic sibling to his last film, Senna, about the life and death of Brazilian race-car driver Ayrton Senna, director Asif Kapadia turns his lens to another troubled prodigy who died young. British singer Amy Winehouse passed away in 2011 after a long struggle with alcoholism, drug abuse, and bulimia. Reconstructed solely through old home-video and archival footage, Amy showcases her once-in-a-generation gift, the grueling machinations of stardom, and the inner demons that overwhelmed her life. After the film is over, you'll grab your old Back to Black CD and lose yourself in Amy's singular voice. Just don't expect to hear "Rehab" the same way again.
13. Mistress America
Noah Baumbach's second 2015 film (after the enlightening, sitcom-y While We're Young) will make a great double feature with his 2012 movie Frances Ha. That movie saw Greta Gerwig as a millennial archetype, stuck in a liberal-arts-enabled malaise, while Mistress America casts her as the polar opposite, a woman with so many ideas, so many ambitions, that she can only spin her wheels. Taking its cues from classic farce, Baumbach's film ramps up from New York-set character study to uproarious whirlwind. Aaron Sorkin has nothing on the bulleted one-liners popping out of the Mistress America ensemble.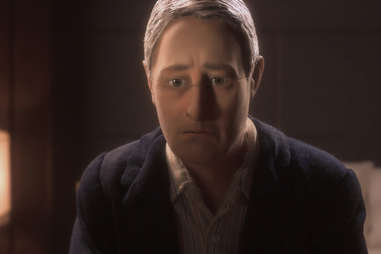 12. Anomalisa
Written by Charlie Kaufman (Eternal Sunshine of the Spotless Mind, Being John Malkovich), this long-gestating movie paints every color of humanity's emotional spectrum without relying on human actors. Using stop-motion puppets, Kaufman and co-director Duke Johnson ponder love in the modern age, where fantasy, carnality, and privilege run rampant. When author Michael Stone arrives at a Cincinnati hotel for a conference, everyone on the planet has the exact same voice. Life sucks. A chance encounter with a fan could reawaken him -- or not. Taking full advantage of the animated medium, and with Kaufman's cheeky sense of humor, Anomalisa dares to take its mature introspection seriously.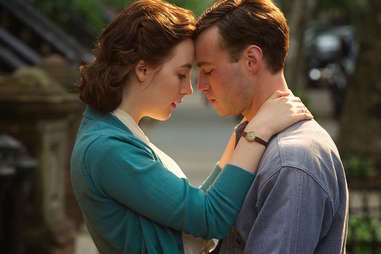 11. Brooklyn
The story of a 1950s Irish lass immigrating to Brooklyn to find a sense of home and self in an unfamiliar place, John Crowley's adaptation of Colm Tóibín's 2008 book pulses with feeling. At its center is Saoirse Ronan, delivering one of the year's best performances in a vivid story of leaving home, growing up, and falling in love. Brooklyn will resonate with anyone who has ever been through a similar journey (even if our Brooklyn looks very different than hers).
10. Creed
Names carry weight. As more studios attempt to remake and rebrand myths of the past -- this year brought us Pan, Victor Frankenstein, and yet another Terminator -- only one film, Ryan Coogler's simultaneously tender and ferocious boxing story, owned carrying a legacy as its primary theme. Watching Michael B. Jordan's Adonis Creed struggle to accept his own father's name becomes a complex metaphor for the movie's own tricky relationship with Sylvester Stallone's iconic 1976 original. How loyal to the past should we be? Coogler doesn't have the answers, but, like in Fruitvale Station, he raises tough questions with tenacity and grace.
9. Sicario
This is not the polemical drug-war drama you're looking for. Instead of offering detailed policy break-downs, prescriptive analysis of the situation at the border, or insights into minds of drug dealers, this film supplies one product: tension. From its riveting opening raid sequence to its chilling final stand-off at a motel, Denis Villeneuve uses all the tropes of a sleek, militarized action thriller to examine the utter uselessness Emily Blunt's FBI character feels in the face of systematic failure. More video game than 60 Minutes-style investigation, it is throat-punch cinema, a doom-soaked Godspeed You! Black Emperor song of a movie, a sculpture chiseled with bullets. Choose your own belabored metaphor, but it doesn't matter: to watch this film is to surrender to its void.
8. The Big Short
Adam McKay's breakdown of the mid-2000s financial collapse is the most ferocious movie of the year. With jagged direction, blaring performances, and a sadistic sense of humor, The Big Short makes ideological and physical impact. More documentary than drama. McKay's cast spurts out economic exposition, the skinny on credit-default swaps and subprime mortgages, with enough character to keep us hanging on. Christian Bale, Ryan Gosling, and Steve Carell get their hands as dirty as McKay, playing rougher than ever before. The Big Short will make you scream, somewhere between anger and laughter. Read our review for more.
7. The Hateful Eight
Quentin Tarantino has something to say about race, violence, and American life and it's going to ruffle feathers. Like Django Unchained, the writer-director reflects modern times on the Old West, but with more scalpel-sliced dialogue, profane poetry, and gore. Stewed from bits of Agatha Christie, David Mamet, and Sam Peckinpah, The Hateful Eight traps a cast of blowhards (including Samuel L. Jackson as a Civil War veteran, Kurt Russell as a bounty hunter known as "The Hangman," and Jennifer Jason Leigh as a psychopathic gang member) in a blizzard-enveloped supply station. Tarantino ups the tension by shooting his suffocating space in "glorious 70mm." Treachery and moral comprise never looked so good.
6. Carol
Todd Haynes' story about lesbian love in the 1950s is a gorgeous film from start to finish: from the direction (every frame is as lush as a painting) to the awards-worthy performances (Rooney Mara as the gawky, vulnerable Therese and Cate Blanchett as the alluring, perfectly coiffed Carol -- seriously, give this woman's hair-swoop its own award). No matter which way you swing, Carol is one of the most tender cinematic depictions ever of what it feels like to be in love -- how the quality of light changes, how time slows, how every fleeting gesture takes on the deliberateness of sign language -- and why two people would be willing to go against everything society expects of them in order to hold on to it.
5. The Look of Silence
Joshua Oppenheimer's Act of Killing exposed the atrocities of the Indonesian genocide by finding and recruiting its perpetrators to star in filmed reenactments. The resulting vignettes, performed by the government-sanctioned mobsters with satisfied smiles on their faces, are unsettling. In Look of Silence, Oppenheimer strips away the meta-layer to tell the victims' stories. It's even more devastating. His subject, a 44-year-old optometrist named Adi Rukun, is determined to find out how his brother died. A free eye exam goes a long way -- in a series of composed sit-downs, Adi questions the mass murderers, who are happy to describe the details of their gruesome kills. One man would bring the head of a woman to scare other "communists." Another admits to drinking the blood of his victims. Adi sits there, soaking it in. So do we, trying to make sense of it all.
4. 45 Years
Andrew Haigh followed his acclaimed romance Weekend with HBO's queer drama Looking, then returned to the film world with this relationship-driven twofer. It's a delicate doozy. Stretched across the final week before an anniversary party, 45 Years observes the ripple effect an old flame has on an aging, committed couple. The ex only surfaces in the form of a letter, but that's enough for Kate (Charlotte Rampling) to reframe the life she made with her husband Geoff (Tom Courtenay). Haigh treats his camera like a microscope, honing in on Rampling's subtle, complex reactions to the past, a world she can only discover in crinkled photos and her hazy memories, and the present, where her husband wallows in indifference. This is not a movie of meltdowns and monologues -- 45 Years will whisk you away and snap you in half without saying much at all. Rampling's work is, quite easily, the performance of the decade.
3. Spotlight
Journalism can be a tedious business, more about sifting through vast piles of spreadsheets than rendezvousing with sources in dark parking lots. It's impressive, then, just how taut and limber Tom McCarthy's Spotlight is, given the density of its subject matter and how committed the film is to recreating events exactly as they happened. An artful biopic about the the Boston Globe's investigative "Spotlight" reporting team and their Pulitzer Prize-winning pursuit to uncover the sex-abuse scandal in the Catholic Church, this is a film with a message -- about institutional rot, abuse of power, and the importance of investigative reporting -- that still manages to be damn good entertainment. The ensemble (Michael Keaton, Rachel McAdams, Liev Schreiber, Mark Ruffalo, John Slattery, Stanley Tucci, and Brian d'Arcy James) brings its A game, while McCarthy succeeds in decisively erasing last year's flop The Cobbler from film-goers' memories.
2. Inside Out
Inside Out allows Toy Story writer/Monsters, Inc. director Pete Docter to be his most imaginative. Set inside the mind of 11-year-old Riley, where anthropomorphized emotions Joy, Sadness, Anger, Fear, and Disgust run the show and memories are downloaded to glowing orbs, the Pixar impresario has created a vivid fictional world that rivals WALL-E in its inventiveness and lush visual landscape. Bolstered by crazy-good voice acting from Amy Poehler as Joy and The Office's Phyllis Smith as Sadness, Inside Out is as smart and perceptive about human psychology as it is emotionally resonant. (See where Inside Out falls in our Pixar movie ranking.)
1. Mad Max: Fury Road
"I exist in this wasteland," says Tom Hardy's Max Rockatansky in this summer's Fury Road, "reduced to one instinct: survive." In telling a simple story of endurance, 70-year-old writer-director George Miller kicks up a roaring dust cloud of poetic and political meaning, letting viewers interpret the film's swirling thematic storm as they see fit. Is it really about feminism? Climate change? The relative merits of attaching a flamethrower to your guitar? Like all great works of art, it's open to endless close readings but also blessed with a singular sense of purpose, a searching quality that never lets up.
And let's be real: this movie goes. Once it takes off, Miller's punk fever-dream keeps its gnarled fingers on the skull-enshrined throttle, staging elegant set-pieces that put the incoherent action sequences from blockbusters like Jurassic World, The Avengers, and Furious 7 to shame. Anchored by Charlize Theron's emotionally raw performance as the fearless Imperator Furiosa, the movie flips the grim "one sad bro-dude wanders the scorched landscape" script of most apocalyptic narratives, instead presenting a vision of a fallen world where equality is still achievable through collaboration, trust, and heaps of scrap metal. Believe the GIFs: oh, what a movie! What a lovely movie!
Sign up here for our daily Thrillist email, and get your fix of the best in food/drink/fun.
Follow the Thrillist Entertainment editors on Twitter: @ThrillistEnt.