The Best Movies on Disney+ Right Now
All the Disney you could ever want.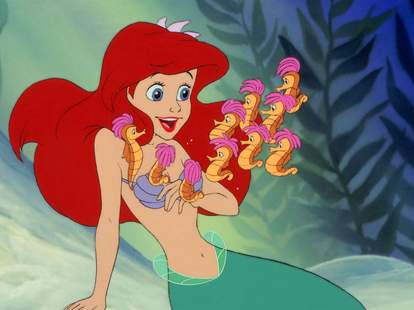 Now that Disney+ is here, it's time to dig into its best offerings and hidden gems. So what are the best movies you can watch on the new streaming service? With a library that includes Marvel movies, Pixar films, animated classics, Disney Channel originals, and more, Disney+ can quickly overwhelm anyone who logs on and starts browsing. So we picked out the films on Disney+ you should watch first, provided you haven't seen them hundreds of times already.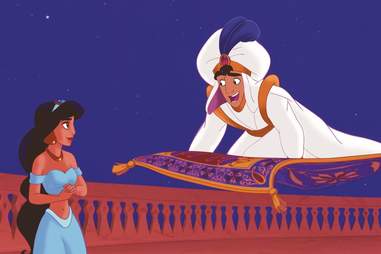 Disney
Aladdin (1992)
One of the big selling points of Disney+ is the partial opening of the famous "Vault" containing Disney's animated features, meaning you don't have to wait for the year Disney decides to release
Aladdin
to the world to watch
Aladdin.
While Disney hasn't made every classic movie in the Vault available, you can now stream Robin Williams' Genie whenever your heart desires.
Alice in Wonderland (1951)
Disney's adaptation of Lewis Carroll's classic tale dazzles. The story of a girl falling down the rabbit hole and into a mystical land invites all of the zany characters from the original work onto the screen and out to tea. Executed in almost psychedelic animation, it's a Disney classic, but forever a wonderment.
Ant-Man (2015)
With his combination of leading man good looks and near-constant expression of wry bemusement, Paul Rudd is an ideal modern superhero. He's both in on the joke and the butt of it. Most importantly, he looks equally cool and dumb in a tricked-out ant costume. While many tears were shed when
Edgar Wright left the project
in the development stage, director Peyton Reed (
Down With Love
) gives the origin story surrounding Rudd's performance as Scott Lang a bouncy rhythm and mischievous sense of humor. His transition from small-time crook to even smaller crimefighter is emotionally satisfying, narratively brisk, and completely absurd. (The Thomas the Tank Engine gag in the finale remains in a class by itself.) Plus,
Ant-Man
is one of the few Marvel movies where all the actors are having fun on the same frequency, with Michael Douglas, Evangeline Lilly, and especially scene-stealer Michael Peña turning the film into Marvel's version of
Ocean's Eleven
.
20th Century Fox
Anastasia (1997)
The 1997 animated musical you think is a Disney movie isn't a Disney movie—but is nonetheless available on Disney+. Renowned animator Don Bluth (
The Secret of NIMH
,
An American Tail
) retells the legend of Russia's Grand Duchess Anastasia Nikolaevna with magical flair and a talking bat. With original songs from Lynn Ahrens and Stephen Flaherty (
Ragtime
), Anastasia is little more serious and sophisticated than your average princess hero journey, which turns out to be just the right thing for adults in need of whimsy.
Marvel's The Avengers (2012)
To a certain type of comic book fan, the mere existence of a movie like The Avengers is a miracle. There had been movies and TV shows that teamed up superheroes before—Mystery Men goofed on the premise back in the '90s—but no one had ever assembled a squad of do-gooders with the same level of gravitas and scale. Watching Captain America, Iron Man, The Hulk, Thor, Black Widow, Nick Fury, and, yes, even Jeremy Renner's put-upon Hawkeye trade punches, secrets, and Joss Whedon's self-aware banter felt like a seismic rupture in nerd-dom's space-time continuum. Looking back, the movie's impact and influence on Hollywood moviemaking might be more negative than positive, as anyone who endured Suicide Squad can testify, but, for a brief moment, Marvel's carefully rolled out monument to itself stood tall and proud.
Avengers: Endgame (2019)
One of Marvel's greatest superpowers is convincing its loyal audience that each successive event film is "the big one," a culmination of everything that came before it and a bold leap forward into the future. (Avengers: Endgame looks like it will likely be remembered as the Marvel movie that launched the series into the Disney+ "content" era.) As a recipe for box office success, it clearly works; as a way to make satisfying movies, the results are often mixed. Each team-up asks: How big is too big? But the shrewdest move the Russo Brothers, returning yet again to the director chairs to marshal these characters along, and screenwriters Christopher Markus and Stephen McFeely make here is pulling back some of the excess and bloat of Infinity War, which toggled between too many plotlines and dragged for long stretches. Despite a lengthy runtime, Avengers: Endgame is a more satisfying hang than its predecessor because the post-snap landscape is simply less crowded, allowing for fun digressions like a mid-movie meta riff on Back to the Future II that sees the heroes revisit previous entries in the series through the magic of time travel. Even if you're unmoved by the solemn gravitas-chasing of the ending, there's still fun to be found in the margins.
Bambi (1942)
Another release from the Disney Vault,
Bambi
is the beautifully animated, heartbreaking story of a young buck coming of age in a forest full of cute talking animals and threatened by an evil hunter and his pack of dogs.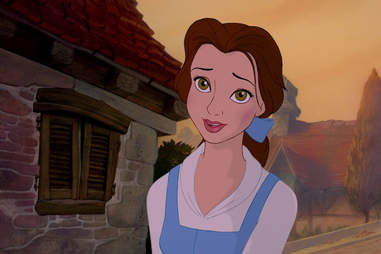 Walt Disney Studios
Beauty and the Beast (1991)
This early '90s hit combined computer imagery with hand-drawn animation to help cement the notion that the House of Mouse was entering a renaissance period that would see it churn out modern classics throughout the decade.
Big (1988)
One of the movies that cemented Tom Hanks in his wholesome Hollywood image, there's really not much to dislike about Big. The Penny Marshall movie finds Hank as Josh, a tweenage boy who makes a wish to be big, and magically wakes up a grown-up the next day. It'll make you stay clear of any carnival Zoltars, but spark that uninhibited childhood joy in you again, as it's intended to do. If only we could all stomp out a tune on F.A.O. Schwartz's giant piano.
A Bug's Life (1998)
Stuck in never-ending, media-devised competition with Dreamworks' Antz, which premiered just a month prior, this micro-riff on Seven Samurai is low-key and noble. The straight adventure doesn't glow like Pixar's emotionally meaty movies, but with eccentric characters and a scrappy heart—courtesy of NewsRadio-era Kids in the Hall alum Dave Foley—the film has a taken-for-granted kid's movie quality: fun.
Captain America: The First Avenger (2011)
Captain America's introduction isn't the jokiest or zippiest or most action-packed entry in the Marvel Cinematic Universe, but like super-soldier Steve Rogers, it's a laboratory-made throwback with equal parts heart, soul, and muscle. To put it bluntly: It's an honest-to-goodness movie in a mega-franchise full of piggybacking installments. Under the eye of Joe Johnston, who melds the throwback glimmer of The Rocketeer with the phantasmagoria of the Red Skull and his laser-blasting HYDRA cronies, The First Avenger gifts Chris Evans a meaty role. For emasculated wannabe Steve, becoming "The Captain" takes more than beefed-up, Nazi-pounding brawn. The journey toward self-sacrifice pairs him with Peggy Carter, a secret agent who makes our hero into her romantic interest, and puts him through the death of his best friend—a move that, even sequels later, weighs on the character. Practical fight effects, a spine-tingling makeup job for Hugo Weaving's villain, and Alan Silvestri's rousing score give The First Avenger an iconic polish, but in the end, it's Evans who wields the shield with a sincerity that most superhero movies—hell, most Hollywood blockbusters—don't dare to summon.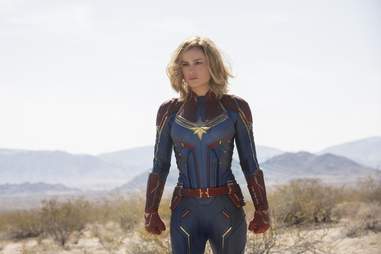 Marvel Studios
Captain Marvel (2019)
As the first MCU stand-alone installment focused solely on a female character,
Captain Marvel
faced unfairly high expectations and targeted trolling leading up to its release. The movie itself—which stars Brie Larson as supremely powerful being who, with the help of
a fabulous cat
, rescues Earth circa 1995, becoming friends with Nick Fury (a digitally de-aged Samuel L. Jackson) in the process—gives Larson room to become a full-blown Marvel star with solid action sequences and witty banter. It's certainly worth your time.
Cars (2006)
Cars
has a light, nostalgic touch to it that separates it from some of the company's more critically acclaimed, existentially bleak films. The presence of Paul Newman's gravelly voice as Doc (in his final non-documentary role) lends the film a layer of poignancy, and the animation team's rendering of desolate American roads makes the predictable plotting and occasionally overbearing gags glide by like a good road trip should.
Cinderella (1950)
Another title from the Vault coming at you to feed your nostalgia for the glass slipper, the singing birds, and the idea that getting out of economic and domestic misery largely depends on finding you a good man.
Coco (2017)
There are elements of previous Pixar movies in this story centered around a young boy's journey on the Day of the Dead—the vision of the afterlife is a bit like
Monsters Inc.'s
nightmare world, the generational divide will likely remind you of
Up
, and the emotionally brutal finale is as mournful and psychologically fraught as
Toy Story 3's
climax—but director Lee Unkrich and his collaborators approach every aspect of the tale, from the world-building to the slapstick dog gags, with gusto. Taking a page out of the traditional Disney playbook, this is the first Pixar film to heavily rely on original songs, and they're stunners. The sequence built around "Remember Me," the Oscar-winning song performed by multiple characters, belongs in Pixar's tearjerker Hall of Fame.
Walt Disney Studios
Fantasia (1940)
Here's a great personality test: what's your favorite Fantasia sequence? Maybe you're a cat-video enthusiast whose love of goofy animals began with "Dance of the Hours." Or perhaps you're a reformed goth kid who delights in "Night on Bald Mountain." Regardless, Fantasia is one of those movies we've never stopped watching, for good reason: it's inventive, it's timeless, and it has all the dancing hippos a kid could ever want.
Fantastic Mr. Fox (2009)
Wes Anderson's adapted Roald Dahl's beloved children's novel in the director's first stop-motion feature film. Featuring a sly George Clooney as the voice of the titular character, who's been busy pissing off farmers for stealing their crop, the movie showcases a classic man-versus-woodland-critters conflict. It's exactly what you would want out of an Anderson animated film, starring his typical cast of characters (Jason Schwartzman, Bill Murray, Owen Wilson, plus Meryl Streep) as the voices of anthropomorphized creatures. It's also just plain cute.
Finding Nemo (2003)
What's more terrifying than the bottom of the ocean? Um, how about losing your child? Watching neurotic clownfish Marlin (brilliantly voiced by Albert Brooks) frantically scour the depths of the sea in pursuit of his only son Nemo (Alexander Gould) can be an emotionally taxing, overwhelming experience. But, luckily, director Andrew Stanton keeps the movie afloat by giving ample screen time to the joyfully silly Dory (Ellen DeGeneres), a team of possibly stoned turtles and the deepest voice casts Pixar has ever assembled (Willem Dafoe, Allison Janney, and Geoffrey Rush all turn in killer work). And, yes, it will probably make you cry.
Buena Vista Pictures
Freaky Friday (2003)
This remake of Freaky Friday is everything and more you would hope a 2000s take on the classic family body-swapping movie would be. Jamie Lee Curtis and then-teen queen Lindsay Lohan star opposite one another as mother and daughter who, after a fortune cookie mishap gone wrong, trade places to hilarious results. Come for the great duo, and stay for the very catchy original songs (plus a Britney Spears cover by Chad Michael Murray).
Free Solo (2018)
The Oscar-winning documentary depicts climber Alex Honnold's harrowing, death-defying quest to free solo Yosemite's El Capitan—meaning, climb a 3,000-foot rock face with no ropes or safety nets of any kind. Even though you know he does it, the film builds tension by tracking the extreme physical, mental, and personal toll preparing for an impossible task takes on Honnold.
Frozen (2013)
"Let It Go" might just be the best Disney song of the 21st century, but
Frozen
glided to a Best Animated Feature Oscar with plenty of help from its high-quality voice acting, stunning visuals, and tried-and-true fairytale format. If you haven't seen this modern classic, now's your chance.
Guardians of the Galaxy (2014)
Guardians of the Galaxy
is a wet fart of American rudeness in the grand tradition of Bart Simpson, Cartman, and those bumper stickers with Calvin peeing on things. Writer and director James Gunn, a spiky-haired genre nut with a background in Troma, was recruited to adapt one of Marvel's more obscure properties about a ragtag gang of space criminals including a talking tree, a green alien, and a gun-toting raccoon. Like the even more foul-mouthed
Deadpool
, which pushed the envelope into R-rated territory,
Guardians
is a comedy predicated on the audience's awareness of comic book conventions, tropes, and cliches it can playfully tweak. There's no Chris Pratt rolling his eyes as Star-Lord without Robert Downey Jr. smirking as Iron Man first. But for all the spirited irreverence, the movie's greatest asset is actually the blend of sentimentality and nostalgia evoked by the '80s jams on the soundtrack. Once you're hooked on the feeling, there's no going back.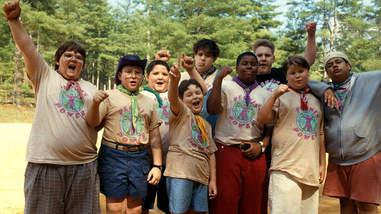 Walt Disney Studios
Heavyweights (1995)
This fat-camp comedy has a serious pedigree: Judd Apatow wrote the script; Steven Brill,
Adam Sandler
's go-to collaborator, directed; and the cast touts Paul Feig, a young Kenan Thompson, Jeffrey Tambor, and Ben Stiller, giving one of his best performances as a psychotic fitness guru. The '90s saw plenty of teenage wish-fulfillment, but none with the bite of
Heavyweights
.
Hercules (1997)
Disney has a habit of taking pretty grim folklore and transforming it into heartwarming romances for children. See any of its Grimm's fairy-tale adaptations, or this Greek mythology remake in which underworld demons have the competency of a Will Ferrell character and Zeus isn't screwing every living thing in sight. But
Hercules
, despite its relatively low rank on the Disney totem pole, is massively entertaining—and it has a secret weapon in the Muses. This singing quintent gives
Hercules
a killer soundtrack that any motown fan will love. And really, if you're a human with ears, that includes you.
High School Musical (2006)
The Disney Channel original that put Zac Efron and Vanessa Hudgens on the map more than a decade ago is a total trip today. If you can stand a teen dramedy with a corny-sweet teeny-bopping soundtrack, Troy and Gabriella's budding romance and bucking of the high school hierarchy will warm your frigid heart. Honestly, it's worth watching for a look back at Efron's shaggy man-bangs alone.
20th Century Fox
Home Alone (1990)
KEVIN! Only John Hughes, a master of suburban wish fulfillment, could have conjured such an eccentric, slapsticky, Dennis the Menace-esque greeting card of a movie. Hughes stuffs Home Alone with lots of eccentric details—Buzz's tarantula, that greasy pizza dinner, Harry's gold tooth, the rip-roaring fake gangster movie Angels with Filthy Souls, the shovel guy, every trap in the grand finale's tricked-out madhouse—and rips through them like a giddy kid on Christmas morning. As Kevin McCallister, Macaulay Culkin summons all the charm and glee of Tom Hanks in Big (minus 3 feet), and as his mother races home in parallel, his smile wanes at just the right pace. Who knows how Hughes came up with this movie, but my God, Home Alone is immaculate conception.
Homeward Bound (1993)
The heartwarming story of three talking animals who just want to make their way back to their family is as warm-and-fuzzy '90s as they come. It's built on the conceit that the animals think their owners have left them forever (despite their communication abilities, they're still pets!), and the three have to bound their way home. Or, wait, that's not what the phrase means. There are obstacles along the way, of course, but hey, these aren't your average house pets.
Honey, I Shrunk the Kids (1989)
It's amazing the professor-dad (Rick Moranis) in this family franchise was never held accountable for hiding a fully functioning shrink ray in their home. But as irresponsible as his quest to invent something that rivaled the creation of electricity became, it was fun as hell to watch—director Joe Johnston & Co. capitalize on mind-bending visuals, top-notch comedic timing, and cereal nightmares along the way. (Special shout-out to this movie's underrated hero, Quark.)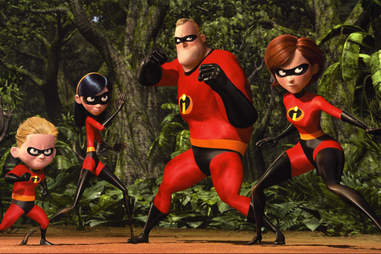 Pixar
The Incredibles (2004)
Years before the Marvel Cinematic Universe became the Galactus-like box office-conquering force it is today, Pixar beat The Avengers at its own game. Masterfully written and directed by Brad Bird, The Incredibles builds an entire pop-art world of heroes and villains from scratch, then goes about investing each character with vivid thoughts, dreams, and feelings as they bounce their way through one show-stopping action sequence after another. This is how you do an origin story.
Inside Out (2015)
Inside Out showcases Toy Story writer/Monsters, Inc. director Pete Docter, who helmed this recent arrival, at his imaginative best. Set inside the mind of 11-year-old Riley, where emotions Joy, Sadness, Anger, Fear, and Disgust run the show and memories are collected and stored as glowing orbs, the Pixar impresario has created a vivid fictional world that rivals WALL-E in its inventiveness and lush visual landscape. Bolstered by crazy-good voice-acting from Amy Poehler as Joy and The Office's Phyllis Smith as Sadness, Inside Out is as smart and perceptive about human psychology as it is emotionally resonant.
Iron Man (2008)
It's easy to forget that casting Robert Downey Jr. was no one's idea of a sure thing. The actor's machine-gun speaking style, archly ironic tone, and bad-boy reputation made him an awkward choice to kick-start a massive family-friendly movie franchise. But it turned out to be a savvy move, immediately giving the Marvel films much-needed cultural cred—Downey was fresh off acclaimed comeback roles in Kiss Kiss Bang Bang, A Scanner Darkly, and Zodiac—and establishing a manic comic approach that's present in each subsequent movie. The DNA of what's to come is all here. Director Jon Favreau piles on special effects, fancy cars, and even a world-expanding post-credits stinger with Samuel L. Jackson's Nick Fury, but this is The Downey Show. You can't look away. Even with Captain America emerging as the beating heart of the Marvel Universe, Tony Stark remains its chattering id.
The Jungle Book (1967)
"I wanna be like you!" King Louie sings in a film that features one of the most fun Disney soundtracks of all time. Yes, it's a bit problematic that the story comes from Rudyard Kipling, but Disney has never exactly been a beacon of equality and social justice.
Walt Disney Studios
The Lion King (1994)
No matter what the
live-action remake
did to your childhood memories of this movie, you now have unlimited streaming access to Jonathan Taylor Thomas' greatest work.
The Little Mermaid (1989)
The Little Mermaid
jumpstarted the Disney Renaissance, kicking off a decade in which the increasingly aimless studio began churning out mega-hit after mega-hit, adding a whole series of unforgettable songs to the canon while they were at it. Good luck getting "Under the Sea" out of your head.
Mary Poppins (1964)
Grab a spoonful of sugar and stream
Mary Poppins
on repeat until you decide to become a chimney sweep because they look like they have so much fun! Julie Andrews, Dick Van Dyke, and music from the Sherman brothers makes PL Travers' literary character jump off the screen and into America's collective consciousness.
Miracle on 34th Street (1947)
The War on Christmas is alive, and averted, in this 1947 classic. Subliminal pro-Macy's marketing be damned, George Seaton's fanciful story of Kris Kringle, and the trial to prove he's the real deal, is an ode to the transformative power of believing in something positive. For all the star power in this movie (including a young Natalie Wood as Susan, the girl who needs to believe), it's Edmund Gwenn as Kris who remains so pure and positive, you really might believe he is Santa by the end.
Miracle on 34th Street
hovers under
To Kill a Mockingbird
and
12 Angry Men
as one of the great courtroom dramas (even if the legal proceedings don't make a lick of sense), but you'll be too lost in the twinkle of this movie to ever think of it as such.
Mulan (1998)
Disney's late-'90s adaptation of legendary Chinese figure Hua Mulan
may not deliver the powerful feminist message
to which it pretends to aspire, but it's still a strong entry in the Disney renaissance of the 1990s. Driven by one of Disney's more memorable original scores, the computer-assisted animation honed in films like
Beauty and the Beast, Aladdin,
and
The Lion King
makes the film a dazzling visual display that touches on themes of identity, family, and honor. Plus it gave birth to the now-legendary
McDonald's Szechuan sauce
.
National Treasure (2004)
It's no
Mandy
, but Natty Treasure is Nic Cage at his ironic peak as a historical cryptographer (and, let's be real, conspiracy theorist) in this clue-filled jaunt to save the Declaration of Independence from his treasure-hunting rival (played by a very blonde Sean Bean) by preemptively stealing it. It's not necessarily a
good movie
, per se, with its convenient coincidences, absurd dialogue, and sheer implausibility, but 15 years on, it's an even more perfect satire of goofy pro-America word salad, even if director John Tuteltaub didn't intend it. If you're unconvinced
National Treasure
is worth your precious time, Nic Cage saying, "
I'm gonna steal the Declaration of Independence
" should do it.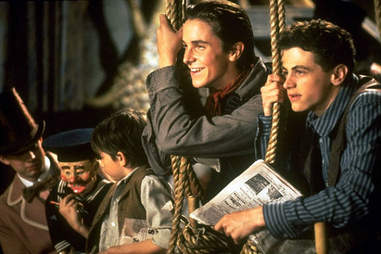 Buena Vista Pictures
Newsies (1992)
This original musical directed by Kenny Ortega (High School Musical) is a longtime theater kid favorite, and for good reason. A young Christian Bale leads the cast as a newsboy who, like the rest of his newsie comrades, is struggling to sell papes when newspaper giants Hearst and Pulitzer up the cost of distribution, leading him to organize a strike. Turning real 1899 historical events into an entertaining, inspirational musical may sound like a challenge, but the young, spirited cast imbues it with high, pro-labor energy. It really is all about seizing the day!
The Nightmare Before Christmas (1993)
If you spend your time debating whether
Tim Burton
and Henry Selick's macabre, stop-motion cartoon is a "Halloween movie" or a "Christmas movie," you'll overlook the celebratory message that proves why it's both. Crossing over from his world, a ghoulish nightmare stuck in perpetual trick-or-treat mode, into the snow-caked Christmas Town, convinces Jack Skellington that there's a "right" way to live. With a little help from his Frankensteined girlfriend Sally, his spectral dog Zero, and Santa Claus himself, Halloween Town's Pumpkin King finds a way to transplant the beating heart of Christmas into the chest cavity of his ghoulish existence. If Danny Elfman's devilish original songs don't sound like holiday-appropriate carols to you, maybe it's time to rewatch
The Nightmare Before Christmas
.
101 Dalmatians (1961)
Cruella de Vil might just be one of Disney's most terrifying, and impeccably crafted, villains. A woman—albeit, who has got the glamor—set on stealing puppies and offing them for their coats? There couldn't be anyone more wicked in a kid's flick! She's half the enjoyment of this classic, which may not have the original songs of other Disney movies, but sure does have adorable spotted puppies by the dozens. It's an oldie, but it's also unforgettable.
The Parent Trap (1961)
Through state-of-the-art technology, Walt Disney and his crack team of animators allowed young Hayley Mills to become one of the first actresses to command the screen opposite... herself. Like Lindsey Lohan would 30 years later in the just-as-solid remake (which is also available on Disney+), Mills fills both starring roles in this wacky comedy about two twins who accidentally meet at summer camp and turn their bitter rivalry into an unstoppable life-meddling force. When they realize their parents were split lovers on the verge of remarrying, they scheme to get them back together, which is only not screwed up in the wonderful world of Disney.
Peter Pan (1953)
It doesn't have the same musical cachet as many of the other Disney classics, but the JM Barrie characters brought to animated life in
Peter Pan
—Peter, Tinker Bell, Captain Hook—are some of the most visually remarkable in the whole Disney library.
Walt Disney Productions/RKO Radio Pictures
Pinocchio (1940)
One of the darker movies in the Disney Vault features the
hero smoking, drinking, and turning into a jackass
in a morality tale about the importance of telling the truth and never going anywhere called "Pleasure Island." But it's this sharp edge that makes Pinocchio
continue to resonate today as both a character and the patron saint of liars everywhere.
Pirates of the Caribbean: The Curse of the Black Pearl (2003)
Disney's ride-to-film adaptation isn't all that old, but we're ready to call it:
Pirates
ranks among the greatest adventure movies, right up there with
Raiders of the Lost Ark
and
Star Wars
.
Johnny Depp
's turn as Jack Sparrow, combined with
playful swordplay
and some of the most dazzling zombie effects to date, make it endlessly watchable. Or, exactly what you want when you hit the couch for a staycation. High-seas sailing, without the actual travel.
Pocahontas (1995)
Sure, this love story set against the backdrop of European colonial conquest doesn't quite live up to the lofty standards Disney set in the '90s, but there's still a lot to love about
Pocahontas
, which features an all-time classic song in "Colors of the Wind." It's the American
Romeo and Juliet
, only with the total decimation of a native population as the backdrop, which is where the movie ultimately struggles the most: It's difficult to remain a kids' movie when you're running up against a very real, very painful history. Still, those songs!
The Princess Diaries (2001)
Before the people of the internet found themselves obsessed with Meghan Markle's rise to royalty, the story of an average young woman suddenly becoming a European princess (a duchess in this case, but you get the picture) was one that many of us had only grown accustomed to witnessing via television and film. Anne Hathaway's Mia Thermopolous walked so that Markle could run, and almost two decades after its initial rollout,
The Princess Diaries
is more beloved and culturally relevant today than it was when it hit theaters back in 2001.
Buena Vista
Ratatouille (2007)
There's a tremendous amount of love flowing through the Pixar canon: love for partners, love for family, love for friends, love for cars. But only one movie dares—and that's the right word, as it continues to catch flack for it—to explore the existential struggle that is loving oneself. If Remy the Rat is going to survive life on this planet, he has to become the furry mammal he's told he can't be. He has to cook. Director Brad Bird turns the act of defiance into a three-ring circus. Composer Michael Giacchino, a longtime Pixar collaborator, owns half the film with his take on Parisian jazz, and Patton Oswalt adds exhaustion and thrill to Remy's voice with nuance. Ratatouille is fine dining, the result of the best artists in the movie business telling an artist's story.
Remember the Titans (2000)
Disney's true story of the recently desegregated T.C. Williams football team as it named a black head coach over a popular, white, hall of fame-bound incumbent takes on the troubling history of Virginia's role in American racism, tied up in an inspirational sports movie package. Denzel Washington's sheer charisma would probably make him a half-decent coach in real life, and while the movie indulges in many of the expected cliches, it's got heart and grit to spare.
The Rescuers (1977)
Somewhere deep in your memory you can recall The Rescuers, even though it's not necessarily one of Disney's biggest hits. Like many other children's movies, there are adventurous, little mice, these ones rescuing children in peril, though, which makes for an absolutely devastating movie as they save a kidnapped orphan from abusive treasure hunters. It's dark for a kid's movie, for sure, but an inspiring tear-jerker following Bernard and Miss Bianca's (Bob Newhart and Eva Gabor) mission, set in their anamorphic world, scaled down to size.
Rogue One: A Star Wars Story (2016)
The first official Star Wars spinoff movie polarized audiences by departing from the usual dashing heroism and Jedi maneuvers. The "mid-quel"—taking place between Revenge of the Sith and 1977 original—instead put the "war" back in Star Wars, featuring black-ops operations in seedier parts of the galaxy, scout missions across rainy terrain, resistance sneak attacks that brushed close to terrorism, and the pièce de résistance, an epic battle across ground, sea, and air that pushed the new hero, Jyn Erso (Felicity Jones), and the special effects team at Industrial Light & Magic to their limits. With the Death Star nearly operational, Rogue One is a ticking time bomb of a movie that fans of space-opera action will revel in time and time again.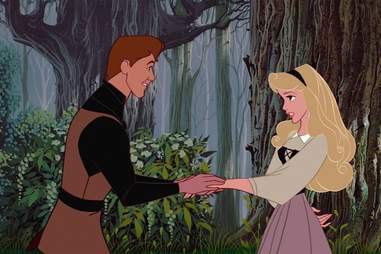 Walt Disney Studios
Sleeping Beauty (1959)
Though initially a box office failure, Sleeping Beauty represents a critical time in Disney's development; its performance meant Disney didn't return to fairytale adaptations until The Little Mermaid in 1989, but it eventually wound up as one of Disney's essential animated films.
Snow White and the Seven Dwarfs (1937)
It's the OG animated feature! The hit that helped define what a Disney movie even is! Snow White broke so much ground that it's difficult to overstate its importance, so you're better off watching it and marveling at the fact that this work of art is more than 80 years old.
The Sound of Music (1965)
Julie Andrews' brilliant performance as a singing governess for an Austrian family during the rise of the Nazis stands the test of time, and is always a strong candidate for a rewatch—if for no other reason than to sing along with the Rodgers and Hammerstein score.
Splash (1984)
In Ron Howard's Splash, Tom Hanks falls in love with a mermaid played by Daryl Hannah. So, it's obviously excellent! The '80s rom-com is a charming fish-out-of-water story (literally) as Daryl Hannah washes ashore in NYC and searches for the man whom she saw underwater years ago when he fell off a ship as a young boy. The movie helped popularize the first name "Madison," there's an unforgettable bathtub scene, and both John Candy and Eugene Levy are in the mix. Again, it's excellent and absolutely worth diving into.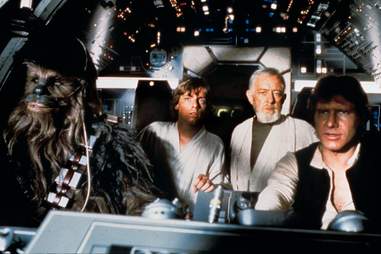 20th century fox
The Star Wars movies
Disney+ is the place to go if you want to get your
Star Wars
fix, now that the franchise is well into its run as a House of Mouse moneymaker. All of the movies are available, and you can check out the first live-action
Star Wars
series,
The Mandalorian
, while you're at it.
Tarzan (1999)
One of the few
Tarzan
adaptations that will have you wishing you were raised by apes, Disney's '99 version featured plenty of warm-and-fuzzy talking animals and an Oscar-winning soundtrack courtesy of Phil Collins. The visuals are some of the Mouse House's 2D finest, and Tony Goldwyn and Minnie Driver's voicing of Tarzan and Jane lends the 'toons some much-needed chemistry.
Tangled (2010)
Disney moved away from their tried and true method of remaking fairy tales in the 2000s, but had a return to form of sorts with both 2009's
Princess and the Frog
and
Tangled
, the studio's reimagining of the Brothers Grimm's Rapunzel. It may not be out of the Golden Age of Disney, coming decades later and rendered in computer animation, but it may as well be with its catchy songs and beautiful, endearing take on the tale about what happens when the cooped up, long haired maiden (Mandy Moore) gets out of the tower and meets a freewheeling adventurer (Zachary Levi).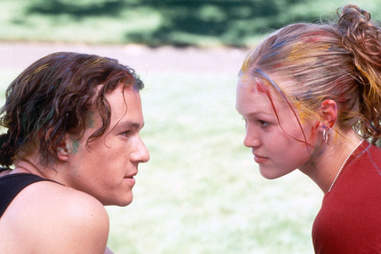 Buena Vista Pictures
10 Things I Hate About You (1999)
A hell of a lot of movies have tried to revive dusty old Shakespeare plays, but few do as effective a job of modernizing as this remake of The Taming of the Shrew. At the peak of his heartthrob powers, a pre-Joker Heath Ledger got paid by some horny teens (including a dweeby 3rd Rock-era Joseph Gordon-Levitt) to seduce Julia Stiles's feisty Kat, an undateable feminist keeping her popular sister home from prom. It's a testament to the teen actors' charm, raucous party scenes, and philosophizing about Prada and Skechers that the Bard would hardly recognize it.
Thor: Ragnarok (2017)
The Thor series, with its occasionally leaden mix of earnest mythology, frantic action, and hokey jokes, was once the Marvel property most in need of an upgrade. Ragnarok doesn't abandon the core elements of Thor—Chris Hemsworth still stars as the hunk-ish, Hammer-throwing God—but Taika Waititi optimizes the comedic potential of the character, turning the third chapter into an absurd, Technicolor zing-fest. The plot, which centers around the hero's battles with Cate Blanchett's Hela and his quest to stop the titular apocalypse, is mostly nonsense, and the action (particularly in the film's final busy third) isn't that distinguishable from other Marvel throwdowns. But new characters like Tessa Thompson's Valkyrie, Jeff Goldblum's Grandmaster, and Korg, a friendly rock monster voiced by Waititi himself, make this a wacky sci-fi universe you'd actually want to hang out in.
Toy Story (1995)
It's hard to overstate how much of a paradigm-shifting film Toy Story was upon release. Instead of following the proven musical-comedy formula established by mega-hits like Beauty and the Beast, Aladdin, and The Lion King, director John Lasseter tossed out the playbook and established his own approach, which emphasized storytelling over spectacle, wry wit over broadly telegraphed gags, and melancholic nostalgia over triumphant heroism. Buttressed by iconic voice performances from Tom Hanks and Tim Allen, eye-popping animation, and, yes, some treacly Randy Newman songs, the film kicked off an era of innovation that shows few signs of slowing down.
Walt Disney Studios
Up (2009)
The devastating opening passage of
Up
, chronicling the relationship between the film's cantankerous but lovable old geezer protagonist Carl (Ed Asner) and his wife Ellie (Elie Docter), is like a condensed cartoon version of Richard Linklater's
Before
trilogy. That the rest of
Up
doesn't quite live up to its opening is inevitable. That being said, the whole picture also works splendidly as a raucous action-comedy, overflowing with vibrant tropical imagery, hilarious voice work, and... SQUIRRELS!
Wall-E (2008)
WALL-E
is undoubtedly the most aesthetically radical film in the Pixar library. Director Andrew Stanton's follow-up to
Finding Nemo
plays like a sci-fi art-film at times, especially in its patient, painterly first half, which follows the charming robot as he cleans up the debris littering his home planet. But despite all the praise deservedly thrown towards its innovative style, the film wouldn't work if it didn't possess the thing that makes every other Pixar film tick: heart. The delicate courtship between WALL-E and his companion EVE (Elissa Knight) is Tracy/Hepburn for the iPod age, a love story we'll be rewatching long after we've abandoned our own home planet.
While You Were Sleeping (1995)
Sandra Bullock's performances in 1994's
Speed
and in 1995's
While You Were Sleeping
are the perfect examples of movie star range. In one, she's a put-upon everywoman thrust into an absurd, convoluted action movie scenario. In the other, she's a put-upon everywoman thrust into an absurd, convoluted romantic comedy scenario. She adapts to both. (Also, one is about a bus, and the other is about a train.) But only one of these films—specifically, the one where Bullock's character pretends to be engaged to a man in a coma (Peter Gallagher) and then falls in love with his charming brother (Bill Pullman)—is also a stealth Christmas movie. What can't she do? Praise Sandra Bullock, bringer of holiday amnesia comedy cheer.
Who Framed Roger Rabbit (1988)
Looking back, it's sort of unbelievable that someone green-lit a hybrid live-action-animated movie inspired by 1940s film noir. It's also unbelievable how great it is. If you haven't watched Roger Rabbit in years, you probably just remember the sultry Jessica Rabbit number. But queue it up again, and you'll get reintroduced to that foulmouthed diva Baby Herman, some fantastic old-timey slang, and one of the
best bartenders
in all of cinema.
Zootopia (2016)
What looks like another anthropomorphized animal adventure, adorable and Happy Meal-ready, is a vivid reimagining of Philip Marlowe-style noir, made sharper with a message on race and class in America. Seriously. Judy Hopps is a bunny cop at a time when bunnies aren't supposed to be cops. Nick Wilde is her confidante, a fox facing prejudice against his "predator" biology. Together they solve a mystery that parallels every societal conversation we're having in 2016. It's heavy! Yet the movie still gets away with tender friendships, pop-music interludes, and sloth jokes. Impressionable kids and adults who swear they're progressive will both take something away from
Zootopia
.
Need help finding something to watch? Sign up here for our weekly Streamail newsletter to get streaming recommendations delivered straight to your inbox.