The Best Movies on Disney+ Right Now
All the Disney, Marvel, Pixar, and Star Wars you could ever want.
Disney+ has its share of original programming, but it's also an essential library for everything Walt's studio—including the many studios that studio has acquired—has to offer. So what are the best movies you can watch on the Mouse's streaming service? With a library that includes Marvel movies, Pixar films, animated classics, Disney Channel originals, and more, Disney+ can quickly overwhelm anyone who logs on and starts browsing. So we picked out the films on Disney+ you should watch first, provided you haven't seen them hundreds of times already.
ALSO READ: Our curated guides to the best animated movies streaming on Netflix and the best movies available on HBO Max
Aladdin (1992)
Go on, hop on that magic carpet and head to a whole new world. Aladdin remain's one of the most mystical movies out of Disney's Golden Age, largely due to Robin Williams' take on Genie. Even in the House of Mouse, few voice performances have remained as memorable and beloved. It's the kind of comedic role and fantasy film that'll grant your every wish.
Avatar (2009)
Do you remember how big of a deal Avatar was? James Cameron's blue alien sci-fi epic was a big deal, going hundreds of millions of dollars in on advanced motion capture technology he waited patiently to be developed in order to shoot the film—which he ended up making good on when the movie became the highest grossing film of all time until Avengers: Endgame came along. It's worth rewatching for the spectacle alone, but you might as well give yourself on a refresher on Pandora and the Na'vi because not one, but four, sequels are in the works.
Alice in Wonderland (1951)
Disney's adaptation of Lewis Carroll's classic tale dazzles. The story of a girl falling down the rabbit hole and into a mystical land invites all of the zany characters from the original work onto the screen and out to tea. Executed in almost psychedelic animation, it's a Disney classic, but forever a wonderment.
Bambi (1942)
Bambi is the beautifully animated, heartbreaking story of a young buck coming of age in a forest full of cute talking animals and threatened by an evil hunter and his pack of dogs. You'll cry not only because it's simply tragic, but because of how freaking adorable the titular fawn's furry friends are. Flower! Thumper! They're as cute as they come, and where the Disney-fication of woodland critters began.
Beauty and the Beast (1991)
This early '90s hit combined computer imagery with hand-drawn animation to help cement the notion that the House of Mouse was entering a renaissance period that would see it churn out modern classics throughout the decade.
Better Nate Than Ever (2022)
If you are or have ever been a musical theater kid, you will find something to love in the charming straight-to-Disney+ feature Better Nate Than Ever. Adapted from his own book by High School Musical: The Musical: The Series' Tim Federle, the movie follows an aspiring star (Rueby Wood) who decides to sneak away from his Pittsburgh home with his best friend (Aria Brooks) to audition for a Lilo & Stitch musical bound for Broadway in NYC. There's song, dance, and Wicked references, in addition to a lovely performance from Lisa Kudrow as Nate's estranged aunt.
A Bug's Life (1998)
Stuck in never-ending competition with Dreamworks' Antz, which premiered just a month prior, this micro-riff on Seven Samurai is low-key and noble. The straight adventure doesn't glow like Pixar's emotionally meaty movies, but with eccentric characters and a scrappy heart—courtesy of NewsRadio-era Kids in the Hall alum Dave Foley—the film has a taken-for-granted kid's movie quality: fun.
Cars (2006)
Cars has a light, nostalgic touch to it that separates it from some of the company's more critically acclaimed, existentially bleak films. The presence of Paul Newman's gravelly voice as Doc (in his final non-documentary role) lends the film a layer of poignancy, and the animation team's rendering of desolate American roads makes the predictable plotting and occasionally overbearing gags glide by like a good road trip should.
Cinderella (1950)
While it may not be Disney's first-ever princess movie, Cinderella might just be the studio's most quintessential fairytale adaptation. Feed yourself a little nostalgia fit with glass slippers and singing birds (and the idea that getting out of economic and domestic misery largely depends on finding you a good man).
Coco (2017)
There are elements of previous Pixar movies in this story centered around a young boy's journey on the Day of the Dead—the vision of the afterlife is a bit like Monsters Inc.'s nightmare world, the generational divide will likely remind you of Up, and the emotionally brutal finale is as mournful and psychologically fraught as Toy Story 3's climax—but director Lee Unkrich and his collaborators approach every aspect of the tale, from the world-building to the slapstick dog gags, with gusto. Taking a page out of the traditional Disney playbook, this is the first Pixar film to heavily rely on original songs, and they're stunners. The sequence built around "Remember Me," the Oscar-winning song performed by multiple characters, belongs in Pixar's tearjerker Hall of Fame.
Encanto (2021)
When Disney released Encanto in theaters in fall 2021, it didn't make much of an impact, but it gained a new life on Disney+ where audiences began to fall in love with the Madrigals. The Colombia-set musical, which features songs from Lin-Manuel Miranda, tells the story of Mirabel (Stephanie Beatriz) the only member of her extensive family that doesn't have special powers. After the magic that has sustained her home starts to break down, she must go on an adventure inside her own casa to uncover the secrets that have been repressed.
Fantasia (1940)
Here's a great personality test: what's your favorite Fantasia sequence? Maybe you're a cat-video enthusiast whose love of goofy animals began with "Dance of the Hours." Or perhaps you're a reformed goth kid who delights in "Night on Bald Mountain." Regardless, Fantasia is one of those movies we've never stopped watching, for good reason: It's inventive, it's timeless, and it has all the dancing hippos a kid could ever want.
Fantastic Mr. Fox (2009)
Wes Anderson's adapted Roald Dahl's beloved children's novel in the director's first stop-motion feature film. Featuring a sly George Clooney as the voice of the titular character, who's been busy pissing off farmers for stealing their crop, the movie showcases a classic man-versus-woodland-critters conflict. It's exactly what you would want out of an Anderson animated film, starring his typical cast of characters (Jason Schwartzman, Bill Murray, Owen Wilson, plus Meryl Streep) as the voices of anthropomorphized creatures. It's also just plain cute.
Finding Nemo (2003)
What's more terrifying than the bottom of the ocean? Um, how about losing your child? Watching neurotic clownfish Marlin (brilliantly voiced by Albert Brooks) frantically scour the depths of the sea in pursuit of his only son Nemo (Alexander Gould) can be an emotionally taxing, overwhelming experience. But, luckily, director Andrew Stanton keeps the movie afloat by giving ample screen time to the joyfully silly Dory (Ellen DeGeneres), a team of possibly stoned turtles and the deepest voice casts Pixar has ever assembled (Willem Dafoe, Allison Janney, and Geoffrey Rush all turn in killer work). And, yes, it will probably make you cry.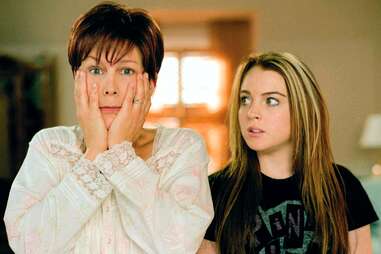 Freaky Friday (2003)
This remake of Freaky Friday is everything and more you would hope a 2000s take on the classic family body-swapping movie would be. Jamie Lee Curtis and then-teen queen Lindsay Lohan star opposite one another as mother and daughter who, after a fortune cookie mishap gone wrong, trade places to hilarious results. Come for the great duo, and stay for the very catchy original songs (plus a Britney Spears cover by Chad Michael Murray).
Free Solo (2018)
The Oscar-winning documentary depicts climber Alex Honnold's harrowing, death-defying quest to free solo Yosemite's El Capitan—meaning, climb a 3,000-foot rock face with no ropes or safety nets of any kind. Even though you know he does it, the film builds tension by tracking the extreme physical, mental, and personal toll preparing for an impossible task takes on Honnold.
Frozen (2013)
"Let It Go" might just be the best Disney song of the 21st century, but Frozen glided to a Best Animated Feature Oscar with plenty of help from its high-quality voice acting, stunning visuals, and tried-and-true fairytale format. If you haven't seen this modern classic, now's your chance.
Hamilton (2020)
Alexander Hamilton, his name is Alexander Hamilton, and he's been a huge star on Broadway and is now on Disney+ thanks to this filmed version of Lin-Manuel Miranda's Tony and Pulitzer-winning show. Whether you've seen it on stage or are watching it for the first time, the movie captures the exhilarating performances from the likes of Renée Elise Goldsberry and Daveed Diggs.
Heavyweights (1995)
This fat-camp comedy has a serious pedigree: Judd Apatow wrote the script; Steven Brill, Adam Sandler's go-to collaborator, directed; and the cast touts Paul Feig, a young Kenan Thompson, Jeffrey Tambor, and Ben Stiller, giving one of his best performances as a psychotic fitness guru. The '90s saw plenty of teenage wish-fulfillment, but none with the bite of Heavyweights.
Hercules (1997)
Disney has a habit of taking pretty grim folklore and transforming it into heartwarming romances for children. See any of its Grimm's fairytale adaptations, or this Greek mythology remake in which underworld demons have the competency of a Will Ferrell character and Zeus isn't screwing every living thing in sight. But Hercules, despite its relatively low rank on the Disney totem pole, is massively entertaining—and it has a secret weapon in the Muses. This singing quintent gives Hercules a killer soundtrack that any motown fan will love. And really, if you're a human with ears, that includes you.
High School Musical (2006)
The Disney Channel original that put Zac Efron and Vanessa Hudgens on the map more than a decade ago is a total trip today. If you can stand a teen dramedy with a corny-sweet teeny-bopping soundtrack, Troy and Gabriella's budding romance and bucking of the high school hierarchy will warm your frigid heart. Honestly, it's worth watching for a look back at Efron's shaggy man-bangs alone.
Home Alone (1990)
KEVIN! Only John Hughes, a master of suburban wish fulfillment, could have conjured such an eccentric, slapsticky, Dennis the Menace-esque greeting card of a movie. Hughes stuffs Home Alone with lots of eccentric details—Buzz's tarantula, that greasy pizza dinner, Harry's gold tooth, the rip-roaring fake gangster movie Angels with Filthy Souls, the shovel guy, every trap in the grand finale's tricked-out madhouse—and rips through them like a giddy kid on Christmas morning. As Kevin McCallister, Macaulay Culkin summons all the charm and glee of Tom Hanks in Big (minus 3 feet), and as his mother races home in parallel, his smile wanes at just the right pace. Who knows how Hughes came up with this movie, but my God, Home Alone is immaculate conception.
Homeward Bound (1993)
The heartwarming story of three talking animals who just want to make their way back to their family is as warm-and-fuzzy '90s as they come. It's built on the conceit that the animals think their owners have left them forever (despite their communication abilities, they're still pets!), and the three have to bound their way home. Or, wait, that's not what the phrase means. There are obstacles along the way, of course, but hey, these aren't your average house pets.
Honey, I Shrunk the Kids (1989)
It's amazing the professor-dad (Rick Moranis) in this family franchise was never held accountable for hiding a fully functioning shrink ray in their home. But as irresponsible as his quest to invent something that rivaled the creation of electricity became, it was fun as hell to watch—director Joe Johnston & Co. capitalize on mind-bending visuals, top-notch comedic timing, and cereal nightmares along the way. (Special shout-out to this movie's underrated hero, Quark.)
The Incredibles (2004)
Years before the Marvel Cinematic Universe became the Galactus-like box office-conquering force it is today, Pixar beat The Avengers at its own game. Masterfully written and directed by Brad Bird, The Incredibles builds an entire pop-art world of heroes and villains from scratch, then goes about investing each character with vivid thoughts, dreams, and feelings as they bounce their way through one show-stopping action sequence after another. This is how you do an origin story.
Inside Out (2015)
Inside Out showcases Toy Story writer/Monsters, Inc. director Pete Docter, who helmed this recent arrival, at his imaginative best. Set inside the mind of 11-year-old Riley, where emotions Joy, Sadness, Anger, Fear, and Disgust run the show and memories are collected and stored as glowing orbs, the Pixar impresario has created a vivid fictional world that rivals WALL-E in its inventiveness and lush visual landscape. Bolstered by crazy-good voice-acting from Amy Poehler as Joy and The Office's Phyllis Smith as Sadness, Inside Out is as smart and perceptive about human psychology as it is emotionally resonant.
The Great Muppet Caper (1981)
Sure, The Muppet Movie may have started it all, but The Great Muppet Caper might be the most ingenious Muppet film. In this one, Fozzie and Kermit are twins (!) working for a newspaper (!) who go to London to report on a robbery. Charles Grodin falls in love with Miss Piggy and sings her a song. Truly, nothing has ever been funnier.
The Lion King (1994)
No matter what the live-action remake did to your childhood memories of this movie, you now have unlimited streaming access to Jonathan Taylor Thomas' greatest work.
The Little Mermaid (1989)
The Little Mermaid jump started the Disney Renaissance, kicking off a decade in which the increasingly aimless studio began churning out mega-hit after mega-hit, adding a whole series of unforgettable songs to the canon while they were at it. Good luck getting "Under the Sea" out of your head.
Luca (2021)
This Pixar movie from director Enrico Casarosa doesn't aim to answer the big existential questions that many Pixar films ponder. Instead, it's a simple story about two sea monsters that become friends and then venture onto land where they hang out with a spunky human girl and eat pesto pasta. It's often quite charming, but suffers under the weight of its influences, namely its homages to the work of Hayao Miyazaki. Ultimately, Luca is too literal to match anything in the Studio Ghibli oeuvre, but that doesn't mean it isn't a pleasant Italian romp.
The Marvel movies
Argue all you want about which ones are the best (we'd vote Black Panther and Iron Man), but all the Marvel movies available for you to revisit on Disney+. This monster franchise has now been going for more than 10 years, so there's a lot to choose from.
Mary Poppins (1964)
Grab a spoonful of sugar and stream Mary Poppins on repeat until you decide to become a chimney sweep because they look like they have so much fun! Julie Andrews, Dick Van Dyke, and music from the Sherman brothers makes PL Travers' literary character jump off the screen and into America's collective consciousness.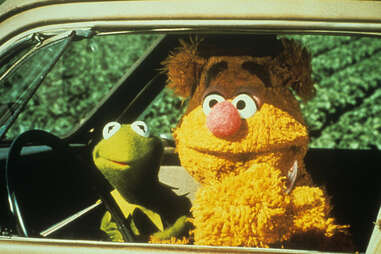 The Muppet Movie (1979)
The Muppet Movie can be best boiled down to being a gloriously deranged road movie. As you might've expected, it stars Kermit and the gang, and follows their shenanigan-filled journey attempting to get to Hollywood and outrun a restauranteur who wants to make the green guy a mascot for his frog legs joint. The songs are amazing, the cameos are incredible, so why don't you go ahead and find the rainbow connection.
Mulan (1998)
Disney's late-'90s adaptation of legendary Chinese figure Hua Mulan may not deliver the powerful feminist message to which it pretends to aspire, but it's still a strong entry in the Disney renaissance of the '90s. Driven by one of Disney's more memorable original scores, the computer-assisted animation honed in films like Beauty and the Beast, Aladdin, and The Lion King makes the film a dazzling visual display that touches on themes of identity, family, and honor.
National Treasure (2004)
It's no Mandy, but Natty Treasure is Nic Cage at his ironic peak as a historical cryptographer (and, let's be real, conspiracy theorist) in this clue-filled jaunt to save the Declaration of Independence from his treasure-hunting rival (played by a very blonde Sean Bean) by preemptively stealing it. It's not necessarily a good movie, per se, with its convenient coincidences, absurd dialogue, and sheer implausibility, but over 15 years on, it's an even more perfect satire of goofy pro-America word salad, even if director John Tuteltaub didn't intend it. If you're unconvinced National Treasure is worth your precious time, Nic Cage saying, "I'm gonna steal the Declaration of Independence" should do it.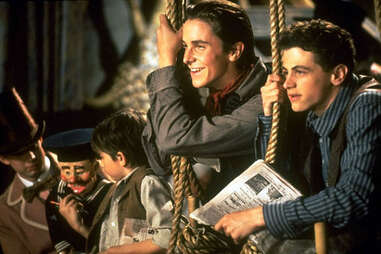 Newsies (1992)
This original musical directed by Kenny Ortega (High School Musical) is a longtime theater kid favorite, and for good reason. A young Christian Bale leads the cast as a newsboy who, like the rest of his newsie comrades, is struggling to sell papes when newspaper giants Hearst and Pulitzer up the cost of distribution, leading him to organize a strike. Turning real 1899 historical events into an entertaining, inspirational musical may sound like a challenge, but the young, spirited cast imbues it with high, pro-labor energy. It really is all about seizing the day!
The Nightmare Before Christmas (1993)
If you spend your time debating whether Tim Burton and Henry Selick's macabre, stop-motion cartoon is a "Halloween movie" or a "Christmas movie," you'll overlook the celebratory message that proves why it's both. Crossing over from his world, a ghoulish nightmare stuck in perpetual trick-or-treat mode, into the snow-caked Christmas Town, convinces Jack Skellington that there's a "right" way to live. With a little help from his Frankensteined girlfriend Sally, his spectral dog Zero, and Santa Claus himself, Halloween Town's Pumpkin King finds a way to transplant the beating heart of Christmas into the chest cavity of his ghoulish existence. If Danny Elfman's devilish original songs don't sound like holiday-appropriate carols to you, maybe it's time to rewatch The Nightmare Before Christmas.
101 Dalmatians (1961)
Cruella de Vil might just be one of Disney's most terrifying, and impeccably crafted, villains. A woman—albeit, who has got the glamor—set on stealing puppies and offing them for their coats? There couldn't be anyone more wicked in a kid's flick! She's half the enjoyment of this classic, which may not have the original songs of other Disney movies, but sure does have adorable spotted puppies by the dozens. It's an oldie, but it's also unforgettable.
The Parent Trap (1961)
Through state-of-the-art technology, Walt Disney and his crack team of animators allowed young Hayley Mills to become one of the first actresses to command the screen opposite... herself. Like Lindsey Lohan would 30 years later in the remake, Mills fills both starring roles in this wacky comedy about two twins who accidentally meet at summer camp and turn their bitter rivalry into an unstoppable life-meddling force. When they realize their parents were split lovers on the verge of remarrying, they scheme to get them back together, which is only not screwed up in the wonderful world of Disney.
The Parent Trap (1998)
Yes, the original is great, but so is Nancy Meyers' remake, which launched Lindsay Lohan into super stardom. Meyers' version has all the hijinks, as well as the sumptuous production design you've come to expect from the director. (That Napa estate? Heavenly.)
The Sandlot (1993)
"You're killing me, Smalls!" "Some lady gave it to him. Some lady named Ruth. Baby Ruth." The Beast. Squints. Smalls. Ham.The Sandlotgave an entire generation of kids a stable of quotes and characters that would last a lifetime, and though the movie is about nostalgia for a time and place, it's also about the joys of moving on from that time and place.
Pete's Dragon (2016)
Easily the best of Disney's modern attempts to mine its IP for "live action" remakes, this gorgeous interpretation of Pete's Dragon by director David Lowery is a wistful take on a climate change narrative with a great folk soundtrack and a lovely performance from great Robert Redford.
Peter Pan (1953)
It doesn't have the same musical cachet as many of the other Disney classics, but the JM Barrie characters brought to animated life in Peter Pan—Peter, Tinker Bell, Captain Hook—are some of the most visually remarkable in the whole Disney library.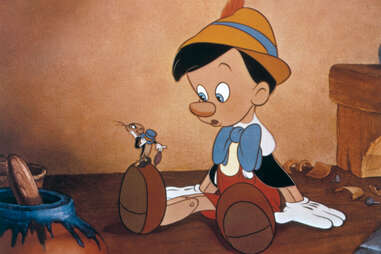 Pinocchio (1940)
One of the darker movies in the Disney Vault features the hero smoking, drinking, and turning into a jackass in a morality tale about the importance of telling the truth and never going anywhere called "Pleasure Island." But it's this sharp edge that makes Pinocchio continue to resonate today as both a character and the patron saint of liars everywhere.
Pirates of the Caribbean: The Curse of the Black Pearl (2003)
Disney's ride-to-film adaptation isn't all that old, but we're ready to call it: Pirates ranks among the greatest adventure movies, right up there with Raiders of the Lost Ark and Star Wars. Johnny Depp's turn as Jack Sparrow, combined with playful swordplay and some of the most dazzling zombie effects to date, make it endlessly watchable. Or, exactly what you want when you hit the couch for a staycation. High-seas sailing, without the actual travel.
Pocahontas (1995)
Sure, this love story set against the backdrop of European colonial conquest doesn't quite live up to the lofty standards Disney set in the '90s, but there's still a lot to love about Pocahontas, which features an all-time classic song in "Colors of the Wind." It's the American Romeo and Juliet, only with the total decimation of a native population as the backdrop, which is where the movie ultimately struggles the most: It's difficult to remain a kids' movie when you're running up against a very real, very painful history. Still, those songs!
The Princess Diaries (2001)
Before the people of the internet found themselves obsessed with Meghan Markle's rise to royalty, the story of an average young woman suddenly becoming a European princess (a duchess in this case, but you get the picture) was one that many of us had only grown accustomed to witnessing via television and film. Anne Hathaway's Mia Thermopolous walked so that Markle could run, and almost two decades after its initial rollout, The Princess Diaries is more beloved and culturally relevant today than it was when it hit theaters back in 2001.
Ratatouille (2007)
There's a tremendous amount of love flowing through the Pixar canon: love for partners, love for family, love for friends, love for cars. But only one movie dares—and that's the right word, as it continues to catch flack for it—to explore the existential struggle that is loving oneself. If Remy the Rat is going to survive life on this planet, he has to become the furry mammal he's told he can't be. He has to cook. Director Brad Bird turns the act of defiance into a three-ring circus. Composer Michael Giacchino, a longtime Pixar collaborator, owns half the film with his take on Parisian jazz, and Patton Oswalt adds exhaustion and thrill to Remy's voice with nuance. Ratatouille is fine dining, the result of the best artists in the movie business telling an artist's story.
Remember the Titans (2000)
Disney's true story of the recently desegregated T.C. Williams football team as it named a Black head coach over a popular, white, hall of fame-bound incumbent takes on the troubling history of Virginia's role in American racism, tied up in an inspirational sports movie package. Denzel Washington's sheer charisma would probably make him a half-decent coach in real life, and while the movie indulges in many of the expected cliches, it's got heart and grit to spare.
The Rescue (2021)
After directors Jimmy Chin and Elizabeth Chai Vasarhelyi took home an Oscar for their climbing documentary Free Solo, they turned their eyes to another extraordinary feat and type of person who craves adventure. The Rescue tells the story of the cave divers who rescued the trapped Thai soccer team and their coach in 2018. Using astounding footage, the directors document the improbability of the task, but The Rescue is also just as much about what drives someone to be a cave diver to begin with, looking into how the only way these boys and their coach could have been saved was by a group of eccentrics who simply love plunging themselves into the deepest reaches of the Earth.
The Rescuers (1977)
Somewhere deep in your memory you can recall The Rescuers, even though it's not necessarily one of Disney's biggest hits. Like many other children's movies, there are adventurous, little mice, these ones rescuing children in peril, though, which makes for an absolutely devastating movie as they save a kidnapped orphan from abusive treasure hunters. It's dark for a kid's movie, for sure, but an inspiring tear-jerker following Bernard and Miss Bianca's (Bob Newhart and Eva Gabor) mission, set in their anamorphic world, scaled down to size.
Rodgers & Hammerstein's Cinderella (1997)
There was joy sounding throughout the internet when the 1997 Rodgers & Hammerstein's Cinderella—aka the Brandy and Whitney Houston Cinderella—was added to the streaming service back in February 2021. The film, which first aired on ABC, has become a generational touchstone, a paragon of representation on screen and an example of two stars at the height of their powers. It will be impossible to resist.
Sleeping Beauty (1959)
Though initially a box office failure, Sleeping Beauty represents a critical time in Disney's development; its performance meant Disney didn't return to fairytale adaptations until The Little Mermaid in 1989, but it eventually wound up as one of Disney's essential animated films.
Snow White and the Seven Dwarfs (1937)
It's the OG animated feature! The hit that helped define what a Disney movie even is! Snow White broke so much ground that it's difficult to overstate its importance, so you're better off watching it and marveling at the fact that this work of art is more than 80 years old.
Soul (2020)
Soul feels like the most grownup movie Pixar has ever made. It's less concerned with the predicaments of childhood than it is with middle-aged malaise; there are just a few cute characters that yield merchandising possibilities. Directed by Pete Docter, it's an evolution from Inside Out, finding the animators in a more heady, existential place than they've been before. Jamie Foxx voices a jazz pianist working as a middle school band teacher who gets the gig of a lifetime—and then promptly dies. Resisting death in The Great Beyond, he lands in The Great Before where he pairs up with a soul yet to be born (Tina Fey). Soul is arguably the most artistically experimental movie the studio has produced, and it's also one of the most meditative.
The Sound of Music (1965)
Julie Andrews' brilliant performance as a singing governess for an Austrian family during the rise of the Nazis stands the test of time, and is always a strong candidate for a rewatch—if for no other reason than to sing along with the Rodgers and Hammerstein score.
Splash (1984)
In Ron Howard's Splash, Tom Hanks falls in love with a mermaid played by Daryl Hannah. So, it's obviously excellent! The '80s rom-com is a charming fish-out-of-water story (literally) as Daryl Hannah washes ashore in NYC and searches for the man whom she saw underwater years ago when he fell off a ship as a young boy. The movie helped popularize the first name "Madison," there's an unforgettable bathtub scene, and both John Candy and Eugene Levy are in the mix. Again, it's excellent and absolutely worth diving into.
The Star Wars movies
Disney+ is the place to go if you want to get your Star Wars fix, now that the franchise is well into its run as a House of Mouse moneymaker. All of the movies are available, and you can check out Disney+'s recent Star Wars series like The Mandalorian and The Book of Boba Fett while you're at it.
Summer of Soul (...Or, When the Revolution Could Not Be Televised) (2021)
Questlove's Oscar-nominated 2021 documentary compiles never-before-seen footage from the 1969 Harlem Cultural Festival into an exhilarating concert film. It's a work of inspiration and excavation. As you watch you're treated to mind-blowing performances from the likes of Nina Simon, Stevie Wonder, and Mavis Staples, at the same time being asked to wonder why this event didn't have the same footprint as Woodstock, which took place the same year.
Tarzan (1999)
One of the few Tarzan adaptations that will have you wishing you were raised by apes, Disney's '99 version featured plenty of warm-and-fuzzy talking animals and an Oscar-winning soundtrack courtesy of Phil Collins. The visuals are some of the Mouse House's 2D finest, and Tony Goldwyn and Minnie Driver's voicing of Tarzan and Jane lends the 'toons some much-needed chemistry.
Tangled (2010)
Disney moved away from their tried and true method of remaking fairytales in the 2000s, but had a return to form of sorts with both 2009's Princess and the Frog and Tangled, the studio's reimagining of the Brothers Grimm's Rapunzel. It may not be out of the Golden Age of Disney, coming decades later and rendered in computer animation, but it may as well be with its catchy songs and beautiful, endearing take on the tale about what happens when the cooped up, long haired maiden (Mandy Moore) gets out of the tower and meets a freewheeling adventurer (Zachary Levi).
10 Things I Hate About You (1999)
A hell of a lot of movies have tried to revive dusty old Shakespeare plays, but few do as effective a job of modernizing as this remake of The Taming of the Shrew. At the peak of his heartthrob powers, a pre-Joker Heath Ledger got paid by some horny teens (including a dweeby 3rd Rock-era Joseph Gordon-Levitt) to seduce Julia Stiles's feisty Kat, an undateable feminist keeping her popular sister home from prom. It's a testament to the teen actors' charm, raucous party scenes, and philosophizing about Prada and Skechers that the Bard would hardly recognize it.

Toy Story (1995)
It's hard to overstate how much of a paradigm-shifting film Toy Story was upon release. Instead of following the proven musical-comedy formula established by mega-hits like Beauty and the Beast, Aladdin, and The Lion King, director John Lasseter tossed out the playbook and established his own approach, which emphasized storytelling over spectacle, wry wit over broadly telegraphed gags, and melancholic nostalgia over triumphant heroism. Buttressed by iconic voice performances from Tom Hanks and Tim Allen, eye-popping animation, and, yes, some treacly Randy Newman songs, the film kicked off an era of innovation that shows few signs of slowing down.
Turning Red (2022)
13-year-old Chinese Canadian Meilin "Mei" Lee (Rosalie Chiang) lives in Toronto with her close-knit multicultural group of friends, acing her classes and swanning around town like the independent spirit she is—except when it comes to her family, particularly her mother Ming (Sandra Oh), who keeps close watch over every aspect of Mei's life. The morning after Mei and her mom have a particularly bad argument (sparked by, it's implied, Mei drawing sexy pictures of crushable boy band singers as mermen), Mei awakens to find herself, like a cuddly version of Franz Kafka's Metamorphosis, transformed into a giant red panda—poofy tail and all. When her mother figures out what's going on, she reveals the true reason for her overprotective nature, and that they have less than a month to fix it. Domee Shi's feature debut is a beautifully animated, hilarious, and emotional coming-of-age story that explores the equal importance of family and friendship in the lives of teen girls who find themselves growing up faster than they were prepared for.
Up (2009)
The devastating opening passage of Up, chronicling the relationship between the film's cantankerous but lovable old geezer protagonist Carl (Ed Asner) and his wife Ellie (Elie Docter), is like a condensed cartoon version of Richard Linklater's Before trilogy. That the rest of Up doesn't quite live up to its opening is inevitable. That being said, the whole picture also works splendidly as a raucous action-comedy, overflowing with vibrant tropical imagery, hilarious voice work, and... SQUIRRELS!
Waking Sleeping Beauty

(2009)
If you're reading this list you probably have some affinity for Disney animation, so you'll probably be fascinated by this documentary which charts the rise of the studio's Renaissance period, which gave us classics like Beauty and the Beast and The Little Mermaid. It's a moving look into how talents like Howard Ashman revived a floundering enterprise and made beloved classics.
Wall-E (2008)
WALL-E is undoubtedly the most aesthetically radical film in the Pixar library. Director Andrew Stanton's follow-up to Finding Nemo plays like a sci-fi art-film at times, especially in its patient, painterly first half, which follows the charming robot as he cleans up the debris littering his home planet. But despite all the praise deservedly thrown towards its innovative style, the film wouldn't work if it didn't possess the thing that makes every other Pixar film tick: heart. The delicate courtship between WALL-E and his companion EVE (Elissa Knight) is Tracy/Hepburn for the iPod age, a love story we'll be rewatching long after we've abandoned our own home planet.
West Side Story (2021)
Though we probably should have never underestimated Steven Spielberg when he announced that he was going to remake West Side Story, what he and screenwriter Tony Kushner pulled off is incredible—a film that is devoted to its source material but reframes and contextualizes it for a modern era. On top of that, there's just simply bravado filmmaking, world-class choreography from Justin Peck, and performances that should make Ariana DeBose, Rachel Zegler, and Mike Faist household names.
While You Were Sleeping (1995)
Sandra Bullock's performances in 1994's Speed and in 1995's While You Were Sleeping are the perfect examples of movie star range. In one, she's a put-upon everywoman thrust into an absurd, convoluted action movie scenario. In the other, she's a put-upon everywoman thrust into an absurd, convoluted romantic comedy scenario. She adapts to both. (Also, one is about a bus, and the other is about a train.) But only one of these films—specifically, the one where Bullock's character pretends to be engaged to a man in a coma (Peter Gallagher) and then falls in love with his charming brother (Bill Pullman)—is also a stealth Christmas movie. What can't she do? Praise Sandra Bullock, bringer of holiday amnesia comedy cheer.
Who Framed Roger Rabbit (1988)
Looking back, it's sort of unbelievable that someone green-lit a hybrid live-action-animated movie inspired by 1940s film noir. It's also unbelievable how great it is. If you haven't watched Roger Rabbit in years, you probably just remember the sultry Jessica Rabbit number. But queue it up again, and you'll get reintroduced to that foulmouthed diva Baby Herman, some fantastic old-timey slang, and one of the best bartenders in all of cinema.
Zootopia (2016)
What looks like another anthropomorphized animal adventure, adorable and Happy Meal-ready, is a vivid reimagining of Philip Marlowe-style noir, made sharper with a message on race and class in America. Seriously. Judy Hopps is a bunny cop at a time when bunnies aren't supposed to be cops. Nick Wilde is her confidante, a fox facing prejudice against his "predator" biology. Together they solve a mystery that parallels every societal conversation we're having in 2016. It's heavy! Yet the movie still gets away with tender friendships, pop-music interludes, and sloth jokes. Impressionable kids and adults who swear they're progressive will both take something away from Zootopia.
Follow the Thrillist Entertainment editors on Twitter @ThrillistEnt.