The holiday season is a time to come together with your family, your friends, your pets, your favorite foods, and generally try to survive the obligation to be social, at least for a few hours out of every day. When you can no longer bear the thought of another family game night, the movie theater is your friend, and this weekend there are a ton of movies to choose from when you need to escape for a little while. From all-gal heists and steampunk cities to Spider-Men and even more Spider-Men, we've compiled a list of the best movies you can head to the theater and watch right this minute.
Recommended Video
This Pizza Dip Lets You Throw a New Kind of Pizza Party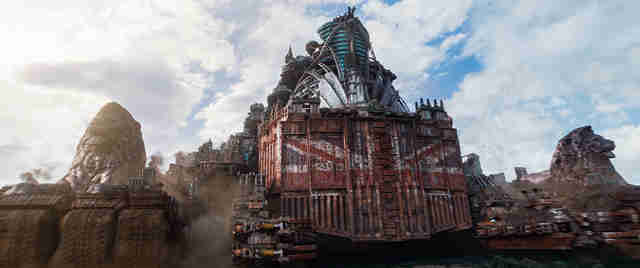 Mortal Engines
Release date: December 14
Cast: Hugo Weaving, Robert Sheehan, Hera Hilmarsdóttir, Stephen Lang
Directed by: Christian Rivers
Why you should see it: Based on Philip Reeve's groundbreaking steampunk novel about cities that roll around a post-apocalyptic Earth on giant wheels, eating each other for resources, Mortal Engines is a lot. If you're looking for an entirely visual experience (director Christian Rivers is Peter Jackson's longtime visual effects supervisor) that's not too plot-heavy (though there is a lot of worldbuilding to get through), or if you just want to watch Hugo Weaving play a big bad villain again, this movie is a pretty good choice to spend a couple hours with on a slow day. 
Release date: December 14
Cast: Shameik Moore, Mahershala Ali, Nicolas Cage, Hailee Steinfeld
Directed by: Bob Persichetti, Peter Ramsey, Rodney Rothman
Why you should see it: Spider-Man: Into the Spider-Verse is the best Spider-Man movie in years. Seriously, it's charmingly self-referential (it was written by Phil Lord and Chris Miller, of The LEGO Movie fame), exciting, touching, and downright incredible to watch on a big screen. See this in a theater this holiday season, if you can. You won't regret it. The vibrant combination of CGI and hand-drawn animation makes for an absolutely unforgettable experience, unlike anything you've seen before (they went ahead and invented a new animating style just for this movie). 
Anna and the Apocalypse
Release date: November 30
Cast: Ella Hunt, Sarah Swire, Paul Kaye
Directed by: John McPhail
Why you should see it: It's a zombie apocalypse musical set around Christmas, that's why. In one of those "I can't believe this is a real thing" twists of the universe, director John McPhail has gifted us with what many are calling "Shaun of the Dead meets La La Land," an irreverent pop culture mashup of two of cinema's most enduring genres that does something no one has ever attempted before. It's something to be seen just because of what it is -- not to mention the fact that it's actually quite charming on top of it all.
Creed II
Release date: November 21
Cast: Michael B. Jordan, Sylvester Stallone, Tessa Thompson, Dolph Lundgren
Directed by: Steven Caple Jr.
Why you should see it: If you love Rocky movies, or boxing movies, or if you just really enjoyed 2015's Creed, starring Michael B. Jordan as Rocky Balboa's promising apprentice, you've probably already made plans to head out to see the sequel. Things, as things do, have gotten complicated in Adonis Johnson's world: With a wife and a newborn child to care for, his fighting days, ideally, should be over. But when challenged by a nigh irresistible opponent -- Viktor Drago, son of Ivan, the man who killed Adonis' father, Apollo -- our hero has a decision to make that could change his life... or end it.
Ralph Breaks the Internet
Release date: November 21
Cast: John C. Reilly, Sarah Silverman
Directed by: Rich Moore, Phil Johnston
Why you should see it: After a former villain rejects the expectations of evil thrust upon him and instead embarks on a journey to learn how to be good, where is there left to go? Into the Internet, of course! Fearing an arcade shutdown, Ralph and his glitchy pal Vanellope von Schweetz journey into the web to try and find a new home among the apps. The sequel to Disney's video game extravaganza is just as fun, and expands Ralph's horizons by introducing him to a ton of classic franchises -- one scene featuring the Disney princesses is particularly great.
Robin Hood
Release date: November 21
Cast: Taron Egerton, Jamie Foxx, Ben Mendelsohn
Directed by: Otto Bathurst
Why you should see it: Everyone loves superheroes and the box-office hauls they inspire these days, which is why every Hollywood studio seems to be latching on to the same concept: turning the great figures of historical adventure literature into badass action heroes. Such is the case with the latest Robin Hood movie, which recasts canonically large dude Little John with Jamie Foxx, makes him Robin's mentor, and has him train his apprentice in the art of stealing from the rich to give to the poor, which apparently involves blowing up medieval vehicles and shooting multiple arrows at a time while spinning through the air.
Roma
Release date: November 21 (New York and Los Angeles), December 15 (Netflix)
Cast: Yalitza Aparicio, Marina de Tavira, Diego Cortina Autrey
Directed by: Alfonso Cuarón
Why you should see it: Even if you don't quite know what it's about (or why it's called Roma), you've probably seen people talking about Alfonso Cuarón's latest, a film that dives back into the director's own childhood as a kind of study of and tribute to the inner life of his family housekeeper. Set in Mexico City in the 1970s during a period of civil unrest, and told in two languages, Roma is a mesmerizing, tender veneration of the kinds of people who are so easy to take for granted.
Green Book
Release date: November 16
Cast: Viggo Mortensen, Mahershala Ali
Directed by: Peter Farrelly
Why you should see it: The Oscar whispers around this movie started right after its premiere at the Toronto International Film Festival earlier this year, where Green Book ended up being the most pleasant surprise of the fest. A kind of reverse-Driving Miss Daisy, the film sees Viggo Mortensen hired as the chauffeur of a famed black pianist (Mahershala Ali), and becoming unexpected friends with his employer while navigating the deep, ingrained racism dominating the Deep South in the 1960s.
Instant Family
Release date: November 16
Cast: Mark Wahlberg, Rose Byrne, Isabela Moner
Directed by: Sean Anders
Why you should see it: A semi-autobiographical tale about the director's own life, the movie stars Mark Wahlberg and Rose Byrne as a married couple who make the crazy decision to adopt not one, but three difficult siblings, led by their wild-child older sister. Another of this year's more pleasant surprises, Instant Family charmed the critics last week, turning what had the potential to be yet another family-oriented flop comedy into an oddly sweet story about the love you choose for yourself.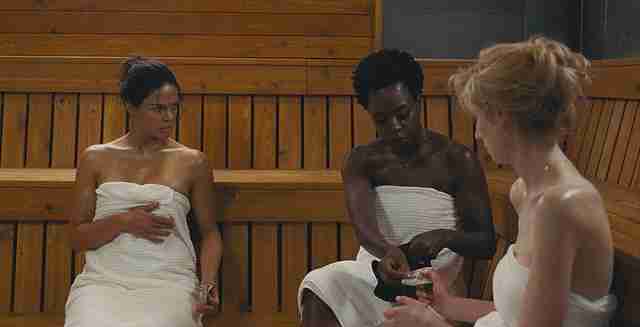 Widows
Release date: November 16
Cast: Viola Davis, Michelle Rodriguez, Elizabeth Debicki, Cynthia Erivo
Directed by: Steve McQueen
Why you should see it: The rest of the movies on this list are good, but if you only see Widows this weekend you'll have seen one of the year's best. Viola Davis leads a cast of incredibly good actresses in a heist film centered around the wives of a group of thieves who agree to finish the job their husbands were killed trying to complete. There are so many added layers (it is a Steve McQueen movie after all), from class conflict to political corruption to police brutality, that make Widows something more than simply a gender-flipped heist caper, and a serious awards contender.
Can You Ever Forgive Me?
Release date: October 19
Cast: Melissa McCarthy, Richard E. Grant
Directed by: Marielle Heller
Why you should see it: If you happen to stumble on the opportunity to see this movie this fall, don't miss it. Melissa McCarthy plays writer Lee Israel, who made a name for herself in the 1960s, '70s, and '80s writing profiles of female celebrities, but has fallen on hard times due to no longer being able to sell pieces. Instead, she begins a desperate crusade to make some money back by forging letters from famous deceased socialites and actors and pawning them off to dealers, eventually getting caught by the authorities. The movie is an oddly touching picture of the relationship between art and artifice, and makes the case for McCarthy in particular as not only a good actress, but a great one.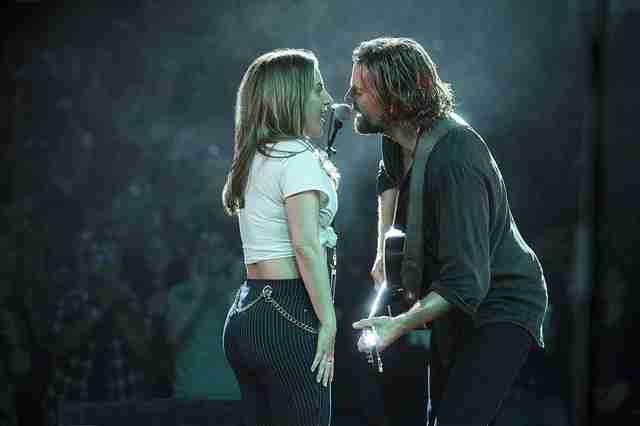 A Star Is Born
Release date: October 5
Cast: Lady Gaga, Bradley Cooper, Sam Elliott
Directed by: Bradley Cooper
Why you should see it: If you haven't seen A Star Is Born yet, first of all, what are you doing?? Stop reading this list right now and go see it! If you have already seen it, good for you, feel free to go again. And again. Go see this movie 10 times and listen exclusively to "Shallow" for two whole months and it still won't be enough. We may live in the worst timeline, but at least the universe has seen fit to gift us a movie directed by Bradley Cooper and starring Lady Gaga that tells a funny, sweet, dramatic, and timeless story about greed and fame and love and songs about butts.
Sign up here for our daily Thrillist email and subscribe here for our YouTube channel to get your fix of the best in food/drink/fun.