The holiday season is a time to come together with your family, your friends, your pets, your favorite foods, and generally try to survive the obligation to be social, at least for a few hours out of every day. When you can no longer bear the thought of another family game night, the movie theater is your friend, and this weekend there are a ton of movies to choose from when you need to escape for a little while. From all-gal heists and steampunk cities to Spider-Men and even more Spider-Men, we've compiled a list of the best movies you can head to the theater and watch right this minute.
Recommended Video
'Friends' Is Celebrating Its 25th Anniversary With This Immersive Pop-Up Exhibit
Aquaman
Release date: December 21
Cast: Jason Momoa, Amber Heard, Willem Dafoe, Patrick Wilson
Directed by: James Wan
Why you should see it: Could you imagine, 10 years ago, that the butt of everyone's Justice League jokes would get his own movie? Would you have guessed that that movie would be, if not the best of the DC live-action joints, then definitely the most innovative and exciting of the bunch? Aquaman is better than a late-season surprise: It goes beyond the boundaries of what live-action superhero movies can look like and simply has a ton of fun with the Aquaman mythos. Also, there are crab-people, knights who ride giant sea dragons, and an octopus that plays the drums.
Bumblebee
Release date: December 21
Cast: Hailee Steinfeld, John Cena, Dylan O'Brien
Directed by: Travis Knight
Why you should see it: Imagine E.T., except the alien is actually a giant robot that can transform into a car. Imagine The Iron Giant, but whatever war the Giant was a part of is front and center. Bumblebee is better than any of your expectations of it: This is no longer Michael Bay's operatic, bloated Transformers. This may be a Transformers prequel, but it is something totally new, with a refreshed, retro vibe and a kind of youthful sense of fun that doesn't shy away from danger -- or from fitting in a few nostalgic callbacks to the original era of the Autobots. Who knew that the best way to make a truly great Transformers movie was to appeal to its target audience?
Mary Poppins Returns
Release date: December 21
Cast: Emily Blunt, Lin-Manuel Miranda, Ben Whishaw, Colin Firth
Directed by: Rob Marshall
Why you should see it: While nothing could match the iconic, legendary original, Mary Poppins Returns still has enough of a spark and its own flashy personality to fit right into the holiday season. A bunch of the songs are lots of fun, and there are two truly sublime sequences involving a bathtub that turns into an underwater paradise and a beautifully animated callback to the first movie that takes place entirely on the painted inside of an antique bowl.
Cold War
Release date: December 21
Cast: Joanna Kulig, Tomasz Kot
Directed by: Pawel Pawlikowski
Why you should see it: The Best Foreign Film Oscar race is going to be a hot one this year, if Alfonso Cuaron's Roma is any indication, but don't sleep on Poland's entry: a sweeping, dramatic, gorgeous story of a man and a woman whose paths cross and re-cross over the decades in Cold War-era Europe. The tale was inspired by Pawlikowski's own parents' lives, and contains some of the best, most haunting musical numbers of the year. Plus, both of the stars are devastatingly attractive.
Welcome to Marwen
Release date: December 21
Cast: Steve Carell, Janelle Monae, Leslie Mann
Directed by: Robert Zemeckis
Why you should see it: Welcome to Marwen is weird. Very weird. Weird enough to be one of those movies you might have to see just to experience what it is. Marwen takes the story of Mark Hogancamp, a man suffering from PTSD whose memory is erased after a traumatic, brutal attack and who copes with his injuries by building a miniature World War II era village, and brings it to life, combining flesh-and-blood actors with their plastic, motion-capture counterparts. If a dramatic retelling doesn't float your boat, you might want to check out the documentary that inspired it. 
Vice
Release date: December 25
Cast: Christian Bale, Sam Rockwell, Steve Carell, Amy Adams
Directed by: Adam McKay (The Big Short)
Why you should see it: Adam McKay is back in action after tearing through Hollywood with his spicy take on the 2008 financial crisis -- this time taking on Dick Cheney, one of the biggest bads of American politics. While his slick, talky scripting and explainer format worked better for something as complicated as the U.S. housing bubble of the early 2000s and less so for a straight up biopic about a very, very famous man, this will probably be one of those movies whose performances will be talked about, come Oscar season, if you're into that sort of thing.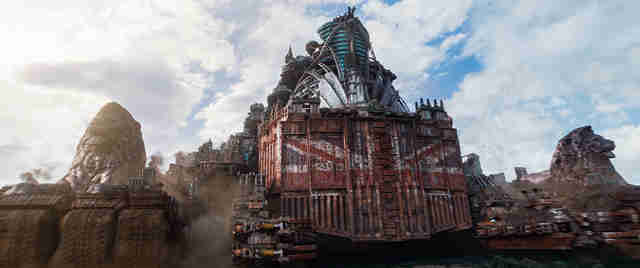 Mortal Engines
Release date: December 14
Cast: Hugo Weaving, Robert Sheehan, Hera Hilmarsdóttir, Stephen Lang
Directed by: Christian Rivers
Why you should see it: Based on Philip Reeve's groundbreaking steampunk novel about cities that roll around a post-apocalyptic Earth on giant wheels, eating each other for resources, Mortal Engines is a lot. If you're looking for an entirely visual experience (director Christian Rivers is Peter Jackson's longtime visual effects supervisor) that's not too plot-heavy (though there is a lot of worldbuilding to get through), or if you just want to watch Hugo Weaving play a big bad villain again, this movie is a pretty good choice to spend a couple hours with on a slow day. 
Release date: December 14
Cast: Shameik Moore, Mahershala Ali, Nicolas Cage, Hailee Steinfeld
Directed by: Bob Persichetti, Peter Ramsey, Rodney Rothman
Why you should see it: Spider-Man: Into the Spider-Verse is the best Spider-Man movie in years. Seriously, it's charmingly self-referential (it was written by Phil Lord and Chris Miller, of The LEGO Movie fame), exciting, touching, and downright incredible to watch on a big screen. See this in a theater this holiday season, if you can. You won't regret it. The vibrant combination of CGI and hand-drawn animation makes for an absolutely unforgettable experience, unlike anything you've seen before (they went ahead and invented a new animating style just for this movie). 
Anna and the Apocalypse
Release date: November 30
Cast: Ella Hunt, Sarah Swire, Paul Kaye
Directed by: John McPhail
Why you should see it: It's a zombie apocalypse musical set around Christmas, that's why. In one of those "I can't believe this is a real thing" twists of the universe, director John McPhail has gifted us with what many are calling "Shaun of the Dead meets La La Land," an irreverent pop culture mashup of two of cinema's most enduring genres that does something no one has ever attempted before. It's something to be seen just because of what it is -- not to mention the fact that it's actually quite charming on top of it all.
Creed II
Release date: November 21
Cast: Michael B. Jordan, Sylvester Stallone, Tessa Thompson, Dolph Lundgren
Directed by: Steven Caple Jr.
Why you should see it: If you love Rocky movies, or boxing movies, or if you just really enjoyed 2015's Creed, starring Michael B. Jordan as Rocky Balboa's promising apprentice, you've probably already made plans to head out to see the sequel. Things, as things do, have gotten complicated in Adonis Johnson's world: With a wife and a newborn child to care for, his fighting days, ideally, should be over. But when challenged by a nigh irresistible opponent -- Viktor Drago, son of Ivan, the man who killed Adonis' father, Apollo -- our hero has a decision to make that could change his life... or end it.
Ralph Breaks the Internet
Release date: November 21
Cast: John C. Reilly, Sarah Silverman
Directed by: Rich Moore, Phil Johnston
Why you should see it: After a former villain rejects the expectations of evil thrust upon him and instead embarks on a journey to learn how to be good, where is there left to go? Into the Internet, of course! Fearing an arcade shutdown, Ralph and his glitchy pal Vanellope von Schweetz journey into the web to try and find a new home among the apps. The sequel to Disney's video game extravaganza is just as fun, and expands Ralph's horizons by introducing him to a ton of classic franchises -- one scene featuring the Disney princesses is particularly great.
Roma
Release date: November 21 (New York and Los Angeles), December 15 (Netflix)
Cast: Yalitza Aparicio, Marina de Tavira, Diego Cortina Autrey
Directed by: Alfonso Cuarón
Why you should see it: Even if you don't quite know what it's about (or why it's called Roma), you've probably seen people talking about Alfonso Cuarón's latest, a film that dives back into the director's own childhood as a kind of study of and tribute to the inner life of his family housekeeper. Set in Mexico City in the 1970s during a period of civil unrest, and told in two languages, Spanish and Mixtec, Roma is a mesmerizing, tender veneration of the kinds of people who are so easy to take for granted.
Green Book
Release date: November 16
Cast: Viggo Mortensen, Mahershala Ali
Directed by: Peter Farrelly
Why you should see it: The Oscar whispers around this movie started right after its premiere at the Toronto International Film Festival earlier this year, where Green Book ended up being the most pleasant surprise of the fest. A kind of reverse-Driving Miss Daisy, the film sees Viggo Mortensen hired as the chauffeur of a famed black pianist (Mahershala Ali), and becoming unexpected friends with his employer while navigating the deep, ingrained racism dominating the Deep South in the 1960s.
Instant Family
Release date: November 16
Cast: Mark Wahlberg, Rose Byrne, Isabela Moner
Directed by: Sean Anders
Why you should see it: A semi-autobiographical tale about the director's own life, the movie stars Mark Wahlberg and Rose Byrne as a married couple who make the crazy decision to adopt not one, but three difficult siblings, led by their wild-child older sister. Another of this year's more pleasant surprises, Instant Family charmed the critics last week, turning what had the potential to be yet another family-oriented flop comedy into an oddly sweet story about the love you choose for yourself.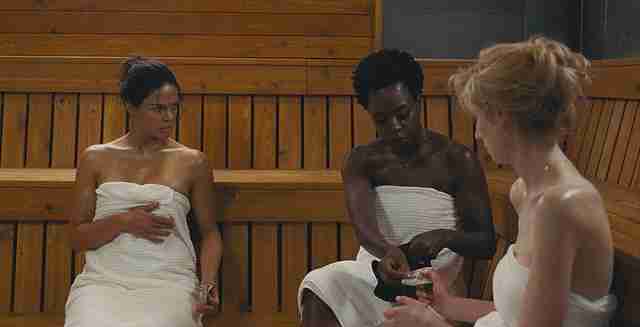 Widows
Release date: November 16
Cast: Viola Davis, Michelle Rodriguez, Elizabeth Debicki, Cynthia Erivo
Directed by: Steve McQueen
Why you should see it: The rest of the movies on this list are good, but if you only see Widows this weekend you'll have seen one of the year's best. Viola Davis leads a cast of incredibly good actresses in a heist film centered around the wives of a group of thieves who agree to finish the job their husbands were killed trying to complete. There are so many added layers (it is a Steve McQueen movie after all), from class conflict to political corruption to police brutality, that make Widows something more than simply a gender-flipped heist caper, and a serious awards contender.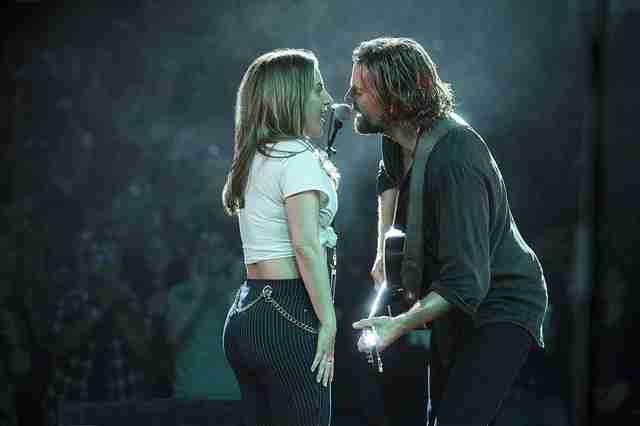 A Star Is Born
Release date: October 5
Cast: Lady Gaga, Bradley Cooper, Sam Elliott
Directed by: Bradley Cooper
Why you should see it: If you haven't seen A Star Is Born yet, first of all, what are you doing?? Stop reading this list right now and go see it! If you have already seen it, good for you, feel free to go again. And again. Go see this movie 10 times and listen exclusively to "Shallow" for two whole months and it still won't be enough. We may live in the worst timeline, but at least the universe has seen fit to gift us a movie directed by Bradley Cooper and starring Lady Gaga that tells a funny, sweet, dramatic, and timeless story about greed and fame and love and songs about butts.
Sign up here for our daily Thrillist email and subscribe here for our YouTube channel to get your fix of the best in food/drink/fun.