The Best Movies to Watch on Amazon Right Now
So many options, but here's where to start.
Amazon Prime isn't just for next-day toilet paper anymore: Your subscription includes countless shows and movies to stream, ranging from recent hits to old-school faves, and more are added every month. Here's a slew of options for you to consider, whether you're in the mood for sci-fi, a rom-com, or anything in between—in other words, these are the best of the thousands of movies available to stream as part of your Amazon Prime subscription.
ALSO READ: Our curated guides to the Best Thrillers on Amazon Right Now and Best Amazon Original Series Ever
Alien (1979)
Ridley Scott's sci-fi horror movie about a crew of industrial workers on a routine trip who encounter a predatory extraterrestrial spawned a franchise, franchise crossovers, and a series of prequels (as well as an upcoming television show), expanding on the world built by its source material. But sometimes it's nice to go back to the beginning and watch Sigourney Weaver hunt and be hunted by a nightmare come to life in this rewatchable classic.
The Big Sick (2017)
Kumail Nanjiani and writer Emily Gordon adapted their real-life meet cute, and an encounter with illness that landed Emily in the hospital just months afterward, into this moving, melancholy rom-com—like a Terms of Endearment for the Trainwreck era. Fans of the comedian's stand-up or work as Silicon Valley's Dinesh will go nuts for The Big Sick's steady stream of laughs. But when the couple's life takes a turn for the worse, and Kumail's Pakistani heritage pressurizes the situation with demands of arranged marriage, Nanjiani's fans will cling to the jokes like a life preserver. Anchored by his sensitive performance, and bolstered by Ray Romano and Holly Hunter as Emily's fretting, foulmouthed parents, The Big Sick is a reminder that fate is fickle, self-determination is fickler, and we all deserve a good laugh-cry once in awhile.
Burn After Reading (2008)
The Coens followed up their No Country for Old Men Best Picture win at the Oscars by turning sharply back to comedy. Burn After Reading is absurd and acerbic, a political hoopla revolving around a prized MacGuffin—a CD containing government secrets!—that isn't a MacGuffin at all. A gaggle of "serious" actors, most notably Brad Pitt, Tilda Swinton, John Malkovich, and Coen stalwarts Frances McDormand and George Clooney, shoot for the stratosphere as they weave through the mad, mad, mad, mad world of Washington, DC. And because this is a Coen brothers movie, blood spills freely as everyone from personal trainers to CIA spies sink deeper and deeper into confusion. An ode to empowered idiocy, complete with a dildo chair.
Clockwatchers (1997)
Until recently, it was very hard to see this wonderfully acerbic workplace comedy directed by Jill Sprecher, so consider yourself lucky that it's now streaming on Amazon. The film features an incredible group of performers playing the four women at the center of the plot: Parker Posey, Lisa Kudrow, Alanna Ubach, and Toni Collette. Collette plays Iris, a wallflower who falls in with a new clique when she starts a miserable temp job. The camaraderie is at first a lifesaver and then turns chilly when items in the office start to go missing and fingers are pointed. Clockwatchers is the brilliant study of the bonds people make when their lives are consumed by monotony.
Cold War (2018)
From Polish director
Pawel Pawlikowski
,
Cold War
is a stunning portrayal of two star-crossed lovers who meet again and again over the course of a few decades during one of the most volatile periods of European history. The film, which garnered three
Oscar nominations
and is shot somberly in black and white, follows a couple brought together in a traveling musical troupe and illustrates how the melodrama of politics, fate, and, well, life pulls them apart. As they return to each other repeatedly, even as the world around them is in turmoil and feels like it's crumbling to dust, this tragically romantic film spotlights the power of love in dark times.
Election (1999)
Working from Tom Perrotta's acerbic novel, director Alexander Payne and co-writer Jim Taylor craft the perfect showdown between Reese Witherspoon's overachieving Tracy Flick and Matthew Broderick's string-pulling teacher. As the seemingly low-stakes student council race gets closer and closer, everyone involved is forced to ask those always-pertinent moral questions: How far will I go to win, and what's the point of winning if you lose your sense of self?
The Farewell (2019)
Based on a "true lie" that writer-director Lulu Wang previously told on NPR's This American Life, The Farewell is the rare family "dramedy" that doesn't skimp on either side of that always squishy, often lame neologism. The comedy that comes from watching Awkwafina's New York City-dwelling Billi travel to China, where she cares for her cancer-stricken grandmother (Zhao Shuzhen) without revealing the nature of her illness, is just as well-observed as the more conventionally dramatic moments that arrive later in the film as her relatives attempt to untangle the farcical, tragic moral situation they find themselves in. Melancholy without veering into schmaltz and insightful without feeling didactic, The Farewell explores intergenerational family conflict with a deft, mindful touch.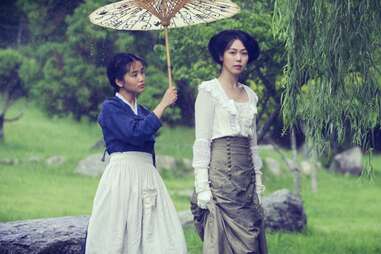 The Handmaiden (2016)
Some movies splash across the screen, others turn scenes into bold brushstrokes. The Handmaiden, an erotic thriller with twists and turns and thrusts aplenty, is Park Chan-wook's drip painting. Set in 1930s Korea, the movie follows Sook-hee, a pickpocket, who slips undercover into the staff of a sheltered heiress, with hopes of luring the deep-pocketed woman into the romantic grasp of her con-man partner in crime. The problem: Sook-hee falls madly, lustfully in love with her target. In The Handmaiden, single, sensual drops—a prolonged glance, the zipping up of a dress, whispered white lies—fan out through the entire two-and-a-half-hour narrative into the unexpected. You will not see a craftier movie this year.
High Life (2019)
French filmmaker Claire Denis makes movies that activate the senses, and with High Life, she crafted a story that's equal parts heady prison thriller, psycho-sexual medical mystery, and bong-rip journey through the cosmos. Bouncing backwards and forwards in chronology, the story tracks quiet inmate Monte (Robert Pattinson) as he raises a baby in a cavernous, dorm-like shuttle in one timeline and attempts to thwart the secretive plans of an oddball scientist (Juliette Binoche) in another thread. Exactly how Monte ends up alone with the baby, playing the role of single parent in the stars, would be the central question of a more conventional sci-fi narrative. But Denis fills the movie with curious images and wild ideas that complicate the dystopian set-up. High Life resists the solutions of puzzle-box filmmaking, choosing instead to explore its own perilous terrain of desire.
I'm Your Woman (2020)
The latest from director Julia Hart, who made the underrated Fast Color, is a '70s gangster story that defies all of the tropes of what you expect when you read "'70s gangster story." The Marvelous Mrs. Maisel's Rachel Brosnahan plays Jean, a new mother and wife of a mobster. When she's told that her husband in in trouble and she needs to disappear in the middle of the night, Jean is forced into a life of isolation that forces her to reckon with her own ignorance. There's a deliberate slowness to the narrative—an almost carefulness, like someone tiptoeing around a room so as not to be heard—even as it is punctuated by bursts of action.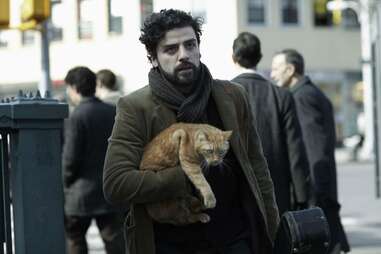 Inside Llewyn Davis (2013)
Sure, if you don't enjoy watching orange tomcats in peril (particularly when employed as cryptic furry metaphors) and you'd rather take a nail to the dome than listen to early Bob Dylan, then Inside Llewyn Davis won't be the film for you. But the Coens' meandering, melancholic musical expertly explores artistic failure and creative longing. Oscar Isaac gives a luminous performance as the title folk singer, a rootless misanthrope (inspired by Dave Van Ronk) on a hallucinatory journey through the snowy streets of New York City and beyond. Between ditties, Llewyn alienates strangers, gains acquaintances, and faces rejection at every turn. Bonus: Poe Dameron can sing like a motherfucker, and the plaintive folk ballads that punctuate the film elevate an already-mesmerizing film into something sublime.
Jaws (1975)
"Da-dum… da-dum… da-dum da-dum da-dum!" You know the music. You know the "bigger boat" line. Maybe you even remember that dolly zoom shot of Roy Scheider sitting on the beach with his family when the screams of terror ring out and everyone runs like hell. But no matter how much pop culture chomps on the remains of this classic, there's no stripping this understated, fundamentally humanist monster picture of its primal power. Even in the age of Sharknado and The Shallows, Jaws is still scary, funny, and essential viewing. These are waters you'll want to get back into.
Knives Out (2019)
Rian Johnson's star-studded whodunit evokes the likes of Clue, but it's the distinctly 2019 spin he puts on the material that makes the audience sit up and take notice. The patriarch of the very wealthy Thrombey family (Christopher Plummer), a mystery writer himself, has died the night of a birthday celebration. Though initially thought to be a suicide—he slit his own throat—clearly there's more happening here, and all of his bickering children and their bickering children are suspects. Daniel Craig's honey-voiced consultant Benoit Blanc is on the case, while ancillary characters like Ana de Armas' nurse Marta have bigger roles than one might initially expect. In addition to being surprising and hilarious, it's the rare film that tackles the political times in which we live organically.
Landline (2017)
This ripe, relationship comedy is set in the 1990s, a time of pay phones, cigarette-friendly bars, floppy disks, and harder-to-keep secrets. Writer-director Gillian Robespierre's characters all have them: a rebellious high school senior (Abby Quinn) flirting with boys and heroin for the first time; her soon-to-be-married sister (Jenny Slate), who questions everything after a hookup with an old flame; their mother (Edie Falco), who works around the clock and takes flak from all involved; and their father (John Turturro), a wannabe playwright who may or not be carrying on a decade-long affair. The sprawling story tests Slate's dramatic chops (while feeding the former SNL player plenty of comedy gold), delivers newcomer Quinn a breakout role, and gives Robespierre the chance to whisk us around New York City.
The Last Black Man in San Francisco (2019)
From its opening shot of a young girl facing off against a man in a Hazmat suit to its moving final image, the feature debut from Joe Talbot demands your attention and rewards your patience. Gliding down through neighborhoods on his skateboard, Jimmie (Jimmie Fails, who also shares a writing credit on the film) is a wry, curious presence in the city he calls home. In addition to hanging out with his dapper best friend Montgomery (Jonathan Majors), Jimmie spends much of his time making repairs to the beautiful Victorian house that belonged to his grandfather. Now, it's valued at $4 million and belongs to an older white couple who just want Jimmie to leave them alone. Funny and tender, The Last Black Man in San Francisco takes big swings, but every inch of this oddball epic in miniature is worth exploring.
Leave No Trace (2018)
Anyone who read Hatchet or My Side of the Mountain in elementary school probably once dreamed of living off the land. The survivalist impulse, a desire to ditch one's worldly possessions and live a simpler life in the wilderness, is a deeply ingrained American ideal, one that's still taught to children despite the fundamental role technology plays in modern life. Debra Granik's Leave No Trace, her first fictional feature since Winter's Bone, digs deep into the darker side of that fantasy by telling the story of Will (Ben Foster) and Thom (Harcourt McKenzie), a father-daughter duo who live in the mountains near Portland, Oregon. A process-oriented filmmaker, Granik shoots their perilous journey with a combination of awe and skepticism, capturing the beauty of the natural world and the danger of life on the margins.
The Limey (1999)
The crime genre, with its complicated web of plots, ever-shifting character motivations, and emphasis on surface-level pleasures, clearly suits
Steven Soderbergh's
exacting, cerebral style of filmmaking. Plenty of Soderbergh movies—like 1995's admirably knotty neo-noir The Underneath—find inventive, starling ways of cutting through the most obvious tough-guy clichés and hard-boiled contrivances. But
The Limey
, a sun-kissed LA chronicle of vengeance starring Terence Stamp as an English ex-con investigating the death of his daughter, might be Soderbergh's most emotionally impactful and sneakily poignant thriller. By slicing and dicing the narrative in a nonlinear manner, the movie achieves a stark power, drawing connections between the past and the present without sacrificing the urgency of the story. It's one of those pleasingly disjointed movies where every sharp fragment feels like it's in the right place.
The Lighthouse (2019)
In
The Witch
director Robert Eggers'
The Lighthouse
, two colorfully rotten men played by Willem Dafoe and Robert Pattinson are tasked with keeping an isolated lighthouse running, but they quickly succumb to boredom, animosity, and frequently amusing madness. Visually striking and oddly compelling, this bizarre combination of dark comedy and offbeat thriller may go to some unexpected places (including one wild sex scene
with a mermaid
), but it's certainly never boring.
The Lost City of Z (2017)
Director James Gray's account of explorer Percy Fawcett's lush and perilous journey through the Amazon is the rare film to capture and channel nature's bewitching power. Charlie Hunnam, rousing and physical, stars as Percy, a turn-of-the-20th-century military man who embarks to South America to map Bolivia and cleanse his family name of scandal. Months of starvation, illness, piranha-infested waters, and encounters with natives end with the near-discovery of a hidden, advanced civilization. Gray makes room for court scenes, WWI battles, tender family drama, and a musical score that can stand alone. But in the end, the verdant unknown of Amazonia that has its way with Fawcett and our senses, reflecting a profound component of human nature.
Manchester by the Sea (2016)
Clocking in at three hours, this story of a handyman (Casey Affleck) who returns home to care for his late brother's teenage son (Lucas Hedges) is an epic of intimate proportions. Affleck's character begins the movie shattered by grief. With each scene, be it a haunting memory, a hilarious back-and-forth with his nephew, or sudden silence so well-timed you feel the winter air fill your lungs, the actor reconstructs writer and director Kenneth Lonergan's jagged pieces into a recognizable figure. Manchester by the Sea is like a five-season series squeezed into a movie-length runtime, or better, an experiential microcosm strewn across one coastal Massachusetts town. Your tear ducts will be no match for this one.
Midsommar (2019)
Have you ever found yourself on a vacation trip you immediately regretted? Weird people, freaky food, uncomfortable lodgings, and all you can do is try your best to grin and bear it until you can finally return home? We've all been there, and now there's a supremely creepy
folk horror
story from
horror auteur Ari Aster
(
Hereditary
) that captures that discomfort perfectly. In a nutshell, four college friends, plus one of the group's grieving girlfriends (Florence Pugh), decide to visit an obscure Swedish festival deep in the Scandinavian forest—and things quickly go from odd to uncomfortable to downright horrific. To say much more would ruin the dreadful fun.
Minority Report (2002)
On the surface, Minority Report is yet another sci-fi film from a master of the genre, but look closer and you'll find something else: a canny neo-noir about a detective on the run. This mind-bending whodunit finds the famous director and the even-more-famous star bringing out the best in each other—Tom Cruise underplays Spielberg's sentimental impulses, and Spielberg turns Cruise into a crew cut-rocking blunt object—and nearly every other element, from the costumes to the effects to the music, is perfectly executed. Well, except for the mawkish last few minutes, which force this movie into the "great movie, bad ending" category, a specialty of late-period Spielberg.
One Night in Miami... (2020)
Regina King, a woman responsible for putting incredible performances onto big and small screens, makes her directorial debut with a movie that features some of the best acting of 2020. King does not appear in
One Night in Miami...
herself, but she coaxes out marvelous work from her cast as she documents a fictional account of one of the most legendary conversations in history. Adapted from a play by Kemp Powers, the film allows audiences in on the conversation that happened between Cassius Clay (Goree), Malcolm X (Ben-Adir), Jim Brown (Hodge), and Sam Cooke (Odom Jr.) the night in 1964 after Clay beat Sonny Liston. As they celebrate the victory by Clay—soon to be Muhammad Ali—the four luminaries joke, bond, and debate how best to deal with the racism plaguing their country. Sure, at times the film can feel a bit static; it is, after all, mostly about four men sitting in a room and talking often about sweeping philosophical topics. But those concerns fade away when you're mesmerized by Ben-Adir and Odom Jr. going head-to-head, representing two viewpoints in stark opposition.
Paterson (2016)
William Carlos Williams described his epic poem Paterson as an attempt to mirror "the resemblance between the mind of modern man and the city." Jim Jarmusch's film, which follows a guy named Paterson (Adam Driver) who drives a bus around the city of Paterson, New Jersey, and writes poetry like his hero William Carlos Williams during his breaks, strives for similar observation. Very little happens in Paterson (the movie), though within its trials of everyday life, even the slightest tremble of Earth feels cataclysmic (a broken-down bus prompts many to wonder if it'll blow up into a fireball). Jarmusch finds poetry in the murmurs of a Thursday night bar crowd and the bouncing vistas out a bus window. Paterson (the man) senses it too, though a world urging him to publish, cash in, brand tests his eye. In Paterson, Jarmusch has art on the brain, and he makes some in the process.
The Report (2019)
When Zero Dark Thirty came out in 2012, controversy erupted whether or not it was accurate in claiming that American torture practices played a role in the hunt for Osama Bin Laden. Seven years later, The Report is calling bullshit on that aspect of Kathryn Bigelow's film. But the value of The Report is not just cinematic in-fighting. Director Scott Z. Burns has made an enthralling film about Daniel Jones (Adam Driver), who authored the Senate Intelligence Committee report on the inhumanity and inefficiency of the CIA's torture tactics in the wake of 9/11, offering an exacting play-by-play of his work, from its inception to the attempted suppression of the information he uncovered. Though it sometimes slides into book report territory, the level of talent on screen keeps it fascinating. Driver lends Jones sober-minded compassion for his task, while Annette Bening is a dead ringer for Senator Dianne Feinstein. It's a smart, fair indictment of U.S. policies that spares no one.
The Salesman (2016)
Acclaimed Iranian director Asghar Farhadi
didn't make it to the 2017 Oscars
because of Trump's travel restrictions, which was too bad, because
The Salesman
wound up winning for Best Foreign Language Film. Now's your chance to watch this film of unsettling realism, in which an assault and the desire for revenge transform an average family in unpredictable ways, from one of the best directors currently working.
Sound of Metal (2020)
It's a musician's worst nightmare to suddenly go deaf with zero explanation and no immediate way of getting your hearing back. Riz Ahmed plays Ruben, a tattooed drummer in his girlfriend's (Olivia Cooke) metal band until one day his hearing mysteriously disappears, leaving him with a swiftly deteriorating inner ear and only low vibrations in the place of sound. Unable to play his drums or communicate with his girlfriend, he joins a charitable deaf community, hoping to come to terms with his new reality. Ahmed does Ruben with a simmering, panicked intensity, exploring the pain and despair of losing an entire sense and feeling trapped between two worlds. Director Darius Marder treats the hearing-impaired community with a real reverence and respect (the film is both subtitled and captioned), and deftly folds it all into a heartbreaking case study of addiction.
Spotlight (2015)
The best episode of The Wire that wasn't actually an episode of The Wire, Tom McCarthy stretches the drama taut as he renders Boston Globe's 2000 Catholic Church sex scandal investigation into a Hollywood vehicle. McCarthy's notable cast members crank like gears as they uncover evidence and reflect on a horrifying discovery of which they shoulder partial blame. Spotlight was the cardigan of 2015's Oscar nominees—taking home the prizes for Best Picture and Best Original Screenplay—but even cardigans look sharp when Mark Ruffalo is involved.
Suspiria (2018)
It takes a lot of guts to remake what is arguably the finest horror film of Dario Argento's career—and fans of the original film should be deeply grateful that a new rendition was handed to director Luca Guadagnino (Call Me By Your Name), who clearly knows and loves the original. What we have here is an epic horror film that follows the quiet but very ominous activities of an elite Berlin dance school faculty, and the unfortunate young women who begin to suspect the truth about the school. Even given the original movie's place in the horror film hall of fame, there's something truly, wildly, indelibly ambitious about this beautifully scary film. And that score by Thom Yorke!
The Vast of Night (2020)
Equal parts would-be Twilight Zone episode and old-fashioned sci-fi radio drama, Andrew Patterson's debut feature The Vast of Night takes us back in time to Cayuga, New Mexico in the late 1950s, when technology promised us a future Space Age and the rascally Soviets could be hiding around every corner. Two high school youngsters, switchboard operator Fay (Sierra McCormick) and late-night radio host Everett (Jake Horowitz), stumble upon a strange interference one night that doesn't seem to be coming from any known source. When Everett asks his listeners to call in if they recognize the sound, the two uncover a global conspiracy involving the military, disappearances, and what some might call alien abduction. The film is such fun to watch, the two leads constantly bickering back and forth in a choppy, mid-'50s cadence, and the mystery at the center of it all is a thrilling, playful return to a cozy, antique way of storytelling when the nighttime was full of endless possibilities.
Wiener-Dog (2016)
Four vignettes—the story of a boy caring for his first pup; Greta Gerwig as a soul-searching, pet-stealing suburbanite; a portrait of a college screenwriting professor; and an elderly dog owner's encounter with the younger generation—comprise this wickedly comical, existentially provocative look at life with pets. Director Todd Solondz can be a cruel and unusual god to his characters, and while Wiener-Dog shocks, the movie has a fanciful side, sporting dancing-dog videos and plenty of aw-gosh cuddling. Owning a pet is a colossal emotional undertaking. Wiener-Dog is the rare movie that treats it like one.
You Were Never Really Here (2018)
You've seen hitman movies, but you've never seen Lynne Ramsay's hitman movie. The Scottish director, who many first discovered with 2002's elliptical nightlife odyssey Morvern Callar, can take a John Wick-ian premise and invest it with new meaning by reframing it from an askew angle. This crime story, adapted from a novella by Bored to Death writer Jonathan Ames, is about an ex-soldier named Joe (Joaquin Phoenix) who finds himself tasked with recovering a kidnapped girl amidst a sinister political conspiracy involving human trafficking. What makes it so special? Between Phoenix's muted performance, Jonny Greenwood's string-drenched score, and Ramsay's expressive jump-cuts, every image crackles with energy, style, and possibility. It's a death-obsessed movie vibrating with life.
Zodiac (2007)
David Fincher's period drama is for obsessives. In telling the story of the Zodiac Killer, a serial murderer who captured the public imagination by sending letters and puzzles to the Bay Area press, the famously meticulous director zeroes in on the cops, journalists, and amateur code breakers who made identifying the criminal their life's work. With Jake Gyllenhaal's cartoonist-turned-gumshoe Robert Graysmith at the center, and Robert Downey Jr.'s barfly reporter Paul Avery stumbling around the margins, the film stretches across time and space, becoming a rich study of how people search for meaning in life. Zodiac is a procedural thriller that makes digging through old manilla folders feel like a cosmic quest.