The Best Movies Currently on HBO Now and HBO Max
You want movies? They've got you covered.
Let's face it: You can only watch so much Netflix. At a certain point, all those little floating movie posters start to blend together, and you groan, "I've already watched The Irishman a dozen times."
Well, that's what HBO Now and the recently unveiled HBO Max are for. Dig into these beloved classics, box office hits, hidden gems, and recent award-winners currently showing on the premium sibling services.
*Denotes titles that are only available on HBO Max. All other titles are available across all HBO platforms. 
20th Century Fox
Ad Astra (2019)
Despite the galaxy-spanning, mankind-saving mission at its center, James Gray's ruminative adventure Ad Astra feels spare, like a rocket stripped of all its inessential parts. There are thrilling moments of suspense you'd expect from a blockbuster -- like a buggy-chase on the surface of the moon, a zero-gravity brawl, and a jump-scare involving a wild animal -- but there's a concision and grace to how even these pulpier science-fiction elements are presented. As a filmmaker, Gray isn't interested in ambiguity, instead choosing to explore his timeless existential themes with a startling sense of purpose. Brad Pitt's buttoned-up, goal-oriented astronaut Roy McBride is constantly performing acts of self-assessment, engaging in corporate-mandated personal inventories and more melodramatic musings delivered in voiceover. With his square jaw and calm eyes, Pitt turns this inner struggle into a gripping journey of self-discovery. 
20th Century Fox
Alien (1979)
Ridley Scott's chest-bursting, nerve-frying science-fiction classic doesn't mess around. After introducing us to the chatty blue collar workers aboard a commercial rig floating through the vastness of the galaxy, the movie goes into stealth mode and picks off characters one by one as the tension rises, leaving Sigourney Weaver's Ripley to fend for herself against some of the nastiest special effects ever dreamed up. James Cameron's militarized sequel Aliens is also on HBO Go at the moment, and some argue it's even better, but we're partial to the original. Check them both out and decide for yourself. 
Warner Bros.
All the President's Men* (1976)
In a political climate that's called on the media to dig up no shortage of controversies, it seems fitting to revisit the newspaper heroes of yore. Dustin Hoffman and Robert Redford co-star as Carl Bernstein and Bob Woodward, respectively, the two Washington Post reporters who unearthed the details of President Richard Nixon's now-infamous Watergate scandal. This Alan J. Pakula-helmed drama is a psychologically piercing classic that'll make you view the current political landscape with a healthy amount of cynicism and hope.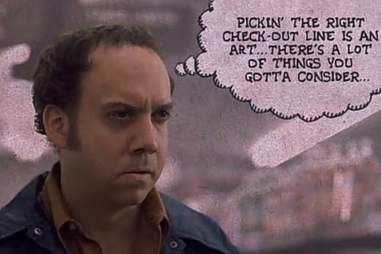 Fine Line Features
American Splendor (2003)
Paul Giamatti plays the perfect curmudgeon in this quirky biopic of Harvey Pekar, the illustrator behind the self-deprecating comic book strip also called American Splendor. Pekar shot to national fame thanks to combative appearances on David Letterman's late-night show, the last of which effectively turned into an on-air argument that ended their tense friendship. Part-documentary (with appearances from Pekar himself), part comic book, and part fictional biopic, there's nothing quite like American Splendor -- a fitting tribute, because there was no one quite like Harvey Pekar.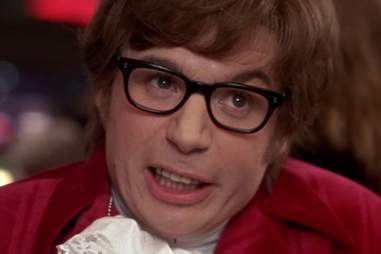 New Line Cinema
Austin Powers: International Man of Mystery* (1997)
Yeah, baby, yeah! There's no franchise that's quite as groovy as Austin Powers, the Mike Myers comedy about a sex-crazed, mod spy cryogenically frozen and reanimated in the '90s. It's an absolutely absurd James Bond sendup, but that's half the fun in watching him take on the villain Dr. Evil (also Mike Myers). If you find the London swinger with those teeth and Victorian lace ensembles as irresistible as apparently every woman on the planet, you can also catch the second installment on HBO Max, too. Yes, please!
Warner Bros.
Batman Begins* (2005)
Hot take: Christopher Nolan's first base jump into the Batman universe is even better than 2008's acclaimed The Dark Knight. Squarely focused on Bruce Wayne -- an orphaned boy, a troubled youth, a reluctant millionaire, a hero teetering on the edge of villainy -- the verismo popcorn movie stripped away the cartoon pizazz of previous entries and not only revived Caped Crusader's darkest moment, but exacerbated it with the moral manipulation of Ra's Al Ghul and the psychedelic nightmares of The Scarecrow. Every movie mimicked Nolan's "dark, gritty" reinvention. No movie lives up to Batman Begins' grandeur.
Warner Bros. Pictures
Best in Show* (2000)
Christopher Guest and Eugene Levy's mockumentary tracks overbearing dog owners on their journey to the ultimate pet show, and the characters are as absurd as the puppies are cute. Prepare to laugh out loud for 90 minutes straight as you watch Harlan Pepper's (Guest) ventriloquist act, preppy couple Hamilton and Meg Swan (Parker Posey and Michael Hitchcock) bond over J.Crew, Gerry Fleck (Levy) walk the dog with two left feet, and most of all, when commentator Buck Laughlin (Fred Willard) says literally anything.
Warner Bros.
Blade Runner: The Final Cut* (1982)
Director Ridley Scott went out of his way to imagine 2019 Los Angeles as a pretty terrible place to be, and yet the look, sound, and feel of the world are so seductive that we want to visit regardless. Same goes for the story: Blade Runner's plot is a barely warmed-over detective yarn with Harrison Ford in the role of the hard-boiled investigator, but we can feel glimmers of the pain and confusion of artificial humans who realize they are powerless against their pre-determined fate. The movie is a triumph of world-building that still makes a mark on viewers and filmmakers years later.
New Line Cinema
Boogie Nights* (1997)
This ensemble drama about the porn business, from director Paul Thomas Anderson, is one of the most rewatchable movies ever made. Any stray moment can draw you in: Mark Wahlberg's Dirk Diggler picking his name in a hot tub, John C. Reilly singing that Transformers song, Julianne Moore snorting an afternoon away, Burt Reynolds framing up a shot, or Heather Graham strolling across the screen in nothing but her roller blades. Splitting the difference between the laid-back melancholia of Robert Altman and the coked-out frenzy of Martin Scorsese, Boogie Nights remains PTA's most purely pleasurable film, a loving tribute to an era of big stars, big egos, and big… well… you've seen the ending.
Miramax Films
City of God (2002)
This film about a Brazilian favela's descent into criminal rule leaves a haunting note echoing in the wake of the 2016 Rio Olympics. The harsh reality City of God portrays, one in which gang logic trumps all, will not make for an uplifting night in, but the movie is much more than a shoot-em-up thrill ride -- Brazil's natural beauty and the hope of youth always serve as heartbreaking counterbalances to violence.
Miramax Films
Clerks* (1994)
As you've probably heard by now, Kevin Smith is one of Hollywood's most vocal stoners. And though Clerks, his debut feature, predates his pothead phase, this black-and-white comedy about Dante Hicks, a retail clerk at a convenience store, bears the hazy mark of a future weed enthusiast. For one thing, it's mostly about hanging out and noticing the small details of life. It's hard to explain its appeal to people who haven't experienced it. It's also pretty long-winded if you pay attention. And most people get obsessed with it in high school. Unlike weed, it's available to stream right now.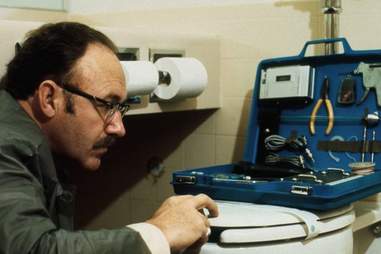 Paramount Pictures
The Conversation* (1974)
If you think domestic surveillance is spooky, imagine how it feels for the guy on the other end of the microphone. Starring Gene Hackman in his prime, Francis Ford Coppola's subdued thriller builds paranoia out of an overheard conversation and the lengths to which one private investigator goes to uncover its meaning. Hackman's Harry Caul can only get so close to his subjects, and Coppola plays by similar rules, making sound as essential to the viewing experience as picture. Wildly influential, this one will have you looking over your shoulder for days.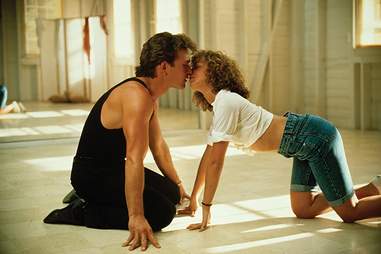 Vestron Pictures
Dirty Dancing (1987)
Nobody puts Dirty Dancing in a corner -- 30 years after its release, this Patrick Swayze starmaker remains a cultural touchstone for generations of kids who hated going on family vacation. The ultimate fantasy combines wish fulfillment on several levels: escaping your family's grasp; rebelling against a stuffy, conservative society; and achieving a personal-sexual awakening in the process. It's all captured in Swayze's dance instructor Johnny Castle and Jennifer Grey's 17-year-old Baby Houseman, who engage in a fraught relationship that centers around -- you guessed it -- dancing during the Housemans' vacation in a Catskills resort. Plenty of Swayze hip thrusts ensue.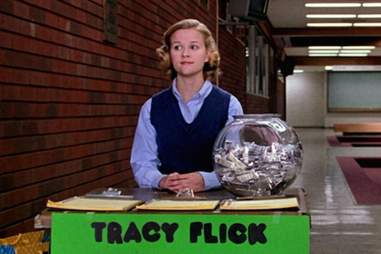 Paramount Pictures
Election (1999)
Working from Tom Perrotta's acerbic novel, director Alexander Payne and co-writer Jim Taylor craft the perfect showdown between Reese Witherspoon's overachieving Tracy Flick and Matthew Broderick's string-pulling teacher. As the seemingly low-stakes student council race gets closer and closer, everyone involved is forced to ask those always-pertinent moral questions: How far will I go to win, and what's the point of winning if you lose your sense of self?
Warner Bros.
Enter the Dragon* (1973)
Fist of Fury (1972) may have given Bruce Lee's groundbreaking fighting skills a better opportunity to flourish, but they're more fun in Enter the Dragon. A James Bond mission masquerading as a tournament slugfest, Dragon is best known for being Hollywood's foray into kung fu, but not known enough for how Robert Clouse (and Lee himself) choreograph fight scenes around the martial artist's indelible charisma. Lee's one-on-one matches are brutal. The addition of John Saxon and Jim Kelly make Dragon a patchwork of '70s vibes and global fighting styles. The grand finale is a glimmer of pure blockbuster heroism. Lee would pass away before the release of the film, only adding to this action classic's mystique.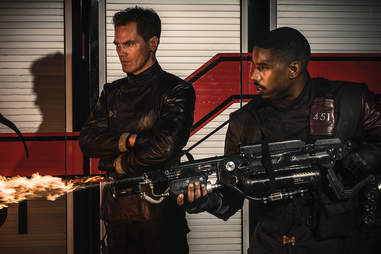 HBO
Fahrenheit 451 (2018)
Technically a TV movie, since it was made for HBO, but we'll let it slide. Ray Bradbury's essential dystopian novel where books are banned gets the small screen treatment, starring Michael B. Jordan as Montag, a fireman who ultimately questions the value and purpose behind the book-burning mission. He teams with Michael Shannon, an actor with the unhinged commitment to pull off an evil delivery of a simple line: "Burn it."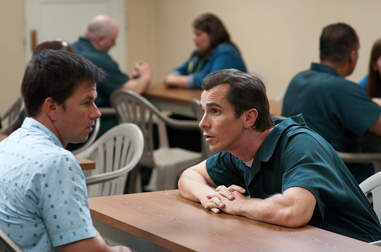 Paramount Pictures
The Fighter (2010)
David O. Russell's (Silver Linings Playbook, American Hustle) The Fighter packs a punch. The Oscar-nominated biographical drama stars Mark Wahlberg as underdog boxer Micky Ward alongside Christian Bale, in yet another transformative role as Ward's older half-brother/trainer Dicky Eklund. Lined with action and grit, the film follows Ward's unpredictable rise in the ranks in the world of championship welterweight boxing with the contested help of his washed up brother who descended into drug addiction and a life of seedy crime. Tethered to his success is the strength of the destructive closeness of his family, including his mother played by Melissa Leo, and the relationships outside of it, like that of his girlfriend played by a scene-stealing Amy Adams -- meaning The Fighter is a hard knocks lesson in what it means to look out for someone, as well as a masterclass in acting.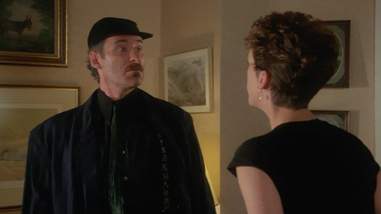 MGM
A Fish Called Wanda (1988)
Many crime movies have funny scenes -- for example, Jackie Browne is frequently hilarious -- but few are as consistently funny as the fiendishly clever heist comedy A Fish Called Wanda. When a pair of English low-lifes recruit Americans Wanda (Jamie Lee Curtis) and Otto (Kevin Kline) to help them steal some diamonds, they end up getting betrayed and setting off a series of ridiculous (and increasingly violent) events. With a script by John Cleese and a scene-stealing performance from Kline, it's the rare madcap farce that doesn't overstay its welcome. Each twist makes sense on a comedic and plot level. Just don't call it stupid.
20th Century Fox
Ford v Ferrari (2019)
With their emphasis on motion and duration, the movies are great at selling the idea of velocity. Ford v Ferrari, an often workmanlike and occasionally wonderful account of the Ford Motor Company's quest to win the 1966 24 Hours of Le Mans race in France, is a movie that knows when to slam its foot on the gas, when to hit the brakes, and when to cruise on charm. As you'd expect, a degree of showmanship is necessary. As iconoclastic American car designer Carroll Shelby (Damon) and hot-headed British racer Ken Miles (Bale), the two stars get to play characters that fit them like a pair of racing gloves, teaming up to take on the corporate suits and marketing executives that want to rein in their rugged brilliance. Smells like a metaphor for something, right?
New Line Cinema
Friday* (1995)
Between Are We There Yet? and Are We Done Yet? it's easy to forget that Ice Cube has made some damn good movies. His debut as a screenwriter, Friday, has become a cult classic, and deservedly so -- it helped launch Chris Tucker's movie career, spawned the persistent "Bye, Felicia" meme, and entered into the "slackers-on-a-mission" comedy pantheon. How many other first-time screenwriters can boast of similar pop accolades?
Miramax
Gangs of New York (2002)
In his first collaboration with Martin Scorsese, Leonardo DiCaprio shakes off his heartthrob Titanic reputation by getting down and dirty as goatee-sporting tough guy Amsterdam Vallon. But Leo has an iceberg-sized problem: Daniel Day-Lewis. As the violent, ill-tempered Bill the Butcher, the method actor extraordinaire is a terror in a top hat, stealing the whole movie with his wild-eyed magnetism. He slices, he dices, and he makes this 168 minute 19th-century period piece fly by. 
Gunpowder & Sky
Her Smell (2019)
Becky Something, the lead singer of fictional alt-rock mainstays Something She, is a whirlwind of emotional chaos. As played by Elizabeth Moss, the captivating star of Mad Men, The Handmaid's Tale, and director Alex Ross Perry's previous psychological thriller riff Queen of Earth, she's constantly fighting a war on all fronts: against her exasperated bandmates, her watchful manager, her hopeful proteges, her wounded ex-boyfriend, and anyone else who gets in her way. Conflicts fold in on each other; enemies become allies. Divided into distinct sections that each unfold in a single location, Her Smell is a music business recovery story conceptualized and shot by cinematographer Sean Price Williams as a combat film that keeps you locked in for every beat.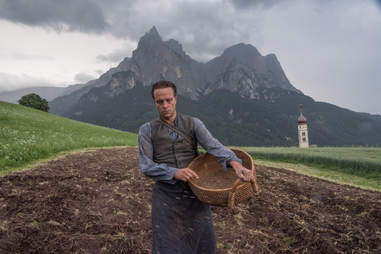 Fox Searchlight
A Hidden Life (2019)
Terrence Malick movies confront some of the most challenging moral questions with an at times startling directness. A Hidden Life, which was inspired by the true story of Austrian farmer Franz Jägerstätter (August Diehl) and his refusal to fight for the Nazis in World War II, is predominantly shot in the lyrical, late career style most closely associated with the director's 2011 film The Tree of Life: the camera roves across images of natural beauty, tilts up towards the sky, and pushes right up to the actors' light-strewn faces; the characters whisper in simultaneously intimate, quizzical, and philosophical voice-over; the events unfold in carefully edited, symbolically weighted montages that rummage through time. He uses this approach to delve into the motivations of a consciousness objector, dramatizing an internal struggle that becomes a physical test and a family crisis as the war intensifies.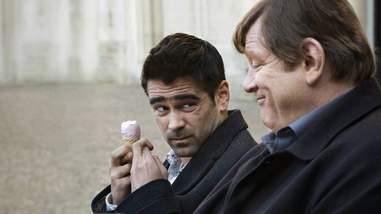 Universal Studios/Focus Features
In Bruges (2008)
Colin Farrell is a seriously funny actor. In playwright Martin McDonagh's sly directorial debut, Farrell plays Ray, an Irish hitman wracked with guilt over the accidental killing of a young boy. Instead of using his rugged good looks to play yet another "badass" assassin character, Farrell goes full neurotic, twitching his eyes and fidgeting like a child struggling to stay still in class. It's a hilarious, manic performance that makes the film's comic moments pop, and allows its somber, reflective moments to sneak up on you like a stranger approaching in a dark alley. You won't know what hit you.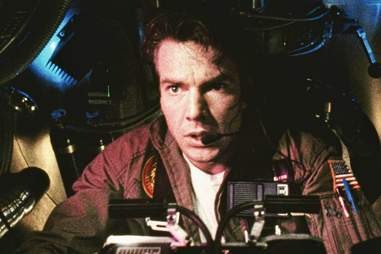 Warner Bros.
Innerspace (1987)
Gremlins director Joe Dante gave this take on the old Fantastic Voyage framing of the human body as the next expanse for exploration a necessary shot of comedy in the arm. Dennis Quaid plays an ex-naval pilot who signs up to be the test subject in a miniaturization project. Shrunk down to the size of a single cell, the pilot finds himself accidentally injected into the bloodstream of Martin Short, a manic grocery clerk. Working together -- Jack navigating a world of espionage and assassins as Quaid does what he can from inside the cranial region -- the two foil a plan to steal the miniaturization technology, and we have a ball watching it.
Universal Pictures
Jaws (1975)
"Da-dum… da-dum… da-dum da-dum da-dum!" You know the music. You know the "bigger boat" line. Maybe you even remember that dolly zoom shot of Roy Scheider sitting on the beach with his family when the screams of terror ring out and everyone runs like hell. But no matter how much pop culture chomps on the remains of this classic, there's no stripping this understated, fundamentally humanist monster picture of its primal power. Even in the age of Sharknado and The Shallows, Jaws is still scary, funny, and essential viewing. These are waters you'll want to get back into.
Warner Bros. Pictures
Lethal Weapon* (1987)
You are never too old for this shit. Notwithstanding Mel Gibson's despicable behavior, the crown jewel of buddy cop comedies holds up, fueled by the mischievous misbehavior of screenwriter Shane Black (Iron Man III) and astute direction of Richard Donner (Superman). This is a detective story with every gun-toting sleuth at the top of his game, staged at a time when bad boy antiheroes didn't feel totally overdone.
Warner Bros. Pictures
Malcolm X (1992)
What's Denzel Washington's best role? Everyone has their favorite. Training Day? Glory? Crimson Tide? It's hard to have that conversation without bringing up Malcolm X, Spike Lee's lively epic about the influential civil-rights leader. From his early life as a burglar to his later conversion to the Nation of Islam, Washington makes X's intellectual journey an emotional and physical one as well. It's a commanding, lived-in performance that humanizes an icon without succumbing to mimicry. If it's not his best performance, it definitely belongs in any top-five discussion -- and the film itself remains as powerful as ever.
Warner Bros. Pictures
The Matrix* (1999)
Combining its signature slo-mo, 360-degree "bullet time" sequences with artfully choreographed Hong Kong-style martial-arts scenes, the Wachowskis' pathbreaking sci-fi epic set a new bar for special effects done right. As much of a kinetic and visual triumph as it was a psychological mindfuck -- and that's saying something. Hands down, one of the best action movies of all time.
Warner Bros.
Michael Clayton (2007)
George Clooney made a career out of playing gray knights, and his work as the title character in this icy New York thriller might be the pinnacle of his work. Clayton is a super-cynical, debt-ravaged "fixer," stuck doing damage control amid a massive class-action lawsuit. (Think Olivia Pope from Scandal, but somehow more intense.) He also plays poker, drives cars that explode, and does his best impression of Shiva, god of death. Tony Gilroy's Oscar-winning legal drama is addictive fun in that way complex conspiracy yarns can be, and it has a handful of memorable exchanges to boot -- wait till you see the final confrontation with Tilda Swinton.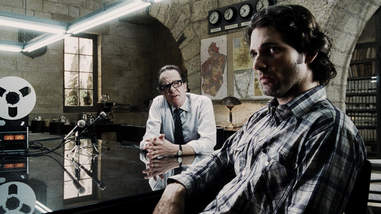 Universal Pictures
Munich (2005)
Modern blockbusters are filled with tough-guy musings about the moral weight of vengeance -- just watch any random 10 minutes from a "dark" superhero movie-- but they rarely grapple with the outcome of violence in a self-reflective, genuine way. Munich, the story of a secret team of Israeli assassins led by Eric Bana, is a different type of thriller. With the help of a complex, profound script by Tony Kushner and Eric Roth, director Steven Spielberg delivers the white-knuckle tension of a spy film without letting his characters off the ethical hook. Instead of rah-rah patriotism, you get a queasy ethical conundrum awash in ambiguity, history drawn with the bloody tip of a knife.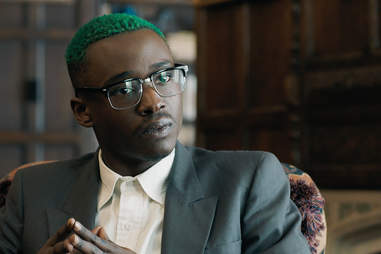 Matthew Libatique/HBO
Native Son (2019)
In updating Richard Wright's Native Son for our current age, visual artist Rashid Johnson and Pulitzer Prize-winning playwright Suzan-Lori Parks largely hew to the outline of the novel's plot, down to the inclusion of a disturbing moment that made the audience at Sundance's opening night murmur in shock. The 2019 Bigger Thomas (Ashton Sanders) is a green-haired punk who gets a job working as a driver for a wealthy white man, Henry Dalton and his family. There he meets Mary Dalton (Margaret Qualley), Henry's beautiful daughter whose attempts at inclusivity are racist and vapid. But Bigger and his girlfriend Bessie (KiKi Layne) are driven deeper into her orbit until a tragedy unfolds. What results is a film full of arresting images and strong performances from the likes of Moonlight's Sanders and If Beale Street Could Talk's Layne, driven by the enduring power of Wright's prose.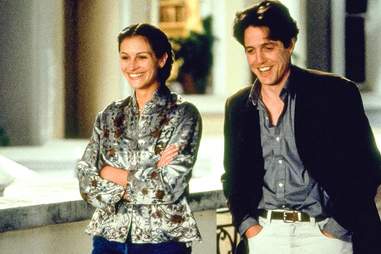 Universal Pictures
Notting Hill (1999)
In an appeal to nerdy women everywhere, Hugh Grant plays a London bookshop owner who falls in love with famous American actress Julia Roberts (who more or less plays herself). Let's be honest: we all wanted to move to London and haunt bookstores for our own Hugh Grant after seeing this movie. There are many hilarious moments throughout Notting Hill, all made funnier by Grant's straight face, but the wacky Welsh roommate posing in his underwear for the paparazzi slays. Grant and Roberts have the predictable struggles of a commoner dating an A-lister, but their at-first tentative, then enduring love for one another makes us root for them to live happily ever after.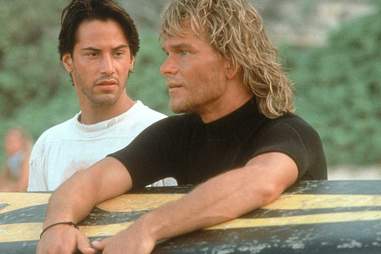 20th Century Fox
Point Break (1991)
Point Break is sublime. With its beautiful ocean photography, pulse-pounding robbery sequences, and delicate male-friendship between Keanu Reeves and Patrick Swayze, the undercover-cop drama rides tone like a veteran surfer ripping up uneven waves. Yes, some parts -- like anything with Gary Busey -- are ridiculous, but director Kathryn Bigelow brings a wryness to the material that keeps the movie from descending into bro'd-out camp. It's no surprise that the Fast and Furious series lifted the film's most essential quality to kickstart a billion-dollar franchise -- everyone wants to spend time with a close-knit family.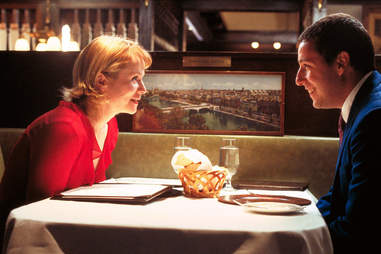 Sony Pictures Releasing
Punch-Drunk Love (2002)
Does Paul Thomas Anderson's furious romantic comedy count as an Adam Sandler movie? The pieces are there: the Billy Madison star plays Barry, a novelty plunger salesmen who battles his malicious sisters, a shadowy phone-sex extortionist, and the crippling effects of depression, all while falling in love with the women of his dreams. With brighter lighting and a top-40 soundtrack, it would follow in the tracks of Happy Gilmore and Big Daddy. In Anderson's hands, it's a melancholic character study that strangles Sandler's persona with his own vocal chords.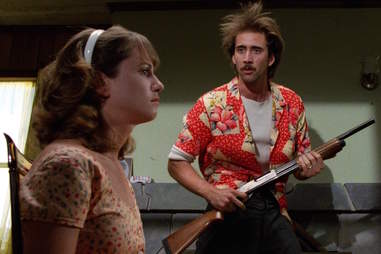 20th Century Fox
Raising Arizona (1987)
"That night I had a dream..." In its closing moments, Raising Arizona takes on a deeply philosophical bent: what if we have alternate selves who live different lives? It's possible to think of the Coen brothers' career in the same way. Coming off Blood Simple, it would've been easy for the pair to dig deeper into the dark, rain-soaked world of noir thrillers, but instead they made a madcap comedy, complete with a Looney Tunes chase sequence, ornate hick dialogue, and a character called "the Lone Biker of the Apocalypse." And it all worked. The movie endures thanks to a love story between Nicolas Cage and Holly Hunter, which might be the most life-affirming relationship in the Coens' whole filmography. Watching Hi and Ed struggling to raise a child they kidnapped from a local big shot slowly makes you a part of their bizarre, fucked-up family. 
New Line Cinema
Se7en* (1995)
Director David Fincher has a thing for serial killers. The man who helmed Zodiac and The Girl With the Dragon Tattoo, and who's executive producing Netflix's Mindhunter, got his first taste with Se7en, about two detectives (Brad Pitt and Morgan Freeman) on the hunt for a murderer obsessed with punishing those he perceives to embody the seven deadly sins. The famous final murder scene ("What's in the box?!") grabs all the attention, but it's a payoff that's earned by the dark, brooding character studies that Fincher builds over the course of the film, a style that would become a hallmark of his later work.
Paramount Pictures/Miramax
The Talented Mr. Ripley (1999)
Can you really trust Matt Damon? That's the question driving this tasty soufflé of a psychological thriller adapted from a novel by Patricia Highsmith. The eternally boyish actor was especially innocent and naive here, fresh off the success of Good Will Hunting and Saving Private Ryan, but his Tom Ripley is a monster capable of manipulating Jude Law and Gwyneth Paltrow with sociopathic ease. Like super-spy Jason Bourne, Ripley is the perfect role for Damon: You never quite know what's lurking under the surface.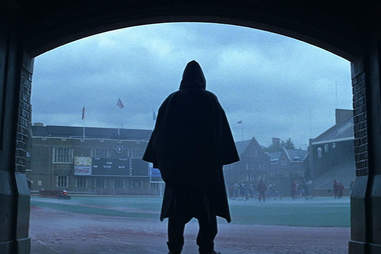 Buena Vista Pictures
Unbreakable (2000)
With 2019's Glass, M. Night Shyamalan continued to sequelize this underrated pseudo-comic-book movie by converging the worlds of never-sick David Dunn (Bruce Willis) and the frail psychopath Mr. Glass (Samuel L. Jackson) with the oddities seen in this year's Split franchise. Whatever makes him happy! Even if the concept-fusing experiment went awry, nothing will ever change this subdued gem, where palpable feelings of dread, guilt, and empowerment are splashed with moments of rainy day superheroism. 
Universal Pictures
Us (2019)
The double, the doppelgänger with questionable intentions and mysterious origins, is a potent concept for both horror and comedy. Fittingly, writer and director Jordan Peele uses the device to elicit scares and laughs in Us, his sophomore feature about a family, led by intrepid parents Adelaide (Lupita Nyong'o) and Gabe (Winston Duke), facing off against their jumpsuit-wearing, scissor-wielding counterparts in the middle of a leisurely vacation. What begins as an unsettling home invasion thriller with socio-political undertones in the vein of Michel Haneke's Funny Games gives way to a more frenzied, twist-filled science-fiction brain-teaser that tunnels deep into feelings of paranoia like an episode of Lost or The Twilight Zone. Untethering the ideas becomes half the fun.
Warner Bros. Pictures
V for Vendetta* (2005)
Natalie Portman's dystopian thriller written by Lilly and Lana Wachowski has only increased in relevance since it came out, so you can have the joy of watching a buzzed Portman trying to fight the repressive forces of future governmental control and remember a time when the future seemed far away. Watch the spirit of Guy Fawkes live on before it's too late. 
MGM
2001: A Space Odyssey* (1969)
The man-apes. The monolith. The star-gate sequence. Maybe these are elements you vaguely remember from a Film 101 course you slept through in college, or maybe you just never got around to opening the pod-bay doors on Stanley Kubrick's existential sci-fi classic. Well, here's your chance. Sure, your laptop or phone aren't the ideal formats to appreciate 2001's meticulous production design, but if you own a decent-sized TV, it's still possible to go on an odyssey of your own.
Follow the Thrillist Entertainment staff on Twitter @ThrillistEnt.