Let's face it: You can only watch so much Netflix. At a certain point, all those little floating movie posters start to blend together, and you groan, "I've already watched The Ridiculous 6 a dozen times."
Well, that's what HBO GO and HBO NOW are for. Dig into these classics and recent award-winners currently showing on the premium sibling services.
Recommended Video
Send Foodz: New York City Wine & Food Festival
A Star Is Born (2018)
This is a movie of competing voices: On one end of the spectrum you have the guttural croak of Jackson Maine, the hard-living, cowboy-rock troubadour played by the film's director, producer, and co-writer Bradley Cooper; on the other end is the soulful roar of Ally, the waitress harboring dreams of pop stardom played by IRL pop icon Lady Gaga. The contrast between the two vocal deliveries is part of what makes the film's Oscar-winning power ballad "Shallow" so immediately alluring, the sonic equivalent of your goosebumps getting goosebumps, and that same tension drives the film's most compelling scenes. (Yes, that includes the meme-able moments.) A claustrophobic movie about fame, A Star Is Born works best in its tightly focused and completely captivating first hour, which explores the creative and romantic spark of Jackson and Ally's relationship. Cooper makes you believe in the fantasy of a black SUV providing a portal to another life of jam-packed festival stages, booze-soaked backstage parties, and tightly choreographed SNL performances. The second half doesn't exactly burn out -- the lead performers are too locked in -- but the flame flickers as the story hits the requisite notes dictated by the past. Even with these new voices, the song remains the same.
Amélie (2001)
Jean-Pierre Jeunet's quirky French flick can be easy to make fun of, perhaps because it's what everyone immediately thinks of when they hear the words "foreign film." But don't let haters dissuade you from this critically acclaimed rom-com, which was rightfully a major box-office success and awards contender. The story follows its titular heroine (Audrey Tautou) through Paris as she sheds her sense of isolation, opens herself up to others, and discovers love. (Also, yeah, garden gnome alert.)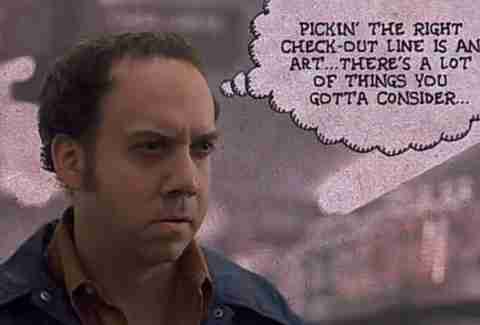 American Splendor (2003)
Paul Giamatti plays the perfect curmudgeon in this quirky biopic of Harvey Pekar, the illustrator behind the self-deprecating comic book strip also called American Splendor. Pekar shot to national fame thanks to combative appearances on David Letterman's late-night show, the last of which effectively turned into an on-air argument that ended their tense friendship. Part-documentary (with appearances from Pekar himself), part comic book, and part fictional biopic, there's nothing quite like American Splendor -- a fitting tribute, because there was no one quite like Harvey Pekar. 
Annie Hall (1977)
This psychoanalytic story of Brooklyn comedian Alvy Singer (Woody Allen) and his titular temporary love (Diane Keaton) breathed new life into the rom-com genre with its unconventionally less-than-rosy outcome and groundbreaking narrative devices (split frames, mental subtitles, camera-facing soliloquies, layered flashbacks). Fans and critics like to call this Oscar-winner Allen's very best movie -- it's in the top three, at least.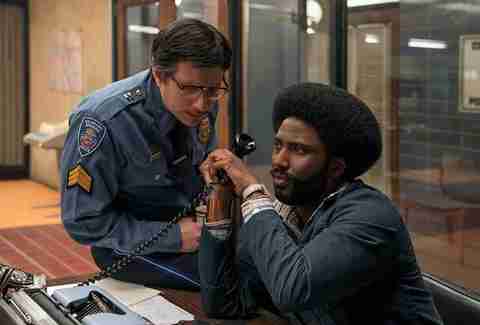 BlacKkKlansman (2018)
BlacKkKlansman is a police procedural about rhetoric. The story of Ron Stallworth, the first black detective hired at a Colorado Springs precinct in the early 1970s, is relatively straightforward on the surface -- the cop, skillfully played by John David Washington, infiltrates the local chapter of the Klu Klux Klan by phone and attempts to gather intel on the organization -- but Spike Lee's approach is complicated with callbacks to other famous films about racial divisions and references to today. Lee's message is proudly, defiantly blunt; his stylistic approach is multi-layered and tonally ambitious, letting moments linger so that the view can sit with the language at the film's core and consider the broader implications. 
Blockers (2018)
Kay Cannon slid narratives about female friendship and middle-aged anxiety into her ridiculously funny sex comedy about three teens that plan to lose their virginities on prom night. Two of their parents, played hilariously by Leslie Mann and John Cena, lose their minds when they discover this pact, and decide to make it their mission to stop it from ever taking place. A third dad (Ike Barinholtz) tags along -- not because he thinks what they are doing is right, but because he's lonely. Meanwhile, the girls -- played by Kathryn Newton, Geraldine Viswanathan, and Gideon Adlon -- are experiencing their own uneasy awakenings as they forge ahead during the raucous night. There are crass gags galore, but you're also likely to leave thinking about Blockers' melancholy threads about adulthood. 
Boys Don't Cry (1999)
Hilary Swank delivers an Oscar-winning performance in Boys Don't Cry, a deeply troubling film about the real-life experience of Brandon Teena, a trans man living in rural Nebraska. It is by no means a pleasant viewing experience, forcing you to witness the utter terrifyingly violent reality of an LGBTQ+ individual who feels as if he must shield his identity in a conservative community. Boys Don't Cry demonstrates the horrifying consequences not having compassion, and it's a moving, human reminder of the struggles those on the margins still face in American society.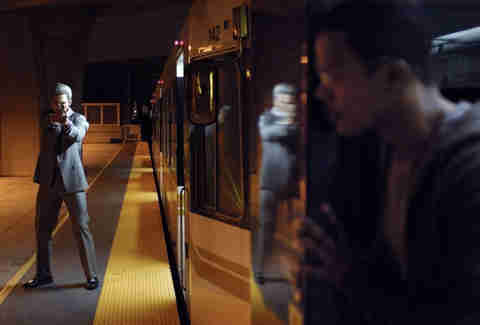 Collateral (2004)
No one captures the raw energy of a psychological cat-and-mouse game set against an action-heavy backdrop quite like director Michael Mann. After years of playing a goody two-shoes, Tom Cruise got his bad guy on for Mann, teaming up with Jamie Foxx, who would go on to win an Oscar just a few months later for Ray. Rocking frightful white hair, Cruise plays a sociopathic hitman in this grungy, nocturnal drama, with Foxx as a cabbie forced to drive Cruise around Los Angeles to perform a series of hits. Somehow, Cruise has the charisma to be a likable hitman.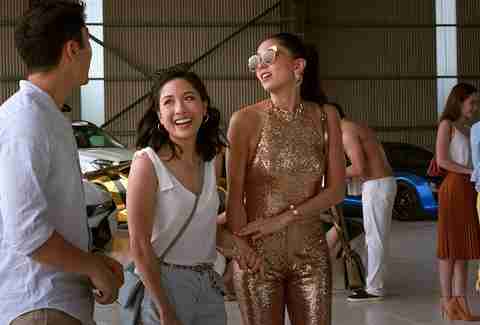 Crazy Rich Asians (2018)
The shiny opulence and broad comedy of Crazy Rich Asians can blind viewers to some of the movie's more granular, less flashy pleasures. This adaptation of Kevin Kwan's bestselling novel of the same name is built around a central romance between NYU professor Rachel Chu (Constance Wu) and mega-wealthy heir Nick Young (Henry Golding), but the movie's most potent material concerns the intergenerational struggles between Rachel and Nick's skeptical mother, played with nerve by Yeoh. Each verbal slight stings; each withering glance leaves a mark. When the two face off over a game of mahjong at the film's conclusion, it's as gripping as any white-knuckle gambling movie showdown. Even in this rarified rom-com world, the stakes are high and the actresses are unquestionably playing for keeps.
The Danish Girl (2015)
Eddie Redmayne plays Lili Elbe, a transgender Danish painter who is the first person to undergo gender-reassignment surgery. Director Tom Hooper took great pains to recreate Lili's 1920s Copenhagen, and the end product is gorgeous, from the costumes to the canals to the brushstrokes of every artist who crosses the screen. Alicia Vikander's Oscar-winning supporting performance as Gerda, Lili's wife, lends an aching pathos to the transition.
Fahrenheit 451 (2018)
Technically a TV movie, since it was made for HBO, but we'll let it slide. Ray Bradbury's essential dystopian novel where books are banned gets the small screen treatment, starring Michael B. Jordan as Montag, a fireman who ultimately questions the value and purpose behind the book-burning mission. He teams with Michael Shannon, an actor with the unhinged commitment to pull off an evil delivery of a simple line: "Burn it."
First Man (2018)
In his last two movies, the pummelling drumming character study Whiplash and the archly romantic musical La La Land, director Damien Chazelle explored the emotional sacrifices artists must make for their work. His latest, a flame-kissed Neil Armstrong biopic starring a tightly coiled Gosling as the mythical moonwalker, is similarly a film about emotional repression and simmering male anger, but this time the canvas is bigger. (Literally: The movie switches to IMAX mode when Armstrong and crew hit the surface of the big rock.) Chazelle's cold approach to examining individuals with an unhealthy work-life balance has often felt overwrought to me, but here, with Gosling stoically burying his feelings in pursuit of celestial glory, he's launched himself into a different artistic stratosphere. The flight sequences are visceral; the domestic scenes are no less tense. Rejecting the "science the shit out of it" triumphalism of The Martian, this is a movie that doesn't attempt to explain away the terror, confusion, or loneliness of space travel. Instead it places the viewer in the maelstrom.
Isle of Dogs (2018)
Wes Anderson films are always a delight, especially his stop-motion flicks. So, Isle of Dogs, a Wes Anderson animated feature about dogs is a perfect, kitschy (pup) treat. Set in Japan, where dog flu plagues four-legged friends throughout the country, one mayor orders all dogs be banished to the particularly grim Trash Island. Of course, the plan doesn't sit well with children who love their pets unconditionally, so the film follows the adventures of one boy as he teams up with a group of canines in search of his beloved Spot. With the likes of Bryan Cranston, Jeff Goldblum, Bill Murray, and others offering their voices as banished pups, and Anderson's highly detailed stop-motion, it's hard not to be a dog lover after watching this film. 
The Land Before Time (1988)
It's easy to forget, more than a dozen sequels later, how fresh the original Land Before Time was when it appeared in the late 1980s. Exploring issues of prejudice and climate devastation that remain relevant today, Don Bluth's animated classic is ultimately a friendship road story that explores what it means to feel at home. You'll shed a tear or two when you travel back into a world inhabited by Littlefoot, Cera, Petrie, Spike, and Ducky. 
Mean Girls (2004)
Back in 2004, Lindsay Lohan was a tween icon and Tina Fey was that lady from "Weekend Update." Fey's feature-writing debut set the tone for smart teen comedy to come, giving us a Burn Book's worth of uproarious quotes and alerting the world to Rachel McAdams' talent in the process. Watch this instead of trying to lose three pounds.
My Big Fat Greek Wedding (2002)
Whatever your feelings on marriage and weddings, for certain cultures they are about one thing: combining families, a value that butts heads with the very American ideal of romance. Toula (Nia Vardalos) might meet and fall in love with Ian (John Corbett) on her own, but her marriage is something her whole family is a part of. Which makes the most romantic moment of My Big Fat Greek Wedding not the wedding or even the courtship, but when Ian gets baptized in a kiddie pool at Toula's church. Watching her future husband humiliate himself, Toula mumbles to herself, "I'm not worth this." Her brother turns to her and says, "Yes, you are." No surprise, this remains the highest-grossing rom-com of all time.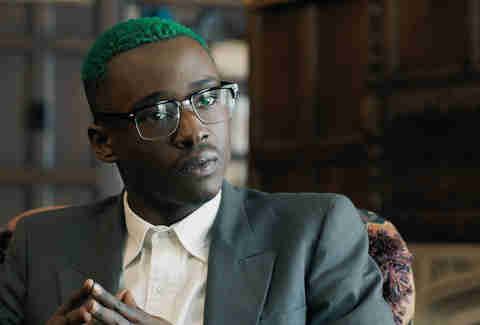 Native Son (2019)
In updating Richard Wright's Native Son for our current age, visual artist Rashid Johnson and Pulitzer Prize-winning playwright Suzan-Lori Parks largely hew to the outline of the novel's plot, down to the inclusion of a disturbing moment that made the audience at Sundance's opening night murmur in shock. The 2019 Bigger Thomas (Ashton Sanders) is a green-haired punk who gets a job working as a driver for a wealthy white man, Henry Dalton and his family. There he meets Mary Dalton (Margaret Qualley), Henry's beautiful daughter whose attempts at inclusivity are racist and vapid. But Bigger and his girlfriend Bessie (KiKi Layne) are driven deeper into her orbit until a tragedy unfolds. What results is a film full of arresting images and strong performances from the likes of Moonlight's Sanders and If Beale Street Could Talk's Layne, driven by the enduring power of Wright's prose. 
Notting Hill (1999)
In an appeal to nerdy women everywhere, Hugh Grant plays a London bookshop owner who falls in love with famous American actress Julia Roberts (who more or less plays herself). Let's be honest: we all wanted to move to London and haunt bookstores for our own Hugh Grant after seeing this movie. There are many hilarious moments throughout Notting Hill, all made funnier by Grant's straight face, but the wacky Welsh roommate posing in his underwear for the paparazzi slays. Grant and Roberts have the predictable struggles of a commoner dating an A-lister, but their at-first tentative, then enduring love for one another makes us root for them to live happily ever after.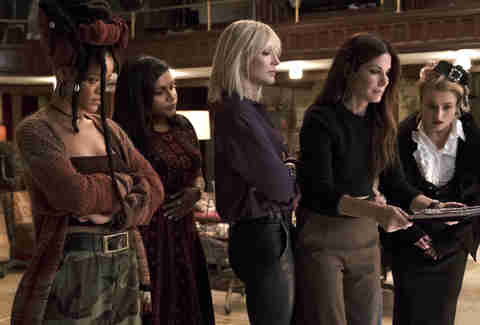 Ocean's 8 (2018)
Sandra Bullock, Cate Blanchett, Awkwafina, Rihanna, Mindy Kaling, Sarah Paulson… the names billed in this star-studded, women-led addition to the Ocean's heist franchise could go on and on, each bringing their unique flair to this film about criminal Debby Ocean's (Bullock) plan to rob the Met Gala. Despite just being released from prison, little can keep Ocean from getting her hands on a large sum of cash, even if it means snatching jewels around the neck of an A-lister, played hysterically by Anne Hathaway, at fashion's biggest night. Of course, she's going to assemble the perfect crew for the gig. With all of your favorite actresses and plenty of great avant garde looks that would suit the real Met Gala, this film's a lot more fun than any one effort in the Clooney Ocean's trilogy.
The Outsiders (1983)
You were probably assigned to read S.E. Hinton's The Outsiders in middle school, and the novel was probably one of your favorites at the time, for good reason. The coming-of-age story about the rivalry between two '60s gangs, and the trauma of violence and growing up in a disenfranchised community, is a classic, and Francis Ford Coppola adapted it to film with a staggeringly talented cast of young stars -- Tom Cruise, Matt Dillon, Diane Lane, Patrick Swayze, Rob Lowe, and more. It's youth at its most volatile and painful. Stay golden, Ponyboy.