Let's face it: You can only watch so much Netflix. At a certain point, all those little floating movie posters start to blend together, and you groan, "I've already watched Murder Mystery a dozen times."
Well, that's what HBO GO and HBO NOW are for. Dig into these classics and recent award-winners currently showing on the premium sibling services.
Recommended Video
Thrillist's Best (and the Rest): The Truth Behind the Saddest Cookbook Ever
A Star Is Born (2018)
This is a movie of competing voices: On one end of the spectrum you have the guttural croak of Jackson Maine, the hard-living, cowboy-rock troubadour played by the film's director, producer, and co-writer Bradley Cooper; on the other end is the soulful roar of Ally, the waitress harboring dreams of pop stardom played by IRL pop icon Lady Gaga. The contrast between the two vocal deliveries is part of what makes the film's Oscar-winning power ballad "Shallow" so immediately alluring, the sonic equivalent of your goosebumps getting goosebumps, and that same tension drives the film's most compelling scenes. (Yes, that includes the meme-able moments.) A claustrophobic movie about fame, A Star Is Born works best in its tightly focused and completely captivating first hour, which explores the creative and romantic spark of Jackson and Ally's relationship. Cooper makes you believe in the fantasy of a black SUV providing a portal to another life of jam-packed festival stages, booze-soaked backstage parties, and tightly choreographed SNL performances. The second half doesn't exactly burn out -- the lead performers are too locked in -- but the flame flickers as the story hits the requisite notes dictated by the past. Even with these new voices, the song remains the same.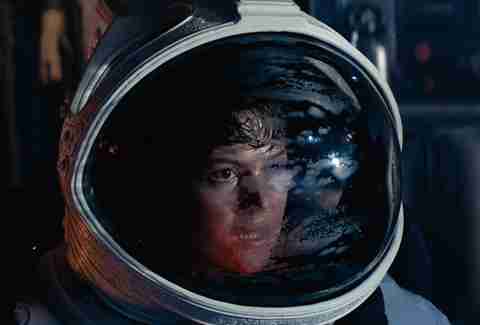 Alien (1979)
Ridley Scott's chest-bursting, nerve-frying science-fiction classic doesn't mess around. After introducing us to the chatty blue collar workers aboard a commercial rig floating through the vastness of the galaxy, the movie goes into stealth mode and picks off characters one by one as the tension rises, leaving Sigourney Weaver's Ripley to fend for herself against some of the nastiest special effects ever dreamed up. James Cameron's militarized sequel Aliens is also on HBO Go at the moment, and some argue it's even better, but we're partial to the original. Check them both out and decide for yourself. 
Alita: Battle Angel (2019)
The first thing you notice are the large eyes, beckoning like portals to another dimension. Alita, a cyborg discovered in a junkyard by a possibly mad scientist consumed with grief over the death of his daughter, is played by the actress Rosa Salazar, who appeared in two of the Maze Runner YA adaptions and last year's Netflix hit Bird Box, but she's brought to uncanny life via technology Alita producer and co-writer James Cameron developed for his alien environmental opus Avatar. Cameron was originally going to direct Alita but he got sidetracked by the world of the Na'vi, and handed duties to Robert Rodriguez, who brings his own touch to the ridiculous and kinetic "motorball" sequence which finds our hero fending off brutish attackers in a violent game of X-Games tag. It's as exhilarating as this type of reality-altering, money-burning sci-fi blockbuster gets.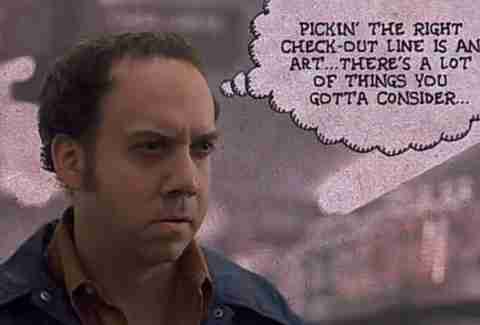 American Splendor (2003)
Paul Giamatti plays the perfect curmudgeon in this quirky biopic of Harvey Pekar, the illustrator behind the self-deprecating comic book strip also called American Splendor. Pekar shot to national fame thanks to combative appearances on David Letterman's late-night show, the last of which effectively turned into an on-air argument that ended their tense friendship. Part-documentary (with appearances from Pekar himself), part comic book, and part fictional biopic, there's nothing quite like American Splendor -- a fitting tribute, because there was no one quite like Harvey Pekar. 
Armageddon (1998)
For those of us who weren't born early enough for the Space Race, there's Armageddon. While it might seem like an outlier in the Criterion Collection, Michael Bay's sci-fi spectacle is lean, expertly crafted, and rowdy, with scenes of meteoric destruction that channel Michelangelo. The final ludicrous mission to blow up the plummeting space rock is the closest we'll come to a Bay-directed opera. But it's the cast -- Bruce Willis, Ben Affleck, Owen Wilson, Steve Buscemi, and so many more -- that makes Armageddon a ride. Bay's drill-team heroes add red and white to their blue collars for a fist-pumping display of patriotism, no international enemy required.
Big Trouble in Little China (1986)
Director John Carpenter's rollicking adventure film starring Kurt Russell is a bizarre, ambitious attempt to wrap a bunch of his idiosyncratic interests (serialized adventure stories, monster horror films, kung-fu cinema, Howard Hawks-style romantic comedy) into one sprawling artistic statement. Sadly, it flopped, but its brilliant action scenes (and possibly problematic, stereotype-driven comedy) will live forever.
Boys Don't Cry (1999)
Hilary Swank delivers an Oscar-winning performance in Boys Don't Cry, a deeply troubling film about the real-life experience of Brandon Teena, a trans man living in rural Nebraska. It is by no means a pleasant viewing experience, forcing you to witness the utter terrifyingly violent reality of an LGBTQ+ individual who feels as if he must shield his identity in a conservative community. Boys Don't Cry demonstrates the horrifying consequences not having compassion, and it's a moving, human reminder of the struggles those on the margins still face in American society.   
Fahrenheit 451 (2018)
Technically a TV movie, since it was made for HBO, but we'll let it slide. Ray Bradbury's essential dystopian novel where books are banned gets the small screen treatment, starring Michael B. Jordan as Montag, a fireman who ultimately questions the value and purpose behind the book-burning mission. He teams with Michael Shannon, an actor with the unhinged commitment to pull off an evil delivery of a simple line: "Burn it."
A Fish Called Wanda (1988)
Many crime movies have funny scenes -- for example, Jackie Browne is frequently hilarious -- but few are as consistently funny as the fiendishly clever heist comedy A Fish Called Wanda. When a pair of English low-lifes recruit Americans Wanda (Jamie Lee Curtis) and Otto (Kevin Kline) to help them steal some diamonds, they end up getting betrayed and setting off a series of ridiculous (and increasingly violent) events. With a script by John Cleese and a scene-stealing performance from Kline, it's the rare madcap farce that doesn't overstay its welcome. Each twist makes sense on a comedic and plot level. Just don't call it stupid.
Gangs of New York (2002)
In his first collaboration with Martin Scorsese, Leonardo DiCaprio shakes off his heartthrob Titanic reputation by getting down and dirty as goatee-sporting tough guy Amsterdam Vallon. But Leo has an iceberg-sized problem: Daniel Day-Lewis. As the violent, ill-tempered Bill the Butcher, the method actor extraordinaire is a terror in a top hat, stealing the whole movie with his wild-eyed magnetism. He slices, he dices, and he makes this 168 minute 19th-century period piece fly by. 
Glengarry Glen Ross (1992)
Some actors were born to speak David Mamet's pitter-patter dialogue, and many of those actors are in Glengarry Glen Ross, director James Foley's noir-like adaptation of the cantankerous writer's Pulitzer Prize-winning play about a group of real estate salesman competing to save their jobs. Al Pacino, Ed Harris, Kevin Spacey, Alec Baldwin, Alan Arkin, and, most of all, Jack Lemmon as Shelley "The Machine" Levene feast on terse put-downs, sardonic remarks, and vulgar outbursts. You'll quickly understand why the cast referred to it as Death of a Fuckin' Salesman when they were making it.
Her Smell (2019)
Becky Something, the lead singer of fictional alt-rock mainstays Something She, is a whirlwind of emotional chaos. As played by Elizabeth Moss, the captivating star of Mad Men, The Handmaid's Tale, and director Alex Ross Perry's previous psychological thriller riff Queen of Earth, she's constantly fighting a war on all fronts: against her exasperated bandmates, her watchful manager, her hopeful proteges, her wounded ex-boyfriend, and anyone else who gets in her way. Conflicts fold in on each other; enemies become allies. Divided into distinct sections that each unfold in a single location, Her Smell is a music business recovery story conceptualized and shot by cinematographer Sean Price Williams as a combat film that keeps you locked in for every beat. 
Jon Wick: Chapter 3 -- Parabellum (2019)
Whether he's slamming an enemy in the face with a book in a library or dodging stray bullets while galloping down a Manhattan street on horseback, John Wick remains calm. The always-on-the-run assassin, returning for the third entry in this surprisingly resilient series, shows weakness, pain, and even vulnerability, but no weapon can puncture the armor of stillness Keanu Reeves brings to the role, and his performance is what makes these movies so gripping. Even if some of the original's underworld grit has been shined away, replaced with scuff-free comic-book opulence and whiskey commercial ambiance, the series stays committed to simple pleasures. Alongside Tom Cruise's more outwardly stressed Ethan Hunt, Wick remains the best action hero Hollywood has to offer.
The Land Before Time (1988)
It's easy to forget, more than a dozen sequels later, how fresh the original Land Before Time was when it appeared in the late 1980s. Exploring issues of prejudice and climate devastation that remain relevant today, Don Bluth's animated classic is ultimately a friendship road story that explores what it means to feel at home. You'll shed a tear or two when you travel back into a world inhabited by Littlefoot, Cera, Petrie, Spike, and Ducky.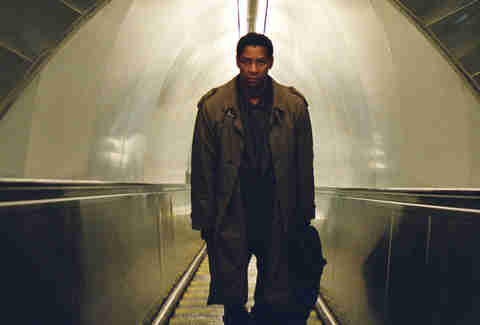 The Manchurian Candidate (2004)
Considering the current climate in Washington, this haunting political thriller, about a Gulf War veteran who discovers a plot by a private equity firm to assassinate the President using brainwashed soldiers, strikes an even more uncomfortable chord than it did a year into the occupation of Iraq. Remade from Frank Sinatra's 1962 film of the same name (which is also available on HBO Go at the moment) by the late Jonathan Demme (Silence of the Lambs), The Manchurian Candidate is tense enough to make the steely Denzel Washington's sweat, in large part due to Meryl Streep's unhinged turn as a mother happy to see her son ride a wave of blood to America's highest position. Creepy from beginning to end.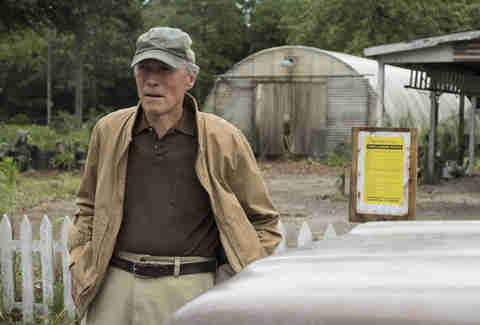 The Mule (2018)
No matter how one-dimensional they may appear, Clint Eastwood's heroes are always cloaked in ambiguities and contradictions. In the ripped-from-the-headlines crime melodrama The Mule, the 88-year-old filmmaker plays Earl Stone, an elderly horticulturist who falls on hard times and becomes a drug runner for a Mexican drug cartel, but this isn't a geriatric take on Breaking Bad or an ultra-violent shoot-em-up. Instead, Eastwood's patient camera floats across barren American landscapes; his gruff protagonist pauses to enjoy pulled pork sandwiches in local restaurants and beloved oldies on the car stereo along the way. Just don't ask Earl to send you a text message.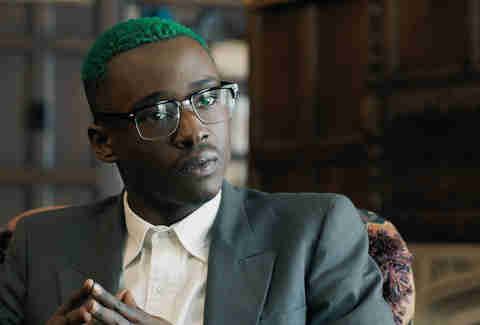 Native Son (2019)
In updating Richard Wright's Native Son for our current age, visual artist Rashid Johnson and Pulitzer Prize-winning playwright Suzan-Lori Parks largely hew to the outline of the novel's plot, down to the inclusion of a disturbing moment that made the audience at Sundance's opening night murmur in shock. The 2019 Bigger Thomas (Ashton Sanders) is a green-haired punk who gets a job working as a driver for a wealthy white man, Henry Dalton and his family. There he meets Mary Dalton (Margaret Qualley), Henry's beautiful daughter whose attempts at inclusivity are racist and vapid. But Bigger and his girlfriend Bessie (KiKi Layne) are driven deeper into her orbit until a tragedy unfolds. What results is a film full of arresting images and strong performances from the likes of Moonlight's Sanders and If Beale Street Could Talk's Layne, driven by the enduring power of Wright's prose. 
Notting Hill (1999)
In an appeal to nerdy women everywhere, Hugh Grant plays a London bookshop owner who falls in love with famous American actress Julia Roberts (who more or less plays herself). Let's be honest: we all wanted to move to London and haunt bookstores for our own Hugh Grant after seeing this movie. There are many hilarious moments throughout Notting Hill, all made funnier by Grant's straight face, but the wacky Welsh roommate posing in his underwear for the paparazzi slays. Grant and Roberts have the predictable struggles of a commoner dating an A-lister, but their at-first tentative, then enduring love for one another makes us root for them to live happily ever after.
Punch-Drunk Love (2002)
Does Paul Thomas Anderson's furious romantic comedy count as an Adam Sandler movie? The pieces are there: the Billy Madison star plays Barry, a novelty plunger salesmen who battles his malicious sisters, a shadowy phone-sex extortionist, and the crippling effects of depression, all while falling in love with the women of his dreams. With brighter lighting and a top-40 soundtrack, it would follow in the tracks of Happy Gilmore and Big Daddy. In Anderson's hands, it's a melancholic character study that strangles Sandler's persona with his own vocal chords.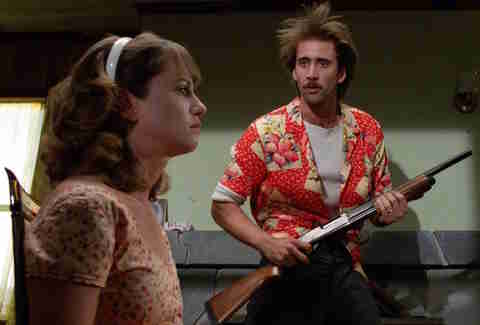 Raising Arizona (1987)
"That night I had a dream..." In its closing moments, Raising Arizona takes on a deeply philosophical bent: what if we have alternate selves who live different lives? It's possible to think of the Coen brothers' career in the same way. Coming off Blood Simple, it would've been easy for the pair to dig deeper into the dark, rain-soaked world of noir thrillers, but instead they made a madcap comedy, complete with a Looney Tunes chase sequence, ornate hick dialogue, and a character called "the Lone Biker of the Apocalypse." And it all worked. The movie endures thanks to a love story between Nicolas Cage and Holly Hunter, which might be the most life-affirming relationship in the Coens' whole filmography. Watching Hi and Ed struggling to raise a child they kidnapped from a local big shot slowly makes you a part of their bizarre, fucked-up family. 
RoboCop (1987)
Feel for the people tasked with remaking Paul Verhoeven's violent, vicious police story. He didn't just get it right the first time -- Verhoeven was the Clarence Boddicker to his Alex Murphy of a movie, shooting until it was a bloody pulp. RoboCop reaches deranged levels of brutality and gore in its quest to satirize American jurisprudence. ED-209 guns down a room full of executives and we cheer. Murphy is blown to bits and we gasp, until he's reborn with robot parts and takes revenge in equally destructive ways. Verhoeven's shootouts are high caliber, even when they're critical. The beauty of RoboCop: there's a head on its shoulders, even if it's half Hollywood machine.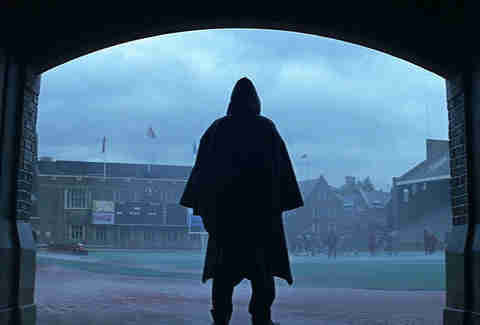 Unbreakable (2000)
With 2019's Glass, M. Night Shyamalan continued to sequelize this underrated pseudo-comic-book movie by converging the worlds of never-sick David Dunn (Bruce Willis) and the frail psychopath Mr. Glass (Samuel L. Jackson) with the oddities seen in this year's Split franchise. Whatever makes him happy! Even if the concept-fusing experiment went awry, nothing will ever change this subdued gem, where palpable feelings of dread, guilt, and empowerment are splashed with moments of rainy day superheroism.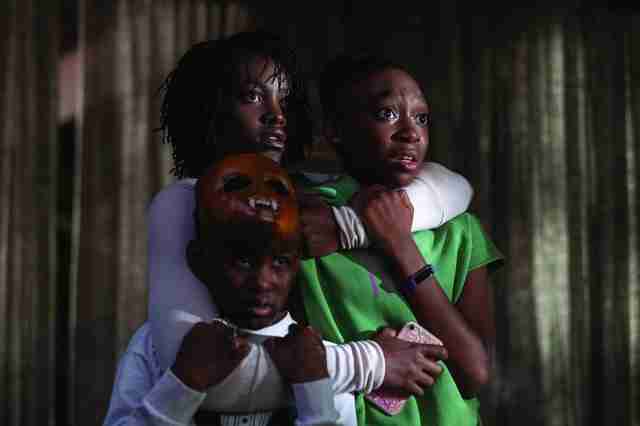 Us (2019)
The double, the doppelgänger with questionable intentions and mysterious origins, is a potent concept for both horror and comedy. Fittingly, writer and director Jordan Peele uses the device to elicit scares and laughs in Us, his sophomore feature about a family, led by intrepid parents Adelaide (Lupita Nyong'o) and Gabe (WinstonDuke), facing off against their jumpsuit-wearing, scissor-wielding counterparts in the middle of a leisurely vacation. What begins as an unsettling home invasion thriller with socio-political undertones in the vein of Michel Haneke's Funny Games gives way to a more frenzied, twist-filled science-fiction brain-teaser that tunnels deep into feelings of paranoia like an episode of Lost or The Twilight Zone. Untethering the ideas becomes half the fun.