Let's face it: You can only watch so much Netflix. At a certain point, all those little floating movie posters start to blend together, and you groan, "I've already watched The Ridiculous 6 a dozen times."
Well, that's what HBO GO and HBO NOW are for. Dig into these classics and recent award-winners currently showing on the premium sibling services.
Recommended Video
Big Boi From OutKast Introduces Cliff to Atlanta's Food Scene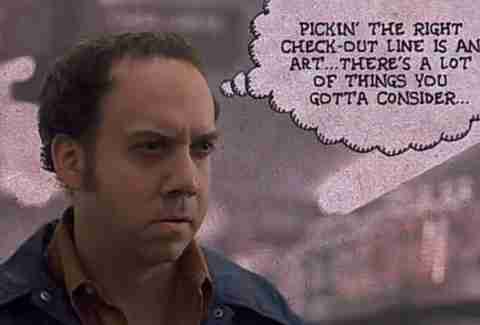 American Splendor (2003)
Paul Giamatti plays the perfect curmudgeon in this quirky biopic of Harvey Pekar, the illustrator behind the self-deprecating comic book strip also called American Splendor. Pekar shot to national fame thanks to combative appearances on David Letterman's late-night show, the last of which effectively turned into an on-air argument that ended their tense friendship. Part-documentary (with appearances from Pekar himself), part comic book, and part fictional biopic, there's nothing quite like American Splendor -- a fitting tribute, because there was no one quite like Harvey Pekar. 
Anchorman: The Legend of Ron Burgundy (2004)
In the comedy that turned Will Ferrell into a full-blown movie star, the legend of Ron Burgundy, San Diego's top-rated newsman in an era when "anchormen reigned supreme," was born. Though Burgundy "was the balls" of California local news programming, his outrageous success is threatened once female anchor Veronica Corningstone (Christina Applegate) arrives at his boy's club of a broadcast station to shake things up. Directed by Oscar winner Adam McKay and starring a whole cast of ridiculous characters (like Paul Rudd as Brian Fantana and Steve Carell as Brick Tamland), Anchorman has become a comedic classic -- itself a legendary, crudely hilarious film.
Being John Malkovich (1999)
You can't doubt the audacity of screenwriter Charlie Kaufman (Eternal Sunshine of the Spotless Mind, Anomalisa), whose first produced screenplay hinged on attracting the title actor to a script that has office drones discovering a portal into his mind. John Cusack, Catherine Keener, and Cameron Diaz combine to create an atmosphere of desperate, egomaniacal darkness, and by the end you'll feel confused and maybe a little slimy about the times you've participated in celebrity gawking.
Big Fish (2003)
Albert Finney stars as Edward Bloom, a dying fabulist struggling to connect with his estranged son (Billy Crudup), and a grinning Ewan McGregor plays the younger version of Bloom as an earnest and wonderstruck adventurer. A mermaid, a werewolf, and a tender-hearted giant pop up as well. Despite all the wild creatures, Big Fish is perhaps director Tim Burton's simplest and most emotionally direct movie, an old-fashioned tearjerker tricked out with fanciful special effects, quirky performances, and one of Danny Elfman's best scores. It tugs at the heartstrings with studied precision.
Blockers (2018)
Kay Cannon slid narratives about female friendship and middle-aged anxiety into her ridiculously funny sex comedy about three teens that plan to lose their virginities on prom night. Two of their parents, played hilariously by Leslie Mann and John Cena, lose their minds when they discover this pact, and decide to make it their mission to stop it from ever taking place. A third dad (Ike Barinholtz) tags along -- not because he thinks what they are doing is right, but because he's lonely. Meanwhile, the girls -- played by Kathryn Newton, Geraldine Viswanathan, and Gideon Adlon -- are experiencing their own uneasy awakenings as they forge ahead during the raucous night. There are crass gags galore, but you're also likely to leave thinking about Blockers' melancholy threads about adulthood. 
Bring It On (2000)
"This is not a democracy, it's a cheerocracy." Almost two decades later, this vicious comedy about competing, racially divided cheerleaders feels more relevant than ever. Back when they still made teen movies with spunk, Kirsten Dunst and Gabrielle Union gave two of the most sizzling performances of their career while parading around in pleated skirts. This one will surprise you.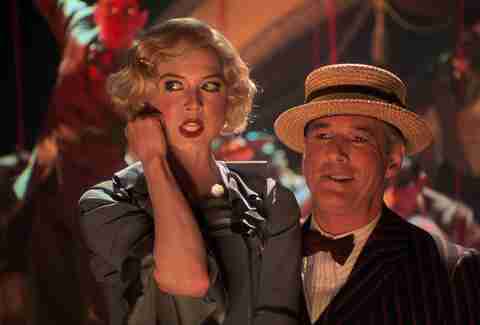 Chicago (2002)
This Broadway-to-screen adaptation was the first musical to pick up the Best Picture Oscar in 34 years, and for good reason. Jubilant, raunchy, and bold enough to stage musical numbers in the least realistic ways possible, Chicago is an unabashed Hollywood production where the star-studded cast of Renée Zellweger, Catherine Zeta-Jones, Richard Gere, Queen Latifah, John C. Reilly doesn't so much disappear into roles like the murderous Roxie Hart or the manipulative Billy Flynn as it does completely own them. A good movie to play in the background for the tunes but a great movie to sit down and soak up.
Fahrenheit 451 (2018)
Technically a TV movie, since it was made for HBO, but we'll let it slide. Ray Bradbury's essential dystopian novel where books are banned gets the small screen treatment, starring Michael B. Jordan as Montag, a fireman who ultimately questions the value and purpose behind the book-burning mission. We're looking forward to the interpretation of the book's sci-fi imagery, as well as Michael Shannon evilly commanding, "Burn it."
Fantastic Mr. Fox (2009)
Wes Anderson adapted Roald Dahl's beloved children's novel in the director's first stop-motion feature film. Featuring a sly George Clooney as the voice of the titular character, who's been busy pissing off farmers by stealing their crop, the movie showcases a classic man-versus-woodland-critters conflict. It's exactly what you would want out of an Anderson animated film, starring his typical cast of characters (Jason Schwartzman, Bill Murray, Owen Wilson, plus Meryl Streep)  as the voices of anthropomorphized creatures. It's also just plain cute.
Fargo (1996)
The Coen brothers' 1996 classic has stood the test of time (and inspired the anthology TV show of the same name) for a reason. Stacked with a star-studded cast and infused with a dark sense of humor, this homespun murder story, about Jerry Lundegaard's (William H. Macy) clumsy crime goof, won't disappoint. It more than deserved the Oscars it received for best screenplay and best actress in a lead role -- Frances McDormand, don'tcha know? If you've never seen it, ya gotta.
Game Night (2018)
One of the best comedies of the year follows a game night gone wrong in this surprisingly dark comedy-action-thriller hybrid. One of Max (Jason Bateman) and Annie's (Rachel McAdams) typical nights in with friends goes awry thanks to the intrusion of Max's annoying brother, Brooks (Kyle Chandler), who inadvertently gets the crew mixed up in a real-life mystery they're led to believe is a fake adventure game to solve. The comedic bits throughout the film are memorably specific -- from a tangent about Denzel Washington to a bullet extraction gone awry -- and everyone in the stacked cast is in peak form.
Goodfellas (1990)
Revered by cineastes and dorm-poster-loving bros alike, Martin Scorsese's take on Nicholas Pileggi's Wiseguy unfolds like Alice in Wonderland, with youngster Henry Hill (Ray Liotta) plummeting down the mafia rabbit hole into a hell he could never have imagined. Performances by Robert de Niro and Joe Pesci are notorious, but it's the way that Scorsese's coked-up camerawork weaves through history that makes Goodfellas frightening, delirious, and darkly funny. What do you mean I'm funny?
The Hangover (2009)
The Hangover is peak bro comedy, but it's so ridiculous and the bits play out so well that this raunchy party film is absolutely hysterical. When three groomsmen (Bradley Cooper, Zach Galifianakis, Ed Helms) get so wasted that they lose their best friend in Las Vegas during a bachelor party gone wrong, they're forced to uncover their foggy memories to find out where he could be in order to get to the wedding on time. Of course, it's a shit show -- with insanity ranging from tigers, random babies, an appearance by Mike Tyson, and lots of drugs -- but there's never a dull moment. Just lean into the "what happens in Vegas" vibe and enjoy the trip. 
Inception (2010)
Christopher Nolan's sci-fi masterpiece thrusts you into the world of dreams, and leaves you so bewildered that it's difficult to wake up. Starring Leonardo DiCaprio as a corporate spy who steals secrets by inserting himself in others' subconscious dream states, the film not only imagines this complex universe, it flips its structure, as DiCaprio's man on the run is made to plan the perfect heist in order to leave behind his criminal life. Rather than stealing ideas, he's got to implant one -- that's inception, baby! -- with his team of specialists, resulting in a surrealist, multilayered film.
Inherent Vice (2014)
Paul Thomas Anderson's adaptation of Thomas Pynchon's detective novel plays as a drugged-out post-modern masterpiece of style that successfully navigates Pynchon's challenging prose, but it's also downright funny. As perpetually stoned private investigator Doc Sportello, Joaquin Phoenix mumbles his way through one of Pynchon's almost indecipherably complex plots, which involves organized crime, a wealthy landowner, mistresses, informants, and lots and lots of drugs. An ensemble cast that includes Josh Brolin, Reese Witherspoon, and Owen Wilson helps give this madcap movie an early jump on cult classic status.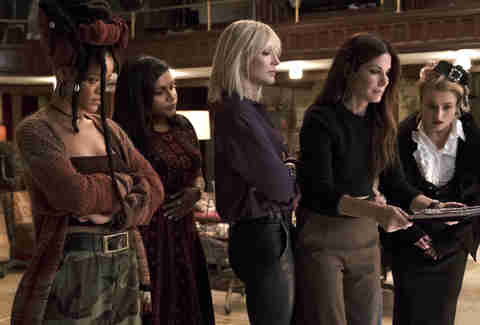 Ocean's 8 (2018)
Sandra Bullock, Cate Blanchett, Awkwafina, Rihanna, Mindy Kaling, Sarah Paulson… the names billed in this star-studded, women-led addition to the Ocean's heist franchise could go on and on, each bringing their unique flair to this film about criminal Debby Ocean's (Bullock) plan to rob the Met Gala. Despite just being released from prison, little can keep Ocean from getting her hands on a large sum of cash, even if it means snatching jewels around the neck of an A-lister, played hysterically by Anne Hathaway, at fashion's biggest night. Of course, she's going to assemble the perfect crew for the gig. With all of your favorite actresses and plenty of great avant garde looks that would suit the real Met Gala, this film's a lot more fun than any one effort in the Clooney Ocean's trilogy.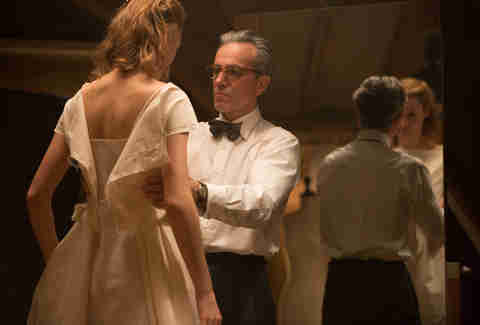 Phantom Thread (2017)
Reynolds Woodcock (the now-retired Daniel Day-Lewis) is the premier fashion designer of the era, a genius playboy who detects the contours of women, dresses, and life itself like Neo sees The Matrix. And though his sister Cyril (Lesley Manville) manages every second of his every day, a new muse, Alma (Vicky Krieps), slips by the alarms and disrupts his understanding of success with a simple trick: love. In Phantom Thread, everything from Woodcock's mansion to the draping gowns to pans of sautéed mushrooms are fashion-shoot-worthy (the Oscar voters noticed, too), but there's also a devilish comedic streak to the movie, like a prestige version of Curb Your Enthusiasm. Early on, Woodcock reveals that he sews secret messages into his garment; director Paul Thomas Anderson does the same in Phantom Thread, a drama rich with details and personal admissions.
The Post (2017)
Steven Spielberg, Tom Hanks, Meryl Streep, and a dramatic retelling of a critical moment in American history -- need we say more? This 2018 Best Picture nominee follows Washington Post publisher Katharine Graham (Streep) and executive editor Ben Bradlee (Hanks) as they wrestle with the decision to publish the Pentagon Papers. It's a slick, big-budget Hollywood look at an era that echoes the current open antagonism between the White House and the free press.
 
The Shape of Water (2017)
This Cold-War-era fairy tale rattles a G-rated romance between a human woman and an amphibian fish-man with splashes of R-rated reality. Elisa, a mute janitor at a hush-hush government research lab, doesn't just pine for the model man, she's sexually stifled, her pleasure scheduled each morning to the ring of an egg timer. Her soon-to-be-lover, the ripped, otherworldly "asset" fought over by American scientists and Russian spies, is a viable lover, but sheds blood like any other tortured creature. Del Toro doesn't flinch in any of the graphic details, but a classic Hollywood touch, lush color palette, and air of innocence make this horror-adjacent story of outsiders as sweet as any Disney flick.
Taken (2009)
Taken was supposed to be forgettable. Half a year went by between its French and US release because executives couldn't decide if director Pierre Morel and producer Luc Besson's geri-action movie even deserved a theatrical release. Eventually, it landed on our shores -- and with high impact. Liam Neeson's grizzled charisma, peerless karate-chopping skills, and one of the most iconic mission statements in recent memory ("I have a very particular set of skills...") turned the daddy-rescue pic into an instant cult classic, providing a career rebirth for the longtime character actor and legions of lesser knockoffs (many starring Neeson himself).
Three Billboards Outside Ebbing, Missouri (2017)
Martin McDonagh, a British-Irish playwright known for bloody, profanity-laden parables, jumps the Atlantic to tell this story about small-town politics and the geyser-like power of anger. A year after her daughter was raped and murdered, and with no suspect in hand, Mildred (Frances McDormand) kicks the police in the ass by buying up three billboards with a block letter reminder: "STILL NO ARRESTS." From the dying sheriff to the drunken, racist dimwit deputy to Mildred's own son, who just wants to forget his pain, Mildred's provacateurship gets under everyone's skin. McDonagh sinks his teeth into every meaty expression of hate, rage, and difficulty, and finds humor in the unlikeliest places, as he follows Mildred, hell-bent on answers. In a world where nothing makes sense, the raw nerves of Three Billboards are truly cathartic.
Tickled (2016)
When journalist David Farrier attempts to investigate the bizarre world of competitive tickling, he hits a roadblock: a mysterious bully who acts like a real-life supervillain. Farrier and Dylan Reeve's 92-minute documentary -- among the best of 2016 -- starts to unspool as a rollicking exposé, but it quickly morphs into an uncomfortable thriller.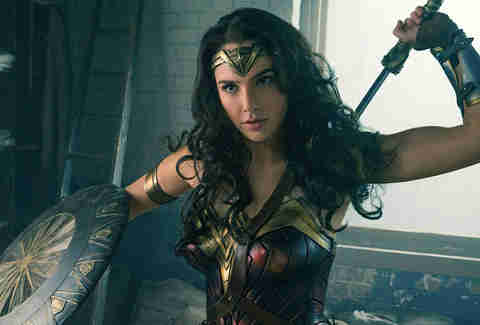 Wonder Woman (2017)
Yes, it's crazy that it took so long to get a female-led superhero blockbuster, especially given the proliferation of superheroes in the Marvel cinematic universe. But Wonder Woman finally arrived and delivered the goods -- the superhero movie that broke all kinds of records last year, and now you can watch (or re-watch) from home.