These Movies Are Way Better Than Their Rotten Tomatoes Scores
As we've proven time and time again, Rotten Tomatoes' patented Tomatometer isn't always a trusty gauge. To further our case, we've selected seven more flicks that deserve vindication from their sub-certified Fresh stigma. And we even tell you where you can find them. Now all you have to do is watch.
Dead Presidents (1995)
Starring: Larenz Tate, Chris Tucker, Freddy Rodriguez, N'Bushe Wright
Directors: Allen and Albert Hughes
Tomatometer reading: 45%
Why it's better than it looks: With their second feature as co-directors, the Hughes brothers took full advantage of the budgetary latitude their breakout hit, 1993's Menace II Society, afforded them. Dead Presidents -- inspired in part by Wallace Terry's book Bloods: An Oral History of the Vietnam War by Black Veterans -- is a sprawling effort to illustrate how that conflict disrupted and derailed the lives of middle-class African-American men in cities like New York.
The two-hour runtime gets spread a bit too thin, but Dead Presidents is riveting for spells, no more so than when Anthony (Tate) and his fellow vets and militants plot and carry out a massive bank heist with massive repercussions. The soul and R&B soundtrack, spanning eras and moods by way of Isaac Hayes and the O'Jays, articulates what occasionally gets left unaddressed amid the movie's pure ambition.
Where to see it: Amazon, iTunes, VUDU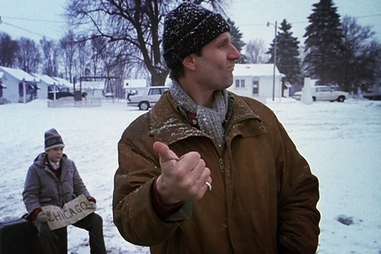 Dutch (1991)
Starring: Ed O'Neill, Ethan Embry (né Randall), JoBeth Williams
Director: Peter Faiman
Tomatometer reading: 14%
Why it's better than it looks: Poor reception to his screenplays, both Dutch and the same year's Curly Sue, deepened the distance between John Hughes and Hollywood, though Dutch is a far superior work to its counterpart. Audiences may not yet have been willing to accept Married with Children slob Ed O'Neill as an affable working man, though Modern Family suggests that his casting was prescient. O'Neill is the title character and boyfriend of JoBeth Williams' Natalie, who asks him to corral her bratty son from boarding school and get him home for Christmas.
Dutch is ostensibly Planes, Trains & Automobiles as a future-stepdad/stepson coming-of-age road movie. Embry is almost unrecognizable as the eventual lanky star of Can't Hardly Wait, but his spoiled prep routine as Doyle makes him a perfect foil for the slowly simmering O'Neill. It all follows a fairly predictable formula, but if it weren't for Dutch's fatherly intervention and the pair's eventual connection, little Doyle would have grown up and become this.
Where to see it: Netflix
Jack the Bear (1993)
Starring: Danny DeVito, Gary Sinise, Julia Louis-Dreyfus, Miko Hughes
Director: Marshall Herskovitz
Tomatometer reading: 29%
Why it's better than it looks: Just to get this out of the way, there's a movie within the movie of Jack the Bear that has something to do with Gary Sinise as a Nazi neighbor kidnapping Danny DeVito's kid, attacking his older son, and getting eaten alive by feral dogs. But look past that, and Jack the Bear's a warm and detailed period piece that portrays an eccentric middle-class Oakland in the early 1970s. And DeVito, as well as Robert Steinmiller and Miko Hughes as his boys, are all terrific, and you root for their family even as the narrative closes with some pat, TV-movie-of-the-week schmaltz. Dread and drama muddy Jack the Bear somewhat, but director/thirtysomething creator Herskovitz and writer/The Night Of scribe Steven Zaillian manage an authentic slice of life despite their bananas third act.
Where to see it: STARZ, ENCORE Play
Just Friends (2005)
Starring: Ryan Reynolds, Amy Smart, Anna Faris, Chris Klein
Director: Roger Kumble
Tomatometer reading: 42%
Why it's better than it looks: This was peak post-Van Wilder, fresh off Harold & Kumar-era Ryan Reynolds, when he was all goofy smiles and can't-help-himself slapstick charm. And Just Friends -- which concerns Reynolds' ugly duck-turned-LA womanizer Chris passing through his hometown and reconnecting with high school crush Jamie (Smart) -- walks right along that fine line between hopelessly broad and perfectly sweet and silly. Faris steals scenes as Chris' numbskull pop-star client, although she's nearly outshone by Chris Marquette as his shrieking, hormonal brother Mike. Future nostalgists will deem Just Friends archetypally mid-aughts, although its arguable contribution to comedy lore is Reynolds' ode to '90s R&B.
Where to see it: FandangoNOW, Google Play, Amazon, VUDU, CinemaNow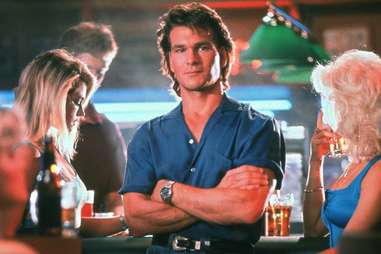 Road House (1989)
Starring: Patrick Swayze, Kelly Lynch, Sam Elliott, Ben Gazarra
Director: Rowdy Herrington
Tomatometer reading: 38%
Why it's better than it looks: Because Patrick Swayze will make you eat your heart out it and then rip out your throat. Because, as hyped up by more than two decades of cult fervor, it's a dirty genre pic dressed up like a legitimate studio film. And, most importantly, because Swayze's ass-kicking bouncer Dalton is some kind of stoic, spiritual cousin to Roddy Piper's bubblegum-chewing lone ranger in They Live. Though really, it's acting icon/John Cassavetes company man Ben Gazzara who saves the film from infamy with an undeservedly dedicated turn as evil businessman Brad Wesley. Road House earns its reputation as midnight-movie fodder, but also offers a bizarre and compelling pair of manly men as its hero and villain.
Where to see it: VUDU, FandangoNOW, Amazon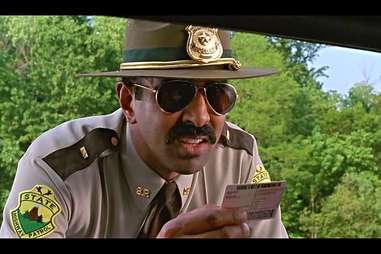 Super Troopers (2001)
Starring: Jay Chandrasekhar, Brian Cox, Kevin Heffernan, Geoffrey Arend
Director: Jay Chandrasekhar
Tomatometer reading: 35%
Why it's better than it looks: Super Troopers is harmless at worst. Though its legion of admirers (who are amped for its sequel, out this year) would classify it among the upper echelon of college-dorm farces. It was also many Americans' introduction to the Broken Lizard comedy troupe, namely its breakout talent, Troopers director/co-writer Jay Chandrasekhar, who's gone on to pen helm episodes of Arrested Development, Community, The Goldbergs, and New Girl, among others.
Super Troopers is nowhere near as nuanced as, say, Arrested Development, but as an extension of the slobs vs. snobs hard-R tradition, it checks off every box. And like Road House (there's a comparison you don't see every day), Super Troopers gets an arresting (eh, eh?) antagonist contribution from Brian Cox, who may or may not have realized he was in a deadpan stoner flick about humble patrolmen with dreams of cars that sprout wings.
Where to see it: Amazon, iTunes, FandangoNOW, VUDU
The Texas Chainsaw Massacre 2 (1986)
Starring: Dennis Hopper, Bill Moseley, Caroline Williams, Bill Johnson
Director: Tobe Hooper
Tomatometer reading: 44%
Why it's better than it looks: Have you seen the other Texas sequels (all due respect to Matthew McConaughey and Renée Zellweger)? Not that Tobe Hooper's follow-up to/send-up of his stark 1974 chiller only benefits from retrospect. TCM 2 is a manic delight, dialing up the dark comedy latent in its predecessor and offering a host of new cannibal nutjobs alongside Bill Johnson's over-caffeinated twist on Gunnar Hansen's more plodding, original Leatherface. Future schlock-horror icon Bill Moseley (Night of the Living Dead remake, The Devil's Rejects) stands apart as glitchy psycho Chop Top, though how could Hooper have not instructed his bad guys to go the extra mile when their adversary, the local lawman, is played with characteristic intensity by Dennis Hopper? More for cult buffs than Texas diehards, TCM 2 is best devoured as an '80s insomniac feast.
Where to see it: Amazon, iTunes, VUDU
Sign up here for our daily Thrillist email, and get your fix of the best in food/drink/fun.
Kenny Herzog is a journalist for outlets including
Rolling Stone
, Vulture, Death + Taxes, and this one. He used to be an editor at places. Now he's not. You can find him on Twitter @kennyherzog.