The Best Movie That Takes Place in Every State
Daniel Fishel/Thrillist
Daniel Fishel/Thrillist
The United States of America is divided into 50 smaller, semi-autonomous districts, called states, responsible for establishing laws on things like education, regulation of alcohol, speed limits, and any other rule not reserved for the federal government and doesn't contravene national laws. Combined with natural climate and geographical discrepancies, along with the weight of history, these "states" each have a distinct identity, an identity that can be depicted in film.
That identity is what we're interested in here: What is the best movie in every state? We gave ourselves a few criteria to guide our choices, though any ranking based on human-made borders is bound to be fraught with debate and uncertainty. With that proviso, we tried to select movies that took place mainly in a given state, which meant road trip classics (Easy Rider or Thelma and Louise come to mind) won't show up here. We also picked films that represent a state's place in the nation's collective consciousness -- you probably don't think "New Hampshire!" when someone mentions Jumanji. So, we humbly present you with the best movie from every state: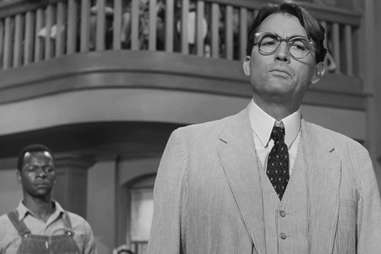 Alabama
To Kill a Mockingbird (1962)
The dark marks speckled across all of American history are not without their righteous counterweights, as illustrated in this award-winning adaptation of Harper Lee's novel. When a judge assigns known egalitarian Atticus Finch to defend a black man accused of raping a white woman, the existing class and racial struggles of Maycomb, Alabama reach a boiling point. Anchored by actor Gregory Peck's stern thunder -- his delivery of Atticus's closing remarks remain inspiring -- instilled with innocence by two precocious child actors, and complicated further by the heroism of recluse Boo Radley (the legendary Robert Duvall, in his first screen performance), To Kill a Mockingbird is the rare "great American novel" translated into a great American film.
Alaska
Insomnia (2002)
With Insomnia, a remake of the popular Norwegian hit of the same name, Christopher Nolan proved to Hollywood that his previous successes weren't flukes. The director's third feature made particularly good use of Al Pacino, Robin Williams, Hilary Swank, and Alaska itself in a strange but mesmerizing combination. Pacino starred as a world-weary detective sent to assist local cop Hilary Swank in a serial killer hunt, Williams as the killer, and the small town of Nightmute, Alaska as a low-key supporting player, an almost otherworldly setting whose perpetual daylight becomes as antagonistic as the movie's villain. While portions of Insomnia were filmed in Canada, we still applaud Nolan for fleshing out a corner of the country that many view as foreign and uninhabitable. The result is a movie and a city you won't soon forget.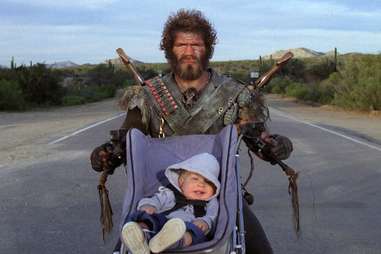 Arizona
Raising Arizona (1987)
Apologies to Sicario and (oof) Sicario 2: Soldado, but this early Coen brothers movie gets the nod, and not just because it has "Arizona" in its name. Nic Cage and Holly Hunter star as a criminal-police officer couple who want nothing more than to have a baby, but can't conceive. The solution? Kidnap one of the quintuplets belonging to a wealthy Arizona businessman. The ensuing chaos plays out against a parched desert background, and you can view this as something of an earlier sketch of the themes the filmmaking duo would explore to huge popular acclaim later: Comically inept criminals; scenes of tender, if misguided, affection; and a John Goodman character who's essentially a rough draft of his role in The Big Lebowski.
Arkansas
A Face in the Crowd (1957)
This subversive drama may ring eerily familiar today: Andy Griffith, in his first film role, stars as Larry "Lonesome" Rhodes, a loud-mouthed drifter whose blunt opinions and folksy charisma catapult him from a jail cell to TV stardom to the "big time" in New York City, where corporate fascism poisons his soul. A Face in the Crowd isn't a moral judgment of you, Arkansans. In fact, the story of soapbox greed celebrates the personality of our nation's nooks and crannies, and warns us how Southern charm can be weaponized against the people who respect it the most. The brilliant Patricia Neal and Walter Matthau costar as Lonesome Rhodes' close confidantes, who become the audience's proxies as they realize: You can take the boy out of Arkansas, and you can take the Arkansas out of the boy.
California
Sunset Boulevard (1950)
No disrespect to Fast Times at Ridgemont High, Vertigo, and Boogie Nights, but the best California movie has to be a noir and it has to be set in Los Angeles, home of the movie business. Billy Wilder's acidic murder mystery, which is often ranked among the best movies ever made, checks both of those boxes with wicked delight. William Holden drives the plot as screenwriter Joe Gillis, who begins the movie floating facedown in a pool and narrating his own death, but the real star is Gloria Swanson, playing bitter silent film icon Norma Desmond. Back in 1950, Hollywood was already wrestling with its own complex history, dismantling the myths and lies that power the city to this day.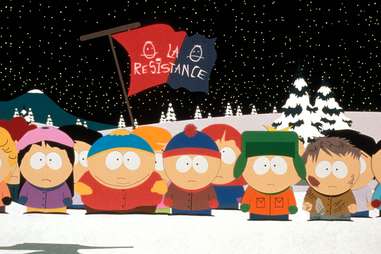 Colorado
South Park: Bigger, Longer & Uncut (1999)
It's a cartoon, sure, but no property in the entertainment industry has been quite so dedicated to mining the Centennial State for laughs than South Park. From Casa Bonita and Dealin' Doug references to Bronco pride and utterly stupid neighborhood abbreviation send-ups, it feels like creators Matt Stone and Trey Parker have done it all. What's most impressive about the show is it often manages to relate local storylines and phenomena to the country or world at large. The movie, which featured the town's kids trying to prevent a meta-war against two filthy comedians, is a shining example of Colorado specificity elevated to global truths.
Connecticut
Beetlejuice (1988)
Connecticut's pastoral countryside becomes a living hell for Adam and Barbara Maitland (Alec Baldwin and Geena Davis) when they not only drive off a bridge and fall to their deaths, but live out eternity in their former home -- now owned by superficial New Yorkers with post-modern renovation plans. To help scare them away, the couple recruits Tim Burton's version of the devil: Michael Keaton's slobbering, scruffy ghost-with-the-most, Beetlejuice. Luckily, by the end, Beetlejuice's head shrinks a few sizes, Winona Ryder dances to "Jump the Line" with a deceased football team, and old and new worlds learn to live harmoniously in CT.
Delaware
Fight Club (1999)
Fight Club has its fair share of memorable moments: the weird penis flashing, the first rule of Fight Club, and, of course, THE TWIST. One thing it's lesser known for, and one thing that's never made super obvious in the movie: Chuck Palahniuk's slugfest was set in Wilmington, a fitting piece of trivia for a state people often forget exists, unless you happen to run a business incorporated in Delaware, where the tax laws are the friendliest in the nation. Also, 15 years after the movie's release, life began imitating art -- minus the corporate sabotage.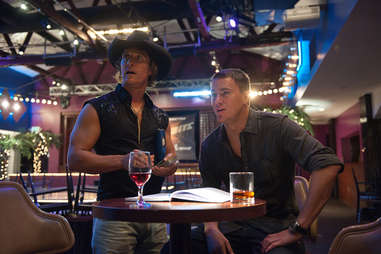 Florida
Magic Mike (2012)
Last year's indie The Florida Project did an excellent job of capturing the state's hardscrabble character, but it didn't have Channing Tatum playing a stripper nicknamed Magic Mike. Only one film has that: Magic Mike. (OK, actually, Magic Mike's equally good, equally buff road trip sequel Magic Mike XXL also has that.) With its combination of self-deprecating humor, laid-back intelligence, and goofball exuberance, Magic Mike feels more authentically Florida than any number of bleak "Florida man" articles floating around the internet. It's a movie that looks ridiculous from afar but you end up returning to it over and over. What's more Florida than that?
Georgia
The Color Purple (1985)
While there's a case to be made for the melodrama of Gone With the Wind or the tension of Deliverance, we're going with Steven Spielberg's The Color Purple, the film debut of both Whoopi Goldberg and Oprah Winfrey, as the definitive Georgia film. The trials and tribulations of young Celie (Goldberg) can be challenging to watch, but the emotional intensity of the performances makes this essential viewing. This adaptation of Alice Walker's acclaimed 1982 novel isn't without its faults -- at the time of release, Spielberg was widely criticized for leaving out important elements of the story -- but it's the type of movie that lingers in your memory.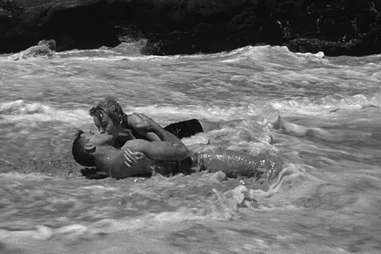 Hawaii
From Here to Eternity (1953)
Ghosts of the past, romantic and war-torn, linger in Hawaii, and From Here to Eternity captured them early on. Adapted from an 800-page novel of the same name, the complex story of a rifle company stationed on the island of Oahu shortly before the bombing on Pearl Harbor tackles military expectations, forbidden romance, and moral ambiguity. The movie's best known for its iconic shot of Burt Lancaster and Deborah Kerr hooking up as waves coming crashing from behind, but the movie's relationships and strong-headed performances -- from major names like Lancaster, Kerr, Montgomery Clift, Frank Sinatra, Donna Reed, Ernest Borgnine, George Reeves, and more -- makes From Here to Eternity a more sullen, shocking affair.
Idaho
Napoleon Dynamite (2004)
After its release, Jared Hess's 2004 indie quickly became a cult phenom. Young moviegoers were soon quoting the titular geek, his friends, and his brother, Kip. With all its deadpan and random humor, the movie would prove influential in the comedy world, fueling an appetite for similarly quirky stylings. It also, thanks to the unique portrayal of Napoleon's hometown, would put its real-life setting, Preston, Idaho, on the map. Vote for Pedro!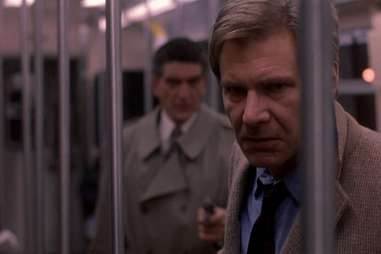 Illinois
The Fugitive (1993)
Andrew Davis, the director of The Fugitive, is an unsung hero of Chicago filmmaking. In addition to giving us the scene where Dr. Richard Kimble (Harrison Ford) escapes his nemesis Deputy US Marshal Samuel Gerard (Tommy Lee Jones) by blending into the St. Patrick's Day parade, he also set multiple less celebrated action movies -- Chuck Norris's Code of Silence and Steven Segal's Above the Law -- in the Windy City. Most importantly, he filled out the background of his movies with gruff yet lovable figures like ex-cop-turned-thespian Joseph Kosala and Chicago character actor Ron Dean. It's that touch that gives even a slick, propulsive thriller like The Fugitive a sense of lived-in authenticity.
Indiana
Hoosiers (1986)
Indiana has a deep bench of solid movies -- Breaking Away, Rudy, and A Christmas Story all deserve shout-outs -- but there's only one movie that deserves a spot on our starting lineup: the '80s basketball drama Hoosiers. Besides being about Indiana basketball, one of the topics people from Indiana simply can't get enough of, the movie also features career highlights from Gene Hackman, Dennis Hopper, and composer Jerry Goldsmith, who wrote the movie's classic score. Just listen to that music and try not to fight back a few tears.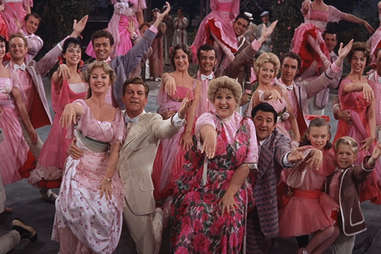 Iowa
The Music Man (1962)
This pick is not an endorsement of the Midwestern musical's sweeping diss track, "Iowa Stubborn." We firmly believe all humble do-gooders would fall for the marching band-themed con of one Harold Hill (Robert Preston). But this is an endorsement of every toe-tapping number in Meredith Willson's classic score, the dance scenes set across a run-of-the-mill town, Shirley Jones's Marian (a librarian who finally gets the time of day), and barbershop quartet singing, an art that will and should never die.
Kansas
The Wizard of Oz (1939)
Early on in this fantasy classic, a tornado whisks Dorothy (Judy Garland) away from her sepia-toned existence to the hyper-saturated world of Oz. Or does it? Let's get real. One-hundred percent of The Wizard of Oz takes place in Kansas, from the woes of farm life to the hallucinatory trip down the yellow brick road. It's abundantly clear when Dorothy, having "flown back" from Oz in the Wizard's balloon, tells her neighbors "you and you and you were there!" There's no place like home, because no one can escape reality! But this classic still ends on an optimistic note: you can dream your way to wherever you damn well please.
Kentucky
Kentucky (1938)
There are few films set in Kentucky, and even fewer that grapple with life in the state. (For instance, we didn't think the scene in Kingsman in which Colin Firth murders a church full of zombified white supremacists represented life in KY). Kentucky, a laid-back horse-racing drama from the days of eye-popping Technicolor, does the trick. Picking up 75 years after the Civil War -- in which the state was nominally a neutral player, under Union protection despite being a slave state -- the movie stars Walter Brennan as Peter, a thoroughbred trainer who watched a Union soldier kill his father over horses; Loretta Young as the daughter of a wily old-timer; and Richard Greene as her love interest… who also happens to be a descendent of the Union soldier. Can they work out their differences to win the Kentucky Derby? Of course! But it's fun watching the criss-crossed Romeo and Juliet affair anyway.
Louisiana
A Streetcar Named Desire (1951)
Louisiana -- New Orleans in particular -- offers a blend of cultures, history, language, and surreal swamp setting that make it a popular place to depict in film. But the Tennessee Williams play that made its way from the stage to an Elia Kazan-directed film, bringing along three of its four Broadway stars, gets the nod for its timelessness, setting in the French Quarter, head-on approach to class conflict, and its introduction of Marlon Brando to a wide audience. Brando would go on to be the only one of the four stars who didn't win an Oscar for his performance, but his career turned out OK in the end. Stella!!!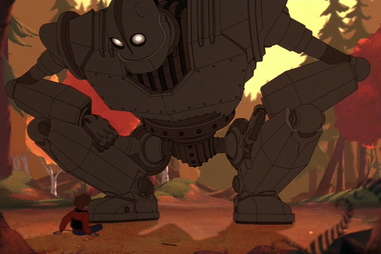 Maine
The Iron Giant (1999)
There's no better way to capture the grandeur of the coastal town, or how fear can consume a small community with only a few whispers, than through the eyes of a 60-foot-tall alien robot. Brad Bird (The Incredibles) tells the story of 9-year-old Hogarth Hughes and his Iron Giant with every trick in the animation playbook, clashing his towering steel hero against the reds and oranges of fall in Maine, youthful imagination against conservative agenda against the too-cool-for-school Beatniks, and the trust built between friends against a force as fickle as Cold War paranoia. Yes, it's a cartoon, but you try to hold back tears as The Giant (voiced by Vin Diesel) utters "SUUUPERRRMAAAN" and saves the day.
Maryland
The Blair Witch Project (1999)
When The Blair Witch Project came to Sundance in 1999, it quickly became the talk of the festival. Here was a $30,000 indie masquerading as a compilation of real footage shot by three hikers who died under mysterious circumstances. The result was a $140 million blockbuster that propelled the found-footage subgenre into the mainstream. While the movie's success saw a number of sequels, it's the original that remains one of the most influential horror films to this day -- and perhaps a pox on its backdrop, Burkittsville.
Massachusetts
The Friends of Eddie Coyle (1973)
Between The Departed, The Town, Gone Baby Gone, and Black Mass, Boston's cinematic reputation is increasingly tied to its recent hard-hitting, no-nonsense crime movies. But all those blood-stained capers can't hold a grubby candle to The Friends of Eddie Coyle, a 1973 Peter Yates-directed look at Massachusetts low-lifes. Based on a book by prolific novelist George V. Higgins, the story centers around Eddie "Fingers" Coyle, a mumbling gun-runner played by screen legend Robert Mitchum, and the various goons he gets mixed up with. It may lack the shootouts and body count of more recent action movies, but The Friends of Eddie Coyle is peerless when it comes to evoking a sense of place. (And, yes, it's better than Good Will Hunting.)
Michigan
RoboCop (1987)
As every egghead online will tell you, Paul Verhoeven's grisly sci-fi film is part action movie and part satire. Like the director's farcical shoot-em-up Starship Troopers, RoboCop is a movie that both feeds and skewers America's militarized thirst for blood. When Detroit beat cop Alex Murphy (Peter Weller) is murdered on the job, he's brought back as the titular cyborg by Omni Consumer Products, a tech company looking to make big bucks by moving into law enforcement. Though much of the movie's vision of an urban dystopia was filmed in Dallas, the unflinching look at the unintended dehumanizing results of corporate innovation are fitting for a state that gave us both techno and Roger & Me.
Minnesota
Fargo (1996)
Sure, while the title of the movie screams North Dakota, the bulk of the plot takes place in Minnesota. The Coen brothers classic holds up more than 20 years after its release: Its characters are still painfully funny, relatable, cringeworthy, and, in at least one case, admirable. It's no surprise this crime dramedy earned its writer-directors their first screenplay Oscar -- cementing them in Hollywood as a creative force to reckon with -- and star Frances McDormand her first acting Oscar.
Mississippi
In the Heat of the Night (1967)
When you think about In the Heat of the Night, you don't think of a specific image or a line of dialogue. (Even though the movie's protagonist does have a killer catchphrase.) You think of a texture: sweat. This Mississippi-set crime story starring Sidney Poitier as out-of-town detective Virgil Tibbs and Rod Steiger as racist police chief Gillespie is one swampy movie, a thriller that's more likely to give you pit-stains than chill you to the bone. For that quality, it beats out other more lyrical candidates like O Brother, Where Art Thou?, which is filled with great music but almost feels like it's set in another dimension. In the Heat of the Night keeps you grounded in the granular details.
Missouri
Meet Me in St. Louis (1944)
The current frontrunner for the Best Picture Oscar race may have Missouri in the title, but Irishman Martin McDonagh's wordy take on the Midwest is no match for Meet Me in St. Louis, director Vincente Minnelli's breathtaking musical about a family in the 20th century. Judy Garland plays Esther, the second-oldest daughter in the Smith family, and her renditions of songs like "The Trolley Song" and "Have Yourself a Merry Little Christmas" are enough to make this essential viewing. But the mix of homespun values and unvarnished eccentricities -- the Halloween section of this movie is wild -- make it a uniquely Missouri experience.
Montana
Thunderbolt and Lightfoot (1974)
Before he directed The Deer Hunter, a nakedly ambitious attempt to wrestle with heavy questions about American identity, filmmaker Michael Cimino made this nimble, crackling heist movie starring Clint Eastwood and Jeff Bridges. It may not have picked up as many Oscars as his more serious epic, but Thunderbolt and Lightfoot is way more fun. In addition to two laid-back, charming performances from its young stars, the movie also boasts stunning footage of Montana, which Cimino bathes in a golden glow. A River Runs Through It might be the more famous Montana movie, but robbing banks is a lot more entertaining than fly-fishing.

Nebraska
Election (1999)
Born in Omaha, writer and director Alexander Payne has set almost all of his films in or around Nebraska, including Citizen Ruth, About Schmidt, and the recent Downsizing. (He even made a movie called Nebraska, which mostly takes place elsewhere.) Election, his brutally funny high school political satire from 1999, is still the best. Working from Tom Perrotta's acerbic novel, Payne and his frequent co-writer Jim Taylor craft the perfect showdown between Reese Witherspoon's overachieving honor student Tracy Flick and Matthew Broderick's string-pulling teacher. As the seemingly low-stakes student council race gets closer and closer, everyone involved is forced to ask those always pertinent moral questions: How far will I go to win, and what's the point of winning if you lose your sense of self? As much as Payne clearly loves his home state, he's never willing to let his characters off the hook.
Nevada
Ocean's Eleven (2001)
With respect to the Rat Pack, Hunter S. Thompson, underwater-beer-drinking Nicolas Cage, and actual Nevadans who wish the state had a cinematic legacy beyond Las Vegas), there's no denying the smooth, win-big-and-slide-out treachery of George Clooney's Danny Ocean and his band of merry henchmen. Director Steven Soderbergh conjures the dream visit to America's gambling capital, where anyone with the right skill (surveillance, mechanical engineering, acrobatics...) can get his -- with the right amount of planning. With a sick soundtrack, peppery one-liners, and enough glitz to last a lifetime, Ocean's Eleven is an ode to cool.
New Hampshire
What About Bob? (1991)
It's generally frowned upon to follow your psychiatrist on vacation, but in this Frank Oz-helmed dark comedy masterpiece, what's supposed to be a serene New England getaway for psychiatrist Leo Marvin (Richard Dreyfuss) turns into a neurotic nightmare when Bob Wiley (Bill Murray) shows up. New Hampshire's lush forests and pristine lakes serve as an ideal counterweight to the self-obsessed, therapy-addicted New Yorkers satirized relentlessly throughout the movie.
New Jersey
On the Waterfront (1954)
There's more to this New Jersey classic than the oft-parodied "I coulda been a contender" line. In the role that won him his first Oscar for Best Actor, Marlon Brando stars as Terry Malloy, a young man who once showed promise as a boxer -- he really coulda been a contender! -- but ends up a dockworker in Hoboken. The plot of the film, which involves Terry testifying about corruption and being ostracized within his community, is often interpreted as apologia by director Elia Kazan for his testimony before the House Un-American Activities Committee. There's certainly enough material there to make that reading, but the movie also works as a soulful (and pre-Tony-Soprano) portrait of Jersey life.
New Mexico
The Good, the Bad and the Ugly (1966)
It's somewhat ironic to choose the quintessential Spaghetti Western as the quintessential New Mexico movie, but no more ironic than the development of the Spaghetti Western itself. Clint Eastwood's star-cementing role in the final film of the "Dollars Trilogy" centers on a hunt for gold during the American Civil War, and features the now-iconic Ennio Morricone score that can instantly call up the images and cues of the Western.
New York
Do the Right Thing (1989)
The filmography of Martin Scorsese looms over New York as a state -- Mean Streets, Taxi Driver, Raging Bull, After Hours, Goodfellas, and Wolf of Wall Street could all grab this spot -- but Spike Lee's exhilarating, panoramic examination of Brooklyn life, Do the Right Thing, is truly the GOAT. The more you watch this slice-of-life drama, the more neighborhood characters like Mookie, Sal, Da Mayor, Mother Sister, and the boombox-carrying Radio Raheem take up residence in your mind. The emotional connection you form with them gives the film's violent finale, which depicts an incident of senseless police brutality, even more tragic resonance. Few films so eloquently capture the tensions and joys of simply existing in a city.
North Carolina
Blue Velvet (1986)
Like most of David Lynch's work, the small-town setting could stand in for any American small town; but Blue Velvet is set in North Carolina, where Jeffrey Beaumont (Kyle MacLachlan) returns from college after learning his father has suffered a stroke. On the surface, the movie tells the story of MacLachlan's young hero and a coincidental investigation involving a nightclub singer and a cadre of crazy criminals, led by Frank Booth, played with maniacal glee by Dennis Hopper. But on a larger scale, the movie deals with one of the most potent themes Lynch has been wrestling with for much of his career: appearance vs. reality, specifically, the picture-perfect facade of the American Dream as a way to mask something pernicious, something rotting.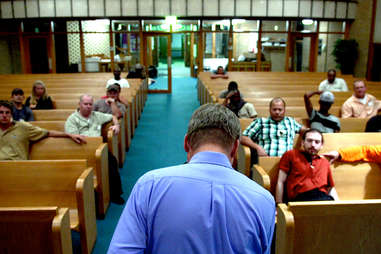 North Dakota
The Overnighters (2014)
We tried to avoid documentaries completely on this list, but The Overnighters is so remarkable, and the narrative options for North Dakota so limited, that we had to select it. Ostensibly about a pastor who opens his church to the destitute men who arrive penniless in the oil boom town of Williston, looking for a huge payday thanks to the recently discovered shale formations that have helped turn North Dakota into the state with the lowest unemployment rate, the movie quickly takes several detours required by the lives of its subjects. There are so many shocking twists and turns you'd swear they were made up, so we won't spoil anything here. Suffice to say that by the end you'll be completely shaken, unsure what to make of the pastor, the town, and the cast of characters who called a church cot home.
Ohio
Heathers (1989)
Movies love to drift through Ohio. Heathers dares to stick around to mount subversive, suburban mayhem. Starring Winona Ryder as Veronica, the only member of her high school's popular clique that isn't named Heather, and Christian Slater as J.D., the new bad boy in town who falls for Veronica and stages the deaths of her bubblegum-chewing enemies. We don't believe Ohioans would actually serve the local queen bee a cup of drain cleaner in order to fake her suicide, but the movie's dark, satirical sense of humor feels right at home.
Oklahoma
Twister (1996)
A blockbuster disaster movie doesn't typically care too much about specifics of setting, but Twister isn't your typical blockbuster movie. Yes, all the stock characters and storylines are there (Helen Hunt's character becomes a storm chaser because of the trauma suffered when her father got sucked into a tornado), but tornado season in Oklahoma is a lot like a real-life disaster movie. The twisters are unpredictable, terrifying, and obscenely destructive, and the people who chase them have the wild-man mentality of Bill Paxton's character, also named Bill, but whose nickname is seriously "The Extreme." Then there's the famous cow scene -- this movie made half a billion dollars for a reason.
Oregon
Wendy and Lucy (2008)
With all respect to Miloš Forman's counterculture classic, One Flew Over the Cuckoo's Nest, or the sentimental joy of Mr. Holland's Opus, it would be a crime to overlook the quiet master of Oregon-on-screen: Kelly Reichardt. In films like Old Joy and Meek's Cutoff, the writer-director pits men and women against nature to expose their instinctual behavior. But Wendy and Lucy, starring Michelle Williams as an insolvent woman making her way to Alaska, and Lucy, Reichardt's actual dog playing Williams's trusted travel partner, is her most effortless and expressive journey. When her car breaks down, and Lucy goes missing, a gloomy, verdant town becomes Wendy's anxiety-inducing labyrinth. Reichardt captures the search effort with a patented, Pacific Northwest chill.
Pennsylvania
Groundhog Day (1993)
Apologies to Rocky, Philadelphia, The Night of the Living Dead, and many more, but Bill Murray's surreal comedy depicts with razor-sharp wit the mundanity of small-town life. What could be more absurd than waiting for a groundhog to see (or not see) its shadow? Having to do it over and over again, until you've finally lived the good life. Most of us never get the chance.
Rhode Island
The Conjuring (2013)
Nothing beat seeing The Conjuring in theaters -- virtually every showing featured audible gasps and viewers who darted for the exits. Director James Wan made the haunting of a particular Harrisville, Rhode Island farmhouse engaging with a sympathetic cast of victims and heroes (led by Patrick Wilson and Vera Farmiga), and his jumpscares didn't feel cheap because they weren't exploiting audience members' fears for set pieces they'd already seen dozens of times before. That's why the movie was terrifying both on a story and a scare level, and it would soon pave the way for the horror world's version of a cinematic universe. As a bonus, it also proved that big-budget horror movies didn't have to suck. We wish more were filmed with the same level of heart and care as The Conjuring.
South Carolina
The Notebook (2004)
Admit it: When a rain-soaked Ryan Gosling passionately intones, "It still isn't over!" you got goosebumps. And you know you shed a tear or two when the cheesy resolution came into view. Sure, it's sentimental schlock, but hot damn do Gosling and Rachel McAdams have chemistry, which is what makes otherwise unmemorable airport-novel fare jump off the screen. The backdrop of Spanish-moss-covered swamps and the house that Ryan Gosling faithfully builds for his one true love place this film in the Palmetto State, a setting capable of boring through the blackened layers of lead surrounding even the hardest heart, making it long for hot summer nights with crickets and cicadas providing the soundtrack to young love.
South Dakota
Badlands (1973)
Badlands could take place in a dream. For his debut feature, director Terrence Malick placed his violent, doomed lovers Kit (Martin Sheen) and Holly (Sissy Spacek) in the wilderness and let them roam, finding poetry in every wayward glance and mumbled reply. Where were they actually? South Dakota, which provides the perfect idyllic, yet tumultuous, backdrop for this story. More than a few Westerns have been shot in South Dakota, including Kevin Costner's Oscar-winning epic Dances With Wolves, but Malick's images have a radiance that can't be matched.
Tennessee
The Evil Dead (1981)
We couldn't land on a single country music picture to fill this slot, so we opted for something rooted in the backwoods. Mystery and history collide in Sam Raimi's infamous horror movie, about a group of Michigan State University kids who ride up to a Tennessee cabin in the woods like they own the place. A Sumerian chant and an infestation of demons puts them in their place. Gory, grimy, and relentless, this low-budget masterpiece feels spliced together with a chainsaw, a quality you can't recreate in a Los Angeles backlot.
Texas
Dazed and Confused (1993)
"All right, all right, all right." With his easygoing approach to narrative and free-wheeling comedic tone, Richard Linklater might be the patron saint of Texas filmmaking. With his 1990 indie Slacker, he put Austin's independent filmmaking scene on the map, introducing the American audiences to an eclectic cast of local burnouts and philosophers, but Dazed and Confused, his more mainstream coming-of-age comedy, is the movie that really captures the relaxed cool of the Lone Star State. Plus, it gave us Matthew McConaughey, an almost mythical figure at this point. Just be thankful for that.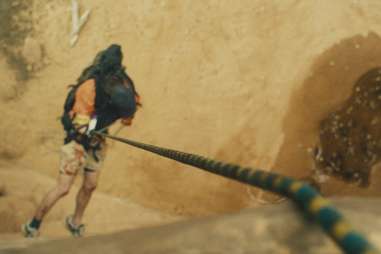 Utah
127 Hours (2010)
In 2003, outdoorsman Aron Ralston slipped into a crevice of Blue John Canyon and found his right forearm trapped under a boulder. To escape, Ralston was forced to amputate his arm with a pocket knife, then repel back down to safety. Danny Boyle, whose inventive and energetic films include 28 Days Later, recreated Ralston's gut-wrenching tale by basking in the beauty of the land, honing in on the claustrophobic agony of the situation, and drifting between the ethereal and tangible. The result is mesmerizing.
Vermont
Super Troopers (2001)
Maple syrup chugging contests! Marijuana busts! Moustaches! Brian Cox! If there's a more Vermont movie out there, we haven't seen it -- there's a reason Super Troopers entered the cult-comedy canon. Meow let's see if the sequel can live up to the lofty standards of the original.
Virginia
Remember the Titans (2000)
Virginia surprisingly doesn't offer itself as a setting for a whole lot of movies that aren't explicitly DC films (give the District statehood!), limiting the options for the state. Fortunately, Disney's true story of the recently desegregated T.C. Williams football team as it named a black head coach over a popular, white, hall of fame-bound incumbent takes on the troubling history of Virginia's role in American racism, tied up in an inspirational sports movie package. Denzel Washington's sheer charisma would probably make him a half-decent coach in real life, and while the movie indulges in many of the expected cliches, it's got heart and grit to spare.
Washington
First Blood (1982)
Twin Peaks fans might insist that the show's feature film spin-off Fire Walk with Me is the best Washington film ever made, but we're going to have to surrender to veteran John Rambo. Despite the overblown violence you'll find in the more grandiose Rambo sequels, First Blood, which was co-written by Sylvester Stallone and based on a novel by David Morrell, is more of a stripped-down, tactical thriller than its reputation would suggest. (It even has an anti-war message!) The foliage of the Pacific Northwest provides the perfect cover for Rambo as he evades Sheriff Will Teasle's goons. It's the perfect movie for the woodsy isolationist inside all of us.
West Virginia
The Night of the Hunter (1955)
There aren't a ton of movies that scream "West Virginia": Apparently the grisly Wrong Turn horror franchise, the Jake Gyllenhaal teen space race drama October Sky, and Matthew McConaughey's football weepie We Are Marshall were all set there. Fine movies, sure, but not exactly beloved in the same way The Night of the Hunter is. Based on the true story of murderer Harry Powers, this hyper-stylized 1955 film is half film noir and half fairy tale. Robert Mitchum stars as Reverend Harry Powell, an unnerving preacher with "L-O-V-E" and "H-A-T-E" tattooed along his knuckles, and his terrifying performance embodies the very idea of Southern Gothic. He's scarier than anything you'll find in a Wrong Turn movie.
Wisconsin
Bridesmaids (2011)
Annie Mumolo and Kristen Wiig's hilarious wedding movie, partially set in the Badger State, simply changed the game. The movie came not long after the first Hangover movie -- not to mention several other raunchy bro comedies -- as a much-needed wake-up call to Hollywood execs: We need more female-led ensemble comedies!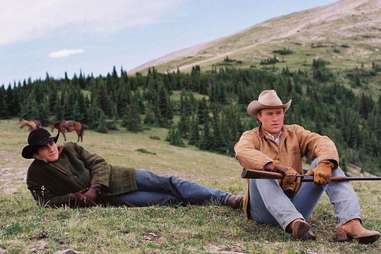 Wyoming
Brokeback Mountain (2005)
Ignore the fact that Ang Lee (Life of Pi) shot most of his lauded romantic drama in the Canadian Rockies, where the tax cuts made everything cheaper. The key is the expansive vistas where Ennis Del Mar and Jack Twist spend a summer herding sheep, and discover a freedom to intertwine. Heath Ledger and Jake Gyllenhaal both received Oscar nominations for their intimate, tortured work in the film, which finds the lovers drifting back and forth between the mountains haven of Wyoming. It could easily be the backdrop for a burly Western, but Ang's photographic perspective redefines the cowboy persona for modern audiences.
Sign up here for our daily Thrillist email and subscribe here for our YouTube channel to get your fix of the best in food/drink/fun.