The Best Movies on HBO Max Right Now
Lots to see here.
Let's face it: You can only watch so much Netflix. At a certain point, all those little floating teaser images start to blend together, and you groan, verbatim, "I've already watched all the good movies on here a billion times, and I refuse to watch any of these countless terrible-looking ones." That's one advantage upstart HBO Max has over its biggest competitor: It has a ton of exclusive movies, old and new, that are of very high quality.
Not only does HBO Max combine the TV firepower of HBO proper and TNT, TBS, Cartoon Network, Adult Swim, and CNN, it also possesses the massive Warner Bros. movie catalog, is the exclusive streaming home for Studio Ghibli features, and boasts curated selections from the Criterion Collection. But with so much to choose from, prioritizing all the beloved classics, box office hits, hidden gems, and recent award-winners currently showing on the premium sibling services becomes trickier to navigate. That's where this frequently updated guide to the very best movies on HBO Max comes in. Happy streaming!
ALSO RECOMMENDED: Our guides to HBO Max Originals and what's hitting HBO Max this month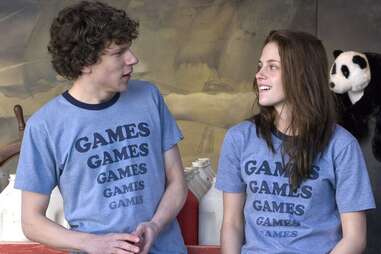 Adventureland (2009)
For the follow-up to his high school-set hit Superbad, writer and director Greg Mottola explored a more mature but no less anxiety-filled point in life: the post-college search for meaning while working a shitty job. Technically, the movie's protagonist James (Jesse Eisenberg) is in his early 20s, but he suffers a series of theme-park-related indignities and falls for his co-worker, an NYU student played by Kristen Stewart, with all the angst of a real teenager. Adventureland is the rare '80s period-piece that's just as good as its killer soundtrack, giving you all the emotional highs and lows of a classic Replacements album. Unsatisfied? Hardly.
American Splendor (2003)
Paul Giamatti plays the perfect curmudgeon in this quirky biopic of Harvey Pekar, the Cleveland-based illustrator behind the self-deprecating comic book strip also called American Splendor. Pekar shot to national fame thanks to combative appearances on David Letterman's late-night show, the last of which effectively turned into an on-air argument that ended their tense friendship. Part-documentary (with appearances from Pekar himself), part comic book, and part fictional biopic, there's nothing quite like American Splendor—a fitting tribute, because there was no one quite like Harvey Pekar.
Aquaman (2018)
Following the less than inspiring glimpses of Aquaman audiences received in Batman Vs. Superman: Dawn of Justice and Justice League, there weren't many reasons to get excited about a solo adventure for the very wet, very goofy superhero played by Jason Momoa. Don't forget: the mere existence of this movie was an Entourage punchline over a decade ago. But the tides of comic book filmmaking have shifted, allowing a filmmaker like James Wan to make a deeply silly, proudly cheesy work of non-stop spectacle. From the Bond-like rooftop chase sequence in Italy to the shark-filled Lord of the Rings-esque battles below the sea, Aquaman delivers some of the slickest pop thrills that a $200 million budget can buy. Like he did in the far less expensive Braven, Momoa holds everything together with his affable demeanor and hang loose jocularity.
The Aviator (2004)
The Aviator is a tour-de-force historical epic that hinges on Leonardo DiCaprio as American aviator Howard Hughes, whose mental state stymies grandiose ambitions. DiCaprio loves a good man tormented by internal and external demons, but in this three-hour masterpiece, Martin Scorsese pushes the 30-year-old Leo to bring all of Howard Hughes' many contradictions to life: the swaggering young playboy billionaire, the starlet romancer, the daredevil innovator, and the shrunken madman, unshorn, guzzling milk, pissing in bottles, and muttering "the way of the future" over and over again. It's one of the most harrowing on-screen depictions of how mental illness can wrench a life apart, and one of Leo's unobjectable triumphs.
Black Hawk Down (2001)
It's hard to tell the actors apart inBlack Hawk Down: they're all dressed in military fatigues, often with helmets and goggles that obscure their faces; there's dust everywhere; and yelling is the preferred method of communication. To say that Ridley Scott's chronicle of a 1993 US military raid in Mogadishu doesn't cohere isn't exactly a negative critique. It's a part of the movie's frenzied, discombobulating aesthetic. Faces blur. The soundtrack pummels you with gunfire. Helicopters whirl overhead. It's experiential, the type of movie that's tough to shake—even on a puny computer screen.
Blade Runner (1982)
Director Ridley Scott went out of his way to imagine 2019 Los Angeles as a pretty terrible place to be, and yet the look, sound, and feel of the world are so seductive that we want to visit regardless. Same goes for the story: Blade Runner's plot is a barely warmed-over detective yarn with Harrison Ford in the role of the hard-boiled investigator, but we can feel glimmers of the pain and confusion of artificial humans who realize they are powerless against their pre-determined fate. The movie is a triumph of world-building that still makes a mark on viewers and filmmakers years later.
The Bourne Identity (2002)
Given the financial success of the franchise and the creative influence of the series' frantic style, it's easy to forget that Jason Bourne was once an underdog. Released in the same summer as The Sum of All Fears, a reboot of Tom Clancy's Jack Ryan character starring Ben Affleck, The Bourne Identity, a loose adaptation of a Robert Ludlum novel, had a troubled production plagued by rewrites and reshoots. But all that tinkering paid off, launching Matt Damon's career as an action star and revitalizing the spy thriller for a modern audience.
City of God (2002)
This film about a Brazilian favela's descent into criminal rule leaves a haunting note echoing in the wake of the 2016 Rio Olympics. The harsh reality City of God portrays, one in which gang logic trumps all, will not make for an uplifting night in, but the movie is much more than a shoot-em-up thrill ride—Brazil's natural beauty and the hope of youth always serve as heartbreaking counterbalances to violence.
Clueless (1995)
As if you were browsing a streaming service and you decided not to watch Clueless. Amy Heckerling's teen comedy masterpiece is an adaptation of Jane Austen's Emma that gets more and more brilliant every time you watch it. A time capsule of the mid-1990s, it's also timeless, utterly quotable, and a complete delight. Alicia Silverstone's Cher Horowitz is self-absorbed and privileged, but you can't help but want to be her BFF.
The Dark Knight (2008)
Not all superhero films are action movies, but The Dark Knight, with its Heat-inspired opening robbery, truck-flipping car chase, and Batman-as-NSA-watchdog high-rise fight, certainly qualifies. Critics have rightly dinged Christopher Nolan's incoherent editing and glaring plot holes, but the Inception director is a master of narrative stacking, layering stories to create a sense of frenzied tension. The Dark Knight is a brilliant Jenga tower of suspense. With Heath Ledger's iconic Joker performance at its center, the movie grabs you by the throat and doesn't let go.
The Departed (2006)
Don't let your most annoying friend's affection for The Departed ruin the movie for you—it's an enormously entertaining crime film. Leonardo DiCaprio's expert slow-boil performance as undercover cop Billy Costigan is a big reason for that and marked a major career step forward. He stood tall against the Martin Scorsese film's many big-name scenery chewers and kept his Boston accent under control.
Dog Day Afternoon (1975)
Dog Day Afternoon is a movie that vibrates with the energy of a city on the brink of exploding. In telling the story of a real-life New York bank robbery, director Sidney Lumet captures more than just the inherent tension between Al Pacino's stressed-out Sonny and the put-upon citizens trapped inside the bank with him. The movie also pulls back enough to capture the media circus, the community uproar, and the law enforcement response without losing sight of the human drama at the center. There's a reason almost every bank robbery movie since has stolen liberally from this one.
Donnie Darko (2001)
Some people will tell you they understand Richard Kelly's sci-fi coming-of-age tale, but trying to "explain" what Donnie Darko is all about misses the point. A young Jake Gyllenhaal shines as a moody teenager striving to find the meaning behind apocalyptic terrors hitting his suburban hometown, some of which include: a plane crash, a creepy rabbit named Frank, and a lot of pseudo-philosophical mumbo-jumbo about the nature of reality. Putting Donnie Darko on a pedestal is a mistake, but when you take it as a depiction of a young mind struggling to articulate a worldview, this early aughts cult classic is an indie sci-fi masterpiece in its own right.
The Empty Man (2020)
Adapted from a Boom! Studios comic, The Empty Man, directed by David Prior, was initially sold to Fox in 2016 as a stylish horror mystery infused with thematic ambiguity, existential dread, and a dash of Lovecraftian terror. James Badge Dale plays ex-detective James Lasombra, a grief-stricken widower whose friend Nora (Marin Ireland) enlists him to help find her daughter Amanda (Sasha Frolova) after she disappears. Amanda and her teenage friends may or may not have summoned the Empty Man, a mystical entity with an odd connection to a cult-like organization called the Pontifex Institute, led by a charismatic leader played by Stephen Root of Office Space and Barry. Think The Girl with the Dragon Tattoo meets The Ring, with an ambiguous twist ending that will melt your brain a little bit.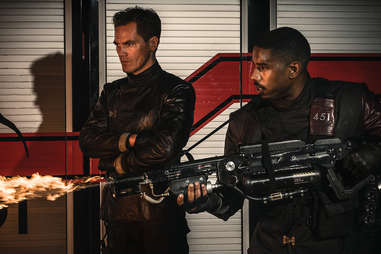 Fahrenheit 451 (2018)
Technically a TV movie, since it was made for HBO, but we'll let it slide. Ray Bradbury's essential dystopian novel where books are banned gets the small screen treatment, starring Michael B. Jordan as Montag, a fireman who ultimately questions the value and purpose behind the book-burning mission. He teams with Michael Shannon, an actor with the unhinged commitment to pull off an evil delivery of a simple line: "Burn it."
The French Dispatch (2021)
A bicycle tour of a whimsically named city. A profile of an imprisoned artist on the cusp of a new movement. A student protest with all the whirlwind emotion of a Shakespeare tragedy. A dinner party unexpectedly bearing witness to a kidnapping. One thing ties all of these vignettes together: The French Dispatch, a magazine that connects the French expat town of Ennui-sur-Blase with Liberty, Kansas, managed by a beloved editor and populated by a series of eccentric journalists. Wes Anderson's newest film has all of his arch wit and fussily decorated settings, and perhaps his most eclectic cast of characters yet, in a delightful tour through his love of the New Yorker, of magazines in general, and of writers who consider blazers over turtlenecks their daily uniform.
The Fugitive (1993)
"You'll never find him -- he's too smart." That's the apt description Dr. Richard Kimble (Harrison Ford) gets in Andrew Davis' '90s masterpiece. Kimble's on the run from the authorities because he's been wrongfully accused of killing his wife, and through a series of unlikely escapes, the doc-turned-fugitive tries to hunt down his mysterious nemesis and prove his innocence. Fortunately, he really is something like the offspring of Carmen Sandiego and MacGyver. Ford is pitch-perfect as the jack-of-all-trades hero, playing opposite a ruthless Tommy Lee Jones. Together, they weave a satisfying balancing act of high-octane action (there's crazy shit with a train, a bus, and a helicopter), heart (Kimble somehow finds time to save other people's lives), and intrigue (freaking drug companies, I tell ya), making for a legit nail-biter.
Gone Baby Gone (2007)
In his first outing as a director, Ben Affleck stays firmly behind the camera, letting his brother Casey take the lead role as a private eye Patrick Kenzie in this grim adaptation of author Dennis Lehane's crime novel. (Yes, it's set in Boston.) Though the material is bleak—Kenzie and his partner Angie Gennaro (Michelle Monaghan) are working a child-kidnapping case—the performances are darkly funny and the elder Affleck has a workmanlike visual approach that makes the movie crackle like an old-school noir. He doesn't need a utility belt or a bat cowl to wow you.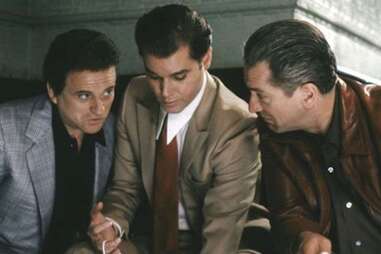 Goodfellas (1990)
Start thinly slicing garlic, make yourself some gravy, and settling in to watch Martin Scorsese's still incredible classic, Goodfellas. The story of Henry Hill (Ray Liotta), how he became a made man, and how it all went wrong is our favorite Scorsese movie for a reason. It's a brilliant dissection of the allure of the mob lifestyle, and a horrifying look at how it corrodes people's souls all at the same time.
Gremlins (1984)
Joe Dante's creature feature hits that sweet spot between kid-friendly entertainment and cruel-and-unusual violent delight. For Christmas, Billy (Zach Galligan) receives an adorable "mogwai" as a pet. The one rule: Don't get the damn thing wet. When the inevitable happens, Gizmo the Adorable Furry Gremlin spawns five Mischievous Razor-Toothed Gremlins, who live for destruction, and threaten to rip apart the most wonderful time of the year.
Hugo (2011)
Martin Scorsese hit pause on mob violence and Rolling Stones singles to deliver one of the greatest kid-centric films in eons. Following Hugo (Asa Butterfield) as he traces his own origin story through cryptic automaton clues and early 20th-century movie history, the grand vision wowed in 3-D and still packs a punch at home.
Inception (2010)
Christopher Nolan's sci-fi masterpiece thrusts you into the world of dreams, and leaves you so bewildered that it's difficult to wake up. Starring Leonardo DiCaprio as a corporate spy who steals secrets by inserting himself in others' subconscious dream states, the film not only imagines this complex universe, it flips its structure, as DiCaprio's man on the run is made to plan the perfect heist in order to leave behind his criminal life. Rather than stealing ideas, he's got to implant one—that's inception, baby!—with his team of specialists, resulting in a surrealist, multilayered film.
In the Mood for Love (2000)
Wong Kar-wai's In the Mood for Love has gone down as one of the best, and certainly most breathtaking, films of all time. The Hong Kong film chronicles a story of unrequited love between two neighbors (Tony Leung, Maggie Cheung) who discover their spouses are having an affair. Set in the '60s and later torn apart by war, the immensely sensual romance is about the beauty and lust in even the subtlest moments when every gesture, or trip down the block to pick up noodles, can mean so much.
The Last Duel (2021)
Ridley Scott's medieval epic is a film, above all else, about the foolishness of men. It's a strange, long horror comedy detailing how women in the 14th century were at the mercy of dudes who were vain, petty, and cruel, only concerned with their own status even when someone's life is at stake. For a two-and-half-hour movie centered around a rape and a violent battle, it's awfully funny, but that humor only serves its point: It makes the men who think they are the heroes of this tale seem puny and vile, just as they are. Told in three chapters, each from a differing perspective, The Last Duel describes the incidents that led to a fight to the death between Jean de Carrouges (Damon) and Jacques Le Gris (Adam Driver), the man who assaulted his wife Marguerite (Jodie Comer) The structure only serves to fuel Scott's ultimate point not about the subjectivity of human experience, but the brutality of the circumstances.
Let Them All Talk (2020)
Easily dismissed as one of Steven Soderbergh's quickly filmed direct-to-streaming offerings, Let Them All Talk, which pairs him for the first time with Meryl Streep, is a quiet masterpiece. The premise puts three actresses of enormous caliber—Streep, Dianne Wiest, and Candice Bergen—on a gorgeous cruise ship, the Queen Mary II. Working from a script by the great short story author Deborah Eisenberg, Streep plays Alice, a celebrated author whose eager agent (Gemma Chan) agrees to send her on a transatlantic trip to work on her latest manuscript. Alice's demand: Her old friends portrayed by Wiest and Bergen get invited along with her nephew (Lucas Hedges). What could be just ladies of a certain age having a fun sea adventure becomes a deft and devastating story about creative pursuits, long simmering resentments, and what we owe to those who we use in art. Soderbergh uses the confines of his settings to heighten the tension, the luxury of the boat becoming a way for the central women to hash out the questions about privilege and status that have been nagging them for years.
Lord of the Rings: Fellowship of the Ring (2001)
Luckily, HBO Max has all three chapters of director Peter Jackson's Lord of the Rings series available, but we suggest starting with the first entry, a rousing adventure that kicks off with wide-eyed and furry-footed hobbit Frodo Baggins (Elijah Wood) leaving home for the first time. Staying true to his gross-out horror roots, Jackson turns J.R.R. Tolkien's epic fantasy novel into a thrill-ride populated by masked riders, dark forests, and hideous Orcs. At the same time, the movie is packed with awe-inspiring images of mysterious cities and stirring portraits of friendships forged in battle.
Love & Basketball (2000)
The great Gina Prince-Bythewood—who has since made the sensitive and steamy Beyond the Lights and the fierce The Old Guard—made her feature film debut with this timeless love story about two teenage basketball players. There's a hint of autobiography to the material given that Prince-Bythewood herself was a high school basketball player who later ran track at UCLA, which is why the portrayal of the protagonist Monica (Sanaa Lathan) and her competitive drive still feels so rare. Yes, Love & Basketball is great because of the undeniable chemistry between Lathan and Omar Epps—as well as one of the best virginity loss scenes in film—but also because we so infrequently get to see female athletes like Monica on screen.
The Matrix (1999)
Combining its signature slo-mo, 360-degree "bullet time" sequences with artfully choreographed Hong Kong-style martial-arts scenes, the Wachowskis' pathbreaking sci-fi epic set a new bar for special effects done right. As much of a kinetic and visual triumph as it was a psychological mindfuck—and that's saying something. Hands down, one of the best action movies of all time. Give this another rewatch before the anticipated fourth installment drops on HBO Max later this year.
Mystic River (2003)
In the early 2000s, director Clint Eastwood was cranking out Oscar bait like it was his job, which it was, and Mystic River actually delivers the goods (not to mention actual Oscars for Sean Penn and Tim Robbins). Part mystery, part revenge narrative, part meditation on grief and trauma, Mystic River's complexity remains accessible as an exploration of the unbreakable links between childhood and adulthood.
Native Son (2019)
In updating Richard Wright's Native Son for our current age, visual artist Rashid Johnson and Pulitzer Prize-winning playwright Suzan-Lori Parks largely hew to the outline of the novel's plot, down to the inclusion of a disturbing moment that made the audience at Sundance's opening night murmur in shock. The 2019 Bigger Thomas (Ashton Sanders) is a green-haired punk who gets a job working as a driver for a wealthy white man, Henry Dalton and his family. There he meets Mary Dalton (Margaret Qualley), Henry's beautiful daughter whose attempts at inclusivity are racist and vapid. But Bigger and his girlfriend Bessie (KiKi Layne) are driven deeper into her orbit until a tragedy unfolds. What results is a film full of arresting images and strong performances from the likes of Moonlight's Sanders and If Beale Street Could Talk's Layne, driven by the enduring power of Wright's prose.
No Sudden Move (2021)
Steven Soderbergh's crime drama dropped directly onto HBO Max, but it's up there with some of his best work. It's a period piece about mobsters in 1950s Detroit pitched at a minor key that reveals facets of its twisty storyline as it goes along. Don Cheadle plays a low level gangster assigned to what seems like an easy job. He's paired up with Benicio Del Toro, and their fractured allegiance gets more complicated as they get deeper into the heart of the conspiracy they've been thrust into, which goes higher than anyone might expect.
The Night Is Short, Walk On Girl (2017)
There are few anime directors as consistently creative as Masaaki Yuasa, who through a career has focused his talents on stories about ping-pong (Ping-Pong: The Animation), creatures from Hell (Devilman Crybaby), seaside tragic romances (Ride Your Wave, streaming on HBO Max), and anime itself (Keep Your Hands Off Eizouken!!, also available on HBO Max). Over a long night of heavy drinking in Kyoto, The Night Is Short, Walk On Girl is as funny as it is existential, the perspective-shifting animation bending its sense of time and place as a college student tries to stage a meet-cute with his younger classmate. As a spontaneous drunken night usually is, Yuasa's film diverts into unexpected tangents, including a guerrilla musical in a crowded square, that ushers a crazy night into calm daybreak.
Ocean's Eleven (2001)
If there's a better "just guys being dudes" movie than Ocean's Eleven, Soderbergh's update of the 1960 heist comedy classic, we certainly don't know it. Assembling his own Rat Pack out of the hottest stars of the early 2000s, Soderbergh trips the light fantastic around the casino heist genre, as his unlikely crew of misfits snap together like puzzle pieces, pulling off the impossible seemingly on charm alone. Led by the tag team of George Clooney's irresistible Danny Ocean and Brad Pitt's endlessly snacking, loud-shirt-wearing Rusty Ryan—whom you absolutely believe are two sides of the same poker chip thanks to a lean script and breathtakingly entertaining character work ("You think we need one more. All right, we'll get one more.")—and antagonized every step of the way by Andy Garcia's steely yet hapless casino owner villain Terry Benedict, Ocean's Eleven is simply great fun, with a thrilling here's-how-they-pulled-it-off twist ending that set the tone for the director's oeuvre ever afterward.
Point Break (1991)
Point Break is sublime. With its beautiful ocean photography, pulse-pounding robbery sequences, and delicate male-friendship between Keanu Reeves and Patrick Swayze, the undercover-cop drama rides tone like a veteran surfer ripping up uneven waves. Yes, some parts—like anything with Gary Busey—are ridiculous, but director Kathryn Bigelow brings a wryness to the material that keeps the movie from descending into bro'd-out camp. It's no surprise that the Fast and Furious series lifted the film's most essential quality to kickstart a billion-dollar franchise—everyone wants to spend time with a close-knit family.
Reservoir Dogs (1992)
Quentin Tarantino's directorial debut is all talk, and mostly bullshit, spewing from the mouths of knuckleheads who just screwed up the diamond heist of a lifetime. Unencumbered by Hollywood's rules, Tarantino deconstructs masculinity through monologue, standoffs, and the literal removal of body parts (the now-legendary ear scene deserves that status). Speaking of ears, Tarantino has one; the "tipping" scene alone is an apogee of crude, poetic vernacular. Reservoir Dogs will always feel primordial, an introduction to the writer-director's -isms and a kickoff for endless imitators.
The Road Warrior (1981)
While Mad Max: Fury Road topped critics' lists and racked up Oscar nominations back in 2015, it's worth remembering where the cylinders first fired. No, not the first Mad Max film, more of a grungy cop drama. We're talking about The Road Warrior, George Miller's soft reboot of the 1979 original. With Mel Gibson's taciturn, raw performance, outlandish character designs, and its final pulverizing chase sequence, the movie defined what the phrase "post-apocalyptic" would mean for future generations. In the process, it also set a new bar for pure gasoline-fueled, pedal-to-the-metal insanity—one that has, arguably, never been topped.
The Shining (1980)
Stephen King hates this psychotropic adaptation of his 1977 horror novel because director Stanley Kubrick took too many liberties. Well, sorry, Mr. King—Kubrick shot a classic. The Shining swaps the book's creaky floor boards and vivid premonitions for silence and a seeping sense of dread. Kubrick preys on his viewers by hanging on the terror—those twins, that wave of blood, the pages and pages of "ALL WORK AND NO PLAY"—and leaving the explanation blank. There are ghosts haunting its every corner of The Overlook Hotel, poisoning Jack Torrence (Jack Nicholson) until he's pure evil. For all the "Here's Johnny!" spoofs in the word, Nicholson's snarling rendition will always cut like an axe.
Shiva Baby (2021)
Emma Seligman's comedy about shiva gone very wrong often plays more like a horror film, the chattering of bubbes turning downright maniacal as the score's strings intensify. We first meet Danielle (comedian Rachel Sennott) in the middle of sex with Max (Danny Deferrari), her sugar daddy, who shows a lecherous interest in her budding law career. Most of the movie, however, takes place at the post-funeral memorial for a distant family acquaintance Danielle is roped into attending with her parents (Polly Draper and Fred Melamed). It quickly becomes obvious that our protagonist is not, in actuality, pursuing a law career. She's an aimless college student who has made up her own major. If the agony of being barraged with countless questions about her future weren't bad enough, her high school ex (Molly Gordon) is a guest, as is—surprise!—Max. Jewish geography is indeed as much a curse as it is a blessing. Seligman's camera stays focused on Danielle as her anxiety skyrockets and she makes a series of increasingly rash decisions. At less than 90 minutes, Shiva Baby is both economical and a bit slight, but Seligman makes fascinating choices at every turn.
Spirited Away (2001)
One of the major selling points of HBO Max's launch was that it would be the first-ever streaming home for the library of Hayao Miyazaki's legendary Japanese animation house Studio Ghibli, and while most every film in it has a certain magic, Spirited Away remains its gold star. Bending down to see the world from a child's eyes and capture a moment of fresh-faced adulthood, Spirited Away tails Chihiro, your average unfocused, along-for-the-ride 10-year-old, when her family wanders through an overgrown tunnel, entering a rich world full of pastoral vistas and a menagerie of creatures ripped from notebook margin doodles. To save her parents, transformed into gluttonous pigs by some enchanted sausages, Chihiro braves the working world of a bathhouse run by a wicked witch, guides a faceless spirit through limbo, and frees the spirit of the river. A sophisticated and lush Alice in Wonderland for modern times, Miyazaki's hyper-detailed art elevates Spirited Away's simple lessons into a masterwork.
Tootsie (1982)
Tootsie is one of the smartest, most sincere comedies ever, and was way ahead of its time. Hoffman plays down-on-his luck actor Michael Dorsey who comes up with an alter-ego, Dorothy Michaels, in order to land a role on a TV soap. While it quickly brings him the success he was looking for, it introduces a whole slew of problems when he falls for his co-star (Jessica Lange) and men on set are desperate for his attention without knowing his true identity. The movie allows Hoffman to flex his genius, everyone from Jessica Lange to Bill Murray in the supporting cast is a scene stealer, and its commentary on gender remains relevant. The flick's a certified classic.
Top Secret! (1984)
Before there was Mike Meyers in Austin Powers or Melissa McCarthy in Spy, there was Val Kilmer in Top Secret! This gag-packed spoof from The Naked Gun and Airplane filmmaking team of Jim Abrahams, David Zucker, and Jerry Zucker is a parody of Elvis movies and WWII dramas, laced with absurd songs and the crew's usual over-the-top humor, but it also functions as a purely entertaining spy picture. Perhaps even more than Airplane, Top Secret! is the rare parody where you almost feel like you could remove the jokes and still be caught up in the plot. Then again, why would you ever want to remove so many great jokes?
West Side Story (2021)
You really shouldn't underestimate Steven Spielberg. The director's decision to remake West Side Story, a musical that had already been turned into a 1961 film, was met with skepticism. But he proved doubters wrong with a stunning adaptation that rethinks the classic for a new era without losing its undying appeal. Much of this West Side Story's success can be attributed to the new screenplay written by Pulitzer Prize-winning playwright and frequent Spielberg collaborator Tony Kushner that deepens and contextualizes the story. It all comes together with excellent performances from Rachel Zegler as María, Ariana DeBose as Anita, Mike Faist and Riff, and, most touchingly, veteran Rita Moreno as a new character, Valentina. Spielberg and his trusted cinematographer, Janusz Kamiński, capture the dancing and heartbreak with vibrancy while highlighting the violence and anger in the narrative.
Young Adult (2011)
Mavis Gary, the protagonist of Jason Reitman's acerbic dark comedy Young Adult, is a jerk. She's got a drinking problem, a failed marriage, an unfulfilling career as a ghostwriter, and a tendency to greet every person she meets on a trip back to her hometown with barely concealed contempt. And, yet, Charlize Theron's clever performance and Diablo Cody's sharp script make you understand Mavis' plight without sacrificing the bitterness that makes her such a captivating character. It's a high-wire act that the movie nails in its brisk runtime. By the end, you might not want to hang out with Mavis, but you at least know where she's coming from.
2001: A Space Odyssey (1969)
The man-apes. The monolith. The star-gate sequence. Maybe these are elements you vaguely remember from a Film 101 course you slept through in college, or maybe you just never got around to opening the pod-bay doors on Stanley Kubrick's existential sci-fi classic. Well, here's your chance. Sure, your laptop or phone aren't the ideal formats to appreciate 2001's meticulous production design, but if you own a decent-sized TV, it's still possible to go on an odyssey of your own.
Follow the Thrillist Entertainment staff on Twitter @ThrillistEnt.