The Best Movies From the 2020 Toronto International Film Festival
Put these upcoming gems on your radar.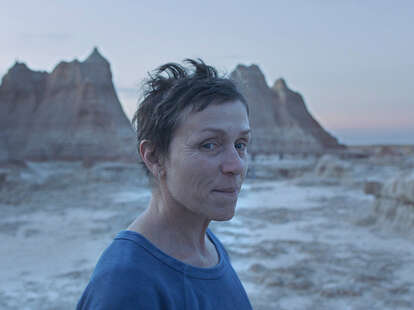 Frances McDormand in 'Nomadland'

| Fox Searchlight
Frances McDormand in 'Nomadland'

| Fox Searchlight
Like basically everything else in 2020, the Toronto International Film Festival operated a little differently this year. In the past, Thrillist Entertainment reporters would venture to the Canadian city to screen a slate of mainstream and niche movies at the weeklong event that effectively kicks off awards season. This year, however, while still holding an in-person component following coronavirus restrictions, the festival is screening significantly fewer films -- 50, compared to about 200 in years past -- and allowing members of the press to watch safely from home.
It's not quite the same as previous TIFFs spent bouncing around to multiple screenings, parties and interviews every day, but we got our fill of cinema anyway. During this oddball iteration of the festival, we got to check out Regina King's directorial debut, One Night in Miami...; Spike Lee's filmed version of David Byrne's Broadway show, American Utopia; movies starring Frances McDormand, Mads Mikkelsen, and Kate Winslet; and much more. Here are our favorites.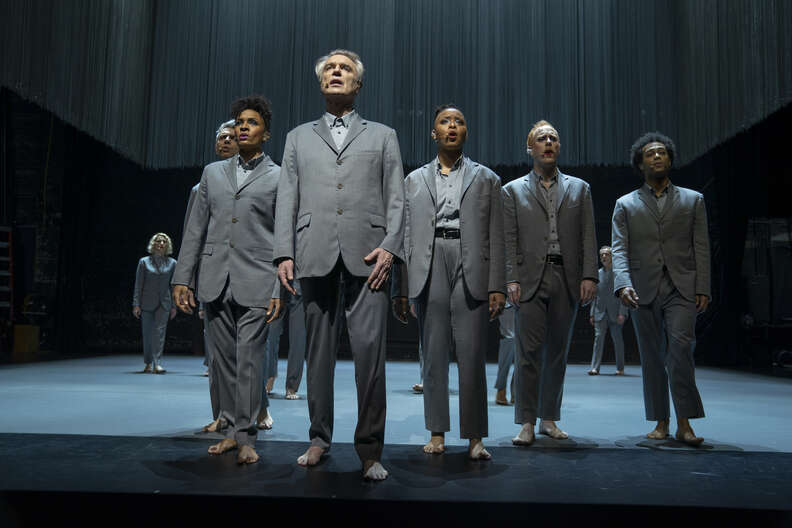 Release date: October 17
Director: Spike Lee
Why it's worth seeing: Spike Lee's filmed version of David Byrne's Broadway show American Utopia is something of a miracle in these times. TIFF's opening night selection, the movie is a strange and beautiful alchemy of live theater and cinema, making you miss one while feeling grateful for the existence of the other. In a simple sense, Byrne's production is just a concert featuring songs spanning the artist's entire career. But it's so much more than that. Backed by his insanely talented band, Byrne orchestrates a dance piece as well as an optimistic, but not unrealistic, meditation on the resilience of community. Lee adds his own signatures, highlighting the political undertones in the piece. At one point, an image of Colin Kaepernick appears above Byrne. During a rendition of Janelle Monáe's "Hell You Talmbout," which calls out the names of victims of racial violence, Lee zooms in on images of the dead, turning the number into even more of a "requiem," as Byrne says. But American Utopia is also packed with joy: The joy of creating live music and spectacle, and the joy of celebrating that achievement in a room full of other people. It's a treasure.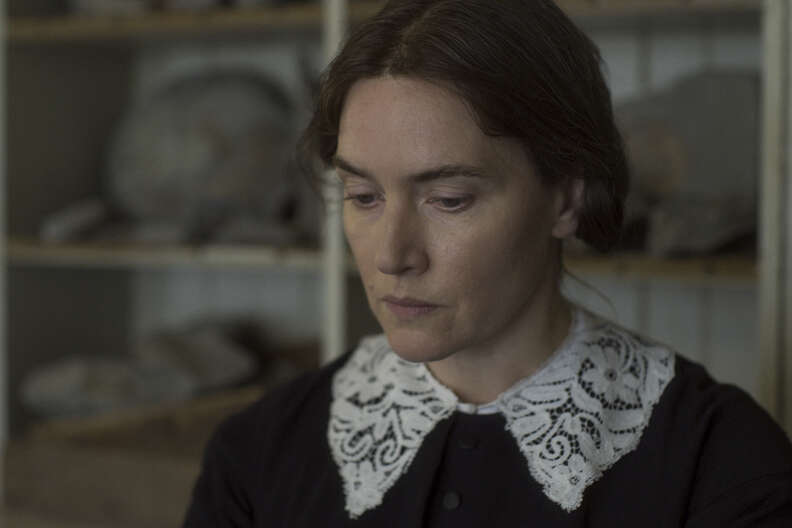 Release date: November 13
Director: Francis Lee
Cast: Kate Winslet, Saoirse Ronan, Fiona Shaw, James McArdle
Why it's worth seeing: The highly anticipated romance starring Kate Winslet and Saoirse Ronan is bound to draw comparisons to last year's Portrait of a Lady on Fire, directed by Céline Sciamma. It's a queer love story, set largely on a beach, released by Neon. Francis Lee's movie is craggier and harder to submit to than that French film, but it's beautiful in its own way, like a treasure hidden in rock. Winslet plays the historical protagonist Mary Anning, a paleontologist who researches and manages a small gift shop in England during the 19th Century. Her near hermetic life alongside her ailing mother is interrupted by the arrival of Roderick Murchison (James McArdle), a pompous hobbyist geologist who leeches off Mary's knowledge and then asks her to watch after his ailing wife, Charlotte (Ronan). The taciturn Mary is wary of the task, but in need of the funds offered. Charlotte, too, is unenthusiastic, but when she is struck with a fever, she becomes indebted to her reluctant caretaker. Their relationship evolves slowly from cohabitation to friendship to lust. Lee is less interested in making their conflict the mores of the time, and more in plumbing Mary's own isolation and intransigence. Winslet's performance is unvarnished and at times downright off-putting. She makes Mary a hard woman to love, but that's in service of the script, which relies less on exposition and more on subtle expression.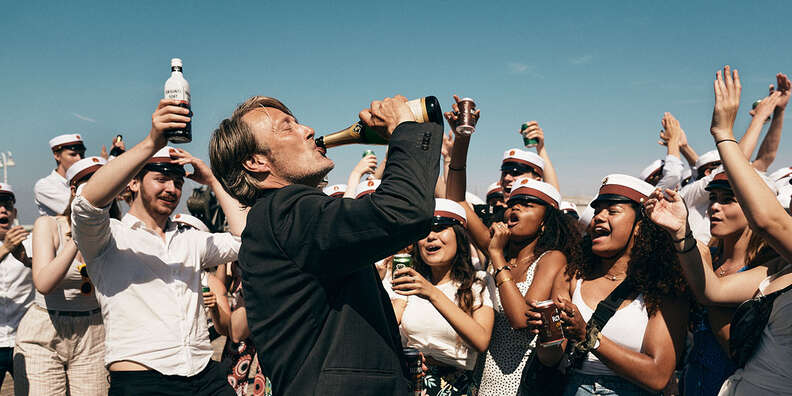 Another Round
Release date: TBD
Director: Thomas Vinterberg
Cast: Mads Mikkelsen, Thomas Bo Larsen, Lars Ranthe, Magnus Millang
Why it's worth seeing: Without getting ahead of myself, the final scene of Thomas Vinterberg's drama Another Round is the most excited I've been watching a movie this year. Those last invigorating minutes, in which Mads Mikkelsen, who studied ballet and gymnastics when he was younger, explodes in dance, an energetic but bittersweet conclusion to an already astounding movie. In the film, Mikkelsen plays Martin, a history teacher who is reserved and sober, quite literally. When out for a birthday celebration with his fellow instructors, he initially refuses the drinks being served, but eventually gives in and an experiment starts. He and his buddies start to test a theory of psychiatrist Finn Skårderud that humans' blood alcohol content is, on average, too low. Basically, they start drinking during the day. The idea is research, but as with anything involving alcohol, lines become blurred. Martin, at first, sees only the positive effects: He's a more exuberant presence in his classroom, and is reconnecting with his wife. Eventually, as it always does, the buzz wears off. Vinterberg crafts a tale of male ennui in a country where drinking is rampant, and captures an incredible performance from Mikkelsen.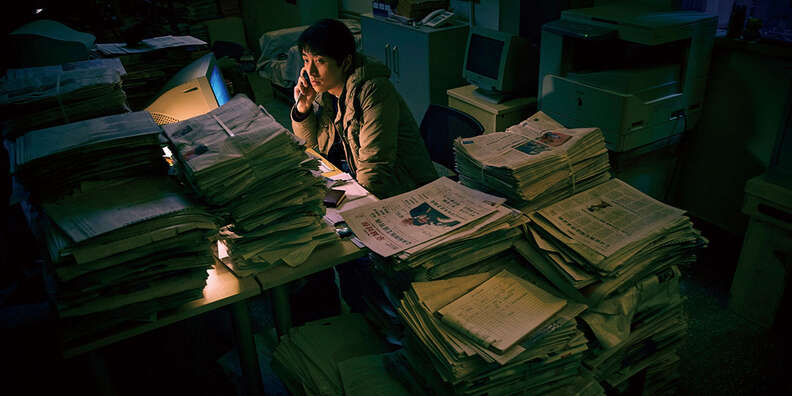 The Best Is Yet to Come
Release date: TBD
Director: Wang Jing
Cast: White K, Miao Miao, Zhang Songwen
Why it's worth seeing: This drama from first-time feature director Wang Jing is more uplifting than it seems at first glance. It tells the story of Han Dong (White K), a middle school graduate who moves to Beijing during the 2003 SARS epidemic with dreams of becoming a journalist. Initially rejected by newspapers for his lack of education, he gets an internship at the Jingcheng Daily, which ultimately leads him to investigate the illegal blood trade. Over the course of the film, Han Dong comes to realize that some stories aren't exactly how they initially appear, and the prejudice in China runs deeper than classism. At times, The Best Is Yet to Come aims for an inspirational aesthetic that can feel a tad corny, but it's overwhelmingly a fascinating tale of persistence.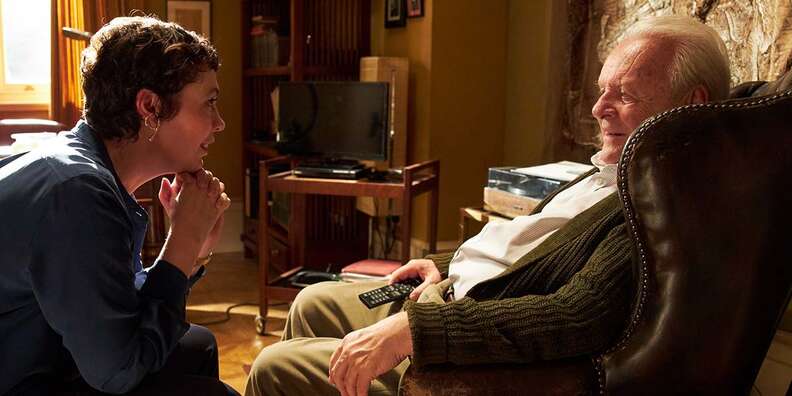 The Father
Release date: December 18
Director: Florian Zeller
Cast: Anthony Hopkins, Olivia Colman, Olivia Williams, Imogen Poots
Why it's worth seeing: Anthony Hopkins' performance is deserving of all the praise it has already gotten since this film premiered at Sundance earlier this year. In Florian Zeller's adaptation of his own play, Hopkins plays Anthony, a former engineer who is stubbornly aging. Anthony's refusal to accept help is frustrating to his daughter (Olivia Colman), but it quickly becomes clear, through Zeller's ingenious script and editing, that this man's own grasp on reality is fading. Hopkins swings from boisterous to feeble and kindly to nasty instantly over the course of the film, making it difficult to assess just how incapacitated Anthony is. And while Hopkins will likely be the focus of a major Oscar campaign, Colman does striking work as a daughter witnessing the horror of a loved one's decline.
MLK/FBI
Release date: TBD
Director: Sam Pollard
Why it's worth seeing: Director Sam Pollard's latest documentary deftly explains how and why J. Edgar Hoover's FBI came to spy on Martin Luther King Jr., regarding the civil rights leader as a threat to national security. Less an examination of what is in the bureau's files on King -- those are still sealed until 2027 -- and more an investigation into the culture of the institution that targeted him, Pollard gives audiences a succinct history of the FBI's place in American society, using the propaganda that fueled its venerated status, to illuminate its place in the public's conscience. Narrated by historians and associates of King's, MLK/FBI details Hoover's obsession with King and how it was fueled by the racism ingrained in the country. Similarly, it shows how King was reluctant to give his confidante's worries any credence until the paranoia became impossible to ignore. It's a clear and vital look into how law enforcement actively tried to curb progress.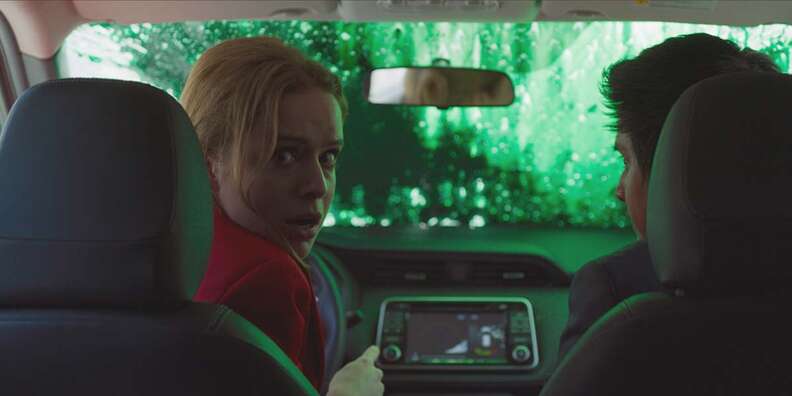 New Order
Release date: TBD
Director: Michel Franco
Cast: Naian González Norvind, Fernando Cuautle, Diego Boneta, Mónica Del Carmen
Why it's worth seeing: From the very first moments of Michel Franco's political thriller New Order, it's clear that violence is part of its fabric. But Franco escalates the brutality quicker and to a greater extreme than you could ever imagine in his angry but often astounding film about the evils wrought by classism and the Mexican government. At the center of his narrative is Marianne (Naian González Norvind), a wealthy young woman celebrating her wedding as protests erupt outside the confines of her privileged neighborhood. When an old employee of her family's (Eligio Meléndez) comes to the party asking for money to help his wife get an emergency heart surgery, he's largely rebuffed by Marianne's snobby relatives, but she takes it upon herself to supply the money the couple needs -- but this is not a tale of altruism. In the span of hours, the military begins its own reign of terror where bloodshed and torture begets more bloodshed and torture.
Night of the Kings
Release date: TBD
Director: Philippe Lacôte
Cast: Bakary Koné, Issaka Sawadogo, Steve Tientcheu
Why it's worth seeing: This film from Philippe Lacôte layers fables on top of fables to document a night inside a notorious prison in Côte d'Ivoire. The place known as MACA in Abidjan is very much real and the site of frequent violence, but there's a mystical quality that hangs over Night of the Kings' tale of warring factions and political upheaval. In Lacôte's telling, the correctional facility is lorded over by Blackbeard, the reigning "dangoro," whose power is being threatened by a group of his lackeys as he grows ill. As a last grasp at control, he anoints a new arrival the "Roman" and orders him to tell a story upon the appearance of the red moon. The terrified young man's life is at stake as he weaves the narrative of Zama King, the saga getting more fantastical as he continues. As Roman speaks, his rapt audience uses dance and song to act out Zama's trials. It's a hypnotic combination of magical realism, choreography, and true life terrors.
Release date: December 4
Director: Chloé Zhao
Cast: Frances McDormand, David Strathairn, Linda May
Why it's worth seeing: Zhao's film -- which premiered at the Toronto, Venice, and Telluride festivals simultaneously -- is both a travelogue of the West, displaying some of the most stunning vistas ever put to screen, and a document of the innate hardness of American life under corporate structures. It's, above all, an immensely peaceful film, brimming with the kind of empathy that feels necessary and rare right now. The director, known for her docudramas, adapts a piece of journalistic nonfiction by Jessica Bruder, using some of Bruder's subjects, but anchoring the piece with a performance by Frances McDormand as her protagonist. McDormand plays Fern, who lived with her husband in a small mining town known as Empire before the corporation keeping it afloat shut down and the zip code was rendered nonexistent. Fern is living out of her van and taking shifts at Amazon, when her friend Linda May tells her about the teachings of Bob Wells, a van life guru. What at first appears to be an aimless narrative, dotted with mesmerizing tracking shots in which McDormand strides across landscapes as parades of mobile homes move out in the distance, subtly reveals itself to be a purposeful journey. Patiently, Zhao and McDormand reveal how Fern's insistence on traveling is a means of coping with grief over the loss of her spouse. Nomadland is gorgeous, but never glamorizing. Instead, it's a generous work of art.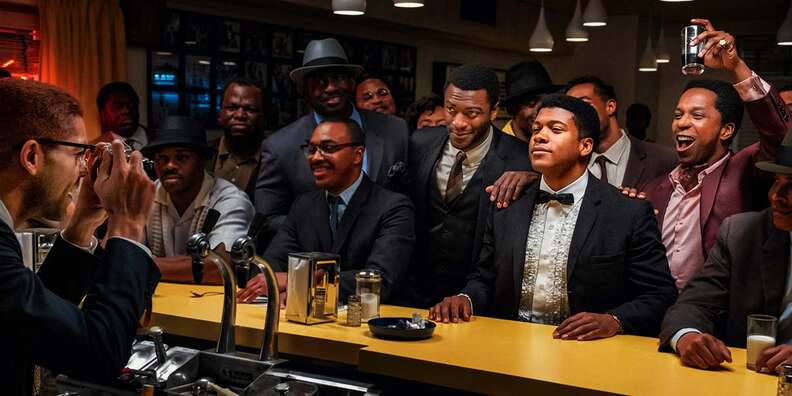 One Night in Miami...
Release date: TBD
Director: Regina King
Cast: Kingsley Ben-Adir, Leslie Odom Jr., Aldis Hodge, and Eli Goree
Why it's worth seeing: Regina King, a woman responsible for putting incredible performances onto big and small screens, makes her directorial debut with a movie that features some of the best acting you'll see all year. King does not appear in One Night in Miami... herself, but she coaxes out marvelous work from her cast as she documents a fictional account of one of the most legendary conversations in history. Adapted from a play by Kemp Powers, the film allows audiences in on the conversation that happened between Cassius Clay (Goree), Malcolm X (Ben-Adir), Jim Brown (Hodge), and Sam Cooke (Odom Jr.) the night in 1964 after Clay beat Sonny Liston. As they celebrate the victory by Clay -- soon to be Muhammad Ali -- the four luminaries joke, bond, and debate how best to deal with the racism plaguing their country. Sure, at times the film can feel a bit static; it is, after all, mostly about four men sitting in a room and talking often about sweeping philosophical topics. But those concerns fade away when you're mesmerized by Ben-Adir and Odom Jr. going head-to-head, representing two viewpoints in stark opposition.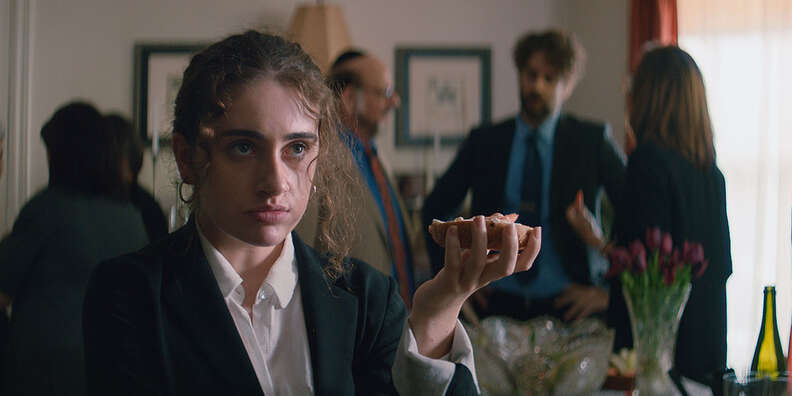 Shiva Baby
Release date: TBD
Director: Emma Seligman
Cast: Rachel Sennott, Molly Gordon, Polly Draper
Why it's worth seeing: Emma Seligman's comedy about shiva gone very wrong often plays more like a horror film, the chattering of bubbes turning downright maniacal as the score's strings intensify. We first meet Danielle (comedian Rachel Sennott) in the middle of sex with Max (Danny Deferrari), her sugar daddy, who shows a lecherous interest in her budding law career. Most of the movie, however, takes place at the post-funeral memorial for a distant family acquaintance Danielle is roped into attending with her parents (Polly Draper and Fred Melamed). It quickly becomes obvious that our protagonist is not, in actuality, pursuing a law career. She's an aimless college student who has made up her own major. If the agony of being barraged with countless questions about her future weren't bad enough, her high school ex (Molly Gordon) is a guest, as is -- surprise! -- Max. Jewish geography is indeed as much a curse as it is a blessing. Seligman's camera stays focused on Danielle as her anxiety skyrockets and she makes a series of increasingly rash decisions. At less than 90 minutes, Shiva Baby is both economical and a bit slight, but Seligman makes fascinating choices at every turn.
The Truffle Hunters
Release date: December 25, 2020
Director: Michael Dweck and Gregory Kershaw
Why it's worth seeing: A holdover from this year's Sundance slate, the lovely documentary The Truffle Hunters follows the truffle trade in Northern Italy. Its stars? A bunch of older Italian men and their beloved dogs, who they treat like children. Directors Michael Dweck and Gregory Kershaw offer gorgeously shot windows into the serious business of scouring the forests for these delicacies. It's not entirely sweet pups and their devoted owners, though. Dweck and Kershaw introduce us to the traders who make the industry a vicious one with a lot of money on the line. Still, the indisputable star is Birba, a sweet pooch of unidentifiable breed whose elderly person allows to eat atop the dinner table and worries about leaving behind.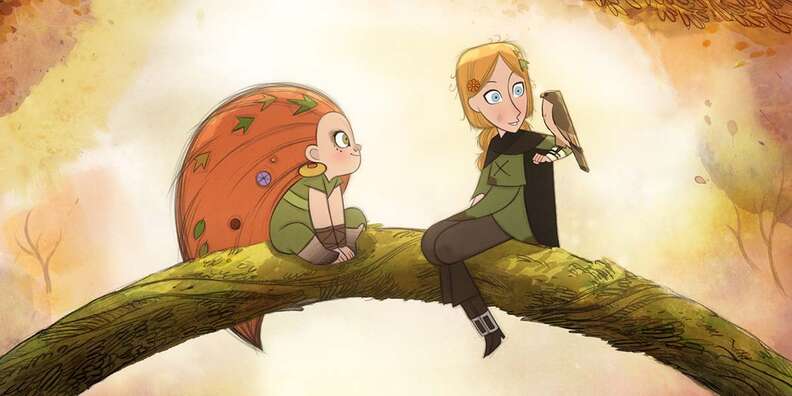 Wolfwalkers
Release date: TBD
Directors: Tomm Moore and Ross Stewart
Cast: Sean Bean, Honor Kneafsey, Eva Whittaker, Maria Doyle Kennedy
Why it's worth seeing: Irish filmmaker Tomm Moore has been producing some of the most beautiful animation you've ever seen for more than 10 years now, but they remain practically unsung in a field dominated by the Pixars and Disneys of the animated world. His latest with Ross Stewart, Wolfwalkers, which will debut via Apple later this year, is another marvel. The third in an unofficial trilogy that started with The Secret of Kells and evolved with Song of the Sea, Moore once again crafts a fable that draws on Irish mythology. Honor Kneafsey voices Robyn, an English girl who has relocated to Ireland, while her father (Sean Bean) hunts on behalf of Oliver Cromwell's forces in 1650. Robyn wants to follow in her dad's footsteps tracking down wolves, but venturing into the forest forces her to see the true nature of these beasts when she comes into contact with Mebh (Eva Whittaker), a spunky girl who also happens to be a wolfwalker, a legendary creature who becomes a four-legged prowler when asleep. Mebh and Robyn develop a friendship as their livelihoods both become threatened by the cruel colonialists, and Moore and Stewart illustrate their journey in exquisitely vibrant drawing.
Need help finding something to watch? Sign up here for our weekly Streamail newsletter to get streaming recommendations delivered straight to your inbox.