The summer, a time for loud car radio, staycation binge-watching, and movie theater air conditioning is nearly over. Luckily for you, we're not ready to say goodbye. Check out our hub of the best of summer movies, TV shows, and music for recommendations on how to keep the good times rolling.
You were supposed to relax this summer. You were supposed to stay inside on that 100-degree day. You were supposed to channel your inner fifth-grader and do whatever the hell you wanted between June and August. Instead, you trekked and partied and made the most of the world. We don't blame you, but we also know there's a backlog of new Netflix additions ready for you to binge. Here's the best of what arrived over the past three months that is still streaming on the service in September.
Jurassic Park (arrived 6/1)
All three of the Jurassic movies are now on Netflix, and they all serve different purposes. Watch The Lost World for an out-and-out dino-action movie; watch Jurassic Park III to see a velociraptor shout "ALAN!" at Dr. Grant; watch the original for that perfect balance of adventure and scientific sorrow -- it's still a classic.
Voltron: Legendary Defender, Season 1 (arrived 6/10)
You are not too old to watch Netflix's latest cartoon series. From the action-animation veterans behind Avatar: The Last Airbender and DC Comics' direct-to-DVD features comes a reboot of the 1980s cartoon that gives a damn about the story, characters, and, above all, towering mechs punching aliens in the face.
Spotlight (arrived 6/22)
The all-star drama retraces the steps of the Boston Globe reporters who stuck their noses into the Catholic church and uncovered the biggest sex abuse scandal in history. This is the rare Best Picture winner that totally deserved the award.
The Back to the Future trilogy (arrived 7/1)
Great Scott, these time-traveling adventure comedies never get old! Except for Back to the Future II, which is vastly inferior to Back to the Future III. (Discuss.)
Mean Girls (arrived 7/1)
A former mainstay of Netflix streaming might be Tina Fey's greatest contribution to the comedy world, and considering it plays in the typically lowbrow teen movie sandbox, that's saying something.
Every Albert Brooks movie (arrived 7/1)
If you know Brooks as the voice of Marlin in Finding Nemo or the mafioso in Drive, it's time to dig through his back catalog. The comedian graduated from shooting Saturday Night Live short films to features, and all seven -- Defending Your Life, Looking for Comedy in the Muslim World, Lost in America, Modern Romance, Mother, The Muse, and his directorial debut, Real Life -- are now on Netflix. For the funniest, jump straight to Lost in America, about a New Age road trip gone wrong.
Big Trouble in Little China (arrived 7/1)
Even Kurt Russell acting like a doofus is badass. He stars as a truck driver stuck in the middle of a magical kung fu war in John Carpenter's eccentric classic.
Jackass Number Two (arrived 7/1)
For Lincoln, Daniel Day-Lewis stayed in character for three months. He won an Oscar. In Jackass Number Two, Steve-O puts a leech on his eyeball. WHERE IS STEVE-O'S OSCAR?
The Shannara Chronicles, Season 1 (arrived 7/1)
If you're suffering from Game of Thrones separation anxiety, turn to MTV's goofier fantasy series, based on the best-selling novels by Terry Brooks. And for a fun game, drink every time someone says "elfstone."
The Big Short (arrived 7/6)
According to this caustic, hilarious Oscar nominee, the same chain of mismanaged economic events that led to the 2008 financial crisis will likely happen again, and worse. So maybe watch The Big Short.
Stranger Things (arrived 7/15)
Your friends spent the summer bingeing, obsessing, and theorizing over Netflix's horror-adventure series. Time to catch up.
BoJack Horseman, Season 3 (arrived 7/22)
This season focused entirely on the '90s sitcom star/horse's Oscar campaigning, a comeback story that, in true BoJack fashion, only doubled the addictions and regrets. Still one of Netflix's best shows.
The Wave (arrived 7/27)
This Norwegian disaster movie looks like a Roland Emmerich movie and acts like a Steven Spielberg drama. It's secretly among the best movies of the year.
Tallulah (arrived 7/29)
After making a splash at Sundance, Netflix picked up this portrait of motherhood from a writer on Orange Is the New Black. After Tallulah (Ellen Page) kidnaps a baby -- she has her reasons! -- she flees to the New York City apartment of her boyfriend's mother (Allison Janney). Like Black, Tallulah has just as much bite as heart.
The Fast and the Furious (arrived 8/1)
Ride or die, bro.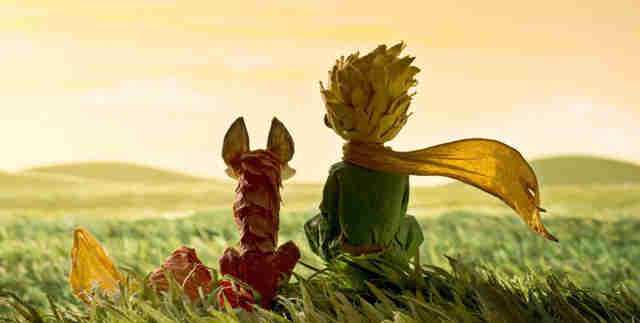 The Little Prince (arrived 8/5)
Netflix rescued this animated adaptation of the popular French sci-fi novel after a major Hollywood studio dumped it. Watching The Little Prince, you can see why; following a girl who tests her overbearing mother's life plan by dreaming big and adventuring into space, the movie is a little too melancholy, a little too freeform, and a little too poetic -- at least side-by-side with the Ice Age movies. For Netflix, it's a huge win (and a likely Best Animated Feature Oscar nomination).
The Get Down (arrived 8/12)
Overlooked during the one-two punch of the Olympics and vacation days, this Netflix original chronicles the birth of Harlem hip-hop through the eyes of talented teenagers and is part comic-book movie, part melodramatic romance. (Moulin Rouge director Baz Luhrmann is one of the creators, after all.) The Get Down's six rhythmic, rebellious episodes are worth a look.
I'll Sleep When I'm Dead ­(arrived 8/19)
This surprisingly poignant music documentary about Steve Aoki delves deep into what makes the cake-throwing DJ tick -- the sections on his relationship with his father, jet-setting Benihana founder Rocky Aoki, are especially revealing -- but even for EDM agnostics, it's a revealing look at the evolution of mid-'00s hipsterdom, showing how an enterprising artist turned his career as a tastemaker into a mini-empire.
Sign up here for our daily Thrillist email, and get your fix of the best in food/drink/fun.
Other Stuff You'll Like In Stream On