The Best Music Videos of 2017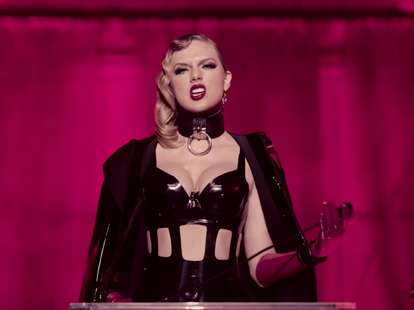 You're reading last year's list, which is totally cool, but there's a new one for the best music videos of 2018, too.
Music videos prevailed. In the early days, they were a symbol of the MTV generation's rejection of what parents and Dire Straits might have called "good, pure music." Then, the very cable networks that made them popular switched over to reality television, turning music videos, TRL, and veejays into nostalgia almost overnight.
But when YouTube exploded, music videos made a surprising comeback! Today, videos for major hits can rack up more than a billion views, and pop stars' official VEVO accounts have some of the largest subscription numbers on YouTube. With so many music videos appearing each week, we thought it was time to call attention to the best of the best, a list we'll update regularly throughout the year.
In it for the music? Check out the 50 best songs of the year and our running list of the best albums of 2017.
50. (TIE) Kid Rock, "Po-Dunk"
Director: Marc Klasfeld
Release date: July 13
Why it's great: This video would be hilarious for its bald cynicism and over-the-top reinforcement of the American redneck stereotypes Kid Rock has exploited for immense profit were it not for earlier rumors that Kid Rock would actually run for Senate, and what the fact that everyone had to take him seriously says about contemporary politics. I mean, the video opens with a shot of The Bible and features women shooting assault rifles; the Kid is not exactly subtle in portraying the type of faux-patriotism that seems to win hordes of ardent supporters in 2017 America.
50. (TIE) Jaden Smith, "Batman"
Director: Moises Aria
Release date: June 14
Why it's great: Jaden Smith is only 19 years old, so you can't pick on him too much. But still. That much fame and wealth that young is bound to make people do crazy things, like pretend to be Batman in a big-budget music video. The audacious behavior earns the Son of Will a place on the list, but here's hoping Jaden doesn't wind up like New Kids on the Block, trying to show off in music videos when he's well past his prime.
50. (TIE) New Kids on the Block, "Thankful"
Director: Ryan Kravontka
Release date: June 23
Why it's great: Wow. Just... wow. Jaden Smith will have years of working out and living a life of immense wealth before he's able to make this video. Don't worry, fans: The New Kids still have those abs! They still work out, like, all the time, as proven by the sick gym shots in the video! They are so #blessed, they decided to make a fan video that features fans AFTER the abs! Priorities! That anyone could create a video like this and say, "Yes, that is good," is a unique achievement that deserves recognition.
47. PSY, "New Face"
Director: Not listed
Release date: May 10
Why it's great: PSY is back! The creator of YouTube's (former) most-viewed video ever dropped two new ones, and they're both doozies (the other is "I Luv It"). Displaying his signature self-awareness and absurdly high-energy dance moves, PSY adheres closely to the rapid-fire collage aesthetic of "Gagnam Style." And, of course, the song is catchy as hell, with an ironic blend of Korean and English that eventually references a certain 2 Live Crew song in yet another wink at the audience.
New➤46. St. Vincent, "Pills"
Director: Philippa Price
Release date: November 29
Why it's great: St. Vincent's recent videos for her album MASSEDUCTION all have striking visuals, with high-contrast primary colors portraying a surrealist world obsessed with youth, beauty, and feeling good. In "Pills," a reverse, stop-motion effect creates a sense of unease, as putting you in a state of uncertain reality. Are you really experiencing what you think you're experiencing, or is it simply a pharmacological effect? And what, exactly, is the difference between so-called natural living and medicine-enhanced life?
45. ZHU, Nero "Dreams" (NSFW)
Director: Elliott Sellers and Erik Ferguson
Release date: September 22
Why it's great: ZHU's latest video captures the paradoxical boundlessness of the human body's fragility and resilience in a most grotesque fashion. A pile of nude bodies pulsing to the beat; human clay launched at each other, breaking off pieces along the way; these are the kinds of images that show up in dreams and nightmares.
New➤44. Lecrae, "Broke"
Director: Daniel Henry
Release date: December 5
Why it's great: There's nothing particularly revolutionary about this video, but the hauntingly hazy soft focus combines with the neon signs advertising predatory capitalism to undermine the typical hip-hop video scenes of extravagant wealth. When Lecrae talks about "making it," there's no conspicuous achievement, but a sense of paradoxical pride: Sometimes it takes being broke to get rich, and plenty of others can profit immensely off the poverty of others.
43. Pond, "The Weather"
Director: Ashley Rommelrath (editor)
Release date: April 6
Why it's great: Making a coherent video out of found footage isn't easy, but this testament to the excesses of consumer advertising in the '80s and '90s brilliantly weaves together ads to tell a story and sync up sick Champagne shots with the lyric "Champagne." If brand managers were half as good as editor Ashley Rommelrath, we'd be buying a lot more shit. Fortunately, they're not.
42. Someone, "Say Something"
Director: Not listed
Release date: July 19
Why it's great: Major props to anyone who's figured out how to avoid Google's all-encompassing grip; you'll never be able to find the song "say something by someone" when you type it into any search engine. While that has nothing to do with the video per se, this is a nice entry in the tried-and-true fake infomercial format. "Say Something... With Your Body!" would be a funny new-age cure-all on its own, but when it's peddled by a Danish healer, well, it'll crack you up every time -- especially when you get to the testimonials.
41. Bully, "Feel the Same"
Director: LAZY MOM
Release date: November 2
Why it's great: Is there a medical term for the satisfying feeling of watching objects melt and get squished? Like, does it make your mouth water? No? This is going to be the next ASMR, I'm telling you. LAZY MOM'S stylish animation is exactly what a good music video should be: It complements the song, rather than repeating it (nothing is worse in a music video than simply watching an artist perform), and creates a mouthwatering story of destruction and resurrection in the process.
New➤40. METZ, "Drained Lake"
Director: Shayne Ehman
Release date: October 26
Why it's great: Like their Sub Pop labelmates Bully, noise-rockers METZ create a bizarre stop-motion world filled with fork bands and floating cupcake trays. It's a bit more layered than Bully's "Feel the Same," in that it incorporates live action and more animated elements to tell the "story" of a literal cat person, but it's very much in the same spirit.
39. Flying Lotus, "Post Requisite" (potentially NSFW)
Director: Winston Hacking
Release date: November 2
Why it's great: Another entry in the cutout-meets-animated-collage canon, Winston Hacking's work features a density of imagery, including playful takes on sex and human birth that make you question time and time again just what the hell appeared in print over the years.
38. Kacy Hill, "Like a Woman"
Director: J.A.C.K.
Release date: May 18
Why it's great: You know that feeling when you want to pleasure yourself in the back of a bus while it's pouring rain outside? So does Kacy Hill. Her video for the synthy "Like a Woman" is good, clean, erotic fantasy fun.
37. Tierra Whack, "Mumbo Jumbo"
Director: Marco Prestini
Release date: October 5
Why it's great: There is something deeply unsettling and compelling about this video, like if David Cronenberg were a rapper who went to the dentist, got high on laughing gas, and was told he needed to shoot an episode of Westworld. What's not to like?
New➤36. Foxygen, "Avalon"
Director: Cameron Dutra and Alissa Torvinen
Release date: August 18
Why it's great: Oh, Foxygen, you bunch of jokesters! The frequent JASH collaborators (FULL DISCLOSURE: Group Nine Media owns JASH and Thrillist. One day all your media will come from a single source.) did a little self-deprecating jabbing at rock star life. Tension mounts as Jonathan Rado realizes that creative control of his first directorial effort is getting wrested away. Good song, too!
35. Aminé, "REDMERCEDES"
Director: Adam "Aminé" Daniel
Release date: April 7
Why it's great: Aminé subverts rap video tropes by flipping racial dynamics in a video that makes fun of white liberal racists who would talk about equality from one side of the mouth while stereotyping minorities from the other. With three black men dressed in pastel polos and cardigans, and done up in "white face" makeup, they rap about cars; without the video, it would be impossible to see the irony.
New➤34. Daniele Luppi ft. Parquet Courts and Karen O, "Pretty Prizes"
Director: Barney Clay
Release date: November 28
Why it's great: Daniele Luppi brought quintessential New Yorker rockers Parquet Courts and Karen O together to conjure up the spirit of... 1980s Milan. Somehow, it works, and the first video associated with the album stretches the definition of what a music video can be: It features three songs from the album, but tells its story in traditional music video format and length. And it has a pretty decent twist, to boot.
33. Young Thug, "Homie"
Director: Oscar Hudson
Release date: September 7
Why it's great: Fancy camerawork alert! Young Thug is on fire this year, through seemingly little influence of his own (stay tuned for the next Young Thug entry on this list), and the dizzying, violent world of "Homie" is another win for the rapper.
New➤32. Poppy, "Bleach Blonde Baby"
Director: Titanic Sinclair
Release date: December 13
Why it's great: Don't strain your brain too hard trying to "get" Poppy. She's a superficial, empty creation that reflects back a superficial, empty pop culture. You're supposed to feel uncomfortable when you watch her; she's too young and too mechanical, and you kind of expect her to fail the Turing test. But what about the rest of the pop music landscape? Is it really so different?
New➤31. Broken Back, "The Sooner the Better"
Director: Ideas for Music
Release date: November 22
Why it's great: Had this come out a year earlier, it would certainly be higher on the list. But as you'll see below, there are too many better versions of the interactive video out for this to be any more than a fun little novelty. The ability to change actors' styles doesn't really bring a whole lot to the video, but Broken Back earns points for a slick website that serves as an example of the new territory music videos can cover by bringing audiences into the experience.
Director: Micah Buzan (animator)
Release date: January 30/March 6
Why it's great: Is a two-part psychedelic animated "video suite" somewhat pretentious? Sure. But these particular videos, which look like the result of Keith Haring tripping acid and remaking FernGully, capture an old-school psychedelia that has become less prevalent thanks to computer-generated animation and more skepticism of the spiritual possibilities drugs offer. Allow yourself to enjoy the pure sensuality animator Micah Buzan depicts in otherworldly forms. If you projected them onto a wall, turned off the lights, and consumed substances that open new doors of perception, no one would blame you.
29. General Elektriks, "Different Blue"
Director: Arno Salters
Release date: November 9
Why it's great: At first glance, there is nothing obviously strange about this video, outside of the discord between the haggard look of General Elektriks' lead singer (Hervé Salters) and the energy he exhibits in this video. It reads a bit like if Devo went through a funk phase, but the increasing absurdity of the duplicating band visual gags matches the fever pitch of the song, with an epic concluding scene.
New 28. Bjork, "Arisen My Senses"
Director: Jesse Kanda
Release date: December 20
Why it's great: Bjork seems like she's from a different planet, and her music videos live up to her reputation. There's not much you can do but enjoy the visceral beauty of her work, unless you really hate looking at tongues.
27. Kendrick Lamar, "HUMBLE."
Director: Dave Meyers & the little homies
Release date: March 30
Why it's great: Where my Young Popes at?! Kendrick Lamar's upward rise sees him achieve infallibility... or at least that's the connection we're invited to make in light of this year's outstanding HBO miniseries. The irony continues with a recreation of da Vinci's The Last Supper, featuring Kendrick in you-know-who's seat, all of it interspersed with self-portraits in convex mirrors, flaming hair, minimalist choreography, and Photoshop critiques. Kendrick can do it all; the rest of us can sit down, be humble.
26. Gorillaz, "Saturnz Barz"
Director: Jamie Hewlett
Release date: March 23
Why it's great: Everything about Gorillaz should make them a quaintly antiquated relic of 2004... and yet. I wanted to hate this video and song. I wanted to look back at my tastes from more than a decade ago and pat myself on the back for no longer listening to cartoon music. I wanted to scoff at the reggae-rap contributions of Popcaan. None of that happened. Gorillaz are still pretty good! And this 360-compatible video features a dizzying mix of computer-generated graphics and traditional animation, plus a censored nude main character. The song's got that classic Gorillaz-earworm quality that will keep you humming it during idle moments.
25. End of the World, "One More Night"
Director: Zac Ella
Release date: May 24
Why it's great: End of the World is the literal translation of the Japanese band SEKAI NO OWARI, a Japanese band that's making its first English-language album this year. It's difficult not to enjoy this cheesy half-animation, half-puppet riff on American Beauty's infamous plastic bag video -- you get the feeling that SEKAI NO OWARI don't take themselves too seriously, which makes it that much easier to bounce along to the beat and follow the story of two bags falling in love.
24. Their Names, "Burning Star" (NSFW)
Director: Romain Laurent
Release date: June 23
Why it's great: Have you ever considered how bizarre a nipple would look if it were in the form of a planet and you were bouncing off of it? No? Their Names and director Romain Laurent spare your imagination the effort, creating a galaxy quest video that pits a space traveler against various interstellar body parts. The skin appears disturbingly real right up to the moment the makeshift astronaut bounces against it, during a journey that ends with a comet-woman blasting through space. Weird, wild stuff.
23. Kirin J Callinan, "Big Enough"
Director: Danny Cohen
Release date: August 16
Why it's great: Screaming cowboys! That alone pretty much makes this Western sendup work, plus the presence of Alex Cameron, 2017's preeminent musical jokester, gives this an added boost.
22. The Academic, "Bear Claws"
Director: The Academic
Release date: October 3
Why it's great: The Academic made use of a delay in Facebook Live broadcasts to create an audiovisual looper that allowed them to perform "Bear Claws" both live and as their own backing group. It's a neat trick, and not easy to pull off even if you have the exact delay worked out; it's like using a looper pedal as a group, and doing it perfectly in one take. These guys must've really practiced, practiced, practiced!
21. Katy Perry ft. Migos, "Bon Appétit"
Director: Dent de Cuir
Release date: May 12
Why it's great: Katy Perry has been in the spotlight long enough to feel like a piece of meat passed around by various chefs and handlers in preparation for public consumption. She takes the concept literally in this video. Had Migos not interrupted the narrative by inserting non sequitur rap video stereotypes right in the middle, this might've moved up a few notches, but it still offers enough grotesquely compelling visuals to earn a place among the year's best.
20. Leonard Cohen, "Leaving the Table"
Director: Christopher Mills
Release date: September 19
Why it's great: Leave it to the late Leonard Cohen to make death a poetic beauty akin to walking away from a poker table, or saying goodbye to an old love. Christopher Mills does the legend justice in this haunting, three-dimensional animated video collage released nearly a year after the singer's death -- like much of Cohen's work, it deals in sentiment without being sentimental, and confronts head-on the most difficult emotions humans face.
19. Portugal. The Man, "Rich Friends"
Director: Dan Portrait
Release date: June 16
Why it's great: C'mon, it's 2017: If your music video doesn't feature an interactive component or animation, what the hell are you doing? Now that it's become clear these are the trends musicians have latched onto, each variation on the themes feels less and less revelatory. But Portugal. The Man's "Rich Friends" earns bonus points for scoring the domain chardonnayandadderall.com and featuring It's Always Sunny in Philadelphia's Glenn Howerton as a rich asshole who gets what he deserves. Minus points for continuing to have the most annoyingly punctuated band name ever, though.
18. Marika Hackman, "My Lover Cindy"
Director: Sam Bailey
Release date: May 9
Why it's great: Intrigued. Lulled. Bored. Piqued. Riveted. Grossed out. Bemused. That's a typical journey you might take while watching Marika Hackman's "My Lover Cindy" video, which looks like it's going to serve up a Whit Stillman-esque slice of the upper crust's leisure life, then turns a casual fencing match into a violent showdown that gets a surreal and gross twist at the end. You may find the final scene gut-busting hilarious or a total turnoff. Neither is wrong.
17. Charli XCX, "Boys"
Director: Charli XCX and Sarah McColgan
Release date: July 26
Why it's great: Objectification of men in a music video? HOW DARE SHE. Charli XCX, who co-wrote Icona Pop's "I Love It" and Iggy Azalea's "Fancy" before breaking out as a solo artist, comes in hot with a parody that features a very sexy pillow fight between two of the titular boys. It's the rare work of social criticism that maintains a keen sense of fun.
16. Real Estate, "Stained Glass"
Director: Craig Allen
Release date: May 22
Why it's great: At first glance, Real Estate's new video might seem like nothing more than an animated version of their typical "stand still and just play the damn song" vibe. But then you realize there's a custom website that allows you to color your own version of the video, and all of a sudden you've got a new way to kill half an hour of your work day. That's a hell of a lot more than most music videos can say!
15. The Shins, "Half a Million"
Director: LAMAR+NIK
Release date: August 8
Why it's great: Zach Braff's favorite band printed out a shitload of photos from a video shot on a white background, printed them out, turned them into more than 5,000 stickers, and created a stop-motion effect on live backgrounds, which sounds super time-consuming and very hard. But it's a good thing LAMAR+NIK put in the effort, because the effect transcends pure gimmick when it turns a fence or a bookshelf into a piano, or a checkerboard into a drum set.
New➤14. Miguel, "Now"
Director: Philip Knowlton
Release date: November 30
Why it's great: Imagine going to a country where you didn't have the proper documents, then were locked up for nearly a decade because you couldn't raise the thousands of dollars you were being held hostage for. This is the dystopian reality of 2017 America, in which some people live in unfettered wealth and comfort, while others are incarcerated, impoverished, and demeaned relentlessly. The United States has always exploited immigrants for cheap labor, but historically it's been better about letting them live outside of immigrant prisons, the subject of Miguel's video. That the nation's largest immigrant prison is located in a city whose tagline is "The City With Unlimited Possibilities" is the kind of ironic detail that would be too on the nose for fiction, but suits actual life perfectly.
13. Fergie, "Love Is Blind"
Director: Chris Ullens
Release date: September 26
Why it's great: What happens when a Barbie-like doll seems to find the worst kinds of romantic partners? She becomes a serial killer, of course! It's a funny way to tell a dark story about disappointing men, and the over-the-top violent effects add to its poignancy.
12. Action Bronson, "Let Me Breathe"
Director: James Larese
Release date: June 30
Why it's great: Action Bronson possesses a remarkable ability to present himself as a crazy-like-a-fox idiot savant, which will either endear him to you completely, or completely repel you. He's charismatic, in any case, with a keen sense of how to entertain in pop-song-length time. In "Let Me Breathe," Action Bronson knows exactly what he's doing when he says he has no idea what he's doing -- he's allowing you to enjoy the absurdity of watching old men dance and fight over a woman twice their size.
11. Taylor Swift, "Look What You Made Me Do"
Director: Joseph Kahn
Release date: August 27
Why it's great: Whatever your feelings about T-Swift are, you have to admit she's self-aware. Nowhere is that more apparent than in the video for her first single off this year's Reputation, in which she plays versions of herself and her famous frenemies (Katy Perry, Kim Kardashian, etc.). The video, like the song, is designed to provoke the haters, but its mishmash of aesthetics is too thoughtful to dismiss as merely a troll job. You can't quite imagine, say, Kanye West demonstrating a similar willingness to poke fun at his own reputation, can you?
10. Sevdaliza, "Amandine Insensible"
Director: Piet Langevald
Release date: February 14
Why it's great: At first glance, you may find nothing remarkable about this video; it's as basic as it gets. Stock, almost. That's exactly the intention, and you can actually purchase short video clips of each depicted figure from Shutterstock. The next time you need a video "for corporate" or "for relax," simply download the Iranian-Dutch singer's fictional character Amandine, who will make you consider more deeply the effects of reducing a human to flat, sterilized representations designed to absorb whatever thoughts, feelings, and desires you project onto her.
9. Danny Brown, "Ain't It Funny"
Director: Jonah Hill
Release date: March 28
Why it's great: Yep, it's directed by that Jonah Hill. The format may not be the most original idea in the world -- how many '80s and '90s sitcom parodies have come out in the age of "Too Many Cooks"? -- but the darkness of "Ain't It Funny" is so unsettling that you may feel compelled to find help for Danny Brown. He smokes crack right there in the living room next to Gus Van Sant (who plays "Dad")! He pisses on the family photos as Gus Van Sant walks in! He drinks from a 40 of something called "Danny Brown"! This video turns addiction into a short horror film, not bad for less than four minutes.
8. Jay-Z, "Moonlight"
Director: Alan Yang
Release date: August 10
Why it's great: It's a Friends parody that gets dark in a hurry, with Jerrod Carmichael having a self-reflective moment that exposes what seem to be insecurities about both his and Hova's careers (with special guest star Lakeith Stanfield!). Somehow, Jay-Z's series of videos associated with 4:44 are flying somewhat under the radar despite being some of the rapper's best work, so make sure you don't sleep on the king of rap.
7. Cassius ft. Cat Power & Pharrell Williams, "Go Up"
Director: Alexandre Courtès
Release date: April 10
Why it's great: Alexandre Courtès co-directed the White Stripes' iconic "Seven Nation Army" video, and in Cassius' "Go Up," he takes his eye for symmetry to new heights (get it?!). It's a simple concept with intricate execution: Take two images that seemingly have nothing to do with each other, and place them next to each other to create a new one. Do that dozens of times in a row, and the result is a frightening collage of contemporary life presented in a too-fast-to-digest format that typifies our consumption habits.
New 6. OK Go, "Obsession"
Director: Damian Kulash, Jr. & Yusuke Tanaka
Release date: November 23
Why it's great: OK Go's staying power proves that if you do one thing exceptionally well, you can carve out a tremendously successful career even if everything else you do is average. And damn, they know how to make music videos, all the more remarkable considering the fact that music videos don't carry the cultural cache they once did. Sure, OK Go is prone to stunt-driven work, but the printer choreography in "Obsession" is miles ahead of the other stunt videos on this list in that it manages to achieve a surprising effect seen nowhere else.
5. Young Thug, "Wyclef Jean"
Director: Pomp&Clout
Release date: January 16
Why it's great: If Young Thug had shown up for any of the video shoots, this would've been a relatively forgettable music video. Thankfully, he didn't; even better, his fickleness failed to dissuade production company Pomp&Clout from making the video anyway. It's intentionally on-the-nose, a self-parodic, humorous meta-video that, as the title cards point out, keeps you watching 'til the very end. It's what every music video aspires to be.
4. Jay-Z, "The Story of O.J."
Director: Mark Romanek & Jay-Z
Release date: July 5
Why it's great: Now that the Juice is officially loose, Jay-Z's "The Story of O.J." somehow takes on added depth despite the fact that there are approximately 13,763,982 hours of documentary and fictional adaptation footage available about the O.J. Simpson case. As with all things O.J., "The Story of O.J." only uses Simpson as a jumping off point, a symbol. By reminding the audience of the horrible racist caricatures presented in children's cartoons, Jay-Z's new single helps paint a fuller picture of the violent, despicable legacy of slavery in America. Generations of children were inoculated with the kind of playful stereotyping present in cartoons like Dumbo. I've long considered Jay-Z to be a cynic, and maybe there's an element of that side of him in this video... but he's not wrong, especially considering the next entry on this list.
3. Jay-Z, "4:44"
Director: TNEG
Release date: July 13
Why it's great: At age 47, Jay-Z grew up. That's not my personal opinion -- those are Sean Carter's thoughts in a surprisingly vulnerable, raw video and song from the unquestioned commercial king of hip-hop. Jay-Z doesn't have to be honest; he doesn't have to admit to the world that he cheated on Beyonce; he doesn't have to make videos with the kind of ambition "4:44" demonstrates, an ambition no less than stripping away the many layers of artifice that have obscured the rapper's career to date. But he did it anyway. Maybe this video is as cynical as his multiple "retirements," maybe Jay-Z is finding a way to cash in on an introspective period of his life, or maybe he knows that adding his entries into the current "America is a fucked-up, racist country" dialogue will drive legions of fans to the beleaguered Tidal streaming service. But in this internet writer's very humble opinion, this is the best Jay-Z has ever been.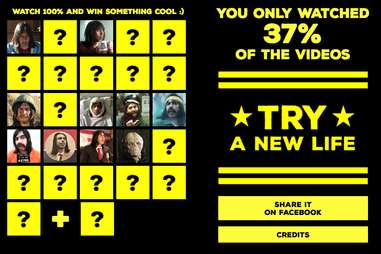 2. Naive New Beaters, "Words Hurt"
Director: Romain Chassaing
Release date: April 14
Why it's great: Naive New Beaters pushed all their chips in with this video, a high-budget choose-your-own-adventure film that requires its own website to view and play properly. There are Kubrick references, Tarantino references, hell, maybe this whole thing is a Forrest Gump parody. Just be careful: Once you enter, you may find yourself trying on new lives to the backbeat of bouncy French dance music. Think playing a silly choose-your-own-adventure music-video game is a surefire way to fritter away your precious time? Well, what else is the internet for?
New➤1. N.E.R.D. and Future, "1000"
Director: Todd Tourso and Scott Cudmore
Release date: December 6
Why it's great: Fighting between Confederates and Union loyalists, racial violence, police brutality, Nazi symbolism -- past is present in 2017. N.E.R.D resurrects themselves to hammer home the point and close the book on a turbulent year.
Sign up here for our daily Thrillist email, and get your fix of the best in food/drink/fun.
Anthony Schneck is an entertainment editor at Thrillist and one of the zombies in the "Thriller" video. Follow him @AnthonySchneck.