Who doesn't love a good mystery? Especially when that mystery can be solved over the course of an evening or two sitting in your living room, watching TV.
Netflix knows what you love, and has a plethora of mystery-driven movies that will entertain you for hours on end. The next time you want to play armchair Sherlock, check out these titles.
Recommended Video
This Clock Tracks Your Loved Ones Like the Clock in 'Harry Potter'
Dragon Tattoo Trilogy (2010)
This Swedish book series was a worldwide phenomenon, and Netflix has all three of its original film adaptations available as an easily bingeable extended-edition miniseries. Broken down into six 90-minute episodes, the saga of hacker Lisbeth Salander (Noomi Rapace) and journalist Mikael Blomkvist unfolds with enough murder, sexual violence, concealed identities, and techno-stalking to keep even the most hardened of mystery buffs enthralled.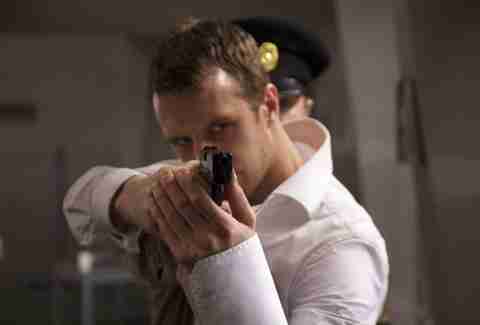 Exam (2009)
A locked-room mystery with a deadly twist, this British film throws a group of job candidates together and gives them an impossible test. There are three rules (don't talk to the test invigilator or the armed guard; don't leave the room; and don't spoil the test paper) and only one question to answer, but when the candidates realize the paper is blank, they must work together to find the question and pass the test. The 80-minute exam passes almost in real time as the group races from theory to theory, manipulating each other, infighting, and backstabbing to prove themselves worthy and snag their dream job.
I Don't Feel at Home in This World Anymore (2017)
In this maniacal mystery, Ruth (Melanie Lynskey), a nurse, and her rattail-sporting, weapon-obsessed neighbor Tony (Elijah Wood) hunt down a local burglar. Part Cormac McCarthy thriller, part wacky, Will Ferrell-esque comedy, I Don't Feel at Home in This World Anymore is a cathartic neo-noir about everyday troubles. Director Macon Blair's not the first person to find existential enlightenment at the end of an amateur detective tale, but he might be the first to piece one together from cussing octogenarians, ninja stars, Google montages, gallons of Big Red soda, upper-deckers, friendly raccoons, exploding body parts, and the idiocy of humanity.
Inside Man (2006)
Denzel Washington is at his wily, sharp, and sharply dressed best as he teams up once again with Spike Lee for this wildly entertaining heist thriller. He's an NYPD hostage negotiator who discovers a whole bunch of drama when a crew of robbers (led by Clive Owen) takes a bank hostage during a 24-hour period. Jodie Foster also appears as an interested party with uncertain motivations. You'll have to figure out what's going on several times over before the truth outs.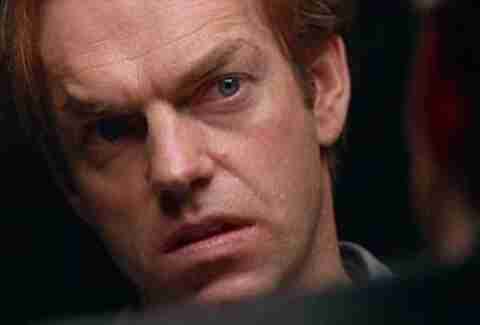 The Interview (1998)
This Usual Suspects-esque Australian thriller follows the tale of Eddie Fleming (Hugo Weaving), a man interrogated by the police for a crime he may or may not have committed. Staged almost entirely within that interrogation room, the interplay between Fleming and the cops is tense as hell while the balance of power and sympathies continually shifts. Who is really on trial, and for what, are questions that get asked and answered in a series of twists that still have the power to shock almost 20 years later.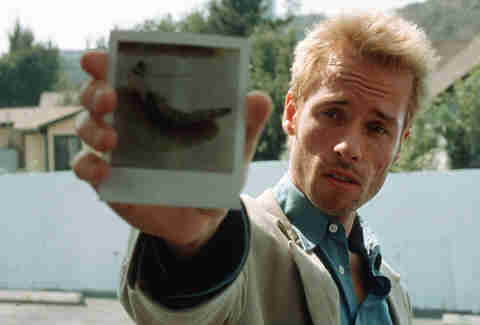 Memento (2000)
M. Night Shyamalan is inextricably tied to the "twist" thanks to his movies' many pull-the-rug finales, but Christopher Nolan really deserves the title of Hollywood Twistmaster. Movies like Interstellar, Batman Begins, and The Prestige all tie their emotional journeys in knots, while his amnesiac thriller Memento is the gold standard. Guy Pearce stars as a man who must jog his corrosive short-term memory with Polaroids and explanatory tattoos in order to solve the murder of his wife. Playing with time and truth, Nolan spins the rare detective story that keeps the audience guessing until the end.
Oldboy (2003)
Park Chan-wook's 2003 weirdo masterpiece was such a cult hit, they made a not-so-great American version in 2013 with Josh Brolin. The original is still on Netflix, though, and definitely worth a watch. Korean star Choi Min-sik plays a husband, father, and alcoholic who gets kidnapped on his daughter's 4th birthday. He spends the next 15 years locked in a small room, teaching himself to fight and counting the years with hatch-mark tattoos. His release sets him on a path to revenge, but first he must discover who locked him up and why, and when he finally unlocks the mystery the secret is even grosser than the scene where he eats a live octopus.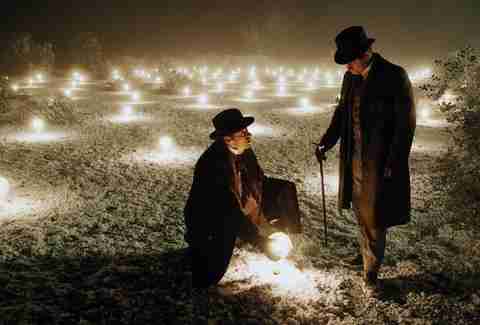 The Prestige (2006)
Director Christopher Nolan (The Dark Knight, Inception) makes movies that are designed to be puzzled over. The Prestige -- Nolan and his Westworld-co-creating brother Jonathan's adaptation of Christopher Priest's novel of the same name -- might be the enigmatic filmmaker's most emotionally rich and narratively satisfying brain-teaser. Hugh Jackman and Christian Bale play rival magicians in 19th-century London, and while the idea of Batman facing off against Wolverine in top hats is certainly the draw, you'll keep coming back to marvel at the art direction, the plotting, and the pure joy of getting fooled again.
Tinker Tailor Soldier Spy (2011)
If a season of 24 took place in the smoky, well-tailored underground of British intelligence circa 1973, it might look a little like this precision-made John le Carré adaptation from Let the Right One In director Tomas Alfredson. Even if you can't follow terse and tightly-woven mystery, the search for Soviet mole led by retired operative George Smiley (Gary Oldman), the ice-cold frames and stellar cast will suck you into the intrigue. It's very possible Oldman, Colin Firth, Tom Hardy, John Hurt, Toby Jones, Mark Strong, and Benedict Cumberbatch are reading pages of the British phone book, but egad, it's absorbing. A movie that rewards your full concentration.
The Wailing (2016)
Hollywood horror movies rarely shoot for "epic," content with scaring up a storm with micro-budgets and single locations. South Korean director Na Hong-jin does not suffer from the same apprehension. The Wailing is a masterpiece of mood, 156 minutes of every horror trope imaginable, drenched in mythology we foreigners may not entirely understand. That's fine: The movie's plot, a streak of murderers that may or may not have been perpetrated by demons, tows the viewer through the foggiest moments with one visceral pleasure after another.
Who Framed Roger Rabbit? (1988)
This cartoon mystery is still zany, and a little darker than you remember. Beware: You will wake up at 2am soaked in cold sweat after your dreaming brain dredges up the scene of Christopher Lloyd dipping the anthropomorphized shoe into The Dip. And his eyes aren't even popping out of his skull at that point. Terrifying. Though decades distilled Roger Rabbit into a nostalgia emblem and the perfect sexy Halloween costume idea (see: Heidi Klum as Jessica Rabbit), Back to the Future director Robert Zemeckis' film is the real deal. Bob Hoskins gives a physical performance that would make Buster Keaton dizzy, the animation seamlessly gels into the live-action picture, and the Hollywood noir satire is precision cut. And thanks to stingy studios, its cavalcade of characters -- think Donald and Daffy's dueling pianos -- could never happen in the modern age. Roger Rabbit gets away with a crime.
Sign up here for our daily Thrillist email and subscribe here for our YouTube channel to get your fix of the best in food/drink/fun.