The Best Mysteries to Stream on Netflix
Tune in for the twists and turns.
Who doesn't love a good mystery? Especially when that mystery can be solved over the course of an evening or two sitting in your living room, watching TV.
Netflix knows what you love, and has a plethora of mystery-driven movies that will entertain you for hours on end. The next time you want to play armchair Sherlock, check out these titles.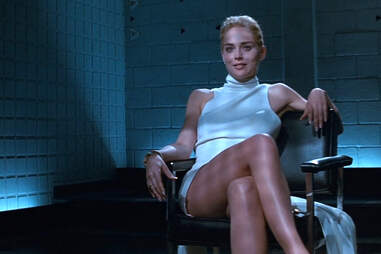 TriStar Pictures
Basic Instinct (1992)
Has any movie ever done more for ice-based weapons? Bad-boy '90s director Paul Verhoeven gave us this lurid tale of a damaged cop, played with real scumbag glee by Michael Douglas, investigating an icepick-wielding serial killer, but Sharon Stone is the real star of this show. Unlike the late-night premium-cable schlock that attempted to steal its sleazy style, this pulp classic has a sense of humor and a Hitchcockian playfulness to go along with all the nudity, violence, and cheesy one-liners.
Well Go USA Entertainment
Burning (2018)
Some mysteries simmer; this one smolders. In his adaptation of a Haruki Murakami short story, writer and director Lee Chang-dong includes many elements of the acclaimed author's slyly mischievous style—cats, jazz, cooking, and an alienated male writer protagonist all pop up—but he also invests the material with his own dark humor, stray references to contemporary news, and an unyielding sense of curiosity. We follow aimless aspiring novelist Lee Jong-su (Yoo Ah-in) as he reconnects with Shin Hae-mi (Jeon Jong-seo), a young woman he grew up with, but the movie never lets you get too comfortable in one scene or setting. When Yeun's Ben, a handsome rich guy with a beautiful apartment and a passion for burning down greenhouses, appears, the film shifts to an even more tremulous register. Can Ben be trusted? Yeun's performance is perfectly calibrated to entice and confuse, like he's a suave, pyromaniac version of Tyler Durden. Each frame keeps you guessing.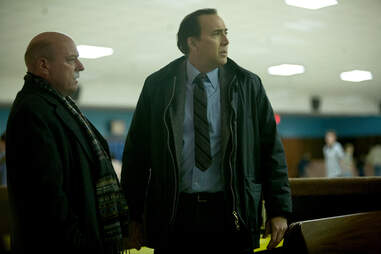 Lionsgate
The Frozen Ground (2013)
The Frozen Ground is a standard procedural, but what true-crime fan isn't fascinated by yet another based-on-true-events story? About the investigation into Robert Hansen, a seemingly upstanding member of his Anchorage community whose killing spree went unnoticed by authorities for years, the film follows an Alaskan State Trooper (Nicholas Cage) who works with a young sex worker (Vanessa Hudgens) after she managed to escape from Hansen. Although it's a bit of a slow burn, The Frozen Ground brings a survivor's story to the forefront as it sets a dark, chilling mood against the Alaskan backdrop.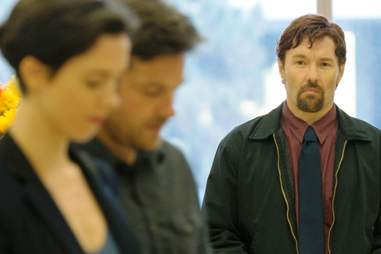 STX Entertainment
The Gift (2015)
In less daring hands, this psychological thriller may have telegraphed its legitimately disturbing ending and devolved into another direct-to-VOD movie you will never watch. But Australian writer-star-director Joel Edgerton goes all in with this tale about an alpha yuppie (Jason Bateman, exuding impish charm in a non-comedic role) struggling to deal with his forlorn wife (Rebecca Hall) and the relentless friendliness of a long-lost schoolmate (Edgerton).
Sony Pictures Releasing
The Girl With the Dragon Tattoo

(2011)
Stieg Larsson's brutal Millennium series of novels introduced the wider world to goth hacker Lisbeth Salander and the joys and torments of a very specific, regional brand of Scandinavian crime fiction: bleak, violent, and cold, both literally and figuratively. Given the books' appeal and the success of the 2009 Swedish adaptation, it was only natural that Hollywood would jump at the chance to make an English-language Girl with the Dragon Tattoo—and who better to direct it than David Fincher, who's directed more than a few films about serial murder and insidious savagery? His adaptation stars Rooney Mara as Salander and Daniel Craig as Mikhail Blomkvist, and tosses the two together in the midst of a murder conspiracy involving a wealthy family, a series of horrific killings, and an unsolved disappearance that took place more than 40 years prior. The Girl with the Dragon Tattoo reels you in with its mystery-thriller facade and slowly opens into a potent examination of the many different types of misogynistic cruelty hiding beneath society's surface.
Picturehouse
The Guest (2014)
After writer-director Adam Wingard notched a semi-sleeper horror hit with 2011's You're Next, he'd earned a certain degree of goodwill among genre faithful and, apparently, with studio brass. How else to explain distribution for his atypical thriller The Guest through Time Warner subsidiary Picturehouse? Headlined by Dan Stevens and kindred flick It Follows' lead scream queen Maika Monroe, The Guest introduces itself as a subtextual impostor drama, abruptly spins through a blender of '80s teen tropes, and ultimately reveals its true identity as an expertly self-conscious straight-to-video shoot 'em up, before finally circling back on itself with a well-earned wink. To say anymore about the hell that Stevens' "David" unleashes on a small New Mexico town would not only spoil the fun, but possibly get you killed.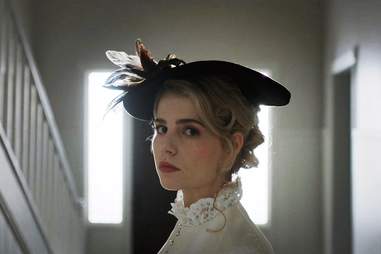 Netflix
I Am the Pretty Thing That Lives in the House (2016)
A meditative horror flick that's more unsettling than outright frightening, I Am the Pretty Thing That Lives in the House follows the demise of Lily, a live-in nurse (Ruth Wilson) who's caring for an ailing horror author. As Lily discovers the truth about the writer's fiction and home, the lines between the physical realm and the afterlife blur. The movie's slow pacing and muted escalation might frustrate viewers craving showy jump-scares, but writer-director Oz Perkins is worth keeping tabs on. He brings a beautiful eeriness to every scene, and his story will captivate patient streamers. Fans should be sure to check out his directorial debut, The Blackcoat's Daughter.
Netflix
I Don't Feel at Home in This World Anymore (2017)
In this maniacal mystery, Ruth (Melanie Lynskey), a nurse, and her rattail-sporting, weapon-obsessed neighbor Tony (Elijah Wood) hunt down a local burglar. Part Cormac McCarthy thriller, part wacky, Will Ferrell-esque comedy, I Don't Feel at Home in This World Anymore is a cathartic neo-noir about everyday troubles. Director Macon Blair's not the first person to find existential enlightenment at the end of an amateur detective tale, but he might be the first to piece one together from cussing octogenarians, ninja stars, Google montages, gallons of Big Red soda, upper-deckers, friendly raccoons, exploding body parts, and the idiocy of humanity.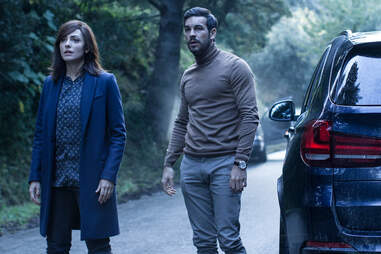 Warner Bros. Pictures
The Invisible Guest

(2016)
Spain tends to churn out captivating thrillers, but this mystery in particular was a huge success overseas, spawning a handful of other international remakes. Why? The twists are that good. The confined thriller from Oriol Paulo is about a successful businessman named Adrián Doria, accused of killing his lover after waking up next to her dead body, and must lay out his story for defense attorney Virginia Goodman in a matter of hours before standing in front of a judge. Pay attention from the second you press play because there are twists and turns aplenty, leaving you guessing what's really the truth until the very end.
Michele K. Short/Netflix
Lost Girls (2020)
Documentarian Liz Garbus made her narrative feature debut with this real life story based on a deeply reported book by Robert Kolker about the mystery surrounding a series of murders on Long Island. At the center of her narrative is Amy Ryan as Mari Gilbert, the ferocious mother of a young woman who disappeared. As Mari, Ryan is fiercely guarded but is drawn into a movement when she realizes her plight is being ignored because her daughter was a sex worker. At times, the film flattens into a routine procedural, but Ryan's anger is palpable and she's matched by strong performances from Lola Kirke and Miriam Shor.
Warner Bros. Pictures
Sherlock Holmes (2009)
This interpretation of the Victorian-era favorites Holmes and Watson is led by Robert Downey Jr. and Jude Law, and enhanced by director Guy Ritchie's excesses. The combination works, because it turns the period piece into a bona fide Hollywood action hit. The lavish production and big-budget action sequences may not have been what Arthur Conan Doyle had in mind when he created the characters, but as the detective duo embarks on an occult-ish investigation of a missing serial killer, the film imbues the sleuthing story with adrenaline-pumping energy. There are clues and intrigue, and thrilling scenes that play like Mission: Impossible set in the 1800s.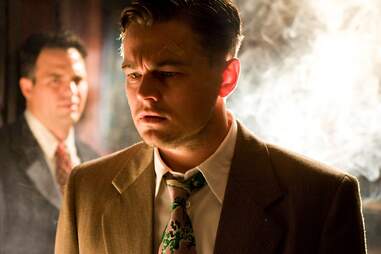 Paramount Pictures
Shutter Island

(2010)
In his haunted adaptation of Dennis Lehane's pulpy gothic novel, director
Martin Scorsese
uses visceral horror imagery to convey despair. Leonardo DiCaprio's terrified mug is the film's spookiest special effect. With every grimace, furrowed brow, and anguished sob, he brings you into the tortured psyche of Edward Daniels, a man who cannot escape his past no matter how hard he tries. It's a carefully modulated performance that helps sell the film's occasionally wonky twists. While
Shutter Island
is more of a psychological thriller than a horrifying spook, DiCaprio will have you feeling as if you're thrown right into Daniels' mind—which is just as scary. More than anything, it makes you wish DiCaprio will return to the horror genre in the future.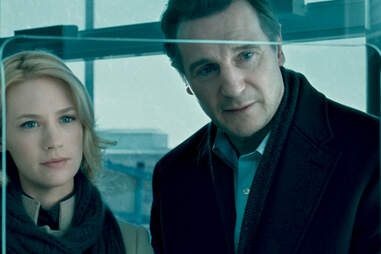 Warner Bros. Pictures
Unknown

(2011)
It's best to go into
Unknown
, well, unknown. All you really need to know is that Liam Neeson delivers an absurd man-in-peril performance, which means it's as entertaining as action-thrillers come. Adapted from a novel by Didier Van Cauwelaert, the movie follows Neeson as professor Dr. Harris, a man en route to a high-profile biotech conference who wakes up after a four-day-long coma with his identity stolen. His wife (January Jones) doesn't recognize him, but she and everybody he knows seems to know a different Dr. Harris—oh, and all of a sudden he's at the center of some sort of assassin conspiracy plot. It's a premise you've likely seen many times before, but this one's slick, fast-paced, and of course Neeson holds it together to keep you glued to the screen as he tries to piece together his identity and stave off terrorists.
Need help finding something to watch? Sign up here for our weekly Streamail newsletter to get streaming recommendations delivered straight to your inbox.