The Best Mysteries to Stream on Netflix
Tune in for the twists and turns.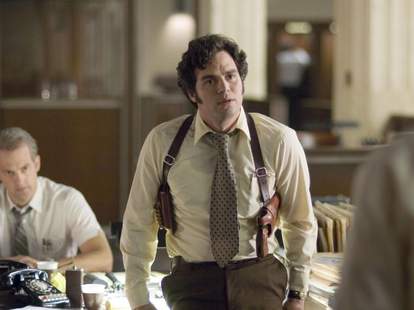 Who doesn't love a good mystery? Especially when that mystery can be solved over the course of an evening or two sitting in your living room, watching TV.
Netflix knows what you love, and has a plethora of mystery-driven movies that will entertain you for hours on end. The next time you want to play armchair Sherlock, check out these titles. 
IFC Midnight
The Autopsy of Jane Doe (2016)
Brian Cox and Emile Hirsch play father and son coroners who -- with required suspense -- come to realize that the unidentified corpse on their table has a long and freaky backstory. To say much more would spoil the flick's numerous twists and turns, but this is a very crafty, brisk, and efficient horror movie from Trollhunter director André Øvredal.
Well Go USA Entertainment
Burning (2018)
Some mysteries simmer; this one smolders. In his adaptation of a Haruki Murakami short story, writer and director Lee Chang-dong includes many elements of the acclaimed author's slyly mischievous style -- cats, jazz, cooking, and an alienated male writer protagonist all pop up -- but he also invests the material with his own dark humor, stray references to contemporary news, and an unyielding sense of curiosity. We follow aimless aspiring novelist Lee Jong-su (Yoo Ah-in) as he reconnects with Shin Hae-mi (Jeon Jong-seo), a young woman he grew up with, but the movie never lets you get too comfortable in one scene or setting. When Yeun's Ben, a handsome rich guy with a beautiful apartment and a passion for burning down greenhouses, appears, the film shifts to an even more tremulous register. Can Ben be trusted? Yeun's performance is perfectly calibrated to entice and confuse, like he's a suave, pyromaniac version of Tyler Durden. Each frame keeps you guessing.
A24
Dark Places (2015)
Libby Day's entire family was brutally murdered in the '80s, and her brother was convicted for the crime. Growing up to live a troubled life, refusing to rationalize what happened to her, the distant woman played by Charlize Theron is forced to reckon with the truth when a group of private investigators present evidence to her that may prove someone else was guilty for the crime. Adapted by the Gillian Flynn novel of the same name, the indie thriller may be a slow burn, but it shoves the relationship between women and violence to its forefront, unveiling a dark, unsuspecting story. 
Focus Features
Everybody Knows (2018)
Asghar Farhadi's (A Separation) Everybody Knows closely examines a family in crisis to illustrate how damaging secrets can be when left to fester. The Spanish film stars Penélope Cruz as Laura, a woman returning to her small hometown outside of Madrid whose visit for a family wedding becomes a nightmare when her daughter disappears from the reception without a trace. Cruz acts opposite Javier Bardem's Paco, a lifelong friend who's just as obsessed as Laura with finding the whereabouts of her daughter. While Everybody Knows is certainly about solving the abduction before it's too late, the tension exists mostly in the home itself, as the family points fingers at one another and struggles to reckon with the past in the face of the present's tragedy.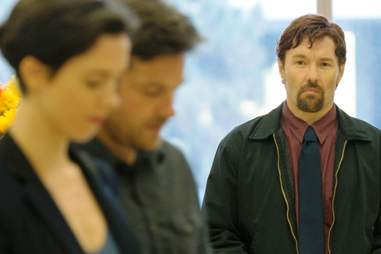 STX Entertainment
The Gift (2015)
In less daring hands, this psychological thriller may have telegraphed its legitimately disturbing ending and devolved into another direct-to-VOD movie you will never watch. But Australian writer-star-director Joel Edgerton goes all in with this tale about an alpha yuppie (Jason Bateman, exuding impish charm in a non-comedic role) struggling to deal with his forlorn wife (Rebecca Hall) and the relentless friendliness of a long-lost schoolmate (Edgerton).
Picturehouse
The Guest (2014)
After writer-director Adam Wingard notched a semi-sleeper horror hit with 2011's You're Next, he'd earned a certain degree of goodwill among genre faithful and, apparently, with studio brass. How else to explain distribution for his atypical thriller The Guest through Time Warner subsidiary Picturehouse? Headlined byDan Stevens and kindred flick It Follows' lead scream queen Maika Monroe, The Guest introduces itself as a subtextual impostor drama, abruptly spins through a blender of '80s teen tropes, and ultimately reveals its true identity as an expertly self-conscious straight-to-video shoot 'em up, before finally circling back on itself with a well-earned wink. To say anymore about the hell that Stevens' "David" unleashes on a small New Mexico town would not only spoil the fun, but possibly get you killed.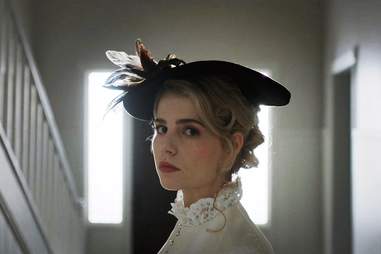 Netflix
I Am the Pretty Thing That Lives in the House (2016)
A meditative horror flick that's more unsettling than outright frightening, I Am the Pretty Thing That Lives in the House follows the demise of Lily, a live-in nurse (Ruth Wilson) who's caring for an ailing horror author. As Lily discovers the truth about the writer's fiction and home, the lines between the physical realm and the afterlife blur. The movie's slow pacing and muted escalation might frustrate viewers craving showy jump-scares, but writer-director Oz Perkins is worth keeping tabs on. He brings a beautiful eeriness to every scene, and his story will captivate patient streamers. Fans should be sure to check out his directorial debut, The Blackcoat's Daughter.
Netflix
I Don't Feel at Home in This World Anymore (2017)
In this maniacal mystery, Ruth (Melanie Lynskey), a nurse, and her rattail-sporting, weapon-obsessed neighbor Tony (Elijah Wood) hunt down a local burglar. Part Cormac McCarthy thriller, part wacky, Will Ferrell-esque comedy, I Don't Feel at Home in This World Anymore is a cathartic neo-noir about everyday troubles. Director Macon Blair's not the first person to find existential enlightenment at the end of an amateur detective tale, but he might be the first to piece one together from cussing octogenarians, ninja stars, Google montages, gallons of Big Red soda, upper-deckers, friendly raccoons, exploding body parts, and the idiocy of humanity.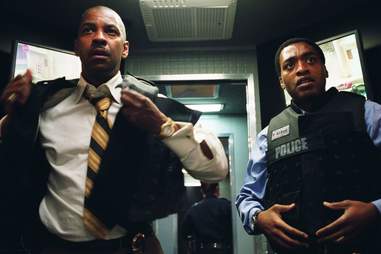 Universal Pictures
Inside Man (2006)
Denzel Washington is at his wily, sharp, and sharply dressed best as he teams up once again with Spike Lee for this wildly entertaining heist thriller. He's an NYPD hostage negotiator who discovers a whole bunch of drama when a crew of robbers (led by Clive Owen) takes a bank hostage during a 24-hour period. Jodie Foster also appears as an interested party with uncertain motivations. You'll have to figure out what's going on several times over before the truth outs. 
Sullivan Entertainment
The Interview (1998)
This Usual Suspects-esque Australian thriller follows the tale of Eddie Fleming (Hugo Weaving), a man interrogated by the police for a crime he may or may not have committed. Staged almost entirely within that interrogation room, the interplay between Fleming and the cops is tense as hell while the balance of power and sympathies continually shifts. Who is really on trial, and for what, are questions that get asked and answered in a series of twists that still have the power to shock almost 20 years later.
Michele K. Short/Netflix
Lost Girls (2020)
Documentarian Liz Garbus makes her narrative feature debut with this real life story based on a deeply reported book by Robert Kolker about the mystery surrounding a series of murders on Long Island. At the center of her narrative is Amy Ryan as Mari Gilbert, the ferocious mother of a young woman who disappeared. As Mari, Ryan is fiercely guarded but is drawn into a movement when she realizes her plight is being ignored because her daughter was a sex worker. At times, the film flattens into a routine procedural, but Ryan's anger is palpable and she's matched by strong performances from Lola Kirke and Miriam Shor.
StudioCanal
Tinker Tailor Soldier Spy (2011)
If a season of 24 took place in the smoky, well-tailored underground of British intelligence circa 1973, it might look a little like this precision-made John le Carré adaptation from Let the Right One In director Tomas Alfredson. Even if you can't follow terse and tightly-woven mystery, the search for Soviet mole led by retired operative George Smiley (Gary Oldman), the ice-cold frames and stellar cast will suck you into the intrigue. It's very possible Oldman, Colin Firth, Tom Hardy, John Hurt, Toby Jones, Mark Strong, and Benedict Cumberbatch are reading pages of the British phone book, but egad, it's absorbing. A movie that rewards your full concentration.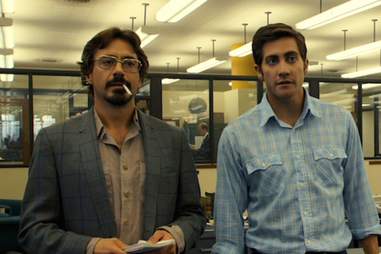 Paramount Pictures/Warner Bros. Pictures
Zodiac (2007)
David Fincher's period drama is for obsessives. In telling the story of the Zodiac Killer, a serial murderer who captured the public imagination by sending letters and puzzles to the Bay Area press, the famously meticulous director zeroes in on the cops, journalists, and amateur code-breakers who made identifying the criminal their life's work. With Jake Gyllenhaal's cartoonist-turned-gumshoe Robert Graysmith at the center, and Robert Downey Jr.'s barfly reporter Paul Avery stumbling around the margins, the film stretches across time and space, becoming a rich study of how people search for meaning in life. Zodiac is a procedural thriller that makes digging through old manilla folders feel like a cosmic quest.
Need help finding something to watch? Sign up here for our weekly Streamail newsletter to get streaming recommendations delivered straight to your inbox.