The Best Mysteries to Stream on Netflix
Tune in for the twists and turns.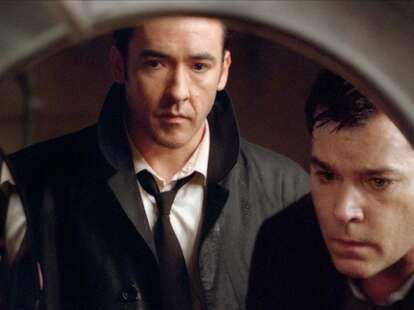 The Departed (2006)
Don't let your annoying college roommate's affection for The Departed ruin the movie for you—it's an enormously entertaining crime film. Leonardo DiCaprio's expert slow-boil performance as undercover cop Billy Costigan is a big reason for that and marked a major career step forward; he stood tall against the Martin Scorsese film's many big-name scenery chewers and kept his Boston accent under control. Just try to forgive the little rat at the end.
The Frozen Ground (2013)
The Frozen Ground is a standard procedural, but what true-crime fan isn't fascinated by yet another based-on-true-events story? About the investigation into Robert Hansen, a seemingly upstanding member of his Anchorage community whose killing spree went unnoticed by authorities for years, the film follows an Alaskan State Trooper (Nicholas Cage) who works with a young sex worker (Vanessa Hudgens) after she managed to escape from Hansen. Although it's a bit of a slow burn, The Frozen Ground brings a survivor's story to the forefront as it sets a dark, chilling mood against the Alaskan backdrop.
The Girl with the Dragon Tattoo (2011)
Director David Fincher's adaptation of Stieg Larsson's Nordic noir stars Rooney Mara as Lisbeth Salander and Daniel Craig as Mikhail Blomkvist, a bespectacled, cozy sweater-clad departure from his slick, muscular Bond persona, and tosses the two together in the midst of a murder conspiracy involving a wealthy family, a series of horrific killings, and an unsolved disappearance that took place more than 40 years prior. The Girl with the Dragon Tattoo reels you in with its mystery-thriller facade and slowly opens into a potent examination of the many different types of misogynistic cruelty hiding beneath society's surface. It also begins with, arguably, Fincher's best opening title sequence ever, set to Karen O's ripping, howling cover of Led Zeppelin's "Immigrant Song."
I Am the Pretty Thing That Lives in the House (2016)
A meditative horror flick that's more unsettling than outright frightening, I Am the Pretty Thing That Lives in the House follows the demise of Lily, a live-in nurse (Ruth Wilson) who's caring for an ailing horror author. As Lily discovers the truth about the writer's fiction and home, the lines between the physical realm and the afterlife blur. The movie's slow pacing and muted escalation might frustrate viewers craving showy jump-scares, but writer-director Oz Perkins is worth keeping tabs on. He brings a beautiful eeriness to every scene, and his story will captivate patient streamers. Fans should be sure to check out his directorial debut, The Blackcoat's Daughter.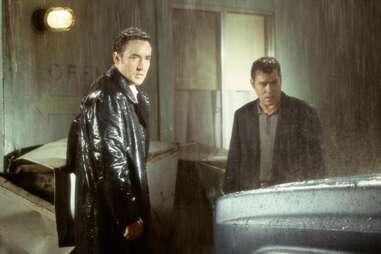 Identity (2003)
Riffing on the Agatha Christie novel And Then There Were None, the delightfully strange thriller Identity packs a bunch of characters in a Nevada motel for some good old fashioned sleuthing and time-shifting tension-building. While John Cusack anchors the movie as an ex-cop limo driver, actors like Ray Liotta, John Hawkes, Amanda Peet, and John C. McGinley ping off of him with winning intensity. Director James Mangold (Logan) soaks the performers in rain and lets the mystery build to one of those ludicrous yet memorable endings that will either leave you scratching your head or giggling that they actually pulled it off.
I Don't Feel at Home in This World Anymore (2017)
In this maniacal mystery, Ruth (Melanie Lynskey), a nurse, and her rattail-sporting, weapon-obsessed neighbor Tony (Elijah Wood) hunt down a local burglar. Part Cormac McCarthy thriller, part wacky, Will Ferrell-esque comedy, I Don't Feel at Home in This World Anymore is a cathartic neo-noir about everyday troubles. Director Macon Blair's not the first person to find existential enlightenment at the end of an amateur detective tale, but he might be the first to piece one together from cussing octogenarians, ninja stars, Google montages, gallons of Big Red soda, upper-deckers, friendly raccoons, exploding body parts, and the idiocy of humanity.
The Invisible Guest (2016)
Spain tends to churn out captivating thrillers, but this mystery in particular was a huge success overseas, spawning a handful of other international remakes. Why? The twists are that good. The confined thriller from Oriol Paulo is about a successful businessman named Adrián Doria, accused of killing his lover after waking up next to her dead body, and must lay out his story for defense attorney Virginia Goodman in a matter of hours before standing in front of a judge. Pay attention from the second you press play because there are twists and turns aplenty, leaving you guessing what's really the truth until the very end.
Lost Girls (2020)
Documentarian Liz Garbus made her narrative feature debut with this real life story based on a deeply reported book by Robert Kolker about the mystery surrounding a series of murders on Long Island. At the center of her narrative is Amy Ryan as Mari Gilbert, the ferocious mother of a young woman who disappeared. As Mari, Ryan is fiercely guarded but is drawn into a movement when she realizes her plight is being ignored because her daughter was a sex worker. At times, the film flattens into a routine procedural, but Ryan's anger is palpable and she's matched by strong performances from Lola Kirke and Miriam Shor.
Michael Clayton (2007)
George Clooney made a career out of playing gray knights, and his work as the title character in this icy New York thriller might be the pinnacle of his work. Clayton is a super-cynical, debt-ravaged "fixer," stuck doing damage control amid a massive class-action lawsuit. (Think Olivia Pope from Scandal, but somehow more intense.) He also plays poker, drives cars that explode, and does his best impression of Shiva, god of death. Tony Gilroy's Oscar-winning legal drama is addictive fun in that way complex conspiracy yarns can be, and it has a handful of memorable exchanges to boot—wait till you see the final confrontation with Tilda Swinton.
Murder Mystery (2019)
For an Adam Sandler movie that looks like an excuse for the cast and crew to go on a fancy vacation—a good chunk of the film is set on a luxury cruise ship—Murder Mystery has a surprisingly fun, knotty plot. Sandler, playing a New York police officer, has a natural, easy-going chemistry with Jennifer Aniston, who plays his mystery-novel loving wife, and the two find a pleasurable comic rhythm as they go about attempting to find the killer of a wealthy patriarch. Even if some of the gags are a bit broad, the script from Zodiac writer James Vanderbilt keeps you guessing.
The Net (1995)
In this high-concept thriller, Sandra Bullock plays Angela Bennett, a quiet computer analyst who spends her days and nights hunting for bugs in software, logging on to order pizza and revealing way too much information about herself in chat rooms. Her fairly lonely existence gets turned upside down after her employer FedExes her a floppy disk that provides backdoor access to classified information she should not be looking at. Very quickly, Angela's colleague is killed, an attempt is made on her life, and her identity is stolen, so she has no choice but to go on the run to clear her name. From the writers of The Game, the cyber action-thriller is weirder than you might recall, but you'll be so glad you logged on to revel in this '90s nightmare of the internet.
Nocturnal Animals (2016)
Seven years after A Single Man, his directorial debut, fashion designer Tom Ford stepped back behind the camera to construct a relationship thriller that rings of Cormac McCarthy. Only Ford could put together a movie this stylish and gritty about a woman (Amy Adams) haunted by her ex-husband's (Jake Gyllenhaal) latest revenge novel that unfolds on the screen with every page turn. It'll leave you wondering, "What the hell did I just watch?" in the best way possible.
Sin City (2005)
Frank Miller enlisted Robert Rodriguez as co-director to translate the former's wildly popular series of the same name to the big screen, and with some added directorial work from Quentin Tarantino, the result became a watershed moment in the visual history of film. The signature black-and-white palette with splashes of color provided a grim backdrop to the sensational violence of the miniaturized neo-noir plotlines. It's perhaps one of the few comic book movies that truly feels like a comic, engrossing you in its aesthetics as much as its gritty mysteries.
Velvet Buzzsaw (2018)
Netflix's ludicrously fun and gory art-world satire sees director and screenwriter Dan Gilroy (Nightcrawler) team up with Jake Gyllenhaal in a thriller that rips apart the effete Los Angeles art world. While pricey auctions and pretentious collectors are relatively low-hanging fruit, Gilroy, Gyllenhaal, and Rene Russo bring a fast-paced humor that makes the plot—an outsider artist's haunted work starts killing people—more tolerable than you might think. Oh, and names like Morf, Rhodora, and Ventril elevate the film's self-aware kitschiness, which makes the satire even more cutting.
Wind River (2017)
Before he conquered TV with Yellowstone, Hell or High Water writer Taylor Sheridan made his directorial debut with this slimmed-down, snowy thriller. While tracking three mountain lions, a hunter-for-hire (Jeremy Renner) stumbles upon the body of a young girl, frozen in a deserted patch of a Native American reservation. When a young FBI agent (Elizabeth Olsen) arrives to investigate, he's recruited to navigate the harsh Wyoming countryside (and the even harsher residents). Stoic and steady, the show-burn mystery relies heavily on the tundra atmosphere, and when anyone in the movie takes a shot, the bullet doesn't simply fly through the air, but thunders through the canyons and plows through prey like a cannonball.