The Best Mystery Shows on Amazon Prime
We've solved your next binge-watch.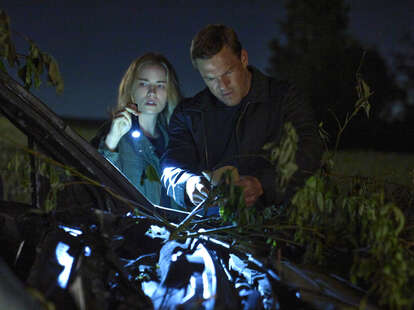 'Reacher'

| Amazon Studios
'Reacher'

| Amazon Studios
Who doesn't love to kick back and relax to the soothing sounds of murder, mayhem, and the tortured suspense of an edge-of-your-seat mystery? Given the popularity of police procedural dramas and true-crime docuseries, the answer is: no one. Everyone loves a good mystery TV series nowadays, and you'll find quite a lot of them on Amazon Prime, in addition to its many other outstanding movies and TV shows. When you feel like watching a murder or crime-solving show, here are the most addicting options to start with on Amazon right now.
ALSO READ: The best thrillers streaming on Amazon and the best mystery movies on Netflix
Absentia (2017–2020)
This Amazon original takes a chilling missing-person narrative and turns it into a heart-pumping thriller. Stana Katic stars as FBI agent Emily Byrne, who went missing and was declared dead for six years… except she's not. She's alive! And there are so many questions when she returns! An eerie mystery unfolds when the heroine at the center of it all struggles to recall what happened to her, but is determined to face her traumatic past and hunt down her abductor.
Agatha Christie's The ABC Murders (2018)
Adapted from the classic Agatha Christie crime novel, this '30s-era mystery series stars John Malkovich as Hercule Poirot, a detective taunted by someone with the initials "A.B.C.," who sends him letters threatening to commit murder. Once murders start to plague London, the retired investigator feels compelled to jump into the investigation and piece together clues the killer leaves behind. It's a cannon mystery story, and Malkovich brings an interesting dynamism to the role to make for an eerie period piece.
Alias (2001–2006)
J. J. Abrams' Alias was the perfect action series for the new millennium, and is just as riveting of an espionage drama now as it was then. Fronted by the magnetic performance of Jennifer Garner (and her many, trendy wigs) as regular-college-student-turned-double-agent Sydney Bristow, it's your classic globe-trotting, fancy-gadget-using spy series as Bristow works for the CIA and tries to take down the dangerous, international agency SD-6 from the inside out. It's not just the kind of show that's just there to wow you with Garner's stunts and explosive fight sequences, though—it's the kind of thriller that puts you through the ringer emotionally, too, and gives far more depth to its female action heroine than typical genre star. It's time to quit your Bond movie marathons—it's really all about Bristow.
Bones (2005–2017)
The forensic analysis of decaying corpses and shattered skeletons does not scream "comfort television," but for 12 seasons, Bones, the Fox procedural about the clinical team-up of FBI Special Agent Seeley Booth (David Boreanaz) to forensic anthropologist Dr. Temperance "Bones" Brennan (Emily Deschanel), supplied people with the warm embrace of a by-the-books thriller series like NCIS and CSI, but with AP credit. Bones is firmly in network primetime's mystery-of-the-week genre, but creator Hart Hanson never missed an opportunity in its run to up the show's gag-worthy game, and stars Deschanel and Boreanaz brought the biology and the chemistry. While Brennan and Booth's romance feels predestined from minute one, the "will they/won't they" is as real and detailed as any of the gruesome investigations.
Bosch (2014–2021)
The first season of this Amazon-produced procedural series finds Harry Bosch (Titus Welliver) under legal fire for shooting a suspect two years earlier—hotter (and more relevant) water than his TV detective predecessors. His investigations of a sadistic serial killer become an escape for the tortured officer (he's also a veteran of Afghanistan, and the son of a murdered sex worker), and as the series progresses, a healing process. Bosch eventually trims down to a grizzly neo-noir, a Miami Vice for the True Detective fan, which should be celebrated as peak airport-novel TV. It's similarly sharp and reliable, delivering complicated mysteries drawn straight from the pages of Bosch creator Michael Connelly's many, many best-sellers.
Carnival Row (2019– )
You gotta hand it to Carnival Row: It sure is a show about an alternate urban fantasy universe where the world of humans and the world of the fairies are constantly at war with each other, starring Cara Delevingne as a winged fey named "Vignette Stonemoss" and Orlando Bloom as human detective "Rycroft Philostrate," caught in a love/hate relationship in London's seediest back alley, stalked by a magical Jack the Ripper. All things considered, the series certainly mostly invests in its elaborate production design and world building, but at the center of this alternative Victorian world is a crazed hunt for a serial killer—so, basically, it's the perfect mystery for fantasy fans. If you let it, Carnival Row definitely has the power to cast a spell on you.
Counterpart (2017–2019)
What's better than one J.K. Simmons? Two J.K. Simmons. (Plus scene-stealer Harry Lloyd.) This inventive sci-fi spy series from writer Justin Marks (The Jungle Book) focuses on a career UN paper-pusher (Simmons) who gets swept up in interdimensional intrigue when his "counterpart" from a parallel universe (also Simmons) jumps through a portal and disrupts diplomacy between the two worlds. It gets mind-bendier from there.
Detective Anna (2016–2017)
Nothing says "mystery" quite like a TV show that combines the main character's discovery that she can communicate with the dead with the ability to solve cold case investigations. In this one-season Russian series set at the end of the 19th century, 19-year-old Anna uses her newfound supernatural powers—coming in the form of dreams and visions—to help close criminal investigations that have kept local police guessing.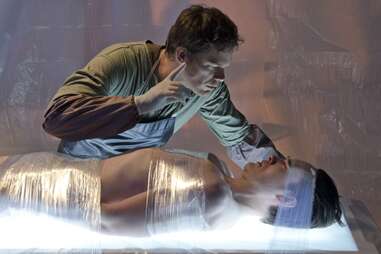 Dexter (2006–2013)
Everyone's favorite moral serial killer was a ratings and critical success for Showtime during its eight-season run. Today, the show about a blood-spatter analyst by day, psychopath who channels his urges into justice by night reads a bit like a cultural relic from a recent past in which American audiences seemed to lap up antihero-centric stories about characters descending further into amorality (Breaking Bad, Weeds, The Sopranos, etc). Still, there's enough mystery, murder, and excitement to keep you hooked and bingeing. At least for the first few seasons, it's bloody addicting.
The Expanse (2015–2021)
On the surface, The Expanse has an un-mystery-like hook: It's Battlestar Galactica meets Game of Thrones. The ambitious series combines the tense, close-quarters naval space opera of the former with the sprawling, based-on-a-book-series storytelling approach of the latter. Easy enough. But then you see Thomas Jane, playing a weary detective who won't quit, wearing a fedora over a stringy Macklemore haircut and you realize this is actually an intergalactic neo-noir. Think Raymond Chandler with a pinch of Isaac Asimov. The special effects will draw you in, but the gumshoe-with-anti-gravity-boots narrative keeps you coming back for more.
The Fall (2013–2016)
Instead of adhering to typical procedural MO's of searching for answers in the wake of a mystery, The Fall is more of a disturbing game of cat and mouse as opposed to a whodunit. In fact, you're introduced to serial killer Paul Spector (Jamie Dornan), who's been brutally attacking Belfast women, in the first episode, and the series follows his actions just as closely as it does the hunt to catch him. On the opposite side of the story is the superb Gillian Anderson as Stella Gibson, an officer called upon by Northern Ireland to assist in the investigation after the case has been open for nearly a month. It's a thriller in every sense of the word.
Forensic Files (1996–2011)
Forensic Files is one of those shows that's just always on. Flipping through the channels while staying at a hotel? It's on. Any long weekend? There's probably a marathon. Given its long run, though, there's much to watch and each story of DNA analysis used to solve heinous crimes and bring them to justice is riveting and compelling. The show aired for years before true crime had necessarily even become its own, major genre, so OG true crime fans know this is one to watch, or at least throw on when you're desperate to play detective.
Homecoming (2018– )
Adapted from the popular podcast of the same name, Homecoming tracks Heidi Bergman (Julia Roberts) as she tries to piece together her work as a therapist at a treatment center for veterans with PTSD. Over 10 fast-paced episodes in Season 1, the mystery of what a government contractor actually intends to do with the veterans unfolds in lockstep with Bergman's own investigation into the missing memories of her previous job. It's the rare streaming show that doesn't feel bloated, and leaves plenty of room for new storylines about others at the secretive facility to develop in Season 2 starring Janelle Monáe.
House (2004–2012)
If you're tired of police procedurals and true crime docuseries, switch things up with House, the classic medical mystery that made Hugh Laurie a star in the States. This eight-season drama focuses on the most baffling medical mysteries, which are invariably solved by Dr. Gregory House, an asshole of a doctor who gets away with torturing his residents and treating his patients like chopped liver due to his well-deserved reputation for getting to the bottom of impossible cases. House is a classic anti-hero, an addict and a destructive personality you simultaneously root for and against. Just remember, at the end of the day: It's never lupus.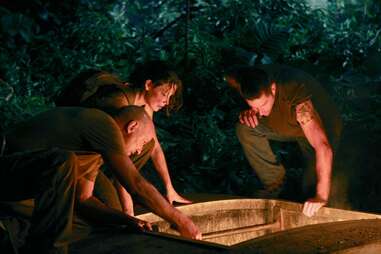 Lost (2004–2010)
Long before Damon Lindelof's The Leftovers bludgeoned viewers with its bracing emotional intensity, or J.J. Abrams became the crown prince of Wookieepedia, there was a show called Lost. While it has become increasingly hip to condemn the show's later seasons for any number of faults ranging from mawkish sentimentality to an over-dependence on wonky sci-fi tropes to gooey Touched by an Angel spirituality, the show itself retains all its brilliant power when viewed in a streaming hatch, free of recaps, fan theories, and backlash. If you've never seen it, there's no better time to get wrapped up in its mysteries. And if you have—well, as Jack would say, we have to go back!
Monk (2002–2009)
If you prefer comedy to drama, Monk is the mystery show for you. The genius main character, the eponymous Adrian Monk, may be an obsessive compulsive, multi-phobic former police detective who suffered a nervous meltdown that rendered him barely able to function in regular society, but with the assistance of a private nurse, he begins to lend his detective services to the San Francisco Police Department. Of course, this can pose a challenge given the 312 phobias that prevent him from performing many typical tasks. Each episode features a new criminal investigation served with a side of comedy.
Mr. Robot (2015–2019)
If you weren't already terrified about the state of modern cybersecurity, drug-addled, mentally unstable hacker Elliot Alderson—Oscar winner Rami Malek—will have you taping over your webcam in no time. Elliot is pretty much the least reliable narrator you've ever seen on screen, which makes watching Mr. Robot an exercise in scrutiny and perpetual surprises.
The Night Manager (2016)
If you've always wondered what it would be like to see Dr. House transplanted into a John le Carré novel, The Night Manager scratches your bizarrely specific itch. Hugh Laurie stars as a wealthy businessman and "philanthropist," while Tom Hiddleston plays a—yep—night manager at an upscale British hotel in Cairo. Hiddleston's character somewhat unwittingly gets caught up in the back-room espionage of the Arab Spring, and, like in most of le Carré's work, the tension arises from the personal and bureaucratic mundanities of the international spy game. It's less 007 and more Mad Men, in other words, and in six one-hour episodes, you'll be finished with it in less than a workday.
Psych (2006–2014)
Another comedic take on the traditional police procedural, half the mystery of Psych lies in Shawn Spencer's (James Roday) ability to fool those around him into believing he's psychic. With highly honed observation skills, Spencer is able to identify clues that leave the police baffled, solving cases with panache and a comedic touch. With eight seasons available to stream on Amazon Prime, you'll have months' worth of lighthearted shows to help break up any penchant you have for more serious mystery TV.
Reacher (2022– )
What Reacher lacks in ambition, it makes up for in mass. One of Amazon's airport-thriller adaptations, like Bosch before it, the series is a sturdy take on author Lee Child's long-running Jack Reacher book series. This version, which comes from Prison Break writer Nick Santora, features the suitably large Alan Ritchson as the turkey-handed protagonist and stretches the plot of the first Reacher novel, 1997's The Killing Floor, into a whole season's worth of twists and turns. The mystery can get convoluted, particularly as the show attempts to connect the dots of its small-town conspiracy, but Ritchson is an effective Reacher, understanding the combination of wit and stoicism that sells the macho fantasy. He keeps you engaged as he punches his way to the truth.
Scream Queens (2015–2016)
With American Horror Story in his wheelhouse, it's clear showrunner Ryan Murphy can do horror and camp like no other. It's what he brings—to the extreme—in his homage to some of the most iconic, ear piercingly loud, scared survivors in horror: the scream queen. Set on a college campus terrorized by a serial killer who hides behind the school's menacing Red Devil mascot, it calls back to co-ed slasher classics and is ripe with pitch-black comedy. The cast is wild, featuring Murphy typicals like Emma Roberts as sorority mean girl Chanel Oberlin (who is terrifying in her own right), Billie Lourd, and Lea Michele, plus stars like Ariana Grande, Keke Palmer, and OG Halloween scream queen Jamie Lee Curtis, among others. If you can stomach the gore (and absurdity), you're in for hell of a mystery.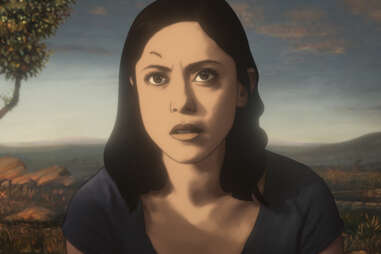 Undone (2019– )
It's rare to see Rotoscope animation outside of a handful of Richard Linklater movies, and Amazon's Undone is the first episodic TV series to utilize the surreal and trippy technique. It's more than a technological feat, though; the Kate Purdy and Raphael Bob-Waksberg-created series also tells a wildly compelling, funny, and heartbreaking mystery-box, reality-questioning story. After a horrible car accident puts Alma Winograd-Diaz (Rosa Salazar) into a coma, she wakes with the ability to communicate with her quantum physicist father, Jacob (Bob Odenkirk), who says he was murdered because of his research into time travel. Alma's younger sister Becca (Angelique Cabral), mother Camila (Constance Marie), and boyfriend Sam (Siddharth Dhananjay) all think she's losing it while she secretly experiments with bending time and dimension under her dad's guidance. Each 20-something minute episode is stuffed with an emotional spectrum that's draining, but Undone is so good that it's hard to stop watching until the very end.
Unforgotten (2015–2018)
British investigators in this three-season drama find themselves trying to unravel 40 years of lies and cover-ups in Season 1 after reopening a troubling cold case. The challenge, of course, is how much those being investigated have changed over time, and what they're willing to risk to protect their reputations and their families. At six episodes in each season, it's the kind of show that can suck you in for an entire weekend, especially if you're partial to British crime dramas.
Unsolved Mysteries: Original Robert Stack Episodes (1988–2002)
It's the series that spawned a generation of mystery lovers and helped inspire the genres of true-crime and paranormal investigative television. Each episode of the original Unsolved Mysteries looked into cold-case murders, missing person cases, and paranormal phenomena like UFOs and ghost sightings. Now, you can watch all 12 of the original seasons—from their 1980s "cheesy reenactment" glory to their reincarnation on Lifetime—on your Amazon Prime account. Once you're caught up, you're in luck: Netflix rebooted the show in 2020.