Netflix has the movie game down pat. Not only does the streaming service rotate its offerings every month, it's constantly looking for ways to deliver the movies and TV shows you want, wherever you are. 
Netflix has added the ability to download movies and shows to your phone or tablet, eliminating the need for an internet connection. You'll need to download the Netflix app (iTunes and Android), and once you start browsing, you'll see a downward-pointing arrow for titles you can download. To get you started, we picked our favorite downloadable movies, but if you can't find something you like, your best bet is to check out the 100 best movies on Netflix. Never buffer again!
Recommended Video
The International Trailer for 'The Last Jedi' May Have Revealed Something Huge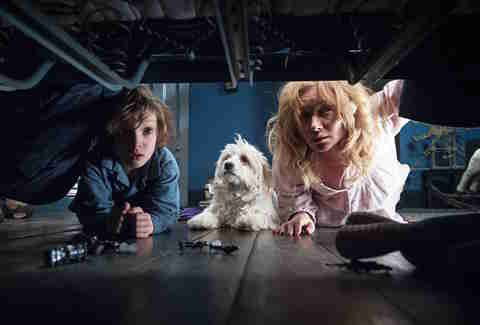 The Babadook (2014)
It's the ultimate parental nightmare: what if your child was a total dickbag? Australian filmmaker Jennifer Kent's moody horror debut works as a jump-scare-filled frightfest, but it's most effective in quiet, lingering moments that explore the paralyzing nature of motherhood. Thanks to an emotionally raw performance from Essie Davis, the film brings you into the psyche of a woman pushed to the edge by the very thing she thinks she's supposed to love the most. In this brilliantly twisted story, the monster isn't under the bed -- it's tucked in it.
Beasts of No Nation (2015)
True Detective Season 1 director Cary Fukunaga's wartime drama is not a movie you put on in the background. Adapted from Uzodinma Iweala's novel of the same name, this visceral character study tracks a preadolescent after he's recruited to be a child soldier in an African civil war (its specifics are left purposely ambiguous). Lorded over by a gruff commander (Idris Elba), the movie is loud, tender, and violent -- a coming-of-age story in which the characters may not live to come of age.
Blue Is the Warmest Color (2013)
Released into a media storm overly concerned with its lengthy, controversially filmed sex scene, Abdellatif Kechiche's three-hour opus drowns tabloid buzz with sensual and sensitive drama. Make time for the tender, inquisitive exploits of Adèle (Adèle Exarchopoulos), who falls hard for the cerulean lure of Emma (Spectre's Léa Seydoux). The runtime breathing room gives Kechiche the chance to explore every glance, every touch, every kiss, and every misstep in their relationship. It's a love epic, where minor notes play like power chords.
Boyhood (2014)
Fair warning: Some people really, really, really, really, really hated this, but we dug it. Richard Linklater's saga of 12 formative years in young Mason's life (Ellar Coltrane) initially piqued our curiosity because of the director's real-time filming approach. The ambitious movie's two-hour, 46-minute runtime yields an intimate portrait of a family's ups and downs, tender performances from parents Ethan Hawke and Patricia Arquette, and an illuminating look at how actors' talents age and grow. 
Burn After Reading (2008)
The Coens followed up their No Country for Old Men Best Picture win at the Oscars by turning sharply back to comedy. Burn After Reading is absurd and acerbic, a political hoopla revolving around a prized MacGuffin -- a CD containing government secrets! -- that isn't a MacGuffin at all. A gaggle of "serious" actors, most notably Brad Pitt, Tilda Swinton, John Malkovich, and Coen stalwarts Frances McDormand and George Clooney, shoot for the stratosphere as they weave through the mad, mad, mad, mad world of Washington, DC. And because this is a Coen brothers movie, blood spills freely as everyone from personal trainers to CIA spies sink deeper and deeper into confusion. An ode to empowered idiocy, complete with a dildo chair.
Cartel Land (2015)
Produced by The Hurt Locker and Zero Dark Thirty director Kathryn Bigelow, this cinematic documentary is like a real-life Sicario. Documentarian Matthew Heineman embedded himself in both a group of Arizona border-control vigilantes and a band of Mexican "Autodefensas," armed with only a camera and his instincts. The run-and-gun style and Heineman's jaw-dropping access will keep your heart pounding through this examination of the current War on Drugs.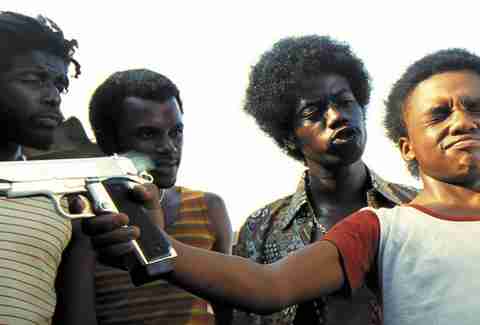 City of God (2002)
This film about a Brazilian favela's descent into criminal rule leaves a haunting note echoing in the wake of the 2016 Rio Olympics. The harsh reality City of God portrays, one in which gang logic trumps all, will not make for an uplifting night in, but the movie is much more than a shoot-em-up thrill ride -- Brazil's natural beauty and the hope of youth always serve as heartbreaking counterbalances to violence.
Clouds of Sils Maria (2016)
Set against the heavenly hills of Sils Maria, Switzerland, this chamber drama traps an aging actress (Juliette Binoche), her raw and responsive assistant (Kristen Stewart), and an ingenue gunning for fame (Chloë Grace Moretz), as they swirl through each other's lives like a mist. There's little plot to describe in Clouds of Sils Maria; you come to watch three premier actresses drill into psychology and they deliver in spades.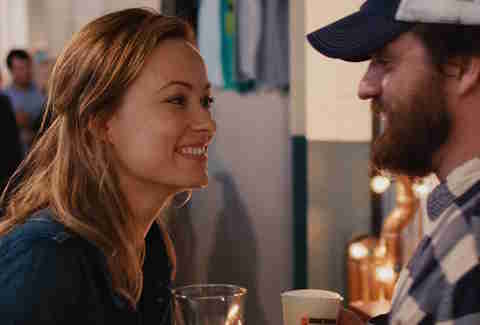 Drinking Buddies (2013)
This understated romantic comedy from mumblecore master Joe Swanberg centers on the intimate relationship between hard-drinking brewery colleagues Jake Johnson and Olivia Wilde, who both also happen to be dating other people (Anna Kendrick and Ron Livingston, respectively). The two relationships get progressively entangled over the course of the film. Although Drinking Buddies starts out looking like a traditional rom-com, Swanberg quickly subverts viewer expectations, resulting in a film that is romantic but surprisingly devoid of sap, funny without falling back on cheap gags. This is a movie that moves along in small moments: a lingering glance, an awkward silence, a stolen kiss. A crisp, refreshing little film.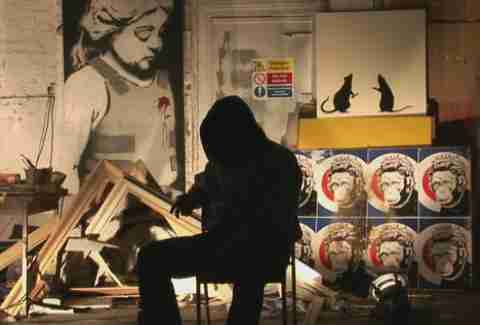 Exit Through the Gift Shop (2010)
The mysterious Banksy earned an Oscar nomination for his documentary about fellow street artist Thierry Guetta, aka Mr. Brainwash, and to this day it's still debated whether the whole thing was made up. Either way, Exit Through the Gift Shop is still an important and quite hilarious peek behind the curtain of the art establishment and what a sham it is.
Force Majeure (2014)
We learn the truth about ourselves in times of crisis. In Swedish director Ruben Östlund's hysterical, biting character study, a husband and wife, on vacation at a skiing lodge with their two young daughters, begin to breakdown after a controlled avalanche comes dangerously close to wiping out their lodge. The woman grabs the kids. The man runs for his life. The aftermath is brutal.
Gangs of New York (2002)
In his first collaboration with Martin Scorsese, Leonardo DiCaprio shakes off his heartthrob Titanic reputation by getting down and dirty as goatee-sporting tough guy Amsterdam Vallon. But Leo has an iceberg-sized problem: Daniel Day-Lewis. As the violent, ill-tempered Bill the Butcher, the method actor extraordinaire is a terror in a top hat, stealing the whole movie with his wild-eyed magnetism. He slices, he dices, and he makes this 168 minute 19th-century period piece fly by. 
Gerald's Game (2017)
Like his previous low-budget Netflix-released horror release, Hush, a captivity thriller about a deaf woman fighting off a masked intruder, Mike Flanagan's Stephen King adaptation of Gerald's Game wrings big scares from a small location. Sticking close to the grisly plot details of King's seemingly "unfilmable" novel, the movie chronicles the painstaking struggles of Jessie Burlingame (Carla Gugino) after she finds herself handcuffed to a bed in an isolated vacation home when her husband, the titular Gerald, dies from a heart attack while enacting his kinky sexual fantasies. She's trapped -- and that's it. The premise is clearly challenging to sustain for a whole movie, but Flanagan and Gugino turn the potentially one-note set-up into a forceful, thoughtful meditation on trauma, memory, and resilience in the face of near-certain doom.
Hot Fuzz (2007)
Shaun of the Dead spoofers Edgar Wright and Simon Pegg set their sights on bumbling police officers trying to solve a murder in a small English town. The duo watched countless buddy-cop flicks to fully satirize the genre, and it paid off, with laughably bad chase sequences and uproarious slapstick gags. They prove how much fun action movies can be when they lighten up a little (OK, a lot). Remember: It's not murder, it's ketchup.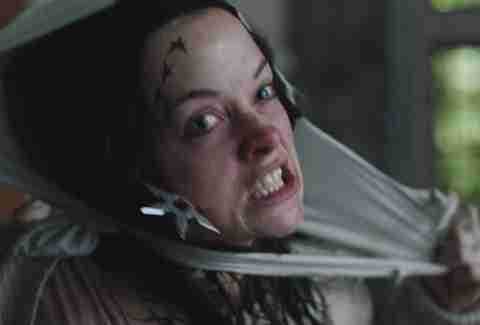 I Don't Feel at Home in This World Anymore (2017)
In this maniacal mystery, Ruth (Melanie Lynskey), a nurse, and her rattail-sporting, weapon-obsessed neighbor, Tony (Elijah Wood), hunt down a local burglar. Part Cormac McCarthy thriller, part wacky, Will Ferrell-esque comedy, I Don't Feel at Home in This World Anymore is a cathartic neo-noir about everyday troubles. Director Macon Blair's not the first person to find existential enlightenment at the end of an amateur detective tale, but he might be the first to piece one together from cussing octogenarians, ninja stars, Google montages, gallons of Big Red soda, upper-deckers, friendly raccoons, exploding body parts, and the idiocy of humanity.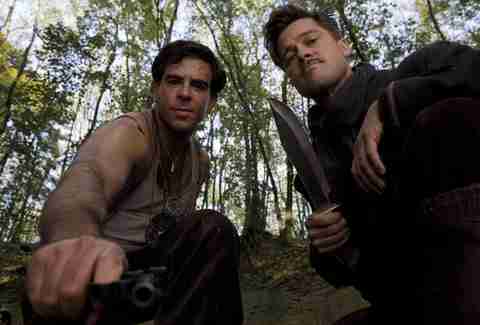 Inglourious Basterds (2009)
The first of Tarantino's revisionist history flicks, Inglourious Basterds is a rollicking revenge pic that envisions a group of Jewish renegades plotting to take down the Nazi leadership in occupied Paris in 1944. While the film isn't quite as cohesive as other Tarantino works, it might be his most entertaining, with scenes of high-tension verbal sparring and scalp-smashing mayhem, all erupting when Tarantino's band of vigilantes (led by Brad Pitt's drawling lieutenant, Aldo Raine) gun down their German rivals in a blaze of glory.
Into the Inferno (2016)
Werner Herzog's illuminating semi-sequel to Encounters at the End of the World reunites him with volcanologist Clive Oppenheimer for encounters with volcanoes all over the world. This time, Herzog stays offscreen and lets Oppenheimer have most of the spotlight, though there is plenty of the filmmaker's signature narration: some of it to revisit the making of another of his films, the 1977 short La Soufrière; or to present other interesting stories of volcanoes and the people who worship them.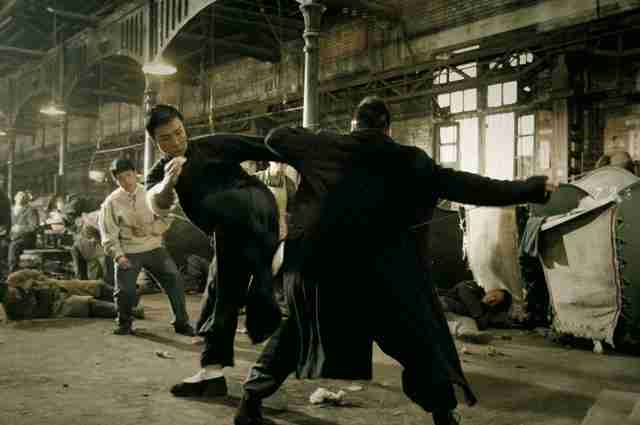 Ip Man (2008)
There aren't many biopics that also pass for decent action movies. Somehow, Hong Kong action star Donnie Yen and director Wilson Yip made Ip Man (and three sequels!) based on the life of Chinese martial-arts master Yip Kai-man, who famously trained Bruce Lee. What's their trick to keeping this series fresh? Play fast and loose with the facts, up the melodrama with each film, and, when in doubt, cast Mike Tyson as an evil property developer. The fights are incredible, and Yen's portrayal of the aging master still has the power to draw a few tears from even the most grizzled tough guy.
It Follows (2015)
The villain of this retro-thriller doesn't need to creep. "It" -- a demon? An embodiment of fear? A walking STD? -- can come from any direction at any time and can't be stopped. All its target can do is run, or damn someone new by transmitting the possession through intercourse. A relentless chase set against a picturesque suburban dreamworld, It Follows builds scares from pure suspense, a welcome alternative to the screeching, skittish horror movies that frequent theaters.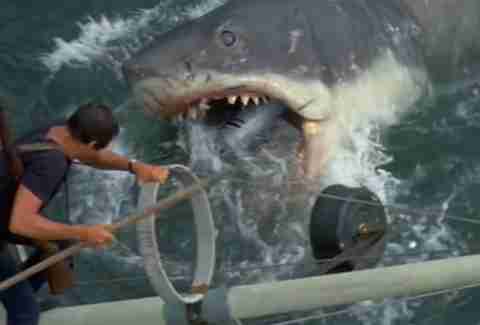 Jaws (1975)
"Da-dum… da-dum… da-dum da-dum da-dum!" You know the music. You know the "bigger boat" line. Maybe you even remember that dolly zoom shot of Roy Scheider sitting on the beach with his family when the screams of terror ring out and everyone runs like hell. But no matter how much pop culture chomps on the remains of this classic, there's no stripping this understated, fundamentally humanist monster picture of its primal power. Even in the age of Sharknado and The Shallows, Jaws is still scary, funny, and essential viewing. These are waters you'll want to get back into.
The Look of Silence (2014)
The stronger one of Joshua Oppenheimer's films confronting the mid-1960s genocide in Indonesia (the other is The Act of Killing) follows an optometrist as he meets and interviews the individuals responsible for the death of his brother, none of whom have been held accountable before. It sounds so simplistic, and at first it plays so serenely, then gradually, it builds into a powerful record of the candid confessions of men still considered heroes in their country. This documentary focuses on the legacy of events that will soon only be in the hands and minds of a generation detached from and mistaken about what happened 50 years ago.
Memento (2000)
M. Night Shyamalan is inextricably tied to the "twist" thanks to his movies' many pull-the-rug finales, but Christopher Nolan really deserves the title of Hollywood Twistmaster. Movies like Interstellar, Batman Begins, and The Prestige all tie their emotional journeys in knots, while his amnesiac thriller Memento is the gold standard. Guy Pearce stars as a man who must jog his corrosive short-term memory with Polaroids and explanatory tattoos in order to solve the murder of his wife. Playing with time and truth, Nolan spins the rare detective story that keeps the audience guessing until the end.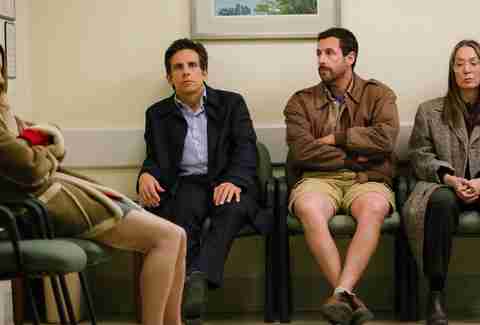 The Meyerowitz Stories (New and Selected) (2017)
When Danny (Adam Sandler), Matthew (Ben Stiller) and Jean (Elizabeth Marvel), three half-siblings from three different mothers, gather at their family brownstone in New York to tend to their ailing father (Dustin Hoffman), a lifetime of familial politics explode out of every minute of conversation. Their narcissistic sculptor dad didn't have time for Danny. Matthew was the golden child. Jean was weird... or maybe disturbed by memories no one ever knew. Expertly sketched by writer-director Noah Baumbach (The Squid and the Whale) this memoir-like portrait of lives half-lived is the kind of bittersweet, dimensional character comedy we're now used to seeing told in three seasons of prestige television. Baumbach gives us the whole package in two hours.
Moonrise Kingdom (2012)
This living storybook reworks Wes Anderson's subdued sense of humor for a YA crowd. When two teenagers go on the lam during a record-setting hurricane, the capricious adults spin in circles while romance blossoms. Anderson enhances this cheeky love story with his visual stamp, ensuring that even book covers and music cues inspire laughter.
Nymphomaniac Vol. 1 & 2 (2013)
Provocateur Lars von Trier (Antichrist, Melancholia) made headlines for filling his orgastic opus with unsimulated sex. While the four-hour-long journey is filled with explicit scenes -- everything from train-car blow jobs to threesomes to fetish whipping where a riding crop takes care of the stimulation -- von Trier has more on his mind than pornographic subversion. His sardonic Nymphomaniac questions sexuality, the roles of men and women in one another's lives, and storytelling on a macro level. The movie's a triumph -- and not just for those who dreamed of seeing Shia LaBeouf thrust on camera.
Okja (2017)
This wild ride, part action heist, part Miyazaki-like travelogue, and part scathing satire, is fueled by fairy tale whimsy -- but the Grimm kind, where there are smiles and spilled blood. Ahn Seo-hyun plays Mija, the young keeper of a "super-pig," bred by a food manufacturer to be the next step in human-consumption evolution. When the corporate overlords come for her roly-poly pal, Mija hightails it from the farm to the big city to break her out, crossing environmental terrorists, a zany Steve Irwin-type (Jake Gyllenhaal), and the icy psychos at the top of the food chain (including Tilda Swinton's childlike CEO) along the way. Okja won't pluck your heartstrings like E.T., but there's grandeur in its frenzy, and the film's cross-species friendship will strike up every other emotion with its empathetic, eco-friendly, and eccentric observations.
Raw (2017)
In Julia Ducournau's debut, carnal desires turn carnivorous. A coming-of-age story that'll have the queasy retreating from age, Raw finds sheltered vegetarian Justine (Garance Marillier) embarking on her first year of French veterinarian school. Between graphic dissections, nightly raves, and hazing that makes American fraternity life look like a day at the massage parlor, the student struggles to fit in. Justine's frosh year takes a morbid turn when her upperclassman sister forces her to consume meat for the first time, unleashing an insatiable hunger. The metaphors are obvious, but Ducournau's clinical eye for horror tableaux -- the "gross" parts range from skin peeling to gnawing on human fingers to dredging dung from a cow's anus (for science!) -- keep Raw perpetually and satisfyingly unnerving.
Spotlight (2015)
The best episode of The Wire that wasn't actually an episode of The Wire, Tom McCarthy stretches the drama taut as he renders The Boston Globe's 2000 Catholic Church sex scandal investigation into a Hollywood vehicle. McCarthy's notable cast members crank like gears as they uncover evidence and reflect on a horrifying discovery of which they shoulder partial blame. Spotlight was the cardigan of 2015's Oscar nominees, but even cardigans look sharp when Mark Ruffalo is involved.
The Thin Blue Line (1988)
Errol Morris' true-crime tale combines reenactment and voice-over to unravel the story of Randall Dale Adams, a man convicted of, and sentenced to life in prison for, a murder he did not commit. The Thin Blue Line is the gold standard that successors like Making a Murderer, Serial, and The Jinx could only hope to match. Morris' interviews, arid and frank, and the noir-tailored visuals, make the film more than a document of events. The Thin Blue Line is engrossing drama that transcends its revelations with story.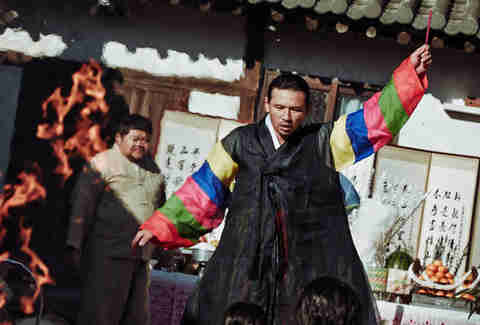 The Wailing (2016)
Hollywood horror movies rarely shoot for "epic," content with scaring up a storm with micro-budgets and single locations (and before you say it: no, Resident Evil sequels aren't scary). South Korean director Na Hong-jin does not suffer from the same apprehension. The Wailing is a masterpiece of mood, 156 minutes of every horror trope imaginable, drenched in mythology us foreigners might not entirely understand. That's fine: The movie's plot, a streak of murderers that may or may not have been perpetrated by demons, tows the viewer through the foggiest moments with one visceral pleasure after another. The Wailing is the metaphysical mystery that we all wanted from True Detective Season 1.
The White Helmets (2016)
Winner of the Oscar for Best Documentary Short, this powerful film profiles the titular team of first responders operating in war-torn Aleppo and other parts of Syria, endangering their own lives to save as many others as they can. And the filmmakers follow along, also under great duress. Even more tense, though, are scenes in a White Helmets training camp in Turkey, where recruits are away from their families, worrying for their loved ones' safety in their absence.
Win It All (2017)
In less than 90 minutes, director Joe Swanberg and his co-writer and star Jake Johnson provide an endearing portrait of a schlub in crisis. Like he did with 2013's Drinking Buddies and last year's Netflix series Easy, Swanberg zeroes in on the small details thirtysomething existential dread and scores big. In telling the story of a gambling addict named Eddie (Johnson) who is entrusted with a bag of money, which he quickly blows in spectacular fashion, the filmmaker has found an ideal mix between old-fashioned Hollywood storytelling and his  low-key naturalism. Will Eddie get his shit together? Win It All is less interested in answering that question than it is in spending time with these lovable losers.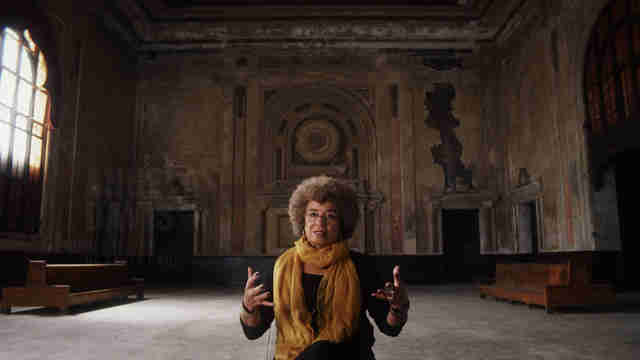 13th (2016)
Selma director Ava DuVernay snuck away from the Hollywood spotlight to direct this sweeping documentary on the state of race in America. DuVernay's focus is the country's growing incarceration rates and an imbalance in the way black men and women are sentenced based on their crimes. Throughout the exploration, 13th dives into post-Emancipation migration, the systemic racism that built in the early 20th century, and moments of modern political history that continue to spin a broken gear in our well-oiled national machine. You'll be blown away by what DuVernay uncovers in her interview-heavy research.
Sign up here for our daily Thrillist email and subscribe here for our YouTube channel to get your fix of the best in food/drink/fun.