The Best Movies on Netflix Right Now
Your search for what to watch just got much easier.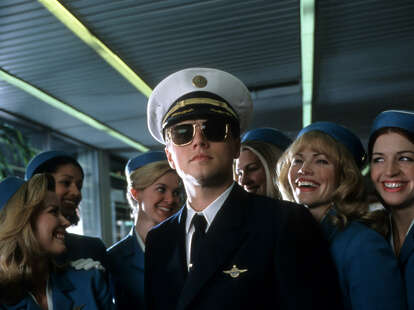 'Catch Me If You Can'

| DreamWorks
'Catch Me If You Can'

| DreamWorks
Anyone can tell you everything that's streaming on Netflix, take an inventory of a given month's new additions and subtractions, or cast the net of recommendations so wide that reeling in where to start is overwhelming. The whole goal of Netflix as a company is to give you as much content as possible, whether through streaming or good old-fashioned DVD mail-ins (remember those?).
Our goal in this space is to provide a different service: a list of the best films currently streaming on Netflix, so you can find a satisfying movie without wasting time with endless scrolling. One note: We won't be including Netflix original movies on this list, but check out this list of the best of those.
ALSO READ: Our lists of the best TV shows currently on Netflix and the best movies of the year
Anchorman: The Legend of Ron Burgundy (2004)
In the comedy that turned Will Ferrell into a full-blown movie star, the legend of Ron Burgundy, San Diego's top-rated newsman in an era when "anchormen reigned supreme," was born. Though Burgundy "was the balls" of California local news programming, his outrageous success is threatened once female anchor Veronica Corningstone (Christina Applegate) arrives at his boy's club of a broadcast station to shake things up. Directed by Oscar winner Adam McKay and starring a whole cast of ridiculous characters (like Paul Rudd as Brian Fantana and Steve Carell as Brick Tamland), Anchorman deserves its reputation as a goofball classic.
Apocalypse Now Redux (1979)
Reimagining Joseph Conrad's Heart of Darkness as a Vietnam war story brilliantly and brutally connects the dots between the height of the colonial era to its post-colonial fallout. Director Francis Ford Coppola's famous opening scene sets the stage for Captain Willard's (Martin Sheen) cursed mission to terminate Colonel Kurtz (Marlon Brando), who's gone rogue on the wrong side of the Cambodian border. Watch this expanded version to understand the breadth of Coppola's mad vision.
Avengement (2019)
DTV action star Scott Adkins knows how to land a punch, but this chronologically fractured fight film, which combines a bloody prison drama with a Guy Ritchie-esque underworld plot, also lets the burly actor show off his acting chops. With a metal grill on his teeth and gnarly scars on his face, Adkins plays Cain, a former boxer turned convict who starts the movie by escaping his security detail on a trip to the hospital to visit his dying mother. On the run, Cain ends up at a pub in the middle of the day, where he entertains the assembled goons with his convoluted life story, which involves a betrayal by his older brother and many grueling jailhouse brawls. Director Jesse V. Johnson co-wrote the refreshingly sharp script, which has more on its mind than your average fight-driven revenge film, and he stages the ferocious, bare-knuckle melees with appropriate vigor.
The Beguiled (2017)
This Sofia Coppola remake of the 1971 Clint Eastwood-Geraldine Page drama returns to the Farnsworth seminary, a haven for proper young women avoiding the corruption of Civil War. Tucked away in the mist-swept backwoods of Virginia, the disciples of Miss Farnsworth (Nicole Kidman) live regimented days, a strain of well-intentioned repression eventually imploded by the arrival of John McBurney (Colin Farrell), an injured Union corporal. Hospitable to a fault, Farnsworth and her girls tend to the soldier, who draws out their carnal hunger (no one can resist Farrell's chest hair) before lashing out with his own animal instincts. Simple, stylish, and threaded together from the quirks of female and male behavior, The Beguiled is a sexual Southern Gothic fairy tale that is wisely more humid than hot.
Blackhat (2015)
Heat director Michael Mann's thriller Blackhat asks you to buy hunky Thor star Chris Hemsworth as a gifted computer hacker who gets freed from jail to help the FBI thwart another sophisticated hacker messing with the global markets and nuclear power plants. Yes, Hemsworth might not look like most movie hackers, but Blackhat is different from most Hollywood depictions of the ever-expanding digital surveillance state, combining the tropes of the cyber-action movie (scenes of people tapping away at lines of code) with Mann's pet thematic obsessions (isolated heroes living by a moral code). A box office failure on release, the movie remains a completely captivating experiment that grows more impressive the more you watch it.
Blade Runner 2049 (2017)
How do you follow up on a masterpiece? That was the challenge Blade Runner 2049 faced in sequeling the original Blade Runner, directed by Ridley Scott. The result is the story of K (Ryan Gosling), a replicant (the Blade Runner word for android) who searches for the mysterious child of another robot after the discovery of the mother's bones, bursting with post-apocalyptic eye candy. There's a constant twinning of plot points, creating nostalgic reverberations and deja-vu-like familiarity in nearly every scene, and it'll either be your favorite or least favorite part of the sequel. It really depends on if you love getting lost in a somber blockbuster reverie.
Casino Royale (2006)
Dozens of James Bond movies later, and Casino Royale still stands the test of time as the best of the franchise. Filling the shoes of the classic MI6 agent for the first time, Daniel Craig pulled off the impossible by defining the role for a new generation and giving us the 007 from Ian Fleming's early novels, a blunt instrument filled with morose purpose and self-doubt. Still, director Martin Campbell managers to offer a blockbuster that's a masterclass in geometric, dramatic, constructive action filmmaking in 007's journey down to Madagascar to face off with a favorite Bond villain, Mads Mikkelson's Le Chiffre, in a high-stakes poker game. This is a debut Bond actors will be trying to measure up to for decades.
Catch Me if You Can (2002)
Before he was 19 years old, Frank Abagnale conned his way into millions by impersonating a pilot, a doctor, and a lawyer. Steven Spielberg and Leonardo DiCaprio, internalizing a full-scoped character study, tap dance through Abagnale's history, reflecting America's many faces in the process. DiCaprio kicked off his rolling relationship with Martin Scorsese at the same time he teamed for his Spielberg one-off, but the latter lucked out with an all-time-great Leo performance.
Cliffhanger (1993)
The poster for Cliffhanger promised "an avalanche of thrills," and the marketing department was not kidding around. This Sylvester Stallone starring outdoors epic, directed with gravity-defying aplomb by Die Hard 2 filmmaker Renny Harlin, delivers all the twists, set-pieces, and perilous climbing shenanigans you'd expect from a big-budget '90s star vehicle. There's even one of those post-Alan-Rickman-in-Die-Hard scenery chewing villain performances from John Lithgow. Grab your gear and make the climb.
The Conjuring (2013)
James Wan scared the shit out of moviegoers and restored faith in horror films when he dramatized Ed and Lorraine Warren's haunted farmhouse visit for the big screen. As the two paranormal investigators (played by Patrick Wilson and Vera Farmiga) go head-to-head with a wicked presence, you'll find yourself audibly yelping and wanting nothing to do with the dark. The impeccably choreographed jump scares are damn good, but the Warrens' nail-biting heroics and the family's intoxicating paranoia woven throughout are even better—proof that big-budget horror flicks don't have to suck.
Contagion (2011)
One of the most terrifying and depressing outbreak apocalypse movies ever made, Steven Soderbergh's Contagion gained a strange second life at the start of the COVID-19 pandemic. Following the lightning fast spread of an unknown virus, the movie bounces between several different narratives—an epidemiologist working to create a vaccine, a conspiracy theorist vlogger's attempt at fame by claiming to have an unlikely cure, a father's fight to protect his teen daughter from a rapidly deteriorating outside world—to tell a cohesive tale of a world brought nearly to its knees by the tiniest of invaders. It's frightening because it's never too heightened, never spilling into melodrama, and, now that we've lived through our own version, closer to reality than we'd ever care to admit.
Creep (2014)
Patrick Brice's found-footage movie is a no-budget answer to a certain brand of horror, but saying more would give away its sinister turns. Just know that the man behind the camera answered a Craigslist ad to create a "day in the life" video diary for Josef (Mark Duplass), who really loves life. Creep proves that found footage, the indie world's no-budget genre solution, still has life, as long as you have a performer like Duplass willing to go all the way.
Den of Thieves (2018)
If there's one thing you've probably heard about this often ridiculous bank robbery epic, it's that it steals shamelessly from Michael Mann's crime saga Heat. The broad plot elements are similar: There's a team of highly-efficient criminals led by a former Marine (Pablo Schreiber) and they must contend with a obsessive, possibly unhinged cop (Gerard Butler) over the movie's lengthy 140 minute runtime. A screenwriter helming a feature for the first time, director Christian Gudegast is not in the same league as Mann as a filmmaker and Butler, sporting unflattering tattoos and a barrel-like gut, is hardly Al Pacino. But everyone is really going for it here, attempting to squeeze every ounce of Muscle Milk from the bottle.
The Departed (2006)
Don't let your annoying college roommate's affection for The Departed ruin the movie for you—it's an enormously entertaining crime film. Leonardo DiCaprio's expert slow-boil performance as undercover cop Billy Costigan is a big reason for that and marked a major career step forward; he stood tall against the Martin Scorsese film's many big-name scenery chewers and kept his Boston accent under control. Just try to forgive the little rat at the end.
Dirty Harry (1971)
Dirty Harry may be conservative, pro-cop fodder, but it's also a pretty badass classic. The film is peak hyper-masculine, stone-cold Clint Eastwood as San Francisco investigator Harry Callahan on a hunt for a Zodiac Killer-like perp, the Scorpio Killer, in the '70s. The film follows Harry's gruesome attempt to take matters into his own hands to see that justice is served, and through a series of volatile shootouts, torture sequences, and a penultimate school bus hijack, he does exactly that. There's a reason why this flick pioneered the genre for crime films to follow.
Dunkirk (2017)
The circumstances that left hundreds of thousands of Allied troops surrounded by Nazi troops and trapped on the beaches of Dunkirk in May 1940 are messy, convoluted, and marred by militaristic debate. Director Christopher Nolan's treatment of "Operation Dynamo," the effort to smuggle those men out through waves of air raids and U-boat torpedo attacks, is not. Intricate yet simplistic, like the pocket watch one hears tik-toking behind every bar of Hans Zimmer's propulsive score, Dunkirk is an elemental chronicle where each path of escape -- by land, by sea, by sky -- diverts back to the Hell on earth that was World War II. There's no plot beyond "get the hell out." But in Nolan's hands, and through IMAX-sized frames, it's a mesmerizing, maddening, and often isolating experience.
The Edge of Seventeen (2016)
Finally, Mean Girls has modern company in the teen-movie hall of fame. The directorial debut of Kelly Fremon Craig, who previously wrote the Alexis Bledel comedy Post Grad, The Edge of Seventeen is a hilarious portrait of teen angst and alienation that's willing to pencil in the F-bomb-heavy vocabulary of high schoolers. As Nadine, who watches her best friend and twin brother hook up and couple off, Hailee Steinfeld nails the schizophrenia of the age, part kid, part adult, total mess, promising human. Produced by James L. Brooks, who knows a thing or two about character-driven comedy (The Simpsons, Broadcast News), The Edge of Seventeen screams with an idiosyncratic voice at a time when so many movies just want to fall in with the popular crowd.
Fast Color (2019)
A week before Marvel was set to release its monolithic Avengers: Endgame, a much smaller superhero film entered theaters. Fast Color features no characters you've seen in comic books as it looks at how power and trauma mixes in one family. Directed and co-written by Julia Hart, it centers on Ruth (Gugu Mbatha-Raw), who we first meet as she flees captivity. Ruth has seizures that cause seismic shifts, and as she retreats to her childhood home home to escape the scientists chasing her, we learn that she's part of a line of women who have extraordinary gifts, including her mother and her daughter. Fast Color is more of a family drama than anything else, but its final moments are infused with a sense of wonder you can only hope to get from some of the bigger budget movies in the same genre.
The Fighter (2010)
David O. Russell's (Silver Linings Playbook, American Hustle) The Fighter packs a punch. The Oscar-nominated biographical drama stars Mark Wahlberg as underdog boxer Micky Ward alongside Christian Bale, in yet another transformative role as Ward's older half-brother/trainer Dicky Eklund. Lined with action and grit, the film follows Ward's unpredictable rise in the ranks in the world of championship welterweight boxing with the contested help of his washed up brother who descended into drug addiction and a life of seedy crime. Tethered to his success is the strength of the destructive closeness of his family, including his mother played by Melissa Leo, and the relationships outside of it, like that of his girlfriend played by a scene-stealing Amy Adams -- meaning The Fighter is a hard knocks lesson in what it means to look out for someone, as well as a masterclass in acting.
Goodfellas (1990)
Revered by cineastes and dorm-poster-loving bros alike, Martin Scorsese's take on Nicholas Pileggi's Wiseguy unfolds like Alice in Wonderland, with youngster Henry Hill (Ray Liotta) plummeting down the mafia rabbit hole into a hell he could never have imagined. Performances by Robert de Niro and Joe Pesci are notorious, but it's the way that Scorsese's coked-up camerawork weaves through history that makes Goodfellas frightening, delirious, and darkly funny. What do you mean I'm funny?
Hail, Caesar! (2016)
Possibly the Coen brothers' zaniest work—and these are the guys who brought us Raising Arizona, Burn After Reading, and O Brother, Where Art Thou?—Hail, Caesar! throws back to the golden age of Hollywood for a droll, screwball mystery. A Communist kidnapping plot plays in the background as the Coens swing between a down-on-his-luck singing cowboy, a pair of gossip reporters, a starlet keeping her pregnancy hush-hush, a frustrated auteur, and a studio fixer who can't help but wonder if Hollywood's all it's cracked up to be. Musical numbers elevate it to greatness. Tap-dancing Channing Tatum rules the world.
The Hateful Eight (2015)
Quentin Tarantino has something to say about race, violence, and American life, and it's designed to ruffle feathers. Like Django Unchained, the writer-director reflects modern times on the Old West, but with more scalpel-sliced dialogue, profane poetry, and gore. Stewed from bits of Agatha Christie, David Mamet, and Sam Peckinpah, The Hateful Eight traps a cast of blowhards (including Samuel L. Jackson as a Civil War veteran, Kurt Russell as a bounty hunter known as "The Hangman," and Jennifer Jason Leigh as a psychopathic gang member) in a blizzard-enveloped supply station. Tarantino ups the tension by shooting his suffocating space in "glorious 70mm." Treachery and moral compromise never looked so good.
Hell or High Water (2016)
The rootin', tootin', consideratin' modern Western follows bank-robbing brothers (Chris Pine and Ben Foster) looking to save their family farm from foreclosure while sticking it to The Man. Hot on their tails is a soon-to-retire sheriff (Jeff Bridges) and his partner, who engage in their own morality dialectic as they drive deeper into the Texas heartland. Hell or High Water has shoot-outs and car chases, but it's in diner conversations and pickup-truck small talk where Mackenzie finds a beating heart, economic depression as the greatest equalizer. The material turns villains into heroes, heroes into villains, and simple characters into some of the actors' best performances to date.
Hunt for the Wilderpeople (2016)
This New Zealand backwoods adventure roughs up every single coming-of-age cliché. Julian Dennison's Ricky is an absent-minded, hip-hop-obsessed, rebellious orphan. His grizzled foster father would like nothing more than to ship the unruly kid back to government care. When the two find themselves stranded in the woods, mistaken for on-the-lam criminals, they... decide to own it. Wilderpeople is a generous genre blend, with Taika Waititi, director of the wacky, vampiric mockumentary What We Do in the Shadows and the wry superhero adventure Thor: Ragnarok, finding cheeky jokes in the duo's perilous journey.
Inception (2010)
Christopher Nolan's sci-fi masterpiece thrusts you into the world of dreams, and leaves you so bewildered that it's difficult to wake up. Starring Leonardo DiCaprio as a corporate spy who steals secrets by inserting himself in others' subconscious dream states, the film not only imagines this complex universe, it flips its structure, as DiCaprio's man on the run is made to plan the perfect heist in order to leave behind his criminal life. Rather than stealing ideas, he's got to implant one—that's inception, baby!—with his team of specialists, resulting in a surrealist, multilayered film.
In the Line of Fire (1993)
Before throwing Harrison Ford in a plane inAir Force One and tossing George Clooney on a boat in The Perfect Storm, action maestro Wolfgang Peterson put Clint Eastwood in the line of fire in…In the Line of Fire! Skillfully playing "too old for this shit" characters way back in the early '90s, when he was still relatively spry in his 60s, Eastwood excels as Secret Service Agent Frank Horrigan, a old-timer tasked with stopping an assassination attempt and unraveling a vast political conspiracy. With a classic villain performance from John Malkovich, the movie leaps from one nail-biting sequence to another, and Eastwood ties it all together with his grizzled charm.
Ip Man (2008)
There aren't many biopics that also pass for decent action movies. Somehow, Hong Kong action star Donnie Yen and director Wilson Yip made Ip Man (and three sequels!) based on the life of Chinese martial arts master Yip Kai-man, who famously trained Bruce Lee. What's their trick to keeping this series fresh? Play fast and loose with the facts, up the melodrama with each film, and, when in doubt, cast Mike Tyson as an evil property developer. The fights are incredible, and Yen's portrayal of the aging master still has the power to draw a few tears from even the most grizzled tough guy.
It Follows (2015)
The villain of this retro-thriller doesn't need to creep. "It"—a demon? An embodiment of fear? A walking STI?—can come from any direction at any time and can't be stopped. All its target can do is run, or damn someone new by transmitting the possession through intercourse. A relentless chase set against a picturesque suburban dreamworld, It Follows builds scares from pure suspense, a welcome alternative to the screeching, skittish horror movies that frequent theaters.
Leave No Trace (2018)
Anyone who read Hatchet or My Side of the Mountain in elementary school probably once dreamed of living off the land. The survivalist impulse, a desire to ditch one's worldly possessions and live a simpler life in the wilderness, is a deeply ingrained American ideal, one that's still taught to children despite the fundamental role technology plays in modern life. Debra Granik's Leave No Trace, her first fictional feature since Winter's Bone, digs deep into the darker side of that fantasy by telling the story of Will (Ben Foster) and Thom (Harcourt McKenzie), a father-daughter duo who live in the mountains near Portland, Oregon. A process-oriented filmmaker, Granik shoots their perilous journey with a combination of awe and skepticism, capturing the beauty of the natural world and the danger of life on the margins.
Margin Call (2011)
The mathematical headache of the 2008 financial crisis makes for profane drama in this steely debut feature from writer and director J.C. Chandor (A Most Violent Year). With a cast including Kevin Spacey, Jeremy Irons, Demi Moore, Stanley Tucci, and Zachary Quinto, the movie goes for the talky, put-down-filled tone of David Mamet's classic Glengarry Glen Ross, turning a world of spreadsheets, mortgages, and neckties into a verbal bloodbath. Sometimes it plays like comedy. But, mostly, it feels like a horror movie.
Mean Girls (2004)
Back in 2004, Lindsay Lohan was a tween icon and Tina Fey was the co-host of SNL's "Weekend Update." Fey's feature-writing debut set the tone for years of smart teen comedy to come, giving us a Burn Book's worth of uproarious quotes and alerting the world to Rachel McAdams' talent in the process.
Michael Clayton (2007)
George Clooney made a career out of playing gray knights, and his work as the title character in this icy New York thriller might be the pinnacle of his work. Clayton is a super-cynical, debt-ravaged "fixer," stuck doing damage control amid a massive class-action lawsuit. (Think Olivia Pope from Scandal, but somehow more intense.) He also plays poker, drives cars that explode, and does his best impression of Shiva, god of death. Tony Gilroy's Oscar-winning legal drama is addictive fun in that way complex conspiracy yarns can be, and it has a handful of memorable exchanges to boot—wait till you see the final confrontation with Tilda Swinton.
Mission: Impossible (1996)
The Mission: Impossible franchise keeps reaching new heights as Tom Cruise attempts progressively daring stunts, but Brian De Palma's inaugural installment set the template. If you think the original is any less thrilling, think again. Ethan Hunt is at his nerviest in his first adventure, wherein his entire IMF team—including the likes of Kristin Scott Thomas and Emilio Estevez—are dispatched and he's framed for the murders and sent on the lam. Playing this younger version of a character with whom he would age and evolve, Cruise is jitterier and less sure of himself, even as he expertly executes the now-iconic scenes, like his suspended break-in at Langley. De Palma's angular direction lends the proceedings a sense of unease that would fall away as these movies became more bombastic, but all the set pieces in the world can't beat Cruise uttering, "Kittridge, you've never seen me very upset."
Monty Python and the Holy Grail (1975)
The legendary British comedy troupe took the legend of King Arthur and offered a characteristically irreverent take on it in their second feature film. It's rare for comedy to hold up this well, but the timelessness of lines like, "I fart in your general direction!" "It's just a flesh wound," and "Run away!" makes this a movie worth watching again and again.
Nightcrawler (2014)
Jake Gyllenhaal gives a career-best performance in this nocturnal noir, playing the haunted, single-minded Lou Bloom, a scavenger of human suffering whose motives are as twisted and opaque as the seedy LA underworld he inhabits. That is, as a cameraman documenting crime scenes for a local news station—but that's media for you! It's a twisted thriller, testing how much you can take as you go on an after hours high-speed chase, and it's all set against writer-director Dan Gilroy's pitch-black vision of sunny California that forces you to see the City of Angels in a whole new light.
The Nightingale (2019)
The Nightingale is a harrowing watch—a piece of art that's unblinking in its depictions of the trauma its protagonist Clare (Aisling Franciosi), an Irish convict in Australia in 1825, suffers. In the early minutes of the nearly two and a half hour movie, Clare is assaulted and her husband and child are killed in front of her eyes by Hawkins (Sam Claflin), the British soldier to whom she is essentially enslaved, and his gang of followers. Her experience sets her off of a path of retribution, following Hawkins through the untouched Tasmanian land alongside Billy (Baykali Ganambarr), an Aboriginal guide, who she treats cruelly until they start to better understand the cycles of abuse they have both endured at the hands of their British colonizers.
Phantom Thread (2017)
Reynolds Woodcock (the now-retired Daniel Day-Lewis) is the premier fashion designer of the era, a genius playboy who detects the contours of women, dresses, and life itself like Neo sees The Matrix. And though his sister Cyril (Lesley Manville) manages every second of his every day, a new muse, Alma (Vicky Krieps), slips by the alarms and disrupts his understanding of success with a simple trick: love. In Phantom Thread, everything from Woodcock's mansion to the draping gowns to pans of sautéed mushrooms are fashion-shoot-worthy (the Oscar voters noticed, too), but there's also a devilish comedic streak to the movie, like a prestige version of Curb Your Enthusiasm. Early on, Woodcock reveals that he sews secret messages into his garment; director Paul Thomas Anderson does the same in Phantom Thread, a drama rich with details and personal admissions.
RRR (2022)
Frankly, it's best to go in to S. S. Rajamouli's three-hour Telugu-language epic as blindly as possible to be swept up in its magnitude and spectacle that breezes by as it constantly outdoes itself even—especially—when you're convinced that there couldn't possibly be anything that could one-up the fist-pumping action that came before. Loosely, RRR is about two men following their entwined destinies and rage against the British colonial rule in Northern India, but understanding the context is secondary to the experience itself. Compared to the bravado of RRR, even the thrills of Top Gun: Maverick (a movie we all love!) feel small.
Se7en (1995)
Director David Fincher has a thing for serial killers. The man who helmed Zodiac and The Girl With the Dragon Tattoo, and who's executive producing Netflix's Mindhunter, got his first taste with Se7en, about two detectives (Brad Pitt and Morgan Freeman) on the hunt for a murderer obsessed with punishing those he perceives to embody the seven deadly sins. The famous final murder scene ("What's in the box?!") grabs all the attention, but it's a payoff that's earned by the dark, brooding character studies that Fincher builds over the course of the film, a style that would become a hallmark of his later work.
She's Gotta Have It (1986)
Before checking out Spike Lee's Netflix original series of the same name, be sure to catch up with where it all began. Nola (Tracy Camilla Johns) juggles three men during her sexual pinnacle, and it's all working out until they discover one another. She's Gotta Have It takes some dark turns, but each revelation speaks volumes about what real romantic independence is all about.
Sorry to Bother You (2018)
In the music he made as a member of the Oakland hip-hop group The Coup, filmmaker Boots Riley displayed a gift for tackling big, provocative ideas about politics, labor, inequality, and race with wit and nerve. It's unsurprising that Sorry to Bother You, the bracing comedy he wrote and directed about telemarketer Cassius Green (Lakeith Stanfield) using his "white voice" to climb the corporate ladder, would pack a similar punch. While the surreal sensibility of the film recalls a string of indie hits of the 00s, particularly the work of Michel Gondry and Spike Jonze, those movies were often content to wallow in emotional solipsism. Sorry to Bother You is about reaching out into the world around you and shaking it up.
Starship Troopers (1997)
Paul Verhoeven is undoubtedly the master of the sly sci-fi satire. With RoboCop, he laid waste to the police state with wicked, trigger-happy glee. He took on evil corporations with Total Recall. And with Starship Troopers, a bouncy, bloody war picture, he skewered the chest-thumping theatrics of pro-military propaganda, offering up a pitch-perfect parody of the post-9/11 Bush presidency years before troops set foot in Iraq or Afghanistan. Come for the exploding alien guts, but stay for the winking comedy—or stay for both! Bug guts have their charms, too.
Steve Jobs (2015)
Caught in the crossfire of a director shake-up (Slumdog Millionaire Oscar-winner Danny Boyle stepped up after David Fincher bailed) and the North Korean Sony hack, Aaron Sorkin's take on the (abridged) life and times of the Apple cofounder came and went from the 2015 award season. Not since the Newton MessagePad has there been such an overlooked Mac product; Sorkin's drama is an operatic chamber piece with Michael Fassbender's Steve as the maniac maestro. In the tightly wound biopic, the behind-the-scenes mayhem gets the blood pumping, the monologues drill like dental weaponry, and the keynote speeches feel like Moses stepping down from Mount Sinai. What could be hagiography is a movie as large as the subject itself.

Synchronic (2020)
Directing duo Justin Benson and Aaron Moorhead have a very distinct style: weird stuff in the sky, complicated brotherly relationships between men, new and fascinating conceptions of the nature of time. Synchronic is another dive into the depths of what the fabric of the universe is woven from, spinning a wild tale of death, drugs, and time travel amidst the dim, sinister backdrop of nighttime New Orleans. Jamie Dornan and Anthony Mackie play a pair of EMTs cruising the NOLA nights responding to emergency distress calls. On a few of these calls, they come across a number of people who have either mysteriously disappeared or somehow wound up dead, each incident having to do with a new drug called "Synchronic." When Dornan's daughter goes missing, his friend must figure out how to use the killer drug to find her.
The Talented Mr. Ripley (1999)
Can you really trust Matt Damon? That's the question driving this tasty soufflé of a psychological thriller adapted from a novel by Patricia Highsmith. The eternally boyish actor was especially innocent and naive here, fresh off the success of Good Will Hunting and Saving Private Ryan, but his Tom Ripley is a monster capable of manipulating Jude Law and Gwyneth Paltrow with sociopathic ease. Like super-spy Jason Bourne, Ripley is the perfect role for Damon: You never quite know what's lurking under the surface.
Taxi Driver (1976)
Travis Bickle (a young Robert De Niro) comes back from the Vietnam War and, having some trouble acclimating to daily life, slowly unravels while fending off brutal insomnia by picking up work as a... taxi driver... in New York City. Eventually he snaps, shaves his hair into a mohawk and goes on a murderous rampage while still managing to squeeze in one of the most New York lines ever captured on film ("You talkin' to me?"). It's not exactly a heart-warmer—Jodie Foster plays a 12-year-old prostitute—but Martin Scorsese's 1976 Taxi Driver is a movie in the cinematic canon that you'd be legitimately missing out on if you didn't watch.
Titanic (1997)
Grab a box of tissues, review your favorite super-dramatic quotes, then travel back to the time before Leonardo DiCaprio was a bearded playboy dadbod-ing it up with supermodels. Over two decades after its release, James Cameron's retelling of the R.M.S. Titanic tragedy still earns its runtime and unspools as one of the greatest love stories among disaster in movie history. Never seen this classic? You gotta. Its 11 Academy Awards are no joke, and if DiCaprio and Kate Winslet don't leave you at least misty-eyed by the end of this emotional marathon, you'll at least know you have to get your head checked.
Unfriended (2014)
The Blair Witch Project popularized the found-footage genre, and Unfriended was one of the first to tap into the even more niche subset of the horror style—social media/computer screen found-footage. This Blumhouse freak-out isn't always a master of its craft and can feel more like being forced into peering at a screen from over someone's shoulder like you're waiting for your sibling's allotted screen time to wrap up, and is sometimes flat-out silly, but since we're addicted to being online, it is hard to look away. It follows a group of teenagers whose chatroom appears to be haunted by their friend who was recently bullied and died by suicide. Even when the scares are cheap, it's an interesting experiment that's worth logging into.
When Harry Met Sally... (1989)
There are many reasons why we remember this classic as one of the best rom-coms of all time (if not the best). We all know the big scenes in this movie: the "Can men and women be friends?" conversation in the car, the fake orgasm, the run through the streets of New York on New Year's Eve. But our favorite scene of this Nora Ephron-penned movie, just ahead of all the adorable old couples who tie for second, is a small one: Harry, upset because he saw his ex, picks a fight with Sally in their friends' apartment. Sally calls him on it, and midway through her recitation of how he's an asshole, you see his face change. He waits for her to finish, then says, "I'm sorry." A little scene that makes you care about and believe in these two people, and makes the final payoff, which When Harry Met Sally... nurtures from beginning to end, all the more rewarding.
Follow the Thrillist Entertainment editors on Twitter @ThrillistEnt.