Not much time has passed since Netflix released its first feature-length original film, 2015's Beasts of No Nation, but it might as well have been the dark ages. Since then, the streaming behemoth has unleashed a barrage of new titles, from cheesy Adam Sandler comedies to harrowing allegories about factory farming, all in an effort to revolutionize the way you watch movies and TV.
Naturally, some Netflix originals are better than others. These are the best the platform has to offer (excluding documentaries), a ranking that will change and evolve as Netflix continues its all-out push into original programming. And once you've made your way through these titles, you can always check out some of the other 100 best movies on Netflix.
Recommended Video
'American Horror Story's New Season Makes Terrifying Connections to Current Events
25. The Babysitter (2017)
One pre-teen boy's (Judah Lewis) fantasy about his babysitter (Samara Weaving) turns into a nightmare when it's revealed she and her hot friends dabble in human sacrifices. Director McG's self-aware spin on the babysitter slasher is more comedy than horror, delivering a bloody fun time in a stylish manner. Archetypes get turned on their heads, laugh lines punctuate almost every scene, and reality mostly ceases to exist while our hero tries to learn some sort of lesson. It's goofy mayhem in all the right ways. If you hit play, please don't ruin a good thing by taking it too seriously.
24. ARQ (2016)
If you flipped for Tom Cruise's sci-fi Groundhog Day riff, Edge of Tomorrow, you might enjoy this smaller scale puzzle film from Orphan Black writer Tony Elliott. Canadian hunk Robbie Amell (The Tomorrow People, The Flash) plays movie's put-upon protagonist Renton, who keeps waking up in the midst of a home invasion, dying, and re-spawning in his bed. What it lacks in production budget -- much of the action takes place in a single location and the costumes are run-of-the-mill dystopian ware -- it makes up for with thorny plot twists and tricky ethical dilemmas. It'd be a better movie if it wasn't so damn serious the whole time, but, at a relatively brisk 88 minutes, it's a time loop thriller that doesn't overstay its welcome.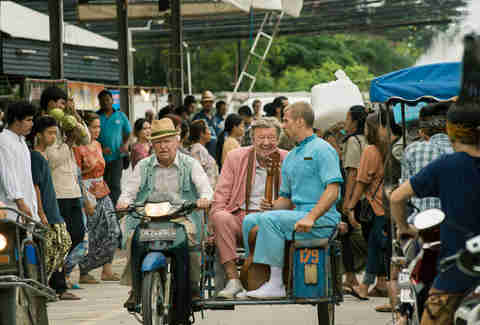 23. The 101-Year-Old Man Who Skipped Out on the Bill and Disappeared (2017)
Allan Karlsson, 101, is an international man of mystery who holds the secret to the former Soviet Union's greatest achievement: a deliciously mysterious, addictive soft drink called Folksoda. The drink is coveted by his business-minded friends, his mortal enemies, the CIA, a precocious monkey, and at least one pregnant woman, so as you might suspect, Allan's story is a sharp-witted, globetrotting romp in absurdity. It's a sequel to The 100-Year-Old Man Who Climbed Out the Window and Disappeared, but don't worry about watching the films in sequence. If you enjoy antics involving centenarian ex-spies, jokes at the expense of Richard Nixon, and you don't mind subtitles, this is your night on the couch.
22. Pee-wee's Big Holiday (2016)
There was a fear that Pee-wee's return to screen might also resurrect creepy memories of Paul Reubens' multiple arrests (and reputation-tarnishing mugshots). But with the help of Judd Apatow and LOVE writer Paul Rust, the comedian delivers an unexpectedly sweet and giddy adventure about growing up, knowing yourself, and becoming best friends with actor Joe Manganiello. The road trip movie drops Pee-wee into bank robberies, an Amish community, and the Big Apple, but it's the little moments -- like a hysterical extended sequence of the man-child deflating a balloon -- that make this entry worthy of the Pee-wee canon.
21. The Polka King (2018)
It's likely not many people know about Jan Lewan, the real-life Polish émigré who settled in Pennsylvania and started a Ponzi scheme to fuel a fraudulent polka empire. Though director Maya Forbes and co-writer Wally Wolodarsky play a bit fast and loose with the facts, The Polka King ultimately delivers a story as oddly infectious and entertaining as the music at its heart. Stepping up as Lewan is Jack Black, channeling the same madcap charm he did in School of Rock combined with the offbeat charismatic criminality of his performance in Bernie. Joining him for this surreal rise-crash-rise of an American dream are a potent Jenny Slate (playing Lewan's wife), a wonderfully lame Jason Schwartzman (Lewan's faithful BFF), and a flat-out phenomenal Jacki Weaver (Lewan's mother-in-law). Admittedly, some might feel squeamish about how this movie makes light of the people Lewan cheated -- and it doesn't help that there's a weird quarter-baked redemption arc near the end -- but at the end of the day, this is a vehicle for Black to show off his nonpareil charisma.

20. Deidra & Laney Rob a Train (2017)
After their mother is incarcerated, the two titular sisters turn to train robbery to support what's left of their family. Ashleigh Murray wields boundless charisma as the ambitious Deidra, and Rachel Crow wows as the self-conscious Laney. Together the pair propels this stylish dramedy toward heartwarming and hilarious heights, as they seek connection, redemption, and the chance to "be someone."
19. David Brent: Life on the Road (2017)
Written and directed by Ricky Gervais, this mockumentary catches up with the original Office star's character as he exchanges his desk job for a chance to be a traveling rock star. It deals in the same cringeworthy humor as its TV predecessor -- really functioning as an update or check-in for fans missing David Brent's antics. It's a tight script, with beats that are as deliciously awkward as you want them to be. Only downside is we likely won't get the Steve Carell version.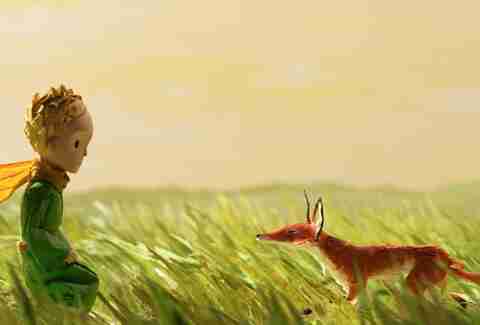 18. The Little Prince (2015)
Netflix rescued this animated adaptation of the popular French sci-fi novel after a major Hollywood studio dumped it. Watching The Little Prince, you can see why; following a girl who tests her overbearing mother's life plan by dreaming big and adventuring into space, the movie is a little too melancholy, a little too freeform, and a little too poetic -- at least side-by-side with the Ice Age movies. For Netflix, the result is a huge win.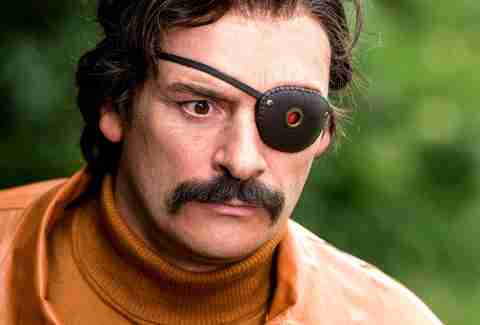 17. Mindhorn (2017)
Directed by Sean Foley, Mindhorn delivers an underdog story with tons of heart. Julian Barratt (Flowers) stars as the titular 1980s TV detective who goes from delusional has-been actor to real-life hero when he's roped into a serious crime by a very confused fan. Mindhorn's blind confidence proves to be his hilarious weakness and best path to redemption -- you'll laugh when he's put in his place by his former co-stars, for instance, and you'll do a weird sort of cheer-laugh when you see his boldly terrible capoeira. The script leans heavily on the powers and (anti-)charisma of its leading man, and Barratt nails it.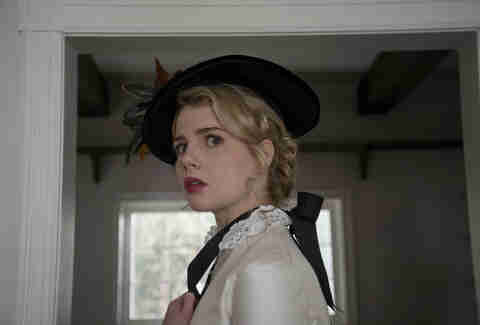 16. I Am the Pretty Thing That Lives in the House (2016)
A meditative horror flick that's more unsettling than outright frightening, I Am the Pretty Thing That Lives in the House follows the demise of Lily, a live-in nurse (Ruth Wilson) who's caring for an ailing horror author. As Lily discovers the truth about the writer's fiction and home, the lines between the physical realm and the afterlife blur. The movie's slow pacing and muted escalation might frustrate viewers craving showy jump-scares, but writer-director Oz Perkins is worth keeping tabs on. He brings a beautiful eeriness to every scene, and his story will captivate patient streamers. Fans should be sure to check out his directorial debut, The Blackcoat's Daughter.
15. War Machine (2017)
Based on the late Michael Hastings book The Operators, War Machine finds Brad Pitt goofing hard on General Stanley McChrystal, who served as Commander, U.S. Forces Afghanistan from June 2009 to June 2010. Pitt's character, General Glen McMahon, is a tough-as-nails American warlord whose bureaucratic skills echo both Patton and Popeye, but who finds he still can't make headway in the confusing chaos of Middle Eastern conflict. McMahon makes decisions, occasionally wild ones worth of his yuk-yuk-yuk persona, and they ripple through global politics. Doesn't matter. As director David Michôd (The Rover, Animal Kingdom) demonstrates through spotty satire and pristine war footage, even the best SEAL team fighters, the highest-ranking strategists, and the support of the President of the United States don't get you far if no one understood the conflict at hand in the first place.
14. Small Crimes (2017)
It's always a little discombobulating to see your favorite Game of Thrones actors in movies that don't call on them to fight dragons, swing swords, or at least wear some armor. But that shouldn't stop you from checking out Small Crimes, a carefully paced thriller starring the Kingslayer Jaime Lannister himself, Nikolaj Coster-Waldau. As Joe Denton, a crooked cop turned ex-con, Coster-Waldau plays yet another character with a twisted moral compass, but here he's not part of some mythical narrative. He's just another conniving, scheming dirtbag in director E.L. Katz's Coen Brothers-like moral universe. While some of the plot details are confusing -- Katz and co-writer Macon Blair skimp on the exposition so much that some of dialogue can feel incomprehensible -- the mood of Midwestern dread and Coster-Waldau's patient, lived-in performance make this one worth checking out. Despite the lack of dragons.
13. First They Killed My Father (2017)
Few Hollywood movies have detailed the horrors of Pol Pot and the Khmer Rouge's rise to power in Cambodia in 1975 -- the genocidal revolutionary movement isn't exactly the backdrop for the next Titanic. But Angelina Jolie, who developed a close connection to the country when she first visited during the shoot for Tomb Raider, brings the gloss of big-budget movies to this horrifying-but-tender adaptation of Loung Ung's memoir of the same name. Like Spielberg's Empire of the Sun, First They Killed My Father tracks the Cambodian diaspora from city living to makeshift, military-run farm communes, all from the perspective of 7-year-old Loung. Jolie rarely wavers from the POV, witnessing violence from down low and leaving reality behind in moments of escapism. First They Killed My Father is a little too picture-perfect, considering the grime of life under Pol Pot, but Jolie pours her heart into telling the story, and it shows.
12. 1922 (2017)
With all the adaptations of Stephen King's celebrated novels rolling into theaters recently, it's easy to forget that the wildly prolific horror writer also has a stockpile of untapped short stories for IP-hungry producers to choose from. 1922, a folksy riff on Edgar Allen Poe's "The Tell-Tale Heart" starring Thomas Jane as a farmer who kills his wife, draws its plot from a novella in the 2010 collection Full Dark, No Stars, but it's just as rich and complex as the more famous films based on longer King tales. Director Zak Hilditch has a keen grasp of how to wring tension from the material, keeping his camera focussed on Jane's anguished mug as the situation grows more dire and cruel. Plus, there are so many rats in this movie. Seriously, watch out, Willard.
11. Beasts of No Nation (2015)
True Detective Season 1 director Cary Fukunaga's wartime drama is not a movie you put on in the background. Adapted from Uzodinma Iweala's novel of the same name, this visceral character study tracks a preadolescent Agu (Abraham Attah) after he's recruited to be a child soldier in an African civil war (its specifics are left purposely ambiguous). Lorded over by a gruff commander (Idris Elba), the movie is loud, tender, and violent -- a coming-of-age story in which the characters may not live to come of age.
10. Win It All (2017)
In less than 90 minutes, director Joe Swanberg and his co-writer and star Jake Johnson provide an endearing portrait of a schlub in crisis. Like he did with 2013's Drinking Buddies and last year's Netflix series Easy, Swanberg zeroes in on the small details of thirtysomething existential dread and scores big. In telling the story of a gambling addict named Eddie (Johnson) who is entrusted with a bag of money, which he quickly blows in spectacular fashion, the filmmaker has found an ideal mix between old-fashioned Hollywood storytelling and his low-key naturalism. Will Eddie get his shit together? Win It All is less interested in answering that question than it is in spending time with these lovable losers.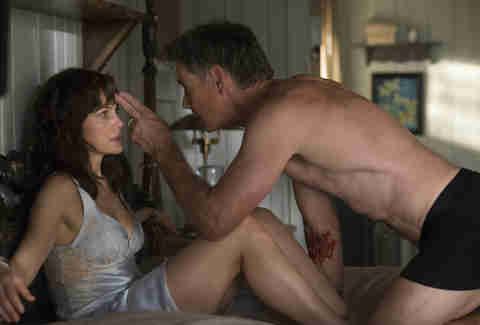 9. Gerald's Game (2017)
Like his previous low-budget Netflix-released horror release, Hush, a captivity thriller about a deaf woman fighting off a masked intruder, Mike Flanagan's Stephen King adaptation of Gerald's Game wrings big scares from a small location. Sticking close to the grisly plot details of King's seemingly "unfilmable" novel, the movie chronicles the painstaking struggles of Jessie Burlingame (Carla Gugino) after she finds herself handcuffed to a bed in an isolated vacation home when her husband, the titular Gerald, dies from a heart attack while enacting his kinky sexual fantasies. She's trapped -- and that's it. The premise is clearly challenging to sustain for a whole movie, but Flanagan and Gugino turn the potentially one-note set-up into a forceful, thoughtful meditation on trauma, memory, and resilience in the face of near-certain doom.
8. Barry (2016)
In 1981, Barack Obama touched down in New York City to begin work at Columbia University. As Barry imagines, just days after settling into his civics class, a white classmate confronts the Barry with an argument one will find in the future President's Twitter @-mentions: "Why does everything always got to be about slavery?" Exaltation is cinematic danger, especially when bringing the life of a sitting President to screen. Barry avoids hagiography by staying in the moment, weighing race issues of a modern age and quieting down for the audience to draw its own conclusions. Terrell is key, steadying his character as smooth-operating, socially active, contemplative fellow stuck in an interracial divide. Barry could be any half-black, half-white kid from the '80s. But in this case, he's haunted by past, present, and future.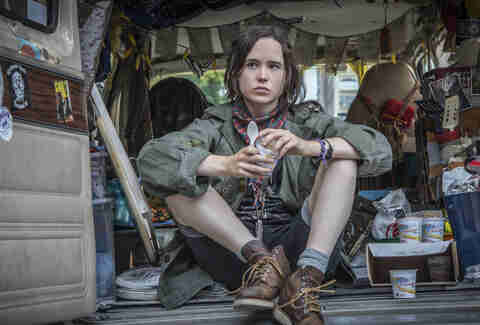 7. Tallulah (2016)
From Orange Is the New Black writer Sian Heder, Tallulah follows the title character (played by Ellen Page) after she inadvertently "kidnaps" a toddler from an alcoholic rich woman and passes the child off as her own to appeal to her run-out boyfriend's mother (Allison Janney). A messy knot of familial woes and wayward instincts, Heder's directorial debut achieves the same kind of balancing act as her hit Netflix series -- frank social drama with just the right amount of humorous hijinks. As Tallulah grows into a mother figure, her on-the-lam parenting course only makes her more and more of a criminal in the eyes of… just about everyone. You want to root for her, but that would be too easy.
6. Mudbound (2017)
The South's post-slavery existence is, for Hollywood, mostly uncharted territory. Director Dee Rees rectifies the overlooked stretch of history with this novelistic drama about two Mississippi families working a rain-drenched farm in 1941. The white McAllans settle on a muddy patch of land to realize their dreams. The Jacksons, a family of black sharecroppers working the land, have their own hopes, which their neighbors manage to nurture and curtail. To capture a multitude of perspectives, Mudbound weaves together specific scenes of daily life, vivid and memory-like, with family member reflections, recorded in whispered voice-over. The epic patchwork stretches from the Jackson family dinner table, where the youngest daughter dreams of becoming a stenographer, to the vistas of Mississippi, where incoming storms threaten an essential batch of crops, to the battlefields of World War II Germany, a harrowing scene that will affect both families. Confronting race, class, war, and the possibility of unity, Mudbound spellbinding drama reckons with the past to understand the present.
5. Divines (2016)
Thrillers don't come much more propulsive or elegant than Houda Benyamina's Divines, a heartwarming French drama about female friendship that spirals into a pulse-pounding crime saga. Rambunctious teenager Dounia (Oulaya Amamra) and her best friend Maimouna (Déborah Lukumuena) begin the film as low-level shoplifters and thieves, but once they fall into the orbit of a slightly older, seasoned drug dealer named Rebecca (Jisca Kalvanda), they're on a Goodfellas-like trajectory. Benyamina offsets the violent, gritty genre elements with lyrical passages where Dounia watches her ballet-dancer crush rehearse his routines from afar, and kinetic scenes of the young girls goofing off on social media. It's a cautionary tale told with joy, empathy, and an eye for beauty.
4. Tramps (2017)
There are heists pulled off by slick gentlemen in suits, then there are heists pulled off by two wayward 20-somethings rambling along on a steamy, summer day in New York City. This dog-day crime-romance stages the latter, pairing a lanky Russian kid (Callum Tanner) who ditches his fast-food register job for a one-off thieving gig, with his driver, an aloof strip club waitress (Grace Van Patten) looking for the cash to restart her life. When a briefcase handoff goes awry, the pair head upstate to track down the missing package, where train rides and curbside walks force them to open up. With a laid-back, '70s soul, Tramps is the rare doe-eyed relationship movie where playing third-wheel is a joy.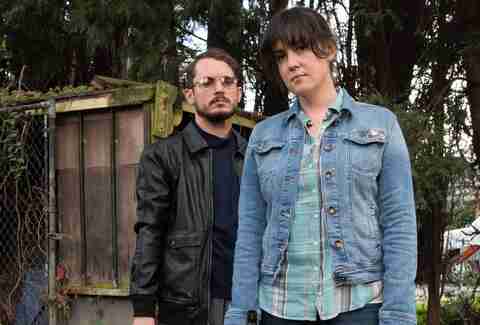 3. I Don't Feel at Home in This World Anymore (2017)
In this maniacal mystery, Ruth (Melanie Lynskey), a nurse, and her rattail-sporting, weapon-obsessed neighbor Tony (Elijah Wood) hunt down a local burglar. Part Cormac McCarthy thriller, part wacky, Will Ferrell-esque comedy, I Don't Feel at Home in This World Anymore is a cathartic neo-noir about everyday troubles. Director Macon Blair's not the first person to find existential enlightenment at the end of an amateur detective tale, but he might be the first to piece one together from cussing octogenarians, ninja stars, Google montages, gallons of Big Red soda, upper-deckers, friendly raccoons, exploding body parts, and the idiocy of humanity.
2. The Meyerowitz Stories (2017)
After releasing three of his original comedies in the last two years -- Ridiculous Six, The Do-Over, and Sandy Wexler -- Netflix has finally stumbled on a really good Adam Sandler movie. Like Punch-Drunk Love and Funny People before it, this Noah Baumbach-directed effort is a deviation from the star's usual Happy Madison fare, but it understands what's funny, charming, and potentially alienating about his persona. (He even gets to sing silly songs on the piano at one point.) Along with Dustin Hoffman, Ben Stiller, Emma Thompson, and the very sharp Elizabeth Marvel, Sandler plays a member of the Meyerowitz family, a uniquely miserable group of people united by their thinly veiled resentment towards one another. Splitting the difference between the caustic misanthropy of The Squid and the Whale and the freewheeling absurdity of his recent Greta Gerwig film, Mistress America, the movie finds both Baumbach and Sandler at the peak of their powers.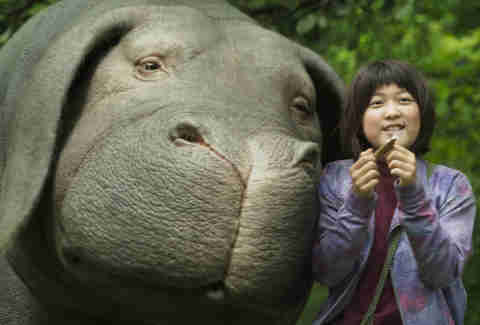 1. Okja (2017)
This wild ride, part action heist, part Miyazaki-like travelogue, and part scathing satire, is fueled by fairy tale whimsy -- but the Grimm kind, where there are smiles and spilled blood. Ahn Seo-hyun plays Mija, the young keeper of a "super-pig," bred by a food manufacturer to be the next step in human-consumption evolution. When the corporate overlords come for her roly-poly pal, Mija hightails it from the farm to the big city to break him out, crossing environmental terrorists, a zany Steve Irwin-type (Gyllenhaal), and the icy psychos at the top of the food chain (including Swinton's childlike CEO) along the way. Okja won't pluck your heartstrings like E.T, but there's grandeur in its frenzy, and the film's cross-species friendship will strike up every other emotion with its empathetic, eco-friendly, and eccentric observations.
Sign up here for our daily Thrillist email and subscribe here for our YouTube channel to get your fix of the best in food/drink/fun.