The 10 Best Netflix Movies of 2019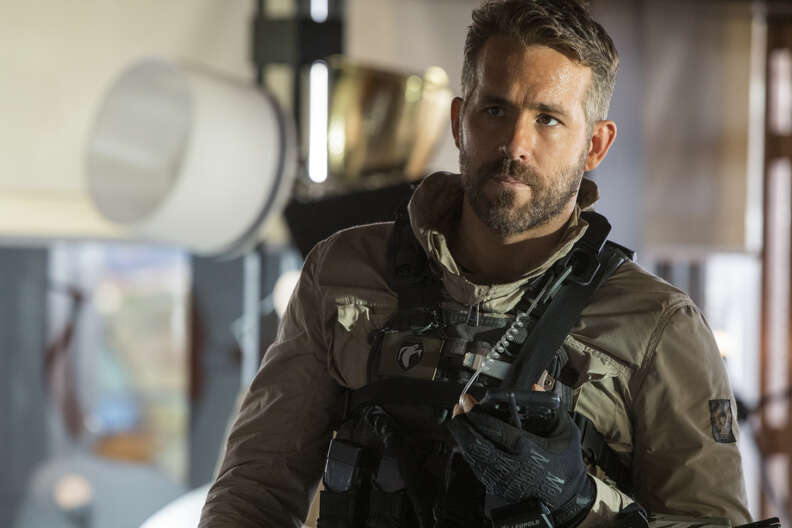 Every year, Netflix's catalog of original movies gets a little bit bigger, and -- fortunately -- a lot better. Thanks in part to a genuine Oscar contender from Martin Scorsese (The Irishman), Netflix built on last year's critical darling Roma to show it's willing to put the time and money (mostly money) into becoming a powerhouse production studio as capable of winning awards as it is capturing eyeballs.
All that means there were dozens of new Netflix original films in 2019, and many of them were actually decent! Some were even pretty great! Of the 74 original comedies and dramas Netflix released this year, which 10 rose above the rest to qualify as the best? We refrained from considering documentaries just to keep our sanity, but there are plenty of great ones on the streaming service.
Check out the best movies of 2019, the best Netflix movies of 2018, the best TV shows of 2019, and the best albums of 2019.
Michael Bay's Netflix-funded action extravaganza opens with a 20-minute car chase through the streets (and museums) of Florence that includes an annoyed nun giving our heroes the finger, a group of cute puppies running in slow-motion, and Dave Franco yelling "fuck" at the top of his lungs while repeatedly almost crashing into pedestrians. Before that, Ryan Reynolds, playing a tech billionaire who made his money with "magnets," fakes his death in a plane while wearing a helmet with a Red Bull logo on in it. That should give you a sense of what you're dealing with here. Every aspect of this globe-trotting adventure team-up, from its gleefully silly libertarian politics to its sadistically gross splatter effects, feels designed as an affront to collective notions of "good" taste. No longer reigned in by the relative limitations of the Transformers franchise, Bay leans into his most obnoxious tendencies here, giving 6 Underground a crude type of artistic integrity that's become all too rare in blockbuster filmmaking.
The Perfection, Netflix's self-consciously sleazy genre provocation starring Allison Williams as a former child cello prodigy out for revenge, is like a cinematic endurance test. Grossed out by the creepy bug effects and horrifying depictions of self-mutilation? Keep streaming. For some viewers, the act of surviving each grisly twist and body horror scare in this thriller from Richard Shepard will be its own reward, because as shocking as this derailed story of vengeance from one deranged classic musician onto another is, that's all part of its sick fun.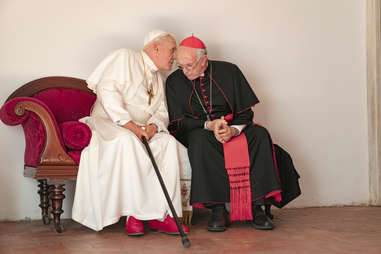 8. The Two Popes
Fernando Meirelles' The Two Popes, about conversations between Pope Benedict XVI and the future Pope Francis, will win you over thanks largely to the performances of Anthony Hopkins and Jonathan Pryce as the titular Bishops of Rome. The two elderly actors are at their peaks as these ideologically different men of the cloth, but Andrew McCarten's script is less about bickering than it is about shared faith and sin, while also being incredibly playful. Who knows if Benedict and Francis actually had charming discussions about The Beatles, pizza, and the Austrian TV show about a crime-solving dog called (Kommissar Rex), but The Two Popes imagines they do. That isn't to say the film ignores the controversial topics orbiting its protagonists, though it is certainly not a condemnation of the Catholic church by any means. Focused more on the Argentinean-born Francis, née Jorge Mario Bergoglio, than Benedict, The Two Popes finds time for lengthy flashbacks of Bergolio's pre-papal life in South America. While these sequences are well done, any time the film strays from Pryce and Hopkins, it slows down. But with a careful touch, Meirelles and his two popes bring humanity to the inscrutably holy figureheads.
A loose adaptation of Academy Award nominee Guillaume Laurant's (Amelie) 2006 novel, Happy Hand, I Lost My Body is perhaps the most unodorothox and surreal animated feature of the year. In short, this French film is about a severed hand attempting to reunite with the rest of its body, but it's more a meditation on humanity and wholeness than it is a gross-out horror film. Netflix acquired the movie after it premiered at the prestigious Cannes Film Festival to critical acclaim, and it's another sign that the streaming giant's creative ambition will push it into exciting new territory.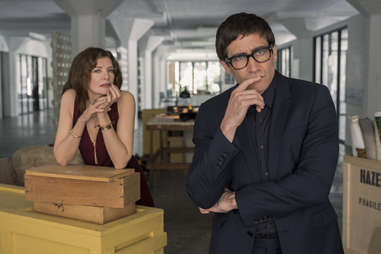 Netflix's "ludicrously fun and gory art-world satire" sees director and screenwriter Dan Gilroy (Nightcrawler) team up with Jake Gyllenhaal in a thriller that rips apart the effete Los Angeles art world. While pricey auctions and pretentious collectors are relatively low-hanging fruit, Gilroy, Gyllenhaal, and Rene Russo bring a fast-paced humor that makes the plot -- an outsider artist's haunted work starts killing people -- more tolerable than you might think. Oh, and names like Morf, Rhodora, and Ventril elevate the film's self-aware kitschiness, which makes the satire even more cutting.
Rarely do filmmakers approach the topic of moviemaking with the combination of unbridled joy and punchy humor as Dolemite Is My Name, an endearingly sweet biopic about multi-talented comedian and independent film producer Rudy Ray Moore. As played by Eddie Murphy, Moore displays a savviness for noticing an opening in the 1970s entertainment market -- early on, he exists a screening of The Front Page and observes that it's got "no titties, no funny, and no kung-fu" -- and then creating the exact type of product he'd like to see. That means plenty of nudity, jokes, and, yes, some over-the-top kung-fu. In its brisk runtime, Dolemite Is My Name shows Moore solving a series of technical, economic, and artistic challenges: dealing with an egocentric director (a hilarious Wesley Snipes), securing financing to pay an inexperienced crew, and, finally, acquiring a distributor for the project he poured his life into. Like they did with 1994's Hollywood outsider character portrait Ed Wood, screenwriters Scott Alexander and Larry Karaszewski pack the story with charming period details and fascinating bits of pop culture trivia, which director Craig Brewer's camera carefully glides over, but the movie belongs to Murphy, who moves through each scene with total command of his craft.
4. Atlantics
In Atlantics, the entrancing debut feature from Senegalese-French filmmaker Mati Diop, a debt must be paid. To construct a large glass tower in the coastal city of Dakar, an unscrupulous construction manager leans on his employees and refuses to provide the backpay they are owed. One of the workers, a young man named Souleiman (Ibrahima Traoré), is in love with Ada (Mama Bineta Sané), a young woman engaged to a rich family's obnoxious, preening son. After establishing the tricky dynamics of this relationship, Diop's story takes a number of startling turns, introducing supernatural elements and a noir-like detective subplot. As the events unfold, often in engrossingly shot and exquisitely paced night sequences, the movie retains an ethereal quality that unsettles the imagination. Rather than providing conventional dramatic catharsis, Atlantics mimics the rhythms of the ocean, drawing in the viewer with each new wave of tension.
The "game on top of the game" is the true subject of this dazzling, head-scratching inversion of the sports movie from the stylistically restless director Steven Soderbergh and Moonlight writer Tarell Alvin McCraney. Instead of locker-room huddles and buzzer-beater shots, this is a story of modern athletics stripped of all the highlight footage: Ray Burke (Holland) is a sports agent representing a young basketball client in the midst of a league lockout. A weary maverick with an eye for the bigger picture, Burke needs to save his job, serve his client, and possibly "disrupt" an organization with a history of mistreating its clients. A hybrid of Jerry Maguire-like behind the scenes drama and Moneyball-esque wonkery, High Flying Bird will be an odd hang for some -- characters trade lengthy monologues, real-life NBA players show up for documentary interludes, and, like Soderbergh's recent health care thriller Unsane, the whole movie was shot on an iPhone -- but it's worth putting the time in and thinking your way through. Few filmmakers are playing the game at this level.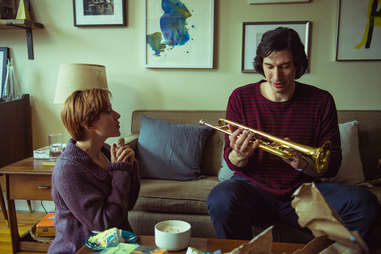 Returning to the topic of 2005's caustic comedy The Squid and the Whale, which tracked the fallout of a divorce from the perspective of children, writer and director Noah Baumbach again finds laughter and pain in the often excruciating personal details of ending a relationship. This time, the bickering couple -- a Brooklyn-dwelling actress and a theater director played with tenderness and anger by Scarlett Johansson and Adam Driver -- takes center stage. Instead of watching the two fall in and out of love, the story opens with the separation already in motion, allowing Baumbach to focus on the soul-sucking, money-draining legal shitstorm that follows. While Driver and Johansson are both excellent in tricky, emotionally demanding roles, some of the sharpest moments come courtesy of their attorneys, collaborators, and extended families. (Laura Dern and Alan Alda have rightfully earned praise for their parts, but I'd watch Ray Liotta's gruff divorce expert in his own spin-off.) In showing how divorce ripples outward, Marriage Story complicates its own simple premise as it progresses.
Opening with a tracking shot through the halls of a drab nursing home, where we meet a feeble old man telling tall tales from his wheelchair, The Irishman delights in undercutting its own grandiosity. All the pageantry a $150 million check from Netflix can buy -- the digital de-aging effects, the massive crowd scenes, the shiny rings passed between men -- is on full display. Everything looks tremendous. But, like with 2013's The Wolf of Wall Street, the characters can't escape the fundamental spiritual emptiness of their pursuits. In telling the story of Frank Sheeran (Robert De Niro), a World War II veteran and truck driver turned mob enforcer and friend to labor leader Jimmy Hoffa (Al Pacino), director Martin Scorsese and screenwriter Steven Zaillian construct an underworld-set counter-narrative of late 20th century American life. With an eye on the clock and a foot in the grave, the movie is profoundly fixated on death, even introducing select side characters with onscreen text that notes the circumstances of their eventual demise. (The Irishman can be darkly, wickedly funny when it's not devastatingly sad.) That stark awareness of mortality, an understanding that's cleverly reflected in the film's quasi-road-movie flashback structure, distinguishes it from Scorsese's more outwardly frenetic gangster epics like Goodfellas and Casino, which also starred De Niro and Pesci, who gives the movie's most surprising performance here. Even with a 209 minute runtime, every second counts.
Need help finding something to watch? Sign up here for our weekly Streamail newsletter to get streaming recommendations delivered straight to your inbox.