The Best Netflix Original Movies of 2020 (So Far)
Here are the ones actually worth your time.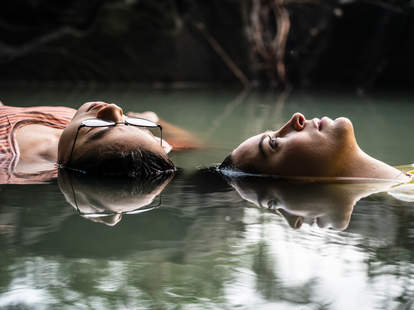 Netflix is banking on its original TV shows and movies to keep you hooked on the service, which is why the streamer is investing more than $17 billion this year to produce its massive slate of originals. We all know that the milage of these vary wildly, but Netflix has been dedicated to upping the quality of its movies over the past few years, with titles like Martin Scorsese's The Irishman, Noah Baumbach's Marriage Story, and Alfonso Cuarón's Roma, to name just a few. But which of Netflix's films are this year's essential watches? We'll be watching as many of the streamer's new movies as we can possible tolerate as the year draws on to confidently declare: These are the very best Netflix original movies of 2020.
Looking for even MORE movies? Check out our favorite movies of 2020 so far, and our favorite Netflix original movies from 2019.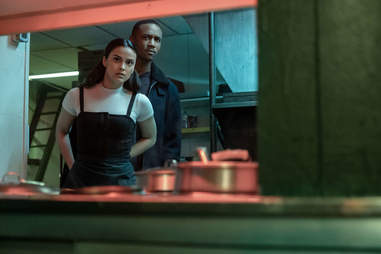 Netflix
9. Dangerous Lies
The first thing you'll notice about Dangerous Lies, a ridiculous thriller starring Riverdale's Camila Mendes, is the obviousness of the title. At least in the context of movies, aren't most lies inherently dangerous? Honestly, Safe Lies would have been more intriguing. But beyond the title, by flipping expectations around the "evil husband" trope, this entry is at least better than the similarly goofy Secret Obsession, the previous attempt by Netflix to encroach on Lifetime's corner. On the whole, the movie has a visual slickness, courtesy of director Michael Scott, that makes it look better than some of the shoddier mysteries in the "woman in peril" genre, and the script throws out enough bizarre details to keep you guessing about how the pieces will click together. The fact that some of the pieces simply don't click together shouldn't be too surprising. After all, you're watching a movie called Dangerous Lies.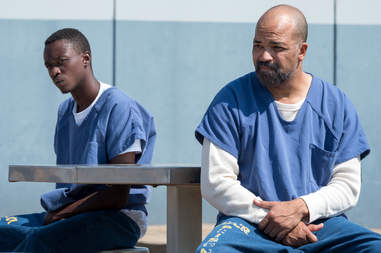 Netflix
8. All Day and a Night
Soft-spoken and observant, Ashton Sanders, who viewers might recognize from the Oscar-winning Moonlight, Hulu's hip-hop docudrama Wu-Tang: An American Saga, and HBO's underseen Native Son adaptation, brings a quiet intensity to any role he chooses to play. In All Day and a Night, a Netflix crime drama that toggles between three separate periods in the life of a troubled young man growing up in Oakland, Sanders elevates an occasionally plodding tale of bloodshed and ambition. The script from Black Panther co-writer Joe Robert Cole, who also directed the film, has a convoluted flashback structure that often undermines the thematic potency of the material. (The movie feels particularly indebted to more strikingly original '90s movies like the Hughes Brothers' Menace II Society.) Still, Sanders, along with cast members like Jeffrey Wright, Regina Taylor, and the magnetic Yahya Abdul-Mateen II, make this compelling enough despite the plodding pace.
netflix
7. Lost Girls
Documentarian Liz Garbus makes her narrative feature debut with this real life story based on a deeply reported book by Robert Kolker about the mystery surrounding a series of murders on Long Island. At the center of her narrative is Amy Ryan as Mari Gilbert, the ferocious mother of a young woman who disappeared. As Mari, Ryan is fiercely guarded but is drawn into a movement when she realizes her plight is being ignored because her daughter was a sex worker. At times, the film flattens into a routine procedural, but Ryan's anger is palpable and she's matched by strong performances from Lola Kirke and Miriam Shor.
Netflix
6. Extraction
Tossing aside Thor's massive hammer and trimming his gnarly Avengers: Endgame beard, Chris Hemsworth picks up an assault rifle and gets to work in Extraction, a new Netflix shoot-em-up that re-teams the Australian actor with his former Marvel filmmaking buddies Joe and Anthony Russo. While Hemsworth's gun-toting commando protagonist Tyler Rake -- yes, that's his name -- lacks comic-book superpowers and Norse god strength, he can take a beating and keep fighting. At one point in the film's big show-stopping chase sequence, Rake gets slammed by a speeding car. His solution? Locate a bigger vehicle, preferably a large truck, and hit the bad guy back. That type of strategic thinking should give you a sense of Rake's tactical prowess and of the movie's blunt-force approach to action filmmaking.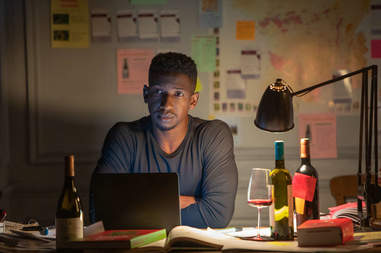 Netflix
5. Uncorked
It's been a while now since the wine world had a worthy feature film. Sideways, released in 2004 and set in picturesque Santa Barbara wine country, made us rethink how wine is viewed, and even caused merlot to tank based on one line in the movie. Whether Netflix's Uncorked, will have the same impact remains to be seen, but it has some elements that should age well. It's set in Memphis, Tennessee, for one thing, a place not necessarily regarded as a wine hot spot, but the movie shows how wine can change the trajectory of your life in a single bottle. Uncorked centers on the relationship of young Elijah Bruener, played brilliantly by Mamoudou Athie (The Get Down, Sorry for Your Loss), and Louis Bruener, the stoic, hard-to-please dad played by the legendary actor Courtney B. Vance. By showcasing not only what goes into becoming a sommelier, but how wine can be the catalyst for bigger dreams, producing powerhouse Prentice Penny (best known for Issa Rae's Insecure), in his directorial debut, has made a wine movie we didn't know we needed.
Netflix
4. Horse Girl
As far as titles go, Horse Girl is a bit of a misdirect. Horse Girl sounds a bit precious, maybe even a touch unhinged, only in a quirky way. But this movie, which stars GLOW's Alison Brie, has more in common with the Peter Shaffer play Equus than any other equine-related material in that it's not really about horses but rather human psychosis. Directed by Jeff Baena, who co-wrote it with Brie, Horse Girl is about a woman named Sarah, who is experiencing a mental break that toys with her sense of reality, and it builds to an intentionally ambiguous conclusion that is nonetheless rattling. For the first three quarters of the film, Brie plays someone fighting against herself. By the end, she exhibits an unsettling serenity, having embraced the theories that once disturbed her. Is this liberation for Sarah? Or is she lost, giving over to her disease? Horse Girl doesn't answer these questions; it wants to leave you in the discomfort of not knowing.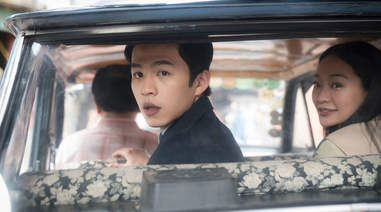 Netflix
3. Tigertail
Master of None co-creator Alan Yang makes his directorial feature debut, in which he loosely adapts his own father's life. It's a tight film that's still epic in scale as it follows a man named Pin-Jui from his childhood as a young boy in Taiwan into his middle age in America. Yang jumps back and forth in time, as the present-day Pin-Jui (played in a wonderful, understated performance by Tzi Ma) reflects on his past. It's a tricky balancing act. The scenes of his life as a young adult as he bonds with his first love are flush with color, which fades as he settles into the rhythms of a passionless marriage in New York. At times Tigertail can feel like a condensed version of a much longer saga, and indeed that was sort of the case as Yang whittled down a draft that was more than 200 pages. Still, Yang has crafted a vivid tale about the immigrant experience, regret, and the bonds between generations.
Netflix
2. The Half of It
"This is not a love story," the heroine of The Half of It says at the outset of the movie. It's one of those things teens tend to say, but it's hard to believe, especially given that the movie is streaming on Netflix, which has become known in recent years as a teen rom-com factory where saccharine romance reigns. But Alice Wu's The Half of It is truly not a love story, which makes it all the better. By the end of the film, no one has "gotten the girl" and there's no coupling up. Each of the three main characters goes their separate ways. It's not an upsetting conclusion, but it doesn't spoon-feed its audience a classic happy ending, opting for something more honest along the way.
David Lee/Netflix
1. Da 5 Bloods
Exploding with historical references, directorial flourishes, and flashes of combat action, Spike Lee's winningly spry war epic Da 5 Bloods is a movie that embraces the inherent messiness of its subject matter. At first, the story sounds simple enough: four elderly Black veterans, each with their own personal trials and tribulations, return to Vietnam to recover the remains of their beloved squad leader Norman (Chadwick Boseman) and search for a shipment of gold they buried in the jungle decades ago. But Lee, pushing the movie in sharply funny and emotionally fraught directions depending on the demands of the scenes, refuses to approach the Treasure of the Sierra Madre-like set-up in a straight-forward manner. Instead, the movie pings between the MAGA-hat speckled present and the bullet-ridden past, using his older actors in the flashbacks as their younger selves to underline the inherent strangeness of time's passage. While some of the detours might test your patience, particularly once the men discover the gold and start arguing over what to do with it, the powerful ending, which becomes a moving showcase for the great Delroy Lindo, makes this a long journey worth embarking on.
Need help finding something to watch? Sign up here for our weekly Streamail newsletter to get streaming recommendations delivered straight to your inbox.