The 10 Best New Netflix TV Shows of 2020
Here are the most worthy debuts from a very busy year for Netflix.
Netflix cranks out a lot of original content. Every year, the streaming giant invests billions of dollars to roll out dozens of new original series and movies, but not every release can be a bona fide hit like Stranger Things or have the star power of a show like Ozark. There may be a lot of nonsense in the mix, but there's a lot of good stuff, too. You just need to know what's worth settling in for. in addition to many Netflix original movies released in 2020, we watched every new Netflix original show on offer to determine what belongs on this year's top 10 list.
Note that we're only considering scripted originals, so you won't find reality shows (like Cheer), docuseries (like Tiger King), or co-productions that aired in other territories first (such as Feel Good). And remember, this list is just for new shows; returning Netflix favorites can be found on our broader list of the Best TV Shows of 2020.
Looking for even more Netflix recommendations? Check out our 2021 Netflix preview and our ranking of the 50 Best Netflix Original Shows Ever.
Curtis Baker/Netflix
10. Outer Banks
Drama. 10 episodes.
Centuries of colonization, wars, and storms means there are tons of shipwrecks in the waters off the East Coast just waiting for enterprising SCUBA divers to stumble across them. It's one of these ships, laden with gold, that's at the center of this teen drama series, which follows a group of high-school kids hunting for sunken treasure, while also trying to solve a mystery about one of the friends' missing father. Mostly due to the constantly evolving plot,
Outer Banks
' 10 episodes
move at a rapid clip, including a very fun fight onboard a fishing boat in a later episode where people are shooting harpoons and flailing at each other with enormous hooks, until the exciting final act. The subtext of it all—in finding the treasure and making themselves rich, aren't the central characters becoming the thing they disdain the most?—is itself a worthwhile pursuit, but for now it's more focused on turning a summery archipelago into a den of thieves. Fine by us! Let's just hope
Season 2
actually takes us to the Outer Banks.
Amanda Matlovich/Netflix
9. Self Made: Inspired By the Life of Madam C. J. Walker
Miniseries. 4 episodes.
Self Made
brings Madam C. J. Walker's life as a savvy businesswoman, whose sharp instincts turned her into the first Black woman millionaire in the United States and grew a hair-care empire, to the screen. Though the story has been fictionalized here,
Self Made
drew inspiration from a biography of Madam C. J. Walker, aka Sarah Breedlove, written by journalist A'Leia Bundles, Breedlove's own great-great-granddaughter. Over just four episodes, Octavia Spencer stars as Sarah, beginning with the earliest days of her start-up hair line and ends with her triumphant legacy, as she moves through the world, her rivalry with (the composite character) Addie Monroe (Carmen Ejogo), her struggles with her husband (Blair Underwood) uncomfortable with her success, and her relationship with her bisexual daughter Lelia (Tiffany Haddish). The series also shines a light on the rich history of Black beauty culture during the 19th century, and cuts in fantasy sequences to bring Sarah's vision to life. Though it's not perfect—specifically, the issue of colorism in the tension between Madam CJ and Addie Monroe—
Self Made
is a vital story in depicting Black life in a post-slavery, pre-Civil Rights movement era that's not often seen on TV.
Netflix
8. The Midnight Gospel
Animated series. 8 episodes.
Within a mere eight episodes,
The Midnight Gospel
makes one thing abundantly clear: There's adult animation, and there's
The Midnight Gospel
. The brainchild of
Adventure Time
creator Pendleton Ward and Duncan Trussell, comedian and host of
The Duncan Trussell Family Hour
podcast,
The Midnight Gospel
is an eclectic middle ground between conversational podcast and metaphysical cartoon to engage in a rich blend of outlandish animated capers and crucial perspectives on navigating one's existence. Grounded in an otherworldly dimension called the Chromatic Ribbon, the show is centered around Clancy (voiced, admirably, by Trussell), who uses a vagina-resembling multidimensional simulator to visit worlds facing unique apocalyptic threats and interview the beings there for his pod—er, spacecast,
The Midnight Gospel
. Clancy's journey as a spacecaster materializes as audio clips extracted from
The Duncan Trussell Family Hour
are weaved into Ward's art, with real-life guests, like Dr. Drew Pinsky, comedian Maria Bamford, spiritualist Ram Dass, and others, reimagined as other life forms throughout the multiverse. Thus, some of the most thought-provoking television dialogue of 2020 is found in
The Midnight Gospel
—they're just tucked into preposterous scenarios, but there's always an intentionality to its absurdity, making this one of the most interesting (and underrated) shows of the year.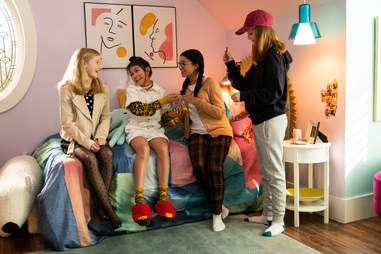 Netflix
7. The Baby-Sitters Club
Comedy. 10 episodes.
This savvy 21st-century reboot of the popular middle-grade book series by GLOW writer Rachel Shukert managed to find a happy medium between indulging millennial nostalgia for Ann M. Martin's characters and introducing them to a new generation more attuned to the nuances of identity that come with self-discovery. It's funny, sweet, and will also destroy your tear ducts with moments like when Claudia Kishi learns of her grandmother's internment and Mary Anne sticks up for a young trans girl in her care. Plus, you don't have to be a tween to envy Claudia's incredible wardrobe.
Netflix
6. The Haunting of Bly Manor
Anthology series. 10 episodes.
The Haunting of Hill House
, horror auteur Mike Flanagan's well-regarded 2018 Netflix miniseries, unearthed the roots of a family's trauma using the very spirits that haunted them as children in a mansion that was like flypaper for people's souls. Compared to that season,
the second installment
of what has become an anthology show with many of the same actors playing unconnected characters is barely frightening at all. But that's far from a criticism. There are plenty of ghosts in Bly Manor, based on Henry James' gothic mystery novel
The Turn of the Screw
, in which a governess comes to believe that her two young charges are being possessed by the ghosts of two lovers who had died on the grounds before she arrived, but the show spends less time on crafting its (very effective) scares and more on exploring what force could possibly be powerful enough to turn a dead person into a ghost. Death is a tragedy; a soul unable to move on even more so.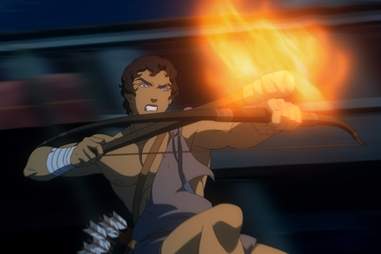 Netflix
5. Blood of Zeus
Anime. 8 episodes.
Netflix, for years now, has been ramping up its original and co-produced anime, and this anime-style series (it was made by a Texas-based studio, thus not technically anime) Blood of Zeus, about feuding Greek gods, is an excellent case for the streaming service to invest in more animated series geared toward adults, because make no mistake: This is no kiddie show, evidenced by the multitude of graphic beheadings within the opening 30 seconds. Blood and violence aren't the only tricks up its sleeve though; the melodrama among the heavens is soap-opera worthy, presenting Zeus as a textually accurate horny dude who could not keep it in his pants. Here, his affair with a mortal woman births Heron, a boy destined to save the world from returning evil that had been dormant for hundreds of years. The resulting action sequences are extremely badass, and chipping in are classic Greek gods, like Apollo, Hera, and Hermes, the animated imagining of their inhuman powers shining in this format. Uncharacteristically short, Blood of Zeus is a Netflix original you should absolutely not overlook.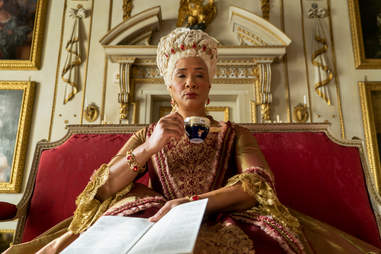 Netflix
4. Bridgerton
Drama. 10 episodes.
Bridgerton
, which is the first show released on Netflix produced by Shonda Rhimes after her headline-making exclusive deal with the company, is set in the early-1800s period known as the Regency, during the Austen-Brontë stretch of time when English society's structure was rigid, corsets were tight, and marriage was the Number One priority of any woman considered of age. In other words, it's about hot characters doing scandalous things, just what Shondaland fans have come to expect.
Lara Solanki/Netflix
3. Never Have I Ever
Comedy. 10 episodes.
Mindy Kaling and co-creator Lang Fisher pull off a delicate but ultimately worthwhile balancing act with their teen comedy
Never Have I Ever
. The show is an exploration of its heroine Devi's grief while also excelling as a sweet and goofy teen romance with plenty of boy drama to debate. Narrated with a hefty dose of absurdism by tennis great John McEnroe and starring the previously unknown Maitreyi Ramakrishnan,
Never Have I Ever
follows Devi as she attempts to change her social status at school, even as she bats back the lingering sadness from the unexpected death of her father. It blends
Freaks and Geeks
and
The Mindy Project
, and
Season 2
can't arrive soon enough.
Anika Molnar/Netflix
2. Unorthodox
Miniseries. 4 episodes.
This limited series, based on a memoir by Deborah Feldman, was one of the biggest surprises Netflix unveiled this year. In four lovely episodes, it tells the story of Esty, a young woman who was raised in the Satmar community of Hasidic Jews in Brooklyn. The narrative jumps back and forth in time to chart her path to an unhappy marriage and subsequent escape from her restricted world to Berlin. In Germany, she falls in with a crowd of musicians and charts a life for herself independent of her past. Anchored by an incredible performance from Shira Haas,
Unorthodox
is one of the most spiritually fulfilling programs the streaming service has to offer.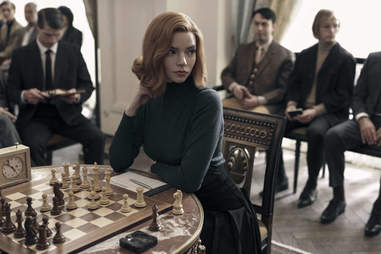 Netflix
1. The Queen's Gambit
Miniseries. 7 episodes.
The runaway popularity of
The Queen's Gambit
, a seven-episode miniseries about a young girl who gets really good at playing chess against a bunch of boys, is only surprising if you haven't already seen it. Adapted from Walter Tevis' 1983 novel of the same name by writer-director by Scott Frank (Netflix's
Godless
), the show is a dark, intense exploration of the minds of obsessives, addicts, and strategic geniuses, as well as a fascinating foray into the cutthroat world of 20th-century professional chess. The story, in which precocious orphan Beth Harmon (Anya Taylor-Joy) transforms into a world-famous master of her craft, is as exhilarating as it is, at times, deeply tragic, and turns an unflinching eye on what happens when nurturing a childhood talent becomes feeding an endless desire to win at all costs.
Need help finding something to watch? Sign up here for our weekly Streamail newsletter to get streaming recommendations delivered straight to your inbox.