The 10 Best Netflix Shows of 2019
Like the universe that holds all of known existence, Netflix continues to expand at increasing rates. Since the streaming platform debuted its first in-house series (House of Cards) in 2013, it's produced hundreds of original movies and shows in-house, to mixed results. After spending billions of dollars on new series, though, the company has seen its investment pay off in the form of popularity and critical acclaim. 
But which shows stood out among the best Netflix had to offer in 2019? We looked at brand-new series, as well as shows that dropped a new season in the preceding year, to determine the 10 best. Per our usual standard, we omitted Netflix "originals" that are coproductions (The End of the F***ing World) and shows that began life on another network (YOU). 
Check out the 10 best Netflix movies of 2019, the best TV shows of 2019, and the best movies of 2019. 
Netflix
10. The Witcher
You might not believe that The Witcher is a show on Netflix that you can actually watch 10 episodes of, right now. Based on the books that inspired the video game series, The Witcher stars Henry Cavill, Superman himself, as Geralt of Rivia, a magical mutant "Witcher" who hunts stuff and drinks lots of potions and grunts "hm" often. There are also other characters, arguably too many, but really, the one to know is Geralt. It's confusing, yes, and it leaves a lot of questions lingering for Season 2, but no Netflix show better captured the weird, jumbled mess of energy that was 2019. Also, it features the best song ever included on a Netflix show.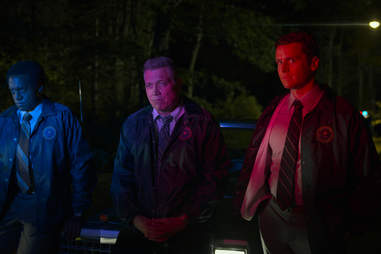 Netflix
9. Mindhunter Season 2
Mindhunter, the David Fincher-helmed series that invents a new way to depict familiar stories of serial killers, got even more nuanced and tense in its brilliant second season. The show's core triad of self-assured FBI wunderkind Holden Ford (Jonathan Groff); Bill Tench (Holt McCallany), Holden's mentor and babysitter; and psychologist-turned-consultant Dr. Wendy Carr (Anna Torv) attempt to establish a division of the Bureau tasked with solving a "new kind of crime" that lacks what most law enforcers think of as rational motives. In short, they're inventing what will become the famous "FBI profiler" department, responsible for ferreting out criminal sociopaths. Over two seasons, Mindhunter has balanced tense jailhouse interview scenes with conventions of cop thrillers in a delicate, tautly directed depiction of life at humanity's extreme fringes. It's the rare show that's both bingeable and deliberate, smart yet entertaining. With any luck, we'll get five whole seasons of it. 
Netflix
8. Love, Death & Robots
There's a certain artistry to making entertaining, effective, and imaginative short films, and Netflix's new animated series Love, Death & Robots blends all three of those strengths with some really crazy sci-fi. The title pretty much says it all: every episode will have elements of love (read: sex -- the show is very rated R), death, and/or robots, and sometimes a combination of all three. From a tourist party of androids traipsing through a post-apocalyptic Earth, to a monster fighting ring where the monsters are powered by human minds, to an ancient civilization thriving in a couple's refrigerator, to a beautiful fable about an artist in the future who only paints using one shade of blue, Love, Death & Robots is a multifaceted collection of some of the most exhilarating and inventive storytelling out there.
 
Netflix
Creator Laurie Nunn's British teen dramedy about Otis (Asa Butterfield), the son of a sex therapist who somewhat unwittingly parlays his secondhand sexual knowledge into a successful business counseling fellow students, took Netflix subscribers by storm when it premiered in January 2019. A cast anchored by Butterfield, Emma Mackey (who plays Maeve), and Gillian Anderson (as Otis' mom, Jean) adds nuance to a story that could gone low and focused merely on the sex, but opted for a more thoughtful route. The incredible chemistry between all of the cast members and an undeniable John Hughes vibe (think Pretty in Pink) elevate this easily binged show above a sea of mediocre teen angst programs.
Netflix
6. I Think You Should Leave With Tim Robinson
I Think You Should Leave is easily the most bingeable series on Netflix, with just six sketch-based episodes clocking in at fewer than 20 minutes each. It's also really fucking funny. The brilliance of ITYSL comes from its ability to turn mundane, everyday situations -- like a birthday party or sitting on an airplane -- into absurdist masterpieces peppered with poop and fart jokes. The "good steering wheel" guy in the car focus group has become a widespread meme, but that kind of dense, nonsensical humor colors every sketch with a refreshing goofiness that's difficult to find. Where else will you see a guy dressed as a hot dog crash a wiener car into a store, then turn the debacle into a theft mixed with a commentary about watching porn on phones?  
Netflix
Dark, which follows multiple characters from several families in the present, past and future after a teen named Jonas travels through time, will satisfy any discerning sci-fi fan's continual need for philosophical and mind-bending time-travel narratives. The German-language program -- your future self implores you to turn off the horrible dubbing and watch with subtitles -- is even more addictive and convoluted in Season 2, essentially serving as the Back to the Future Part II to Season 1's Back to the Future, only without the hoverboards. It's coming back for a third and final season, which is bittersweet news, but few Netflix shows can achieve the kind of concise resolution Dark looks poised to produce.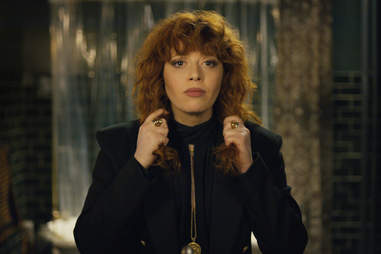 Netflix
It sounds like an episodic spin on Groundhog Day: A cynical New Yorker (Natasha Lyonne) attempts to figure out why she keeps dying and being forced to relive her 36th birthday over and over. Co-executive producers Amy Poehler and Leslye Headland joined Lyonne to make a hit out of one of the sharpest dark comedies of 2019, finally answering the timeless question of what happens if you repeatedly die and repeatedly wake up in an Alphabet City bathroom with a strange door during a party with Harry Nilsson playing. Lyonne's a gas to watch, as she falls down stairwells and cracks wise about her dilemma, but what starts off seeming like a humorous episode of Black Mirror turns into a profound and affecting meditation on trauma.
Netflix
Season 1 of The OA was a wild ride, alternating between hokiness and brilliance in nearly equal measure -- but it was clearly trying something, and that was what made it so bingeable. Season 2, however, is a revelation, and puts The OA in rare company of bonkers TV shows that somehow make sense on an emotional level. Created by Brit Marling and Zal Batmanglij, the filmmakers behind mind-bending thrillers like The Sound of My Voice and The East, the show follows a young blind woman named Prairie Johnson (Marling) who returns to her sleepy hometown with her eyesight mysteriously restored after she disappeared for seven years. Things only get stranger as we ping-pong between her story in the present, which finds her mentoring a group of rowdy teenagers, and flashbacks to her time away, which involves an underground prison run by Jason Isaacs's evil Dr. Hap. Yes, there's interpretive dancing, too. Most of this shouldn't work -- and some of it doesn't -- but Marling and Batmanglij attack this wonky material with so much passion and sincerity that it's hard not to get swept up in their brain-scrambling vision. Despite the rabid fanbase, Netflix ditched the show after Season 2. RIP Old Night.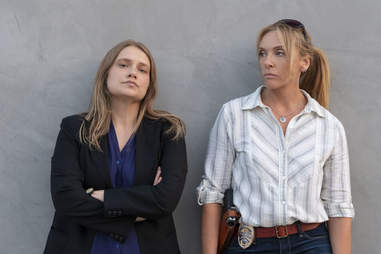 Netflix
Toni Collette and Merritt Wever lead a talented cast in this miniseries that adapts a Pulitzer Prize-winning story about the hunt for a serial rapist and the infuriating police lapses that could have reduced the scale of the crimes. Booksmart breakout Kaitlyn Dever plays Marie Adler, a rape victim who winds up pleading guilty to filing a false police report after authorities doubt what happened to her, allowing her attacker to continue operating in a different state. Throughout its eight episodes, Unbelievable takes an unsentimental approach to the failures of the justice system and the struggle many survivors go through just to get taken seriously; it's one of the more harrowing viewing experiences you'll have on Netlix.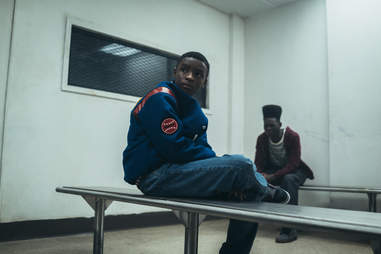 Netflix
1. When They See Us
Given the wide scope of the material, juggling multiple families scrambling to protect the ones they love and a vast grinding legal apparatus attempting to pin a crime on innocent victims, the most impressive aspect of When They See Us, director Ava DuVernay's powerful docudrama about the Central Park Five, is the way it zeroes in on small moments of human anguish, bravery, and cruelty. Focusing on the aftermath of a rape and assault of a female jogger in the park, the miniseries combines the tick-tock storytelling of a true-crime police procedural with a more curious, empathetic eye. Like she did with 2014's Selma, Duvernay, who also co-wrote all four episodes of the series, moves elegantly between tactics-obsessed storytelling and more intimate passages. That sense of purpose -- and the show's relative brevity in comparison to many Netflix shows -- makes it stand out on a platform that often emphasizes comfort at the expense of concision.
Need help finding something to watch? Sign up here for our weekly Streamail newsletter to get streaming recommendations delivered straight to your inbox.