In 2013, Netflix up and changed the TV game, rolling out House of Cards and Orange Is the New Black as its first original series. Just a few years later, "Netflix and chill" has entered the cultural lexicon, competing platforms like Amazon and Hulu have created their own shows, and Netflix has released a new original program on what feels like a weekly basis.
As is the case with good old-fashioned television channels, some Netflix shows are better than others. We took the liberty of ranking them all, except for kids shows, foreign series, miniseries, or nonfiction; and all had to be "true" Netflix originals -- not foreign shows branded as Netflix in the US (sorry, Chewing Gum) or shows that didn't begin life as Netflix originals (apologies to Arrested Development).
Recommended Video
The International Trailer for 'The Last Jedi' May Have Revealed Something Huge
51. Iron Fist
Jessica Henwick is very, very good as the character on Marvel's martial arts show who can actually fight. The rest of Iron Fist can unfortunately be summed up by this taxi cab flip: clumsy, irresponsible, lame. --Sean Fitz-Gerald
52. Fuller House
No attempt was made in the creation of this sequel series to change the formula of the flagship program of ABC's 1989 TGIF programming block. The only differences are now D.J. is the one with kids and a dead spouse; Kimmy Gibbler, Urkel-like succubus, is in every other scene; and all the kids are slowly dying from staring at iPhones. In the premiere episode, John Stamos breaks the fourth wall to make a Mary-Kate and Ashley joke. In the second season, the family dog eats a corn cob and life lessons ensue. This is exactly what you think it is -- and it's not really for us. --Matt Patches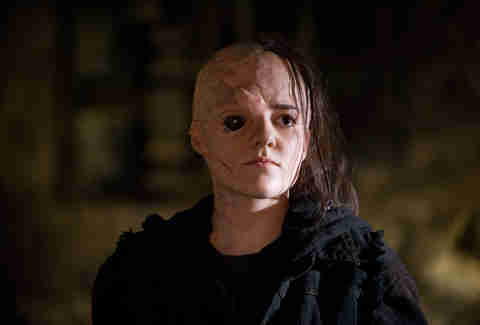 51. Hemlock Grove
This show lasted for three seasons. Three whole seasons. That's more than Freaks and Geeks, My So Called Life, Terriers, and the original run of Twin Peaks. While many cult favorites are canceled too soon, Hemlock Grove is unique for having lasted so long while being so terrible. Based on a novel by Brian McGreevy and produced by horror filmmaker Eli Roth, the series mashes together werewolves and vampires -- or "Upirs" as the characters say -- with lots of sex and violence and not-safe-for-the-CW language, but it fails to match the wit or storytelling velocity of The Vampire Diaries or similar recent supernatural hits. As insane and nonsensical as the plotting gets -- at one point Famke Janssen's matriarch Olivia Godfrey loses her bad British accent after getting her tongue ripped out and sewn back on -- the show's original sin is just being terrifyingly boring. --Dan Jackson
50. Flaked
Pavement's Stephen Malkmus wrote the theme song for this Will Arnett show! Things go downhill from there. At this point we should be wary of shows that rely on the struggle for sobriety to add conflict to the plot, since it's often done as a lazy caricature... but Flaked doesn't really make much effort at all to flesh out its characters, dialogue, or conflict, so the sobriety narrative becomes even more stilted. That the central romance resembles something out of middle school is fitting in this context. Spoiler: The kombucha is not what it seems. --Anthony Schneck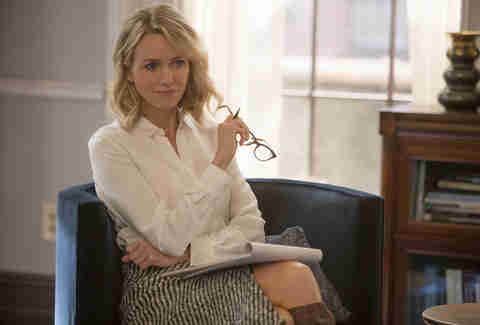 49. Gypsy
Gypsy is a mess. There's nothing we'd rather see than a streamy, mildly ridiculous erotic thriller on Netflix -- imagine a bingeable series version of Diane Lane's Unfaithful -- but this Naomi Watts vehicle, which also stars Billy Crudup in a thankless husband role, struggles to deliver on its somewhat intriguing Breaking Bad meets In Treatment premise. Dr. Jean Holloway (Watts) is a Manhattan therapist who gets entangled in her patients' personal lives in ways that are both unethical and extremely boring. Will she risk her Williams-Sonoma catalog Connecticut home life for an affair with a Brooklyn-dwelling, indie-rock-loving, coffee-hawking young woman named Sidney? Will she get caught? A more important question: Will you make it past the first episode? --DJ
48. Daredevil
Marvel's inaugural Netflix series delivers R-rated superhero fans exactly what they seem to want: brutality, scenes ripped from comic book splash pages, and minimal thoughtfulness. Charlie Cox stars as a blind Hell's Kitchen lawyer who takes a crime insurgence into own hands under the guise of a sleek red devil. Season 1 pits "The Man Without Fear" against Vincent D'Onofrio's Wilson Fisk, a classic villain with emotional tics, while Season 2 adds more characters (The Punisher! Electra!) with shallower motivations (kicking ass! More kicking ass!). Daredevil rides Cox's charisma and chemistry with Rosario Dawson's Claire Temple, which would go a long way if you didn't have to squint to see it -- the show is dark in tone and literal lighting. We appreciate the risk of such brutality. --MP
47. Marco Polo
You look at this thing, and you think, Dang, Netflix did the story of Marco Polo and Kublai Khan with a giant budget? Cool! Then you hit play, and you think, Oh my God, I don't miss falling asleep in my history classes. The show shouldn't be completely written off. But unless you're in love with historical dramas, you might find it a disappointing and plodding saga, one that, as you'll recall, swiftly and rightfully got the axe. --SFG
46. The Ranch
Netflix's commitment to old-fashioned sitcom junk food like The Ranch is endearing. While it's probably tempting to just chase awards with single-camera, auteur-driven comedies like Master of None, they also realize that some people just want to watch Sam Elliott zing Ashton Kutcher with a Red Foreman-level burn. For a show that seems to exist as an excuse for Kutcher to hang out with his That '70s Show pal Danny Masterson, The Ranch is surprisingly boundary-pushing in its own quiet way: The language is coarse, the emotions are real, and the characters, especially Elliott and Debra Winger's, have more depth than you'd expect. It's the rare yuk-fest where the best moments come in between the sound of the laugh-track. That said, with recent accusations made against Masterson, it's unclear if the show will play like it once did... or even return for future seasons. --DJ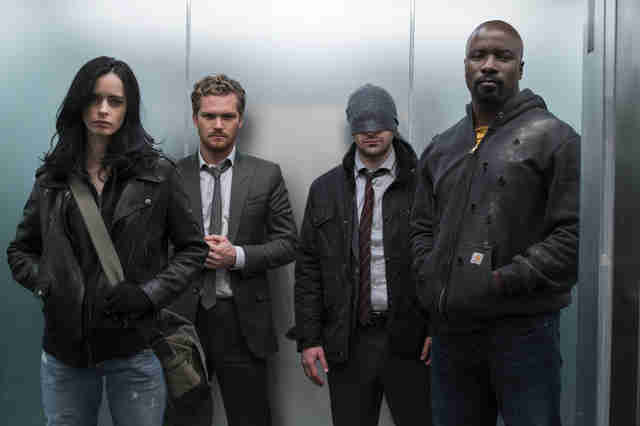 45. The Defenders
This eight episode team-up limited series brought together the Marvel Heroes from the streaming company's stable. After Iron Fist introduced Danny Rand to the Netflix/Marvel Universe in the franchises' weakest installment, The Defenders doubled down on the white guy from Kun'Lun and his immortal enemies The Hand. The Defenders slams Jessica Jones, Matt Murdock (Daredevil), and Luke Cage into the mix and lets the leads play around with side characters from the Daredevil series, like Elektra and Stick who both have just as much to do as one-off villain Sigourney Weaver who brings as much drama to the leadership of The Hand as possible. Like all Netflix superhero series, the middle of the season lags as characters are unnecessarily held back from their goal simply to burn time, but The Defenders delivered two worthwhile actions scenes with upwards of four developed characters involved the two times it decided to climax. An interesting conclusion to the Marvel streaming shows, but not a satisfying series on its own. -- Dave Gonzales
44. Disjointed
The cast, especially Kathy Bates, is fantastic. So is the general premise. Unfortunately, as it unspools, it thrums with the corniness and energy of a broadcast sitcom with F-bombs. You'll feel like you're watching reruns of a show you've never seen before, which makes sense given it comes from Chuck Lorre, the mastermind behind Two and a Half Men and The Big Bang Theory. It even has a fucking laugh track -- a quick turn-off for some. But if you can stomach Disjointed's surface-level foibles, you're in for some beautifully strange treats: animated PTSD flashbacks, zany meta-webseries, and tremendous commercial parodies among them. --SFG
43. Santa Clarita Diet
The latest from Better Off Ted creator Victor Fresco gives the typical suburban family an undead twist. Unlike most shows about the struggle of surviving with zombies, Santa Clarita Diet is set up like a typical sitcom, with Drew Barrymore as the flesh-hungering monster and her husband (Timothy Olyphant) as a tireless zombie-pleaser trying to placate her in Little Shop of Horrors-like fashion. A 30-minute format establishes a laid-back pace with quirky jokes and an excessive amount of gore. Not for the weak-stomached. --Evan Lockhart
42. Haters Back Off!
Not bingeworthy, but definitely a must-watch, Haters Back Off! gives web celebrity Miranda Sings the show she's wanted and deserved for years. You'll laugh, cringe, and maybe cry, as Colleen Ballinger's viral YouTube character strives for fame at all costs. Also, shout-out to Angela Kinsey, who's great as a bad mom. --SFG
41. Castlevania
Adapted from Konami's 30-year-old video-game franchise by revered comic writer Warren Ellis, Castlevania is Netflix's first, vicious stab at adult action animation. With visuals lifted from eons of anime (not to mention the series' own Playstation sequel Symphony of the Night), instincts that err on the side of disembodiment, and a dramatic triangle that positions Dracula, our drunken, ex-monster-hunter hero Trevor Belmont, and a church of merciless clergymen in a battle royale for ideological domination, Castlevania is a fine excuse to watch illustrated swordsmen cut each other's throats and dark magicians disintegrate victims with the flick of the fireball. Ellis can't give the 2-D characters the dimensionality of Game of Thrones, but he can crank out four deliriously sadistic half-hour cartoons. --MP
40. Friends From College
This show, from husband and wife duo Nicholas Stoller and Francesca Delbanco, looks like an ensemble comedy, but it's much more of a fucked-up love story. When you hit play, you'll meet two cheaters and their friends from Harvard, all of whom make some reaaaaaally bad decisions. If you think the characters are unlikable, that's the point. This is kind of like the 30-minute dramedy version of the anti-hero story Hollywood has been obsessed with, just with an entire group of morally gray characters. The tone can be confusing at times -- you'll see a few genuinely goofy scenes and then buckets of cringeworthy moments -- but the stacked cast and the thought-provoking storylines ultimately deliver. (Even if you're pissed at the end.) --SFG
39. The Punisher
Marvel's Daredevil spinoff is one of the more exhilarating thrillers on Netflix, especially if you like your ultra-violence to rival John Wick. Jon Bernthal plays Frank Castle, a former marine trying to settle down in New York City after murdering dozens of people responsible for his family's murder. Unfortunately, his revenge spree uncovers an even larger conspiracy with even more people he has to kill. Violence aside, the plot is fast-paced and well-written (a journalist named Dinah -- Amber Rose Revah -- is trying to uncover the same conspiracy, albeit by more conventional methods), rife with unexpected and philosophical questions about what really constitutes morality. There are also no cameos from any of the Marvel Universe's ensemble, and there's no required comic-book reading involved to enjoy The Punisher's bloody path to avenging his family. -- Alex Robinson
38. Sense8
It's an unfortunate first impression that the name of this show could also be a vanity license plate. Netflix's first big sci-fi series, from Matrix-creating legends The Wachowskis, boasted a novel idea: "Eight strangers from cities around the globe begin having experiences that defy explanation." Well, let us try our hand at an explanation: They're linked mentally and being hunted by a mysterious group that's trying to destroy them/the world. It was always an ambitious show, but tedious in pace and execution, leading Netflix to temporarily cancel the big-budget series after two seasons. --AS & SFG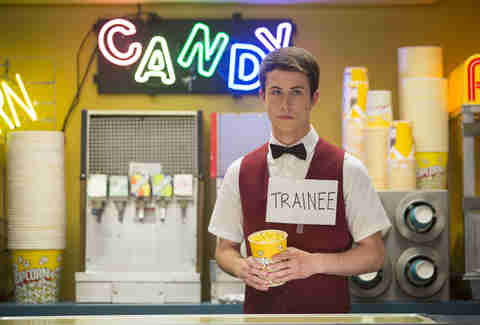 37. 13 Reasons Why
Whether you've read the source material or not, Brian Yorkey's adaptation of the YA sensation will ensnare you. The saga follows Clay (Dylan Minnette), a loner of a high schooler, as he tries to defog his crush's mysterious rationale for suicide. (Viewer discretion advised: suicide, drinking, and sexual assault.) The heartbreak is real. --SFG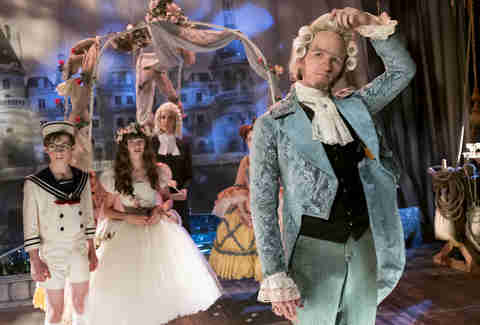 36. A Series of Unfortunate Events
The televised plight of Lemony Snicket's Baudelaire orphans isn't perfect with all its niche stylings, but it's deliciously dark -- think Tim Burton. It's the kind of kids series that isn't just for kids, complete with campiness, a nice pinch of self-aware humor, and Neil Patrick Harris throwing everything he has into the villainous Count Olaf. As our critic wrote, that last part will make you forget about Jim Carrey. (We still love ya, Jim!) --SFG
35. Neo Yokio
A truly strange concoction from Vampire Weekend's Ezra Koenig that blends Adult Swim sensibilities with retro anime stylings. As such, it's kind of an homage, kind of a tongue-in-cheek troll job. The hero is Kaz Kaan (deadpanned by Jaden Smith), an elegant bachelor who's forced to hunt demons when he's not talking fashion. It's the kind of show that'll make you feel like you're not sober when you're sober, but it's surprisingly hard to put down, and after the third episode it becomes pure fun. --SFG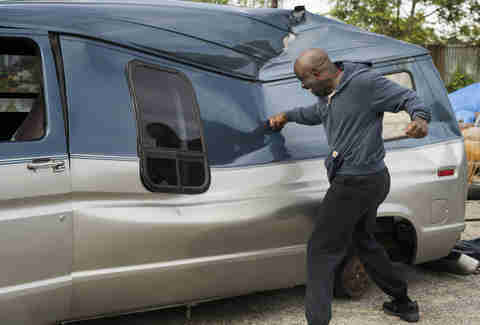 34. Luke Cage
You would think shows based on comic books would have an easier time with side adventures and plot detailing -- that why they invented punching bad guys! -- but the promising Luke Cage, ripe with Harlem rhythm and actor Mike Colter's gruff attitude, loses its way over 10 Netflix-mandated episodes. Just when you're warming up to Oscar-winner Mahershala Ali as "Cottonmouth" Stokes, a classic mafia villain, and Alfre Woodard as an corrupt, enabling councilwoman, Luke Cage reverses course with a clunky, mythology-focused backstory that feels out of place in a show first concerned with neighborhood politics. Just let the man be a hero, Marvel. --MP
33. Everything Sucks!
Netflix's version of Freaks and Geeks won't scratch quite the same ensemble dramedy itch, but it's still good. Set in the '90s, the show tells the coming-of-age stories of one Oregon high school's A/V and Drama club members, embellishing the proceedings with plenty of pop culture and slang from the era. Though Everything Sucks! occasionally feels like it's trying too hard -- beating you over the head with on-the-nose music cues, references, and borderline absurd dialogue -- it makes up for its shortcoming by tackling admirable territory and populating its world with sympathetic characters. There's Peyton Kennedy (Kate Messner), a sophomore who's coming to terms with her sexuality, and Luke O'Neil (Jahi Di'Allo Winston), a freshman who's trying to fit in and woo Peyton; and the good news is the co-stars are a thrill to watch. If you can see past the mostly superficial period toppings, Everything Sucks! makes for a nice, nostalgic trip back to the '90s -- one with positive messages, and one that's bingeable in a day or two. -- SFG
32. The Characters
Eight comedians, one episode each. Such talents as Lauren Lapkus, Natasha Rothwell, and Tim Robinson all get a shot to unveil their best -- you guessed it! -- characters in 30ish minutes. Each episode is a different flavor, making for a nice blend of surreal, dark, and simply side-splitting. There's something in here for everyone, and you'll have a good time passionately arguing with your friends about the MVP. (Spoiler alert: It's obviously John Early.) (Editor's note: No, it's definitely Robinson.) (Other editor's note: No way. It's Kate Berlant, you idiots.) --SFG
31. The Get Down
Years from now, it's very possible that Baz Luhrman's The Get Down, a fiendishly ambitious retelling of hip-hop's birth as a hyper-stylized, kung-fu superhero origin story, will be viewed as an underrated flop-masterpiece. Like the Heaven's Gate of peak TV. But for now, this prematurely canceled series will live on as a bizarre curio, an expensive cautionary tale of miscalculating your audience's love of Jimmy Smits acting like he's in a lost Brian De Palma movie. (Let's be clear: This show is often ridiculous.) If you can make it past the overwhelming 90-minute pilot, there's so much to love here, from the youthful performances of Justice Smith, Shameik Moore, and Herizen F. Guardiolam to the clever threading of real New York rap history into the melodrama. Watch all 11 episodes now and you could be on the ground floor of its inevitable "cult" revival. --DJ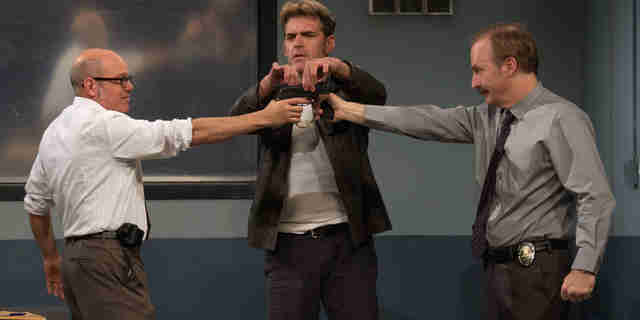 30. W/Bob & David
The sketch titans behind Mr. Show reunited for this small dose of hilarity, replete with the absurdity, creativity, and genre-bending that made viewers love them so much so many years ago. As you'll see, if you haven't already, W/Bob & David's biggest drawback is its shortage of episodes. (Hurry up, guys.) --SFG
29. F Is for Family
Bill Burr and Michael Price's animated comedy is equal parts funny and poignant, with an all-star voice cast to boot (including Burr, Justin Long, Mo Collins, and Laura Dern). The show follows the Murphy family, who live in an unnamed 1970s Rust Belt city, as they battle suburban ennui and try to connect with one another. Tonally, it's kind of like BoJack Horseman minus all the animals and Hollywood bullshit -- still worth it. --SFG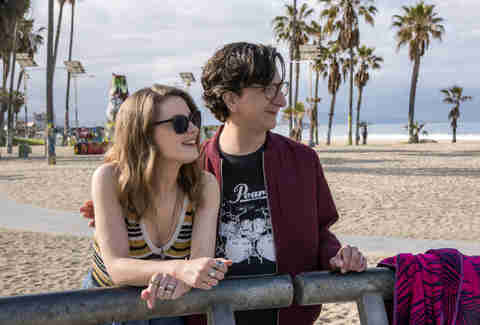 28. Love
The glut of shows available on Netflix -- not to mention on traditional networks and other streaming services -- means that creators have been emboldened to follow some of their more idiosyncratic ideas. That's largely a good thing, but it can also lead to a show like Love, a slow-motion dissection of a romantic relationship that perhaps doesn't require that level of scrutiny. The two protagonists Gus (Paul Rust) and Mickey (Gillian Jacobs) are flawed, complex individuals, and Jacobs, a stand-out on NBC's Community, brings a raw emotional vulnerability to her role as an addict. She's never been better than her adventures with Andy Dick or her grueling trip to the Magic Castle in Season 1. But too often even the best episodes, like Season 2's free-wheeling "Shrooms," feel like deleted scenes from producer Judd Apatow's Knocked Up or Funny People stretched into overstuffed short films. Like many long-term love affairs, it's enjoyable and maddening at the same time. --DJ
27. Bloodline
If you stick with this slow burn, it proves irresistible. Each installment of the Rayburn saga unwinds family drama and large-scale crime during hourlong episodes that feel like a mix of antediluvian parable and contemporary prestige TV. Watching Ben Mendelsohn and Kyle Chandler play feuding brothers is a treat you won't want to miss. Just strap in. Because, yeah, it is a slowwwwwww burn. --SFG
26. Atypical
Robia Rashid's ambitious family dramedy centers on an autistic 18-year-old named Sam (It Follows' Keir Gilchrist) who's seeking a girlfriend and independence. The writers carefully employ therapy sessions and asides to shed light on autism, moves that are always more enjoyable than didactic. The humor sprinkled throughout rarely comes at the expense of its protagonist (N.B. great fun facts about penguins and Antarctica). And the show touts a message of inclusion and compassion, no matter the circumstances, to which all viewers can relate. It's an emotional eight-episode ride, one that might get off to a clunky start, but one that's ultimately worth the investment, especially considering the bite-size runtimes and the heft that sucker-punches you at the end. --SFG
25. House of Cards
Netflix's first original program remains one of its most addictive, though House of Cards' penchant for over-the-top plot twists makes it difficult to take too seriously. Adapted from the BBC miniseries of the same name, Beau Willimon's long-running drama provides a dark glimpse at the power players and backstabbers who run D.C. Star Kevin Spacey's sinister Jim-facing has taken on a creepy new real-world context, but this will always be the show that launched a streaming revolution. --SFG
24. GLOW
It's odd that it took so long for someone to make a fun comedy about professional wrestling. Where Darren Aronofsky's The Wrestler turned the plight of a washed-up grappler into a Sisyphean struggle in spandex, GLOW, which was inspired by a real life wrestling women's wrestling promotion from the '80s, takes a sunnier but still no-holds-barred approach. Community's Alison Brie excels as an actress who gets cast by a washed-up filmmaker (Marc Maron) to play the villain in the rag-tag operation, but, like producer Jenji Kohan's Orange is the New Black, it's the side characters, like Britney Young's second-generation brawler Machu Picchu, who really help this show get over. It's one of the few pieces of pop culture that actually captures this "fake" sport's very real appeal. -- DJ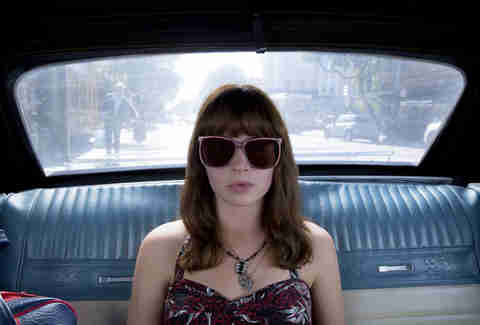 23. Girlboss
Netflix's adaptation of Sophia Amoruso's making-it memoir, from 30 Rock writer Kay Cannon, is the antidote to every bro businessman story of the last 25 years. Women can be dicks, too, especially if they're as intuitive and driven as Sophia (Tomorrowland's Britt Robertson), who finds herself hovering above the poverty line in San Francisco as she tries to make it in fashion on her own terms. The first season of Girlboss finds the essential middle-ground between a bingeable "one long movie" arc and your typical episodic sitcom, making for a coming-of-age story that can dedicate an episode to The O.C. or stage chat room conversations in a Dr. Strangelove-esque war room. Full of color and ferocity, there's not much like it on Netflix or the equivalents. --MP
22. Big Mouth
In Big Mouth, Nick Kroll and his friends essentially hop into an animated time machine to play much younger versions of themselves, adolescent tweens beginning to date and watch porn, coming to grips with their emotions and sexuality. The show comes stacked with familiar Kroll friends, including John Mulaney, Maya Rudolph, Jenny Slate, Jordan Peele, and Fred Armisen, among others. With a no-holds-barred approach and the freeing format of animation, the show tends to really go there (see: horny Hormone Monsters, singing Michael Stipe tampons, scary Garrison Keillor sex fantasies), placing it in the same taboo-busting league as Netflix's other hit mature toons. --SFG
21. Ozark
It's easy to see why early critics compared Ozark to Breaking Bad: Drug money and morally gray characters abound in both. But as Marty Byrde -- a brilliant Chicago-based financial advisor who moves his family to Missouri's Ozarks on a life-or-death deadline to wash truck loads of cash for Mexico's second biggest drug cartel -- Jason Bateman never goes full Heisenberg. In fact, his character's main motivation for doing anything is to protect his family, as he's more someone who's stuck in this underworld than someone who's trying to take it over. Laura Linney (Marty's wife), Jason Butler Harner (an undercover fed), and Julia Garner (one sketchy family's substitute don) also deliver particularly memorable turns to help make this slow-burn work wonders over its tense 10-hour runtime. The Byrde saga might not yet be as good as its spiritual forefather, but it's better than a lot of its cousins (even Bloodline!). It'd be a mistake to not give it a shot. --SFG
20. Wet Hot American Summer: First Day of Camp/10 Years Later
Reboots and spinoffs often fall flat; not so with Netflix's prequel and sequel to the 2001 cult comedy classic Wet Hot American Summer. The strength of this series is its willingness to poke fun at the very nature of the repetitive, sequel-driven boom TV and movies are experiencing, with the same actors playing the characters they originally portrayed as though no time has passed in the decade-and-a-half since the movie appeared. A-listers Amy Poehler, Paul Rudd, and Elizabeth Banks give game performances that are bolstered by new faces like John Slattery and Jordan Peele. The show never makes you feel as though you're participating in a cynical nostalgia play (though, let's face it, you kind of are), and while 10 Years Later took a dip in quality, succumbing to the dopiness of its own premise, the steady laughs have us recommending both seasons. --AS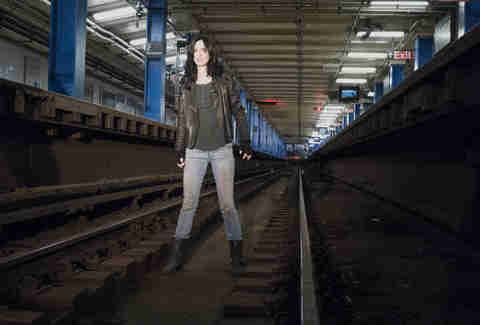 19. Jessica Jones
Like Veronica Mars and many standout British crime series, Jessica Jones follows a private investigator searching for the answer to her own mystery. Jessica Jones (Krysten Ritter) possess superhuman strength... and crippling PTSD from a run in with Kilgrave (David Tennant), a troubled man with mind-control powers who forces the heroine to commit heinous acts against her will. Jessica Jones still meanders in the mid-section as Jessica sloooowly unravels the past, but the frightful conceit, all-too-real social parallels, and Ritter's roaring performance make this the bar for Marvel's Netflix projects. --MP
18. The Crown
The Crown is a well-made show, with standout performances from Claire Foy and Matt Smith, plus an Emmy-winning appearance by John Lithgow as Winston Churchill. The costumes and sets are designed with careful attention to detail, but for a show that engages with the minutia in such a thoughtful manner, it's remarkably disengaged with the macro geopolitical shifts that characterize Elizabeth II's long reign as Queen of England. She chides her husband for making fun of an African crown, but otherwise decolonization receives little attention; meanwhile, the Great Smog of London -- an important public health crisis, but come on -- gets its own multi-episode storyline. The Crown is confident in its soapiness, opulent in every respect, and quite possibly Netflix's best escapism (using a subject that should probably be anything but). If you love royalist porn, this will be like a long, slow massage. --AS
17. The OA
The OA is goofy as hell. Created by Brit Marling and Zal Batmanglij, the filmmakers behind mind-bending thrillers like The Sound of My Voice and The East, the show follows a young blind woman named Prairie Johnson (Marling) who returns to her sleepy hometown with her eyesight mysteriously restored after she disappeared for seven years. Things only get stranger as we ping pong between her story in the present, which finds her mentoring a group of rowdy teenagers, and flashbacks to her time away, which involves an underground prison run by Jason Isaacs's evil Dr. Hap. Yes, there's interpretive dancing, too. Most of this shouldn't work -- and some of it, like Emory Cohen's bizarre trip to Cuba, really doesn't -- but Marling and Batmanglij attack this wonky material with so much passion and sincerity that it's hard not to get swept up in their brain-scrambling vision. Bring on the next Movement. --DJ
16. One Day at a Time
Like The Ranch, its red state cousin, One Day at a Time is a throwback family sitcom in a world that can be unkind to audience laughter, big comedic performances, and that stage-bound multi-camera look. But single-camera purists should get over their hang-ups. This clever remake of Norman Lear's '70s hit about a single mother raising two teenage daughters is more charming and funny than many of its seemingly "edgier" peers. Anchored by a lived-in performance from Justina Machado (Six Feet Under), the show finds familiar laughs in the way generations clash and families wage war, but it's also culturally specific, socially engaged, and leisurely paced in a way that makes it stand out from your average CBS family show -- or Netflix's own dire Fuller House. --DJ
15. Easy
Joe Swanberg's bingeable anthology tackles the trials of love, sex, and art in Chicago. Sitting down to watch this series is like ripping through a string of short films, or like having a more romantic High Maintenance marathon. The good news? These episodes are all 10 times better than what you probably think of when you see the words "short" and "film" together. Bad news? This is another case of, We need more ASAP. --SFG
13. Narcos
This thriller is a treat for history buffs, unpacking the horrifying, drug-laden history of Colombia during the reign of legendary kingpin Pablo Escobar. As Escobar, Wagner Moura is both terrifying and captivating, and his opposition, two DEA agents fighting their way through a convoluted mystery, give a scarily real sense of the American efforts to end the war on drugs. Moura is SO convincing that I'd probably spit on him if I ran into him on the street on behalf of the Colombian people -- he's that good at being bad. Narcos' mix of archival footage and contemporary fictionalization keeps you engaged, and reminds you that a literal genocide had to happen just so yuppies could blow coke in the Hamptons during the '80s (only kind of kidding). -- Julie Cerick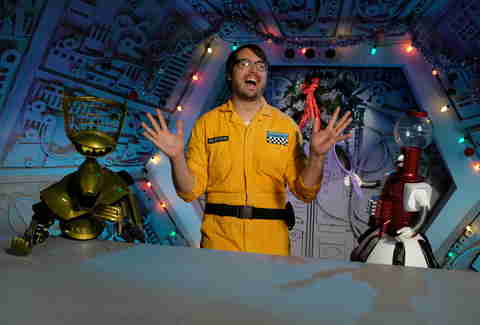 12. Mystery Science Theater 3000: The Return
Could a new crew of comedians revive the effortless magic of public-acess-born Mystery Science Theater 3000. Absolutely. With the nerdy Jonah Ray (The Meltdown with Jonah and Kumail) locked in the new spaceship, once again backed by Crow and Tom Servo (but with new voices, Hampton Yount and Baron Vaughn), spearheaded by former Daily Show head writer Elliot Kalan, and produced by original host Joel Hodgson, the new incarnation pelts jokes at late-night schlock and half-assed blockbusters with relentless force. There's a musicality to the jokes in MST3K: The Return, punctuating every bit of dead air in the god forsaken movie choices, and everyone is at the top of their game. "Cry Wilderness," about a little kid who pals around with Bigfoot, stands up to any of the classic episodes. --MP
11. Stranger Things
There's no denying that Stranger Things was a phenomenon. But was it a "good" phenomenon? That's a controversial question, and it only became harder to answer when the show returned for its eagerly anticipated, somewhat controversial second season last October, delivering more of the '80s pastiche that propelled the first season to success. While swiping elements from beloved '80s films like E.T., Stand By Me, and The Goonies, the show's creators were able to cobble together some fun sci-fi concepts ("The Upside Down"), break-out characters (Eleven), and a nightmare-inspiring monster (The Demogorgon). That's enough to make you a nostalgia-rich pop culture sensation, but is it enough to earn you the top spot on this list? Not quite. --DJ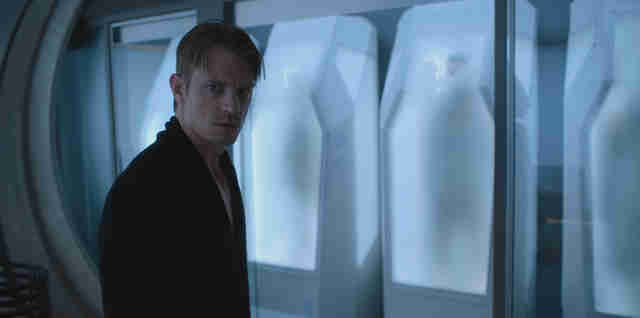 10. Altered Carbon
Adapted from the 2002 Richard K. Morgan novel of the same name, Altered Carbon is a flashy, jargon-y, and, at times, dizzying descent into sci-fi decadence. The show follows a 22nd-century mercenary (Joel Kinnaman) who's hired to solve the murder of a highly influential aristocrat. The catch? Said aristocrat is still alive, because in this version of the future, the wealthy can't really die -- instead, their consciousness is essentially uploaded to the cloud and downloaded into new bodies. In a world without death, the ensuing caper boasts the same jaw-dropping visuals and world-building as a Blade Runner and the same thought-provoking intrigue as HBO's Westworld. And over the course of 10 episodes, what looks like a complicated murder mystery detours as a complicated love story and a complicated look at social stratification. In other words, showrunner Laeta Kalogridis packs A LOT to digest in here, but that means there's A LOT to appreciate if you're patient. Though it takes a few episodes for Altered Carbon's dense story to really take off, it's an ambitious ride that's well worth sticking around for. In fact, we can't wait to see more.
9. Lady Dynamite
Maria Bamford is a weirdo. In the days before Netflix put out an avalanche of original shows, often taking chances on new or outsider talent, her gifts might have been relegated to minor roles and voice work. But Lady Dynamite is a fun example of what the freedom Netflix offers can produce when given the right material and execution -- Bamford gives an absurdist and fictionalized version of her struggle with mental illness, jumping across time, place, and various identities in a vibrant comedy that feels genuinely fresh. Bolstered by Fred Melamed's Bamford's obsequious and incompetent, yet charming, agent, and a rotating cast of guest stars, Lady Dynamite is a must-watch. --AS
8. Orange Is the New Black
As Netflix's second original series, OITNB deserves plenty of credit for signaling the streaming service's ambition: It put the spotlight on voices traditionally underrepresented in media, tackling America's infatuation with mass incarceration along the way. Creator and showrunner Jenji Kohan adapted Piper Kerman's memoir of the same name into a show that treats deadly serious topics with a humorous touch, while not shying away from format changes and cliffhangers to keep the audience coming back for more. --AS
7. She's Gotta Have It
Nola Darling is an artist, an activist, a Brooklynite, and a sex-positive polyamorous pansexual with three emotionally volatile boyfriends. But who is she? Spike Lee made his directorial debut with 1986's She's Gotta Have It, and 30 years later, expands the character study (with the help of a writer's room including his sister Joie Lee, and Pulitzer Prize-winning playwright Lynn Nottage) into his first TV series, a rhythmic exploration of sex, Brooklyn, and black life. Lee's signature, syncopated style -- bright colors, up-close-and-personal confessionals, jolts of pop music and album art, Bruce Hornsby's melancholy piano filling the gaps -- is intact, tracking Nola through the gentrifying brownstone labyrinth of Fort Greene like an epistolary novel. The joy of the series is in the updated casting, DeWanda Wise's Nola beams with wisdom, fear, artistic knowledge, and carnal desire, while the men and women in her life are fleshed out and… fleshed out, allowing the many sex scenes to play to the senses while reaching for something deeper.
6. Grace and Frankie
Netflix users of a certain age have likely overlooked this dramedy from Marta Kauffman (Friends) and Howard J. Morris (The Starter Wife), about two septuagenarian friends (Jane Fonda and Lily Tomlin) who shack up together after their husbands (Martin Sheen and Sam Waterston) announce they're in love and intend to marry. With notes of The Odd Couple and The Brady Bunch -- both couples have grown kids as equally knocked out by the news -- Grace and Frankie is down-to-earth viewing that's rich with observational wit on the progressive notion of being true to one's identity, and the time-worn cliche that everyone gets older with age. If you've indulged in the low-key, picture-perfect comedies of Nancy Meyers (It's Complicated, Something's Gotta Give), give this one a try. --MP
5. Dear White People
Writer-director Justin Simien stretched his own feature debut and Sundance breakout, Dear White People, into a 10-episode Netflix series, and the result is even more cunning, tense, and consistently hysterical than the original. Race relations on the campus of Winchester University are boiling after a group of white students throw a blackface party, and each member of the black student union reacts in his or her own fashion. Dear White People weaves through the perspectives of class leaders, local rebels, the college newspaper reporter, and Sam, host of the provocative "Dear White People" radio show (who also happens to have a white boyfriend). Familiar college-age behavior breathes life into the political and social questions, and Simien raises the stakes to heart-pounding intensity in the fifth episode, just when you wonder what else it can say. Dear White People is the most human show on Netflix, period. --MP
4. Unbreakable Kimmy Schmidt
A castaway from NBC's primetime line-up, creators Tina Fey and Robert Carlock's 30 Rock follow-up found life in the early days of Netflix original programming, and became a gut-busting beacon of hope for the platform. If 30 Rock was the sitcom tradition done to perfection, Unbreakable Kimmy Schmidt is the Elon Musk approach to comedy hijinks. The idea of throwing together a childlike kidnapping survivor, a gay black man with the voice of angels, a conspiracy-theorizing old lady, and an upper-crust divorcee is an even bigger risk when there's room left to explore the tragic side of the situation. But the keys are star Ellie Kemper, delivering amped-on-Pixie-Sticks-level commitment, and Tituss Burgess, who gives the show a song-filled backbone (from "Pinot Noir" to "Boobs in California"). Even if Season 3 stumbles, it's still a joy to see just what Fey and Carlock cook up with the freedom of Netflix. --MP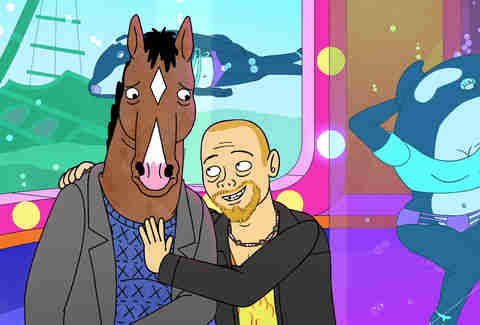 3. BoJack Horseman
When you write it, it sounds strange: A cartoon about a talking horse is one of the funniest and most accurate representations of depression on TV today. But it's true. As you join the title character, voiced by Will Arnett, on his quest for Hollywood redemption, you'll encounter killer visual gags, whip-smart dialogue, complex-as-hell characters, and genuine feels -- the kinds that'll make you evaluate (and re-evaluate, and re-re-evaluate) your own life. We can't recommend BoJack enough. --SFG
2. Master of None
Master of None is the platonic ideal of a Netflix series: It's about the anxiety of unlimited choice, that slow drip of dread that starts every time you fire up your Roku or Apple TV or whatever device you use to fill the void of emptiness left by modern life. Sounds funny, right? Thankfully, the show, which was co-created by comedian Aziz Ansari and former Parks and Recreation writer Alan Yang, is able to find laughs in seemingly mundane topics, like the difficulty of online dating and the hunt for the perfect plate of pasta. Taking inspiration from Louis CK's FX comedy Louie, Ansari has made a show that's formally nimble enough to make room for poignant digressions like the Season 1's "Parents" and Season 2's "Thanksgiving," but still grounded in a specific comedic tone. Even if the romantic arc of the second season, which found Ansari pursuing his engaged Italian friend Francesca, felt a little undercooked, this show remains Netflix's most consistently pleasing dish. --DJ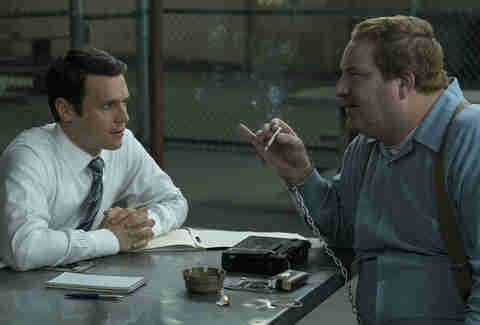 1. Mindhunter
David Fincher loves serial killers. The director of Seven, Zodiac, and The Girl With the Dragon Tattoo launched Netflix into the world of original television when he applied his dark, brooding aesthetic to a different kind of sociopath: obscenely ambitious politician Francis Underwood, focal point of House of Cards. But where House of Cards feels a bit like a desperate child crying out for attention -- "Look at me!" -- Mindhunter arrives fully mature, concerned more with exploring the depths of headlines already written than creating new ones. The show follows a young, self-assured FBI agent, Holden Ford (Jonathan Groff); his mentor, Bill Tench (Holt McCallany); and psychologist-turned-consultant Dr. Wendy Carr (Anna Torv) as they establish a division of the Bureau tasked with solving a "new kind of crime" that lacks what most law enforcers think of as rational motives. In short, they're inventing what will become the famous "FBI profiler" department, responsible for ferreting out criminal sociopaths, but Mindhunter's success arises from its ability to generate what serial killers lack: empathy and nuance. You feel not only for the agents and their decidedly second-priority romantic partners, but also for the killers, some of whom possess knife-edge intelligence and a caustic self-awareness, while others inspire near-instant revulsion. Add in the time-tested conventions of true crime mysteries, plus a steadfast unwillingness to write another FBI hagiography, and Mindhunter is highly bingeable, yet offers a depth that rewards slow-burn viewing. --AS
Sign up here for our daily Thrillist email and subscribe here for our YouTube channel to get your fix of the best in food/drink/fun.