5 New TV Shows You Really Need to Start Watching
Watching TV feels a whole lot like Whac-A-Mole these days: Just when you finally pound your way through one show, three more pop up for you to beat. It's overwhelming and a tiny bit scary. We've saved you the time of sifting through the fall's mediocre offerings to present five new shows you'd be stupid not to catch up on. They're not (all) the best TV shows of the year just yet, but they're well worth keeping your eyes on.
Atlanta
After stints writing for 30 Rock, starring in Community, and rapping as Childish Gambino, Donald Glover found time to create, star in, write, and direct several episodes of this half-hour series. Atlanta, which wrapped up its first season on Nov. 1, is a rare species: a deeply funny show offering pointed social commentary. Whether it's casting a black actor as Justin Bieber, lambasting social media obsessives, or just making a freaking great rap song, Glover's massive endeavor manages to feel effortless, capturing a specific mood and experience with wit and precision.
Where to watch it: FXNOW
Channel Zero: Candle Cove
Based on a popular creepypasta story about a mysterious children's TV show that plants murderous thoughts in the minds of its young viewers, Candle Cove is essentially a Stranger Things that focuses primarily on the adults. The Syfy series is super-creepy, and its version of the Demogorgon is the nightmare-inducing Toothchild, an icky monster that feeds on the teeth of its entranced victims.
Where to watch it:Syfy.com
Designated Survivor
While most TV dramas about presidents have become increasingly skeptical, cynical, and at times downright maniacal, Designated Survivor clumsily pushes back against this trend and assigns the title of commander-in-chief to Tom Kirkman (Kiefer Sutherland doing his best normal-guy impression) in the wake of an attack. Kirkman is a CrossFit warrior in Warby Parker glasses who'd make Jack Bauer proud, rising to the office and staying loyal to his family at all costs. After this election season, it's the perfect dose of escapism from the headache-inducing news cycle.
Where to watch it: ABC.com, Hulu
The Good Place
Mike Schur (Parks and Recreation) set his sights on the afterlife for this cheeky sitcom, which sends Kristen Bell's Eleanor to the titular heavenly community by mistake after she dies. To avoid getting sent where she belongs -- the bad place -- Eleanor enlists Chidi (William Jackson Harper) to teach her how to be decent, tricking neighborhood architect Michael (Ted Danson) and a kooky cast of neighbors into letting her stay. Half the fun is exploring the world Michael has created, and watching Eleanor fake her way to kindness is a real treat.
Where to watch it: NBC.com, Hulu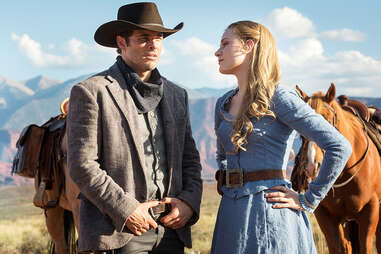 Westworld
Watching Westworld is not a spectator sport. From its murky timeline to its fully fleshed artificially intelligent robots, HBO's upgrade of the mediocre 1973 Michael Crichton movie requires intense theorizing and precise concentration. Jonathan Nolan and Lisa Joy weren't content just to build an expensive foundation for the Western wish-fulfillment amusement park -- they jam-packed that breathtaking scenery and carefully plotted backstory with a killer cast, heady neurology, cheeky musical cues, and conspiracy theories to spare. It'll raise questions about the nature of consciousness you never knew you had.
Where to watch it: HBO GO and HBO NOW

Sign up here for our daily Thrillist email, and get your fix of the best in food/drink/fun.
Follow the Thrillist Entertainment editors on Twitter @ThrillistEnt.