The 21 Video Games You Need to Check Out This Fall
Evan Lockhart/Thrillist
Evan Lockhart/Thrillist
Fact: 2017 has been a monumental year for gaming.
The last nine months have hand-delivered a definitive list of action RPGs (Nioh, NieR: Automata), mid-'90s throwbacks (Crash Bandicoot, Sonic Mania), and modern-day classics (Breath of the Wild, Horizon Zero Dawn), and there's still a calendar's worth of fall releases that come with their own pressing questions. Will a major AAA shooter dethrone PUBG? Will loot systems break our will to live? Is Princess Peach finally coming around to the idea that after all these years, Bowser just might be her Dream Daddy?
It's hard to make predictions or even map out a gaming schedule you can stick to. So to help, here are 21 upcoming video-game titles that will make your Saturday mornings spectacular.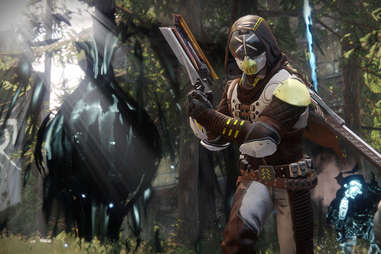 Destiny 2
Release date: September 6 (on XB1, PS4, PC)
Reason to be excited: Bungie returns to the Tarkovsky-meets-Star Wars universe it penciled out in 2014's Destiny, but things are far from the same. The Last City has been destroyed, The Darkness is obsolete, and all light has been eradicated thanks to Dominus Ghaul, a militant sovereign of the Cabal Empire who might as well be muttering, "I'm Gotham's reckoning." This time around, the vanilla Destiny you've come to grind and love has been overhauled with four new planetoids, new abilities, loot-heavy dungeons known as "Lost Sectors," and a main storyline that takes the immersive cinematics of The Taken King and Rise of Iron, and punches it up to 11. Destiny 2 might not be a completely retooled 2.0, but it certainly scratches that itch to super your way to an exotic.
Metroid: Samus Returns
Release date: September 15 (on 3DS)
Reason to be excited:Metroid Prime 4 sent Nintendo fans into a frenzy thanks to an early E3 preview this summer, but this 3DS release is set to defy (and shatter) expectations. Samus Returns is a 2-D-meets-3-D reimagining of the 1991 Game Boy title Metroid II: Return Of Samus and it introduces new abilities (free aim, melee counter), power-ups ("Scan Pulse"), and hard modes that blend the old with the new.
NHL 18
Release date: September 15 (on XB1, PS4)
Reason to be excited: Despite being the toothless younger brother to EA's FIFA and Madden NFL series, EA Canada continues to deliver another reason to lace up the skates. At its core, NHL 18 is a robust hockey sim that goes straight for the birdcage with all-new creative dekes, a new defensive skill stick, a rewritten passing engine, and a buffed Franchise Mode that allows you to add a custom 32nd team and take it through an expansion draft. NHL 18 lacks a story-driven take on Be A Pro that could have fallen somewhere between Goon and The Mighty Ducks, but it makes up for it with "NHL Threes," a 3v3 arcade mode that feeds you to multiple circuits to unlock players, jerseys, and mascots.
NBA 2K18
Release date: September 19 (on XB1, PS4, PC, Switch)
Reason to be excited: If you're a hoops fan who has shared a meme involving NBA 2K and relationships, then you are going to buy NBA 2K18. Luckily, 2K and Visual Concepts have beefed up this year's take with a new shot meter, reworked layup packages (including cradle layups), refined pass control, and a new motion engine that ditches pre-configured animations to let stick input and player attributes dictate movement. There's also a story-driven MyGM mode, new MyTeam perks, and a deep list of All-Time Teams and Classic Teams -- including the the '97 Heat, '99 Knicks, and '12 Thunder.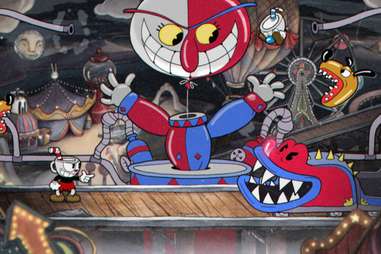 Cuphead
Release date: September 29 (on XB1, PC)
Reason to be excited: Even though Cuphead originally made its debut at E3 2014, it's still on track to be a polarizing masterclass in game design. But what kind of video game is it? Studio MDHR hasn't offered any more insight into what we know -- a boss rushathon-turned-platformer that's inspired by 1930s cartoons and Gunstar Heroes -- and that leaves questions. Is there a story? How fleshed out is the level design? Will there a be a challenging NewGame+ mode that puts Dark Souls III to shame? We're still a few weeks away from seeing Cuphead in action on our own TV screens, but rest assured, it's the only thing anyone will be talking about once the jazz band score kicks in.
Forza Motorsport 7
Release date: October 3 (on XB1, PC)
Reason to be excited: The Microsoft Studios exclusive is about to engage in a racing-sim war with Gran Turismo Sport and Project CARS 2, but Forza can come out on top if it sticks to its secret weapon: its track record. Last year's Forza Horizon 3 cut loose with scenery and redefined friendships with Drivatars, and Motorsport 7 will ramp it up with over 700 cars, 30 locations, and new features such as dynamic weather and customizable drivers. It's the only game that has the largest collections of Ferraris, Lamborghinis, and Porsches, and it's set to run at 4K resolution and 60 frames-per-second on the Xbox One X.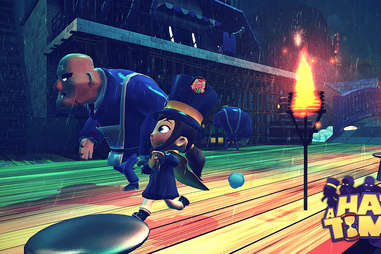 A Hat in Time
Release date: October 5 (on XB1, PS4, PC)
Reason to be excited: A Hat in Time is a "cute as heck," Kickstarter-born indie platformer that's set to make its mark as the first console title published by Humble Bundle. The devs have compared to it Psychonauts and Super Mario 64, and it pays homage to both with Hat Kid, a young girl who uses magic yarn to create hats that grant her new powers and allow her to stop the evil doings of Mustache Girl.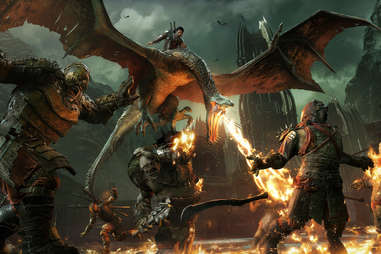 Middle-earth: Shadow of War
Release date: October 10 (on XB1, PS4, PC)
Reason to be excited: With Shadow Of War, the action-adventure series is going through some fundamental changes. For starters, the open world is a lot more open due to an emphasis on Two Towers-scale siege battles that feature more environments, more orc dialogue, and more nemeses and Nemesis Systems. Orcs vary in rank (i.e. worms, Overlords) and tribes (i.e. Feral, Mystic), and can be recruited, driven mad, and shamed/broken (think Theon/Reek in Game Of Thrones). Throw in new skill trees, new wildlife, a new loot system for weapons and cosmetic items, and a main story that weaves in Shelob, the Nazgûl, and an armored Balrog, and it's clear: Emotional depth is a weapon, and one that's fairly sharp on both ends.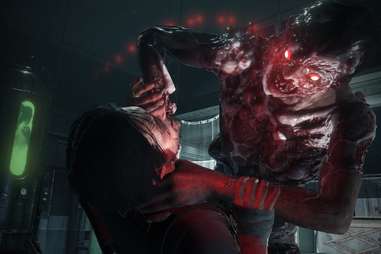 The Evil Within 2
Release date: October 13 (on XB1, PS4, PC)
Reason to be excited: Tango Gameworks' The Evil Within suffered from an over-complicated plot and thick letterboxing but it did employ a few new-wave approaches to level design. The Evil Within 2 augments those ideas even further as Shinji Mikami (Resident Evil, Dino Crisis) and director John Johanas have "yellow herbed" each linear environment -- amplifying every single detail that goes into lighting, interior, architecture, and the way Tango flirts with claustrophobia. It's still a survival-horror game, with nightmarish baddies (watch "The Twisted, Deadly Photographer") that make Resident Evil 7's cast look like The Beverly Hillbillies, but the psychological tinge throws the entire sub-genre into its own STEM pool. And oh, the game is slated to hit shelves on the creepiest Friday in October.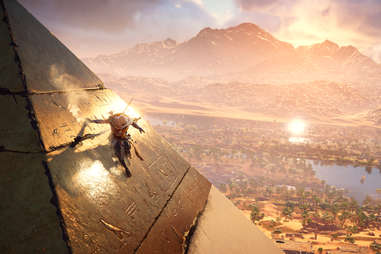 Assassin's Creed Origins
Release date: October 27 (on XB1, PS4, PC)
Reason to be excited: After taking a full year off to re-examine the franchise, Ubisoft is gearing up to release their 10th entry in the Assassin's Creed series. Only this time it takes place in Egypt. Origins recounts the story of a Medjay named Bayek, who navigates the turbulent Ptolemaic period, and introduces a list of reworked mechanics including companions, naval combat, arena battles, and a combat system that relies on "hit boxes" and light and heavy attacks (think The Witcher 3). Fundamentally, it's the same stealth-friendly hay bale dive into fictional history, but now it takes the good from Ubisoft's entire catalog and surrounds it with ancient tomb raiding, RPG gear systems, and hippopotami lairs.
Super Mario Odyssey
Release date: October 27 (on Switch)
Reason to be excited: With the Super Mario 3D World team at the helm, Odyssey is the Mario game you couldn't quite picture but had always dreamt of playing. It's a 3-D exploration-based platformer in the vein of Mario 64 and Sunshine, but it unravels a bizarro storyline in which Bowser intends to marry Princess Peach and has hired an evil wedding-planning firm to ensure it happens without a hitch. Somewhere in there, Mario befriends a paranormal hat named Cappy, thus granting him the ability to "cap-ture" enemies and turn them into mustachioed versions of himself. Other main story details are scarce but in this case, Nintendo's "less is more" strategy works. Odyssey has a chance to do what Breath of the Wild did for The Legend of Zelda series, and for the Nintendo Switch and its ongoing investment in core gamers, that means everything.
Wolfenstein II: The New Colossus
Release date: October 27 (on XB1, PS4, PC)
Reason to be excited:Wolfenstein II: The New Colossus will staple your head to a wall. The sequel picks up where The New Order left off and it finds MachineGames being MachineGames -- intertwining superb character work with vivid sound design and a narrative that peels back a reality where the Nazi regime has occupied America. In this case, it's 1961, visual themes of Nazi Americana are uber-prevalent, and it's up to a monologuing hero (B.J. Blazkowicz) to lead a resistance against the overlords. The embedded storytelling is paired with an unforgiving shooter that thrives on DOOM-style melee executions, custom dual-wielding madness, and anxiety-riddled moments involving a shotgun, a tiny hallway, and an endless wave of Nazi try-hards. It can be a bit much, but as a wise man at Bethesda once said, Wolfenstein II is just "f**cking bananas."
Call Of Duty: WWII
Release date: November 3 (on XB1, PS4, PC)
Reason to be excited: Speaking of regimes, Sledgehammer Games' follow up to 2014's Advanced Warfare dials things back to the European theater of World War II. The campaign focuses on a squad in the US 1st Infantry Division, and it axes new(er) mechanics to force players to rely on other squad members for health packs, ammunition, and marking targets. In terms of multiplayer, there is an Allies-vs.-Axis "War Mode", a class system called Divisions, a robust Headquarters social space, and a Nazi Zombies mode that delivers an alternate WWII experience that's similar to Dead Space.
Need For Speed Payback
Release date: November 10 (on XB1, PS4, PC)
Reason to be excited:Need For Speed? In 2017? The series has had some notable mishaps (FMV sequences, online connectivity) but Payback aims to right those nightmarish wrongs. Instead of being a racing sim, it fully embraces "action driving" -- tying a Fast & Furious-like narrative to cinematic takedowns that scream Burnout Paradise. Customization items allow you to fiddle with cosmetics and performance, taking scrapped "Derelict" builds and turning them into modified speed demons.
L.A. Noire
Release date: November 14 (on XB1, PS4, Switch)
Reason to be excited: Team Bondi's L.A. Noire received favorable reviews in 2011 and although it deviated from the play styles of Max Payne and Grand Theft Auto, it was a new IP that was ahead of its time. The detective thriller sketched out elements of film noir in a 1940s, post-war setting, and it did so with detailed investigation missions, an authentic score, and MotionScan facial technology that allowed an underrated cast's performance to beam through the animated characters. Now, it's getting three new console versions with technical and visual enhancements, plus a new virtual reality experience for the HTC Vive. "The VR Case Files" features seven cases from the original and it's the closest thing we have to Mad Men VR.
LEGO Marvel Super Heroes 2
Release date: November 14 (on XB1, PS4, PC, Switch)
Reason to be excited: Just like its predecessor, LEGO Marvel Super Heroes 2 will be a visual encyclopedia for comic book nerds of all ages. The sequel follows Kang the Conqueror (voiced by Patrick Stewart) and his head-to-head battle with heroes from different eras and realities of the Marvel Universe, and it's rumored to feature more than 300 playable characters. These include Spider-Man, Hulk, Thor, Black Panther, Captain Marvel, Spider-Gwen, Gwenpool, Wasp, Star-Lord, Doctor Strange, and custom LEGO superheroes that can be given their own superpowers and color schemes.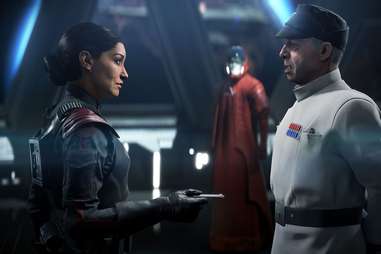 Star Wars Battlefront II
Release date: November 17 (on XB1, PS4, PC)
Reason to be excited: If you live and die by The Force Awakens and often dream of racking up player kills as a prequel Battle Droid, then Battlefront II is absolutely aimed at you. EA DICE's sequel to the 2015 reboot is packed with new space battles, multiplayer classes, "special characters," and playable heroes that span all three Star Wars eras (including Darth Maul and The Force Awakens' Rey). But here's the kicker: There's also a full single-player campaign. Players take on the role of a new character, Iden Versio (Janina Gavankar), the leader of an elite special forces unit of the Galactic Empire, who -- minor spoilers -- witnesses the destruction of the second Death Star and the introduction of the First Order. Footage has been scarce but with thanks to the based god Watto, the multiplayer beta descends on Naboo in early October.
Resident Evil 7: Not a Hero/End of Zoe DLC
Release date: December 12 (on XB1, PS4, PC)
Reason to be excited: Capcom's latest pieces of downloadable content for Resident Evil 7 Biohazard come alongside the release of a Gold Edition of the game. Not a Hero is the previously delayed DLC that follows series vet Chris Redfield and his time with New Umbrella while End of Zoe is a "shocking installment" that will explore the fate of the Baker's daughter. Both episodes feature new enemies and areas, so pack a blanket to cover your eyes: There will be jump scares.
The End Is Nigh
Release date: TBA 2017 (on PS4, Switch)
Reason to be excited: The End Is Nigh comes from the minds of Edmund McMillen (Binding of Isaac) and Tyler Glaiel (Closure), and as fans of the two might expect, it's delightfully punishing. The 2-D platformer draws comparisons to GoNNER and Super Meat Boy in the vein that it features a tiny hero that's forced to navigate full-screen landscapes full of puzzles, night terrors, and hazards you'll hit a few hundred times. With 12 chapters, 600-plus levels, hidden collectibles, and a soundtrack that throws classical music into a bucket of hell, Nigh is a PC megahit that was born to be consumed on the Switch.
Golf Story
Release date: TBA 2017 (on Switch)
Reason to be excited: Although it's not Everybody's Golf, Sidebar Games' new RPG is a four iron salute to Mario Golf: Advance Tour. Golf Story follows the story of a golfer who is forced to give up everything for one last shot at a dream and it swaps swords and mana for a "dramatic story," a diverse cast of characters, and eight different environments (with their own courses). There's also a handful of other bonus challenges which include disc-golf, drone flights, and geocaching.
PlayerUnknown's Battlegrounds
Release date: TBA 2017 (on XB1, PC)
Reason to be excited:PUBG remains one of the most-talked about games right now, and there's a few stats to prove it. The online multiplayer battle royal shooter has sold more than 10 million copies on PC and has already surpassed 1 million concurrent players. It's still in Steam's early access program but the full retail version is expected to hit "before the end of Q4 2017", giving devs more time to polish the new desert map, the Erangel map remake, the vaulting system, the new "Zombie Mode", and their upcoming Xbox Game Preview port. In other words, cue the PUBG highlight reels.
Sign up here for our daily Thrillist email and subscribe here for our YouTube channel to get your fix of the best in food/drink/fun.

Joshua Khan is a Toronto-based writer who has spent way too many hours playing
Skate 3
and
Dream Daddy: A Dad Dating Simulator
. Find him on Twitter over at @blaremag.