Here's a hot take for you: the Nintendo Switch is the greatest console of this generation. Sure, Xbox has game preservation and Sony has whatever the hell Hideo Kojima is working on, but since the Switch's release in March 2017, Nintendo has worked hard to establish a heartbeat of its own. The handheld has become the best place to play indie hits with Nintendo exclusives that are actively redefining genres, and there's always something on deck to be excited about. Regardless of your gaming experience, there's a lot to discover and love on the massively accessible Switch, and these 14 games are totally worth obsessing over right now.
Recommended Video
The 11 Best Horror Death Scenes in Movie History
The Binding of Isaac: Afterbirth+
Release date: September 7, 2017
Made by Edward McMillan, the same creator as Super Meat Boy, The Binding Of Isaac is a tremendously difficult indie roguelike based on the biblical tale where Isaac's mother is told to sacrifice her son to prove her faith. The game starts with Isaac's escape. Afterbirth+ -- the expanded edition of the original Binding of Isaac packed with additional Easter eggs and mods -- is dungeon crawling at its finest, with 13 playable characters, more than 180 enemy types, 90-plus bosses, more than 600 items to collect in 11,000 randomly generated rooms, and 13 different achievable endings, each based on major boss fights. It's an emotionally intense RPG, but one you'll obsess over for months, and the loot grind equivalent of bottomless mimosas.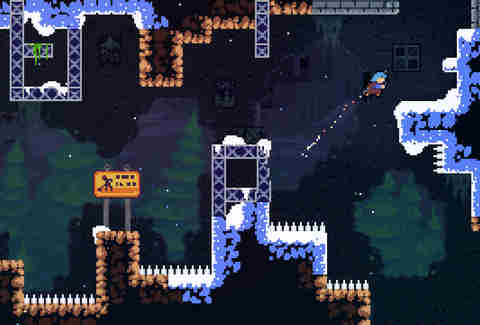 Celeste
Release date: January 25, 2018
Not many masocore platformers are designed so that your seemingly endless string of deaths serves as a tie-in for a larger metaphor about overcoming depression and anxiety, but Celeste manages to do it artfully. Playing as Madeline, determined to summit the mountain Celeste, your pixelated character dashes, wall jumps, and climbs through the levels of the pseudo-haunted pastel 2D world, fighting the physical embodiment of her self-doubt, on her difficult, introspective journey to self-actualization. There are hidden rooms to find and strawberries and crystal hearts to collect, but none of those things really matter in the end: Celeste is about celebrating screen-sized accomplishments and wearing your death count as a badge of learned honor.
Dead Cells
Release date: August 17, 2108
Dead Cells is an overstimulated fever dream, sure, but Motion Twin's debut title hits every checkmark that's attached to rogue-lites and Metroidvanias. It's an action platformer that keeps you grounded and invested -- throwing you head-first into a 2D pixelated nod to Dark Souls that builds on your constant deaths with lessons for improvement. Its difficulty is right up there with the likes of Spelunky and Hollow Knight, but it balances those hair-pulling, pixel-perfect deaths with a ridiculously awesome upgrade system that makes "loop" feel like a dirty word. It's an Early Access game done right and one that gives every run a genuine purpose.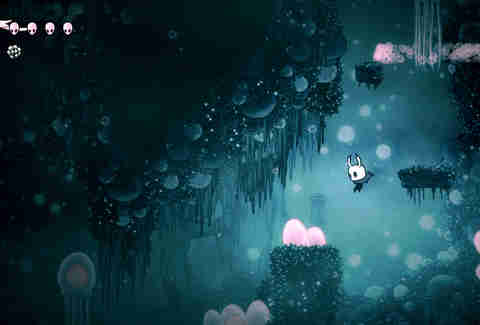 Hollow Knight
Release date: June 12, 2108
Hollow Knight suffered from being this year's Owlboy -- a standout indie hit that was released on the wrong platform at the wrong time -- but it holds its own as one of 2018's biggest surprises. It borrows from retro devs to forge a beautiful Metroidvania with a beautiful art style, and its cache of charms, boss fights, and quirky NPCs leave you with one headrush after the other. It can be notoriously difficult to master, but its overall depth is a modern demonstration of what a smaller studio like Team Cherry can do with two dimensions and a limitless imagination.
Into The Breach
Release date: August 28, 2018
The premise of Into The Breach is simple: you take control of powerful mechs from the future in order to defeat an alien threat. As much as it sounds like some weird X-COM 2 meets Armored Core visual novel fetish, it's not (for now, anyways) as Justin Ma and Matthew Davis' follow-up to 2012's FTL: Faster Than Light is irresistible. The turn-based roguelike throws you into a world where you fight pixelated kaiju on eight-by-eight grids and since you'll die, like a lot, you're locked into a perk and skills-filled progression system that makes every 20 to 30-minute run feel meaningful.
The Legend of Zelda: Breath of the Wild
Release date: March 3, 2017
Breath Of The Wild is the biggest and most open Zelda game ever made, and it just so happens to be a 1,000-page essay on how to reupholster the open world genre. Its characters, locales, music, and Studio Ghibli-esque art style are worth playing it alone, but its ability to take the mundane -- such as cooking, crafting, climbing, and helping villagers in side quests -- and make it feel new again is deeply gratifying. A lot of its charm comes from your own exploration, fighting tough Lynels, riding bears, befriending dogs, taking selfies, and crafting a Home Shopping Network's worth of elixirs only to discover hundreds of other little things that make BOTW a remarkable dreamscape.
Mario Kart 8 Deluxe
Release date: April 28, 2017
At its core, Mario Kart 8 Deluxe is the quintessential party game -- sort of what Mario Kart 64 did in the 2000s, but better. With 42 playable characters and 48 different tracks, it takes full advantage of the Switch and Bullet Bills its way to redefining what an arcade racer should be. A playable Diddy Kong or not, there's no better feeling than getting a few Cups in with 11 of your friends on a Tuesday night from the comfort of your own bed.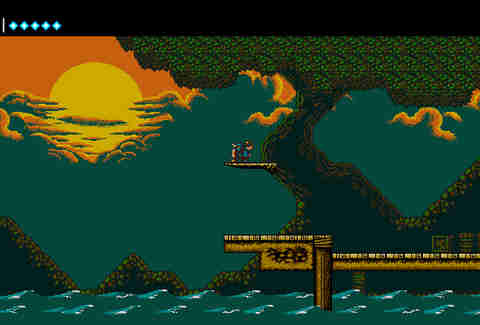 The Messenger
Release date: August 30, 218
Sabotage Studio's The Messenger is a 2D action-platformer that pays homage to the NES and SNES eras with superb level design, seamless animations, intricate boss fights, and a witty sense of humor that never feels forced. There's an unexpected M. Night Shyamalan type twist that inserts itself at the halfway point, but the way in which it bends the Metroidvania genre to its will and uses its musical scores for interdimensional play is what makes it one of the most compelling indies right now, regardless if you want to call it a Ninja Gaiden knockoff.
Night In The Woods
Release date: February 1, 2018
Infinite Fall's Night In The Woods is about a cat named Mae who leaves college to return to her hometown of Possum Springs, and like every great indie offshoot, it goes to some unexpectedly deep places. Its overarching narrative offers a rare look at early 20s existential terror and the overall absurdity of being human, but its characters are its primary strength as every interaction clings to a greater sense of meaning. It's a 2D dialogue-driven adventure that favors patience over skill, but it wastes no time in putting yourself in Mae's shoes and making her small world feel like yours.
Octopath Traveler
Release date: July 13, 2018
The Bravely Default team's SNES-inspired, HD-2D turn-based battler is a remarkable tribute to every JRPG ever. It binds its stunning pop-up book design to highly detailed sprites that recall Chrono Trigger and Final Fantasy 6; harmonises its eight different characters with superb level design and an overworld that is crawling with secrets; and swaps the endless grind of similar RPGs for an intuitive play style that requires a whole lot of hypothesising to deal massive amounts of damage. Octopath Traveler is everything you'd want in a 70-hour adventure and it's one of the best-looking games of this decade.
Stardew Valley
Release date: October 5, 2017
Stardew Valley is a gateway drug into simulation RPGs, not unlike the earliest Pokemon games for your Game Boy. It's a farming game at heart and one that starts with a simple "hoe, plant, water" mechanism and then, like an innocent pumpkin seed, it transforms into a neverending escapade of self-sufficiency. You'll find yourself micromanaging crop rotations, and then all of a sudden you're fishing, mining, naming chickens, befriending a wizard, and flirting with every romantic interest in town. And it doesn't stop there; Stardew Valley is a pixelated microcosm with surprises at every turn, and with a multiplayer update on the way, you may as well cancel your Netflix subscription.
Super Mario Odyssey
Release date: October 27, 2017
Super Mario Odyssey is the greatest three-dimensional Mario game, period. It's a monumental reimagining that expands on the concepts and mechanics of Super Mario 64 and Super Mario Sunshine. With a bit of help from Mario's new magical hat partner Cappy, it makes collectathons great again, sets new standards for the platforming genre, and even goes to great lengths to make you understand what it feels like to be a Goomba. Throw in special costumes, Easter eggs, and an original score that's reminiscent of Koji Kondo's earlier works, and there you have it: Mario Odyssey is an instant 1-Up for a series that continues to pack every joyous moment of your childhood into one single cartridge.
Super Mario Party
Release date: October 5, 2018
Super Mario Party is a Toad-approved return to form with 20 playable characters (including Pom Pom) and 80 brand new mini-games that involve tricycle races, group selfies, Chain Chomp rodeos, and playing a friendly match of badminton in hell. It ditches Mario Party 9 and 10's UberPool mechanic in favor of smaller boards, new character dice blocks, and non-traditional modes that openly flirt with Joy-Con implementations. There's Partner Party for Team Battle fans; River Survival for those that gotta tube; Sound Stage for Guitar Hero outcasts; and a new online Mariothon for when you're in the mood to take L's from eight-year-olds in Eau Claire, Wisconsin. Birdo and Mouser didn't make the final character cut, but our fingers are crossed for Bowsette in a future update.
TowerFall
Release date: September 27, 2018
Matt Thorson's TowerFall is the greatest party game you've never heard of. The classic couch multiplayer centers around friends-versus-friends matches that utilize arrow types, power-ups, and brilliantly designed levels that turn up the chaos. While the game has brambled its way into everyone's hearts since 2013, it was made for a Nintendo console. The Switch version features exclusive 6-player battles, widescreen levels, both Dark World and Ascension expansions, and archers such as Celeste's Madeline and Badeline. It's a relatively new addition to the console's long list of indie hits, but it's a Matt Makes Games thrill ride that makes Saturday mornings great again.
Sign up here for our daily Thrillist email and subscribe here for our YouTube channel to get your fix of the best in food/drink/fun.