13 Performances from Mega-Popular Musicians Before They Were Famous
Everybody starts somewhere -- even Beyoncé, Harry Styles, Billie Eilish, and other mega-famous artists -- and you can watch their humble beginnings on YouTube.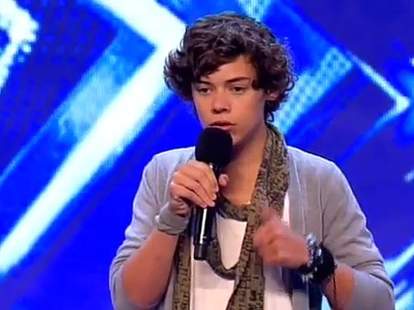 Maybe there was an off chance you saw a future pop star play in an opening slot, or you've been listening to a band since the beginning and bragging to your friends about it ever since, but not everybody gets to say they saw a major group or singer perform before they were famous. If you ever return to some of their pre-fame clips archived on the internet, though, more often than not you can get a sense that they always had something special that's gotten them to where there are now. That, and it's crazy to see how much they've changed and grown up from their maybe questionable taste of the past. From talent shows, small gigs, and sets right out of their own living rooms, here are some of the most interesting performances from stars before they were famous that you can watch on YouTube.
Ariana Grande
Fans have been with Ariana Grande for much of her rise to pop stardom since she started out by acting on Nickelodeon's musical comedy Victorious, but even while her show was taking off, the singer was still uploading covers to YouTube. Here, she looks more like her character Cat than she does Grammy-winning recording artist Ariana Grande, but her voice is no less soulful than it is today singing a rendition of Alicia Keys' difficult ballad "If I Ain't Got You." (She wasn't the lead in the series, but OG Ari stans remember how her solos blew the rest of the cast away.)
Beyoncé
This clip of Beyoncé performing Diana Ross' "Home" at a talent show at just 7 years old is evidence that Queen Bey has always… been Queen Bey. With such a strong voice and the way she owns that stage in her Dorothy from The Wizard of Oz costume, it's clear she's always been a naturally gifted performer like no other. Plus, it's funny to see how the host of the talent show basically predicts the future by saying she better get the young vocalist's autograph before she becomes famous.
Billie Eilish
"Ocean Eyes," the first-ever song Billie Eilish's brother, Finneas, wrote with her and helped her release may have come out relatively recently in 2016, but the two have been at it for awhile. This oldie of the two of them covering "Thinkin Bout You" on the piano is a reminder of how Billie's original, angelic voice and her special collaborative relationship with her brother is what helped propel her rapid rise of fame.
Drake
So, Drake was definitely on the Canadian teen soap Degrassi by the time this footage was shot -- but then he was still just Aubrey Graham. His character Jimmy Brooks did rap once on the show, but it wasn't enough to show the future recording star's real ability to hit bars. This archival shot of him rhyming at a Toronto club sure does, though. In the backing track and the way he delivers his lyrics, you can almost hear how his sound today came from these humble beginnings.
Green Day 
This might seem like a scene out of a '90s skate video, but it's not. It's teenaged Green Day looking punk as fuck, playing a full electronic set in a school courtyard in broad daylight. They don't necessarily have the dyed hair and punk apparel, but they're shredding hard and there's an energy about them that makes them seem more promising than any other garage band. 
Harry Styles 
Now that Harry Styles is a certified rock star, it's easy to forget that he was in One Direction, let alone auditioned for a singing competition to get into the group for the first place. In his X-Factor audition at just 16 years old, his brief rendition of Stevie Wonder's "Isn't She Lovely" is swoon-worthy, and he's charismatic you can tell from this clip alone that this was the start of the makings of a teen idol. (Can you believe one judge gave him a "no?" Maybe these clips of his old band White Eskimo would've convinced him otherwise.)
Justin Bieber
Ever since manager Scooter Braun came across his videos and put him in touch with Usher, Justin Bieber has essentially gone down in history as the first major YouTube discovery success story. With footage like this of him as barely even a tween busking on the street, it makes sense that such an impressive voice from such a little kid would get a major label exec's attention, and launch him into the career he's had. 
Katy Perry
If you were to return to Katy Perry's first album One of the Boys, it's clear that the sound and aesthetic she and her team were going with in the late 2000s was much more Lily Allen-esque than the colorful pop star she became. Even earlier than that, though, when she still went by her birth name, Katy Hudson, she seems like a different artist entirely, playing acoustic singer-songwriter music meets Christian rock. It's fascinating to see how far she's come. 
Lady Gaga
Long before Lady Gaga was Lady Gaga, she was NYU student Stefani Germanotta, playing soulful sets to tiny crowds at clubs in Manhattan's Greenwich Village. The set may be much more stripped back from what fans are used to seeing Gaga rock with today, but her deep voice is no less bold. It's like watching her own A Star Is Born moment play out. 
No Doubt
If it wasn't for Gwen Stefani's obvious star power, No Doubt would've looked like nothing more than a goofy ska band on their first-ever TV appearance. Of course, there's a charm about their chill Cali energy and their sound is lively and intoxicating, but Stefani's sassy, jazz-influenced voice makes it seem like this low-budget broadcast was featuring something special. 
Rihanna
Designer/philanthropist/entrepreneur Rihanna is so busy lately, she likes to tease fans that music comes second to everything now. That's obviously where she got her start, though, and one of the lanes she still excels in whether she'd like to release another record or not. It's endearing returning to her clips as a teenager from Barbados pre-stardom, as you can see how much "work" she's put in to achieve to her mega level of success. 
The Strokes 
The Strokes always had it -- that coolness factor and sheer talent that made them destined to blow up. It's subject for much of the Meet Me in the Bathroom, Lizzie Goodman's fascinating recent oral history about the 2000's NYC indie rock scene's ascension, but for anyone who got to see The Strokes play dives in Manhattan's Lower East Side it was always just plain fact they'd be big someday. You can get the sense, too, just by watching fuzzy footage of them play catchy arena-level rock from the small stage at the club Arlene Grocery. 
Need help finding something to watch? Sign up here for our weekly Streamail newsletter to get streaming recommendations delivered straight to your inbox.