Recommended Video
Thrillist's Best (and the Rest): The Truth Behind the Saddest Cookbook Ever
Alabama
Blastoise
Sturdy. Sticks close to water. Can be temperamental and volatile if fucked with. Owns a permit for those cannons.
Alaska
Dewgong
Icy and powerful. Fan of auroras. Flips itself in the air to see Russia.
 
Arizona
Ekans
Enjoys dry heat. Can be vicious if need be, but keeps it low-key. Would probably go to a lot of Diamondbacks games with Papa Arbok.
Arkansas
Weepinbell
Lush, but vocal. Never quite sure what side it's on. Camouflaged by surroundings until the fight starts.
California
Porygon
Privy to new trends and technology despite being the product of retro programming. Wishes it could be organic. Shiny.
Colorado
Drowzee
Looks like he might indulge in the devil's lettuce, but also might be totally straight-edge and deceptively killer at making his way up a nice 14'er. Definitely a fan of Denver Diner on Colfax.
Connecticut
Weedle
Compensates for size with attitude. Hangs out in gardens. Looks like a dick.
Delaware
Ditto
Easily overlooked because it has a boring name and looks like a blanket.
Florida
Psyduck
Loves any body of water. Prone to accidents. Sounds stoned but hasn't touched that shit in years, man.
Georgia
Growlithe
Quaffed, but always ready to show its fangs. A nose for bullshit. Known for accuracy -- would make a great cornhole partner.
Hawaii
Magmar
Doesn't hate the cold so much as barely understands the concept of cold. Prone to eruptions.
Idaho
Diglett
A Pokémon of the land. Pops up every once in awhile to tell people to get off its lawn. Resembles a potato.
Illinois
Venusaur
Grows pretty much everywhere. Weakened by ice and willing to complain about it. Bluesy, but box-like enough to be a formidable square dancer.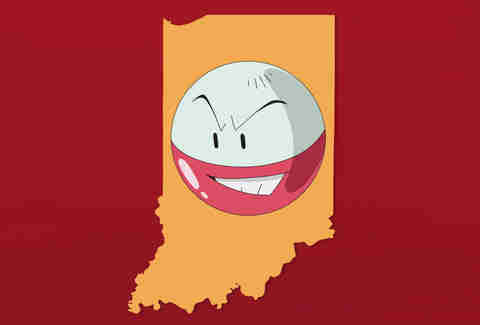 Indiana
Electrode
Great carpool buddy. Surprisingly obsessed with speed. Wants to keep our power plant infrastructure just the way it is, thank you very much.
Iowa
Kadabra
Simple on the outside, mystical and secretive on the inside. Possibly offensive depending where you're standing. Believes in utensils. Named "Kadabra" because "RAGBRAI" was taken.
Kansas
Fearow
The closest thing there is to a Jayhawk. Also, a formidable underdog.
Kentucky
Rapidash
Enjoys a good horse race. In a constant, inflamed state of "I just shot back too much bourbon."
Louisiana
Gengar
Either the embodiment of a lore-filled history or the end result of too many rum drinks. A hop in its step, regardless.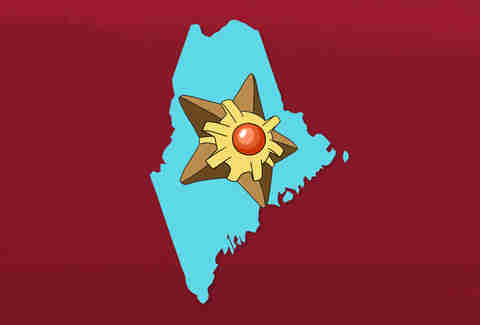 Maine
Staryu
Coastal and coasting. Pointed, except when waxing poetic about fish or Phish.
Maryland
Krabby
Territorial (not all Krabbys are found in Washington, DC, dammit). A hard shell that can go soft. Smells of Old Bay.
Massachusetts
Raichu
Better known for its past. Bit of a bully if you fuel it up.
Michigan
Machamp
Competitive, passionate, and proud. Loves a good challenge or rivalry. Appendages jutting out every which way.
Minnesota
Chansey
Happy. Just crazy happy. Salt of the earth -- plus happy. Harvests eggs. While happy.
Mississippi
Arcanine
Thinks it's a wolf, often misunderstood. A force to be reckoned with, especially for those who don't take it seriously.
Missouri
Exeggutor
Part of a cluster, struggling for individuality. Out trailblazing on two feet, though a hype man for its roots.
Montana
Kangaskhan
A big hulking mass of a beast that looks out for the little guy (who lives in its small pouch).
Nebraska
Cubone
Derived from prehistoric history, runs on fossils. More likely to hit with a club than hit the club.
Nevada
Jigglypuff
Loves to put on a show. Can fuck you up if you piss it off or you're just plain unlucky. Will make you want to sleep, then never see it again.
New Hampshire
Aerodactyl
Very old. People seem to like the idea, but never really commit.
New Jersey
Lickitung
The most ferocious mouth in the country.
New Mexico
Charmander
Cute and fiery. Love of the outdoors. Will prove that it can eat more spicy food than you.
New York
Meowth
Self-reliant and laid back, unless under the spell of cityfolk careerists, who transform it into a cunning and morally ambiguous critter. Would make do in a small apartment.
North Carolina
Mewtwo
Strident, steadfast, and tied to legends. Tolerance may vary Pokémon to Pokémon.
North Dakota
Nidoqueen
A highly evolved warrior. Survives in the cold. Overlooked by most of its peers.
Ohio
Wigglytuff
Had a rocky beginning, but turned out OK. Looks like Drew Carey.
Oklahoma
Rhyhorn
Perpetually prepared for incoming storms. Keeps work-ready with its head down. Happy to be landlocked, thank you very much.
Oregon
Pikachu
A chill Pokémon that brings everyone together. Has the creative spark. Can't help but hug it. Occasionally solving murders.
Pennsylvania
Kabutops
Historically important. Will slice your hands off if it detects the slightest bit of resistance.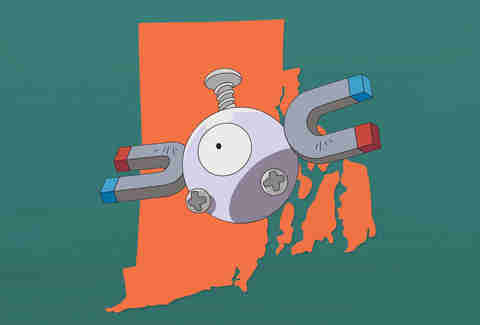 Rhode Island
Magnemite
Tiny, but draws you in with magnetic power. Looks like a RISD student's thesis project.
South Carolina
Hypno
Will refer to the University of South Carolina as USC and confuse the hell out of you. Will also use adept psychological manipulation to shut down any argument involving the other USC.
South Dakota
Farfetch'd
You might wonder why it exists, but you know you can always count on it for that one thing.
Tennessee
Tauros
Will trample you with its hooves. Sounds like the name of a Nashville dive bar you wanna stay away from, but won't.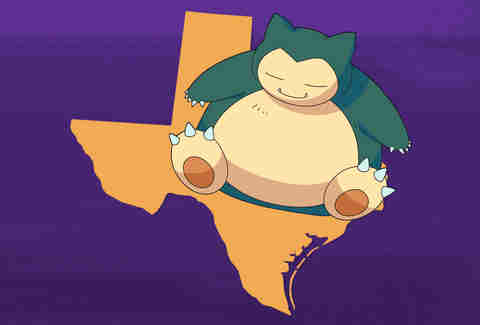 Texas
Snorlax
Takes up a lot of space. Stands on its own. Always expanding and prone to food comas. Wants to keep things weird.
Utah
Onix
Individual boulders link together to serve the whole. Dives underground during turbulent moments and lives however the frick it wants to live, gosh darn it.
Vermont
Omastar
Old and often forgotten, but occasionally reminds the world of its blue identity by exploding with political fury.
Virginia
Mr. Mime
Obsessed with tradition. Has a dark past. A little creepy. Makes a good stew.
Washington
Metapod
A gloomy-ass Pokémon that doesn't have a lot to say. Definitely owns multiple Mudhoney albums.
West Virginia
Scyther
Carries knives all the time, but, like, they're for work. Will fucking cut you if you compare it to Mr. Mime.
Wisconsin
Rattata
A hunter-gatherer who loves to sit in a corner and nibble. Loves cheese.
Wyoming
Golem
Giant, but rolls with the punches. Sheds its skin each season. At peace until a Colorado Drowzee stomps into its territory.
Sign up here for our daily Thrillist email, and get your fix of the best in food/drink/fun.