9 Hilariously Bizarre Porn Parodies You Won't Believe Exist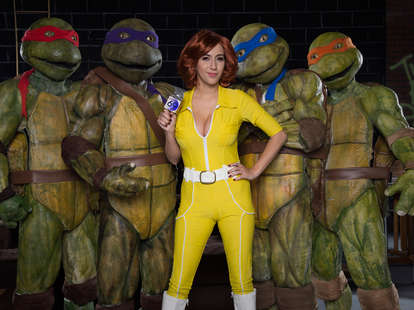 As long as there's pop culture, someone will want to have sex with that pop culture. In the 1980s, the video camera suddenly allowed pornography producers the ultimate freedom to mass-produce product, and some of that product had to have a hook. A simple one? Spoofs of mainstream movies and TV shows.
Thus the porn parody was born.
Porn parody is an art in its own way, with a long and wide (*cough*) catalog of completely ridiculous subjects and attempts at humor. Here are nine of the more notable porn parodies out there, and what makes them stand out.
Ten-Inch Mutant Ninja Turtles
What works: Budget and writing on this one aren't half bad! "Have you heard about the secret gang of ninjas, committing crime across the city? Of course you haven't heard, they're ninjas, they're really quiet." I'll say this for Wood Rocket-produced porn parodies: They don't have to be as clever as they are. "Master Sphincter" is a great Splinter replacement name, and Raphael's sai have been replaced by dildos.
What doesn't: This one and Strokémon below are both based on cartoons made into humans having sex, which is very weird. I'm all for a sexy Shredder (ahem, "Spreader") but that idea gets ruined once the horror of masked green penises enters the arena.
Full Holes
What works: Kimmy Gobbler's "Thanks for the dick, you greasy monkey" and the fact that the scene apparently ends with the "Be-atch Boys" replacing the Beach Boys and singing a "Kokomo" parody about jizzing
What doesn't: Where to begin here? Let's start with the concept that Full House is a show where, with few exceptions, full-grown men are hanging out with little girls they are tangentially related to. The girls are aged up (legality for the win!), but that doesn't make it better when the Uncle Joey stand-in is offering to pull his dick out for the Michelle stand-in.
Mighty Muffin Pounder Rangers
What works: The pro-transgender-bathroom-rights joke that makes it into the actual trailer means Wood Rocket is still pissed off about a Trump victory. Each Ranger also has a sex-related name and they transform by holding up colored condoms. Just hearing "Butt-Plug-A-Tor!" shouted enthusiastically is worth it.
What doesn't: I don't want to deconstruct the power dynamics of the Power Rangers pilot, but it appears that Godar ("Gold-dong") and the MegaZord end this episode by having sex with each other... that's just canonically disturbing.
Fap to the Future
What works: If you don't giggle when Cock Brown is revealed with a black dildo strapped to the top of his head, then maybe porn parodies aren't for you. The flux capacitor is some kind of orgasm-generating machine, and yes: That's a Tron scene embedded in there for good nature. Also, Ron Jeremy's cousin calls Ron from the 1950s.
What doesn't: I get that it's probably easier to make Marty a girl so that Doc can get it on with her to make the electrified cum they need to get home, but the original Back to the Future's plot was literally "my mom is in love with me," and I can't help but feel that's a pretty good base plot for a porn as it is.
Assventure Time
What works: "Gynecological!" as a replacement for "Mathematical!" and the custom theme song are high points this trailer puts right at the top. It's a bit weird to see Finn and Jake oppositely gendered, but you can bet that pays off during the runtime. BMO as a talking dildo named "Cream-o" is also pretty funny.
What doesn't: Whoa, man, this must have been shot, like, three days after Trump won the presidential election. There are jokes like, "It's as easy as running for president, any idiot can do it!" And if we're being super-nitpicky, the portrayal of Princess Bubblegum is all wrong; PB is not sassy and would not watch Se7en.
Strokémon
What works: Having a "Strokémon" named "Squirt hole." I'm not sure anything else works. This is pretty bad. Although they cast it pretty well, they have to make their human Strokémon body-paint monstrosities.
What doesn't: Nothing about Dikachu works. You can tell by the trailer, but since we can't show you THAT part of the porno, here are some bonus facts to help you understand: 1) Dikachu is painted yellow everywhere that paint stays on, 2) the Dikachu actress cannot breathe through her nose in that makeup, 3) Strokémon, while orgasming, can still only say their name and "Dika! Dika-CHOOOO!" is not sexy.
Star Wars XXX
What works: Sets and costumes! In the not-porn movie Zack and Miri Make a Porno, they're attempting to make a Star Wars parody, but they don't take it as far as this production, which manages to make everything from the Empire to Greedo look a step or two above swede-ing. And that Stormtrooper armor with boobs is hot.
What doesn't: This porn doesn't elaborate much more on the plot and dialogue of Star Wars, instead spending more time delivering recognizable moments in between sex scenes. Which is fun, but not necessarily funny. At some point, when you're 40 minutes in, you have to just wonder why you aren't just masturbating to Star Wars.
Penetrator
What works: Porn parodies before the internet are the best porn parodies, because they're labors of love. I don't know how many VHS copies of Penetrator made it out there, but this Ron Jeremy joint is classic like King Kong is classic cinema: Look what they could accomplish with so little! Look how weird we were about pubic hair in the late 1980s!
What doesn't: The action is bad, we don't get a full endoskeleton shot (that would require a budget, and it's 1991), so really this porn could be about a non-emoting Austrian man who just keeps trying to have sex with... Farrah Gonner? That name could be funnier.
Batman XXX
What works: The colors, costumes, and sets don't have to work that hard to appear like the 1960s Batman, and almost everyone is accurately portraying a version of their 1960s character. That means we thankfully get a Frank Gorshin Riddler impression, not a Jim Carrey one (and yes, there is a difference), and the Joker has white paint over a mustache.
What doesn't: Barbra Gordon is a blonde, which doesn't jive when so much fetish was built on Yvonne Craig's original red wig. Also, James Deen plays Robin and he is a trash human being.
Sign up here for our daily Thrillist email, and get your fix of the best in food/drink/fun.
Dave Gonzales is a frequent contributor to Thrillist who only watches the trailers. Follow him @da7e.