For the second season of the rebooted Queer Eye -- which dropped June 15 -- the Netflix marketing department went all in on one aspect of the show: It will make you weep. Just look at the official Twitter account. The cover photo features a tissue box adorned with the Fab Five's faces. The tagline is: "I'm not crying, you're crying." Do you get it? This series will wreck you, but you'll love it.
When the first episodes dropped earlier this year, skepticism as to whether the format was passé in 2018 slid away as fans became attached to a new crew of gay men that sets out to help "heroes" across Georgia, be they men or women, straight or gay.  Everything was fodder for memes: From designer Bobby Berk's seemingly miraculous ability to redo a house from scratch in no to time at all to food "expert" Antoni Porowski's endless uses for avocados. Culture guru Karamo Brown gave pep talks, fashion maven Tan France espoused his love of a tailored pant, and hair extraordinaire Jonathan Van Ness was generally hilarious. All were unwaveringly kind. 
Now that we've had time to absorb all 16 episodes available, we've decided to rank them. Sure, we're taking general quality into account, but we're mostly measuring based on... what's that? Is there something in my eye? You bet there is. 
Recommended Video
Winter Is Here at this 'Game of Thrones' Ice Hotel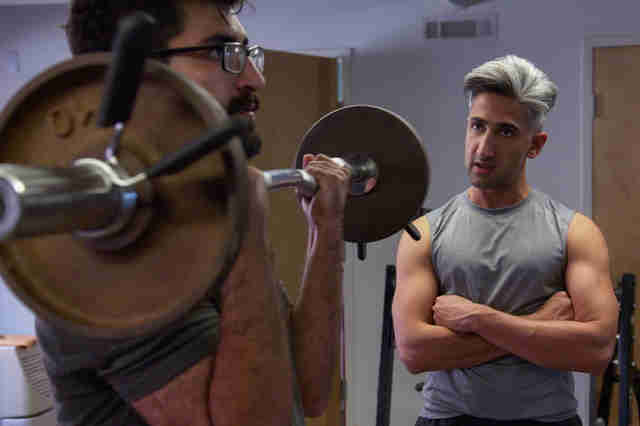 16. "Big Little Lies," Season 2, Episode 6
The sixth episode of the second season creates quite a conundrum for the Fab Five. Most of the time, they find subjects who acknowledge the ways in which they can improve their lives. With 24-year-old Arian, they meet resistance. He thinks he's fine! He lies to their faces! Sure, by the end, Arian has made some progress, even telling his mom that he didn't actually graduate college. Still, that moment is more uncomfortable than tear-jerky, and you're left feeling skeptical as to whether Arian will take the advice he was given.
15. "Dega Don't," Season 1, Episode 3
Your mileage may vary on how you feel about the first season's most controversial installment, but everything that follows is soured by the unfortunate initial "gag" of having the Fab Five's truck, driven by Karamo, pulled over by a cop. Said police officer turns out to be the man who nominated the episode's focus, Cory -- a Nascar fan with a MAGA hat. Once the hosts realize what's happening -- that the fear of arrest or worse is just a joke -- the cast is all smiles. Later, Karamo goes on to address the issue head on in a conversation with Cory, where they both discuss stereotypes, in an attempt to find common ground. But it's all too quickly resolved. That feels especially cheap considering we now know that, behind the scenes, there was deeper anger. Tan said in an interview with Refinery29 that he and Karamo threatened not to film the next day. Showing that frustration would have at least been honest. Instead, it's an episode that deserves criticism and scrutiny. 
14. "Below Average Joe," Season 1, Episode 7
Sorry, but it's hard to cry through awkward jokes. Joe Gallois' transformation is impressive, but it's one of the more straightforward of the series. He's a 33-year-old who still lives with his parents and is trying to be a comedian. The Fab Five spruce him up, but at the end of the day nothing much has changed. (And the comedy's still... not great.)
13. "The Handyman Can," Season 2, Episode 4
The problem with "The Handyman Can" is that its conclusion is inevitable, and yet we don't really get to see the payoff. It follows around Burning Man aficionado Jason. He has a great group of friends in Atlanta, but is planning to move to Reno. The Fab Five are clearly against this, but everyone goes through the motions of pretending like he is Nevada-bound. And then -- shocker! -- we're informed that he decides to stay in Georgia, and is now dating his BFF. The twist that everyone sees coming typically doesn't open up the waterworks.
12. "Bedazzled," Season 2, Episode 7
Right off the bat, there's an undercurrent of melancholy in the story Sean VanMeter.  He's an 18-year-old musician who has no friends his real age. His whole life -- his style, his tastes, and his activities -- have been dictated by his eager godmother Lulu. The Fab Five give him a necessary push him down the road to independence. It's mostly fine, if not the most emotional of the series.
11. "Unleash The Sexy Beast," Season 2, Episode 3
Leo, a jovial bartender with two little kids, is an immediately likable Queer Eye hero. The changes he makes to his life aren't all that drastic. Jonathan does some hair sculpting, Tan gets him out of his sloppy t-shirts, and Antoni (sort of) teaches him how to make pasta. But Karamo helps the waterworks along by taking him to a big playdate, and Leo gets a little more comfortable with the other fathers in his kids' class. All together now: Awwwww.
 
10. "Make Ted Great Again," Season 2, Episode 8
Ted Terry, the hipster mayor of Clarkston, is on top of his shit. The Fab Five just get him a little more podium-ready. 
9. "Saving Sasquatch," Season 1, Episode 2
Jonathan's quip that "Neal's bathroom reminds me a lot of a skin tag" should define this episode, but "Saving Sasquatch" gets into genuinely touching territory when we see how much the awkward app developer truly opens up. Neal doesn't suddenly turn totally effusive, but his body language subtly changes, and he gives a speech about how the week helped pulled him out of a really dark time in his life.
8. "Hose Before Bros," Season 1, Episode 8
The firefighter-themed finale of the first season is pretty silly in a lot of places. There's a Magic Mike routine in the middle of it! But there's also a darker thread that runs through the episode. These are men who put their lives on the line, and the show discusses that without belaboring the point. This is a sneaky one, but the thing about Queer Eye is it can also get you misty-eyed when you least expect it.
7. "Camp Rules," Season 1, Episode 5
Queer Eye is predicated on broadening horizons, with varying success rates. (See: "Dega Don't.") Here, though, the Five take on Bobby Camp, an uber-religious Christian with six children. Bobby isn't outwardly hostile or bigoted by any means, but he acknowledges the way he was conditioned to think of gay people in the church. So when he tearfully tells the Fab Five how they've reshaped his views before they send him off to his wedding reception, it fully resonates.
6. "The Renaissance of Remington," Season 1, Episode 6

This episode belongs to Bobby, who has his work cut out from him with Remington. The hero doesn't really need much help when it comes to his look: He's an attractive guy who could use a slightly upgraded wardrobe. However, his home leaves something to be desired. He lives in his grandmother's house, which hasn't been updated since the '70s and looks like an antique shop. The dominant color scheme is purple and chartreuse. The first impression we get of Remington is that he's a pretty stoic guy, but when he sees what Bobby has done -- updating the space while paying tribute to his family -- he dissolves. 
5. "You Can't Fix Ugly," Season 1, Episode 1
The way viewers first fell in love with the new Queer Eye was by falling in love with Tom, a man of simple pleasures who enjoys "redneck margaritas," old cars, and his ex-wife Abby. But Tom is very down on himself, claiming "you can't fix ugly." His week with the Fab Five changes that! By the end he's crying, and so are we. His sweetness paired with the genuine love he has for the Fab Five is the perfect introduction to this updated era of the franchise.
4. "Sky's The Limit," Season 2, Episode 5
"Sky's The Limit" opens on a raw, but groundbreaking, note. Rather than cutting right to the Fab Five driving and joking, we see them sitting on the couch in their loft watching footage of their trans hero Skyler's top surgery. Later, Skyler explains he doesn't remember much of those first post-op moments, but it's nevertheless profound to see him glance at his chest and take it all in. The episode in full is undeniably moving as Skyler shares his story and takes steps like changing the gender marker on his license. Taking all that into account, it also features a number of uneasy scenes, as the Fab Five come to terms with their own ignorance about the trans experience. You wish they had actually featured the voices of other trans people on screen so Skyler didn't have to bear the whole burden of doing the explanation. Still, nothing beats the sequence of pure joy when Skyler is surprised at his home by his idol Todrick Hall.
3. "A Decent Proposal," Season 2, Episode 2
"A Decent Proposal" hinges on a very traditional, downright heteronormative moment: The Fab Five help William devise a way to propose to his girlfriend Shannan. But William -- a vegetarian who considers Frasier Crane a style icon -- is such an open wellspring of gushing love that you just have to get on his level. During the pivotal scene, Shannan starts sobbing as she watches the short film he makes for her and unveils at a local outdoor screening. Watch this, and you'll be doing the same. 
2. "To Gay or Not Too Gay," Season 1, Episode 4
It's a toss-up between these last two picks. "To Gay or Not Too Gay" was the episode that showed us what this reboot really could do to our ducts. The gang is ostensibly tasked with helping AJ out of his oversized button-downs and into some more flattering clothes, but they also make their mission something far more meaningful. They're going to encourage AJ -- who regrets not coming out to his dad while he was alive -- to tell his stepmother Haide that he's gay. As AJ and Haide sit on his bed, he reads her a letter he wrote to his father. He gets to those two words, "I'm gay," and he pauses. She smiles. When he's all done, AJ breaks down. They embrace. It's devastating. 
1. "God Bless Gay," Season 2, Episode 1
"To Gay or Not Too Gay" featured a burst of heart-wrenching content, but "God Bless Gay," the Season 2 premiere, is a sustained tearful experience. It's something of a double job for the Fab Five. Their main target is the devoutly selfless Mama Tammye Hicks from Gay, Georgia. (Yes, "Gay, Georgia.")  She's a leader, volunteer, and teacher, who requests that they redo the community center at her church instead of her own house. Her story is inherently moving: She's a cancer survivor along with her sister, but they lost their mother to the same disease. Our hosts, however, aren't just focused on her. Tammye's son Myles has recently moved back home. He's gay and out to his mom, but still concerned about how he'll be received in the tiny town's religious environment. What unfolds are dual mother-and-child makeovers, and an exploration of what true support looks like. Tammye's warmth is effusive and generous, and during the climactic homecoming service she speaks about a God that's loving of all people. Simply put, it's beautiful, cathartic, and, yes, cry-inducing. 
Sign up here for our daily Thrillist email and subscribe here for our YouTube channel to get your fix of the best in food/drink/fun.