Tamra Barney and Eddie Judge

| Denise Truscello/Contributor/WireImage/Getty Images
Tamra Barney and Eddie Judge

| Denise Truscello/Contributor/WireImage/Getty Images
All 53 'Real Housewives' Husbands, Ranked
The women of the Real Housewives franchise steal the wine-tossing limelight, but their husbands can't be overlooked. The best partners can be partners in crime, causing drama and finding good reasons to take luxury vacations.
So after ranking the Housewives, I knew I needed to rank the Real Housewives' Husbands. The determining factor: "dreaminess," a combination metric weighing their physical attractiveness, their fitness and loyalty as mates, and a certain je ne sais quoi that transcends all of it.
The hard rules:
No boyfriends or sugar daddies are ranked (sorry, Big Poppa).
Only spouses who were married during the Housewife's tenure on her respective show (e.g., Slade Smiley).
Guys married on subsequent Bravo reality shows after the Housewife graduated to her own spinoff but met while on Housewives count.
Spouses who refused to appear on the show (e.g., Dina Manzo) are disqualified.
We won't include Russell Armstrong (Real Housewives of Beverly Hills) in light of tragic events.
Ex-husbands who divorced their wives before the show (e.g., Sheree Whitfield's husband Bob) are ineligible.
Johnny Come Latelies on Real Housewives of Potomac and Dallas have been axed because no one wants to even watch those shows, let alone marry their husbands.
And now, the parade...
53. Joe Giudice (Real Housewives of New Jersey): I don't think that Teresa Giudice is blameless in the Giudice couple being convicted for bankruptcy and bank fraud, but anyone who has watched the show knows that Joe was up to some shady business. There's nothing dreamy about going to prison for a year because of your man.
52. Kelsey Grammer (Real Housewives of Beverly Hills): Yes, that Kelsey Grammer, star of Cheers and Frasier, was briefly on the first season of this show before unceremoniously divorcing his wife Camille and then refusing to talk to her. Though whenever he was onscreen with St. Camille of Grammer, as she came to be known, he hardly seemed interested in being near her. At least she got a boatload of money for her trouble.
51. David Foster (RHOBH): As soon as Yolanda Hadid Foster got sick with Lyme disease, you just had a feeling that the smarmy Grammy-winner and serial reality-television participant was going to dump his fourth wife. Then he did.
50. Josh Taekman(Real Housewives of New York): No one really liked the condescending (though admittedly handsome) entrepreneur and serial bad-hat-wearer before he got caught in the Ashley Madison hacking scandal. Now we think that former Housewife Kristen is crazy for staying with him.
49. Kordell Stewart (Real Housewives of Atlanta): Sure, it wasn't nice of Porsha Williams to spread rumors about her ex's sexual orientation after he divorced her following one season on the show and two years of marriage. But the former NFL player didn't treat his young wife all that well onscreen, either.
48. Simon Barney (Real Housewives of Orange County): The scene when Tamra Barney asks Simon for a divorce in the back of a limo is one of the most haunting scenes in Housewives history. Almost as haunting as the passive-aggressive way Simon treated his wife for years.
47. Charles Ommanney (Real Housewives of DC): I'm not saying everyone has to feel comfortable on reality television, but to get cold feet after your season films, then to divorce your wife because of the experience, just seems cold.
46. James Marchese (RHONJ): There was something so off-putting about this whistleblower and husband of one-season wonder Amber that it was hard to even watch him onscreen. Can you imagine being married to the guy?
45. Jim Bellino (RHOC): Don't hate him because of his ugly watch collection, his tacky shirts, or his goatee. Hate him because of a religious conviction that prevented him from doing any work around the house. Alexis stuck around, through better and worse.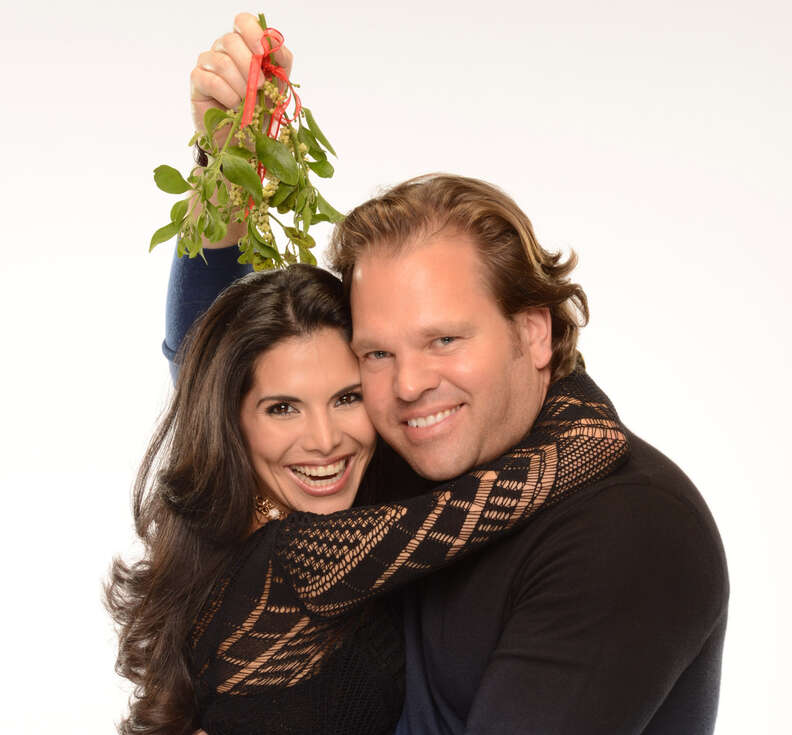 44. Michael Ohoven (RHOBH): We didn't see much of this Oscar-nominated movie producer during his wife Joyce Giraud's one season, but when he was present to condescend to those around him, it wasn't worth remembering.
43. Jason Turner (RHODC): Um, yeah, I'm sure he wasn't that bad, but this was DC, so I'm sure he wasn't that great, either.
42. Paul Nassif (RHOBH): We always thought that his constant bickering with Adrienne Maloof was what made their marriage work. Turns out it was just them being awful to each other. Oh, and remember that time he wouldn't wear high heels for a walk to benefit victims of domestic abuse because they made his feet hurt? The worst. At least fans can still watch him on Botched.
41. Rich Amons (RHODC): His wife Mary had a closet with a lock on it so her daughters couldn't steal her clothes. That I remember. Him, not so much, which isn't the worst quality to have in a Housewives husband.
40. Matt Keough (RHOC): Jeana eventually divorced this former baseball player, who did nothing but sit around the house shouting. Maybe he'd be a better mate now. Matt earns a bonus point for producing the super-sexy son Shane.
39. Rino Aprea (RHONJ): There were rumors that he slept with his wife Teresa's mother. That's more than enough.
38. Tareq Salahi (RHODC): No one can ever forget one half of the White House Party Crasher, but he always seemed like he wanted the spotlight way more than his wife, Michaele, did. Too bad she left him for a member of Journey.
37. Scott Bryant (RHOC): He moved his wife Kimberly to his native Chicago after the first season of the show. Actually, he probably deserves to be higher up on the list for taking her away from all of this.
36. Apollo Nida (RHOA): Apollo is probably the hottest of all the Housewives' husbands, hands down. Even Andy Cohen has gone on record saying that if he had to hook up with one husband, it would be Apollo. You just have to overlook multiple trips to prison, threatening his wife Phaedra Parks and their two kids with a drill, and all that other nonsense. Maybe not so hot.
35. Thomas Girardi (RHOBH): The considerably older Erin Brockovich attorney who bankrolls Erika Jayne's lush music videos was a bit of a pill even before he was sued for misappropriating client funds. Now, he looks even worse.
34. Christian Rovsek (RHOC): I always had a bit of a weird crush on Christian. He's pretty dreamy, but mostly he's as forgettable as his wife Lizzie, who only lasted one short season on the show.
33. Frank Curtin (RHOC): Frank didn't tell his wife Lynne that he was having financial troubles, and so his monstrous daughters got served with eviction papers on camera. Then he took Lynne to a park and told her about how much they were struggling. Crushing honesty, even if it comes too late, is still better than what a lot of Real Househusbands do.
32. Count Alex de Lesseps (RHONY): We didn't get to spend much time with Alex, the man who gave the Countess her title and entrée into the upper echelons of society. That's probably for the best, since he allegedly forced her into an open marriage. And he sort of looks like, well, the Count, but the one from Sesame Street.
31. Ed Hartwell (RHOA): I don't remember much about Ed other than that he had legs as big as trees, which some would find quite desirable. He and Lisa Wu-Hartwell got divorced after she left the show, so everything couldn't have been hunky dory.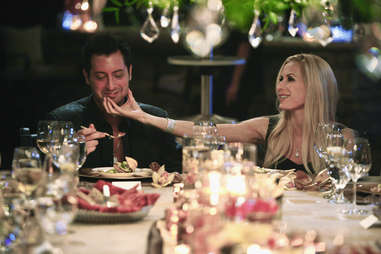 30. Micah Tanous (RHOC): Sort of like Jim Bellino-lite, Micah had horrible style and liked to show off his (tenuous) wealth a little too often. But essentially Peggy's husband was as much of an inconspicuous nonstarter as she was.
29. Jason Hoppy (RHONY): Bethenny Frankel found fame and fortune on Housewives, but this is as close as she came to love. He looked like a matinee idol, but their union would be short-lived, and he would drag out the divorce proceedings for longer than the marriage itself and refuse to vacate the home they shared. That will knock you down a few pegs.
28. George Peterson (RHOC): He always looked like the guy who signed the checks, and considering his wife Lauri has a brood that would put any man in the crazy house, she's lucky he stuck around to sign them -- even when she decided she wanted to go back to the show.
27. Reid Drescher (RHONY): Here is a man who would fly with his one-legged wife Aviva on an all-girls trip to St. Barths because she's afraid of flying. Too bad he acts like a moldy tennis sweater someone left in the corner of a prep-school locker room.
26. Roy Black (RHOM): It takes a special kind of guy to out-crazy Lea Black, but Roy is just doofy enough to do it. They fell in love when she was a juror on the William Kennedy Smith rape trial and he was the defense attorney. Come on, guys, that's pretty darn dreamy.
25. Terry Dubrow (RHOC): Here is a nice, emotionally stable gentleman who might like the attention of reality television a little bit more than his actress wife. That's not so bad. If only he loved spending time with his kids as much as he loved leather jackets.
24. Leonard Hochstein (Real Housewives of Miami): From his gaudy mansion to his receding hairline, you could tell just by looking at him that he was a man who got rich giving women breast implants. Still, he stood by his wife Lisa as she tried and tried to get pregnant.
23. Herman Echevarria (RHOM): Alexia may not wear the pants in the family, but it sure looks like she does. Herman got the short shift on the show, even though the two run their magazine together. It's a cute union that works for them, even if Herman isn't everyone's cup of tea.
22. Donn Gunvalson (RHOC): Honestly, this man is a saint for putting up with Vicki and her empty love tank for so many years. He raised her children as his own and never seemed that impressed with the attention of the show, and as soon as they divorced, he just disappeared. If only she could have stayed with him and spared us the "Brooks years."
21. Jimmy Edmonds (RHOC): No one seems less interested in his wife (or her fertility) than this former baseball player and husband to homemade sleuth Meghan King Edmonds. But, man, I bet Jimmy could really fill out a pair of baseball pants.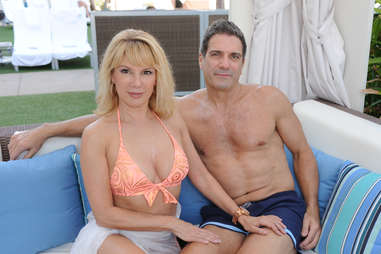 20. Mario Singer (RHONY): If this list had been made five years ago, Mario probably would have had the top spot. You couldn't do better than the funny, handsome, fiercely loyal spouse to clinical insane person Ramona Singer. Then she caught him sleeping with another woman in their Hamptons home. How the mighty have fallen. At least he still has his looks.
19. Rich Wakile (RHONJ): Do you have a crush on Jeff Goldblum? Then you'll love Richie. He's sleazy and not winning any beauty contests, but he always supported wife Kathy's business endeavors and stood by her absolutely insane family. If only we could get him to ditch those glasses.
18. Doug Maclaughlin (RHOC): His wife Lydia didn't make much of an impact, with her weird fairy-loving mother and her birdlike features, but her hunk of a husband sure did. Yeah, he's as bland as mashed potatoes without salt, but did he make it look appetizing.
17. David Beador (RHOC): Say what you will about him and his cruel treatment of Shannon during his affair, but in the end, David committed to making his marriage work, and things seem like they're on the mend. Also, he's the DILF-iest guy on this list, and willing to show off what's south of the border when in the bathtub with Shannon in Mexico.
16. Peter Thomas (RHOA): His marriage to Cynthia Bailey was doomed from the start when her sister tried to hide their wedding certificate so that the ceremony couldn't take place. But, as NeNe Leakes once described the Jamaican hunk, "the darker the berry, the sweeter the juice." It must have been very sweet indeed to keep Cynthia around for so long.
15. Bobby Zarin (RHONY): He always looked like he was about to sit down at a high-stakes poker table, but the silent counterpart to his shrill wife Jill was a stable rock for her, no matter what ups and downs she experienced through gaining fame and having it snatched away from her.
14. Al Manzo (RHONJ): He's not nearly as dreamy as his sons Albie and Chris, but he has always provided for his family and helmed a stable home for what is one of the most loving and welcoming homes on all of reality television. Caroline is a real lucky lady.
13. Gregg Leakes (RHOA): He pulled NeNe down off the stripper pole and gave her the life she deserved. Then, after he talked trash about her on the radio and they got divorced, she pulled him back up out of the gutter and decided to forgive him. Gregg will never step out of line again, especially now that they're hitched once again.
12. Ken Todd (RHOBH): Sure, he looks like Rod Stewart's older brother, but if anyone dares come for his wife Lisa, he will bear his teeth like a rabid dog. It's not always the best look, but it's one that is definitely admirable.
11. Simon McCord (RHONY): The original "sixth housewife" was this creepy dude who liked shopping, stealing the spotlight from his wife Alex, and recording bad dance singles. Man, he was a mess, but oddly enough, there is something I miss about Simon.
10. Joe Gorga (RHONJ): If you have a weakness for swole, macho, Jersey Shore-type guidos, then you will do no better than this mound of muscle. However, that machismo is sometimes a little much when he's overprotective of his wife and a little bit traditional in what he thinks her duties are around the house. But, man, Joe still looks real good.
9. Chris Laurita (RHONJ): There is only one reason that Chris Laurita ranks so high on this list: Ashley. Yes, he helped raise Jacqueline's no-good daughter and was the voice of reason and tough love when she was at her floppy-hat-wearing worst. Even though Jacqueline has gone a bit insane, Chris is still the calming force that she needs. Oh, and Ashley turned out to be not so bad, either.
8. Eddie Judge (RHOC): His haircut is gayer than Neil Patrick Harris doing poppers in Liza Minnelli's dressing room, but Eddie is the adoring and supportive husband that Tamra needed after the disaster that was Simon. Always enthusiastic and quick with a smile, Eddie can look past Tamra's oft-questionable behavior to see the woman he loves. Isn't that sweet?
7. Vince Van Patten (RHOBH): This former child star turned poker player looks amazing in a tuxedo -- like something out of a GQ editorial. He will always have my heart for peering out the garage window when Brandi Glanville and Kyle Richards decided to go toe-to-toe in his driveway. Cute and funny? Sign me up.
6. Todd Tucker (RHOA): There are plenty of detractors of Kandi Burruss' husband (whom she met when he was a producer on the show). The biggest, of course, is Kandi's mother, Joyce. But this handsome chap has brought a lot of light into Kandi's life, so let's just leave them alone.
5. Jonathan Schindler (RHONY): No one probably remembers Heather Thomson's cute and diminutive husband Jonathan. I don't think he ever uttered a single word on camera. That's what makes him so dreamy. Jonathan is something of a rare commodity on these shows: a real, actual human being. He went along with it to keep his wife happy and help promote her brand. He even pitched in more to help raise their two kids (one who has massive health concerns). He may not seem like much to write home about, but I bet you that Heather is full of joy every time she comes home to him.
4. Harry Hamlin (RHOBH): He seems to have as many dad jokes as he did on episodes of LA Law, but Lisa Rinna's husband is still the same heartthrob he was way back then. He's often off earning a living, but he's not above showing up at a birthday dinner to give his wife some expensive jewelry. Hey, if looking past the bad jokes and the absences is what it takes to keep Harry Hamlin, so be it.
3. Donnie Edwards (RHOBH): Not many were a fan of his wife, Kathryn, but man, were there a lot of fans of Donnie. We only saw this former NFL star without his shirt once or twice, but it is etched into my memory like no other. He seemed quiet and game, which are good qualities to have in a spouse. But, damn, when someone is this attractive, he could be a whole lot more of a jerk, and many people wouldn't really mind.
2. Kroy Biermann (RHOA): Kim Zolciak was first attracted to him at a Dancing with the Stars-type event in Atlanta because this blond mountain of an NFL player had an ass you can bounce a quarter off of. Well, he still does. But all these years later, what he also has is an uncanny devotion to the insane tsunami of a woman seven years older than him. He's adopted her children from previous relationships and raised them along with his own biological children. He's kept calm through various household staff changes, family trips, car accidents, wig flare-ups, and the other assorted ridiculousness of having a reality star as a spouse, and he always does it with a smile on his handsome face. They really should clone this man.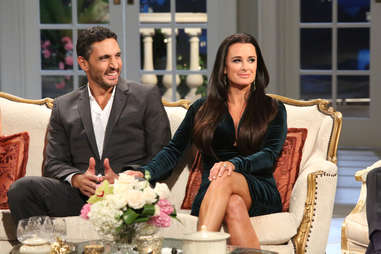 1. Mauricio Umansky (RHOBH): Yes, it's an obvious choice, but Kyle Richards' husband is still the sine qua non of Real Housewives husbands. These days, he may only find one excuse to get in his bathing trunks during a season, but that's because he's leading a real estate empire that he built from the ground up. (Though some, like Kyle's sister Kathy, might say by stealing his brother-in-law's clients.) Mauricio is not only attractive, attentive, and faithful, but he seems to have a very healthy relationship to his wife's fame and his place on the show. He's willing to attend events (and benefit from the exposure), but he's also willing to tell Kyle when things are getting out of hand. But the one thing I'll never forget about Mauricio is during one of Kyle's silly White Parties, he pulled her onto a float in the pool and bobbed around with just her in his arms while all the guests danced and ate Fatburgers in their yard. That is what real love looks like, and yes, it looks just like a dream.
Sign up here for our daily Thrillist email, and get your fix of the best in food/drink/fun.
Brian Moylan
is a writer and
Real Housewives
anthropologist. He is currently the US television columnist at
The Guardian
, and his work has appeared in Vice,
Gawker
, New York Magazine, and
Time
. He would like to thank God, his mother, and Meryl Streep for this honor. Find him on Twitter @BrianJMoylan.