The 21 Best Record Shops in America
Now that you can buy music anywhere from Urban Outfitters to Whole Foods and whatever the Internet is, old-school record stores have somehow survived changes in preferred format (8-track, CDs, vinyl, gramophones, and beyond) and remained temples for the true believers who see music as something to physically purchase instead of just download.
Although we at Thrillist are usually more busy stuffing our faces, the challenge of naming the best record shops in the country was music to our ears. In compiling this list, we aimed to reward stores of all shapes and sizes, from niche outposts of death metal rarities to shops with such massive stacks of records that they're browsed using sliding library ladders. Shops earned bonus points for longevity and regional focus, but we also wanted to celebrate younger businesses, because sometimes the new kid on the block turns out to be the coolest in town.
Read on to see our picks, and don't forget that most of these shops also sell music online, so click through to see their newest arrivals. Your headphones will thank you.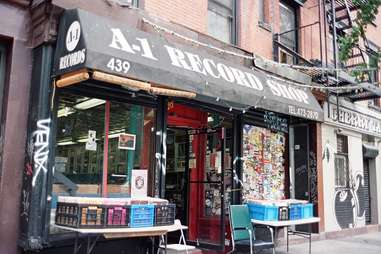 New York, NY
The clientele: Snobby DJs, record collectors, East Village stalwarts
Record shops used to be places where you'd tread lightly, since they were staffed by a crew of dorkier-than-thou music lovers who wouldn't wait until you're out the door to tear apart your musical tastes. A-1 still flies that flag, with a crew of New York music historians that would strike fear into the hearts of even the staff from High Fidelity, but with a little sweet talking will pick you out a dozen records you never knew you needed. The stock spans decades of vinyl, from old-school hip-hop and disco to the newly released electronic singles, including the full catalog of lo-fi techno released through their in-house label L.I.E.S.

San Francisco, CA
The clientele: Former college radio DJs, reissue hunters, discerning metalheads
Thoroughly entangled in SF's counter culture roots, Acquarious opened in 1970 as a punk rock breeding ground and has since grown up into a shop that's as diverse as it is deep-cut, with a staff so obsessive that they file a weekly tome of new-release reviews that's more substantial than most music magazines. Expect to overhear obtuse discussions about niche oddities like the latest Krautrock reissues or a 29-minute Italian doom-psych epic, but you'll find the staff just as excited to gush over new releases from the likes of Wilco and Beach House.
Los Angeles, CA
The clientele: Anyone with ears
Few record stores have reached pilgrimage status, but Amoeba is a must visit for any music fan stopping through Los Angeles. The original in San Francisco is also worthy, but the LA location gets our nod because of sheer volume. It's literally an entire city block's worth of music, and it isn't an exaggeration to say they have millions of albums to choose from. To help narrow it down, their website has a recurring feature called "What's In My Bag" where tastemakers like Mark Ronson give a record rundown on a bagful of essential records.

Seattle, WA
The clientele: Jazz scholars, vinyl hoarders, members of Radiohead
Before opening Bop in 1979, the owner spent five years selling rare blues records out of his parents' basement. These days the inventory is rumored to clock in at over half a million records, but the guy behind the counter hasn't changed, as the shop is as renowned for it's personal service as its gigantic selection. The towering shelving system requires sliding library-style ladders to navigate, the basement is a digger's dream, and the dedicated jazz room has an archivist's aura. Ask nicely and the owner will recount the time that the members of Radiohead stopped by and stayed until 1am.
Brooklyn, NY
The clientele: Autograph seekers, box-set collectors, exclusive-release hounds
Some might complain that an offshoot of a British institution doesn't belong on a list like this, but once you step into Rough Trade's Williamsburg outpost, it's hard to argue. Much respect to Other and Academy and all of New York's other great shops, but Rough Trade's expansive two-story space built of shipping containers recalls the glory days of music retail, back when record shops felt more like cathedrals than closets. The impressive footprint includes a cafe, built-in venue with a full bar that puts to shame most stores' cramped performance nooks, and art-installation spaces where you might just be able to twiddle nobs on a massive Moog modular synth. The selection is on point with every new release under the sun, as well as a bank account-busting collection of box sets, music books, and exclusive Rough Trade releases.

Lakewood, CO
The clientele: Metalheads and punks with a soft spot for '80s pop
This is the shop for the nerdiest of all metal nerds, which where we come from is a huge compliment. Expect to find the weirdest and rarest of new wave British metal, Canadian thrash, ritual rock, and music you thought had been lost in some Viking shipwreck. That's not even counting the punk rock, of which there is an abundant treasure trove here. Rock is not dead -- it's alive and well in a Denver suburb.
Austin, TX
The clientele: Texas music fans, vinyl happy hour heads, well-rounded listeners
Located across from literary hub Bookpeople and the flagship Whole Foods, Waterloo's a must-stop for any music fan visiting Austin. They make it easy to dig into the local music scene thanks to a healthy stock of new releases from Austin bands (and a handy best-selling chart to guide you), plus there's a good chance you might even stumble in during an in-store performance. The inventory is split in half between CDs and vinyl so there's no shame in not owning a record player -- but for the phono-curious, they sell turntables too. Austin has plenty of stores for more niche tastes like End of an Ear and Breakaway, but for browsing a large, diverse catalog complete studded with deep cut gems, you can't beat Waterloo, especially during Tuesday night vinyl happy hour.

Florence, AL
The clientele: Attendees of the W.C. Handy Music Festival, Muscle Shoals pilgrims
Across the Tennessee River from the musical holy land of Muscle Shoals lies Pegasus Records -- a small shop with Southern charm and a tenacious attitude. It's a great place to get acquainted with the local sound and to catch a live show in the folk/blues vein. Expect to find Rock History 101 titles in near mint condition, but the real gold here lies in the ample soul recordings you'll find of the sound created just downstream.
New Orleans, LA
The clientele: Local musicians, New Orleans music tourists, and zydeco aficionados
For audiophiles with special leaning toward bayou splendor, there is likely no closer place to heaven than the Louisiana Music Factory. It's not uncommon for this record store to serve up a keg of Abita at the door and host live brass bands. The store has been around since 1992, and weathered Hurricane Katrina with little damage -- in fact, it was one of the first record stores to reopen in the city. It's recently been relocated to the jazz-lined Frenchmen St, where the neighborhood's raucousness is known to spill into the shop.

Tempe, AZ
The clientele: Gila monsters, college kids, air-conditioning nomads
Life in the desert gets weird. The desert people can be a little … off. That said, Double Nickels Collective helps keep things from going completely AWOL by serving as a sonic oasis in the Phoenix valley. It's one of the best shops in the Southwest to scoop up brand new releases from artists as far and wide as The Plasmatics and Flying Lotus. Plus, air conditioning!
St. Louis, MO
The clientele: Fans of home-grown Americana, hard rockers, and bluesmen
Regarded by vinyl addicts as one of the best-curated shops in the Midwest, this is a general-interest store if there ever was one. You can find nearly everything under the hot St. Louis sun, and in multiple formats: Punk CDs and hip-hop tapes fly off the shelves here as quickly as the wax does. But beyond what you can purchase, Vintage Vinyl is known for its ear-shattering in-store shows where free beer often flows. What else would you expect from St. Louis?

Lakewood, OH
The clientele: Former Dead Boys groupies and jazz junkies
Considered Cleveland's premier source for used rarities as well as brand-new vinyl, MME is mostly metal, punk, and rock-leaning, but with an obvious curatorial reverence for jazz. Having given birth to bands such as Ringworm and Nine Inch Nails, the hardcore aspect should come as no surprise. This place has stacks upon stacks upon stacks. Make sure you take care of all your bodily needs before entering. You'll be there for awhile.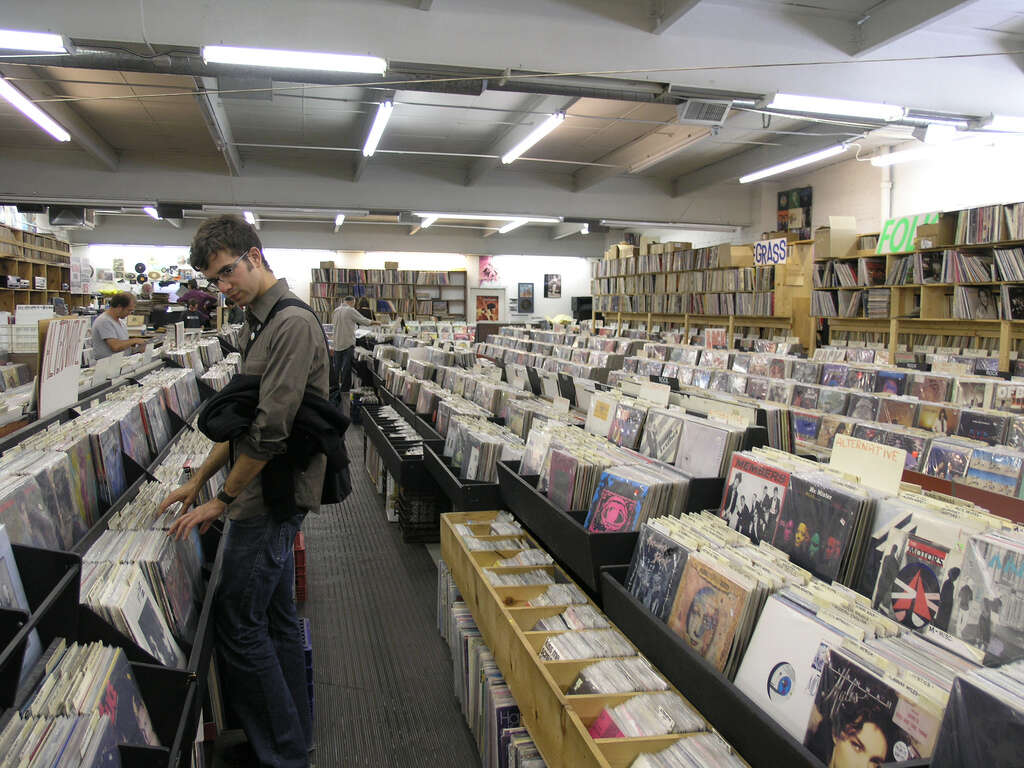 Pittsburgh, PA
The clientele: People who already have too many records in their apartment
If you find yourself in Pittsburgh with a few days to kill, swing by Jerry's Records, where you could spend a week exploring the entire store. There are literally rooms dedicated to every genre of music you can imagine. The prices are fair and the records are in great condition. You may consider bringing along an avalanche beacon in the very real chance that you wind up buried alive in the jazz room, which by the way, is every bit as great as its considerable legend implies.

Detroit, MI
The clientele: Rastas, DJs, slaves to the 45
Nestled in Detroit's historic Corktown neighborhood, this shop is tiny but packs a major punch for Motown, soul, jazz, blues, and reggae lovers. The impressive collection of used 45s features a thorough representation of Detroit's rich musical heritage with very hard-to-find relics of mid-20th-century antiquity -- all in damn fine condition. It's cash only, so leave your debit card at home and your traveler's checks back in the '90s.
Chicago, IL
The clientele: Chicago house revivalists, techno dorks, people who stream Boiler Room DJ sets
Aside from New York and arguably Detroit, no other city in the country has put as large a stamp on dance music history as Chicago. So as much as we respect crate-digger palace Dusty Groove and the three excellent locations of Reckless Records, our pick for the Windy City is the decidedly DJ-centric Gramaphone. In operation since before beat-matching even existed (est. 1969!), Gramaphone was selling house music back when the genre didn't even have a name. Throughout the years, the store has always been a pillar of the city's dance-music community thanks to an excellent curatorial eye with as much emphasis on historic house labels like Dance Mania as the newest in techno and of-the-moment local subgenres like footwork.

Boston, MA
The clientele: Aging East Coast hippies, young Bostonites with an appreciation for kitsch and the occasional Jimmy Page sighting
Just steps away from the near-mythical Paradise Rock Club lies this unassuming little shop which has vaulted some of the world's finest used records, tapes, and 8-tracks for more than 35 years. Rock 'n' roll is the forte of this shop, which you might call cozy, if you interpret "cozy" to mean there's not a centimeter of free space to be found. The bounty within can barely be contained by the basement shop's staircase, walls, and doors, which is always a good sign.

Allentown, PA
The clientele: Prog-rock snobs and crate diggers from near and far

This shop has it all: It's well organized, the staff is informed, and the prices are reasonable if not bargain. With new titles arriving every day, if you don't jump on that gem you've been looking for, you're likely not to find it again. There's easily more records than should be physically possible to fit in this space, but that's where the ceiling-high milk crates come in: They're like little mystery bins of vinyl gold. If you're willing to challenge another rummager for the right to forage through an unmarked crate of vinyl, chances are you've just struck vintage gold. It's basically American Pickers for music nerds.
Miami, FL
The clientele: Miami scenesters, the next big local band, vegan punk rockers
Although Museo del Disco might have a broader selection, a great record shop is more than just a place to buy music, and Sweat Records in Little Haiti exemplifies the type of store that transcends the sum of their inventory. Run by a Miami native with music retail in her blood (her grandfather also ran a shop), Sweat is a veritable music-nerd community center anchored around a stock of new and used vinyl, but also featuring a coffee bar, vegan bakery, and music venue promoting local music and arts of every variety.

Princeton, NJ
The clientele: Traveling rare-record experts, small-town music listeners, college freshmen
Mom & Pop vibes abound at Princeton Record Exchange, where the staff is so ingrained in the record-shop experience that most of the employees have worked there for more than a decade (it doesn't hurt that the perks always included health insurance). Deal-hunters will rejoice at a giant bin of CDs marked to sell at under $5, whereas more discerning patrons will be happy to see a mint-condition mono copy of Sgt. Pepper's Lonely Heart Club Band. They're always buying used records and have a knack for hunting down unique collections (as evidenced by a recent cache of 100 Indian LPs), but the small-town mentality means that snobbiness is checked at the door.
Nashville, TN
The clientele: Jack White stalkers, colored vinyl collectors, guacamole eaters
From the White Stripes to the Racounters to his guacamole recipe, Jack White's influence on pop culture is undeniable. Third Man is the physical incarnation of all things White, from serving as a place to score his entire discography and all the merch you could imagine, to a storefront hawking limited-releases recorded at his nearby studio. If you're in the market for a three-color vinyl single, this is your destination, but casual listeners are still guaranteed to find a rare release from an artist they love.

Portland, OR
The clientele: Old-school Portlanders who refuse to adopt to new technology, new-school Portlanders who insist that everything sounds better on vinyl... basically, between the two, the entire population of Stumptown
Because Portland is Portland, it's a city that's packed with great record stores ranging from niche and elite (Mississippi Records) to kitchen-sink (Music Millennium) to goddamned food carts converted into record stores because, again, Portland. Jackpot manages the task of landing somewhere in the middle, with extremely well-stocked, cross-genre stacks that maintain the cred needed to get respect in a city known for being too cool for you. In addition, Jackpot has its own reissue-focused label, meaning it's not just selling old-school groups like the Wipers and the New Dawn: it's preserving them for future generations.
Sign up here for our daily Thrillist email, and get your fix of the best in food/drink/fun.
Dan Gentile is a staff writer at Thrillist. He has literally become physically ill from record dust on more than one occasion. Follow him to digging with a mask and gloves at @Dannosphere.
Megan Frye is a Detroiter and admitted Ennio Morriconiac. Tweet her which store has the finest selection of his genius: @fryechild.