The Best Rom-Coms on Netflix
For when you need a reminder that love does exist!
Romantic comedies have a long history, summed up in a simple taxonomic phrase Drama 101 teachers like to use when discussing theatrical works from the Greeks through modernity: In tragedies, everyone (spoiler) dies in the end, and in comedies, everyone (spoiler) gets married in the end.
So laughter and romance have gone hand-in-hand for millennia, and while the explosion of arts and entertainment has created countless new subgenres and riffs on old themes, the classic romantic comedy is still going strong -- it's even in the midst of a revival. The next time you want to watch a movie that feels like a warm blanket, check out one of these titles on Netflix. Don't forget, there's plenty of other great movies on Netflix for whenever a different mood strikes.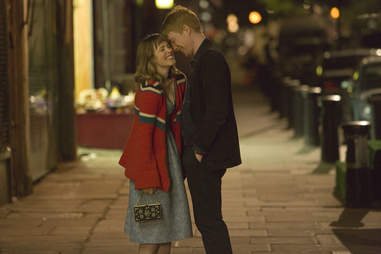 Universal Pictures
About Time (2013)
If you had the chance to orchestrate the perfect meet-cute between you and the one missed connection you've never forgotten about, would you? This fantastical rom-com from Love Actually director Richard Curtis explores that concept and the ramifications that could come as a result, focusing on a time-traveling young man (Domhnall Gleeson) who uses his ability to find the love of his life. Together with Rachel McAdams, the pair is incredibly charming navigating the space-time continuum to be together, and like Curtis' other works, About Time is about a lot more than just love -- it's a meditation on family and what permanence means in a world where time rolls on unabated. 
Ed Araquel/Netflix
This Netflix original movie stars Randall Park and Ali Wong as two close friends everyone else expected to end up together romantically, but who've only ever been friends. When the two reconnect later in life, of course they have the opportunity to rekindle their relationship as something more, but not without a few missteps -- one of which comes in the form of a scene-stealing appearance by Keanu Reeves. The two comedic stars bring the kind of chemistry that makes famous rom-coms of yesteryear work, and the result is an exciting new entry to the canon of a tried-and-true genre.
Universal Pictures
Definitely, Maybe (2008)
Eleven-year-old Maya (Abigail Breslin) understands that though her mom and dad, Will (Ryan Reynolds), are divorced, they're on good terms… but what she doesn't know is the story of how they met, or anything about her dad's life before she was born, for that matter. Over the course of one evening in this romantic comedy, Maya begs her dad to explain to how her mom came into his life, which she finds is a more complicated story than anticipated, as he ends up recounting the three relationships that touched him the most. In learning about three women (Elizabeth Banks, Rachel Weisz, and Isla Fisher), each with an equally sweet story and special effect on Will's life, Maya tries to piece together who might be her mother, and who might be the one that got away. Unlike typical rom-coms that focus on the saga of one relationship, Definitely, Maybe effectively uses intertwined storytelling to focus on love, love lost, and the hope of finding it again. 
Warner Bros. Pictures
He's Just Not That Into You (2009)
Inspired by the 2000s relic and Greg Behrendt and Liz Tuccillo "self-improvement book for single women" of the same name, this ensemble film featuring the likes of everybody from Drew Barrymore and Jennifer Aniston to Ben Affleck examines the quirks, games, and trials of dating culture and "why he won't call back." Its bluntness works to its advantage, putting the shitty things single people and those in a relationship do on trial to tell a charming yet realistic story about romance. 
New Line Cinema
Just Friends (2005)
In the wake of There's Something About Mary and American Pie, the early-to-mid-'00s were filled with comedies that mixed crude humor with treacly sentimentality -- but Just Friends was the only one to throw Christmas cheer into the mix. This tale of a smart-ass LA record producer (Ryan Reynolds) returning home to New Jersey over the holidays and romancing his high school BFF (Amy Smart) doesn't go down easy -- some of the jokes have aged like your favorite Good Charlotte song -- but the leads do their best with tepid gags about retainers, The Notebook, and "friend-zoning." So why give this one a chance? A very funny turn from Anna Faris as a deranged Paris Hilton-style pop singer who makes Reynolds' life a living hell. If her character ever makes a Christmas special, we'll be there.
Warner Bros. Pictures
Life As We Know It (2010)
Katherine Heigl has starred in a lot of romantic comedies, some of them good, a lot of them forgettable. While Life As We Know It may not be as memorable as the beloved 27 Dresses from her oeuvre, it's just as sincere and worth the watch. The premise is a step back from reality as two strangers (Hiegl and Josh Duhamel) move in together when they become the primary caregivers of a baby after her parents and their best friend tragically die in an accident. Even as the two seem like polar opposites destined to forever hate each other, it's pretty predictable what's bound to happen, but it's cute watching a new sort of family comes together in this surprisingly heartwarming comedy.
Universal Pictures
Scott Pilgrim vs. the World (2010)
Scott Pilgrim vs. the World isn't your average romantic comedy. There's a lot of comic-inspired ass kicking and super villianous ex-boyfriends, as well as not so great original garage band music. While ridiculous, these oddities in a movie about a bass player (Michael Cera) on a quest to win the heart of a special Ramona Flowers by defeating her evil exes give the genre some much needed action. From director Edgar Wright (Baby Driver, Shaun of the Dead), the film is uniquely stylized and has the right amount of teenage flare to make it a cult classic. What's dreamier than a boy fighting evil exes from hell for the sake of love? 
Netflix
Set It Up (2018)
In Set It Up, Zoey Deutch and Glen Powell's Harper and Charlie are dying to catch a break from their needy workaholic bosses, which prompts the two assistants to pawn their overbearing managers off onto one another -- like, romantically. With their on-point comedic timing and matchmaker antics, the two find themselves setting up their own relationship without even realizing it. The Netflix movie recalls what made quintessential rom-com classics so easily watchable and hilarious: a strong connection between two spearheading leads. It'll feel like you're watching one of your favorites from the '90s, updated with anxious, though equally as warm, millennials.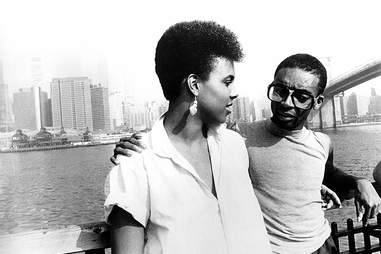 Island Pictures
She's Gotta Have It (1986)
Before checking out Spike Lee's Netflix original series of the same name, be sure to catch up with where it all began. Nola (Tracy Camilla Johns) juggles three men during her sexual pinnacle, and it's all working out until they discover one another. She's Gotta Have It takes some dark turns, but each revelation speaks volumes about what real romantic independence is all about.
The Weinstein Company
Silver Linings Playbook (2012)
Jennifer Lawrence, Bradley Cooper, and David O. Russell's first collaboration -- and the film that turned J-Law into a bona fide golden girl -- is a romantic comedy/dramedy/dance-flick that bounces across its tonal shifts. A love story between Pat (Cooper), a man struggling with bipolar disease and a history of violent outbursts, and Tiffany (Lawrence), a widow grappling with depression, who come together while rehearsing for an amateur dance competition, Silver Linings balances an emotionally realistic depiction of mental illness with some of the best twirls and dips this side of Step Up. Even if you're allergic to rom-coms, Lawrence and Cooper's winning chemistry will win you over, as will this sweet little gem of a film: a feel-good, affecting love story that doesn't feel contrived or treacly.
IFC Films
Sleeping With Other People (2015)
Alison Brie and Jason Sudeikis' characters in this comedy have commitment issues, and serious ones at that -- they're both sex addicts with troubled relationship histories. The couple happened to lose their virginities to each other in college, and they reconnect years later in a sex addiction support group. The two make a pact to be friends and help the other with their personal issues, and while they try their best to stay apart, it's difficult for them to avoid the fact that they might just be an ideal match. The pairing is rom-com perfection based on the actors' comedic backgrounds and tender performances playing complex characters.
TriStar Pictures
Sleepless in Seattle (1993)
Although this Nora Ephron film doesn't get as much love as When Harry Met Sally or You've Got Mail, it is just as sweet. In another classic team-up between Tom Hanks and Meg Ryan, Hanks plays a widower who up and moves his son (Ross Aaron Malinger) to Seattle after his wife died, and Ryan plays a woman in Baltimore looking for true love who happens to tune into a radio show featuring Hanks' son asking for his advice on how to find his sad dad a new wife. While the cross-country romance seems like it can never be, Ryan's fate-obsessed rom-com lead, which she plays so perfectly (as she always does), and the film's reference to An Affair to Remember is convincing enough to believe that your soulmate is out there, even two time zones over.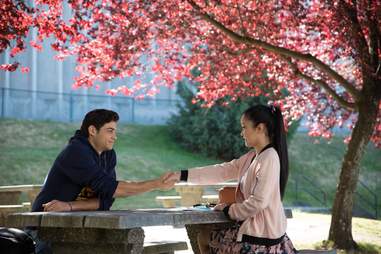 Netflix
To All the Boys I've Loved Before (2018)
What if your private letters to your crushes weren't private, but wound up in the hands of aforementioned crushes? It's a teen nightmare! That's what happens to leading lady Lara Jean (Lana Condor) in this Netflix original based on Jenny Han's best-selling YA novel. To brush over the embarrassment of one letter ending up in the mailbox of her neighbor, best friend, and sister's ex-boyfriend Josh, Lara Jean pretends to date another former crush, Peter Kavinsky -- and it turns out fake-dating can inadvertently lead to a lot of real feelings. To All the Boys has been hailed as a near perfect rom-com for its diversity, sincerity, and undeniable chemistry between Lara Jean and Peter. If you've felt the genre has been lacking recently -- and need a perfect gentlemanly heartthrob to crush on -- To All the Boys I've Loved Before is for you.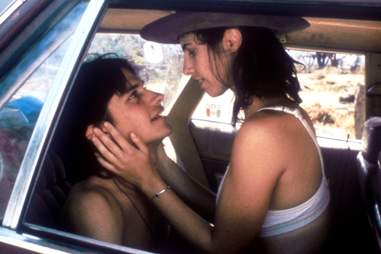 IFC Films
Y Tu Mamá También (2001)
Before taking us to space with Gravity, director Alfonso Cuarón steamed up screens with this provocative, comedic drama about two teenage boys (Diego Luna and Gael García Bernal) road-trippin' it with an older woman. Like a sunbaked Jules and Jim, the movie makes nimble use of its central love triangle, setting up conflicts between the characters as they move through the complicated political and social realities of Mexican life. It's a confident, relaxed film that's got an equal amount of brains and sex appeal. Watch this one with a friend -- or two.
The Weinstein Company
Zack and Miri Make a Porno (2008)
It's possible you've never seen this Seth Rogen movie, his sole collaboration with director Kevin Smith. In Zack and Miri, a pair of down-on-their-luck roommates (Rogen and Elizabeth Banks) aim to squash their pile of utility bills by making a Star Wars porn parody. While the movie didn't find much of an audience in 2008, Smith told us that he and Rogen were suuuuuper high while editing the finished product, which should indicate if this silly comedy is for you. But even in all of the silliness (and there's a lot of it), as the heat turns up on the coffee-shop-turned-porn-set, feelings do too and you're dying for the best friend leads to finally get it on.
Need help finding something to watch? Sign up here for our weekly Streamail newsletter to get streaming recommendations delivered straight to your inbox.
Follow the Thrillist Entertainment editors on Twitter @ThrillistEnt.