Romantic comedies have a long history, summed up in a simple taxonomic phrase Drama 101 teachers like to use when discussing theatrical works from the Greeks through modernity: In tragedies, everyone (spoiler) dies in the end, and in comedies, everyone (spoiler) gets married in the end.
So laughter and romance have gone hand in hand for millennia, and while the explosion of arts and entertainment has created countless new subgenres and riffs on old themes, the classic romantic comedy is still going strong. The next time you want to watch a movie that feels like a warm blanket, check out one of these titles on Netflix. Don't forget, there's plenty of other great movies on Netflix for whenever a different mood strikes.
Recommended Video
This Clock Tracks Your Loved Ones Like the Clock in 'Harry Potter'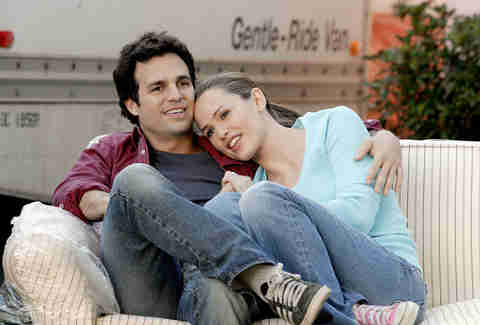 13 Going on 30 (2004)
What if Big, the Tom Hanks classic about a little boy upgraded to an adult body, got gender-swapped? Jennifer Garner showed us what that would look like in this feel-good rom-com, which transports her 13-year-old Jenna from her 1987 birthday party to adulthood 17 years later. Wouldn't you know, wish fulfillment isn't all it's cracked up to be -- but Mark Ruffalo makes it bearable as Jenna's charming love interest.
Amélie (2001)
Jean-Pierre Jeunet's quirky French flick can be easy to make fun of, perhaps because it's what everyone immediately thinks of when they hear the words "foreign film." But don't let haters dissuade you from this critically acclaimed rom-com, which was rightfully a major box-office success and awards contender. The story follows its titular heroine (Audrey Tautou) through Paris as she sheds her sense of isolation, opens herself up to others, and discovers love. (Also, yeah, garden gnome alert.)
Bridget Jones's Diary (2001)
One of the quintessential early-aughts rom-coms, and possibly the seminal modern romance based around a notebook (sorry, The Notebook!) Bridget Jones is a wickedly funny Pride and Prejudice remake that forces Renee Zellweger's discombobulated anti-heroine to choose between two equally dashing Brits-with-Jane-Austen-acting-credits: Colin Firth's prissy Mark Darcy and Hugh Grant's womanizing Daniel Cleaver. The ultimate rom-com Sophie's Choice.
Can't Buy Me Love (1987)
Want a good excuse to see McDreamy before he was McDreamy? Steve Rash's quirky '80s teen comedy will transport you and Patrick Dempsey back to high school, where his nerdy character (a "social leper") pays the most popular girl there (the late Amanda Peterson) $1,000 to be his girlfriend. Along the way, the couple teaches each other important social lessons, experiences great hairdos, and, oh yeah, takes part in this insane and real dance scene. Queue it up.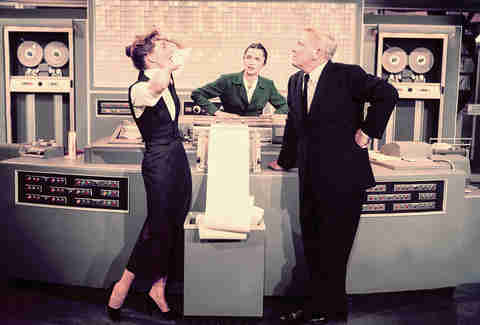 Desk Set (1957)
Legendary actors Katharine Hepburn and Spencer Tracy made nine pictures together over the course of their intertwined careers, and while Desk Set isn't the gold standard, it reminds us why these two flourished together. Written with zippy wit by Phoebe Ephron and Henry Ephron (parents to Nora Ephron, another ace wordsmith), the romantic comedy stars Tracy as the inventor of a high-tech computer that will aid the research department of a major news broadcasting company. Hepburn's Bunny Watson runs the department, and with wires crossed, believes the machine's meant to replace her team. Desk Set is farce done up with eye-popping color that's all the more transportive 60 years later.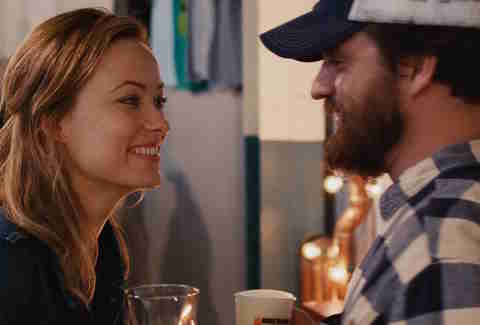 Drinking Buddies (2013)
This understated romantic comedy from mumblecore master Joe Swanberg centers on the intimate relationship between hard-drinking brewery colleagues Jake Johnson and Olivia Wilde, who both also happen to be dating other people (Anna Kendrick and Ron Livingston, respectively). The two relationships get progressively entangled over the course of the film. Although Drinking Buddies starts out looking like a traditional rom-com, Swanberg quickly subverts viewer expectations, resulting in a film that is romantic but surprisingly devoid of sap, funny without falling back on cheap gags. This is a movie that moves along in small moments: a lingering glance, an awkward silence, a stolen kiss. A crisp, refreshing little film.
Emma (1996)
The movie that made pre-GOOP Gwyneth Paltrow a bona fide movie star is an adaptation of the Jane Austen-penned classic, with all the biting sarcasm undergirding the seemingly traditional romantic setup. Paltrow is at her best as a semi-self-aware target of ridicule -- a matchmaker who doesn't realize she's a bad matchmaker -- and if you're a fan of Austen in particular or Romantic-era, um, romances more generally, Emma faithfully executes a straightforward adaptation.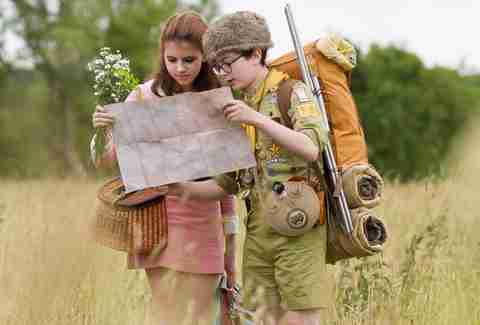 Moonrise Kingdom (2012)
This living storybook reworks Wes Anderson's subdued sense of humor for a YA crowd. When two teenagers go on the lam during a record-setting hurricane, the capricious adults spin in circles while romance blossoms. Anderson enhances this cheeky love story with his visual stamp, ensuring that even book covers and music cues inspire laughter.
Punch-Drunk Love (2002)
Paul Thomas Anderson's furious romantic comedy is the Pluto to Adam Sandler's filmographic solar system. You can't help but doubt it -- does it even count as a Sandler movie? And yet the pieces are there: the comedian plays Barry, a novelty plunger salesmen who battles his malicious sisters, a shadowy phone-sex extortionist, and the crippling effects of depression, all while falling in love with the women of his dreams. With brighter lighting and a Top 40 soundtrack, it would follow in the tracks of Happy Gilmore and Big Daddy. In Anderson's hands, it's a melancholic character study that strangles Sandler's persona with his own vocal chords. The colors are dreamlike. The anger is palpable. Sandler bursts from the seams of his own fame. It's everything we want from a funnyman-gone-serious, caustically sweet and mentally unstable, an alternative mode that Sandler's hero complex would never revert to again.
Y Tu Mamá También (2001)
Before taking us to space with Gravity, director Alfonso Cuarón steamed up screens with this provocative, comedic drama about two teenage boys (Diego Luna and Gael García Bernal) road-trippin' it with an older woman. Like a sunbaked Jules and Jim, the movie makes nimble use of its central love triangle, setting up conflicts between the characters as they move through the complicated political and social realities of Mexican life. It's a confident, relaxed film that's got an equal amount of brains and sex appeal. Watch this one with a friend -- or two.
Sign up here for our daily Thrillist email and subscribe here for our YouTube channel to get your fix of the best in food/drink/fun.