The Best Rom-Coms on Netflix
For all your meet-cute and flirty banter needs.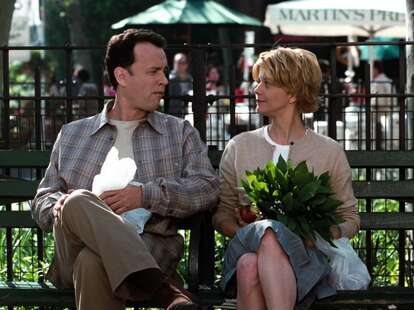 'You've Got Mail'

| Warner Bros. Pictures
'You've Got Mail'

| Warner Bros. Pictures
Romantic comedies have a long history, summed up in a simple taxonomic phrase Drama 101 teachers like to use when discussing theatrical works from the Greeks through modernity: In tragedies, everyone (spoiler) dies in the end, and in comedies, everyone (spoiler) gets married in the end.
So laughter and romance have gone hand-in-hand for millennia, and while the explosion of arts and entertainment has created countless new subgenres and riffs on old themes, the classic romantic comedy is still going strong—it's even in the midst of a revival. The next time you want to watch a movie that feels like a warm blanket, check out one of these titles on Netflix. Don't forget, there's plenty of other great movies on Netflix for whenever a different mood strikes.
ALSO READ: The funniest comedies on Netflix and the best teen movies available on Netflix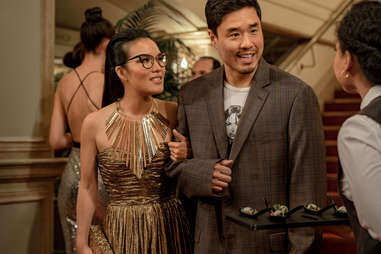 This Netflix original movie stars Randall Park and Ali Wong as two close friends everyone else expected to end up together romantically, but who've only ever been friends. When the two reconnect later in life, of course they have the opportunity to rekindle their relationship as something more, but not without a few missteps—one of which comes in the form of a scene-stealing appearance by Keanu Reeves. The two comedic stars bring the kind of chemistry that makes famous rom-coms of yesteryear work, and the result is an exciting new entry to the canon of a tried-and-true genre.
Crazy, Stupid, Love. (2011)
Many of us could probably learn a thing or two about romance and seduction from the ultra-charming Ryan Gosling. Steve Carell takes his advice (to some success) in this lovable comedy about a middle-aged man separated from his wife (Julianne Moore) and trying to get his game back with the help of a young playboy (Gosling). It's the interconnected kind of rom-com that actually works, largely because of the all-star cast and the transfixing chemistry between Gosling and frequent co-star Emma Stone. The movie may ultimately have more heart than it does sex appeal (although, Gosling's Dirty Dancing-inspired trick to get girls into bed is interesting), but even as it proves how tough love can be, it's an easy flick to fall for.
Destination Wedding (2018)
Fans of Keanu Reeves and Winona Ryder have been obsessed with the two '80s/'90s icons as an item for years, even if they were never actually together. They've been longtime friends for years, starred in a handful of movies together—most notably as lovers in Bram Stroker's Dracula where they technically got married on set—and shamelessly talk about having crushes on one another. All that Keanu-Winona chemistry bubbles up in this rom-com collaboration between the two, as they play two middle aged curmudgeons who annoy the hell out of each other at the airport and then at the same wedding they're both attending in Paso Robles. The movie may at times drag—given how the pessimists' dialogue is way more sour than the grapes at their wine tastings—but come on, you want to drink up a glass of their chemistry any chance you get.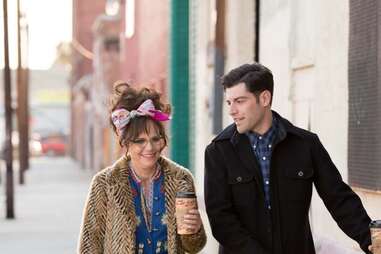 Hello, My Name is Doris (2016)
Michael Showalter's (Wet Hot American Summer) Hello, My Name is Doris feels like a warm cup of tea, a comfy couch, and a deep breath. While the premise is prone to laughs—hipster culture seduces a 60-something woman (Sally Field), who in turn tries to seduce her younger co-worker—each one's laced with introspection and sadness. The common link between baby boomers, Gen Xers, and millennials? We're all getting older. Field helps us stomach that fact in the sweet, steady film.
Love Actually (2003)
Richard Curtis' overlapping-stories rom-com has become a polarizing flick in recent years, many arguing that the film is too sickly sweet for its own good. But if you're the type who tends to get sentimental at the airport arrivals gate, watching this group of high-wattage, British thespians, including Hugh Grant, the late Alan Rickman, Colin Firth, Emma Thompson, Bill Nighy, and more, navigate love under the mistletoe, the movie is a perfect seasonal reminder that love actually is all around.
The Lovebirds (2020)
Sometimes the comedy part of the rom-com equation doesn't always pull through. That's far from the case in the "date night gone wrong" flick The Lovebirds, though. It's actually about a pair (played by the hilarious duo of Kumail Nanjiani and Issa Rae) who aren't really lovebirds anymore and, just as they're breaking up, find themselves caught up in a wild murder mystery. Trying to uncover what happened (and save their own asses) over the course of one night, the movie takes the bickering pair to some bizarre places that all lead to one mega-weird, Eyes Wide Shut-like sex cult. It's a silly romp but the chemistry of the leads keep you at the edge of your seat, both cracking up and hoping they'll get past the real crime that is their break up and just get back together already.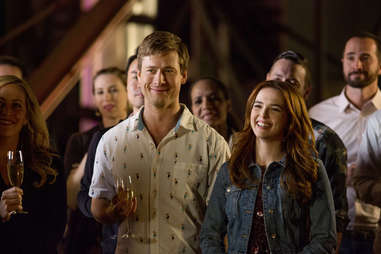 Set It Up (2018)
In Set It Up, Zoey Deutch and Glen Powell's Harper and Charlie are dying to catch a break from their needy workaholic bosses, which prompts the two assistants to pawn their overbearing managers off onto one another—like, romantically. With their on-point comedic timing and matchmaker antics, the two find themselves setting up their own relationship without even realizing it. The Netflix movie recalls what made quintessential rom-com classics so easily watchable and hilarious: a strong connection between two spearheading leads. It'll feel like you're watching one of your favorites from the '90s, updated with anxious, though equally as warm, millennials.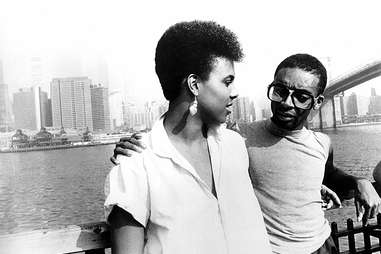 She's Gotta Have It (1986)
Before checking out Spike Lee's Netflix original series of the same name, be sure to catch up with where it all began. Nola (Tracy Camilla Johns) juggles three men during her sexual pinnacle, and it's all working out until they discover one another. She's Gotta Have It takes some dark turns, but each revelation speaks volumes about what real romantic independence is all about.
Silver Linings Playbook (2012)
Jennifer Lawrence, Bradley Cooper, and David O. Russell's first collaboration—and the film that turned J-Law into a bona fide golden girl—is a romantic comedy/dramedy/dance-flick that bounces across its tonal shifts. A love story between Pat (Cooper), a man struggling with bipolar disease and a history of violent outbursts, and Tiffany (Lawrence), a widow grappling with depression, who come together while rehearsing for an amateur dance competition, Silver Linings balances an emotionally realistic depiction of mental illness with some of the best twirls and dips this side of Step Up. Even if you're allergic to rom-coms, Lawrence and Cooper's winning chemistry will win you over, as will this sweet little gem of a film: a feel-good, affecting love story that doesn't feel contrived or treacly.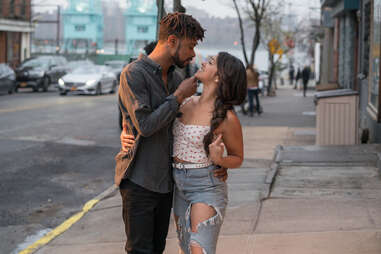 Someone Great (2019)
Writer/director Jennifer Kaytin Robin's Someone Great isn't your typical romantic comedy. Instead of watching a meet cute grow into something special, this one's about the demise of a relationship. It's by no means bleak, though—it's much more original, and even sweeter for it. Following a music journalist (Gina Rodriguez) who experiences a devastating breakup with her longtime boyfriend (LaKeith Stanfield) as she lands her dream job across the country, she and her friends (Britney Snow, DeWanda Wise) decide to have one last wild night before she moves out of the city. Reflecting on her relationship throughout, it's a feel good flick about piecing your heart back together by both remembering the good, and having the right support system to let you cope.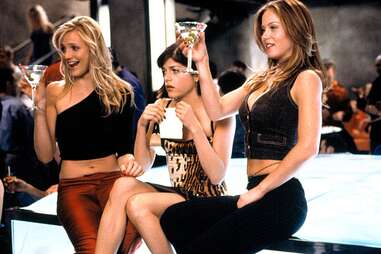 The Sweetest Thing (2002)
Of course many raunch comedies existed by the early aughts, but few were entirely fronted by women. So, enter the wrongly maligned The Sweetest Thing starring Cameron Diaz, Christina Applegate, and Selma Blair as party girls who treat men like toys to play with—until the man-eater of them all played by Diaz finds herself taken by a single meet-cute, which sends them on a wild trip to track him down. It's your typical rom-com—except spiked—full of ridiculous gags that groups of girlfriends find themselves cracking up over on a night out.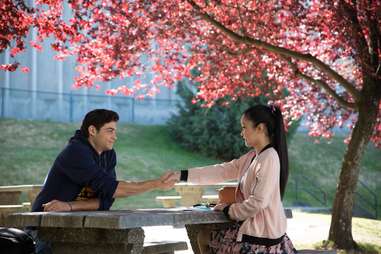 To All the Boys I've Loved Before (2018)
What if your private letters to your crushes weren't private, but wound up in the hands of aforementioned crushes? It's a teen nightmare! That's what happens to leading lady Lara Jean (Lana Condor) in this Netflix original based on Jenny Han's best-selling YA novel. To brush over the embarrassment of one letter ending up in the mailbox of her neighbor, best friend, and sister's ex-boyfriend Josh, Lara Jean pretends to date another former crush, Peter Kavinsky—and it turns out fake-dating can inadvertently lead to a lot of real feelings. To All the Boys has been hailed as a near perfect rom-com for its diversity, sincerity, and undeniable chemistry between Lara Jean and Peter. If you've felt the genre has been lacking recently—and need a perfect gentlemanly heartthrob to crush on—To All the Boys I've Loved Before is for you.
When Harry Met Sally... (1989)
There are many reasons why we remember this classic as one of the best rom-coms of all time (if not the best). We all know the big scenes in this movie: the "Can men and women be friends?" conversation in the car, the fake orgasm, the run through the streets of New York on New Year's Eve. But our favorite scene of this Nora Ephron-penned movie, just ahead of all the adorable old couples who tie for second, is a small one: Harry, upset because he saw his ex, picks a fight with Sally in their friends' apartment. Sally calls him on it, and midway through her recitation of how he's an asshole, you see his face change. He waits for her to finish, then says, "I'm sorry." A little scene that makes you care about and believe in these two people, and makes the final payoff, which When Harry Met Sally... nurtures from beginning to end, all the more rewarding.
You've Got Mail (1998)
Remade from Ernst Lubitsch's 1940 movie The Shop Around the Corner, best of the best rom-com filmmaker Norah Ephron's adaptation of the story about a couple falling for one-another via anonymous messages lets Tom Hanks and Meg Ryan amp the charm up to full force, thanks to a screenplay rich with kitschy banter. While the instant messaging premise and chatroom jokes may now be outdated, this is a certified classic and one of the best rom-coms of all time.