Romantic comedies have a long history, summed up in a simple taxonomic phrase Drama 101 teachers like to use when discussing theatrical works from the Greeks through modernity: In tragedies, everyone (spoiler) dies in the end, and in comedies, everyone (spoiler) gets married in the end. 
So laughter and romance have gone hand-in-hand for millennia, and while the explosion of arts and entertainment has created countless new subgenres and riffs on old themes, the classic romantic comedy is still going strong, and even amidst a revival moment. The next time you want to watch a movie that feels like a warm blanket, check out one of these titles on Netflix. Don't forget, there's plenty of other great movies on Netflix for whenever a different mood strikes. 
Recommended Video
The 10 Best Stoner Movies of All Time
Amélie (2001)
Jean-Pierre Jeunet's quirky French flick can be easy to make fun of, perhaps because it's what everyone immediately thinks of when they hear the words "foreign film." But don't let haters dissuade you from this critically acclaimed rom-com, which was rightfully a major box-office success and awards contender. The story follows its titular heroine (Audrey Tautou) through Paris as she sheds her sense of isolation, opens herself up to others, and discovers love. (Also, yeah, garden gnome alert.)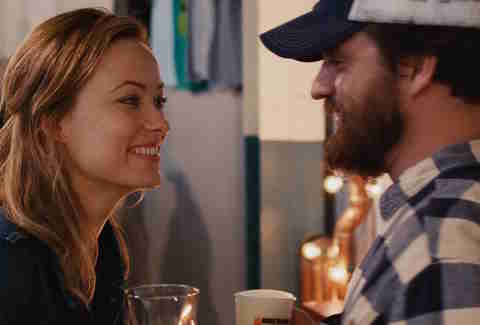 Drinking Buddies (2013)
This understated romantic comedy from mumblecore master Joe Swanberg centers on the intimate relationship between hard-drinking brewery colleagues Jake Johnson and Olivia Wilde, who both also happen to be dating other people (Anna Kendrick and Ron Livingston, respectively). The two relationships get progressively entangled over the course of the film. Although Drinking Buddies starts out looking like a traditional rom-com, Swanberg quickly subverts viewer expectations, resulting in a film that is romantic but surprisingly devoid of sap, funny without falling back on cheap gags. This is a movie that moves along in small moments: a lingering glance, an awkward silence, a stolen kiss. A crisp, refreshing little film.
How to Lose a Guy in 10 Days (2003)
She's trying to do everything she can to drive him away, while he makes a promise to make her fall head over heels in love with him in little to no time. Talk about not being on the same page. How to Lose a Guy in 10 Days splits its focus between two central characters: Andie (Kate Hudson), an advice columnist whose current assignment is to get a man to leave her in 10 days, and Benjamin (Matthew McConaughey), a ladies' man who makes a bet that he can make any woman fall in love with him in 10 days. You can probably guess how this one ends.
Leap Year (2010)
There's an old Irish tradition that on leap day, if a woman proposes to a man, he can't refuse the offer. It's the traditional sentiment behind the act that inspires Anna (Amy Adams) surprise her boyfriend (Adam Scott) by asking for his hand in marriage during a trip to Dublin. But when her travels go awry, Anna asks an Irish innkeeper (Matthew Goode) for help so she can see her plans through. Traveling cross-country amidst lush Irish scenery and passing through quaint villages, feelings obviously start to fly between the two, and Anna realizes what she may have been missing. Just the scenery is enough to make Leap Year a dreamy rom-com staple, but its charm and sweet story will leave you wistful for an Irish romance of your own.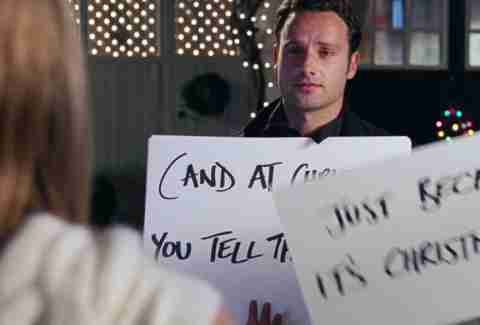 Love Actually (2003)
Richard Curtis' overlapping-Christmases rom-com has become polarizing in recent years, many arguing that the film is too sickly sweet for its own good. But if you're the type who tends to get sentimental at the airport arrivals gate, watching this group of high-wattage British thespians, including Hugh Grant, Alan Rickman (RIP), Colin Firth, Emma Thompson, Bill Nighy, and The Walking Dead's Andrew Lincoln, navigate love under the mistletoe, the movie is a perfect seasonal reminder that love actually is all around.
Mamma Mia! (2008)
It's been scientifically proven that it's impossible to watch this ABBA jukebox musical rom-com and not feel joy. Not really, but it seems plausible; this film about a soon-to-be-wed bride who invites three men she suspects to be her father to her wedding is simply too saccharine not to enjoy. On top of its fun premise, grand Broadway-level production performances of "Dancing Queen" (among other romantic Swedish pop tracks), and Greek isle shots, it's also got a stellar cast featuring Meryl Streep, Amanda Seyfried, Pierce Brosnan, Colin Firth, and others to amp it up. As the cast muddles through final wedding plans, you'll be dying to know who knocked up Meryl Streep several decades ago and which lucky man will steal her heart in the present.
Scott Pilgrim vs. the World (2010)
Scott Pilgrim vs. the World isn't your average romantic comedy. There's a lot of comic-inspired ass kicking and super villianous ex-boyfriends, as well as not so great original garage band music. While ridiculous, these oddities in a movie about a bass player (Michael Cera) on a quest to win the heart of a special Ramona Flowers by defeating her evil exes give the genre some much needed action. From director Edgar Wright (Baby Driver, Shaun of the Dead), the film is uniquely stylized and has the right amount of teenage flare to make it a cult classic. What's dreamier than a boy fighting evil exes from hell for the sake of love?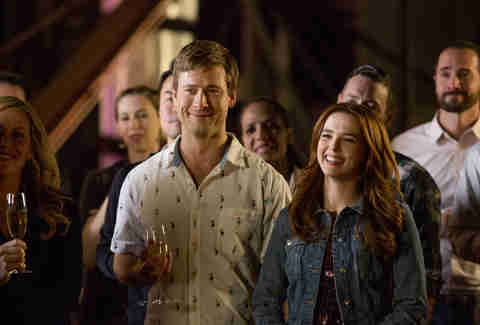 Set It Up (2018)
In Set It Up, Zoey Deutch and Glen Powell's Harper and Charlie are dying to catch a break from their needy workaholic bosses, which prompts the two assistants to pawn their overbearing managers off onto one another -- like, romantically. With their on-point comedic timing and matchmaker antics, the two find themselves setting up their own relationship without even realizing it. The Netflix movie recalls what made quintessential rom-com classics so easily watchable and hilarious: a strong connection between two spearheading leads. It'll feel like you're watching one of your favorites from the '90s, updated with anxious, though equally as warm, millennials.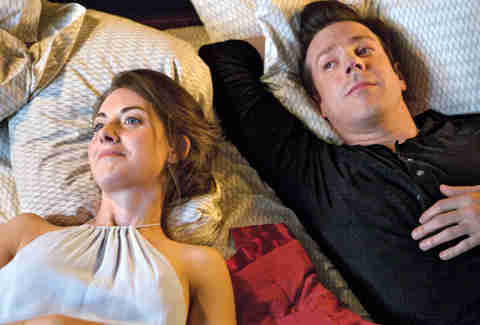 Sleeping With Other People (2015)
Alison Brie and Jason Sudeikis' characters in this comedy have commitment issues, and serious ones at that -- they're both sex addicts with troubled relationship histories. The couple happened to lose their virginities to each other in college, and they reconnect years later in a sex addiction support group. The two make a pact to be friends and help the other with their personal issues, and while they try their best to stay apart, it's difficult for them to avoid the fact that they might just be an ideal match. The pairing is rom-com perfection based on the actors' comedic backgrounds and tender performances playing complex characters.
To All the Boys I've Loved Before (2018)
What if your private letters to your crushes weren't private, but wound up in the hands of aforementioned crushes? It's a teen nightmare! That's what happens to leading lady Lara Jean (Lana Condor) in this Netflix original based on Jenny Han's best-selling YA novel. To brush over the embarrassment of one letter ending up in the mailbox of her neighbor, best friend, and sister's ex-boyfriend Josh, Lara Jean pretends to date another former crush, Peter Kavinsky -- and it turns out fake-dating can inadvertently lead to a lot of real feelings. To All the Boys has been hailed as a near perfect rom-com for its diversity, sincerity, and undeniable chemistry between Lara Jean and Peter. If you've felt the genre has been lacking recently -- and need a perfect gentlemanly heartthrob to crush on -- To All the Boys I've Loved Before is for you.
Y Tu Mamá También (2001)
Before taking us to space with Gravity, director Alfonso Cuarón steamed up screens with this provocative, comedic drama about two teenage boys (Diego Luna and Gael García Bernal) road-trippin' it with an older woman. Like a sunbaked Jules and Jim, the movie makes nimble use of its central love triangle, setting up conflicts between the characters as they move through the complicated political and social realities of Mexican life. It's a confident, relaxed film that's got an equal amount of brains and sex appeal. Watch this one with a friend -- or two.
Sign up here for our daily Thrillist email and subscribe here for our YouTube channel to get your fix of the best in food/drink/fun.