Love Fest
Presented By

The Best Rom-Coms on Netflix
For all your meet-cute and witty banter needs.
Presented By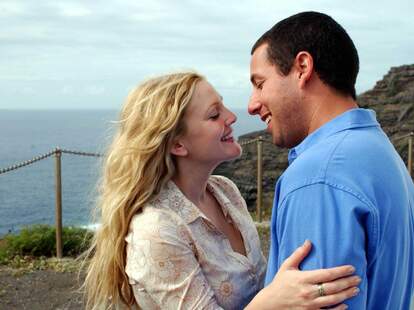 Romantic comedies have a long history, summed up in a simple taxonomic phrase Drama 101 teachers like to use when discussing theatrical works from the Greeks through modernity: In tragedies, everyone (spoiler) dies in the end, and in comedies, everyone (spoiler) gets married in the end.
So laughter and romance have gone hand-in-hand for millennia, and while the explosion of arts and entertainment has created countless new subgenres and riffs on old themes, the classic romantic comedy is still going strong—it's even in the midst of a revival. The next time you want to watch a movie that feels like a warm blanket, check out one of these titles on Netflix. Don't forget, there's plenty of other great movies on Netflix for whenever a different mood strikes.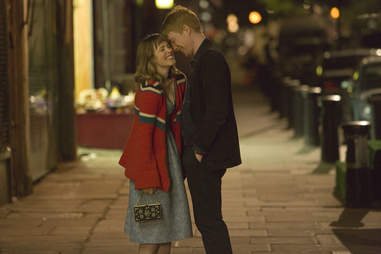 Universal Pictures
About Time (2013)
If you had the chance to orchestrate the perfect meet-cute between you and the one missed connection you've never forgotten about, would you? This fantastical rom-com from Love Actually director Richard Curtis explores that concept and the ramifications that could come as a result, focusing on a time-traveling young man (Domhnall Gleeson) who uses his ability to find the love of his life. Together with Rachel McAdams, the pair is incredibly charming navigating the space-time continuum to be together, and like Curtis' other works, About Time is about a lot more than just love—it's a meditation on family and what permanence means in a world where time rolls on unabated.
Ed Araquel/Netflix
This Netflix original movie stars Randall Park and Ali Wong as two close friends everyone else expected to end up together romantically, but who've only ever been friends. When the two reconnect later in life, of course they have the opportunity to rekindle their relationship as something more, but not without a few missteps—one of which comes in the form of a scene-stealing appearance by Keanu Reeves. The two comedic stars bring the kind of chemistry that makes famous rom-coms of yesteryear work, and the result is an exciting new entry to the canon of a tried-and-true genre.
Advertisement
The Singleton
Skip the roses. Give them something that tastes as good as it smells. The Singleton is a light single malt that's unapologetically enjoyable, whether you're a whisky expert or cocktail novice. Drink something designed to bring people together. Pick up a bottle here.
ScreenGems
Easy A (2010)
Ah, high school, otherwise known as the rumor mill—the perfect venue for English teachers everywhere to assign out readings of The Scarlet Letter, and excellent grounds for a comedy about a teenage girl who takes her reading assignment of the book a little too seriously. In this early Emma Stone movie, the actress plays a teenager named Olive who, when a lie about losing her virginity spreads like wild fire, embroiders an "A" on all of her clothing and starts up a little business that lets her classmates spread rumors about their (not true) sexual exploits for money. Irresistibly funny and charismatic in the role, Stone shines in this star-making moment. Largely due to her performance and the movie's cues taken from John Hughes classics before it, Easy A is a sex comedy that actually deserves an A+ for being as smart and witty as it is.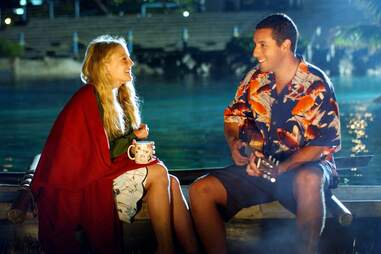 Sony Pictures Releasing
50 First Dates (2004)
Ever since 1998's The Wedding Singer, we all pretty much knew that Adam Sandler and Drew Barrymore were a match made in cinematic heaven. 50 First Dates is about a woman with amnesia who wakes up every morning thinking that it's October 13—the day she lost her memory in a horrific car accident. Maybe it was because of Barrymore and Sandler's on-screen chemistry or just because 50 First Dates is actually that hilarious, but the film quickly became a fan favorite following its 2004 release for good reason.
Skip Bolen/Netflix
The Lovebirds (2020)
Sometimes the comedy part of the rom-com equation doesn't always pull through. That's far from the case in the "date night gone wrong" flick The Lovebirds, though. It's actually about a pair (played by the hilarious duo of Kumail Nanjiani and Issa Rae) who aren't really lovebirds anymore and, just as they're breaking up, find themselves caught up in a wild murder mystery. Trying to uncover what happened (and save their own asses) over the course of one night, the movie takes the bickering pair to some bizarre places that all lead to one mega-weird, Eyes Wide Shut-like sex cult. It's a silly romp but the chemistry of the leads keep you at the edge of your seat, both cracking up and hoping they'll get past the real crime that is their break up and just get back together already.
TriStar Pictures
My Best Friend's Wedding (1997)
In this upside-down version of a rom-com, the bitchy best friend trying to ruin the relationship of the happy couple is the star of the movie. One of the most triumphant scenes in all of film history is when Julia Roberts tries to humiliate Cameron Diaz by making her do karaoke (a moment those of us with terrible singing voices fear at our core), and instead, Diaz has the whole bar clapping and singing along. For the rest of the movie, we cheer for Diaz and the sadly boring Dermot Mulroney to live happily ever after, at first just to spite Roberts, and then because of how much their love for one another shines through.
The Samuel Goldwyn Company
Mystic Pizza (1988)
There are a lot of Julia Roberts movies on this list, but only one was her breakthrough role. The young star is one of the many bright, starry-eyed faces in this comedy—Matt Damon made his actual debut here—about two teenaged sisters (Roberts and Annabeth Gish) and their friend (Lili Taylor) who work at a pizza parlor in a small Connecticut town. It's a quintessential coming-of-age story, following the young women as they experience first loves and first heartbreaks, which in turn teaches them a thing or two about themselves and who they want to be. With their friendship at the helm and the quaint town as the backdrop, it's as comforting and warm as the pies the girls serve.
Paramount Pictures/Buena Vistas International
Runaway Bride (1999)
The rom-com trifecta of director Gary Marshall, Julia Roberts, and Richard Gere was too good to make for just one movie with 1990's Pretty Woman. It was only right that the gang all got back together nine years later for Runaway Bride. While nowhere near as iconic as Pretty Woman, this quirky comedy about a journalist (Gere) profiling Roberts' freewheeling Maggie who's infamously left three men at the alter and is onto her fourth (potentially ill-fated) fiancé allows the duo's chemistry to fire back up. It's full of cliches, but sometimes watching a romance unfold between an unsuspecting pair who slowly gets acquainted and then leaves you convinced they're destined for one another makes for the most comforting of watches.

Universal Pictures
Scott Pilgrim vs. the World (2010)
Scott Pilgrim vs. the World isn't your average romantic comedy. There's a lot of comic-inspired ass kicking and super villianous ex-boyfriends, as well as not so great original garage band music. While ridiculous, these oddities in a movie about a bass player (Michael Cera) on a quest to win the heart of a special Ramona Flowers by defeating her evil exes give the genre some much needed action. From director Edgar Wright (Baby Driver, Shaun of the Dead), the film is uniquely stylized and has the right amount of teenage flare to make it a cult classic. What's dreamier than a boy fighting evil exes from hell for the sake of love?
Netflix
Set It Up (2018)
In Set It Up, Zoey Deutch and Glen Powell's Harper and Charlie are dying to catch a break from their needy workaholic bosses, which prompts the two assistants to pawn their overbearing managers off onto one another—like, romantically. With their on-point comedic timing and matchmaker antics, the two find themselves setting up their own relationship without even realizing it. The Netflix movie recalls what made quintessential rom-com classics so easily watchable and hilarious: a strong connection between two spearheading leads. It'll feel like you're watching one of your favorites from the '90s, updated with anxious, though equally as warm, millennials.
Warner Bros. Pictures
Sex and the City: The Movie (2008)
And just like that, after six successful seasons, Sarah Jessica Parker, Kim Cattrall, Kristin Davis, and Cynthia Nixon reunited for Sex and the City: The Movie. For better or worse, the film plays out like a super-sized, extra glitzy version of a SATC episode: There's Big and Carrie drama as their wedding day approaches, various problems in the bedroom among her friends, now all in long term relationships, fashion moments galore, and many laughs about the most outrageous of situations to be had. It's a treat for fans of the long running HBO series, and as thoughtful treatise about female friendship as the original. Even if it's over-the-top and somewhat unnecessary, as TV to movie adaptations tend to be, it makes for a lovely epilogue on Carrie and Mr. Big's romance. (Fans can attempt: We don't need to speak of the movie sequel).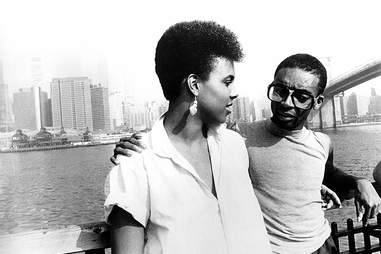 Island Pictures
She's Gotta Have It (1986)
Before checking out Spike Lee's Netflix original series of the same name, be sure to catch up with where it all began. Nola (Tracy Camilla Johns) juggles three men during her sexual pinnacle, and it's all working out until they discover one another. She's Gotta Have It takes some dark turns, but each revelation speaks volumes about what real romantic independence is all about.
The Weinstein Company
Silver Linings Playbook (2012)
Jennifer Lawrence, Bradley Cooper, and David O. Russell's first collaboration—and the film that turned J-Law into a bona fide golden girl—is a romantic comedy/dramedy/dance-flick that bounces across its tonal shifts. A love story between Pat (Cooper), a man struggling with bipolar disease and a history of violent outbursts, and Tiffany (Lawrence), a widow grappling with depression, who come together while rehearsing for an amateur dance competition, Silver Linings balances an emotionally realistic depiction of mental illness with some of the best twirls and dips this side of Step Up. Even if you're allergic to rom-coms, Lawrence and Cooper's winning chemistry will win you over, as will this sweet little gem of a film: a feel-good, affecting love story that doesn't feel contrived or treacly.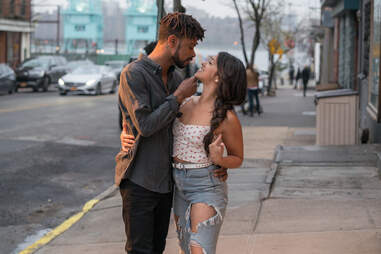 Sarah Shatz/Netflix
Someone Great (2019)
Writer/director Jennifer Kaytin Robin's Someone Great isn't your typical romantic comedy. Instead of watching a meet cute grow into something special, this one's about the demise of a relationship. It's by no means bleak, though—it's much more original, and even sweeter for it. Following a music journalist (Gina Rodriguez) who experiences a devastating breakup with her longtime boyfriend (LaKeith Stanfield) as she lands her dream job across the country, she and her friends (Britney Snow, DeWanda Wise) decide to have one last wild night before she moves out of the city. Reflecting on her relationship throughout, it's a feel good flick about piecing your heart back together by both remembering the good, and having the right support system to let you cope.
Columbia Pictures
Stranger Than Fiction. (2006)
Will Ferrell is a lot less Ron Burgundy and much more endearing in this comedy, playing your typical, monotonous I.R.S. auditor who… must defend his life to Emma Thompson, who is planning on killing him. Sort of. Centered around a Charlie Kaufman-like suspension of reality concept, Ferrell's character comes to the realization that he's the character in an author's (Thompson) latest work and she controls everything in his life, from his lunch and love life to his death. As he sets out to meet and stop her, this grim story turns out to be a surprisingly charming work about finding your way again once it seems you've lost yourself.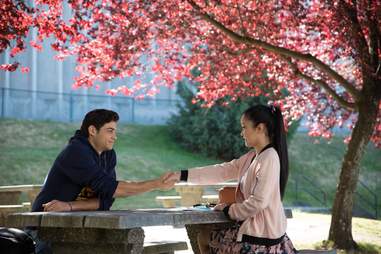 Netflix
To All the Boys I've Loved Before (2018)
What if your private letters to your crushes weren't private, but wound up in the hands of aforementioned crushes? It's a teen nightmare! That's what happens to leading lady Lara Jean (Lana Condor) in this Netflix original based on Jenny Han's best-selling YA novel. To brush over the embarrassment of one letter ending up in the mailbox of her neighbor, best friend, and sister's ex-boyfriend Josh, Lara Jean pretends to date another former crush, Peter Kavinsky—and it turns out fake-dating can inadvertently lead to a lot of real feelings. To All the Boys has been hailed as a near perfect rom-com for its diversity, sincerity, and undeniable chemistry between Lara Jean and Peter. If you've felt the genre has been lacking recently—and need a perfect gentlemanly heartthrob to crush on—To All the Boys I've Loved Before is for you.
Need help finding something to watch? Sign up here for our weekly Streamail newsletter to get streaming recommendations delivered straight to your inbox.
Follow the Thrillist Entertainment editors on Twitter @ThrillistEnt.