Romantic comedies have a long history, summed up in a simple taxonomic phrase Drama 101 teachers like to use when discussing theatrical works from the Greeks through modernity: In tragedies, everyone (spoiler) dies in the end, and in comedies, everyone (spoiler) gets married in the end. 
So laughter and romance have gone hand-in-hand for millennia, and while the explosion of arts and entertainment has created countless new subgenres and riffs on old themes, the classic romantic comedy is still going strong -- it's even in the midst of a revival. The next time you want to watch a movie that feels like a warm blanket, check out one of these titles on Netflix. Don't forget, there's plenty of other great movies on Netflix for whenever a different mood strikes. 
Recommended Video
These Are the 8 Best Stephen King Movies of All Time, Ranked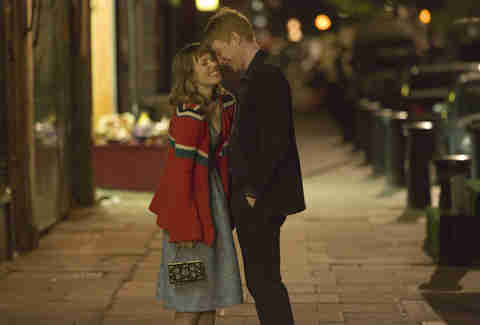 About Time (2013)
If you had the chance to orchestrate the perfect meet-cute between you and the one missed connection you've never forgotten about, would you? This fantastical rom-com from Love Actually director Richard Curtis explores that concept and the ramifications that could come as a result, focusing on a time-traveling young man (Domhnall Gleeson) who uses his ability to find the love of his life. Together with Rachel McAdams, the pair is incredibly charming navigating the space-time continuum to be together, and like Curtis' other works, About Time is about a lot more than just love -- it's a meditation on family and what permanence means in a world where time rolls on unabated. 
This Netflix original movie stars Randall Park and Ali Wong as two close friends everyone else expected to end up together romantically, but who've only ever been friends. When the two reconnect later in life, of course they have the opportunity to rekindle their relationship as something more, but not without a few missteps -- one of which comes in the form of a scene-stealing appearance by Keanu Reeves. The two comedic stars bring the kind of chemistry that makes famous rom-coms of yesteryear work, and the result is an exciting new entry to the canon of a tried-and-true genre.
Definitely, Maybe (2008)
Eleven-year-old Maya (Abigail Breslin) understands that though her mom and dad, Will (Ryan Reynolds), are divorced, they're on good terms… but what she doesn't know is the story of how they met, or anything about her dad's life before she was born, for that matter. Over the course of one evening in this romantic comedy, Maya begs her dad to explain to how her mom came into his life, which she finds is a more complicated story than anticipated, as he ends up recounting the three relationships that touched him the most. In learning about three women (Elizabeth Banks, Rachel Weisz, and Isla Fisher), each with an equally sweet story and special effect on Will's life, Maya tries to piece together who might be her mother, and who might be the one that got away. Unlike typical rom-coms that focus on the saga of one relationship, Definitely, Maybe effectively uses intertwined storytelling to focus on love, love lost, and the hope of finding it again. 
Emma (1996)
The movie that made pre-GOOP Gwyneth Paltrow a bona fide movie star is an adaptation of the Jane Austen-penned classic, with all the biting sarcasm undergirding the seemingly traditional romantic setup. Paltrow is at her best as a semi-self-aware target of ridicule -- a matchmaker who doesn't realize she's a bad matchmaker -- and if you're a fan of Austen in particular or Romantic-era, um, romances more generally, Emma faithfully executes a straightforward adaptation.
Mamma Mia! (2008)
It's been scientifically proven that it's impossible to watch this ABBA jukebox musical rom-com and not feel joy. Not really, but it seems plausible; this film about a soon-to-be-wed bride who invites three men she suspects to be her father to her wedding is simply too saccharine not to enjoy. On top of its fun premise, grand Broadway-level production performances of "Dancing Queen" (among other romantic Swedish pop tracks), and Greek isle shots, it's also got a stellar cast featuring Meryl Streep, Amanda Seyfried, Pierce Brosnan, Colin Firth, and others to amp it up. As the cast muddles through final wedding plans, you'll be dying to know who knocked up Meryl Streep several decades ago and which lucky man will steal her heart in the present.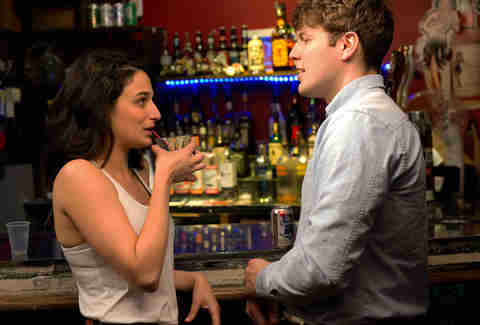 Obvious Child (2014)
This rom-com got buzz for prominently featuring a shmashmorshion (spoiler alert?), but its vibe is far lighter than that plot point might imply. Gillian Robespierre's feature-film debut stars Jenny Slate as Donna, a 20-something floundering through underemployment and existential crises, and her involvement in the NYC stand-up scene packs in plenty of jokes despite the feature's short runtime. The quirky cast of characters, rounded out by Gaby Hoffmann, David Cross, and Jake Lacy, breathes fresh, raunchy air into a crowded genre.
Scott Pilgrim vs. the World (2010)
Scott Pilgrim vs. the World isn't your average romantic comedy. There's a lot of comic-inspired ass kicking and super villianous ex-boyfriends, as well as not so great original garage band music. While ridiculous, these oddities in a movie about a bass player (Michael Cera) on a quest to win the heart of a special Ramona Flowers by defeating her evil exes give the genre some much needed action. From director Edgar Wright (Baby Driver, Shaun of the Dead), the film is uniquely stylized and has the right amount of teenage flare to make it a cult classic. What's dreamier than a boy fighting evil exes from hell for the sake of love?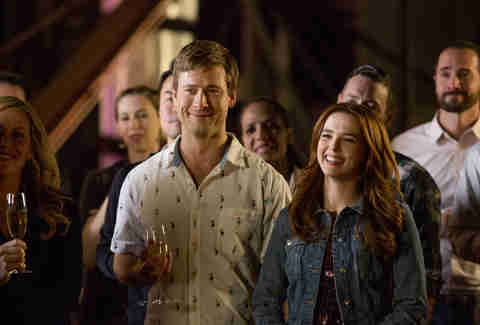 Set It Up (2018)
In Set It Up, Zoey Deutch and Glen Powell's Harper and Charlie are dying to catch a break from their needy workaholic bosses, which prompts the two assistants to pawn their overbearing managers off onto one another -- like, romantically. With their on-point comedic timing and matchmaker antics, the two find themselves setting up their own relationship without even realizing it. The Netflix movie recalls what made quintessential rom-com classics so easily watchable and hilarious: a strong connection between two spearheading leads. It'll feel like you're watching one of your favorites from the '90s, updated with anxious, though equally as warm, millennials.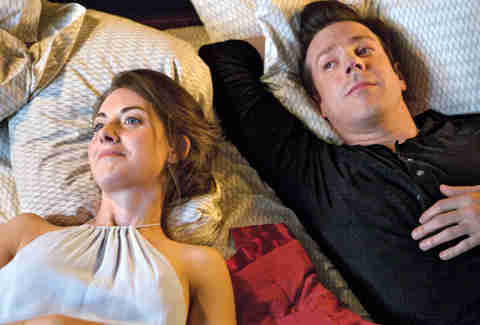 Sleeping With Other People (2015)
Alison Brie and Jason Sudeikis' characters in this comedy have commitment issues, and serious ones at that -- they're both sex addicts with troubled relationship histories. The couple happened to lose their virginities to each other in college, and they reconnect years later in a sex addiction support group. The two make a pact to be friends and help the other with their personal issues, and while they try their best to stay apart, it's difficult for them to avoid the fact that they might just be an ideal match. The pairing is rom-com perfection based on the actors' comedic backgrounds and tender performances playing complex characters.
The Switch (2010)
In retrospect, this comedy may be a little problematic -- about a man who accidentally hijacks his best friend's process of sperm donation with his own little guys -- but somehow it also has the ability to steal your heart. The rom-com largely plays from Jason Bateman's Wally's perspective, watching as he realizes that the neurotic, pessimistic six-year-old son of Jennifer Aniston's Kassie is undeniably his spawn when the longtime friends reconnect after seven years apart. It ends up being a sincere look at a man yearning for family and love who finds it in an unexpected place. It helps that the little boy, Sebastian, is the cutest damn kid in the universe.  
To All the Boys I've Loved Before (2018)
What if your private letters to your crushes weren't private, but wound up in the hands of aforementioned crushes? It's a teen nightmare! That's what happens to leading lady Lara Jean (Lana Condor) in this Netflix original based on Jenny Han's best-selling YA novel. To brush over the embarrassment of one letter ending up in the mailbox of her neighbor, best friend, and sister's ex-boyfriend Josh, Lara Jean pretends to date another former crush, Peter Kavinsky -- and it turns out fake-dating can inadvertently lead to a lot of real feelings. To All the Boys has been hailed as a near perfect rom-com for its diversity, sincerity, and undeniable chemistry between Lara Jean and Peter. If you've felt the genre has been lacking recently -- and need a perfect gentlemanly heartthrob to crush on -- To All the Boys I've Loved Before is for you.
Y Tu Mamá También (2001)
Before taking us to space with Gravity, director Alfonso Cuarón steamed up screens with this provocative, comedic drama about two teenage boys (Diego Luna and Gael García Bernal) road-trippin' it with an older woman. Like a sunbaked Jules and Jim, the movie makes nimble use of its central love triangle, setting up conflicts between the characters as they move through the complicated political and social realities of Mexican life. It's a confident, relaxed film that's got an equal amount of brains and sex appeal. Watch this one with a friend -- or two.
Zack and Miri Make a Porno (2008)
It's possible you've never seen this Seth Rogen movie, his sole collaboration with director Kevin Smith. In Zack and Miri, a pair of down-on-their-luck roommates (Rogen and Elizabeth Banks) aim to squash their pile of utility bills by making a Star Wars porn parody. While the movie didn't find much of an audience in 2008, Smith told us that he and Rogen were suuuuuper high while editing the finished product, which should indicate if this silly comedy is for you. But even in all of the silliness (and there's a lot of it), as the heat turns up on the coffee-shop-turned-porn-set, feelings do too and you're dying for the best friend leads to finally get it on.
The 40-Year-Old Virgin (2005)
Not every part of Judd Apatow's debut feature has aged well, but the central performance from Steve Carell, who also co-wrote the script with Apatow, remains one of the funniest star-making turns of all time. As Andy Stitzer, an action-figure collecting employee at an electronics store who has never had sex, he exudes befuddlement, awkwardness, and kindness in every interaction. Between all the gross-out gags, it's the film's startling sweetness that makes it a classic.