The Most Romantic Movies on Netflix
When you feel like swooning.
Whether you're looking for a chill night spent Netflixing or a serious "Netflix and chill" session, there will come a time when you need the perfect romantic movie to set the mood. We're here for you, having scoured the streaming service for the best in meet-cute rom-coms, feel-good dramas, and no-holds-barred weepies. A little something for everyone.
ALSO READ: The best romantic comedies on Netflix and the best teen movies on Netflix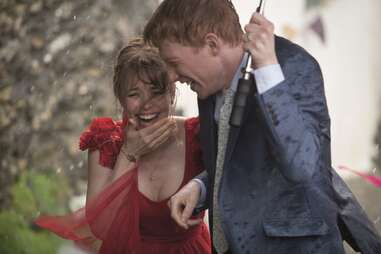 About Time (2013)
If you had the chance to orchestrate the perfect meet-cute between you and the one missed connection you've never forgotten about, would you? This fantastical rom-com from Love Actually director Richard Curtis explores that concept and the ramifications that could come as a result, focusing on a time-traveling young man (Domhnall Gleeson) who uses his ability to find the love of his life. Together with Rachel McAdams, the pair is incredibly charming navigating the space-time continuum to be together, and like Curtis' other works, About Time is about a lot more than just love—it's a meditation on family and what permanence means in a world where time rolls on unabated.
This Netflix original movie stars Randall Park and Ali Wong as two close friends everyone else expected to end up together romantically, but who've only ever been friends. When the two reconnect later in life, of course they have the opportunity to rekindle their relationship as something more, but not without a few missteps—one of which comes in the form of a scene-stealing appearance by Keanu Reeves. The two comedic stars bring the kind of chemistry that makes famous rom-coms of yesteryear work, and the result is an exciting new entry to the canon of a tried-and-true genre.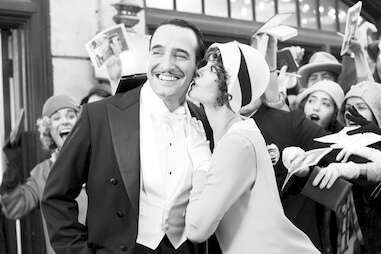 The Artist (2011)
Ever since Hollywood got its hands on technicolor, black and white has merely been a rare stylistic choice for filmmakers, and directors have moved even further away from silent films ever since "the talkies" made their debut in the late 1920s. That doesn't mean film aficionados have fallen out of love with silent films or lost respect for them—and no better movie in recent history has immortalized their staying power as The Artist. The French film is both an Old Hollywood style movie and an homage to the craft, telling the love story between a rising young starlet (Bérénice Bejo) looking forward to the modernization of movies and a silent film veteran (Jean Dujardin). The Best Picture winner is playful in its choices, meaning any lover of cinema should fall head over heels for it.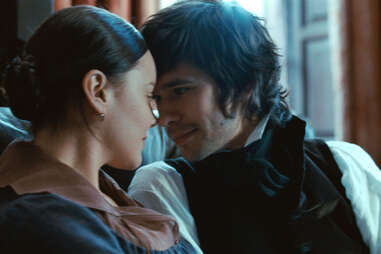 Bright Star (2009)
Jane Campion (The Piano) gives the life of English poet John Keats, and his romantic relationship with Fanny Brawne that fueled his writing up until his untimely death at the age of 25, the pastoral treatment it deserves. Between the succulent photography, delicate score, and Ben Whishaw and Abbie Cornish's hushed poetry readings, Bright Star is a beautiful tragedy, and one of the most unsung dramas of the 2000s. As Keats says in the film, "The point of diving into a lake is not immediately to swim to the shore but to be in the lake, to luxuriate in the sensation of water. You do not work the lake out, it is a experience beyond thought." Bright Star is a lake of a movie.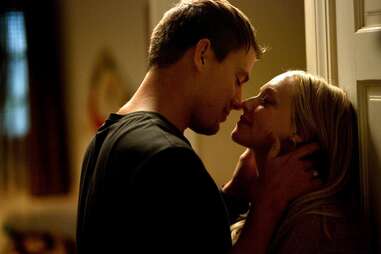 Dear John (2010)
First things first, Dear John is named for a Dear John letter, or what you would send a man to dump his ass, so you can guess that this is one of most treacly of Nicholas Sparks' oeuvre. The drama hits all of the marks of a stereotypical romance movie, starring Channing Tatum as a solider living with his reclusive father (Richard Jenkins) while he's home from war and Amanda Seyfried as the do-gooder college student he falls for under the warm South Carolina sun, but there are enough passionate kisses in the rain to make all the melodrama worth it.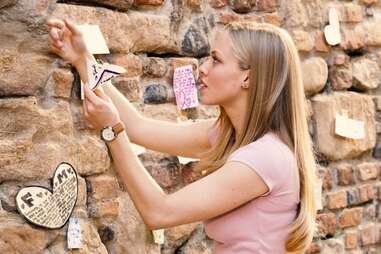 Letters to Juliet (2010)
Every year hundreds of letters arrive in Verona, Italy, addressed to Shakespeare's lovelorn heroine Juliet Capulet, asking for relationship advice. You've got to admit, that's pretty sweet—even though she is an ill-fated fictional character—and that it's even sweeter that a handful of women legitimately answer those letters. Inspired by the phenomenon, this fictional film finds Amanda Seyfried as a wide-eyed romantic who meets Juliet's secretaries in Italy, discovers a letter that went ignored in the '50s, and becomes determined to get that woman (Vanessa Redgrave) a response and answer to her love story. Everything you'd expect to happen does, but sometimes the heart craves that kind of comfort.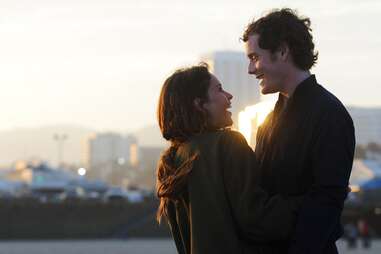 Like Crazy (2011)
Stories about long distance relationships are nothing new, but filmmaker Drake Doremus's Like Crazy is an experiment. The low-budget indie was crafted with just a 50-page outline and called upon its leads, Felicity Jones and the late Anton Yelchin, to improvise the dialogue. The result is an honest, intimate, and messy dissection of loving someone despite distance and indiscretion, focusing on a British student who falls for an American and the consequences that fall on their relationship when she overstays her visa. Every embrace, reunion, and argument carries the weight of those transatlantic miles apart.
Loving (2016)
Loving brings one of the most pivotal love stories in history to the screen. The biographical drama from Jeff Nichols tells the story of Mildred and Richard Loving, the couple who challenged state laws banning interracial marriage all the way to the supreme court with the landmark case Loving v. Virginia. For being such a sweeping romance with so many groundbreaking implications, it's the gentle, muted way it's told in this historical film that nestles into your heart. From Joel Edgerton's hushed performance as the distant but caring Richard and Ruth Negga's thoughtful simplicity to Mildred to Nichols' warm direction, it finds a quiet profoundness that makes it all the more beautiful.
Mystic Pizza (1988)
There are a lot of Julia Roberts movies on this list, but only one was her breakthrough role. The young star is one of the many bright, starry-eyed faces in this comedy—Matt Damon made his actual debut here—about two teenaged sisters (Roberts and Annabeth Gish) and their friend (Lili Taylor) who work at a pizza parlor in a small Connecticut town. It's a quintessential coming-of-age story, following the young women as they experience first loves and first heartbreaks, which in turn teaches them a thing or two about themselves and who they want to be. With their friendship at the helm and the quaint town as the backdrop, it's as comforting and warm as the pies the girls serve.
The Piano (1993)
Jane Campion became the first woman to ever with the prestigious Palme d'Or at Cannes with her romantic period piece The Piano. Set in the 1800s, Holly Hunter plays a selectively mute Scottish woman who travels to New Zealand with her daughter (Anna Paquin) for an arranged marriage, piano in tow. When her husband (Sam Neill) refuses to keep her piano—which she sees as her true voice—she teaches lessons to the man who buys it (Harvey Keitel), and the two become consumed by an affair. About communicating and expressing love beyond words, and one of the strongest portrayals of eroticism from a woman's perspective, it's an adagio of passion.
Our Souls at Night (2017)
It's not the most romantic setup in the world—an older man and woman have each lost their respective spouses, and agree to start sleeping together platonically to get over their loneliness—but the result is a sweet, if traditional, love story. Robert Redford and Jane Fonda buttress a script based on a Kent Haruf novel that's much less YA than you'd expect given the somewhat cloying adaptation. Still, if it's a love story you want, check it out!
Raising Victor Vargas (2001)
Sometimes the greatest romances don't need a cinematic meet-cute or some grand feeling of sparks flying. Sometimes they happen on your own block, and maybe aren't forever, but you're better for it. That's how it is in Peter Sollett's gem of an indie about a teenage boy coming of age in a lower income community in NYC's Lower East Side. Desperate to redeem his reputation amongst his friends, he sees young women as conquests and sets out to pursue one of the prettiest girls in the neighborhood—a relationship that turns out to be much more special than he ever expected it to be. Pulsating with the beat of the city and the palpitations of first love, it's a slice-of-life film that shows young love at its purest and most earnest, and about a community of young people seldom represented on screen.
Set It Up (2018)
Set It Up is by no means the most important movie Netflix has produced, nor is it the most ambitious. But it's probably the one you're going to want to watch again and again. This film from director Claire Scanlon is one of its most delightful, recent entries into the rom-com genre. It starts with a meet-cute that would play as well in 1948 or 1998 as it does in 2018: Two eager assistants (Zoey Deutch and Glen Powell) plot to set up their horror-show bosses to free up their own social lives. Naturally, our two underlings find their friendship of convenience blossom into something more. As with any good romantic comedy, the trick is all in the casting; Deutch and Powell are captivating. Meanwhile, Lucy Liu and Taye Diggs—playing the big, bad boss people—are old pros. It's the perfect film to watch late night, drunk, with some pizza.
Silver Linings Playbook (2012)
Jennifer Lawrence, Bradley Cooper, and David O. Russell's first collaboration—and the film that turned J-Law into a bona fide golden girl—is a romantic comedy/dramedy/dance-flick that bounces across its tonal shifts. A love story between Pat (Cooper), a man struggling with bipolar disease and a history of violent outbursts, and Tiffany (Lawrence), a widow grappling with depression, who come together while rehearsing for an amateur dance competition, Silver Linings balances an emotionally realistic depiction of mental illness with some of the best twirls and dips this side of Step Up. Even if you're allergic to rom-coms, Lawrence and Cooper's winning chemistry will win you over, as will this sweet little gem of a film: a feel-good, affecting love story that doesn't feel contrived or treacly.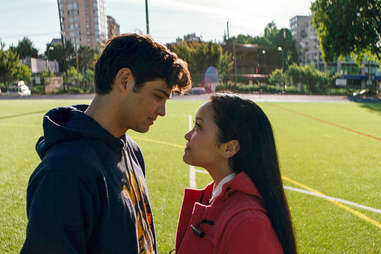 To All the Boys I've Loved Before (2018)
What if your private letters to your crushes weren't private, but wound up in the hands of aforementioned crushes? It's a teen nightmare! That's what happens to leading lady Lara Jean (Lana Condor) in this Netflix original based on Jenny Han's best-selling YA novel. To brush over the embarrassment of one letter ending up in the mailbox of her neighbor, best friend, and sister's ex-boyfriend Josh, Lara Jean pretends to date another former crush, Peter Kavinsky—and it turns out fake-dating can inadvertently lead to a lot of real feelings. To All the Boys has been hailed as a near perfect rom-com for its diversity, sincerity, and undeniable chemistry between Lara Jean and Peter. If you've felt the genre has been lacking recently—and need a perfect gentlemanly heartthrob to crush on—To All the Boys I've Loved Before is for you.
The Twilight Saga (2008–2012)
Was Twilight a massive, global phenomenon because it had cool vampires or because there was a lustful teenage undead-human romance at the center of it? Maybe both, but largely because of the latter. The dangerous love story between the innocent Bella Swan and the icy, mysterious Edward Cullen, and eventual triangle between them and a werewolf with abs for days, is what drew people into the franchise, and kept their pulses racing until the very end. The entire saga, featuring the sublimely attractive Kristen Stewart and Robert Pattinson, is available to stream on Netflix, and there's no shame in marathoning them. Just "hold on tight, spider monkey:" They're as hot as they are action-packed.
The Theory of Everything (2014)
In his Oscar-winning performance, Eddie Redmayne portrays famed physicist Stephen Hawking—though The Theory of Everything is less of a biopic than it is a beautiful, sweet film about his relationship with his wife, Jane (Felicity Jones). Covering his days as a young cosmology student ahead of his diagnosis of ALS at 21, through his struggle with the illness and rise as a theoretical scientist, this film illustrates the trying romance through it all. While it may be written in the cosmos, this James Marsh-directed film that weaves in and out of love will have you experience everything there is to feel.