Whether you're looking for a chill night spent Netflixing or a serious "Netflix and chill" session, there will come a time when you need the perfect romantic movie to set the mood. We're here for you, having scoured the streaming service for the best in meet-cute rom-coms, feel-good dramas, and no-holds-barred weepies. A little something for everyone.
Recommended Video
This Looks Like The Scariest Movie In Years
Atonement (2007)
This sweeping romantic epic, based on the Ian McEwan novel of the same name (which is worth a read, though you won't find the book on Netflix), sends Robbie (James McAvoy) off to fight in World War II, and he finds himself in the middle of Britain's retreat from the Germans on the shores of Dunkirk Beach. Director Joe Wright pulled off a tragically beautiful five-and-a-half-minute tracking shot of the whole ordeal that'll break your heart if Robbie's separation from his love Cecilia (Keira Knightley) didn't already.
Beauty and the Beast (2017)
If you missed this live-action remake of the 1991 animated musical classic, standing tall as the highest-grossing movie of 2017, Netflix has you covered. The enchanted objects are a little creepier this time, but other than that, it's basically the same movie you know and love, plus ingenue Emma Watson and a billion more hyper-realistic pixels.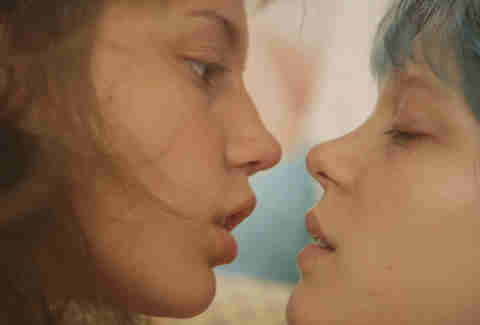 Blue Is the Warmest Color (2013)
Released into a media storm overly concerned with its lengthy, graphic sex scene, Abdellatif Kechiche's three-hour opus drowns tabloid-buzz with sensual and sensitive drama. Look, if you can binge eight episodes of House of Cards, you can make time for the tender, inquisitive exploits of Adèle (Adèle Exarchopoulos), who falls hard for the cerulean lure of Emma (Spectre's Léa Seydoux). The runtime breathing room gives Kechiche the chance to explore every glance, every touch, every kiss, and every misstep in their relationship. It's a love epic, where minor notes play like power chords.
Drinking Buddies (2013)
This understated romantic comedy from mumblecore master Joe Swanberg centers on the intimate relationship between hard-drinking brewery colleagues Jake Johnson and Olivia Wilde, who both also happen to be dating other people (Anna Kendrick and Ron Livingston, respectively). The two relationships which get progressively entangled over the course of the film. Although Drinking Buddies starts out looking like a traditional rom-com, Swanberg quickly subverts viewer expectations, resulting in a film that is romantic but surprisingly devoid of sap, funny without falling back on cheap gags. Nobody gets left at the altar or chases anyone through a crowded airport. Rather, this is a movie that moves along in small moments: a lingering glance, an awkward silence, a stolen kiss. A crisp, refreshing little film.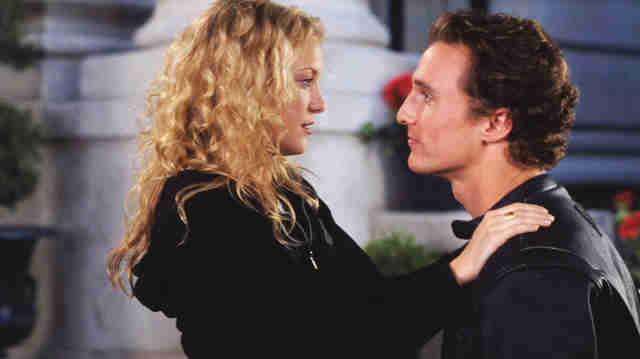 How to Lose a Guy in 10 Days (2003)
She's trying to do everything she can to drive him away, while he makes a promise to make her fall head over heels in love with him in little to no time. Talk about not being on the same page. How to Lose a Guy in 10 Days splits its focus between two central characters: Andie (Kate Hudson), an advice columnist whose current assignment is to get a man to leave her in 10 days, and Benjamin (Matthew McConaughey), a ladies' man who makes a bet that he can make any woman fall in love with him in 10 days. You can probably guess how this one ends.
Love Actually (2003)
Richard Curtis' overlapping-stories rom-com has become a polarizing flick in recent years, many arguing that the film is too sickly sweet for its own good. But if you're the type who tends to get sentimental at the airport arrivals gate, watching this group of high-wattage, British thespians, including Hugh Grant, Alan Rickman (RIP), Colin Firth, Emma Thompson, Bill Nighy, and The Walking Dead's Andrew Lincoln, navigate love under the mistletoe, the movie is a perfect seasonal reminder that love actually is all around.
Moonrise Kingdom (2012)
This living storybook reworks Wes Anderson's subdued sense of humor for a YA crowd. When two teenagers go on the lam during a record-setting hurricane, the capricious adults spin in circles while romance blossoms. Anderson enhances this cheeky love story with his visual stamp, ensuring that even book covers and music cues inspire laughter.
Our Souls at Night (2017)
It's not the most romantic setup in the world -- an older man and woman have each lost their respective spouses, and agree to start sleeping together platonically to get over their loneliness -- but the result is a sweet, if traditional, love story. Robert Redford and Jane Fonda buttress a script based on a Kent Haruf novel that's much less YA than you'd expect given the somewhat cloying adaptation. Still, if it's a love story you want, check it out!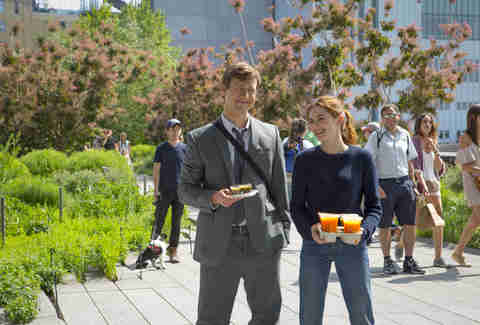 Set It Up (2018)
Set It Up is by no means the most important movie Netflix has produced, nor is it the most ambitious. But it's probably the one you're going to want to watch again and again. The streaming behemoth has been on a rom-com kick in 2018, and this film from director Claire Scanlon is one of its most delightful entries into the genre. It starts with a meet-cute that would play as well in 1948 or 1998 as it does in 2018: Two eager assistants (Zoey Deutch and Glen Powell) plot to set up their horror-show bosses to free up their own social lives. Naturally, our two underlings find their friendship of convenience blossom into something more. As with any good romantic comedy, the trick is all in the casting; Deutch and Powell are captivating. Meanwhile, Lucy Liu and Taye Diggs -- playing the big bad boss people -- are old pros. It's the perfect film to watch late night, drunk, with some pizza.
To All the Boys I've Loved Before (2018)
In case you haven't heard, rom-coms are back, baby, and Netflix is helping lead the revival. This adaptation of Jenny Han's best-selling YA novel quickly earned plaudits from critics and fans (including our own) thanks to an endearing story and standout performances from young leads Lana Condor and Noah Centineo. The angst of repressed and misunderstood teen passions will come flooding back to you as Lara Jean (Condor) finds out that her secret love letters to five crushes have been discovered and mailed out to those crushes. A high schooler's world-ending nightmare.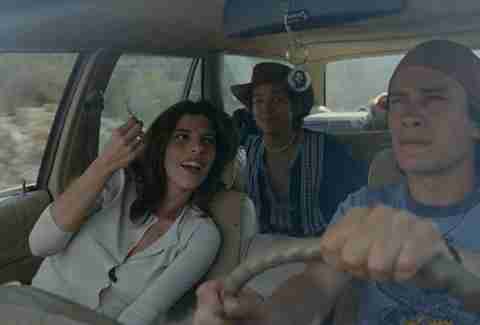 Y Tu Mamá También (2001)
Before taking us to space with Gravity, director Alfonso Cuarón steamed up screens with this provocative, comedic drama about two teenage boys (Diego Luna and Gael García Bernal) road trippin' it with an older woman (Maribel Verdú). Like a sunbaked Jules and Jim, the movie makes nimble use of its central love triangle, setting up conflicts between the characters as they move through the complicated political and social realities of Mexican life. It's a confident, relaxed film that's got an equal amount of brains and sex appeal. Watch this one with a friend -- or two.
Sign up here for our daily Thrillist email, and get your fix of the best in food/drink/fun.