Whether you're looking for a chill night spent Netflixing or a serious "Netflix and chill" session, there will come a time when you need the perfect romantic movie to set the mood. We're here for you, having scoured the streaming service for the best in meet-cute rom-coms, feel-good dramas, and no-holds-barred weepies. A little something for everyone.
Recommended Video
Acquired Taste: Blood Rice Cakes With Timothy DeLaGhetto and Justina Valentine
About Time (2013)
If you had the chance to orchestrate the perfect meet-cute between you and the one missed connection you've never forgotten about, would you? This fantastical rom-com from Love Actually director Richard Curtis explores that concept and the ramifications that could come as a result, focusing on a time-traveling young man (Domhnall Gleeson) who uses his ability to find the love of his life. Together with Rachel McAdams, the pair is incredibly charming navigating the space-time continuum to be together, and like Curtis' other works, About Time is about a lot more than just love -- it's a meditation on family and what permanence means in a world where time rolls on unabated. 
Across the Universe (2007)
A Vietnam-era love story set to the soundtrack of The Beatles, Julie Taymor's Across the Universe is a trippy, joyful movie-musical that may provoke spontaneous karaoke. And fret not, Beatles purists: The talented young cast and roster of all-star cameos (Bono, Eddie Izzard, Joe Cocker) do the Fab Four's songs justice while the young-lovers-during-wartime plot works surprisingly well, even if it's mostly just a backdrop for the music. Plus, I dare you to find anything more sweetly romantic than Jim Sturgess singing "I've Just Seen a Face" about Evan Rachel Wood while bopping through a bowling alley. Seriously, I dare you.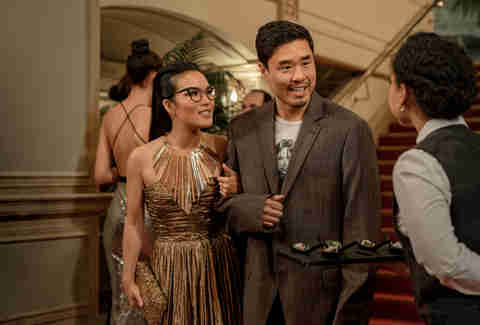 This Netflix original movie stars Randall Park and Ali Wong as two close friends everyone else expected to end up together romantically, but who've only ever been friends. When the two reconnect later in life, of course they have the opportunity to rekindle their relationship as something more, but not without a few missteps -- one of which comes in the form of a scene-stealing appearance by Keanu Reeves. The two comedic stars bring the kind of chemistry that makes famous rom-coms of yesteryear work, and the result is an exciting new entry to the canon of a tried-and-true genre.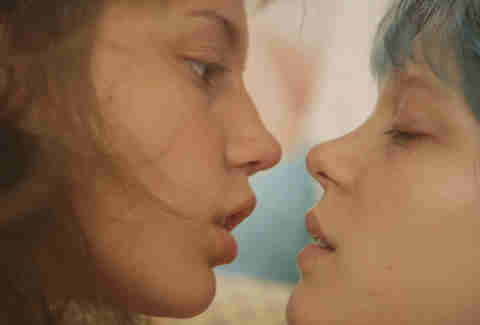 Blue Is the Warmest Color (2013)
Released into a media storm overly concerned with its lengthy, graphic sex scene, Abdellatif Kechiche's three-hour opus drowns tabloid-buzz with sensual and sensitive drama. Look, if you can binge eight episodes of House of Cards, you can make time for the tender, inquisitive exploits of Adèle (Adèle Exarchopoulos), who falls hard for the cerulean lure of Emma (Spectre's Léa Seydoux). The runtime breathing room gives Kechiche the chance to explore every glance, every touch, every kiss, and every misstep in their relationship. It's a love epic, where minor notes play like power chords.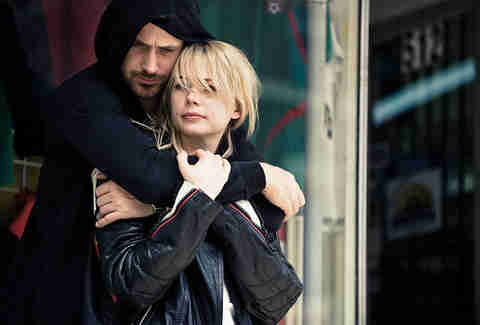 Blue Valentine (2010)
Sometimes it's impossible to pinpoint where a relationship went wrong. They can be messy and self-destructive, but comfortable and familiar when you're in them. Derek Cianfrance's (The Place Beyond the Pines) Blue Valentine is a case study on one relationship in particular: a working class couple, played by Ryan Gosling and Michelle Williams, whose marriage is hanging by a thread. Cutting between the present and their past as hopelessly enamored young lovers, their relationship at its best and worst is placed under a microscope to show what happens when you fall hard, then fall apart. Blue Valentine is hot and cold -- so cold watching love freeze over. 
Carol (2015)
This heartbreakingly stunning film is based on Patricia Highsmith's novel The Price of Salt, chronicling the innocent interactions that escalate into a whirlwind romance between two women in 1950s New York. What starts as a fantasy between Therese, a department store shop girl played by Rooney Mara, and Carol, Cate Blanchett's impeccably performed wealthy housewife entrenched in monotony and a messy divorce, grows into something more, turning their lives upside down for the sake of love. The film garnered both actresses Oscar nominations, among a handful of other awards, and their chemistry will have you feeling as if you're just as wrapped up in their tumultuous relationship, too.
Emma (1996)
The movie that made pre-GOOP Gwyneth Paltrow a bona fide movie star is an adaptation of the Jane Austen-penned classic, with all the biting sarcasm undergirding the seemingly traditional romantic setup. Paltrow is at her best as a semi-self-aware target of ridicule -- a matchmaker who doesn't realize she's a bad matchmaker -- and if you're a fan of Austen in particular or Romantic-era, um, romances more generally, Emma faithfully executes a straightforward adaptation.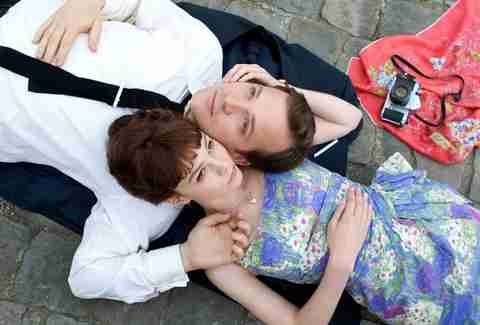 An Education (2009)
Sixteen-year-old Jenny (Carey Mulligan) wants a different life. She feels more mature than the boys from school and is over the blasé pace of '60s UK suburbia. Then she meets David, a much older man who miraculously shares all the same interests in high-brow culture that she does. In An Education, a film based on a memoir by Lynn Barber, a defiant Jenny ends up getting swept away by David, who proves to be more of a projected fantasy than a genuine man. It's difficult as a viewer not be swept up in their whirlwind relationship of weekend trips to Paris, too, while simultaneously feeling sick watching David's creepy seduction of a much younger girl. But beneath the mask of this romance is Mulligan's dynamite, Oscar-nominated performance of a teenager unraveling, trying to find her own footing in womanhood -- which, while messy, is even more powerful than the love story. 
Our Souls at Night (2017)
It's not the most romantic setup in the world -- an older man and woman have each lost their respective spouses, and agree to start sleeping together platonically to get over their loneliness -- but the result is a sweet, if traditional, love story. Robert Redford and Jane Fonda buttress a script based on a Kent Haruf novel that's much less YA than you'd expect given the somewhat cloying adaptation. Still, if it's a love story you want, check it out! 
Phantom of the Opera (2004)
If you're a fan of Broadway spectacle and the operatic stylings of Andrew Lloyd Webber, you'll enjoy this straightforward adaptation of the stage production based on the classic French novel. It's a classic story about a recluse (Gerard Butler) who stalks the halls of a theater and attempts to manipulate his chorus girl protégé (Emmy Rossum) into becoming a star. Who hasn't been there? The forbidden love triangle that unfolds underneath the film's campiness of elaborate set design and period costumes is a story about the purity of first love, immense longing, and sickness of possession. And that's all without mentioning the music -- listen to "Music of the Night" and you'll find yourself falling in lust with the Phantom all over again.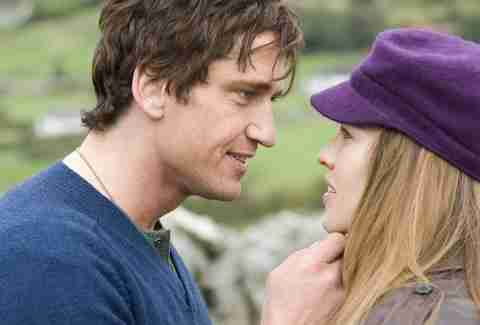 P.S. I Love You (2007)
First and foremost, P.S. I Love You is a sob-fest: When the love of Holly's (Hilary Swank) life Gerry (Gerard Butler) dies of illness, she finds that he's left her a series of letters to help her through her grief. And as tragic as that is, his words help her to not only learn that his love will always be with her, but to love herself. Eventually inspiring her to go on a journey with her friends to lush and lively Ireland, this oddly therapeutic film feels like a heavenly romantic meditation on love and loss. (Just don't cry too, too much.)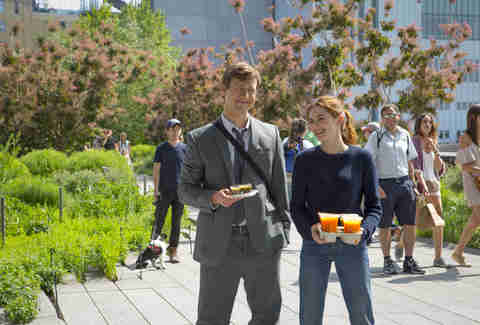 Set It Up (2018)
Set It Up is by no means the most important movie Netflix has produced, nor is it the most ambitious. But it's probably the one you're going to want to watch again and again. The streaming behemoth has been on a rom-com kick in 2018, and this film from director Claire Scanlon is one of its most delightful entries into the genre. It starts with a meet-cute that would play as well in 1948 or 1998 as it does in 2018: Two eager assistants (Zoey Deutch and Glen Powell) plot to set up their horror-show bosses to free up their own social lives. Naturally, our two underlings find their friendship of convenience blossom into something more. As with any good romantic comedy, the trick is all in the casting; Deutch and Powell are captivating. Meanwhile, Lucy Liu and Taye Diggs -- playing the big, bad boss people -- are old pros. It's the perfect film to watch late night, drunk, with some pizza.
Sleeping With Other People (2015)
Alison Brie and Jason Sudeikis' characters in this comedy have commitment issues, and serious ones at that -- they're both sex addicts with troubled relationship histories. The couple happened to lose their virginities to each other in college, and they reconnect years later in a sex addiction support group. The two make a pact to be friends and help the other with their personal issues, and while they try their best to stay apart, it's difficult for them to avoid the fact that they might just be an ideal match. The pairing is rom-com perfection based on the actors' comedic backgrounds and tender performances playing complex characters.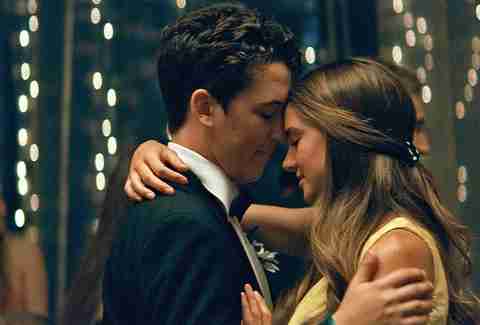 The Spectacular Now (2013)
This coming of age story focuses on Miles Teller's lovable but ill-fated Sutter, a teenage boy who lives in the now and sees little importance in looking beyond it, especially at the prospects of his future after graduation. Then, following one night of binge drinking, he wakes up on the lawn of Aimee (Shailene Woodley), an unsuspecting, studious classmate, and everything changes... for the both of them. Despite their differences, and Aimee's unrelenting desire to dream about the possibilities outside of their deadbeat hometown, there's something special that burgeons between them. Equal parts about the value and flaws in only focusing on the present, and an ode to dreams of tomorrow, The Spectacular Now is a near perfect young romance and story of personal growth.
To All the Boys I've Loved Before (2018)
In case you haven't heard, rom-coms are back, baby, and Netflix is helping lead the revival. This adaptation of Jenny Han's best-selling YA novel quickly earned plaudits from critics and fans (including our own) thanks to an endearing story and standout performances from young leads Lana Condor and Noah Centineo. The angst of repressed and misunderstood teen passions will come flooding back to you as Lara Jean (Condor) finds out that her secret love letters to five crushes have been discovered and mailed out to those crushes. A high schooler's world-ending nightmare. 
The Theory of Everything (2014)
In his Oscar-winning performance, Eddie Redmayne portrays famed physicist Stephen Hawking -- though The Theory of Everything is less of a biopic than it is a beautiful, sweet film about his relationship with his wife, Jane (Felicity Jones). Covering his days as a young cosmology student ahead of his diagnosis of ALS at 21, through his struggle with the illness and rise as a theoretical scientist, this film illustrates the trying romance through it all. While it may be written in the cosmos, this James Marsh-directed film that weaves in and out of love will have you experience everything there is to feel.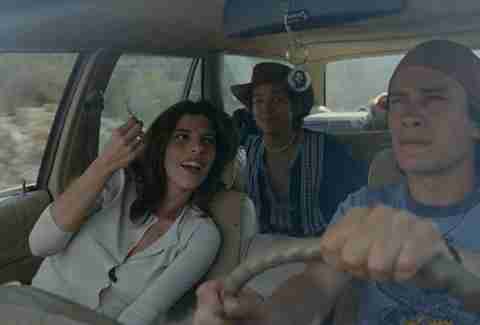 Y Tu Mamá También (2001)
Before taking us to space with Gravity, director Alfonso Cuarón steamed up screens with this provocative, comedic drama about two teenage boys (Diego Luna and Gael García Bernal) road trippin' it with an older woman (Maribel Verdú). Like a sunbaked Jules and Jim, the movie makes nimble use of its central love triangle, setting up conflicts between the characters as they move through the complicated political and social realities of Mexican life. It's a confident, relaxed film that's got an equal amount of brains and sex appeal. Watch this one with a friend -- or two.