Whether you're looking for a chill night spent Netflixing or a serious "Netflix and chill" session, there will come a time when you need the perfect romantic movie to set the mood. We're here for you, having scoured the streaming service for the best in meet-cute rom-coms, feel-good dramas, and no-holds-barred weepies. A little something for everyone.
10 Things I Hate About You (1999)
A hell of a lot of movies have tried to revive dusty old Shakespeare plays, but few do as effective a job of modernizing as this remake of The Taming of the Shrew. At the peak of his heartthrob powers, a pre-Joker Heath Ledger got paid by some horny teens (including a dweeby 3rd Rock-era Joseph Gordon-Levitt) to seduce Julia Stiles's feisty Kat, an undateable feminist keeping her popular sister home from prom. It's a testament to the teen actors' charm, raucous party scenes, and philosophizing about Prada and Skechers that the Bard would hardly recognize it.
13 Going on 30 (2004)
What if Big, the Tom Hanks classic about a little boy upgraded to an adult body, got gender-swapped? Jennifer Garner showed us what that would look like in this feel-good rom-com, which transports her 13-year-old Jenna from her 1987 birthday party to adulthood 17 years later. Wouldn't you know, wish fulfillment isn't all it's cracked up to be -- but Mark Ruffalo makes it bearable as Jenna's charming love interest.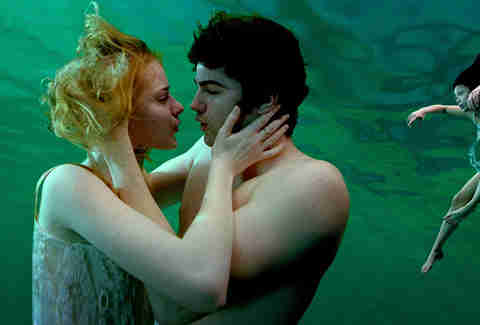 Across the Universe (2007)
A Vietnam-era love story set to the soundtrack of The Beatles, Julie Taymor's Across the Universe is a trippy, joyful movie-musical that may provoke spontaneous karaoke. And fret not, Beatles purists: The talented young cast and roster of all-star cameos (Bono, Eddie Izzard, Joe Cocker) do the Fab Four's songs justice, while the young-lovers-during-wartime plot works surprisingly well, even if it's mostly just a backdrop for the music. Plus, I dare you to find anything more sweetly romantic than Jim Sturgess singing "I've Just Seen a Face" about Evan Rachel Wood while bopping through a bowling alley. Seriously, I dare you.
Atonement (2007)
This sweeping romantic epic, based on the Ian McEwan novel of the same name (which is worth a read, though you won't find the book on Netflix), sends Robbie (James McAvoy) off to fight in World War II, and he finds himself in the middle of Britain's retreat from the Germans on the shores of Dunkirk Beach. Director Joe Wright pulled off a tragically beautiful five-and-a-half-minute tracking shot of the whole ordeal that'll break your heart if Robbie's separation from his love Cecilia (Keira Knightley) didn't already.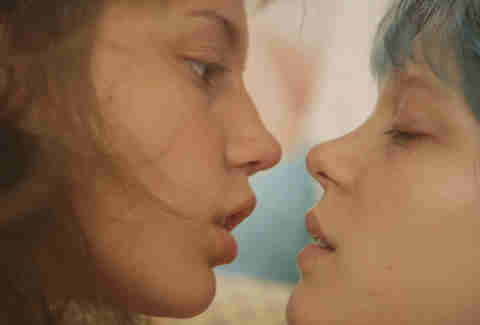 Blue Is the Warmest Color (2013)
Released into a media storm overly concerned with its lengthy, graphic sex scene, Abdellatif Kechiche's three-hour opus drowns tabloid-buzz with sensual and sensitive drama. Look, if you can binge eight episodes of House of Cards, you can make time for the tender, inquisitive exploits of Adèle (Adèle Exarchopoulos), who falls hard for the cerulean lure of Emma (Spectre's Léa Seydoux). The runtime breathing room gives Kechiche the chance to explore every glance, every touch, every kiss, and every misstep in their relationship. It's a love epic, where minor notes play like power chords.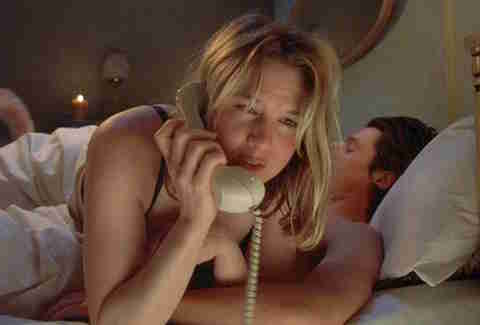 Bridget Jones's Diary (2001)
One of the quintessential early-aughts rom-coms, and possibly the seminal modern romance based around a notebook (sorry, The Notebook!) Bridget Jones is a wickedly funny Pride and Prejudice remake that forces Renee Zellweger's discombobulated anti-heroine to choose between two equally dashing Brits-with-Jane-Austen-acting-credits: Colin Firth's prissy Mark Darcy and Hugh Grant's womanizing Daniel Cleaver. The ultimate rom-com Sophie's Choice.
Drinking Buddies (2013)
This understated romantic comedy from mumblecore master Joe Swanberg centers on the intimate relationship between hard-drinking brewery colleagues Jake Johnson and Olivia Wilde, who both also happen to be dating other people (Anna Kendrick and Ron Livingston, respectively). The two relationships which get progressively entangled over the course of the film. Although Drinking Buddies starts out looking like a traditional rom-com, Swanberg quickly subverts viewer expectations, resulting in a film that is romantic but surprisingly devoid of sap, funny without falling back on cheap gags. Nobody gets left at the altar or chases anyone through a crowded airport. Rather, this is a movie that moves along in small moments: a lingering glance, an awkward silence, a stolen kiss. A crisp, refreshing little film.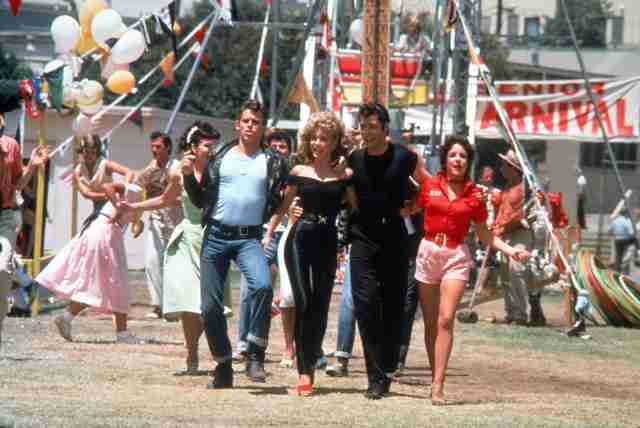 Grease (1978)
Even if you know every word to "Greased Lightning" and "Summer Nights" by heart -- which you probably do, given that Grease is the best-selling movie soundtrack of all time -- the original high-school musical is worth an annual rewatch to remind yourself of the outfits, the songs, and how hot young John Travolta and Olivia Newton-John used to be. Well-a well-a well-a huh!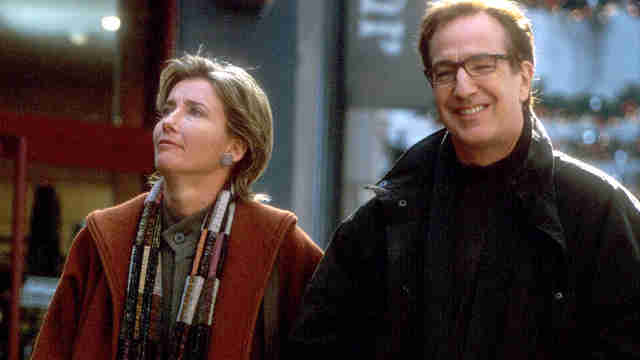 Love Actually (2003)
Richard Curtis' overlapping-Christmases rom-com has become a polarizing flick in recent years, many arguing that the film is too sickly-sweet for its own good. But if you're the type who tends to get sentimental at the airport arrivals gate, watching this group of high-wattage British thespians, including Hugh Grant, Alan Rickman (RIP), Colin Firth, Emma Thompson, Bill Nighy, and The Walking Dead's Andrew Lincoln, navigate love under the mistletoe, the movie is a perfect seasonal reminder that love actually is all around.
Me and You and Everyone We Know (2005)
Miranda July's wandering rom-com had the gusto to make "pooping back and forth, forever" a romantic expression (and in emoticon form, no less). Its exploration of love, sex, and togetherness is just as bold. Fearlessly quirky, Me and You and Everyone We Know peers into the lives of middle-aged singles, blossoming teens, and a young boy preparing for it all. Don't worry: July, as both actress and director, cuts the sweetness by picking at raw nerves. Love can't work without shedding a few tears.
Moonrise Kingdom (2012)
This living storybook reworks Wes Anderson's subdued sense of humor for a YA crowd. When two teenagers go on the lam during a record-setting hurricane, the capricious adults spin in circles while romance blossoms. Anderson enhances this cheeky love story with his visual stamp, ensuring that even book covers and music cues inspire laughter.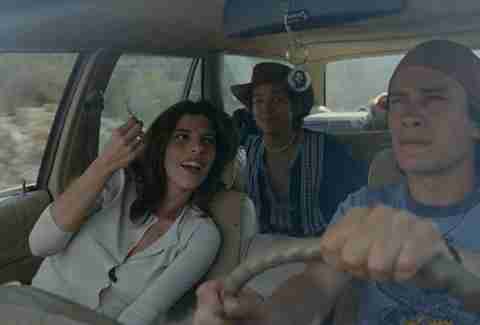 Y Tu Mamá También (2001)
Before taking us to space with Gravity, director Alfonso Cuarón steamed up screens with this provocative, comedic drama about two teenage boys (Diego Luna and Gael García Bernal) road trippin' it with an older woman (Maribel Verdú). Like a sunbaked Jules and Jim, the movie makes nimble use of its central love triangle, setting up conflicts between the characters as they move through the complicated political and social realities of Mexican life. It's a confident, relaxed film that's got an equal amount of brains and sex appeal. Watch this one with a friend -- or two.
Sign up here for our daily Thrillist email, and get your fix of the best in food/drink/fun.