The Most Romantic Movies on Netflix
There will come a time when you need the perfect romantic movie to set the mood.
Whether you're looking for a chill night spent Netflixing or a serious "Netflix and chill" session, there will come a time when you need the perfect romantic movie to set the mood. We're here for you, having scoured the streaming service for the best in meet-cute rom-coms, feel-good dramas, and no-holds-barred weepies. A little something for everyone.
Universal Pictures
About Time (2013)
If you had the chance to orchestrate the perfect meet-cute between you and the one missed connection you've never forgotten about, would you? This fantastical rom-com from Love Actually director Richard Curtis explores that concept and the ramifications that could come as a result, focusing on a time-traveling young man (Domhnall Gleeson) who uses his ability to find the love of his life. Together with Rachel McAdams, the pair is incredibly charming navigating the space-time continuum to be together, and like Curtis' other works, About Time is about a lot more than just love -- it's a meditation on family and what permanence means in a world where time rolls on unabated. 
Ed Araquel/Netflix
This Netflix original movie stars Randall Park and Ali Wong as two close friends everyone else expected to end up together romantically, but who've only ever been friends. When the two reconnect later in life, of course they have the opportunity to rekindle their relationship as something more, but not without a few missteps -- one of which comes in the form of a scene-stealing appearance by Keanu Reeves. The two comedic stars bring the kind of chemistry that makes famous rom-coms of yesteryear work, and the result is an exciting new entry to the canon of a tried-and-true genre.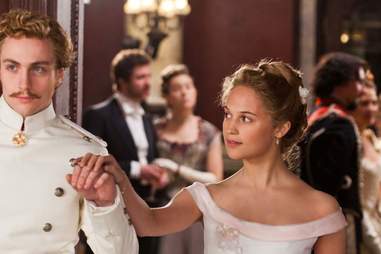 Universal Pictures/Focus Features
Anna Karenina (2012)
Adapted by renowned playwright Tom Stoppard, this take on Leo Tolstoy's classic Russian novel is anything but stuffy, historical drama. Keira Knightley, Jude Law, Aaron Taylor-Johnson, Domhnall Gleeson, Alicia Vikander are all overflowing with passion and desire, heating up the chilly backdrop of St. Petersburg. But it's director Joe Wright's unique staging -- full of dance, lush costuming, fourth-wall-breaking antics, and other theatrical touches -- that reinvent the story for more daring audiences.
Wild Bunch
Blue Is the Warmest Color (2013)
Released into a media storm overly concerned with its lengthy, graphic sex scene, Abdellatif Kechiche's three-hour opus drowns tabloid-buzz with sensual and sensitive drama. Look, if you can binge eight episodes of House of Cards, you can make time for the tender, inquisitive exploits of Adèle (Adèle Exarchopoulos), who falls hard for the cerulean lure of Emma (Spectre's Léa Seydoux). The runtime breathing room gives Kechiche the chance to explore every glance, every touch, every kiss, and every misstep in their relationship. It's a love epic, where minor notes play like power chords.
The Weinstein Company
Blue Valentine (2010)
Sometimes it's impossible to pinpoint where a relationship went wrong. They can be messy and self-destructive, but comfortable and familiar when you're in them. Derek Cianfrance's (The Place Beyond the Pines) Blue Valentine is a case study on one relationship in particular: a working class couple, played by Ryan Gosling and Michelle Williams, whose marriage is hanging by a thread. Cutting between the present and their past as hopelessly enamored young lovers, their relationship at its best and worst is placed under a microscope to show what happens when you fall hard, then fall apart. Blue Valentine is hot and cold -- so cold watching love freeze over.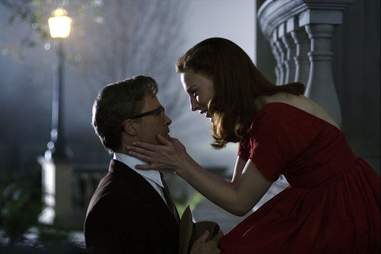 Warner Bros. Pictures/Paramount Pictures
The Curious Case of Benjamin Button (2008)
David Fincher teamed up with Brad Pitt for this adaptation of an F. Scott Fitzgerald short story. Beginning with the passing of his mother, the story follows wrinkly child Benjamin (Pitt, hidden beneath impressive digital effects) as he grows up in 20th century New Orleans at an old folks home where his fellow boarders gradually die as he ages in reverse, becoming younger with the passage of time and eventually meeting the love of his life Daisy (Cate Blanchett) "in the middle" of his journey. Almost every scene, every image, and every line of dialogue is about the grim reality that Benjamin, as magical as he appears to be, won't live forever. Death obsessed as it may be, the film is an achievement in state-of-the-art special effects wizardry and old-fashioned star power.
Picturehouse Entertainment
God's Own Country (2017)
God's Own Country is a British drama that tells the story of Johnny and Gheorghe, two young men who fall for each other while working on Johnny's family farm. Johnny, who shirks his responsibilities at home in pursuit of fleeting sexual encounters of men, is forced to work with Gheorghe, a Romanian hired to help out with lambing season. After the two are forced to camp out together, they connect both on a personal and sexual level. The film has been praised as a kind of British Brokeback Mountain for its frank treatment of concepts like national identity, queerness, and familial obligation.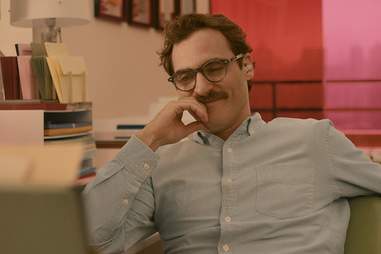 Warner Bros. Pictures
Her (2013)
Spike Jonze's Oscar-winning script throws a lonely greeting-card writer and a fancy Siri-like operating system into a questionable romance. The result, anchored by Joaquin Phoenix and Scarlett Johansson (yes, the latter kills it as the OS), is at once poignant and thought-provoking, especially for a generation that leans more and more on personalized handheld devices.
Columbia Pictures
Hitch (2005)
How is this movie on this list when Will Smith's Hitch is a pickup artist? Some of the scenes where Will Smith's Hitch describes his "rules" to Kevin James are cringeworthy, but the actual coaching -- "Listen to women when they talk!" "Wait for the signal someone wants to be kissed!" -- is applicable. Will Smith's Hitch even saves Eva Mendes' character from a man hitting on her when she clearly just wants to be alone! This dating-superhero movie also has an amazing emotional core, a welcome realization that the rules and games of coaching are merely a way around the inherent vulnerability of romance.
Netflix
Our Souls at Night (2017)
It's not the most romantic setup in the world -- an older man and woman have each lost their respective spouses, and agree to start sleeping together platonically to get over their loneliness -- but the result is a sweet, if traditional, love story. Robert Redford and Jane Fonda buttress a script based on a Kent Haruf novel that's much less YA than you'd expect given the somewhat cloying adaptation. Still, if it's a love story you want, check it out! 
Netflix
Set It Up (2018)
Set It Up is by no means the most important movie Netflix has produced, nor is it the most ambitious. But it's probably the one you're going to want to watch again and again. The streaming behemoth has been on a rom-com kick in 2018, and this film from director Claire Scanlon is one of its most delightful entries into the genre. It starts with a meet-cute that would play as well in 1948 or 1998 as it does in 2018: Two eager assistants (Zoey Deutch and Glen Powell) plot to set up their horror-show bosses to free up their own social lives. Naturally, our two underlings find their friendship of convenience blossom into something more. As with any good romantic comedy, the trick is all in the casting; Deutch and Powell are captivating. Meanwhile, Lucy Liu and Taye Diggs -- playing the big, bad boss people -- are old pros. It's the perfect film to watch late night, drunk, with some pizza.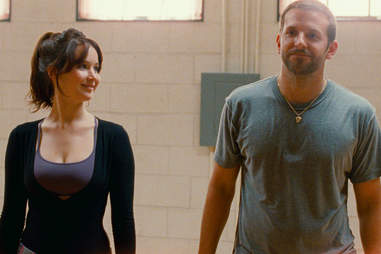 The Weinstein Company
Silver Linings Playbook (2012)
Jennifer Lawrence, Bradley Cooper, and David O. Russell's first collaboration -- and the film that turned J-Law into a bona fide golden girl -- is a romantic comedy/dramedy/dance-flick that bounces across its tonal shifts. A love story between Pat (Cooper), a man struggling with bipolar disease and a history of violent outbursts, and Tiffany (Lawrence), a widow grappling with depression, who come together while rehearsing for an amateur dance competition, Silver Linings balances an emotionally realistic depiction of mental illness with some of the best twirls and dips this side of Step Up. Even if you're allergic to rom-coms, Lawrence and Cooper's winning chemistry will win you over, as will this sweet little gem of a film: a feel-good, affecting love story that doesn't feel contrived or treacly.
IFC Films
Sleeping With Other People (2015)
Alison Brie and Jason Sudeikis' characters in this comedy have commitment issues, and serious ones at that -- they're both sex addicts with troubled relationship histories. The couple happened to lose their virginities to each other in college, and they reconnect years later in a sex addiction support group. The two make a pact to be friends and help the other with their personal issues, and while they try their best to stay apart, it's difficult for them to avoid the fact that they might just be an ideal match. The pairing is rom-com perfection based on the actors' comedic backgrounds and tender performances playing complex characters.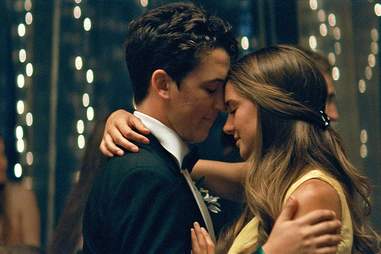 A24
The Spectacular Now (2013)
This coming of age story focuses on Miles Teller's lovable but ill-fated Sutter, a teenage boy who lives in the now and sees little importance in looking beyond it, especially at the prospects of his future after graduation. Then, following one night of binge drinking, he wakes up on the lawn of Aimee (Shailene Woodley), an unsuspecting, studious classmate, and everything changes... for the both of them. Despite their differences, and Aimee's unrelenting desire to dream about the possibilities outside of their deadbeat hometown, there's something special that burgeons between them. Equal parts about the value and flaws in only focusing on the present, and an ode to dreams of tomorrow, The Spectacular Now is a near perfect young romance and story of personal growth.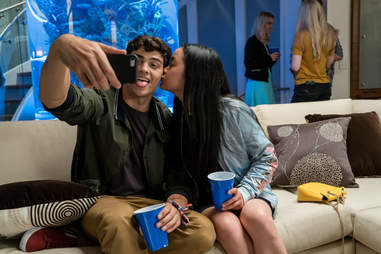 Netflix
To All the Boys I've Loved Before (2018)
In case you haven't heard, rom-coms are back, baby, and Netflix is helping lead the revival. This adaptation of Jenny Han's best-selling YA novel quickly earned plaudits from critics and fans (including our own) thanks to an endearing story and standout performances from young leads Lana Condor and Noah Centineo. The angst of repressed and misunderstood teen passions will come flooding back to you as Lara Jean (Condor) finds out that her secret love letters to five crushes have been discovered and mailed out to those crushes. A high schooler's world-ending nightmare. 
Focus Features
The Theory of Everything (2014)
In his Oscar-winning performance, Eddie Redmayne portrays famed physicist Stephen Hawking -- though The Theory of Everything is less of a biopic than it is a beautiful, sweet film about his relationship with his wife, Jane (Felicity Jones). Covering his days as a young cosmology student ahead of his diagnosis of ALS at 21, through his struggle with the illness and rise as a theoretical scientist, this film illustrates the trying romance through it all. While it may be written in the cosmos, this James Marsh-directed film that weaves in and out of love will have you experience everything there is to feel.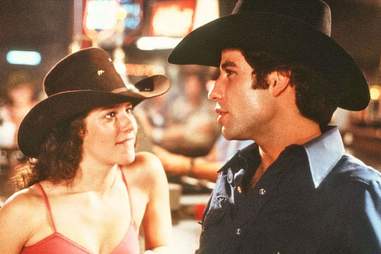 Paramount Pictures
Urban Cowboy (1980)
Yeehaw, ain't nothing like an elevated romance in a country western film. This classic '80s film captures and critiques the cowboy and country music craze at the time, telling the story of a contemporary cowboy named Bud (played by John Travolta in his prime) as he moves to the "big city" of Houston where he falls in love with a starry-eyed cowgirl named Sissy. Their relationship turns out to be as wild as stallions when they separate and Sissy saddles up with an abusive conman, and Bud tries to win her back. It's one tumultuous mechanical bull ride, and is truly cemented in such a specific place and time, but the drama of Travolta opposite Debra Winger is as tender as an outlaw ballad. 
IFC Films
Y Tu Mamá También (2001)
Before taking us to space with Gravity, director Alfonso Cuarón steamed up screens with this provocative, comedic drama about two teenage boys (Diego Luna and Gael García Bernal) road trippin' it with an older woman (Maribel Verdú). Like a sunbaked Jules and Jim, the movie makes nimble use of its central love triangle, setting up conflicts between the characters as they move through the complicated political and social realities of Mexican life. It's a confident, relaxed film that's got an equal amount of brains and sex appeal. Watch this one with a friend -- or two.
Need help finding something to watch? Sign up here for our weekly Streamail newsletter to get streaming recommendations delivered straight to your inbox.
Follow the Thrillist Entertainment editors on Twitter: @ThrillistEnt.